10 Mouth-Watering Seafood Recipes (with Tips)
Here are 10 Mouth-Watering Seafood Recipes complete with tips on what to consider when selecting great sustainable seafood. Disclaimer: I received free fish for this post but opinions are genuine.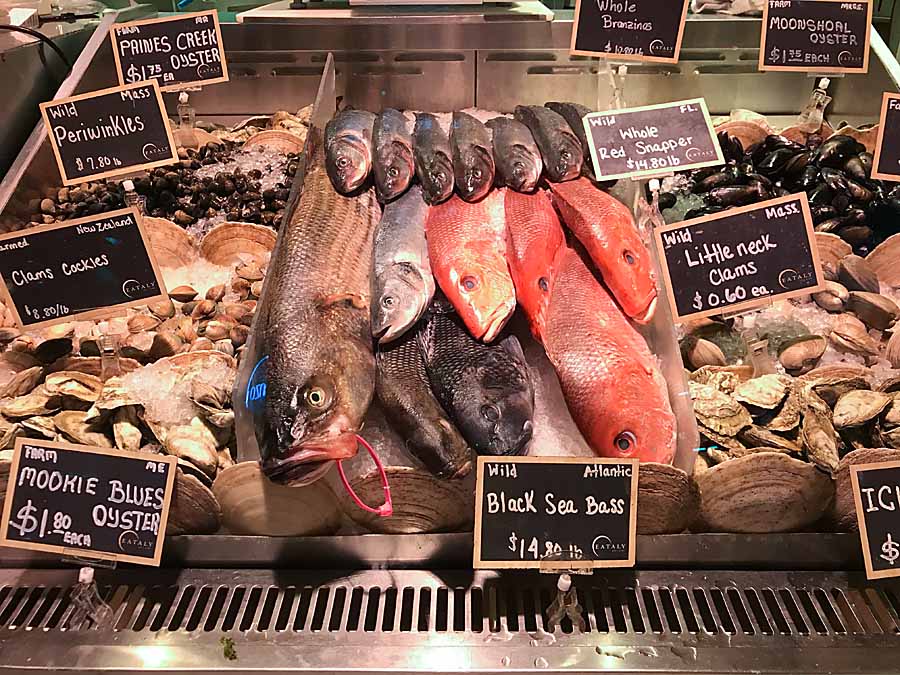 Come on now, you know it's coming. Just three more days until "R" word time. That's right, New Year's Resolutions.
Now raise your hand if you're going to try to eat better. Even higher if that includes more healthy seafood.
The first time I resolved to eat more seafood, it was harder than I thought. In fact, I quit part way through the year. First there was the problem of finding recipes. With 10 recipes here (and stay tuned for my newest, best-est fave in a couple weeks), that's probably solved.
But the biggest problem was finding really good seafood.
How to select seafood
When It came to picking seafood, I had more than one concern. Actually, five.
First, is the fish safe to eat regularly? It will be a setback to your health goal if you learn that the seafood you're eating twice a week comes from mercury filled waters with a "once a month" warning. (This is one of the great sorrows of living on the Great Lakes)
Is it environmentally responsible? I'd feel pretty bad setting back some threatened species (or even a good fish from an area in trouble) when a nice Alaskan salmon would be delicious.
Is it consistently flavorful? A couple fishy-tasting meals can kill a resolution really fast. One grocer that I (normally) love, was so inconsistent in its seafood quality that this alone sank my first "eat more seafood" resolution.
Is it genuine? Did you see this Wikipedia article about companies subbing in cheaper, lower quality (occasionally dangerous) seafood? Eek!
Does it come from a source I want to support? Just like my meat comes directly from local farmers, I'd like to know that my seafood fishermen earn a livable wage in a sustainable operation.
And that used to mean doing a research project every time I bought a piece of fish. Ugghh!
A Sourcing Solution
But a few years ago I found a solution. For the past 3-4 years, I have been a subscriber to Sitka Salmon. (They sent me some extra fish in exchange for the post, but since I was already a long-term subscriber, you can be sure I love it).
Sitka works with a select group of (not factory) fishermen to bring you sustainable, high quality, wild seafood.
They even offset carbon and donate to wild fish conservation. Yes, they tick all the boxes above! For more detail on the benefits, check out here.
How Sitka Salmon Works
Like Community Supported Agriculture (CSA) where you get a weekly food box from a local farm, with Stika you get a monthly seafood box from Alaska. It's delivered frozen right to your doorstep by their own drivers in the Midwest delivery area (on dry ice if you don't answer the door) or by Fed Ex (also on dry ice) outside this area. All you need to do is move it to the freezer.
It is a commitment (like a CSA for your veggies or buying a quarter of grass-fed beef) but you can get an introductory share for as few as four months. Subscriptions go up incrementally after that with options for more months, more premium items and more quantity. I started with the introductory share and have changed it up every year.
So many seafood recipes, so little time.
Finally, on occasion, when harvests are good or if unique items are available, there are special offers ("Would you like to buy an extra box of king salmon?" "Yes, please!") throughout the year.
10 Delicious & Practical Seafood Recipes
Now just in case your mouth isn't watering, here is a selection of seafood recipes from appetizer to soup to dinner! Even if you don't do resolutions at all!
Lemon Tarragon Salmon with Quick Béarnaise
Broiled Salmon with Fruit Salsa
Fruit salsa is a quick and delicious compliment to protein dishes like Broiled Salmon with Fruit Salsa. Comes together in a snap & adds nutrition too! (Fruit salsa is also good with pork chops!)
One Dish Baked Cod with Jarred Peppers and Asparagus
Baked Cod with Jarred Peppers and Asparagus is quick, easy and delicious. Gotta love a dish with extra veggies so you can cook less!
Rich Fish Chowder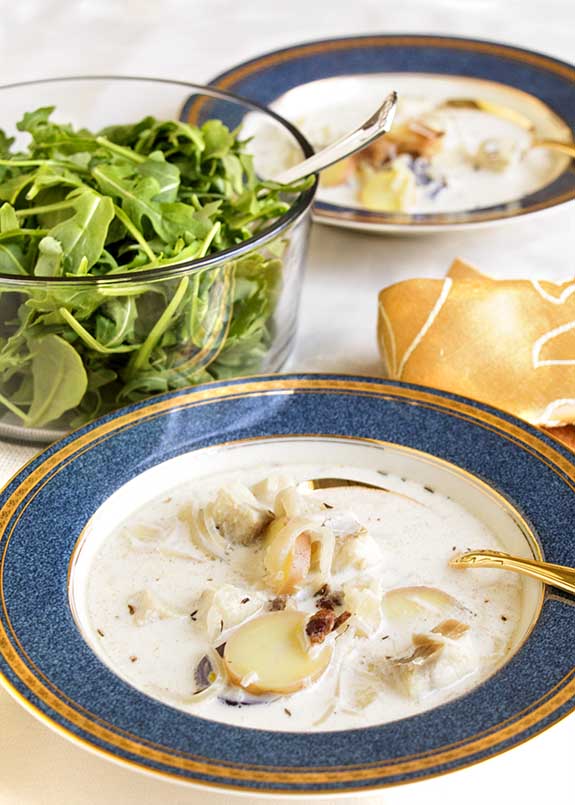 This Rich Fish Chowder makes a delicious entree or starter soup. With simple ingredients & full flavor, it is perfect for everyday or special occasions.
One Dish Mediterranean White Fish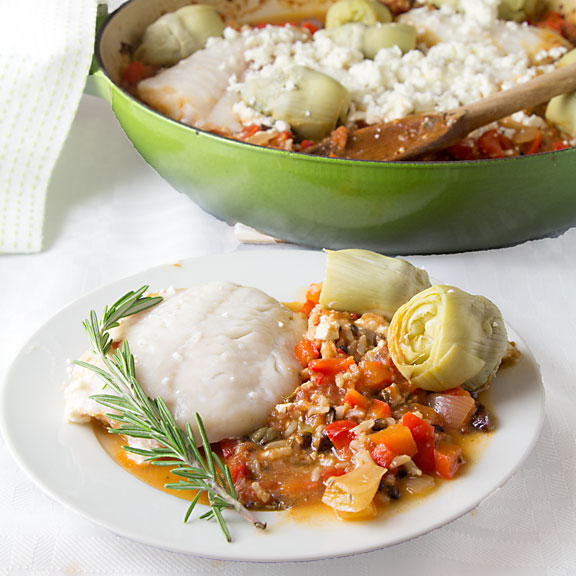 With tomatoes, artichokes & red peppers, Mediterranean White Fish is full of wholesome goodness. Just add rice for a perfect one-dish meal.
Thai Fish Cakes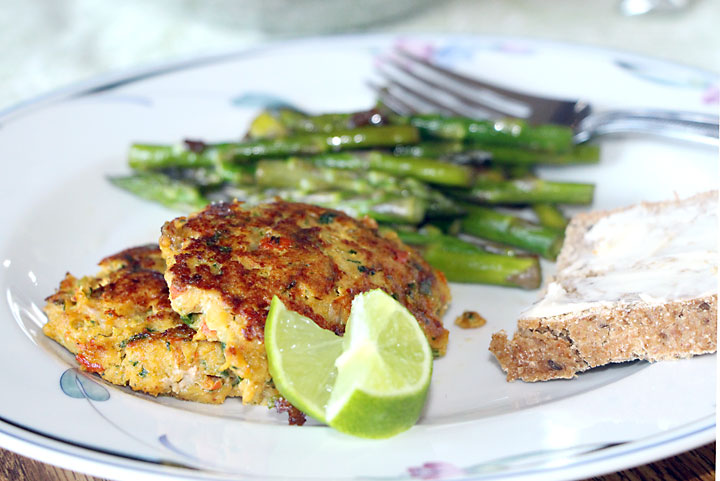 Thai Fish Cakes blend up in the food processor and cook in 5 minutes. Serve with a slightly exotic 4 ingredient sauce it pleases kids and adults.
Finnish Salmon Soup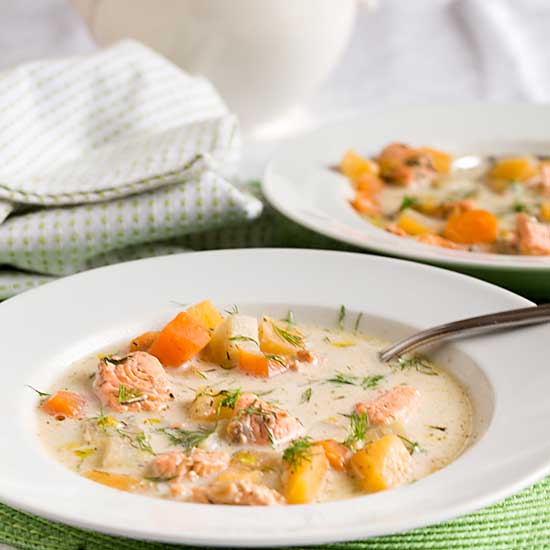 With salmon, dill and root vegetables, Finnish Salmon Soup is a light, healthful soup that will carry you from winter into spring.
Home-Cured Gravlax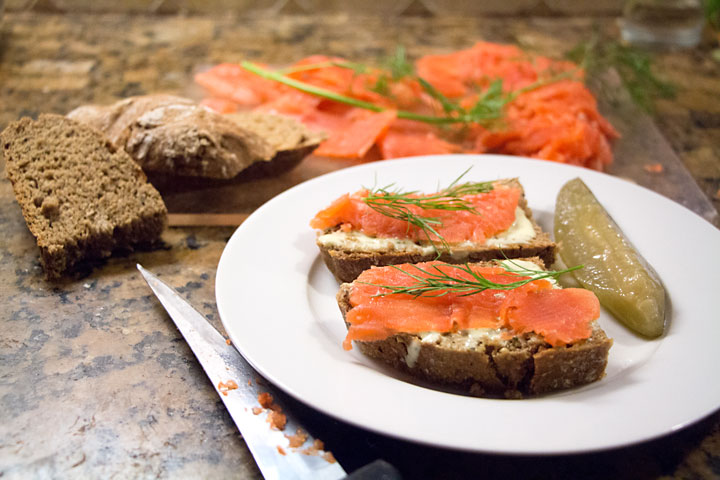 A slightly more advanced option, Home Cured Gravlax makes a delicious appetizer or brunch item. Do you know where your (commercial) lox comes from?
Scandinavian Salmon Burgers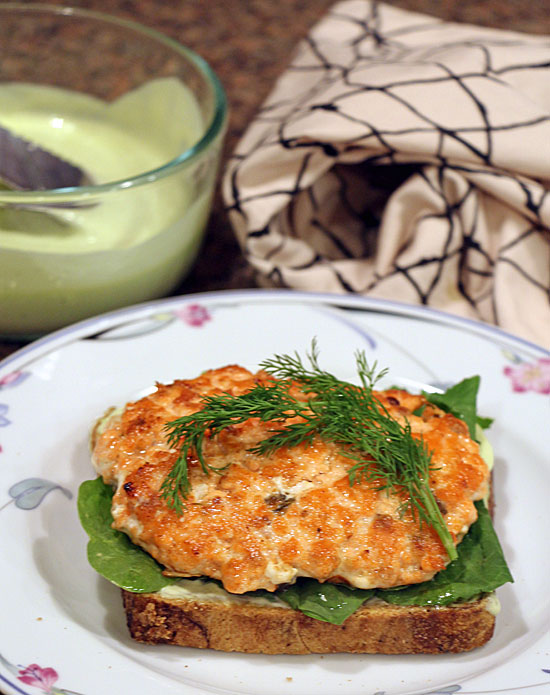 A delicious dish for lunch or a quick dinner, Scandinavian Salmon Burgers are healthy, easy to prepare and great for kids or adults
Salmon with Capers (Appetizer or Sandwich Spread)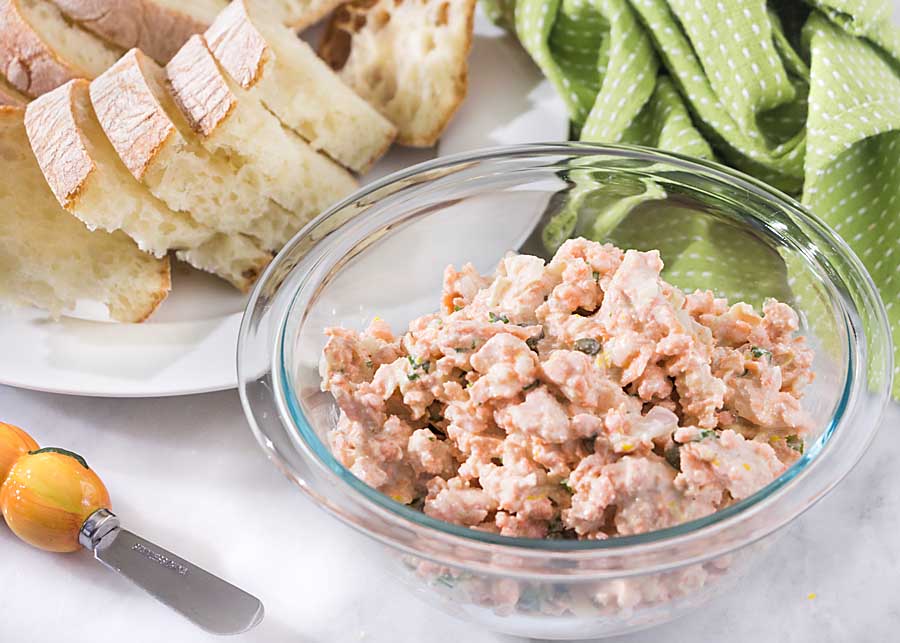 Our family's hands-down favorite buffet item, I leave Salmon with Capers around when guests arrive at different times. Even beats out prosciutto for snacking!
Happy New Year!