Best of Both Worlds Eating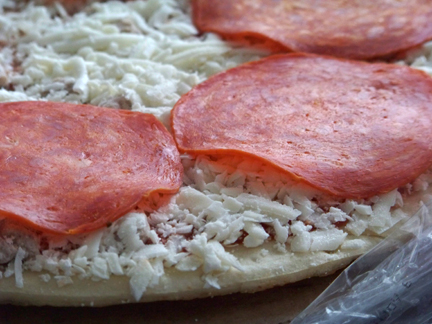 Sometimes you can take healthy too far.  There now, I've said it. 
I mean it would be wrong to bypass cheetos during the Superbowl (especially with the Packers playing).  And skipping Girl Scout cookies, in their brief annual appearance, would be, frankly… unpatriotic. 
But while exceptions have their place, that place needs to be limited—and it isn't actually something to be sad about.  Because, more often than not, you can get the best of both worlds.  Really.  I am equal parts foodie and health food nut and I won't eat anything unless it's seriously good. 
I just got some new "best of both worlds" food in the mail last week—a box from Applegate Farms (note disclosure here—delivered by them for the purposes of doing a review, though all the opinions are genuinely mine). We already eat their stadium hot dogs (can you believe they make organic, grass fed, hot dogs!) and pork andouille sausage (key ingredient in my Gumbo), so I was delighted to have some new selections to sample.
The first item in the package was their all natural breakfast sausage in both pork and turkey varieties. Both the pork and turkey are antibiotic free, vegetarian-fed and humanely raised.  (Having seen Food, Inc's portrayal of giant poultry operations, I am inclined to view it as a good sign if my poultry has made it to adulthood without drugs.)   The pork version was your classic breakfast sausage (though I suspect a bit leaner) while the turkey was noticeably lighter with a bit of spiciness and (drum roll) only 90 calories in two links.  In the family voting, parents went with the turkey and our skinny kids voted the pork best.  I am still smiling (incredulously, actually) at the idea of indulging for 90 calories.
The next item was the deli style natural roasted chicken breast—ditto on the vegetarian-fed, antibiotic free, humanely raised chicken.  The kids thought that the school lunch fairy had arrived to rescue them from interminable PB&J sandwiches.  Deli meat is their idea of a perfect sandwich filler, but I won't buy commercial deli no matter how much they plead.  So they got more than a week of lunch nirvana until the fight-over-the-last-two-pieces (they ended up going with one piece each).
The final item was a natural pepperoni—same natural pork, no nitrites and no beef.  I can tell you the year I last had pepperoni (2003)–abandoned when I switched exclusively to organic grass fed beef, not that I ate much anyway with the nitrites.  The Applegate pepperoni was delicious and didn't even leave little pools of grease on the pizza (I still have a 2003 image of one daughter sopping up the grease with her napkin, upper lip in a sneer).  We topped a frozen cheese pizza with the slices and enjoyed it immensely, with the kids commenting about eating like a normal family for once.
You see, my kids delight in teasing me about my cooking and reference a scene from the movie "About a Boy".  His mother, a healthfood zealot, bakes ultra-dense whole grain breads and he feels oppressed by this oddity (among others).  In one fateful moment, her son tosses the bread into a duck pond.  To his horror, it strikes a duck, which rolls over and dies.  I am confident that my cooking is better, but their point is made.      
It's been a great two weeks with what my kids call the Applegate Farms "care package."  We've all enjoyed the food immensely and didn't feel the least bit guilty.  And I got a respite from being the kind of mom whose bread might kill a duck.