Ten Tips for Starting a New Exercise Program
When live gives you lemons, make lemonade. Or lemon bars. Every good foodie knows that.
And when your orthopedist tells you your ballet classes are wearing out your hip, take swimming lessons. Right?
While good food may be my favorite part of healthy living, exercise is also key to good health. With full lives, however, it is especially easy to ignore– how many years did I say my life was too busy?
Finally, I went back to the ballet of my youth. Ballet was my first love. I would never quit again. Problem solved.
Famous last words…
Fast forward to a recent visit to the doctor. "Advanced osteoarthritis in your left hip." he said. Even I could see it on the x-ray.
"You had hip dysplasia in one hip that was never diagnosed," he explained pointing out the difference in my hip sockets. "I'm not going to tell you you must stop dancing but there are other activities that will be much better for your hip."
Which means I am back to the drawing board. Modified ballet class just once a week–and beginning adult swim. Wish me luck!
Since I am going through a complete exercise program reset I thought I'd share some of my thoughts with you.
I think I can, I think I can…
Ten tips for starting a new exercise program
Do a form of exercise that works for you. A while back my husband and I tried walking. Beautiful routes. Good conversation. I hated it. Finally realized I'd be more successful with an exercise program I liked.
Get support. My swim teacher is funny and helpful–able to give advice on everything from technique to keeping water out of your sinuses. Learning with other adult novices is motivating and I am even losing weight (good for osteoarthritis) by dieting with a friend.
Set a (reasonable) goal. A goal doesn't have to be something grandiose like running a marathon. My new goal is to qualify for the intermediate swim class by summer–to avoid my book club night!
Get the right equipment. If music motivates you to walk, go for it. I always knew that part of the reason I didn't like swimming was because I am blind as a bat without my glasses. I don't use contacts (astigmatism), so I started out squinting. When I realized that there are affordable corrective goggles (under $19 for my pair from SwimOutlet.com), I was soooo there. Once I could see, I started swimming straight (since I could see the pool bottom and the ceiling) and I stopped worrying about hitting my head at the end of the pool. Being able to see across the pool makes swimming much more enjoyable–who would have thought!
Don't be a perfectionist. Once a month swimming conflicts with book club so I almost didn't sign up. Miss an occasional class? First world problem.
Modify your exercise program as needed. The first thing I did was confess to ballet and swim teachers about my "handicap." Even if your health is perfect, being willing to modify can help you get through an injury. No grand plie, no frog kick, no problem.
Consider cross-training. Participating in different forms of exercise can help reduce injury, relieve boredom and result in more complete conditioning. I may not have gone into cross-training willingly, but I'm going to take credit for it!
Start slow and don't let that bother you. Despite having done ballet at an advanced level in my youth, I went back to beginners and worked my way up. A number of years earlier, I had tried an intermediate level class and quit after two weeks. Regarding swimming I was grateful that our recreation department had adult classes since the number of laps I can do right now is zero. You are less likely to get injured or frustrated if you start slow and work up from there (also see point #10).
Have a psych up speech ready. Before every class–even my beloved ballet, I want to back out. I always remind myself "you never want to go, but you're always happy when you get there."
Leverage the medical profession and don't ignore symptoms. I wish I'd had my hip diagnosed at an earlier stage when modifying my activities would have helped more. I guess I'm lucky it wasn't my heart. Check out the Mayo Clinics advice on when to see a doctor before beginning an exercise program.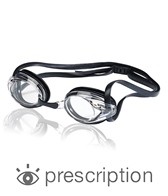 And speaking of getting the right equipment, here is a big "thank you" to Swim Outlet for helping me get started. They provided me with a gift certificate that I used to buy the wonderful corrective goggles I mentioned (in point #4 above). If you are swimming "blind" you should consider these. My eyes are fairly close in prescription so I got goggles in a single prescription. But there are even goggles with snap in lenses that you can customize to each eye — also for a reasonable price. How cool is that!
My other gift purchase was a "grab bag" swimsuit for my youngest. For the uninitiated, when you buy a grab bag suit you get a big discount to pick the brand and size, but take whatever they send you in terms of color and pattern–generally a leftover from the prior year. Competitive swimmers go through suits like water, so price usually overtakes being particular about print. And SwimOutlet has long been a favorite source for suits and goggles for my kids–all competitive swimmers. This particular suit even got a "Wow, we were considering this for team suit last year. I loved this one."
So overall I am moving forward. On a good day, I am psyched. On a bad day, I lift my left leg into the car using my hands and tell myself things take time. If you want to join my support team, come on in!
For more tips on beginning a new exercise program see Web MD.
Save
Save