Today's post is going to take us away from food—but keep us in natural living. Because, though healthy eating is an important defense against premature aging, it isn't always enough. Yes, I am starting to feel I need some bigger guns. But first, some backstory…
Recently I noticed the lines between my eyebrows getting worse. I went for a consult and the doctor commented that the lines were pretty deep. Treatment would probably mean a full year of Botox injections every three months, and maybe they'd go away. Or Botox PLUS a filler for faster results. Aargh!
I decided to wait for an upcoming promotion and in the meantime, did some internet research. What I found out made me glad I waited.
Turns out that using the filler between the eyes is a bit tricky. Hit the wrong spot and you risk necrosis, blindness or other complications. Although rare, I wasn't going to risk it. Back to the drawing board.
Interestingly, shortly after this, I got offers to review some products that might help in my natural anti-aging quest—from Frownies and Uma Oils (sponsored post alert—but opinions are my own).
Frownies are paper-like patches that you apply to your face in areas with wrinkles. They keep you from "scrunching up" your face in those areas—which is how wrinkles form in the first place. I had heard about them years ago when actress Rene Russo mentioned using them. She looked so stunning in the Thomas Crown Affair, that Frownies had gone right to the top of my list!
They are easy to apply (just wet and stick) and adhere amazingly well (you wet them to get them off). Many people wear them just at night, but I am also planning to use them if I am home during the day. While it's too early to tell if they are helping, I am hopeful.
Uma oils were the second product. The company sent a trial pack with five oils– Absolute Anti Aging Face Oil , Ultimate Brightening Face Oil, Pure Calm Wellness Oil, Intensely Nourishing Hair Oil, Absolute Anti Aging Body Oil.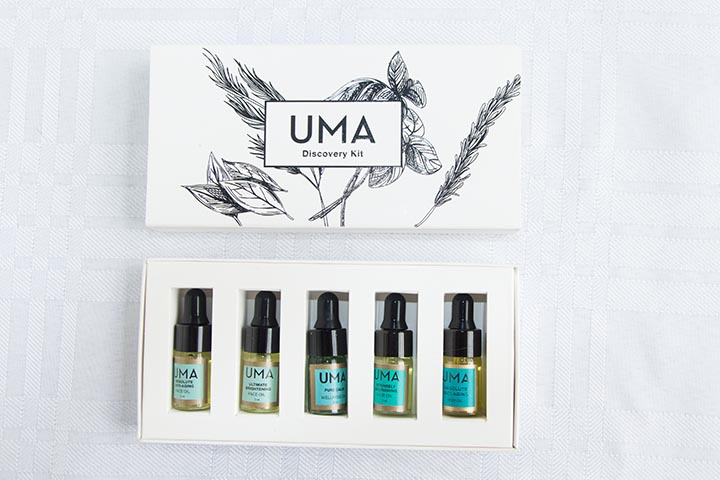 Founder Shrankhla Holecek was raised in India and brings the knowledge and cultural tradition of Ayurveda and holistic medicine to her products. Everything is organic, vegan, and free from synthetic fragrances and emulsifiers, preservatives, parabens, GMOs, and mineral oils and not tested on animals.
The first thing I noticed was the intense scent. People who enjoy fragrance or like working with essential oils will probably love these products; those who avoid all strong scents (even essential oil scents) might want to skip or start with the tiniest sample. But the strong scent made me confident that these were full of active ingredients rather than a lot of carrier oil.
I dove right in with the anti-aging and facial brightening oils. A few small drops go a long way and my face even tingled slightly from the brightening oil (see note on patch test below), which I took as a sign it was working.
I haven't used either product long enough to comment on effectiveness. But I can tell you that I'm enjoying the experiment and happy to be taking things slowly!
It's a good idea to do a patch test (use a tiny amount on an inconspicuous area to check for allergic reaction) when trying any new product (even a "natural" one). People with medical issues should do some research and/or consult a professional. Nothing in this post (or blog) is intended as medical advice. Post is sponsored but all opinions are my own.