Blueberry Lemon Sugar Muffins
Have you read the good press about blueberries?  Loaded with antioxidants, studies have shown that blueberries may improve memory, blood pressure, cholesterol and more.  A while back, I put them on my list of things to eat more often, then made blueberry muffins and bought blueberry jam.  After which my kids announced that they hate blueberry jam.
And that is how I came to have a lovely jar of blueberry jam sitting around my refrigerator.  For months.  I wasn't going to toss anything that healthy.
When I decided to do my Kitchen Cupboard Spring Cleaning Project, I thought, "what could I do with some unloved-but-really-nutritious blueberry jam?"
I did my usual internet blog search and located this creative and tasty recipe that I adapted from the Damn Delicious site.  This original recipe calls for making your own jam by cooking down blueberries and sugar, but I figured I'd just warm up my jam to soften it and use that instead.  With 2 cups of blueberries in a dozen muffins you get some serious fruit in these!
The jam goes on the tops of the muffin along with sprinkles of lemon sugar resulting in a muffin that is especially attractive and a great candidate for a festive event.  Hmmm, Mother's Day is coming up!
 Blueberry Lemon Sugar Muffins
Yields 12 muffins
INGREDIENTS
2 cups blueberries, divided or 1 cup blueberries & 6-8 oz jam
1/2 cup sugar (and 1 T additional sugar if not using prepared jam)
1 cup all-purpose flour
1 cup whole wheat flour
1 teaspoon cinnamon
2 teaspoons baking powder
2/3 cup milk
1 T lemon
1/4 cup (1/2 stick) butter, melted
2 eggs
1 teaspoon vanilla extract
For the lemon sugar topping:
1/4 cup sugar
Zest of 1 lemon
DIRECTIONS
1.  Preheat the oven to 400 degrees F. Line a 12-cup standard muffin tin with paper liners or coat with nonstick spray; set aside.
2.  If not using prepared jam, make homemade jam as follows:  In a medium saucepan, combine 1 cup blueberries and 1 tablespoon sugar. Bring to a boil; reduce heat to low and simmer, stirring occasionally, until sauce has thickened, about 5 minutes. Let cool 10-15 minutes.
If using prepared jam, warm jam until softened.
3.  To make the lemon sugar topping, combine the sugar and lemon zest, rubbing the zest into the sugar with your fingertips; set aside.
4.  In a large bowl, combine the flour, 1/2 cup sugar, cinnamon, baking powder and salt.  In another bowl, whisk together the milk, lemon juice, butter, eggs and vanilla.  Combine wet and dry ingredients, stirring just until moist.  Add 1 cup blueberries and gently toss to combine.
5.  Spoon the batter evenly into the muffin cups. Top each muffin with a spoonful of blueberry jam, swirling into the batter but letting it peel through. Sprinkle with lemon  sugar mixture.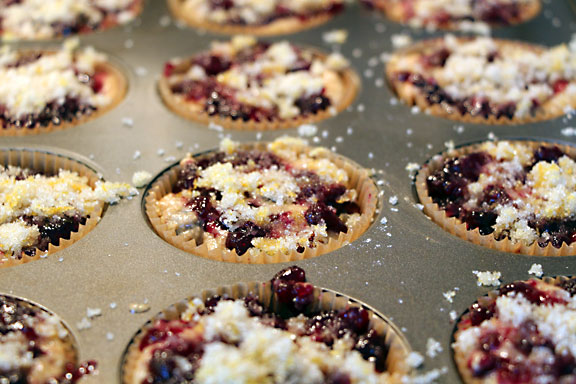 6.  Place into oven and bake for about 20-25 minutes, or until a tester inserted in the center comes out clean.
7.  Cool then serve.