Eggplants Everywhere: Baba Ganoush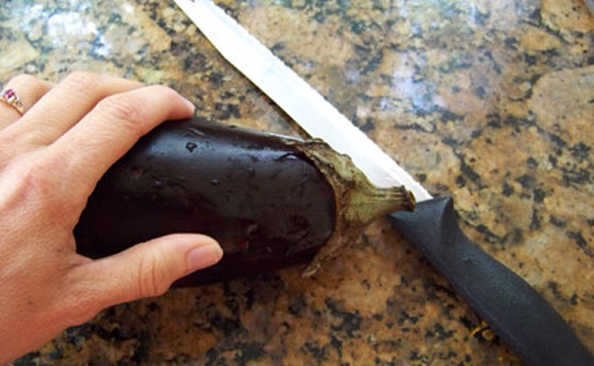 I can't remember when I first tasted the slightly spicy Middle Eastern dip known as Baba Ganoush, but it was an instant hit.
Served with the traditional pitas, my first experience was delicious, but the real payoff came when I realized what an amazing veggie dip it is.  In a house with hungry teenagers, veggies and dip always disappear.  But if I take away a dip high in saturated fat and substitute one that contains a vegetable, it's a double win.
My original recipe came from a friend.  I increased the fat (at least it is good fat) and spices.  Sometimes you just can't help yourself.
Today I realized I had seven(!), fortunately small, eggplants getting soft in the 'fridge.  1 garden, 2 CSAs.  'Nuf said??
Baba Ganoush
Ingredients
1 eggplant
1/4 c tahini
2 T olive oil, plus additional 1 T for brushing eggplant
1/4 c lemon juice
2-3 cloves garlic
1 t cumin
Dash of cayenne
1/4 c cilantro  (or parsley for the "cilantro tastes like soap people")
1/4 t salt
Directions
1.  Slice eggplant in half, prick with fork, and brush cut sides with olive oil.
2.  Roast eggplant at 350 until soft, about 30 minutes.
3.  Scrape out the pulp and place in blender or food processor.
4.  Add remaining ingredients and puree until smooth.
5.  Cool.  Serve with pita bread or cut vegetables.
Tip: if you are not a garlic lover, consider reducing the garlic to 1 clove or roasting the garlic with the eggplant, which will mellow it.