Guacamole and the Red Hot Blues
With a title like Guacamole and the Red Hot Blues, I wish I could start this post with a wonderful story. A tale of snacking in the deep south, notes of a blues band drifting in from the shadows. Moody bar, soulful tunes and a smooth-spicy dip.
Instead it was guacamole before the swim meet accompanied by Red Hot Blues chips provided by Garden of Eatin' . Life is good…
Guacamole with chips has long been a favorite snack in our household. The classic mix of avocado, tomato and spices is perfect for celebrations, football games, topping hamburgers or even a mini-meal to tide you over until dinner. Yesterday was the swim teams parents night and there would be snacks and pizza after the meet. So we just wanted to eat enough to not pass out during the 500.
It was many years ago when I started making guacamole–actually out of necessity. The buying club that I've been part of for ages always included avocados in the boxes. I sliced them for salads and sandwiches but never used them up. Guacamole was the solution. But I never posted the recipe for one simple reason–I didn't have one. We added dashes of this and that, then tasted and adjusted. This recipe is mild, but if you crave some extra heat (unlike young kids and wimpy husbands), just add more cayenne or a diced jalapeño pepper.
Despite a high calorie content, avocados are quite good for you according to the NYU Langone Medical Center. Their fat is the "good" monounsaturated fat and they are high in fiber. Add a good vitamin and mineral content (more potassium than a banana!), lutein and Beta-sitosterol and you have a healthy package (in moderation, of course).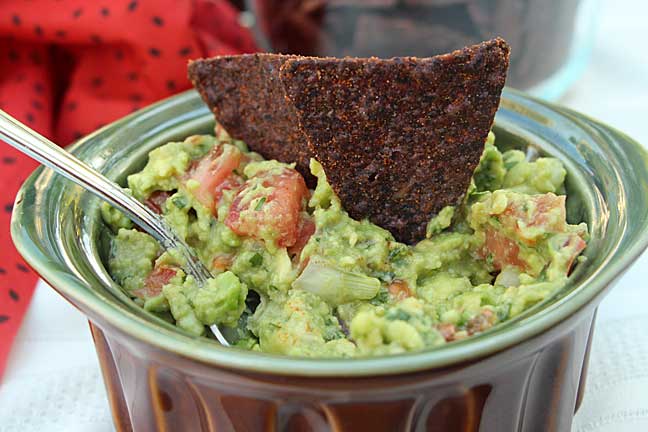 The motivation to finally post my recipe came with the Garden of Eatin chips in celebration of Guacamole Day (in September). The company is the largest producer of natural and organic chips and these chips were gluten free, non-GMO and made with organic blue corn.
I had expected some nice salted chips, but the Red Hot Blues were dusted with paprika and other spices, making them especially addictive tasty. I was pleased to learn that the company has more flavors of chips than a potato chip company (e.g. Tamari, Key Lime Jalepeno), so I'm pretty sure I'll be trying some more.
Yup, it's time to measure guacamole ingredients!
Guacamole
2014-10-09 09:20:32
Serves 8
A classic mix of avocado, tomato and spices, guacamole is perfect for celebrations, topping hamburgers or even a mini-meal to tide you over until dinner.
Nutrition Facts
Amount Per Serving
* Percent Daily Values are based on a 2,000 calorie diet. Your Daily Values may be higher or lower depending on your calorie needs.
Ingredients
4 ripe avocados
1/2 small onion, thinly diced (2 tablespoons)
1 large garlic clove, minced
1/2 teaspoon salt
1 t Cumin
Juice from 1/2 lime
1/4 c chopped cilantro
Dash Cayenne or to taste
1 medium tomato, diced
Instructions
Cut the avocados in half, remove the pits, and scoop out the flesh. Discard shells & pits. Mash avocado with a fork until still partly chunky.
Add the remaining ingredients except tomatoes and mix well. Fold in the tomatoes. Taste and adjust seasonings to your taste.
Art of Natural Living https://artofnaturalliving.com/