Spinach Pear Pomegranate Salad
I'd like to claim it was inspiration. Or the product of a finely tuned palate. Alas, this Spinach Pear Pomegranate Salad was the result of things left over in my refrigerator. But isn't that what seasonal eating is all about?
Of course everyone knows that "leftovers" can be the makings of fine eating (does your family fight over them at Thanksgiving like mine?).
I have a "salad saying" that I use to check if I have the right blend of ingredients–"sweet, savory, creamy, crunchy." Put those together and you have a salad that sings. Here, blue cheese handles creamy, nuts take care of crunchy, the fruit brings in sweet and red onion adds savory. Done. And done.
I like that the green and red tones in this Spinach Pear Pomegranate Salad feel like the transition into fall (and would work well for Christmas too). I took special care to cut up a red (Starkrimson) pear and hunt up some green tinged pistachios!
The pomegranate—my first of the season, was from my buying club box. It is organic and I knocked out seeds myself, with my handy dandy pomegranate de-seeder.
Fall is passing quickly and the harvest is winding down. We are down to bi-weekly CSA boxes, full of long keepers like squash and potatoes. Then there are the spinach and pears, fleeting elements to be relished while they last. I included them both with reverence and relief.
I'm not ready for winter. But I will be.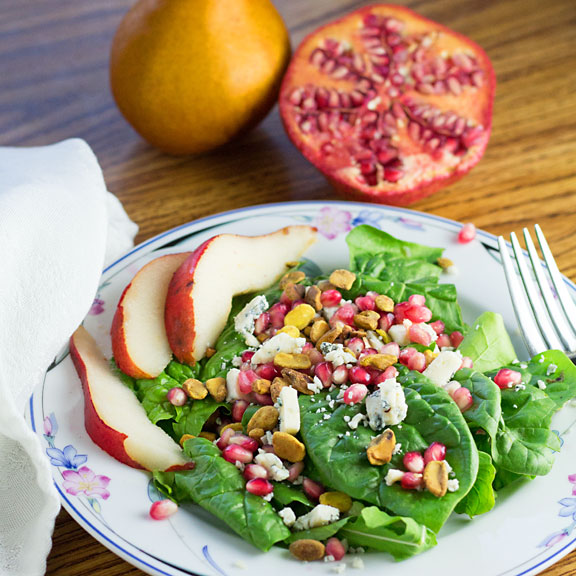 Spinach Pear Pomegranate Salad
2016-10-23 16:10:31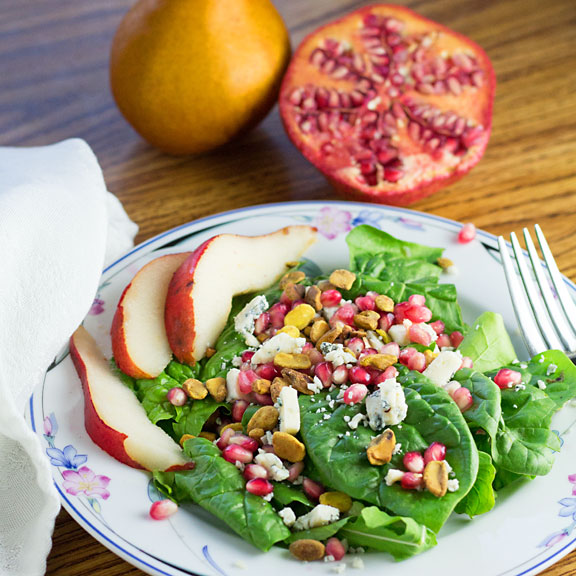 Serves 4
With sweet pears and pomegranate, creamy blue cheese and crunchy pistachios topping spinach, this Spinach Pear Pomegranate Salad will be a fall favorite.
Nutrition Facts
Amount Per Serving
* Percent Daily Values are based on a 2,000 calorie diet. Your Daily Values may be higher or lower depending on your calorie needs.
Salad Ingredients
4 ounces fresh baby spinach
1/3 cup blue cheese crumbles
½ small red onion, sliced very thin
¼ cup pistachios, toasted if you have time
Seeds from ½ pomegranate (about 1/3 cup)
One large pear, unpeeled and cut into 12 slices
Balsamic Dressing
¼ cup olive oil
2 Tablespoons balsamic vinegar
¼ teaspoon salt
¼ teaspoon black pepper
¼ teaspoon oregano
Instructions
Blend dressing ingredients together in a shaker or whisk in a bowl until emulsified
Divide spinach between 4 salad plates. Top with remaining ingredients except pear slices. Arrange three pear slices in one corner of each plate.
Allow guests to dress salad to taste.
Art of Natural Living https://artofnaturalliving.com/