Spring Flowers in Egg Cups (for the Non-Crafty)
I love all of the really cute crafty things people do in the spring.  From the decorated cookies to the place cards with duckies to the floral centerpieces…
But when it comes to crafting, I am not talented.  Last Easter,  I bought fancy icings, cute cookie cutters and pastry bags with decorating tips and decided to make beautiful cookies with my kids.  Note that no one has seen these cookies on my blog.  When we were done, they were not cute, I was exhausted and the kitchen looked like a war zone.
At least they tasted good.
I will cook anything Martha Stewart makes, but if she picks up a scissors, I am so out of there.
Until I saw her flowers in egg cups—and I had to have my own.  I have egg cups, eggs and flowers.  And when I was done—success!
How to proceed:
1.  Take the top off a raw egg.  I took a knife and chipped a small circle near the top of the egg.  Then I held it over a bowl and peeled away the shell at the top of the egg inside the circle.  When it was big enough to slip the egg out, I poured the egg into the bowl (and I'll be eating it for lunch).  I then carefully  washed the eggshell with soap and water. Not as hard as I thought!
Note that my for my first attempt, I soft boiled the egg (for breakfast… yes, the FDA would want me to mention that eating undercooked eggs can be hazardous to your health).  While I was able to keep the shell intact eating the egg (carefully), it was impossible to clean out the residue so that is not recommended.
2.  Cut some small, short flowers.  I used vinca blossoms (and to think I was growing that as a green ground cover 😉 ) and Puschkinia/Striped Squill, a spring flowering bulb.  Violets are another good candidate and are up now all over my yard.  Martha used lilacs and lilies of the valley which are not out here yet.
3.  Fill the egg shell with water, set in an egg cup and insert flowers.  I added a spring of ivy from an indoor plant for a little extra interest.  I don't think this is cheating.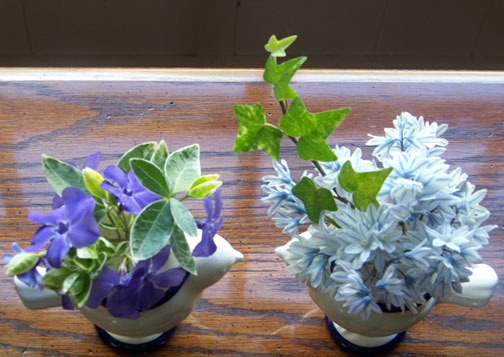 Happy Spring!