Ten Thanksgiving Leftover Ideas (and an Announcement)
Thanksgiving is one of my favorite holidays.  It is an occasion that I have never hosted (perhaps this helps make it a favorite 😉 ) but I've been known to make a Thanksgiving style dinner on an ordinary day–just for the heck of it.
You see I am seriously in love with leftovers.  Not where you eat the same thing three days in a row, but instead foods that are re-purposed into something new and (hopefully) wonderful!  This comes from my days of working (more than) full time, raising three busy kids and still cooking organic at home. Leftovers, done right, can take one (or two or three) steps off your dinner plan for the next couple of days.  Hmmm, if I were a cranberry, what could I go into …
Loaded with leftovers?  Lucky you!  You don't need to go with the standard warmed over turkey plate or sandwich with mayo.  Here are some things that I would do with a Thanksgiving doggy bag (and perhaps will—our hosts are very generous!)
Ten Thanksgiving Leftover Ideas
1.  Shirred Eggs.  Until a month or so ago, I didn't even know what a shirred egg was.  You bake veggies, cheese, bacon/sausage (optional) and egg in a baking dish for about 20 minutes.  Amazingly good and easy–and it works for breakfast or lunch.
2.  Cranberry oatmeal.  Mix up a few spoonfuls of cranberry sauce with your oatmeal–almost like a cookie!  (You know I'd never lie to you.)
3.  Fried potatoes will make short work of any leftover boiled potatoes.  If you want to feel really decadent top with some grated cheese and a fried egg.  (And you really can fry without Teflon).
4.  Omelet, frittata or quiche.  All three egg dishes are a great destination for leftover veggies or meat.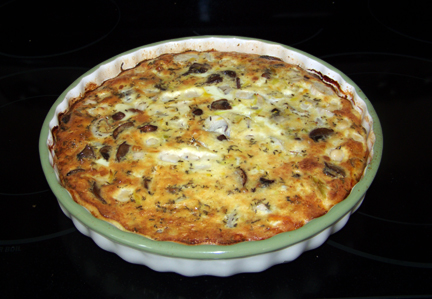 5.  I haven't had Shepherd's Pie since my college semester abroad in Ireland, but have thought about it many times.  Leftover mashed potatoes might be just the incentive I need …
6. Broth (or soup).  No poultry bone or scrap of skin leaves my kitchen without being boiled down into broth.  Use for soup today or freeze for later.  Even leftover gravy can go in.
7.  Stuffed chicken breast or pork chop.  You know those expensive items you see in the butcher shop?  You can do this with your leftover dressing.   Really.
8.  Swedish Pancakes with Cranberry Sauce.  Cranberries are actually cousins of lingonberries, so this is almost authentically Swedish.
9.  Cranberry Fruit Smoothie.  Toss yogurt, cranberry sauce and frozen fruit into the blender–get your daily servings of fruit in one dose.
10.  Curried Turkey Salad Sandwich.  Now my real motivation (and the announcement) comes out…  I just won the Milwaukee Journal Sentinel's After Thanksgiving Recipe Contest.  For the recipe (which used both turkey and cranberry sauce) take a look at the article.  (My first cooking contest!)
I had one last idea that didn't make the cut, peanut butter & cranberry sauce sandwiches, inspired by the perpetual shortage of jelly in our house.  I'll be suggesting this to the kids–but I'm not holding out a lot of hope!
Do you have a favorite leftover meal?