Winter Wellness Time with Essential Oil
If your New Year's Resolutions include a focus on wellness or a more natural life, give Simply Earth Essential Oil Recipe Boxes a try!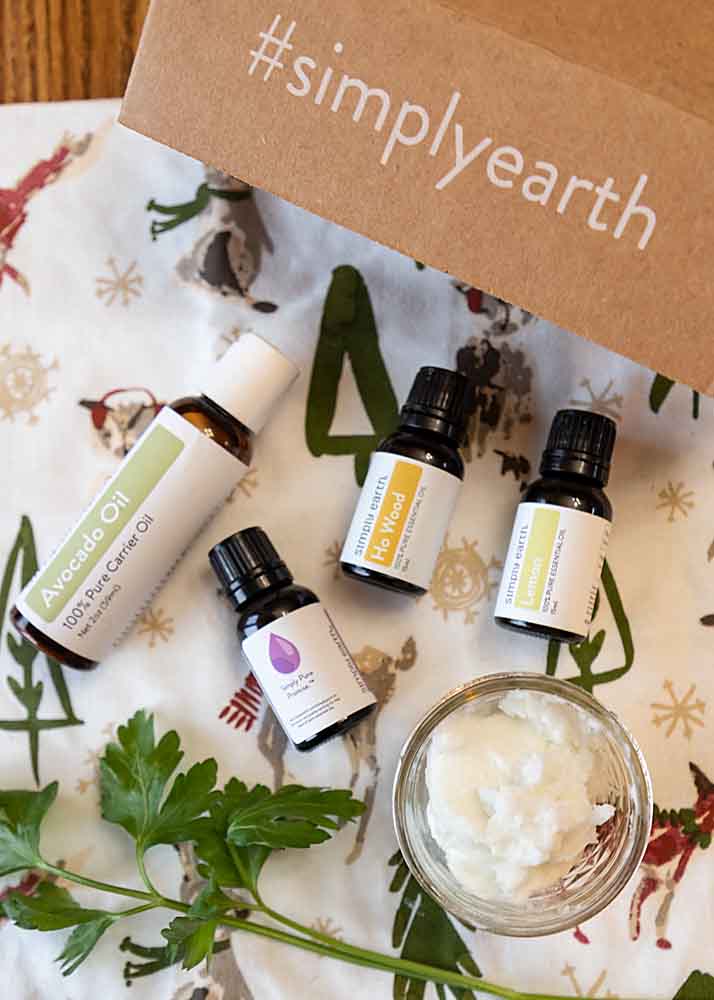 (Disclaimer: This post contains affiliate links and I received the products free of charge in exchange for this review. But the opinions are my own.)
Today I am writing about my 4th shipment of a subscription box from Simply Earth. They offer a monthly collection of essential oils (plus extras) that help you make natural home or body care products–right in your home! Over the past few months, I've had so much fun making things like Scented Candles and Bath Salts–and I am always excited to try something new.
Each monthly box has a theme and January's is Winter Wellness! I can't think of a more perfect theme for the season. Yes, as I come off the uber-hectic holidays, I'm determined to start the year with a renewed focus on rejuvenation.
Yes, if you are careful about the products your family uses, this is sooo worth looking into.
What's in a box…
The January box contains the following items:
Clary Sage Essential Oil⁠
Lemon Essential Oil⁠
Ho Wood Essential Oil⁠
Relief Blend Essential Oil⁠
Avocado Oil⁠
1 oz Container⁠
2 oz Spray Bottle⁠ .
It also includes labels and a collection of recipes to help you use them–see below for what I've been doing.
PLUS, every new subscriber gets an additional special offer–for free (I got mine my first month)! It's a bonus box with even more supporting products. Things like bottles and carrier oils that will help you make future recipes. My bonus box contained:
6 small Amber Bottles
6 Amber Roll-On Bottles
1 bag of Beeswax Pellets
12 oz. Jar of Solid Coconut Oil
4 oz. Bottle of Liquid Coconut Oil
4 oz. Bottle of Almond Oil
The two boxes would be over $150 if purchased from many of the other essential oil vendors.
Even better, for a limited time, I have a code that will get you $40 off on a future box. That means your first month is a great deal–and your second month could be free. How fun is that!
Just follow my referral link and use the code ARTOFNATURALLIVINGFREE
This month I decided to focus on my overworked body!
Did you know that you can walk literally miles, just cooking Christmas dinner? That's what my exercise watch said I did! So my feet were happy to get into a nice foot bath, one of this month's recipes.
I also tried out a whipped body butter. I made a half-batch and it was exciting to see it whip up into a smooth light cream! Plus it felt so good on my winter-dry skin. Prep tip: it may be easier to whip if you stir a couple times while it cools in the fridge and don't let it get rock hard.
I also wanted to give you a heads up on something else I'm doing with the Simply Earth essential oils. I bought a gallon of unscented liquid soap and am scenting it myself. I pour the soap into either an old soap container or a decorative container, add a few drops of essential oil, then shake to mix.
It's super easy, greener and much more economical—our household goes through SO MANY little bottles of liquid soap! Plus I get a super fun variety of scents (we went with peppermint for Christmas and looking forward to floral in spring).
The Company
Part of the motivation for the founders of this company was the challenge experienced sourcing good quality natural products. They comment:
With the safety of your home in mind, we're meticulous about every step of our process. To make sure each plant reaches its potential, we carefully and ethically choose a region where it will thrive. Then we work with our farmers. When our plants have reached maturity, they are harvested safely and fairly. From there we collect their natural essential oils through either cold-pressing or steam-distillation. Every batch is then tested to ensure 100% purity.
Yes, Simply Earth is so confident in their quality they offer a 365 day guarantee! Plus they donate 13% of their profits to charity.
This month why not add a little pampering to your life with Simply Earth!
Subscription recap
To recap…. For a limited time, you can subscribe to a $39/mo essential oil recipe box using my referral link and code ARTOFNATURALLIVINGFREE to get:
Your first monthly box
A new subscriber bonus box
$40 off a future box
If you are thinking about getting started with essential oils, want to make some fun products for the home/gifts or just want the best smelling house, you should give it a try!