Chocolate Mascarpone Pie – 4 Ingredients
Rich and chocolatey with a chocolate cookie crust, this Chocolate Mascarpone Pie is quick and easy and perfect for any occasion.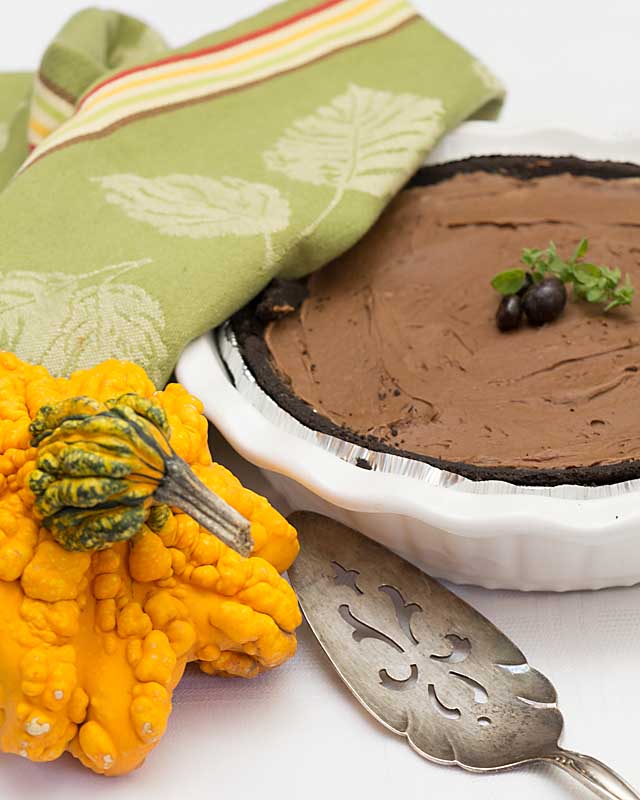 Every year, I bring pies for Thanksgiving. My brother does the heavy lifting and I get to bring something that's just plain fun! How lucky is that!
The classics pies are great–apple, pumpkin, pecan– and I always have some in tow. But with all the pie we eat there is room to shake things up with something new. That makes fall pie testing time. Yup, a tough job…
Today's recipe is for Chocolate Mascarpone Pie and credit for the recipe goes to Crave Brothers Cheese, maker of award-winning cheeses like flavored curds, fresh mozzarella and luscious mascarpone. I tasted the pie at their operation last summer when they hosted a special event. They served teeny pieces of Chocolate Mascarpone Pie and I have to admit, I went back for seconds of the rich chocolatey treat!
Now Crave Brothers is a farmstead cheese which means they produce both the cheese and the milk that goes into it. And even better they do it in an eco-friendly way, using a digester to turn the farming and cheese production waste into enough electricity to power their business and 400 homes. I'd call that green cheese!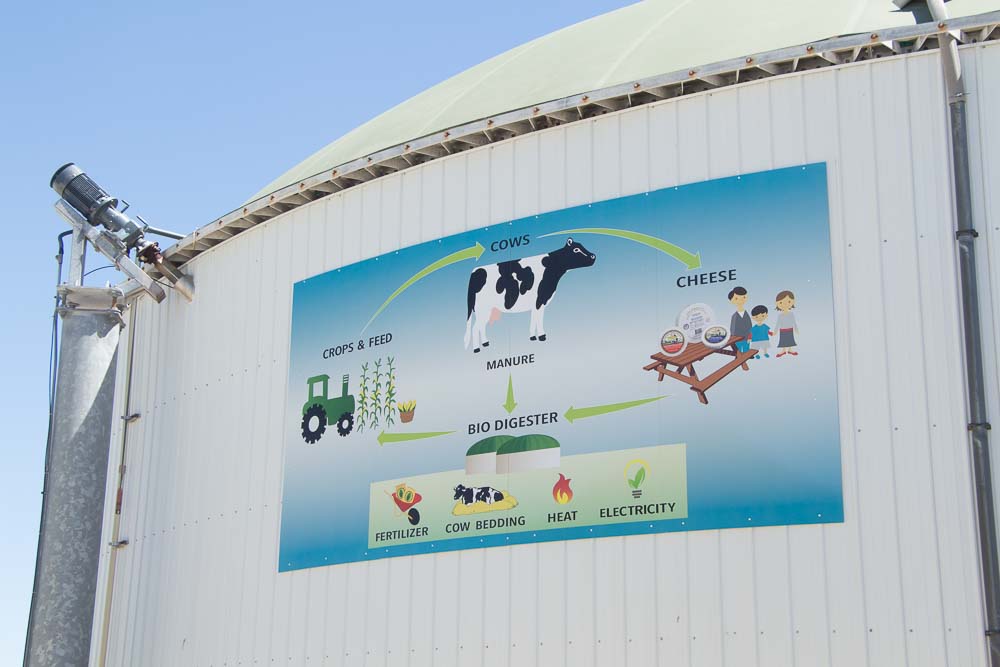 This Thanksgiving, I am thankful for both their great cheese and their stewardship–not to mention their pie recipe 🙂 !
I do have a few tips for making this pie, based on making a few mistakes myself. First, let your mascarpone come to room temperature naturally. If you soften it in the microwave, you risk causing some fat separation if it overheats (ask me how I know this).
Second, don't forget to add the alcohol–substitute vanilla or almond extract if you avoid alcohol. Although it seems surprising that great ingredients like these need a flavor punch, it was noticeably better when I added the recommended Kahlua. (Of course, when I forgot, I just drizzled a little over my whipped cream. All good.)
And finally, a pre-packaged crust like I used is easy and tasty, but that aluminum exterior is only so cute. But if you "scrunch" it down a little, then slide the pie into a ceramic pie dish, it looks almost like homemade.
I'll never tell.
Chocolate Mascarpone Pie
2018-11-15 17:14:30
Serves 12
Rich and chocolatey with a chocolate cookie crust, this Chocolate Mascarpone Pie is quick and easy and perfect for any occasion.
Nutrition Facts
Amount Per Serving
* Percent Daily Values are based on a 2,000 calorie diet. Your Daily Values may be higher or lower depending on your calorie needs.
Ingredients
16 ounces Mascarpone cheese
6 ounces dark chocolate (I used 60% dark chocolate chips)
2 Tablespoons Kahlua, Irish Cream, Amaretto or liqueur of your choice (sub 1 tsp vanilla or almond extract for alcohol free version)
1 chocolate cookie crust
Instructions
Soften mascarpone at room temperature until it can be readily creamed.
Melt chocolate, then blend into mascarpone. Add liqueur and mix until well combined. (I used my mixer)
Fill cookie crust, then chill until firm
Serve with whipped cream.
Art of Natural Living https://artofnaturalliving.com/