10 Minute (Beautiful) Pear Tart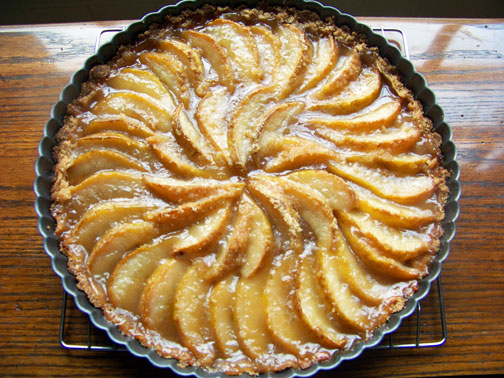 I found a new fruit tart recipe on one of my regular blog reads (Healthy Eating for Ordinary People) last fall–right after buying a case of peaches. When the author mentioned she had prepared a beautiful peach masterpiece in 10 minutes (working time), it was fate.
I must, however, admit that it took me 15 minutes the first time. But I did have some nerves—doesn't a 10 minute tart seem to good to be true? When I took the golden peach tart out of the oven, all jitters were gone.
After that I tried it with apple and cranberries with less successful results. The drier apples did not "juice out" into the glistening thick glaze that I had experienced with the peaches so I resolved to wait until next peach season to try it again.
Until the case of pears arrived. A perfectly ripe pear is almost as juicy as a peach, isn't it? And the results??? See below!
This is a dessert that works for vegan diners as well. Need an easy recipe that impresses? Easter is coming (with Mother's Day right on its heels)…
10 Minute Fruit Tart
Adapted a bit from Healthy Eating for Ordinary People which was adapted from Food 52
1 1/2 cup flour (I used half whole wheat)
1/2 t salt
1 t sugar
1/4 cup vegetable or canola oil
1/4 cup mild olive oil
2 tablespoons milk or water
1/2 t vanilla
2 tablespoons flour
3/4 cups sugar
2 tablespoons cold margarine or butter
3-4 large ripe pears, cored and sliced (about 1/3-inch thick)–or peaches, sliced with stone removed
1. Preheat the oven to 425. Place a piece of foil or a baking sheet on the lower rack to protect the oven from dripping juice while the tart is baking.
2. Make the crust. In a mixing bowl, stir together 1 1/2 cups flour, 1/2 teaspoon salt and 1 teaspoon sugar. In a separate bowl, whisk together the oils, milk and vanilla. Pour this mixture into the flour mixture and mix gently with a fork. Transfer the dough to an 11 inch tart pan and press the dough down with your fingers till it covers the bottom of the pan and edges up the side. Note: the crust above the "fruit line" tended to brown a lot so going half way up the sides worked well for me.

3. Make the crumb topping. Combine 3/4 cup sugar, 2 tablespoons flour, and the butter/margarine. Mix together with fingers or a pastry blender until crumbly.
4. Assemble your tart. Starting on the outside, arrange the pear slices in concentric circles over the pastry. Sprinkle the crumb topping over the top.
5. Bake for 35 to 45 minutes, until shiny, thick bubbles are erupting from the fruit and the crust is beginning to brown. Cool on a rack. Serve warm or room temperature.
Celebrate with Pear Desserts!