10 Minute (Beautiful) French Pear Tart
With a simple topping that melts into a beautiful glaze & a press-in crust, this French Pear Tart is a quick, easy & tasty dessert. Vegan option.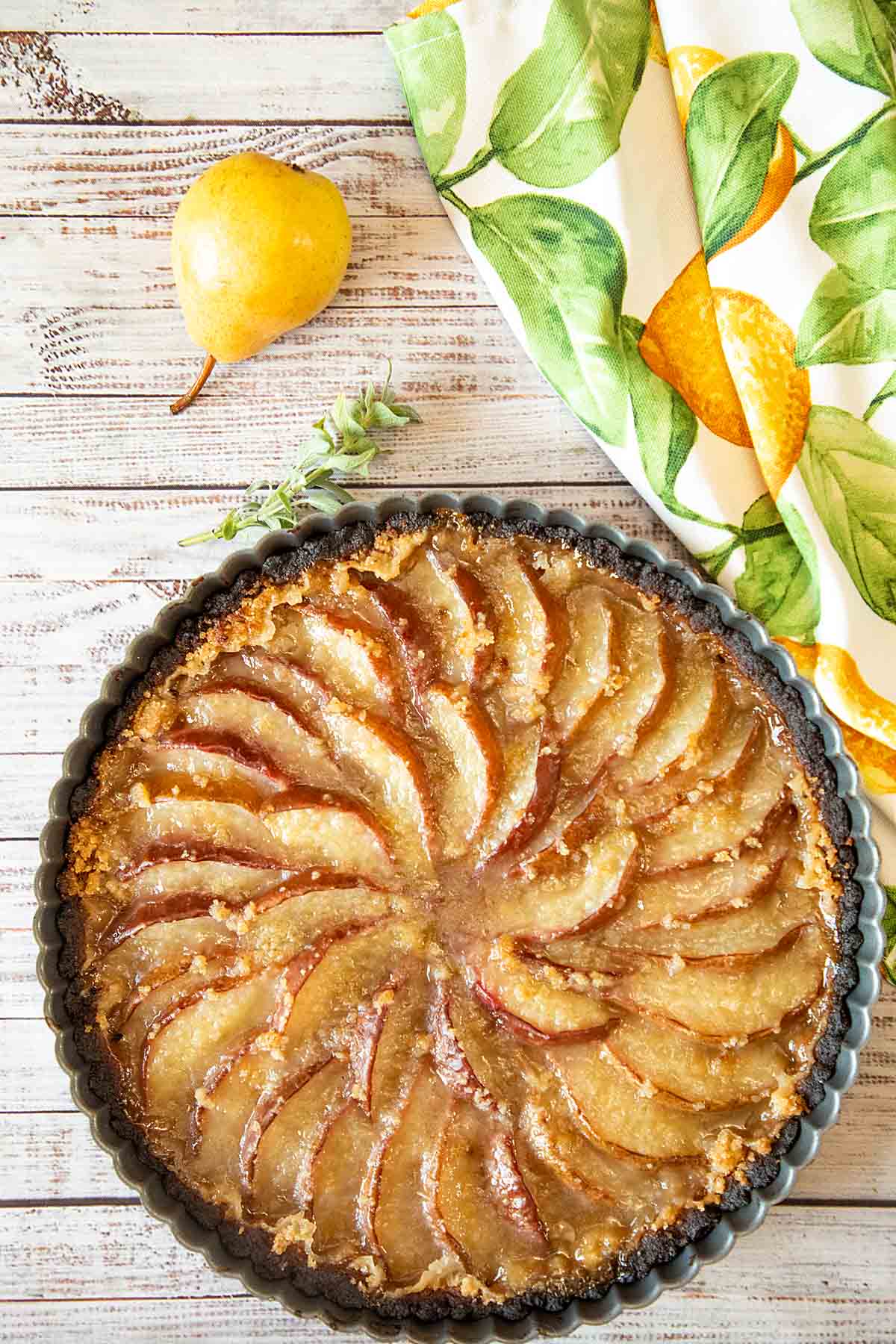 Isn't it nice when grace and practicality come together seamlessly? The recipe that this lovely, tasty tart is based on came from Food 52 via a now-closed blog and was billed as a 10-minute tart! How good it that! Originally made with peaches, I admit it took me 15 minutes. Still not complaining!
Key to the beauty and simplicity of this dish is the "glaze" that you see on top. It's actually a simple crumb mix of flour, butter and sugar, combined (use your fingers if you want) and sprinkled atop the pears. Then it melts effortlessly into a glistening lush glaze.
How do you beat a perfect shine that requires no brushing of melted jelly!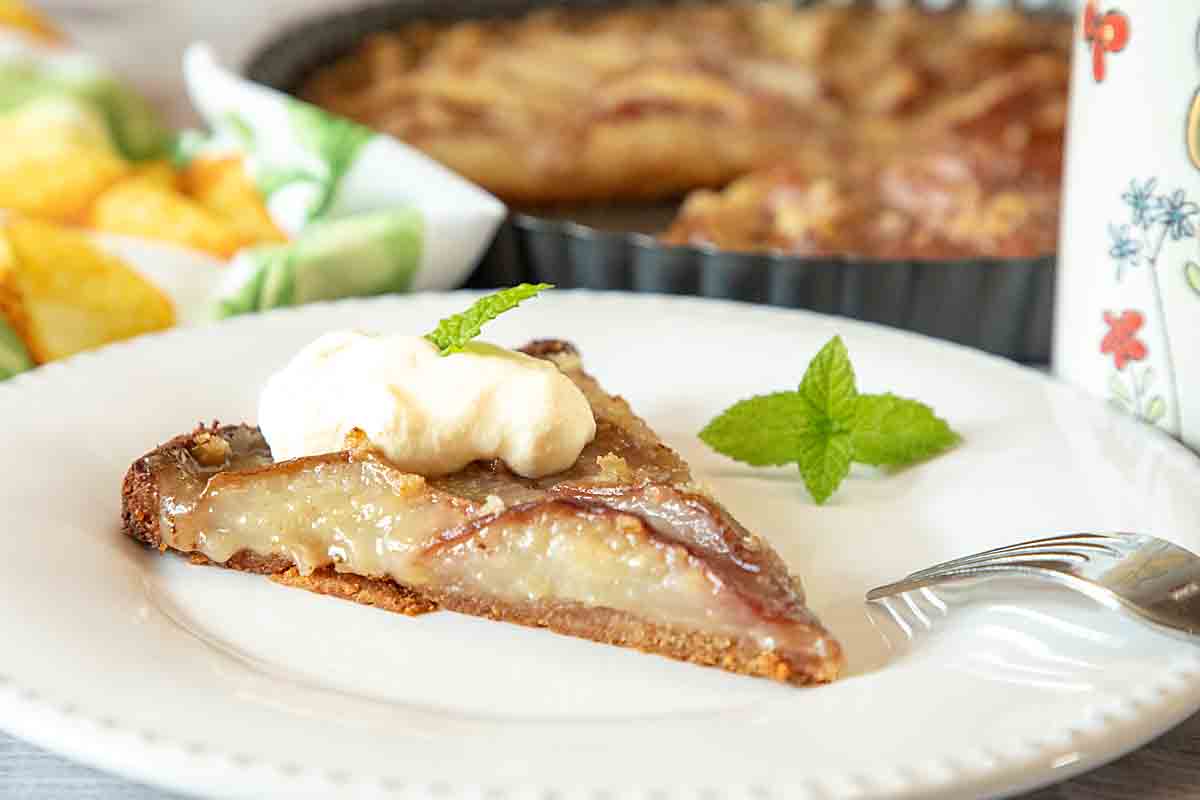 What is a French Pear Tart vs Frangipane or Almond Pear Tart?
While defining a tart may not seem like a difficult question, I am actually more confused now than before I started researching. If you google French Apple Tart, you will find recipes that are quite similar to my pear tart–except using apples of course. Sometimes they are very close and sometimes they also add a pastry cream or custard (egg and cream) base.
But looking up French Pear Tart usually (but not always) gives you a tart with pears set in frangipane, a ground almond custard. And though I love it dearly, I consider frangipane a VERY different recipe–see here for my Pear Frangipane Tart, pictured below.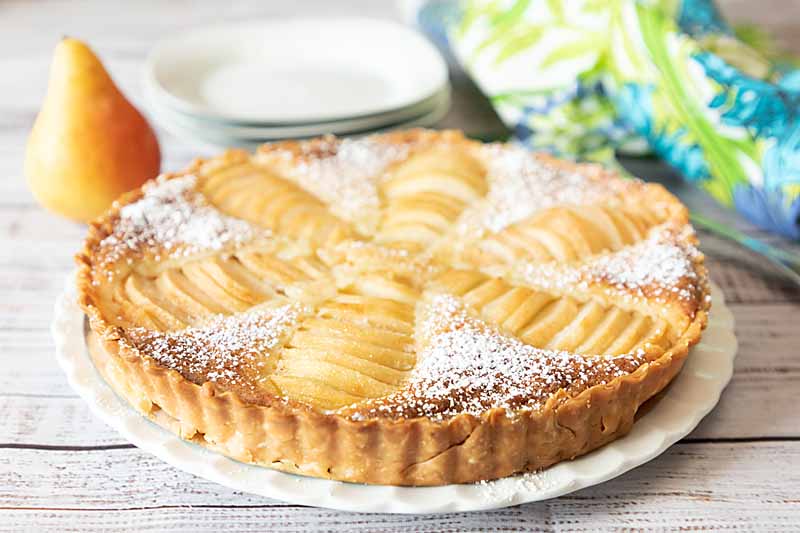 Yes, this is the first time I've found that simply changing out the fruit used in a recipe–from the French Apple Tart in this case–results in an identity crisis. And now I really don't know what to call this. Pear Tart, alas, seems simply too generic alone.
Why You'll Love This!
So Easy. I know we bloggers are always saying recipes are easy, but this really, truly is!
Tasty. I think pears are underrated. All they need is a simple glaze and they really shine!
Impressive. With the lovely concentric circles and the shiny golden glaze, people will think you're a real pro!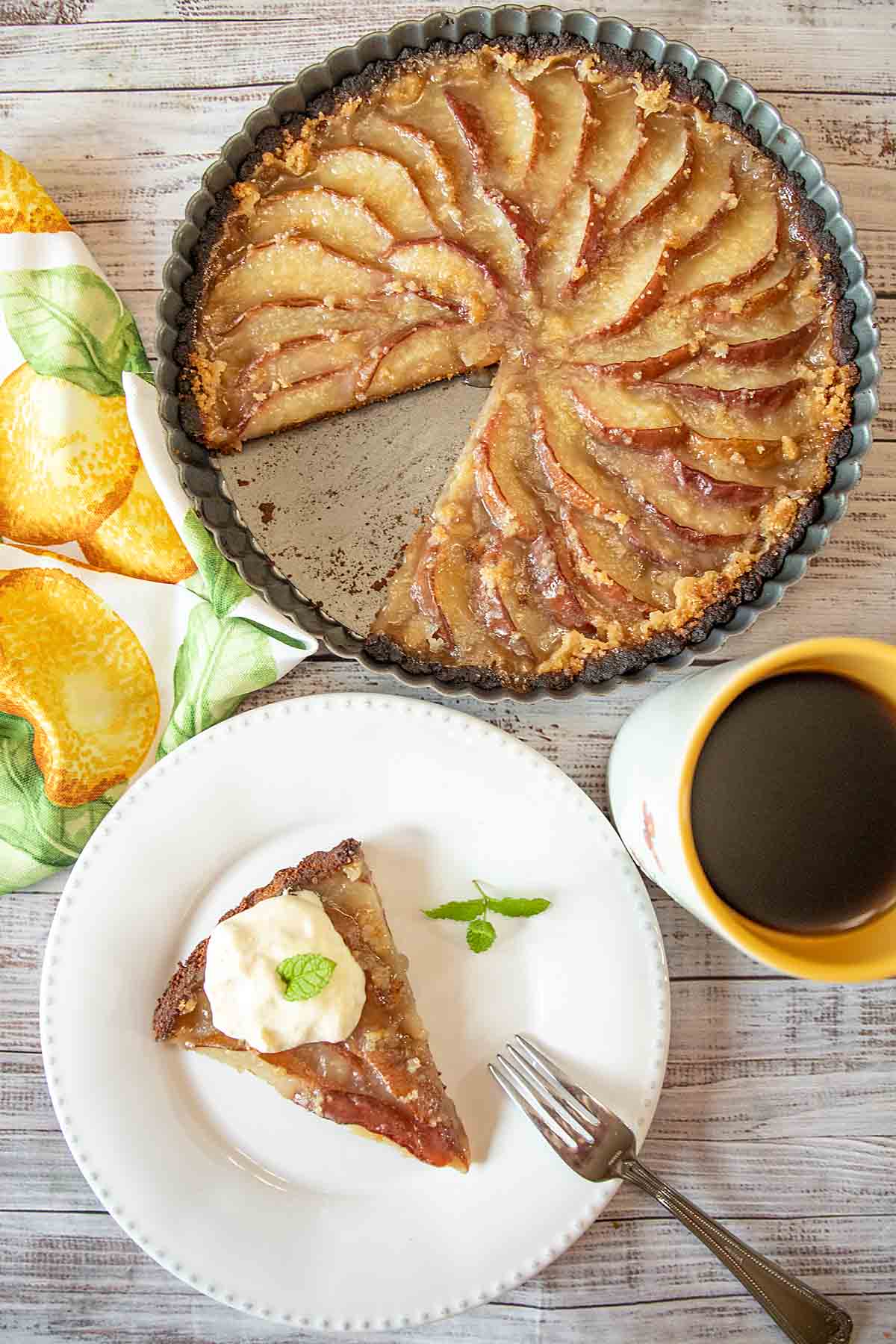 What You'll Need
Ingredient Notes
Flour. This is the main component of the crust and also helps thicken the topping. I used half whole wheat in the crust.
Salt. Adds flavor and may help counter any bitterness from the olive oil (and whole wheat if used)

Vegetable or canola oil (or butter). This moistens and helps hold the crust together. Using an oil mix will help lighten up the flavor that even mild olive oil can add.
Mild olive oil (or butter). This moistens and helps hold the crust together. Plus olive oil is healthy and suitable for vegan diets.
Water or milk. Moistens the crust.
Vanilla. Adds flavor.
Sugar. This adds sweetness and shine.
Margarine or butter. I use butter but vegan eaters can use margarine.
Pears. The filling. I've made this successfully with red pears, yellow pears and the earthy brown Bosc pears. Asian pears (which are very different) would probably not have the moisture content to work in this. See "Variations" below for more ideas.
Special Tools
11 inch tart pan, ideally with a removable bottom.
A food processor is nice but you can mix the crust and toppings by hand without too much difficulty.
Step by Step Directions
Mix crust ingredients. Press the dough into an 11 inch tart pan till it covers the bottom of the pan and edges up the side. The crust above the "fruit line" tended to brown a lot so going half way up the sides worked well for me.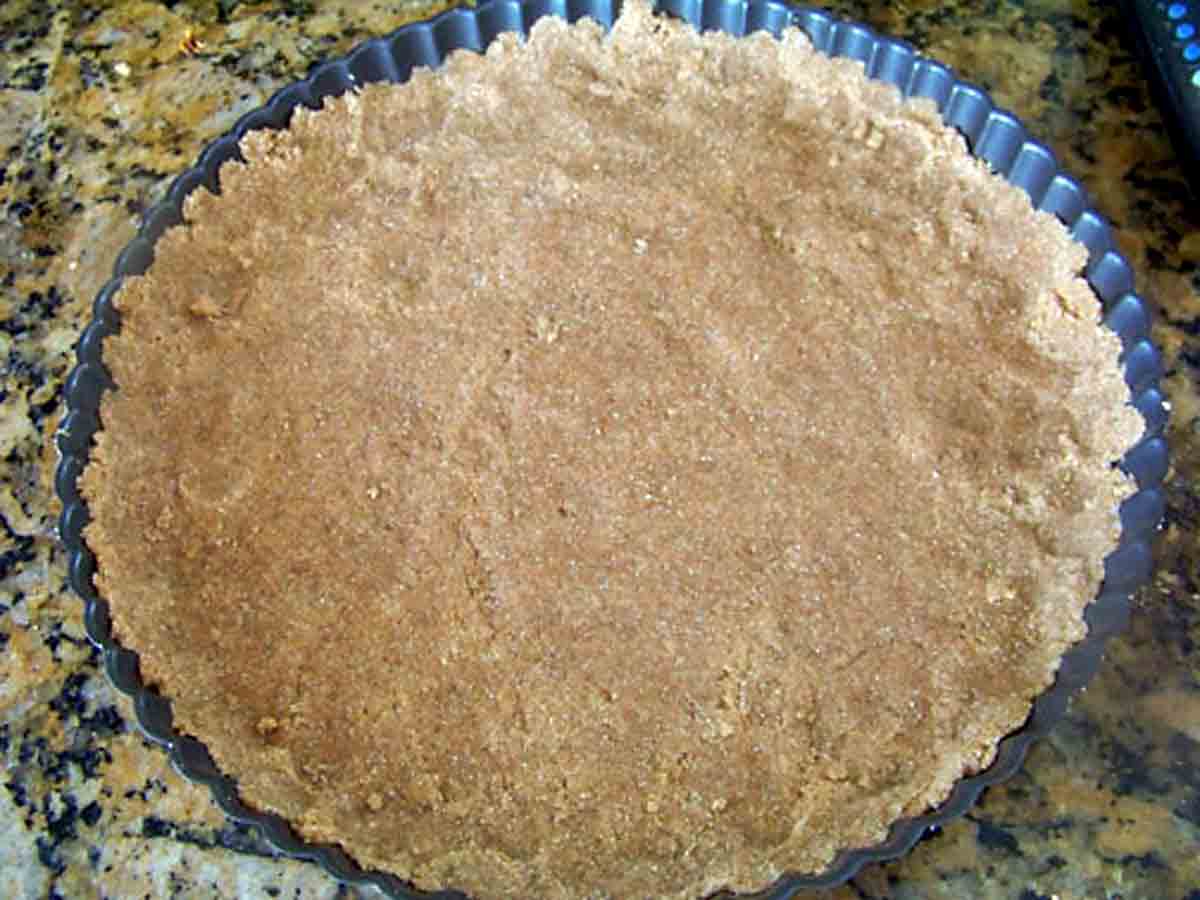 Mix together the crumb topping ingredients.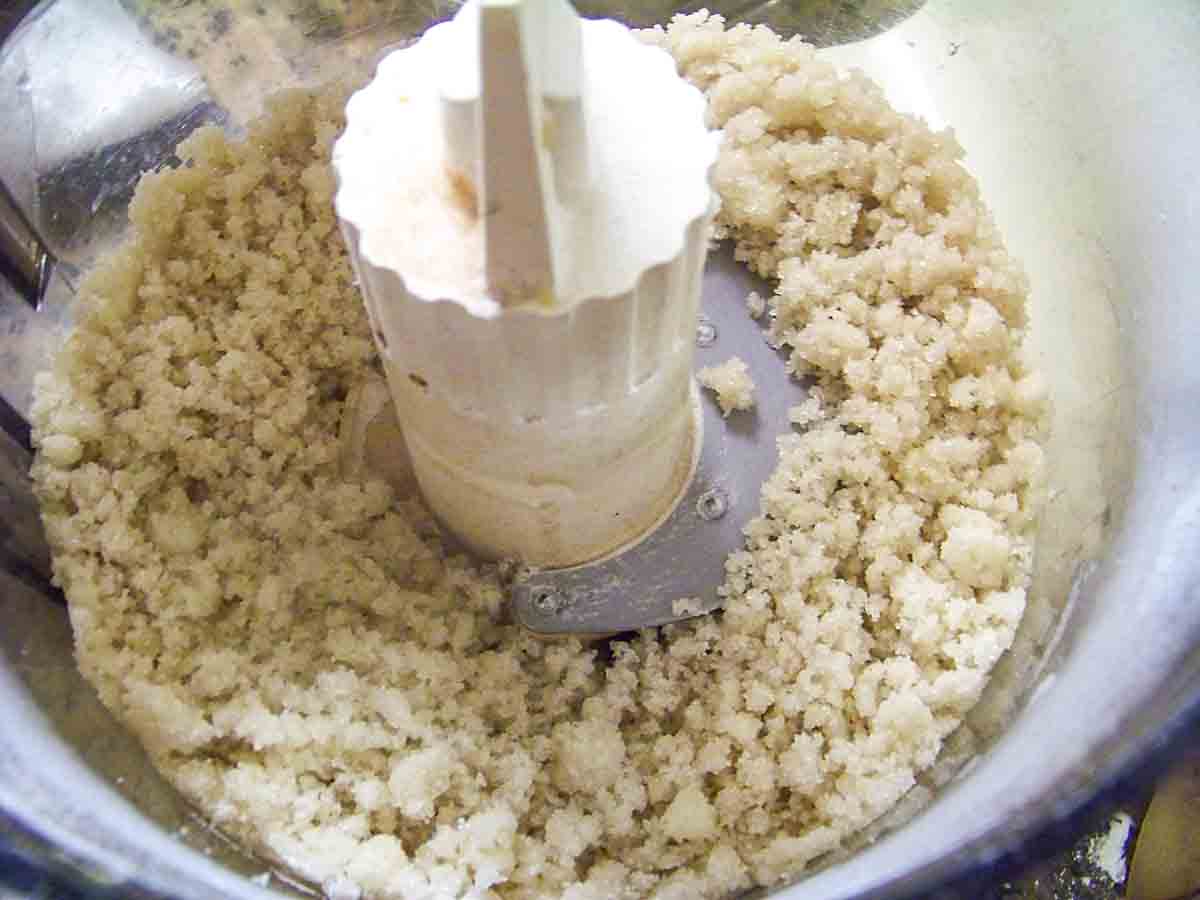 Arrange pears in two circles on the crust, starting on the outside.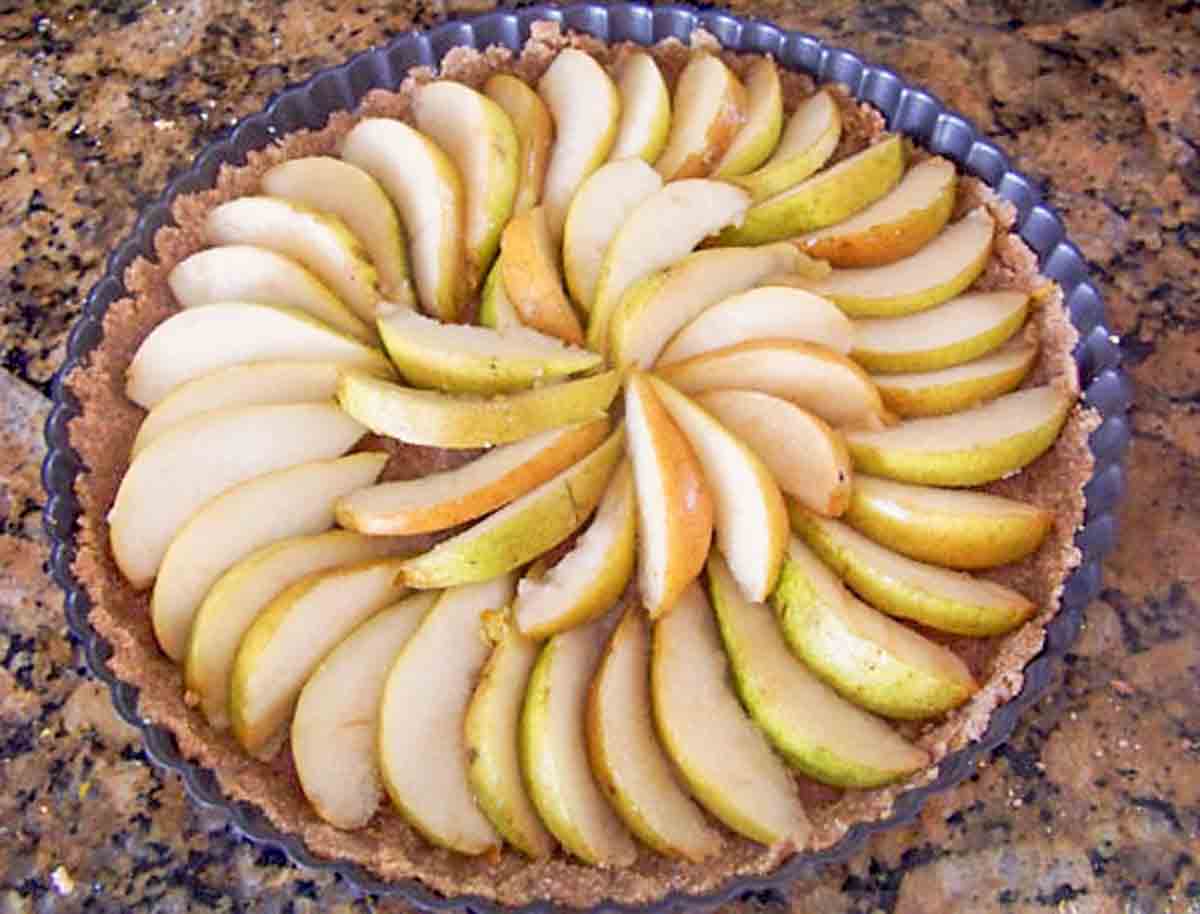 Sprinkle the crumb topping over the top.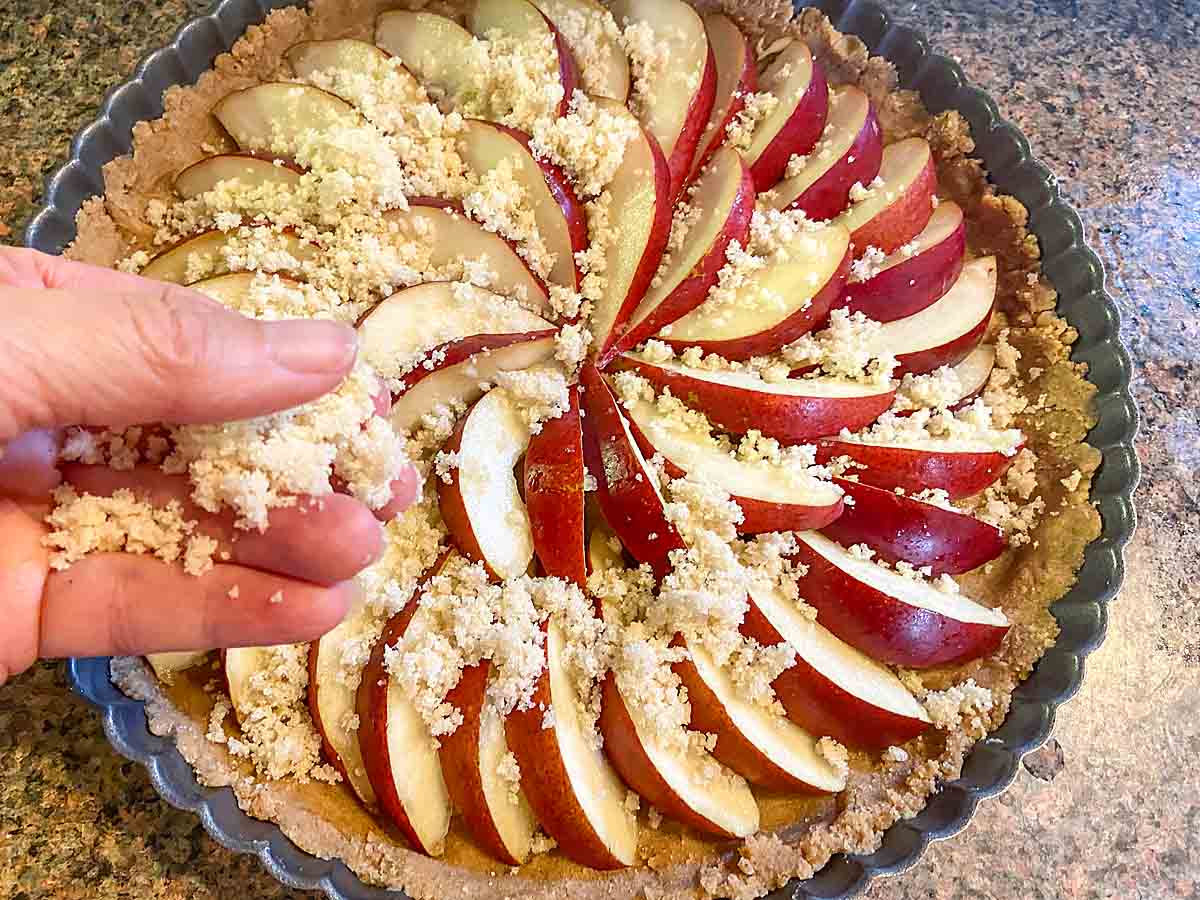 Bake for 35 to 45 minutes, until glaze is shiny and bubbling and the crust is beginning to brown. Cool on a rack. Serve warm or room temperature.
How to Serve
This is a delicious dessert for any dinner or brunch. I like to top with a dollop of whipped cream. A mint leaf can be a nice garnish as well.
I've brought this to our Thanksgiving buffet and after an absence of a few years, I think it's time to bring it back. One pumpkin pie, one apple, one pecan, then the sky's the limit!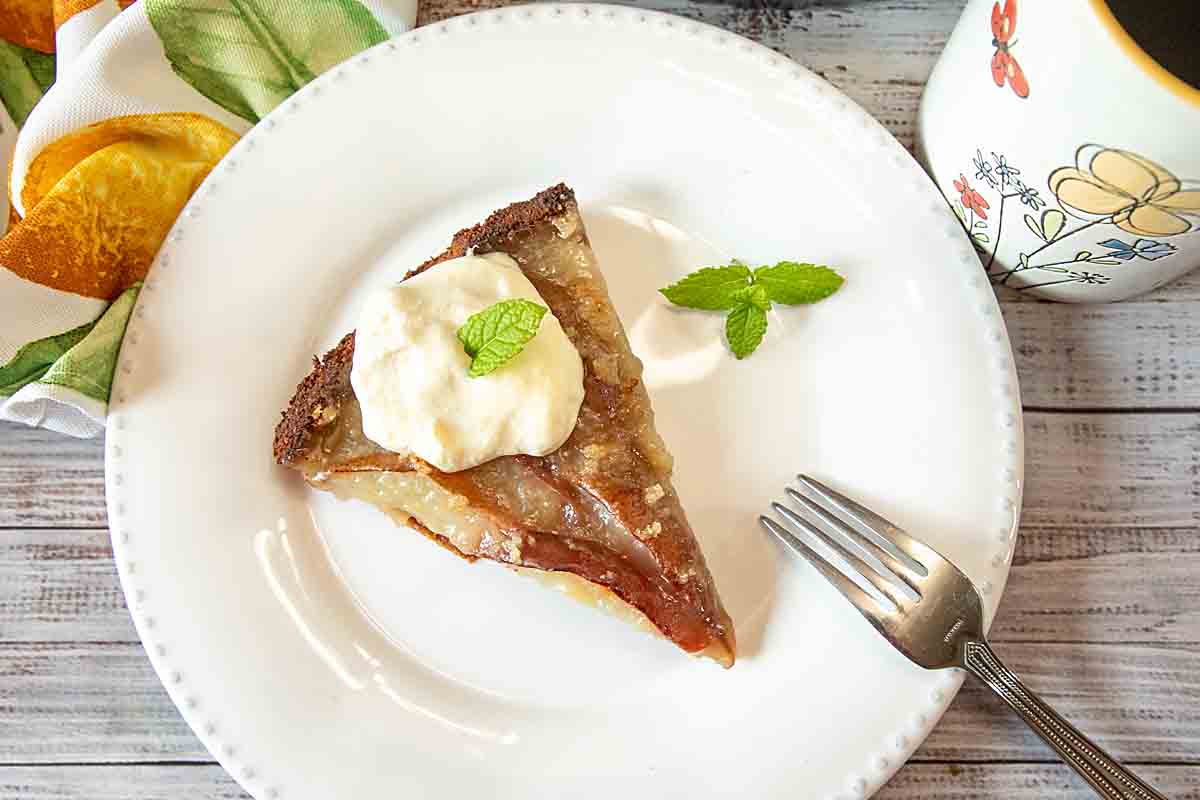 Variations
Happily this is already vegetarian and vegan. To go gluten free you could use your favorite gluten free crust and change the thickener in the topping to a something other than flour.
I've also done a version of this as a simple Plum Tart. For that recipe, the main difference is the addition of linzer spices (cloves, cinnamon, etc) to the crust. This compliments the more robust flavor of the plums.
Besides plums, I have also made this successfully with peaches–and failed with apples. The key is that the fruit have enough moisture to help create the glaze.
Now if you'd like to venture into other pear pies, I have a few more suggestions. Consider my Pear Custard Pie another simple but elegant dessert with sweet pears in an eggy vanilla custard, or this Drunken Chocolate Pear Tart which is essentially red wine poached pears set into a brownie-like base.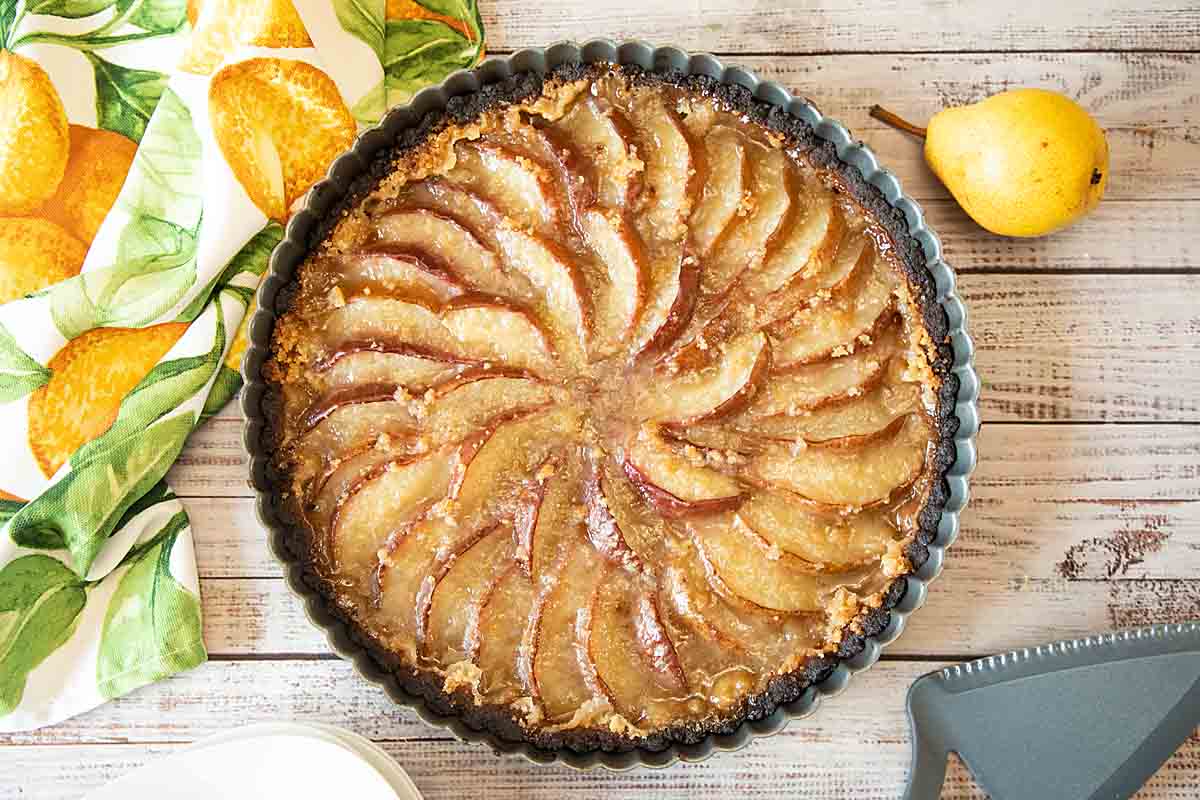 Preparation and Leftovers
This French Pear Tart is best made the same day you serve it, since it softens some over time. It starts out with a bit of crystallization along the crust that is sweet, crunchy and quite lovely.
For a couple days after, the leftovers are still good (refrigerate after serving).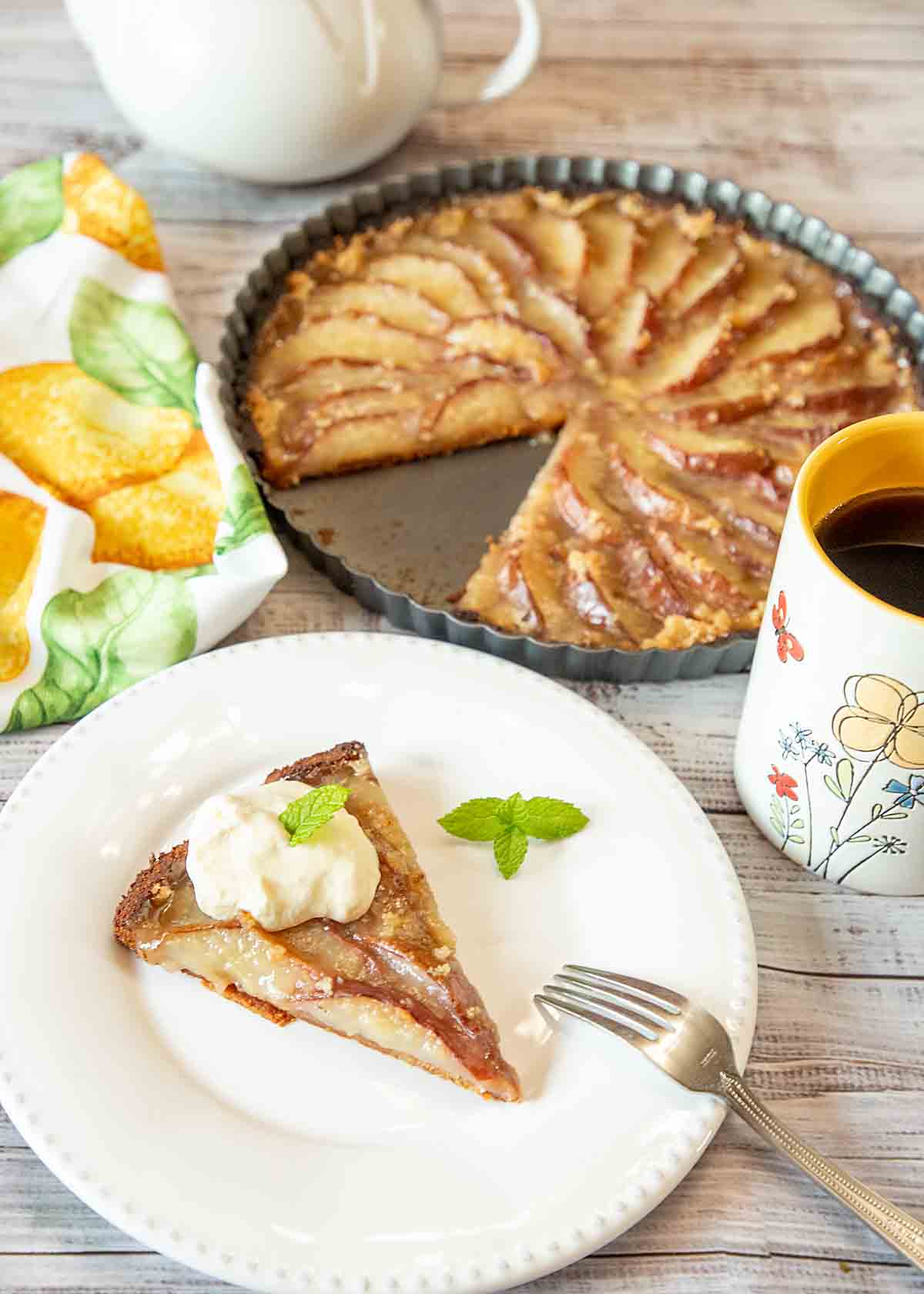 Tips & FAQs
Don't shortchange your baking time. That crystallization that I mentioned above requires that the glaze get hot enough (that is bubbly enough).
Do I need to peel the pears? You can peel the pears if you prefer, but I find them nicely soft in the final tart. I am a notorious non-peeler, on principle, but even I admit that my Betty Crocker French Apple Pie is a litttle bit better with peeled apples. But since my kids don't complain about the peels in this, it really must work.
Be sure to use ripe pears so they have enough moisture to facilitate the creation of the glaze.
And finally, I want to reiterate not to make this with apples because, when I did, the drier apples never released enough juice to form a good glaze. I know I just talked about the similarity to French Apple Tarts but since my apple version failed, I'm sure there are subtle differences. Perhaps the solution's as simple as thinner slices and maybe some added moisture (Calvados anyone?) but until I succeed, I wouldn't want to lead you astray.
Though Calvados has me thinking. Perhaps a boozy pear tart would be in order…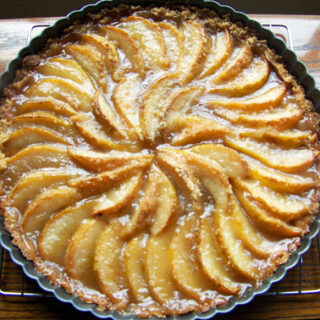 10 Minute (Beautiful) French Pear Tart
Yield: 8

Prep Time: 15 minutes

Cook Time: 45 minutes

Total Time: 1 hour

With a simple topping that melts into a beautiful glaze & press-in crust, this French Pear tart is a quick, easy & tasty dessert. Vegan option.
Ingredients
Crust:
1 1/2 cup flour (I used half whole wheat)
1/2 t salt
1 t sugar
1/4 cup vegetable or canola oil
1/4 cup mild olive oil (see note)
2 tablespoons milk or water
1/2 t vanilla
Topping:
2 tablespoons flour
3/4 cups sugar
2 tablespoons cold margarine or butter
Filling:
3-4 large ripe pears, cored and sliced (about 1/3-inch thick)–or peaches, sliced with stone removed.
Instructions
Preheat the oven to 425. Place a piece of foil or a baking sheet on the lower rack to protect the oven from dripping juice while the tart is baking.

Make the crust. In a mixing bowl, stir together 1 1/2 cups flour, 1/2 teaspoon salt and 1 teaspoon sugar. In a separate bowl, whisk together the oils, milk and vanilla. Pour this mixture into the flour mixture and mix gently with a fork. Press the dough into an 11 inch tart pan with your fingers till it covers the bottom and about halfway up the sides. The crust above the "fruit line" tended to brown a lot so not going to the top worked better for me.

Make the crumb topping. Combine the topping ingredients and mix until crumbly.

Assemble your tart. Starting on the outside, arrange the pear slices in concentric circles over the pastry. Sprinkle the crumb topping evenly over the fruit.

Bake for 35 to 45 minutes, until shiny and bubbly and the crust is beginning to brown. Cool on a rack. Serve warm or room temperature.
Notes
Before using the olive oil, I suggest that you taste yours and make sure it tastes very neutral--similar to canola oil. Refined olive oil is usually very mild, but extra virgin olive oil (even "mild" extra virgin) will impart it's distinctive taste. Not a problem if you like that even in sweet foods but most people prefer a lighter oil. You can always use extra of whatever light oil you used instead.

Originally published Apr 4, 2012