Drunken Chocolate Pear Tart
A Drunken Chocolate Pear Tart—does life get any better?
This fall I happened into a good supply of organic pears. Since organic pears can be hard to find, I was excited!
So I decided to experiment with a new pear dessert—hopefully destined for Christmas Eve. If a holiday dessert isn't both light and seriously good, my stuffed and groggy guests aren't going anywhere near it.
With pear halves mulled in red wine and cinnamon, surrounded by a soft, slightly gooey chocolate cake, I am pretty sure this will beat down resistance.
Now technically this Drunken Chocolate Pear Tart is a cake, but since I bake it in a tart pan or springform pan—and it is really light on flour, I decided to go with the fancier tart.
This was inspired by a couple recipes I found on the internet, but I had problems getting them to work consistently so eventually went off on my own. In the end, I went with (more or less) a whole wheat brownie recipe and topped it with poached pears. Now that doesn't sound too hard, does it?
The size of the tart (or springform) pan is important to meet the objective of showing off the pears, getting the tart cooked through, and getting a result that is sturdy enough to (carefully) serve up as a slice. I do intend to experiment more–wouldn't this look great as individual tarts?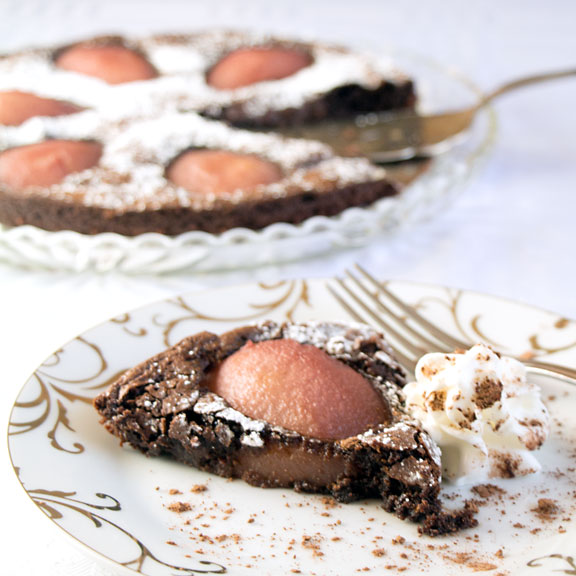 Drunken Chocolate Peart Tart
2016-09-18 17:53:26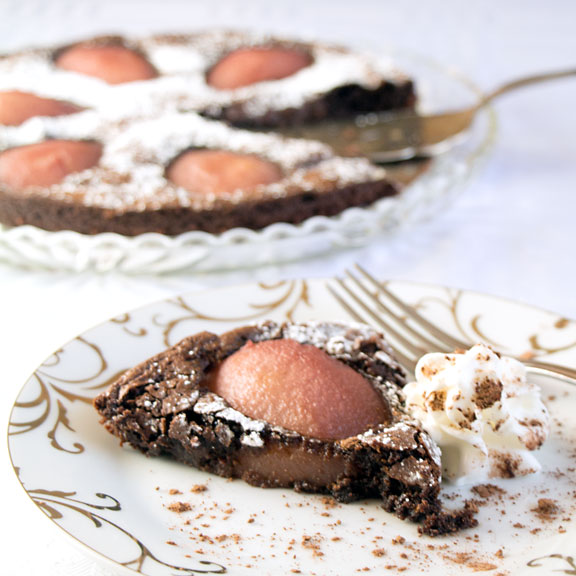 Serves 6
With red wine poached pears, topping a gooey chocolate cake, this drunken chocolate pear tart will impress your guests. (And almost as easy as brownies.)
Nutrition Facts
Amount Per Serving
* Percent Daily Values are based on a 2,000 calorie diet. Your Daily Values may be higher or lower depending on your calorie needs.
Poached Pears
• 3 pears, peeled, halved and cored
• 1 cup water
• 1 cup red wine
• ¼ cup sugar
• 1 cinnamon stick or 1/2 tsp ground cinnamon
Chocolate cake
• ½ cup raw sugar
• 4 Tablespoons butter
• 1/4 cup chocolate chips
• 1/4 cup cocoa powder
• ¼ t salt
• 1 large egg
• ¼ cup plus 2 Tablespoons white whole wheat flour
• 1/4 tsp baking powder
Instructions
To poach the pears, heat the sugar in the wine and water in a small saucepan. When the sugar is dissolved, add the pear halves and cinnamon. Bring to a simmer and cook until pears are tender and flavored, 15-20 minutes depending on ripeness.
While pears are poaching, in a medium saucepan melt the butter and sugar together until sugar is almost dissolved. Remove from heat, give it a minute to cool, then add cocoa powder and chocolate chips, stirring vigorously until melted.
Add the egg and beat rapidly until smooth (I have never tempered the egg here, and this hasn't been a problem). Combine flour and baking powder, then add to chocolate mixture. Pour into greased 9 inch tart or springform pan then top with evenly spaced, drained pears.
Bake until cooked through, both in center and around pears. Top with powdered sugar and serve with whipped cream if desired. If you'd like, you can boil down the rest of the wine for a topping, or add a little brandy and give the cook a treat…
Notes
Calorie count will actually be lower, since most of the wine syrup isn't used.
If your pears are getting overripe and soft you can cook them less, then let them soak up the wine marinating at a lower temperature.
Art of Natural Living https://artofnaturalliving.com/