Did you have a good Mother's Day? It is a fun holiday but somehow, more than half of the time, I end up hosting a brunch. Aren't people supposed to be serving me?
Of course I love entertaining and this year I got smart with a number of make-ahead dishes, including these mini mocha cheesecakes. I had spotted the recipe at Glorious Treats and pinned it waiting for the right time to make it.
The recipe uses a special mini-cheesecake pan with removable push-up bottoms * that I use to create a picture perfect dessert.
*Affiliate link–as an Amazon Associate and member of other affiliate programs, I earn from qualifying purchases at no extra cost to you–so thanks!
I am not a cheesecake pro, so I was a bit nervous. But this recipe came together perfectly–and I even changed it slightly (adding a little extra chocolate—hard to get too much chocolate, right?) .
The mini mocha cheesecakes have a chocolate cookie crust with a chocolate and Kahlua cheesecake filling. I topped each one with a whipped cream rosette dusted in cocoa and finished off with a chocolate covered espresso bean.
The coffee flavoring from the Kahlua was very light and even the coffee haters in the crowd couldn't resist these (though they gave away the espresso beans). And everyone was impressed at the airiness and lightness of the cheesecake filling.
I decided to use my stabilized whipped cream (made with a little plain gelatin) for these, which creates a topping that is more solid and which will last a couple days. Just on the odd chance that someday there are leftovers.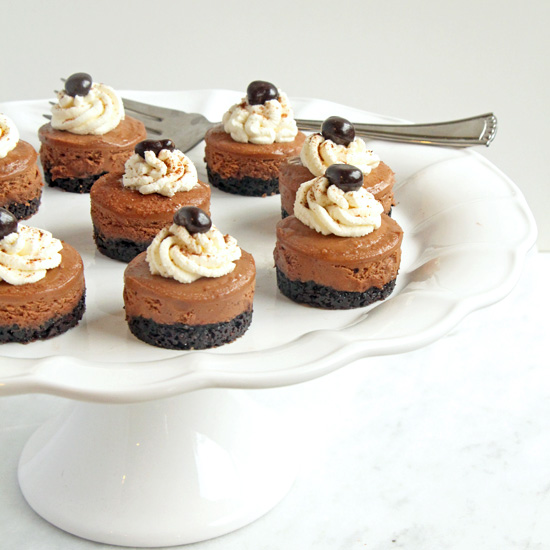 Mini Mocha Cheesecakes
2015-05-11 19:55:34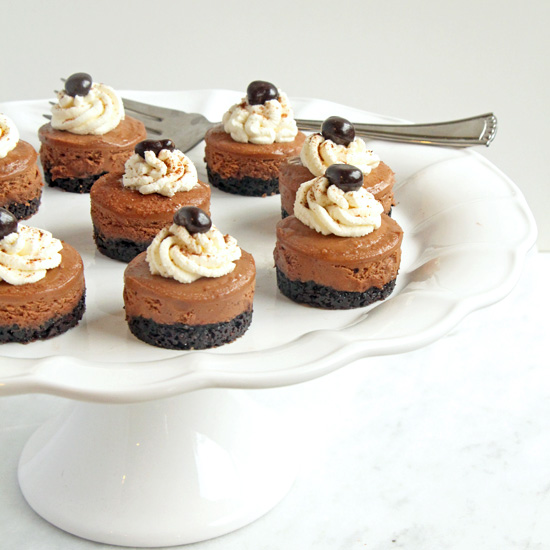 Serves 12
With a chocolate cookie crust and creamy filling, these mini mocha cheesecakes are perfect for brunch or an elegant dessert tray.
Nutrition Facts
Amount Per Serving
* Percent Daily Values are based on a 2,000 calorie diet. Your Daily Values may be higher or lower depending on your calorie needs.
Ingredients
Crust -
11 Chocolate sandwich cookies (like Oreos)
2 Tablespoons butter
Filling -
3 oz. semi-sweet chocolate chips
12 oz. (1 and 1/2 package) cream cheese
1/4 cup sugar
1 egg
1 teaspoon vanilla
1/4 cup Kahlua (coffee liqueur)
optional whipped cream, cocoa powder, chocolate covered espresso beans for garnish
Instructions
Spray the inside of each cheesecake well with non-stick cooking spray.
Preheat oven to 350*F.
Make the crust. Melt the butter, then crush the cookies in food processor or plastic bag. Combine cookie crumbs with melted butter and mix well. Add about 1 tablespoon of the crust mixture into each of the 12 mini cheesecake wells. Pack down the crumbs using a shot glass or glass spice bottle. Bake crust for 10 minutes in preheated oven.
Reduce the oven temperature to 250 F.
Make the filling. Using an electric mixer, blend cream cheese until very smooth. Add sugar and continue to blend until fully incorporated. Add egg and vanilla, and continue to beat, scraping down the sides of the bowl as needed. Melt chocolate and blend into cheese mixture. Add Kahlua and beat an additional 30 seconds or so.
Spoon the cheesecake filling into a piping bag or a ziploc bag with one corner snipped off. Fill each well of the cheesecake pan until almost full. If there is extra filling, you can bake it in a small ramekin for a little "tester"
Place cheesecake pan in the 250*F oven and bake cheesecakes until the filling is set, 22-25 minutes. Place the pan on a wire cooling rack and allow to cool to room temperature, then place entire pan in the refrigerator about 4 hours before removing cheesecakes from the pan.
Once cool, carefully remove the cheesecakes from the pan (pressing up on the removable bottom of each well). Keep the cheesecakes in the fridge until ready to serve. Garnish with whipped cream, a chocolate covered espresso bean and a sprinkle of cocoa powder.
Art of Natural Living https://artofnaturalliving.com/