With golden swirls of pumpkin and cinnamon atop a graham cracker crust, mini pumpkin cheesecake is a fun fall dessert!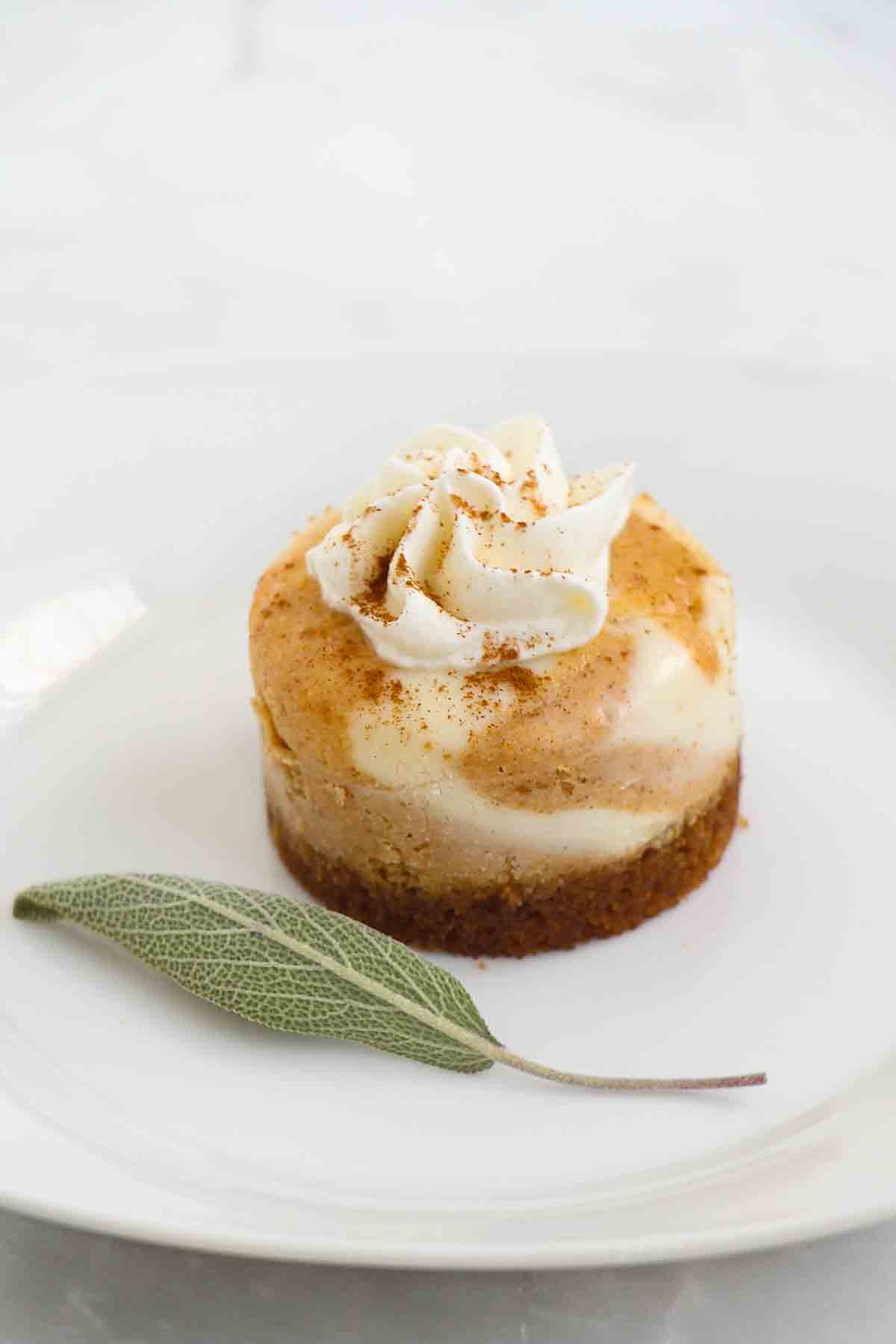 This post is sponsored in conjunction with #FallFlavors Week. I received product samples from sponsor companies to help in the creation of these recipes. All opinions are mine.
Baking and I have this love/hate thing going… And it is epitomized by the Mini Pumpkin Cheesecake recipe I am sharing today.
You see, the first time I made this, it turned out beautifully. But when I repeated it, the recipe failed. And so I put it away for awhile.
Yes, baking can be a bitch, err challenge. Make a tiny change to a soup recipe and you have a slightly different soup. Make a tiny change to a baking recipe and you can end up with a flat cake or rock hard cookies.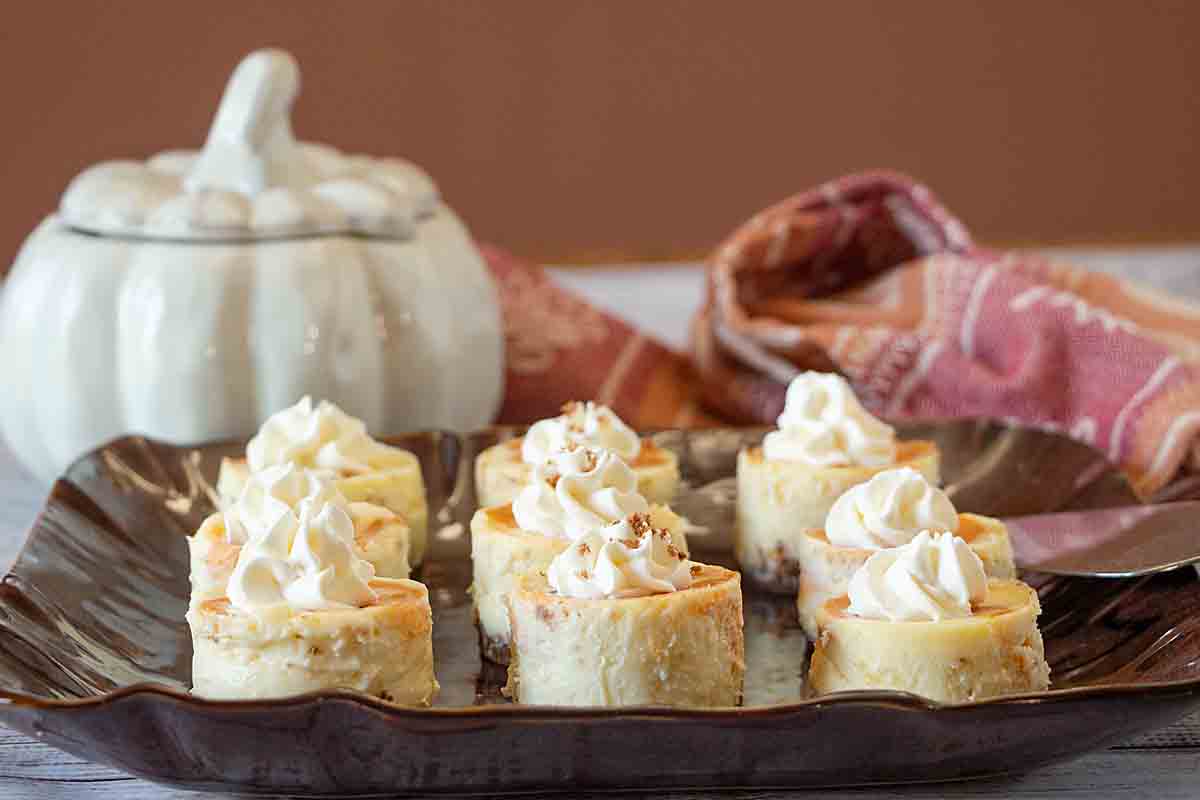 So I wanted to try this again, this time using the chocolate chip oat grahams that I received from Scotland-based Nairn's — I've been seeing Chocolate Pumpkin Cheesecakes around the internet. Their gluten-free oat grahams are great for baking, snacking or even a dessert charcuterie board!
The other contributing sponsor was Dixie Crystals. When I make a touchy recipe (and especially a candy), I like to use a good cane sugar which I feel maximizes my chance of success! Yes, check out the giveaway they are both helping sponsor at the end of the post!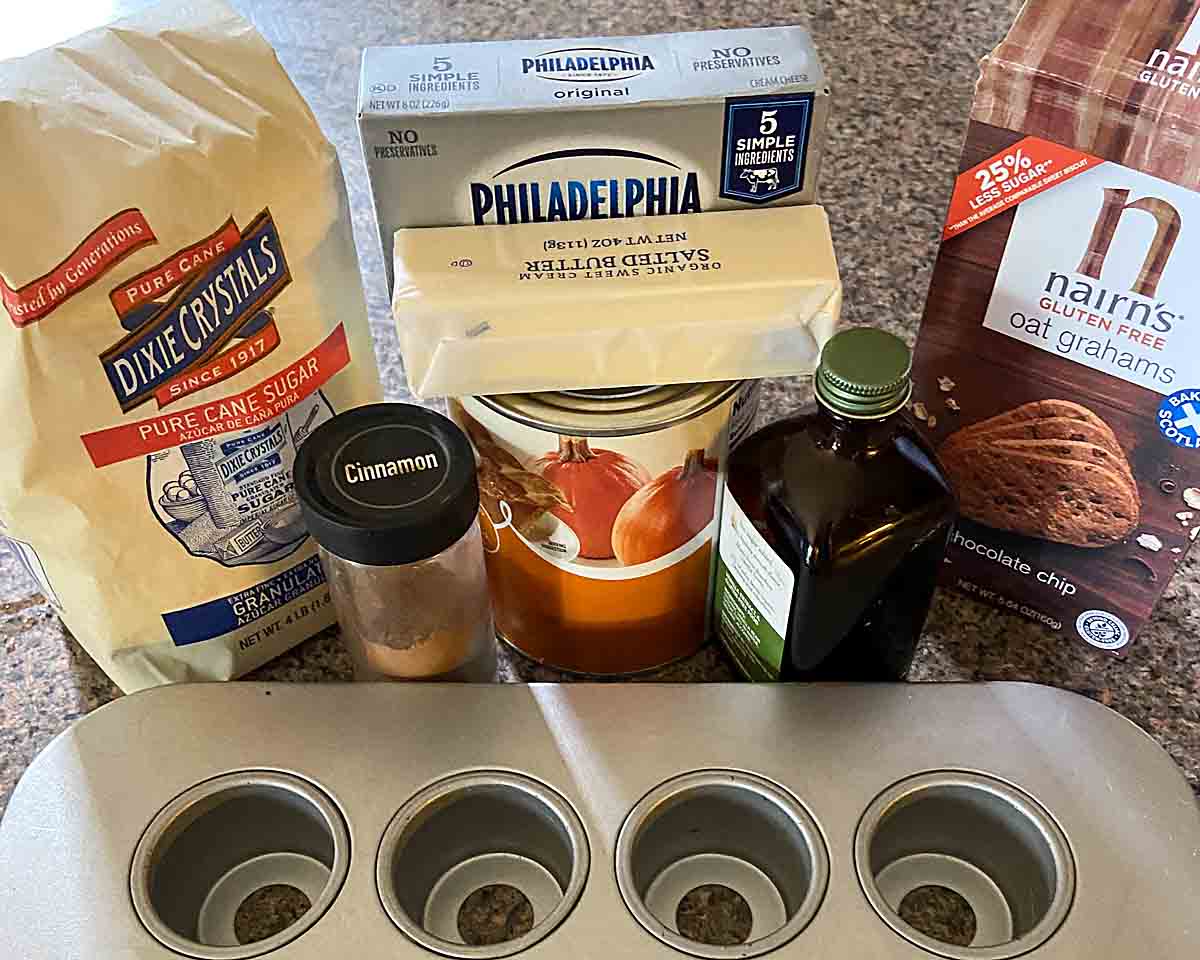 What Makes This Recipe a Winner
I hate to say it, but I am madly in love with mini cheesecakes! Among their attributes…
Step by Step Directions
While I can't say that Pumpkin Mini Cheesecake is a weeknight dessert, I think they are totally worth the effort!
To start, you stir together the crust ingredients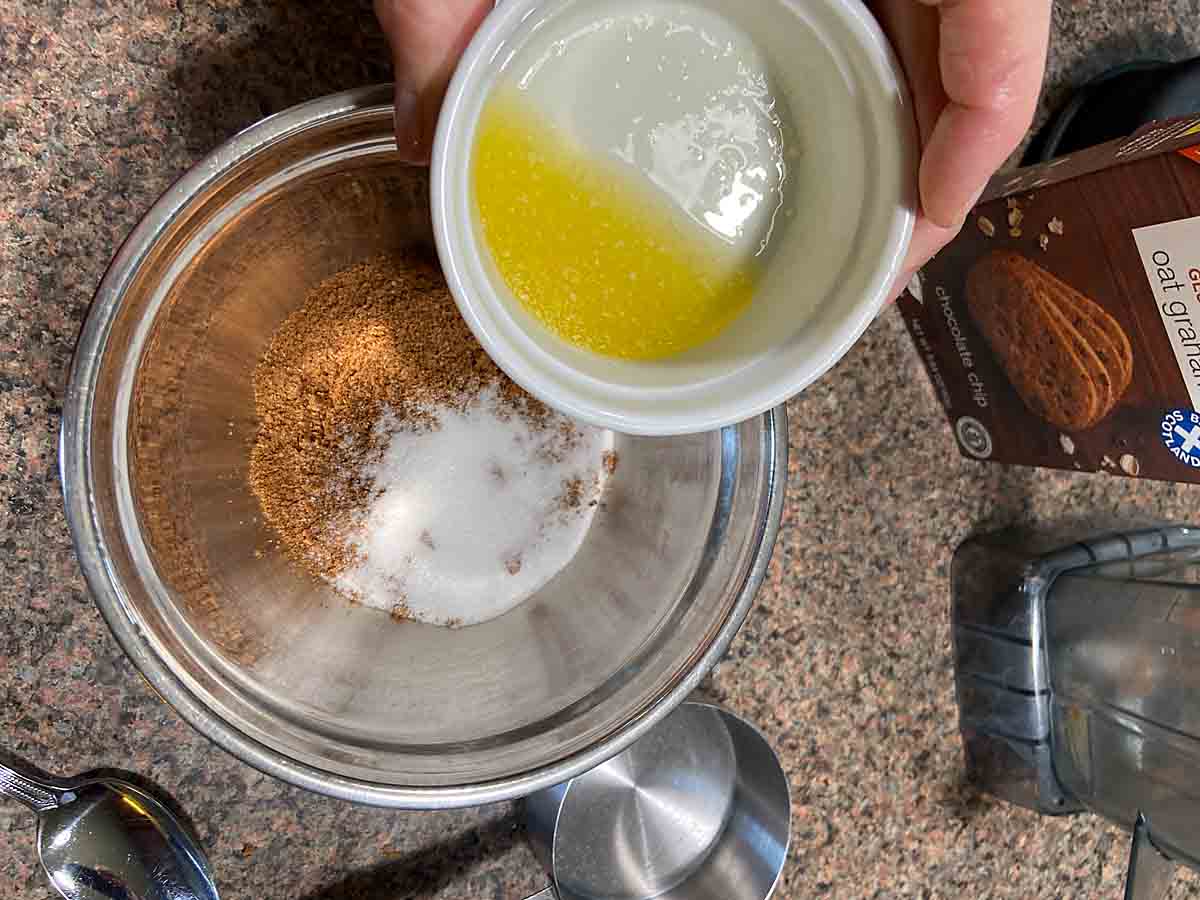 Spray pan, then press in crust and bake for 10 minutes.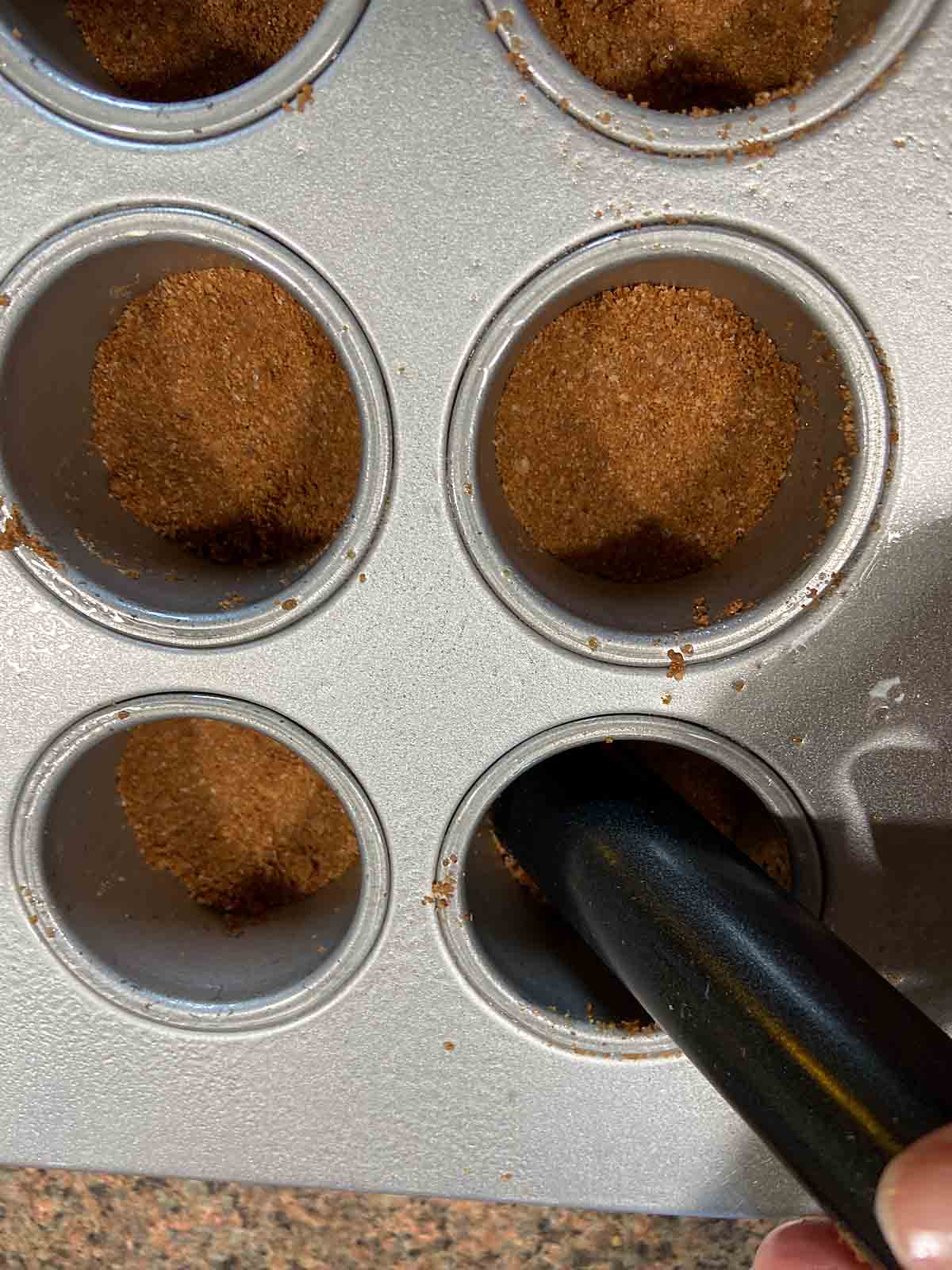 Mix filling ingredients.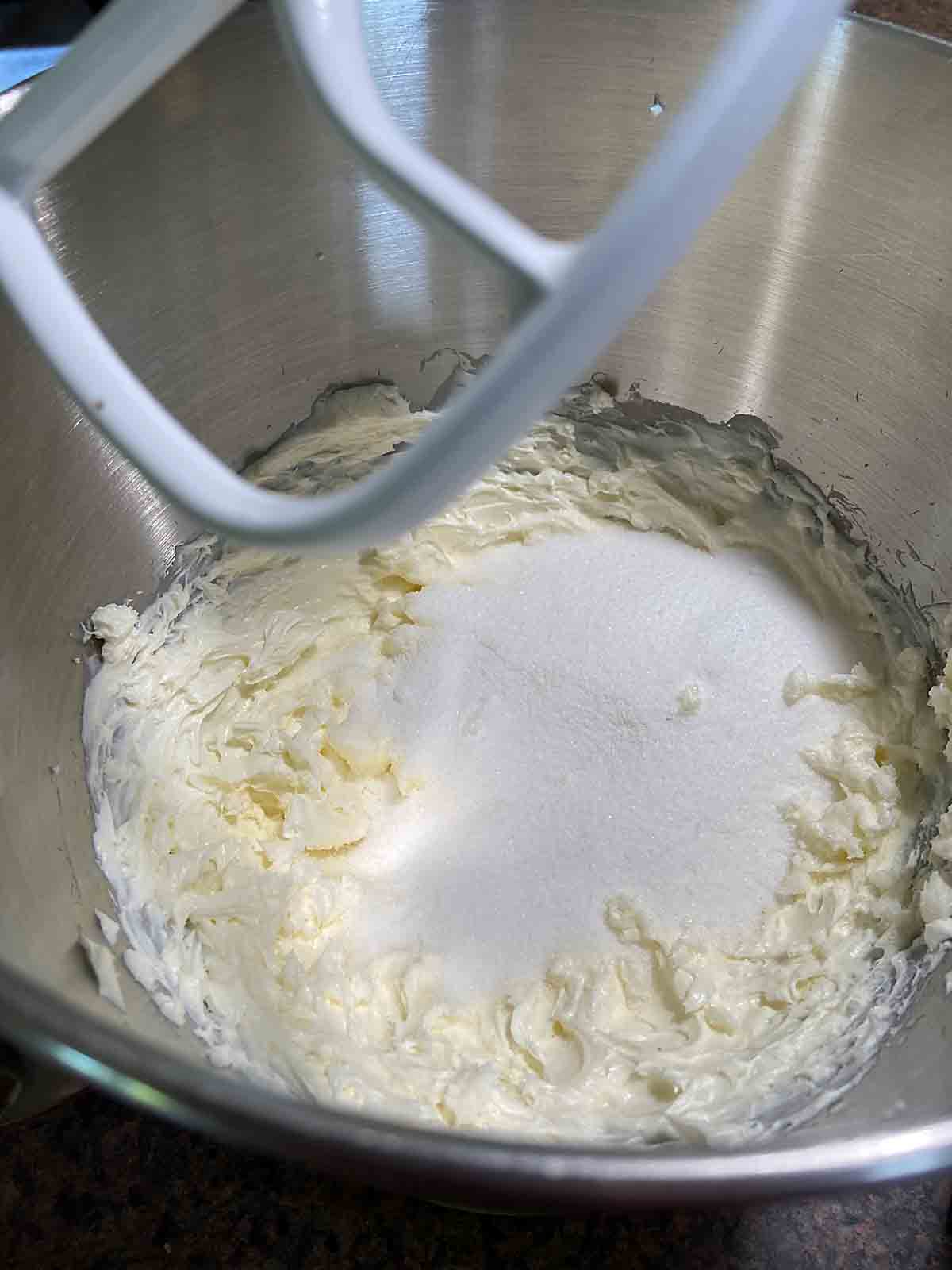 Mix some of the filling with pumpkin puree and cinnamon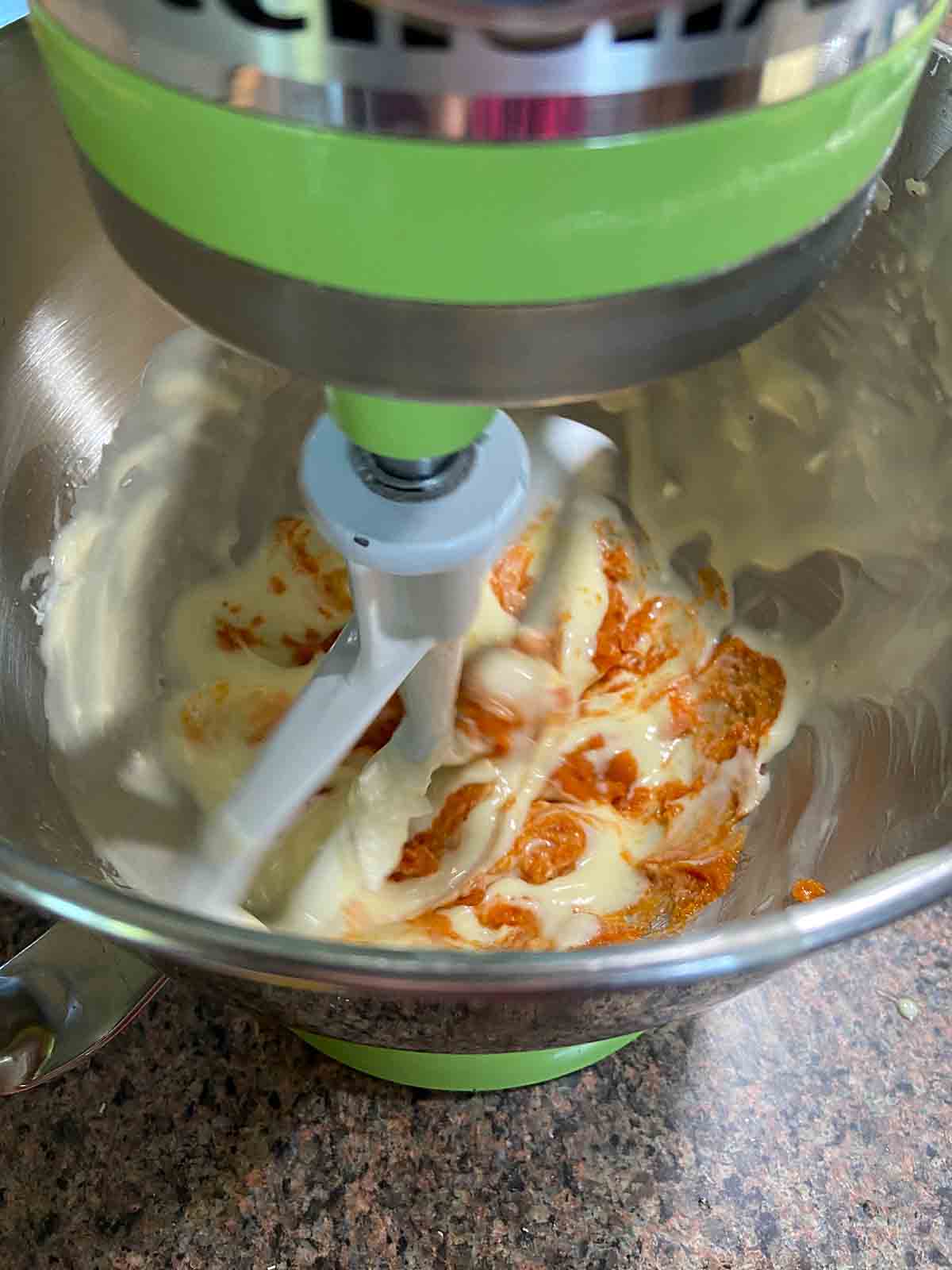 Fill cheesecake wells with plain filling then swirl in the pumpkin mixture.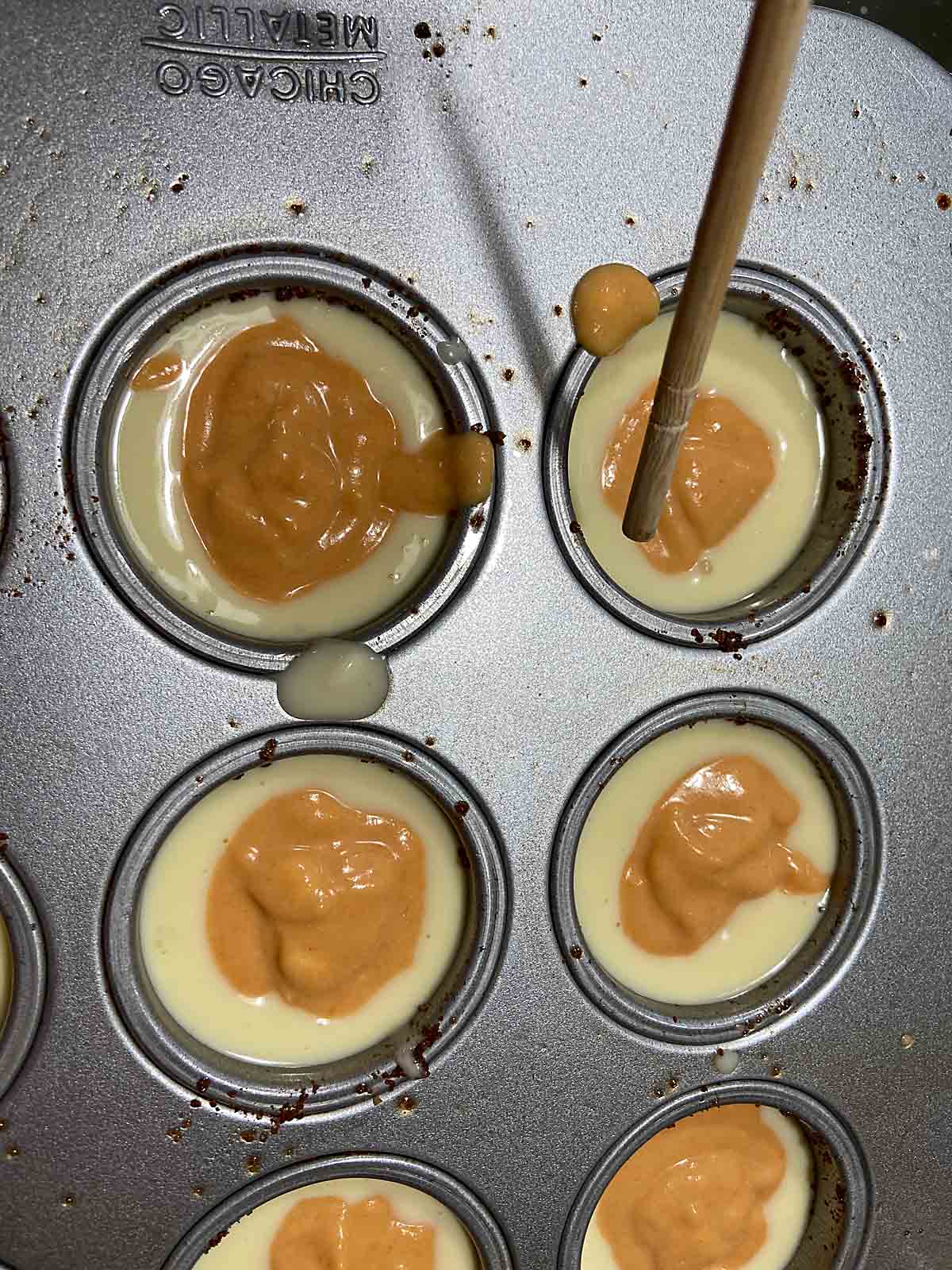 Bake and enjoy!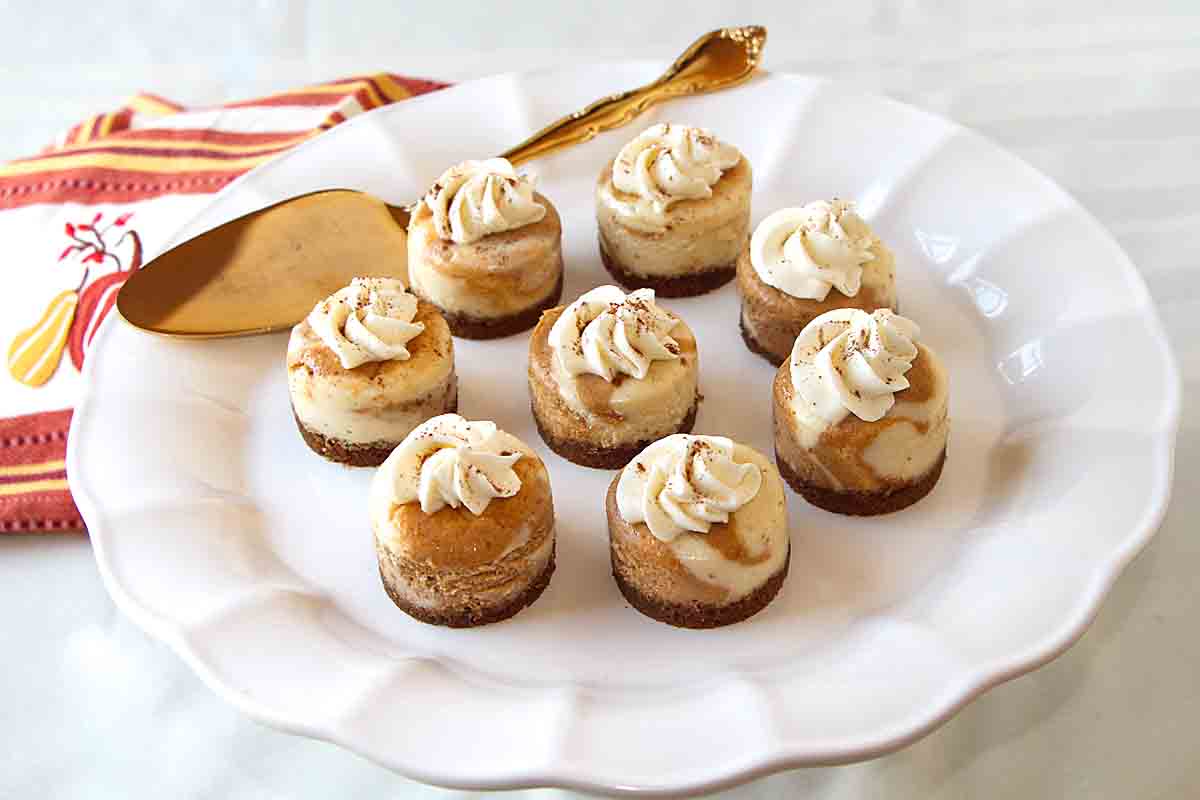 How to Make This Gluten-Free
I used Nairn's Chocolate Oat Grahams as part one of making this gluten free. They also make Stem Ginger Oat Grahams, which would work beautifully here as well.
The cheesecake has a small amount of cornstarch which is supposed to help keep the filling smooth. Flour may be used instead if you aren't gluten-free.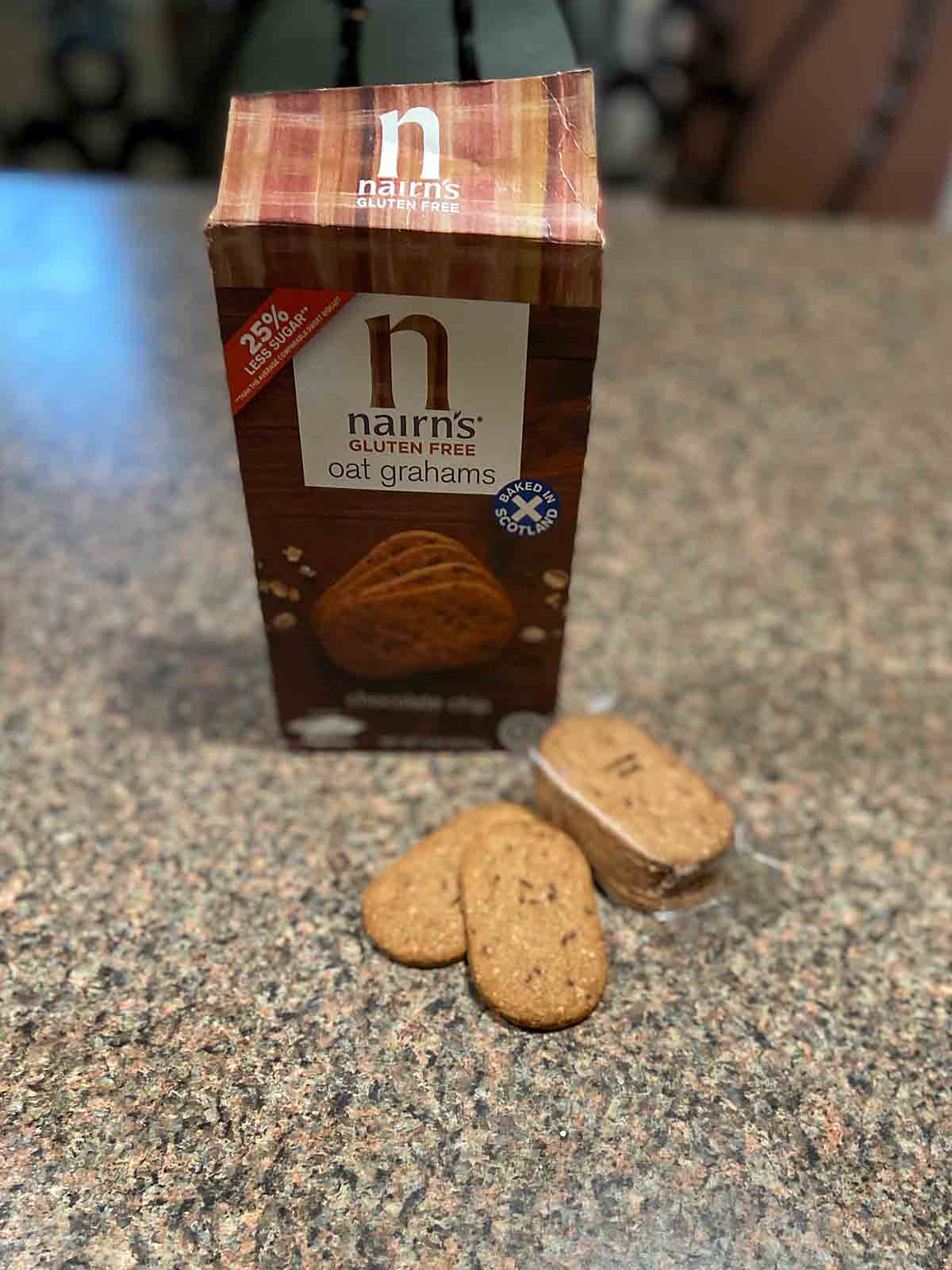 Troubleshooting and Cream Cheese
One of the major reasons for cheesecake to fail is if too much air is incorporated in the mixing process. This will make it rise high, then sink in the center, sometimes cavernously!
But you also need to beat the cream cheese thoroughly enough to get out all the lumps . I usually deal with this by using the whisk attachment first for the cream cheese, then switching to the regular attachment or even hand mixing for the rest of the ingredients.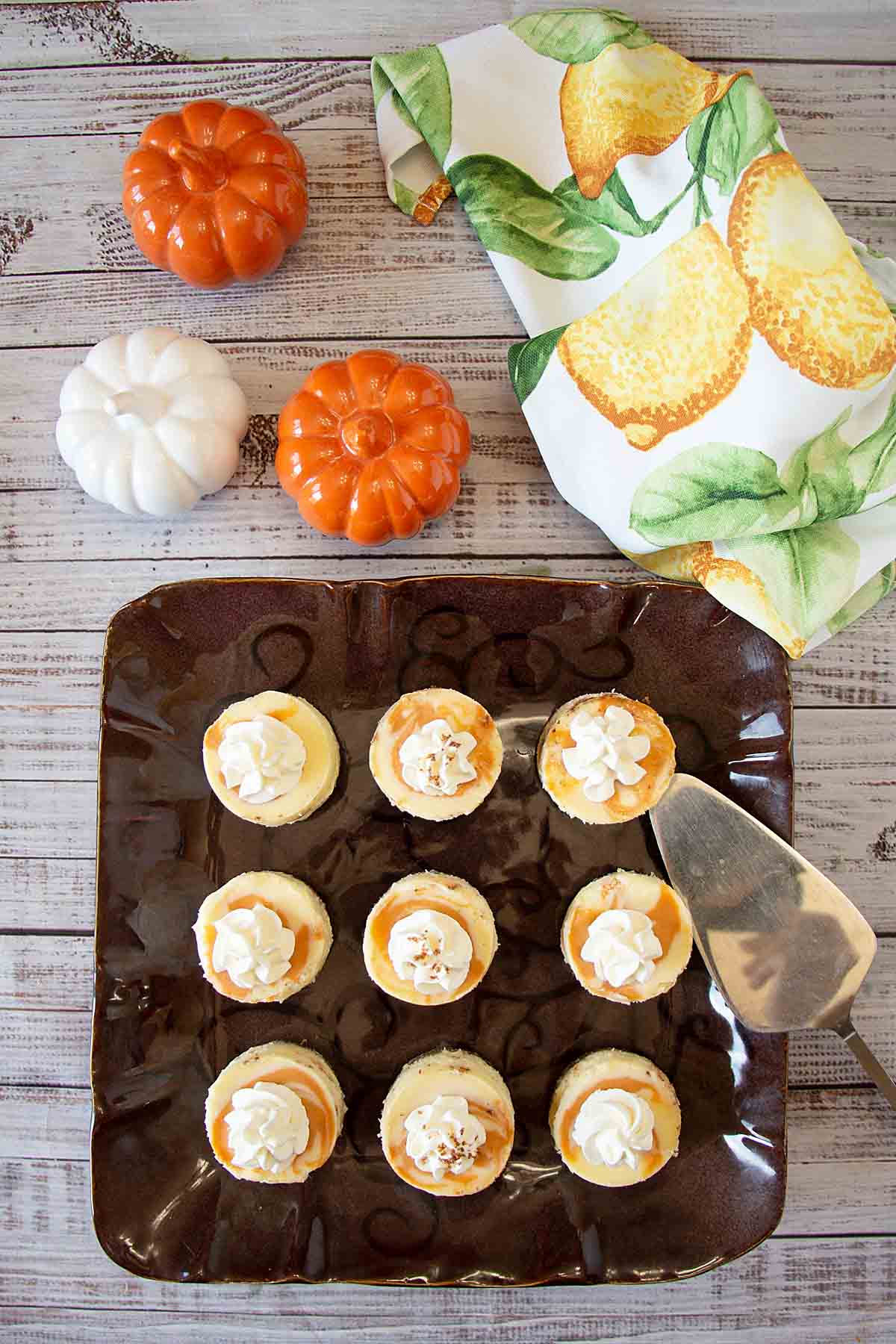 The cream cheese should be room temperature or it is nearly impossible to work with. If I forget to take it out of the refrigerator, I heat it very briefly in the microwave. But taking it out early gets it evenly warm so is better.
Cracking is another cheesecake problem, but I find it is rare in mini cheesecakes unless they are very overcooked.
If your cheesecakes end up sinking slightly in the middle don't worry. Topping with whipped cream can hide a myriad of sins!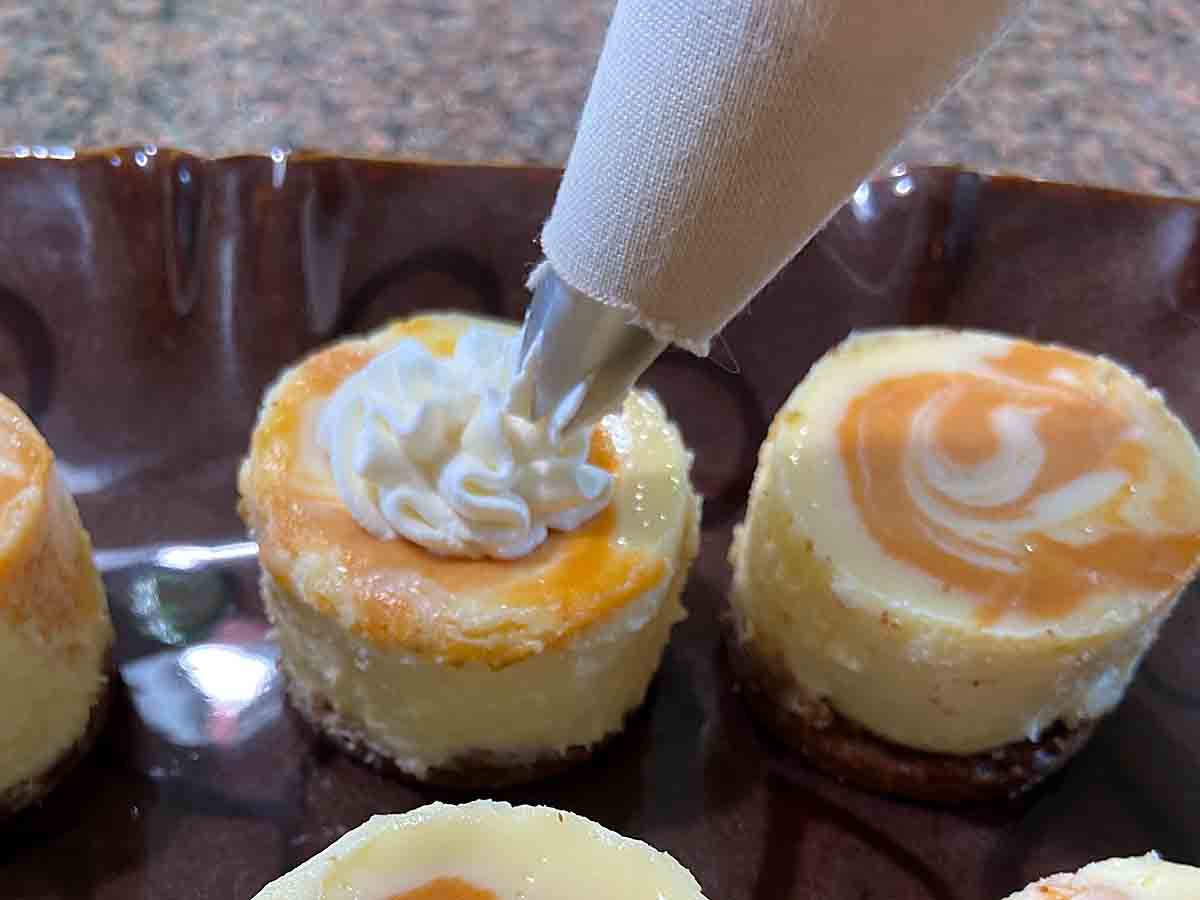 Rumor has it that sous vide makes cheesecake making almost flawless. Since I just bought a sous vide unit, I'll report back!
Tips & FAQs
This uses a special mini cheesecake pan, but can also be made with cupcake liners in a mini-muffin pan. Since these may be slightly smaller the yield may vary.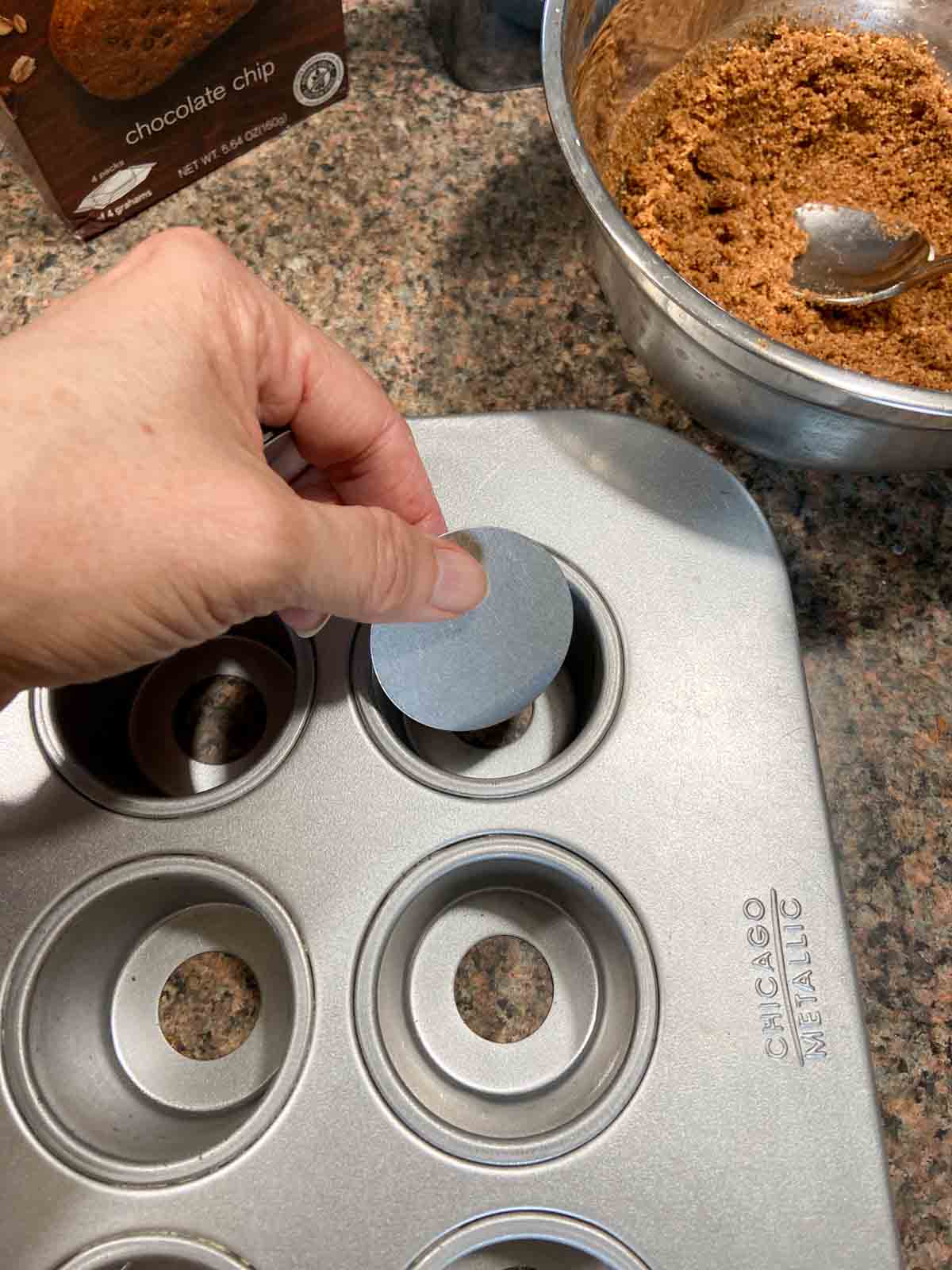 Since the mini cheesecake wells are narrow, it's a little harder to get the filling in. If the filling is very soft (summer), I transfer it to a quart-sized measuring cup and pour from there. If the batter is cooler and too solid to pour, I spoon it into a piping bag and use that to fill the cups.
Pumpkin Mini Cheesecake is especially nice with Pumpkin Spiced Whipped Cream. Then as a final touch (optional) consider sprinkling the whipped cream with some additional graham crumbs or a little cinnamon or nutmeg.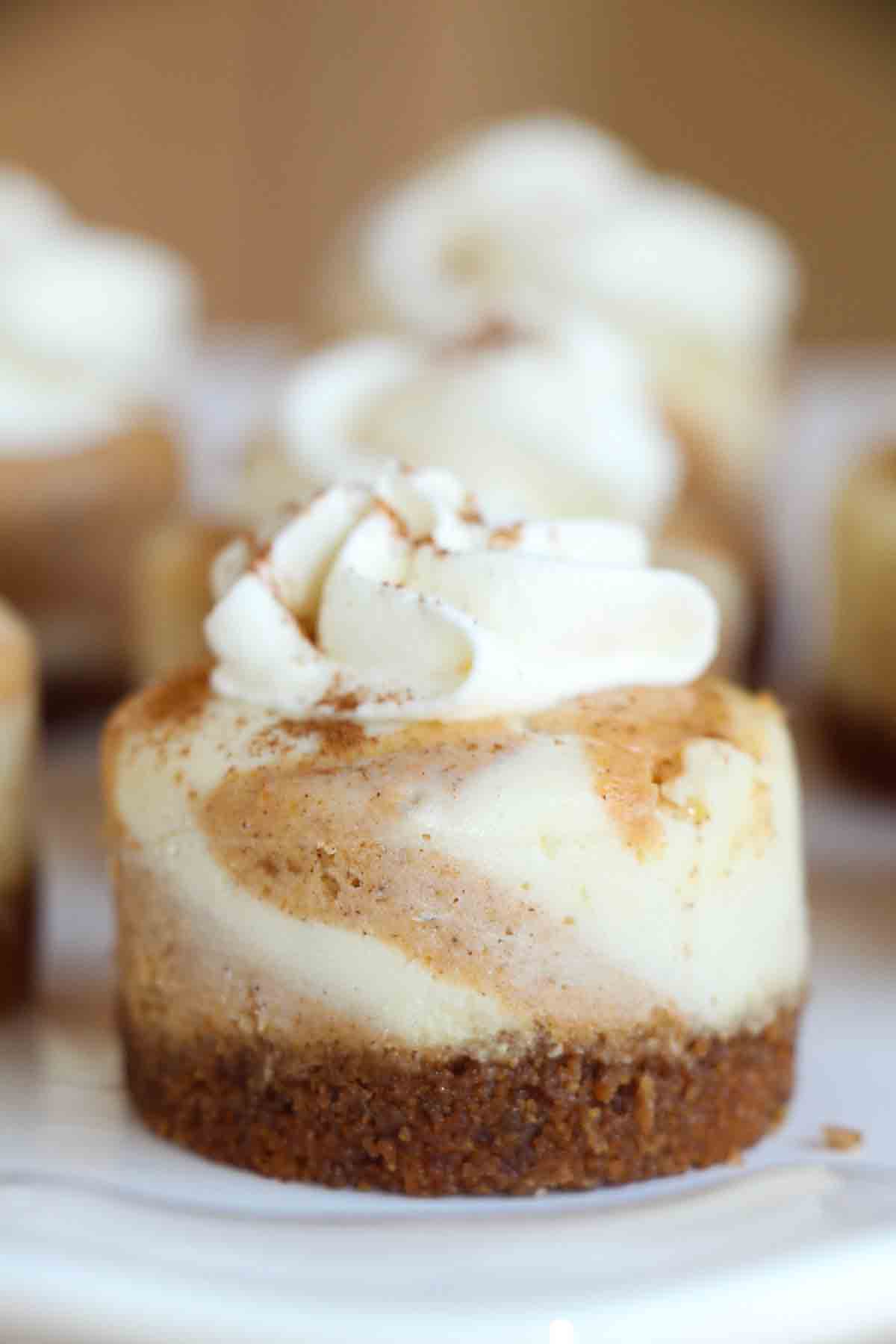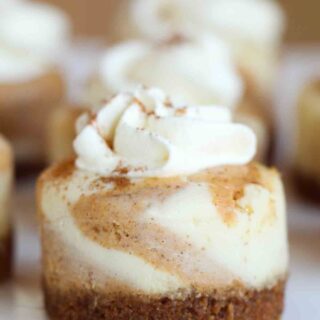 Mini Pumpkin Cheesecake
With golden swirls of pumpkin and cinnamon atop a graham cracker crust, mini pumpkin cheesecake is a fun fall dessert! 
Ingredients
Crust:
¾

cup

of graham cracker crumbs

2 inner packages of Nairns gluten free

1

tablespoons

butter

melted

1

tablespoons

sugar
Filling:
2 8-

ounce

packages cream cheese

room temperature

¾

cup

sugar

1

teaspoon

vanilla extract

1

Tablespoon

cornstarch or flour

2

large eggs

½

cup

pumpkin puree

½

teaspoon

ground cinnamon

whipped cream for serving
Instructions
Preheat oven to 350 degrees.

Stir together graham cracker crumbs, melted butter, and sugar. Spray the mini-cheesecake pan with non-stick spray, then press crumb mixture firmly into bottom of wells. Bake 10 minutes, then remove from oven to cool. Reduce oven temperature to 250 degrees.

Using an electric mixer with whisk beater, beat cream cheese until smooth and free of lumps. Change to regular beater and reduce to low speed; add sugar, cornstarch, vanilla; beat until well combined, scraping down sides of bowl. Add eggs, 1 at a time, mixing after each until just combined (do not over mix). Set aside 2/3 cup filling. Pour or pipe remaining filling evenly into the cheesecake wells.

Transfer remaining 2/3 cup cream cheese filling to a bowl; add pumpkin puree & cinnamon. Drop a generous Tablespoon of pumpkin mixture over top of cream cheese filling. With a chopstick or spoon end, swirl pumpkin mixture into filling making sure to reach down to get some plain filling from the bottom.

Bake until cheesecake jiggles slightly but is firm in the middle, 22-25 minutes.

Transfer pan to a wire rack and let cool completely. Refrigerate whole pan, uncovered, until completely cool, at least 4 hours. If needed, run a knife around edge of cheesecakes to loosen then unmold.

Pipe whipped cream onto each mini. Top with cinnamon or additional graham crumbs if desired.
Nutrition
Serving:
1
cheesecake
Calories:
273
kcal
Carbohydrates:
29
g
Protein:
5
g
Fat:
15
g
Saturated Fat:
9
g
Polyunsaturated Fat:
5
g
Cholesterol:
72
mg
Sodium:
163
mg
Fiber:
1
g
Sugar:
17
g
I am not a health professional and nutrition data is calculated programatically. Accuracy may vary with product selection, calculator accuracy, etc. Consult a professional for the best information.
More #FallFlavors Recipes Below:
Appetizers, Cocktails, and Snacks
Breakfast and Baked Goods
Soups and Salads
Side Dishes
Main Dishes
Desserts