Three Sisters Stew is a delicious combination of winter squash, corn, beans, tomatoes, peppers and more! Comfort food can be healthy!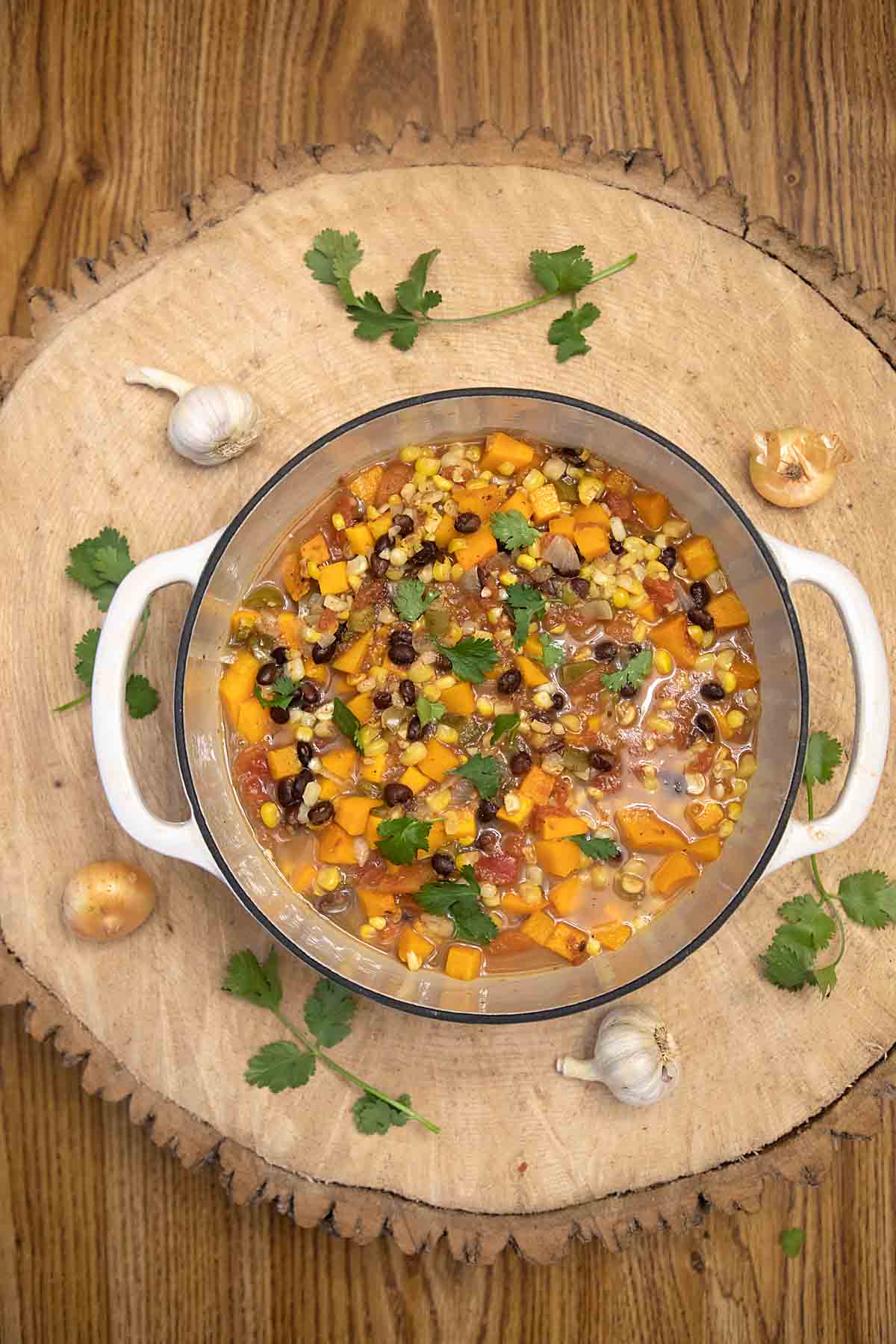 I used to think of Three Sisters Stew as a fall recipe. With so many fall-harvested ingredients and the glorious warm colors, it's a beautiful tribute to the season.
But when the New Year arrived–and I wanted to make up for our holiday indulgences–this was the first dish I thought of. It's hard to beat the abundance of healthy ingredients in here. And it even counts as comfort food!
And that's how I decided to update my 2015 post to make my first soup of 2022. (The original recipe came from the Milwaukee Journal/Sentinel and a local casino chef but is no longer online.)
Isn't This An Unusual Name for a Soup?
Three Sisters Stew is a Native American soup made from beans, corn and winter squash, known collectively as the "three sisters." The combo is traditional in native American gardening because they offer collective benefits planted in combination.
According to the Native Tech website, "The corn stalk serves as a pole for the beans, the beans help to add the nitrogen to the soil that the corn needs, and the squash provides a ground cover of shade that helps the soil retain moisture."

Nutritionally they work well together too. First, the combination of beans and corn forms a complete protein. Then the addition of squash, peppers and tomatoes supercharges the vitamin content.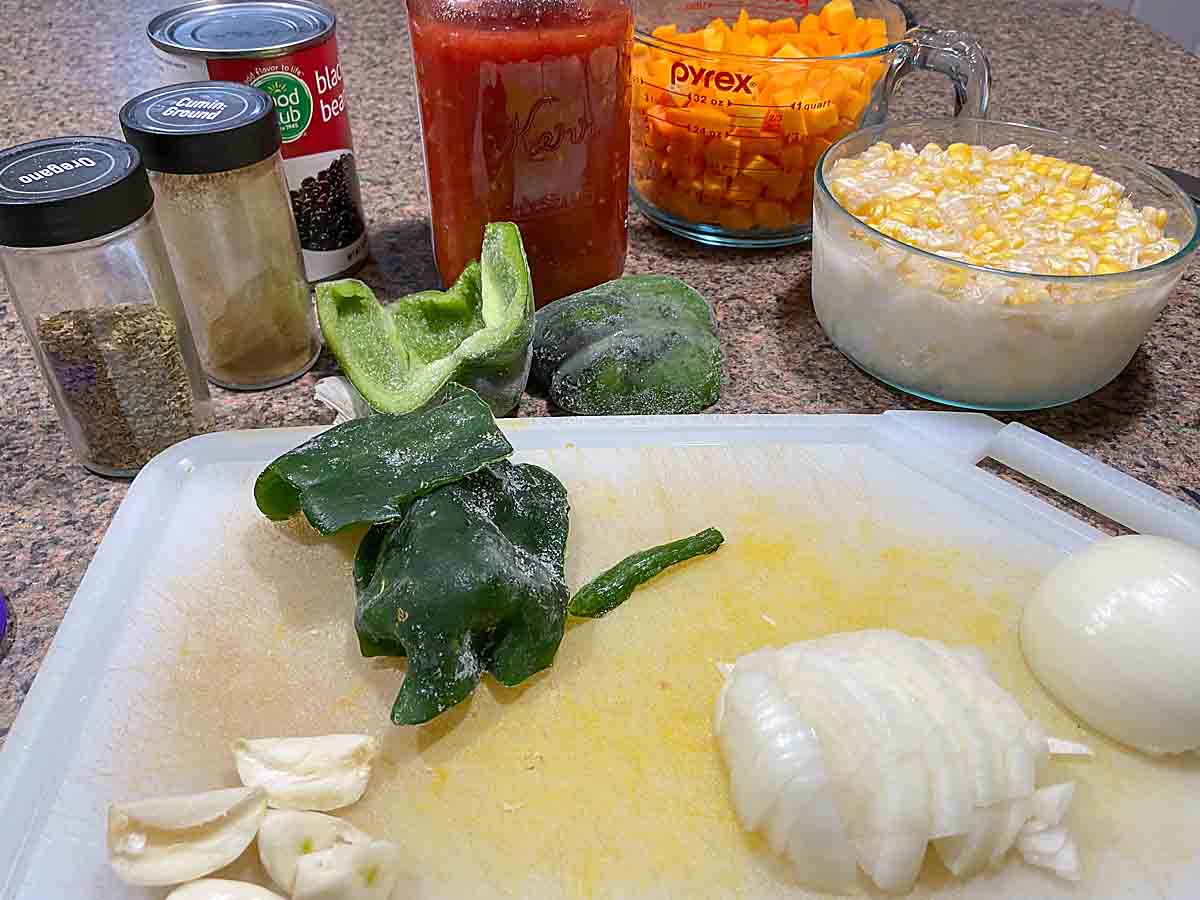 While you will most often see the three sisters together in soups and stews, they can be used in other dishes as well.
According to PBS Native Voices, "Three Sisters are included in an array of traditional dishes across Native America. … Native chefs use Three Sisters as appetizers that top smoked salmon, as side dishes accompanying beautiful golden duck legs, and as main soup dishes to feed protesters at Standing Rock."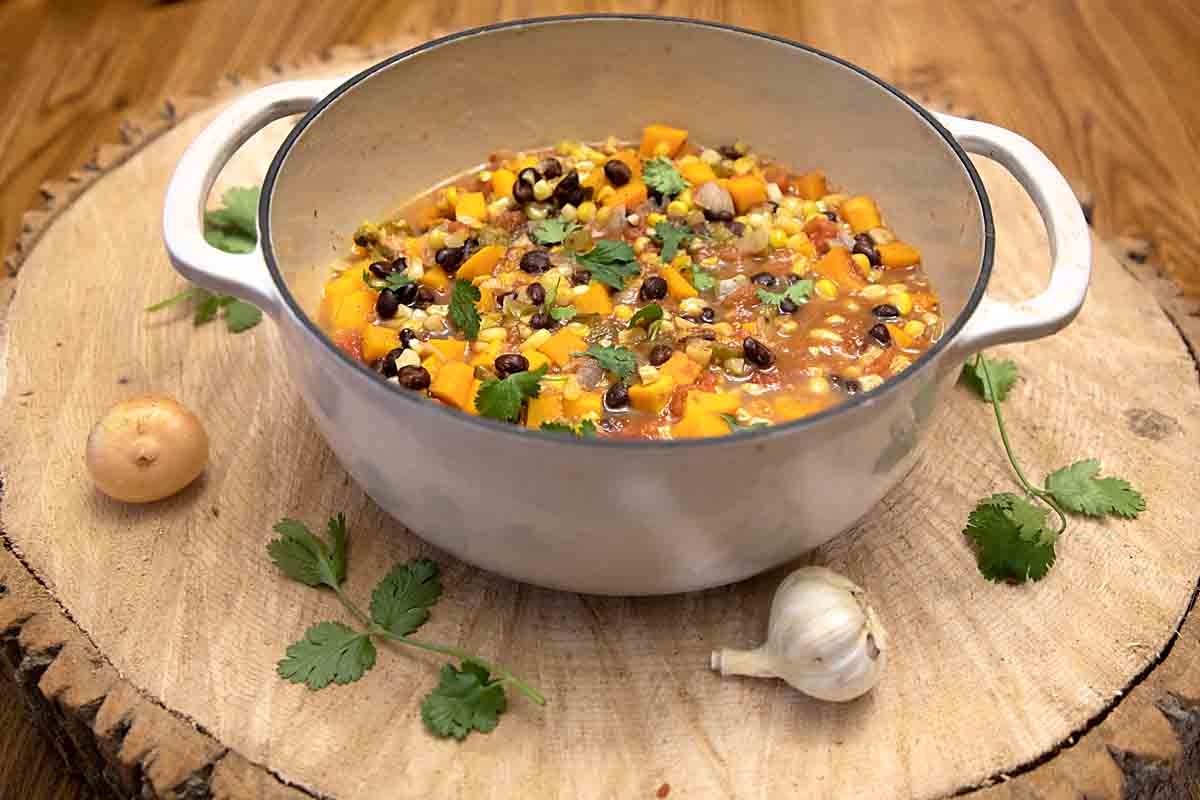 What Makes This a Winner
The blend of sweet and a hint of heat in the Three Sisters Stew makes a delicious combination. If that's not enough, consider that it's:
Loaded with nutrition. This soup offers a meatless combo that still forms a complete protein from the beans and corn. And the tomatoes, winter squash and peppers add an abundance of vitamins and phytochemicals.
Can go local or pre-packaged. This can be made with convenient packaged ingredients or with local ingredients. The first time I made it, I used pre-packaged/canned food which was super easy and convenient. The second time I went completely local from scratch. And even in winter, the only thing I don't have home-canned or frozen (from my garden or CSAs) is the beans!
Quick and easy. The hardest task in making this is cutting up the squash, but many stores now have fresh butternut cubes pre-cut for you. And if you make this using canned corn, etc., it's as easy as… well, opening a can.
But even going local, I was surprised to find how easy it was using things I'd preserved last fall. With home canned (or frozen) ingredients—plus drafting my husband to cut up the squash—this came together fast! Of course, if you're cutting off kernels of corn and skinning tomatoes, the prep time will increase. Still worth it!
Satisfies vegans and meat eaters. This soup is vegan if you make it using vegetable broth. But it's still hearty enough to satisfy even my carnivore husband!

Plus if you're a gardener or a CSA member, this will help when you're buried in a bountiful harvest! Or even finishing off your stored food as winter progresses.
Step by Step Directions
Chop ingredients as needed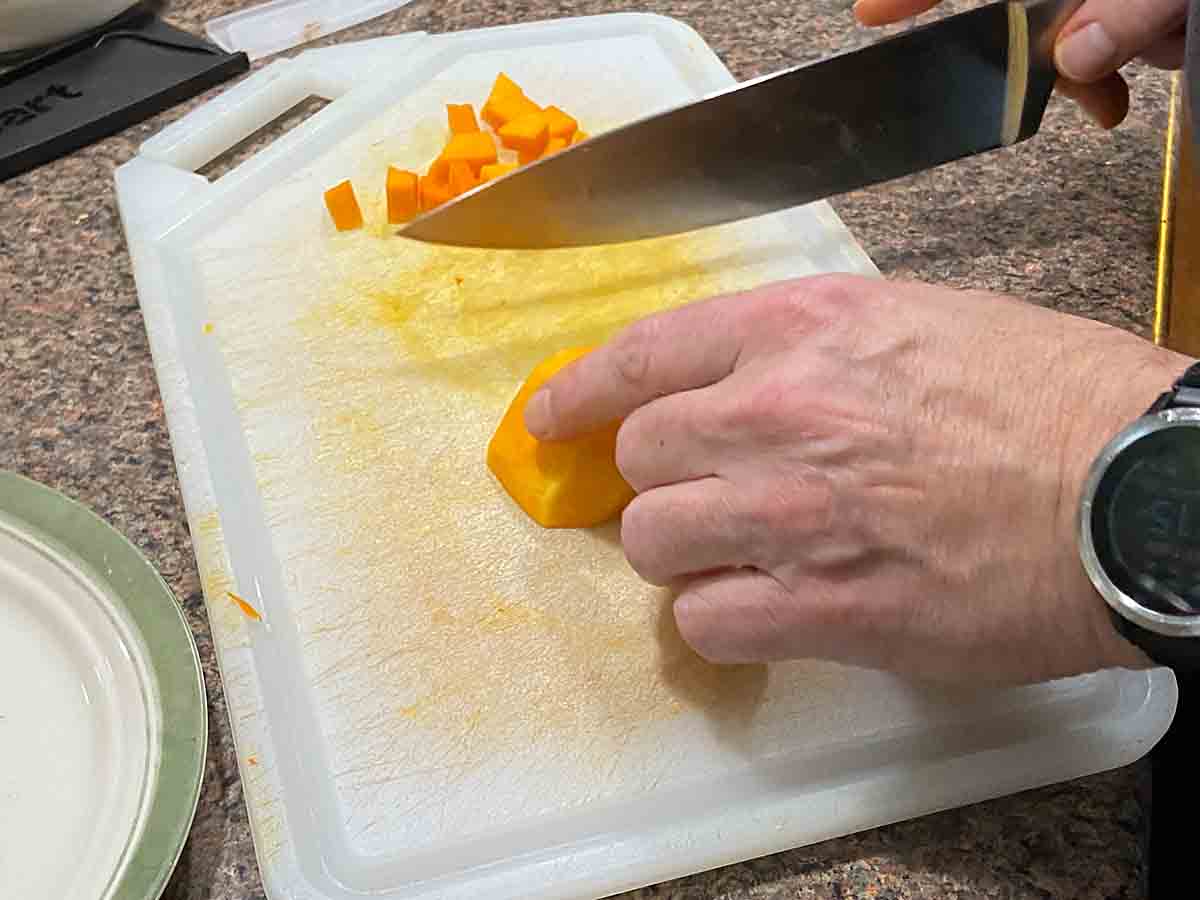 Sautee onions, peppers, garlic
Add remaining ingredients and cook until tender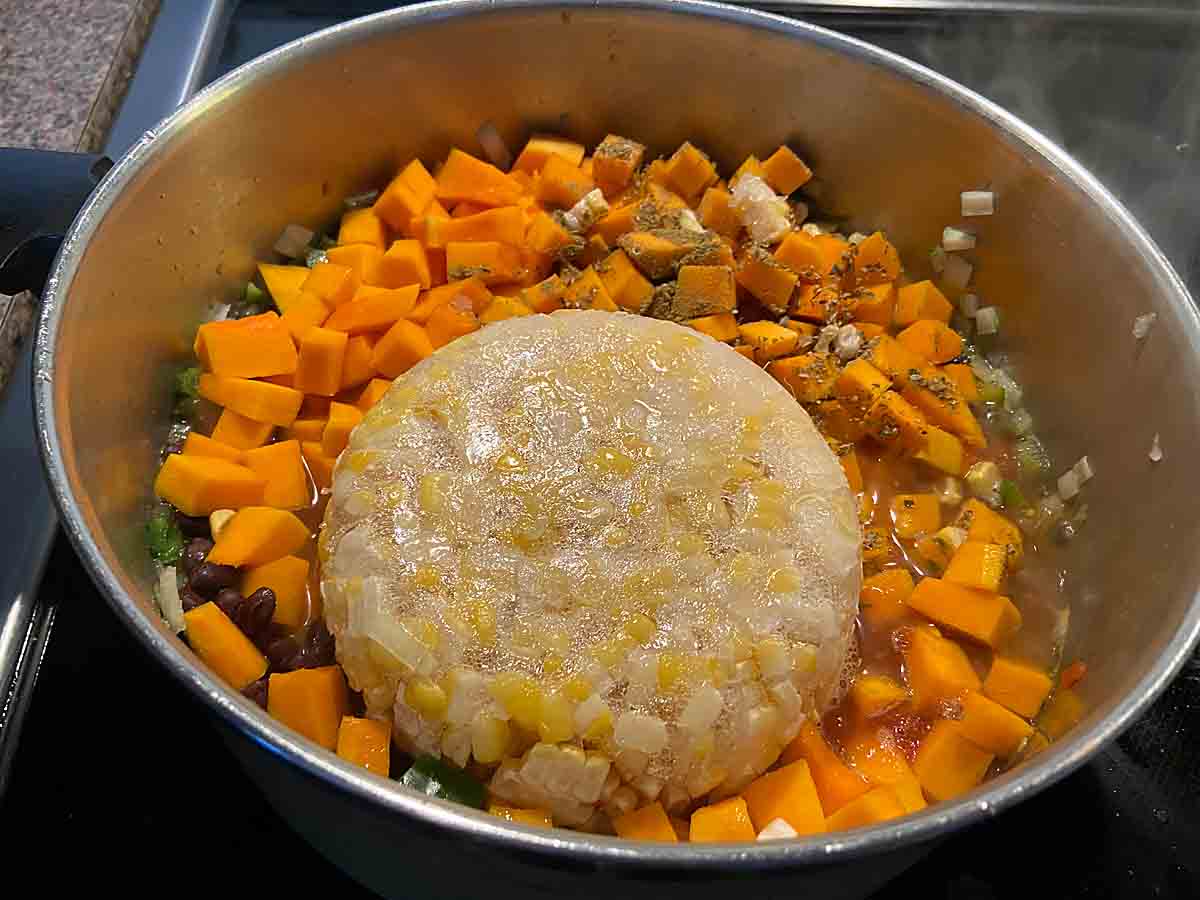 Enjoy!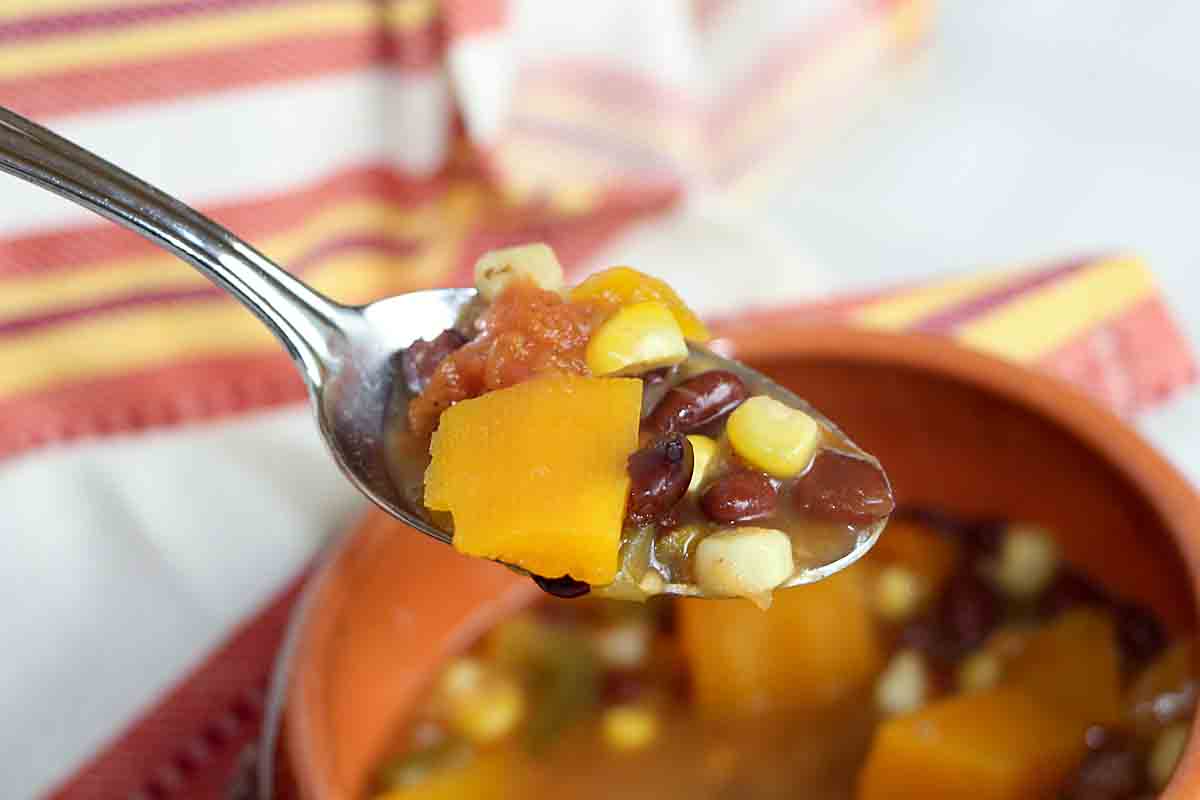 What to Serve With
This stew is hearty enough to be a meal all by itself. In that case, a nice fresh bread is a welcome accompaniment . Someday I'd like to learn to make Indian fry bread but in the mean time, I serve this with a loaf of French bread if I'm busy. Otherwise a nice cornbread or other homemade bread is delicious.
For a more elaborate meal that is still light, a side salad or half sandwich makes a great combo with this soup.
Of course this stew can also work as a first course and will get your meal started with a nutritional bang!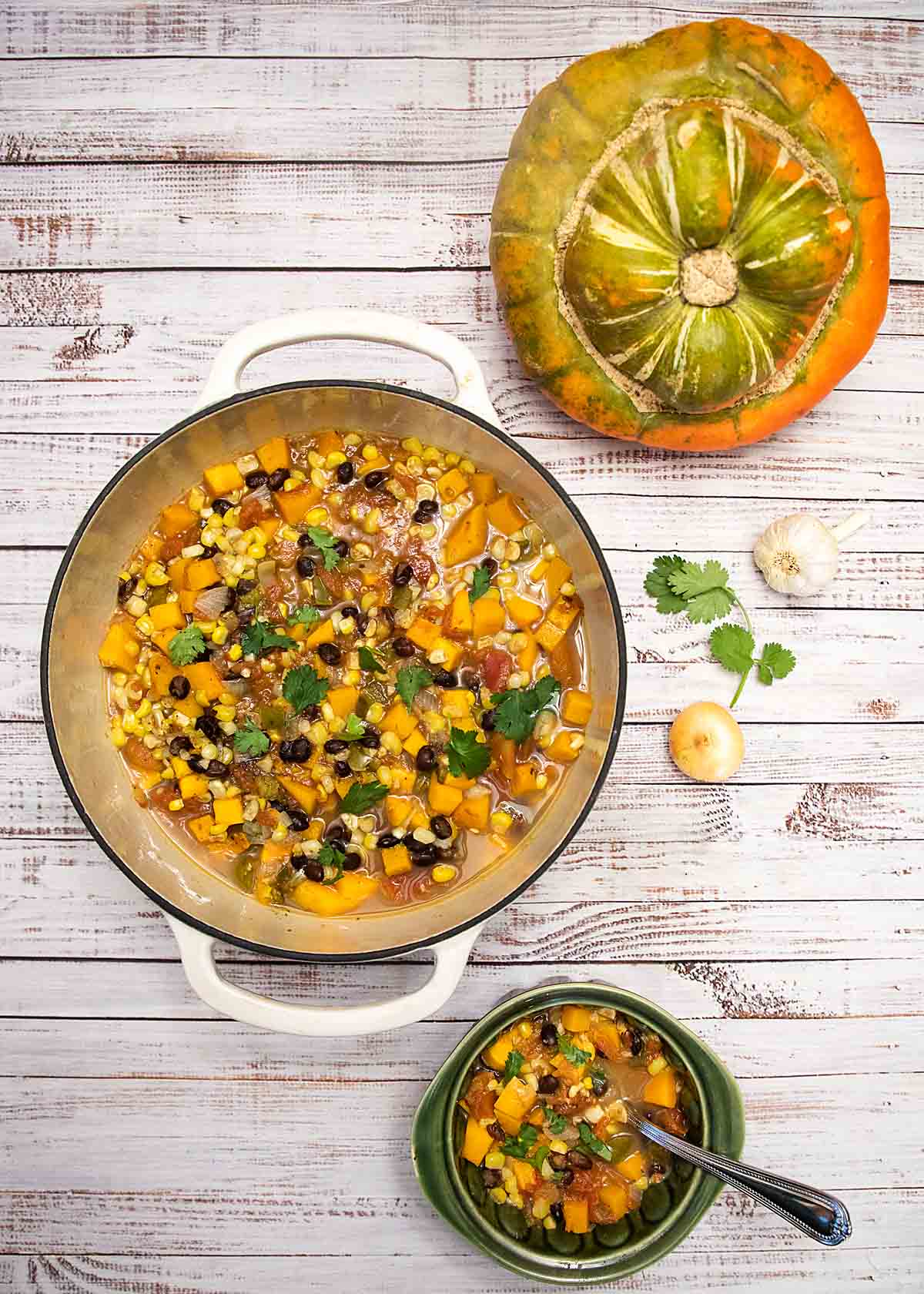 Tips and FAQs
Part of the beauty of this soup is it's versatility. While the recipe lists black beans, feel free to use another type of bean if that's what you have. No canned tomatoes? Use a jar of chunky salsa instead and reduce the peppers. Froze your corn in a 3-cup container? Toss it in.
And for more delicious and healthy bean recipes see:
Best Bean Recipes
We share Recipes From Our Dinner Table! Join our group and share your recipes, too! While you're at it, join our Pinterest board, too!
Three Sisters Stew
2015-09-20 10:58:12
Serves 8
Three Sisters Stew is a delicious and healthful combination of winter squash, sweet corn, beans, tomatoes, peppers and more--clean out that garden!
Nutrition Facts
Amount Per Serving
* Percent Daily Values are based on a 2,000 calorie diet. Your Daily Values may be higher or lower depending on your calorie needs.
Ingredients
• 1 tablespoons vegetable oil
• 2 cloves garlic, minced
• 1 medium onion, diced
• 1 medium green pepper, chopped roughly
• 2-3 cups pumpkin or winter squash cubes (1 butternut squash or 2 smaller squash)
• 1 can (14.5 to 16 ounces) diced tomatoes with juice (or about 1 quart fresh)
• 1 can (4 ounces) chopped mild green chiles (or 1-2 finely chopped jalepeno peppers)
• 2 cups cooked black beans (if using canned, rinse and drain)
• 2 cups corn kernels (2-3 ears of fresh corn)
• 2 teaspoons ground cumin
• 1 teaspoon dried oregano
• 1 teaspoons salt
• 1 teaspoon pepper
• 2 cups vegetable stock (or chicken stock)
• ¼ cup chopped fresh cilantro
Instructions
In a large pot, heat oil. Add garlic, onion, green pepper and squash and sauté a few minutes over medium heat. Stir in tomatoes, chiles, beans, corn, cumin, oregano, salt and pepper and cook until hot.
Add stock and bring to a boil. Reduce to a simmer, cover and simmer 30 minutes.
Taste and adjust seasoning as desired (you can also add extra broth if it is very thick). Add a spoonful of cilantro to individual bowls just before serving.
Notes
Although the vitamin A content of this dish is high, the recipe app I am using is likely overestimating it.
Art of Natural Living https://artofnaturalliving.com/