A sweet, spicy and warming seasonal beverage, there is nothing like Hot Spiced Apple Cider to celebrate cooler weather!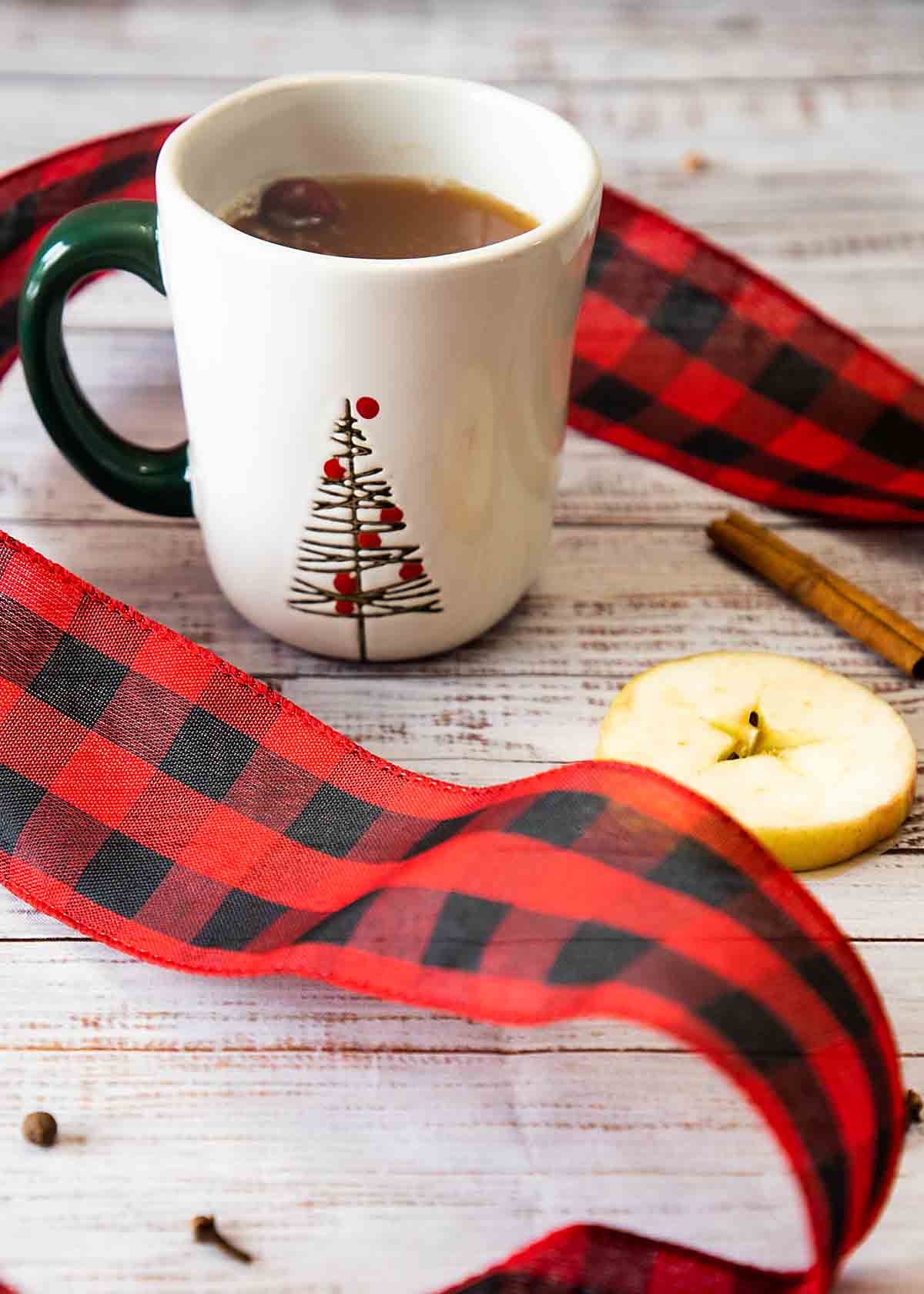 Spiced apple cider is almost synonymous with fall. But it can move seamlessly into winter as well. So when my blogging group decided to cover Mocktails, I knew it was time to update my 2011 post.
My earliest memories of Hot Spiced Cider date back to my teens–attending an outdoor fall festival. Watching my breath smoke in the chill air, I silently thanked my mother for mandating gloves. All while sipping a beverage that warmed me inside and out.
It was a moment where cold could be… perfection!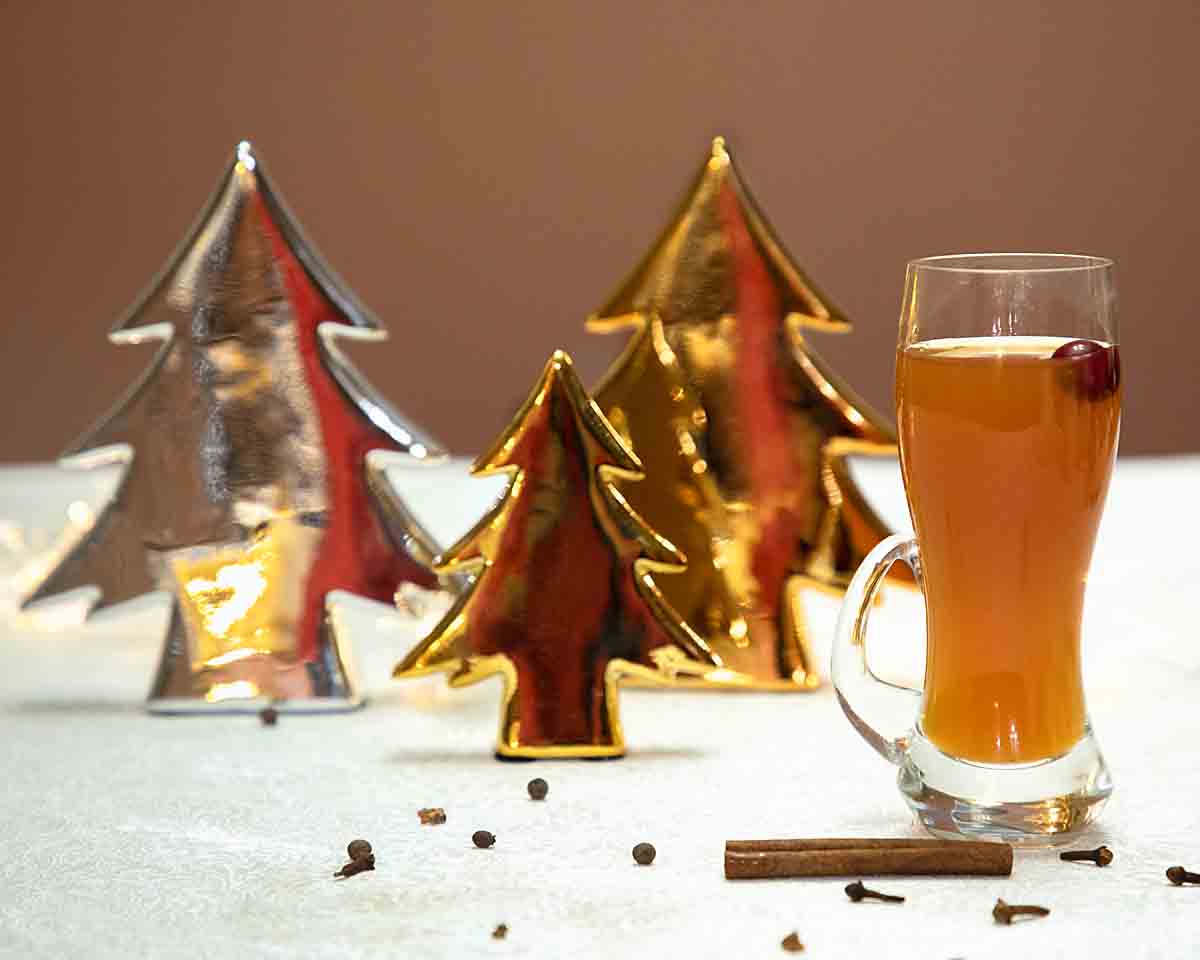 What is Mulled Apple Cider
Spiced apple cider is known by many names such as hot mulled cider, mulled apple cider, etc. and is made by heating cider with mulling spices like cinnamon, cloves and allspice.
Per Wikipedia, mulling spices "are usually used to spice hot apple cider, mulled wine, glögg, wassail, hippocras and other drinks (such as juices) during autumn or winter. A "mulled" drink is a drink which has been prepared with these spices (usually through heating the drink in a pot with mulling spices and then straining)."
Bottom line? It's a warming and tasty beverage that's perfect whenever there's a chill in the air!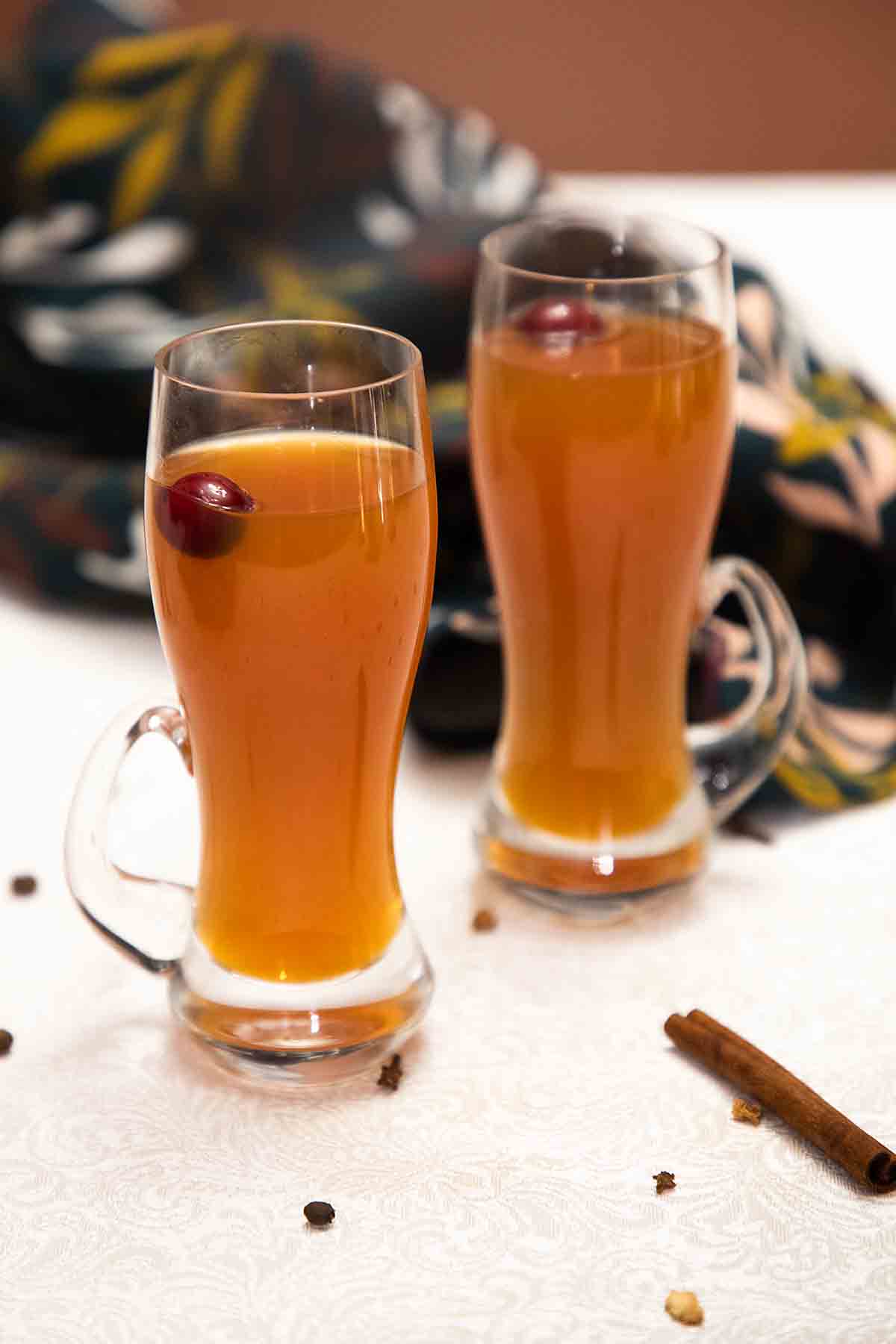 What Makes This a Winner
This drink has been a favorite for so long because it's:
Easy. Making this is almost as easy as making tea. Just add spices to cider, heat, let stand and drink.
Flavorful. A good apple cider is loaded with flavor even before the spices are added! If you are looking for a beverage that can hold it's own without alcohol, look no further.
Healthy. While not as healthy as eating the whole apple, you can still count this as a serving of fruit!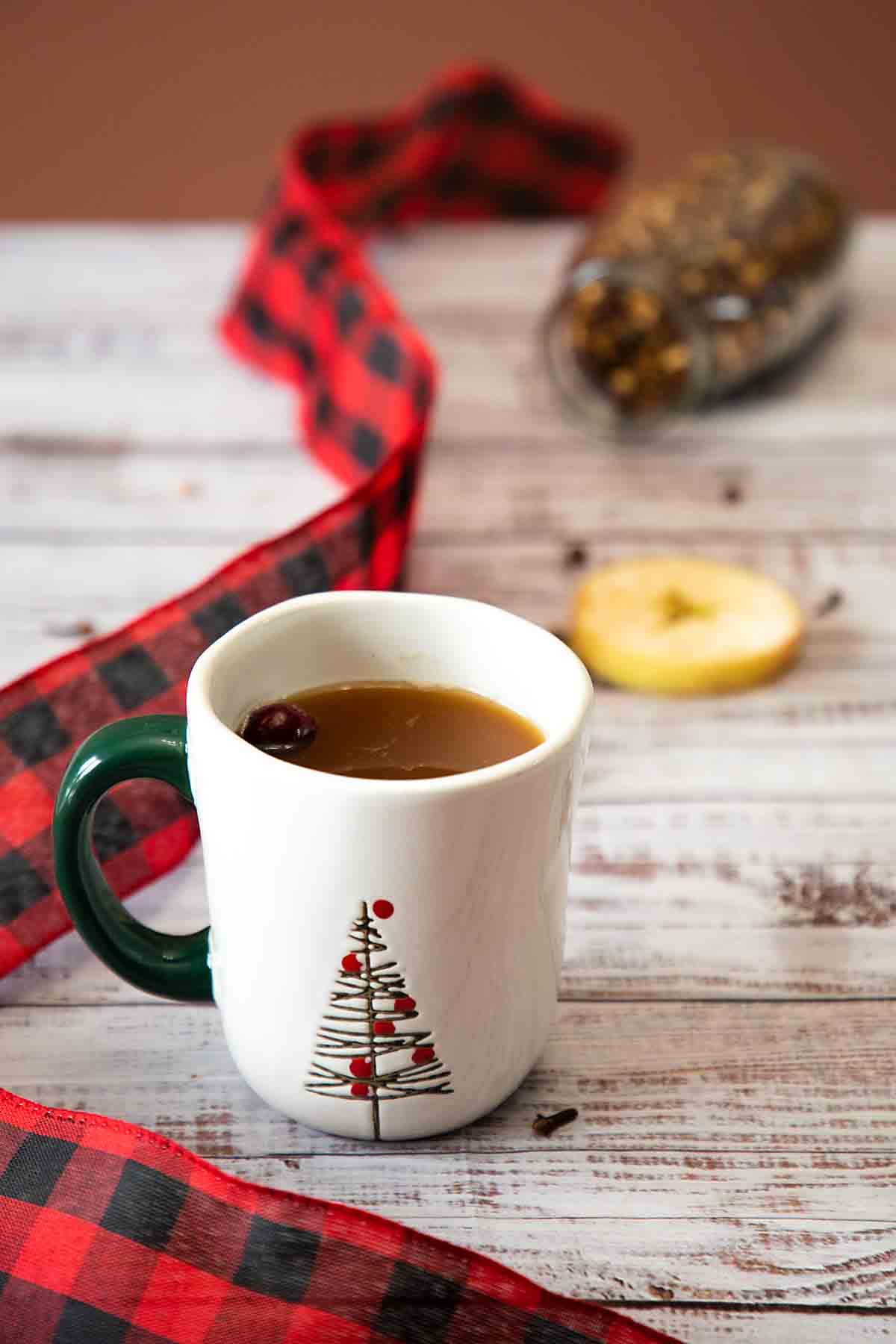 What You'll Need
Apple Cider versus Juice
Apple cider and apple juice are both made from apples that have been cored, chopped, pressed and strained. But apple juice is heavily filtered which makes it clearer and less flavorful. In addition, some juices may have water, preservatives and sugar added. So while people do mull apple juice, cider will give you better results.
There is another type of cider that I haven't mentioned and this is hard cider, a fermented alcoholic beverage similar to beer. While this can be a tasty drink, it does not have the right flavor profile for hot mulled cider.
In any case, apples are consistently on the EWG's "dirty dozen" list of most contaminated fruits and vegetables, so buy your cider or juice organic if you can.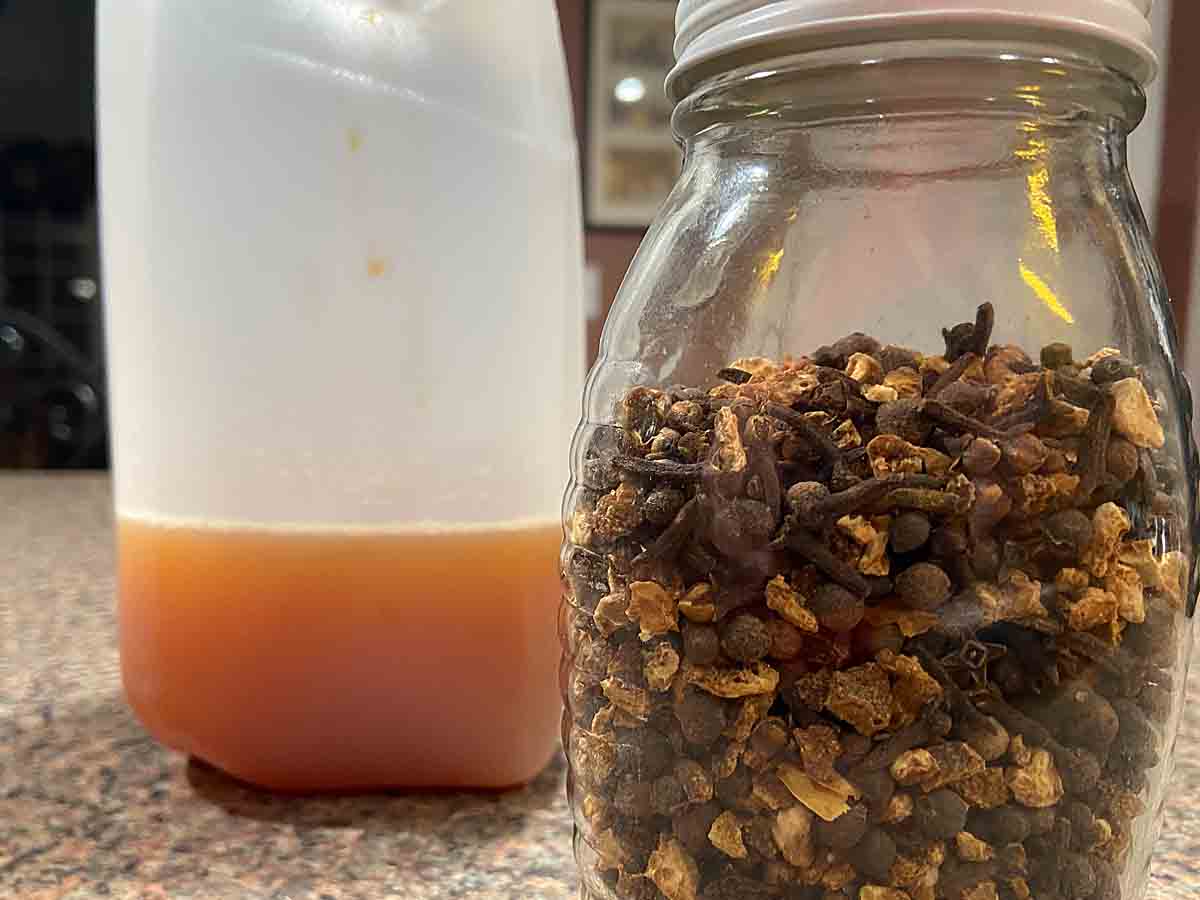 Apple Cider Mulling Spices
The basic mulling spices are cinnamon, allspice and cloves, but feel free to vary the mix based on your tastes or the ingredients in your pantry. Take a look at "Variations" below for some ideas.
When I first started making my own spiced apple cider, I'd buy little pre-made packets of spice mix, studded with cinnamon and star anise, wherever I encountered them. But eventually I wondered, "why buy pricey little packets when you can make your own?" Since then I head to the spice cabinet whenever the urge to mull cider hits.
And as an added bonus, my regular spices are probably fresher and more flavorful than an old mix that may have been sitting in the cupboard for who knows how long!
Sugar
Since apples are naturally sweet, no sugar is needed to make spiced apple cider. Even better, many of the local cider makers work to pull together a complimentary blend of sweet and tart apples so their cider has the best flavor! Another reason to go local!
Step by Step Directions
To make spiced apple cider, you first measure the cider into a saucepan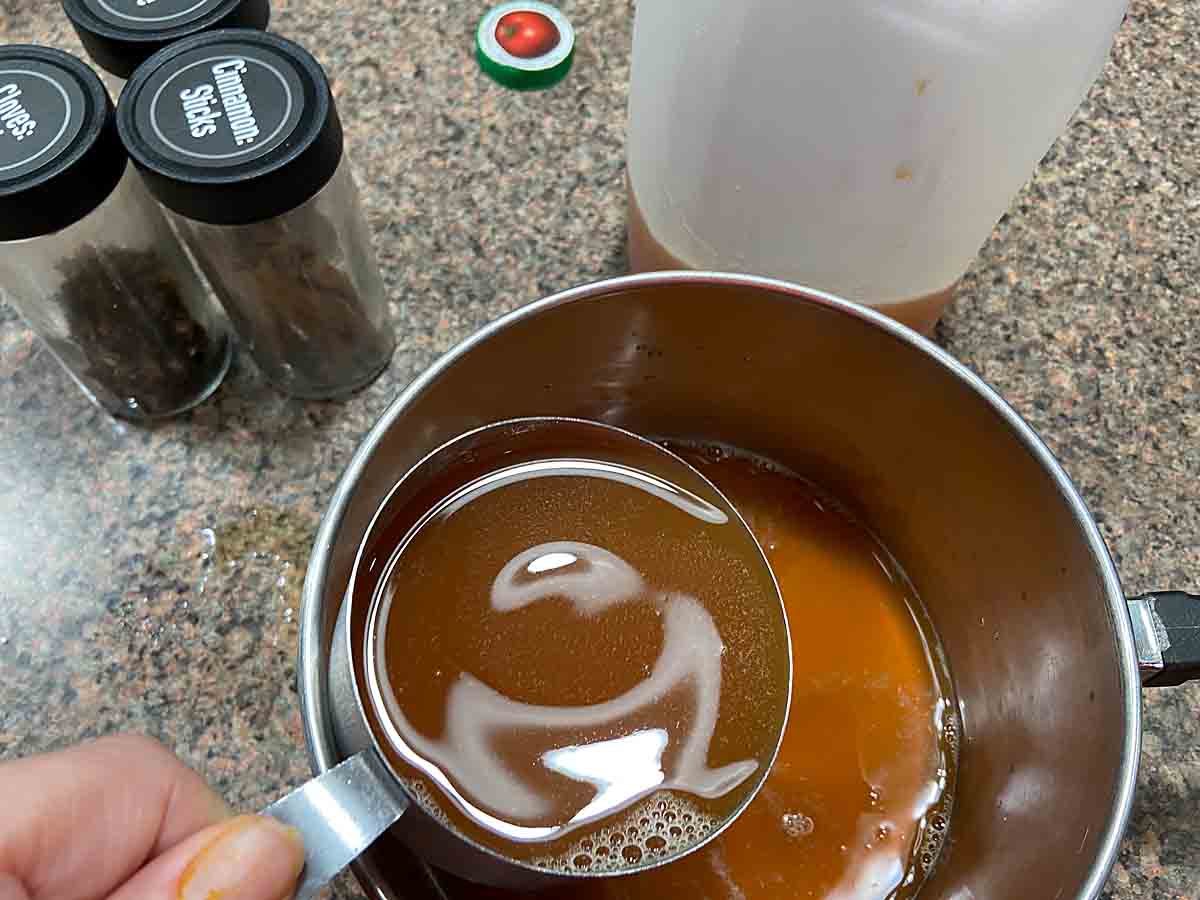 Add the mulling spices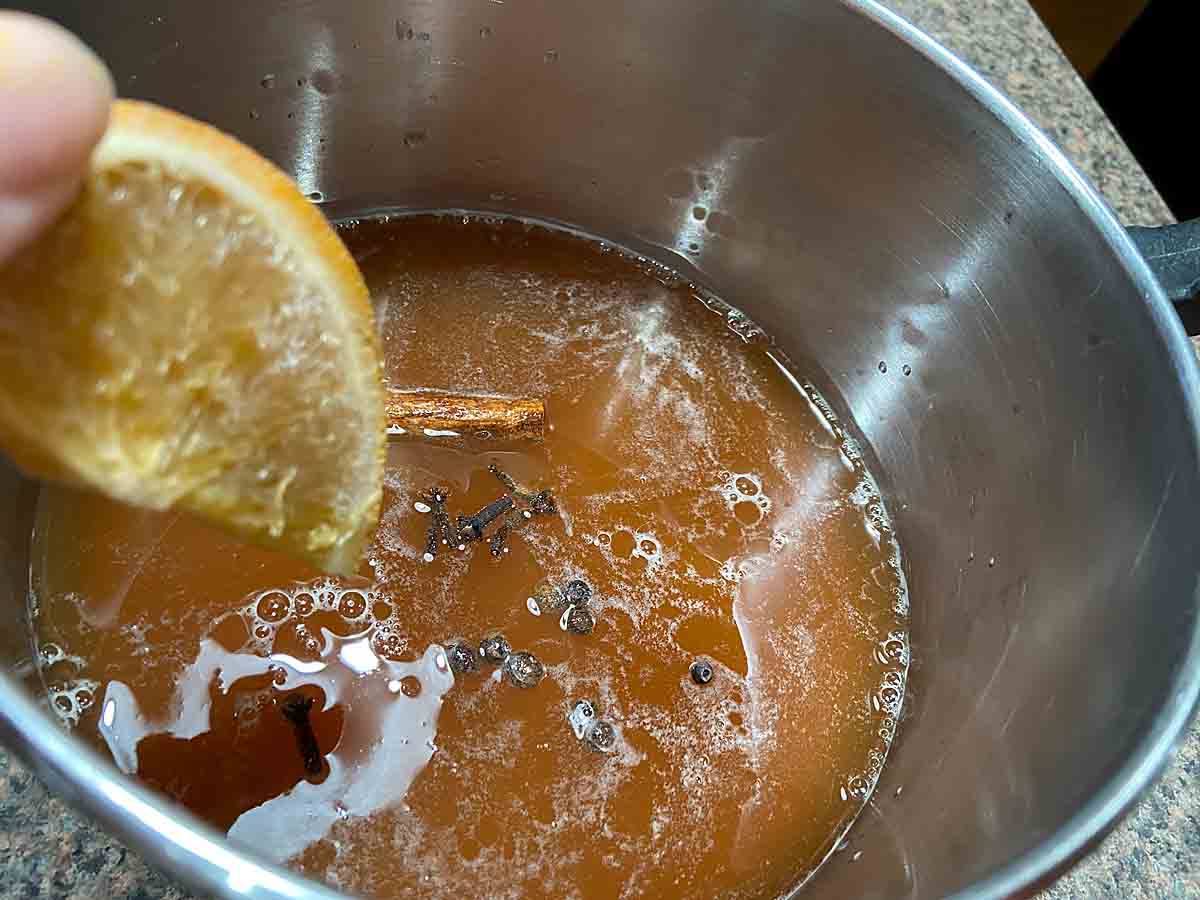 then heat, without boiling, until spice flavors have been infused. Enjoy warm!
How to Serve
Mulled apple cider can be served in anything with a handle. This can be a cute ceramic mug (seasonally appropriate) or something glass like a glass Irish coffee mug.
For a festive look, garnish the mug with a cinnamon stick and fresh cranberries. Or even a slice of apple or orange.
This also makes a perfect party holiday spiced cider! If you are serving over the course of an evening, you may want to keep it warm. A slow cooker or even a fondue pot on warm (don't let it boil) can be helpful here. Consider floating cranberries and orange slices in the pot for a Christmas Cider look!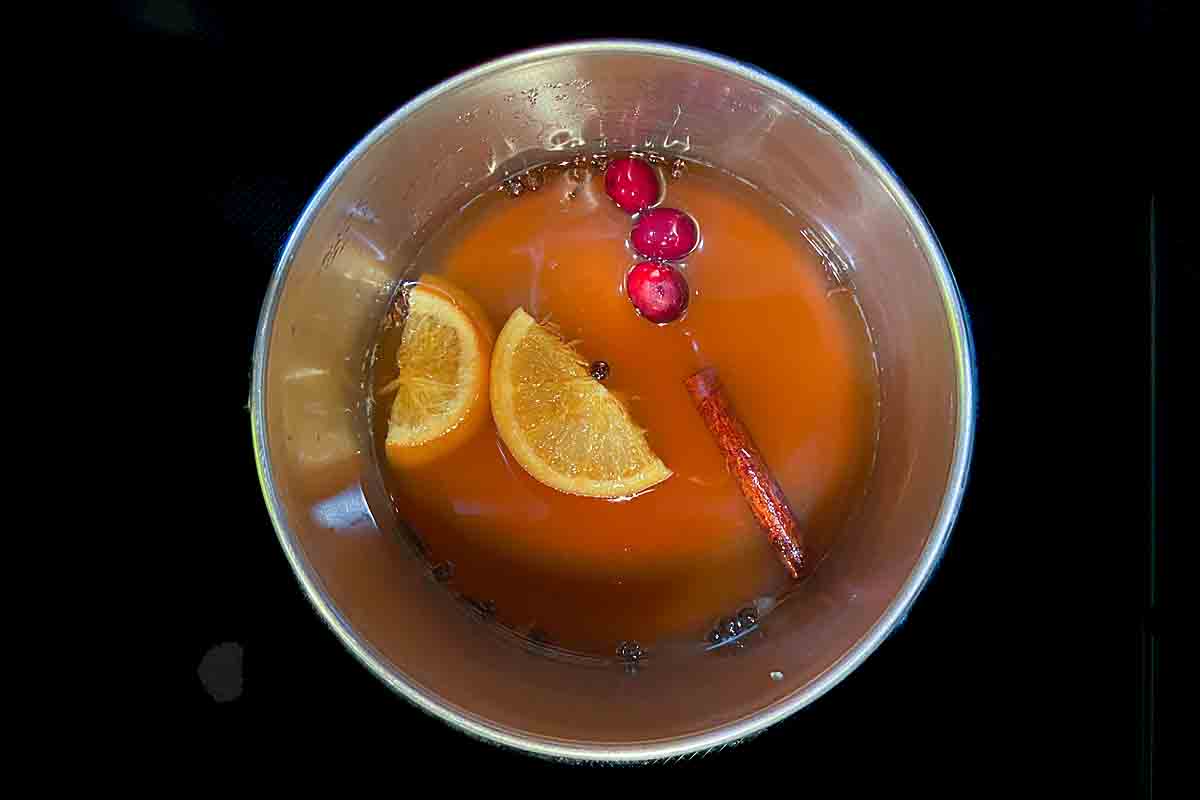 Variations
Don't worry, there are no hot cider police looking over your shoulder—and it's pretty hard for this not to taste good! So feel free to change up the spices.
No oranges or orange peel? Leave it out. In the mood for ginger? Toss in a slice of fresh or candied ginger—or maybe some star anise or nutmeg. You can even make a chai spiced cider by adding cardamom and ginger and maybe a few peppercorns to the cinnamon, cloves and allspice!
Of course, some people prefer a hot spiked cider! If you'd like to turn this into a boozy hot toddy you can add an alcohol like brandy, apple schnapps or even a spiced rum like Captain Morgan. Just add 2-3 tablespoons per drink to the hot spiced cider. Or you can go fancy with this Caramel Apple Hot Toddy.
Another related (alcoholic) drink is mulled wine, made similarly but with a base of wine instead of cider.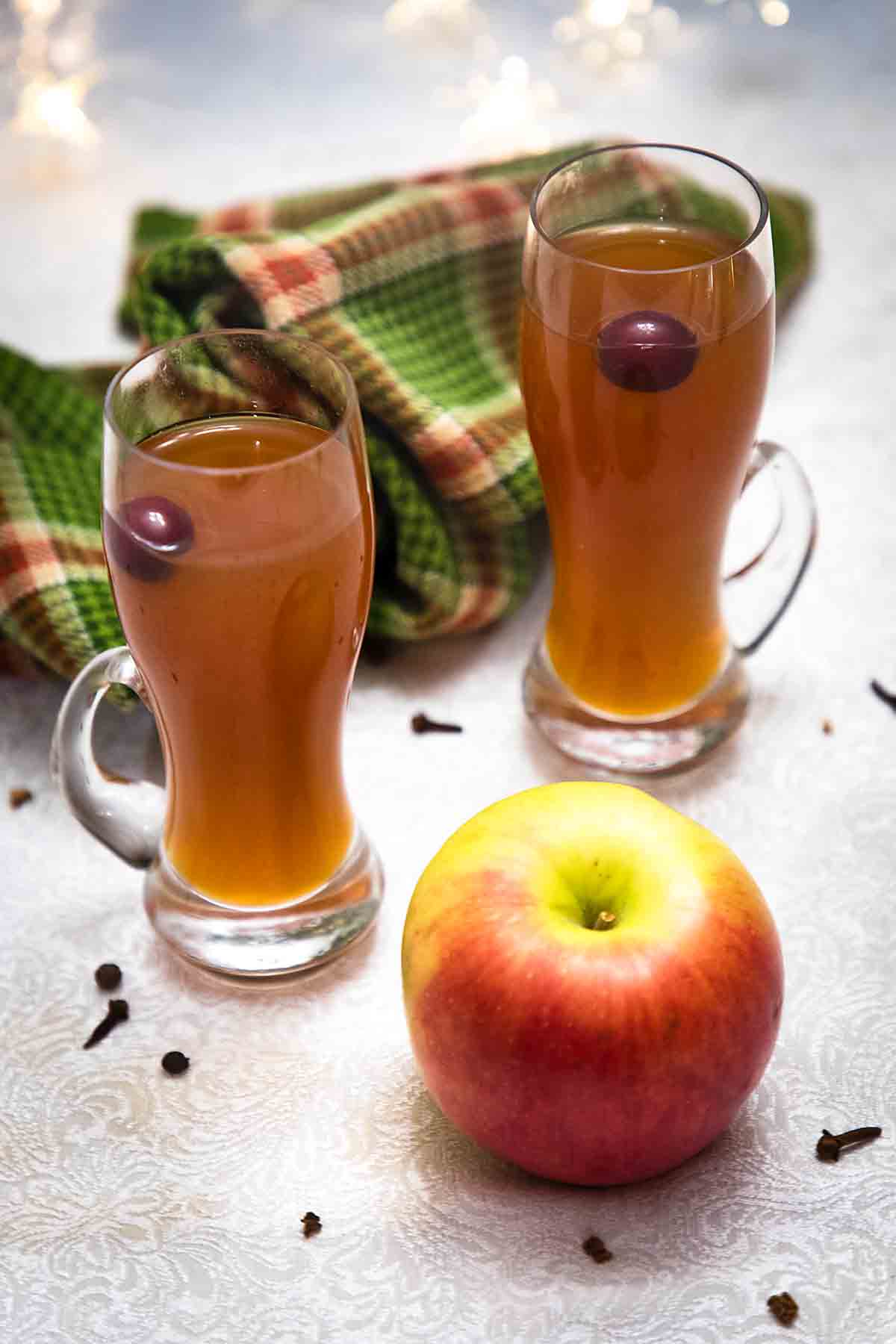 Tips & FAQs
This drink is pretty foolproof, but try not to let the cider boil which may cause it to separate. It's still fine to drink, just a little less appealing.
The freshness of your spices can potentially impact the final flavor. If you know your spices are old, consider increasing the amount.
And for more tasty mocktails…
Mocktails
We share Recipes From Our Dinner Table! Join our group and share your recipes, too! While you're at it, join our Pinterest board, too!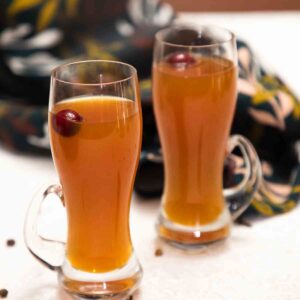 Hot Spiced Cider
A sweet, spicy and warming seasonal beverage, there is nothing like Hot Spiced Apple Cider to celebrate the cooler weather!
Ingredients
1

quart

apple cider

4 cups, organic if possible

1

teaspoon

cloves

1

teaspoon

allspice

1

orange slice

or 1 t dried orange peel

4

cinnamon sticks
Instructions
Measure apple cider into a saucepan. Add spices.

Heat slowly until hot, but not boiling. Keep hot, but below boiling, until cider has taken on enough of the spice flavor, about a half hour.

Strain out spices and serve
Notes
Try not to let the cider boil.  You can still drink it, but it may separate.
If you'd like to turn this into a "hot toddy," brandy or apple schnapps are great additions--about 2-3 tablespoons per cup.
Nutrition
Calories:
121
kcal
Carbohydrates:
30
g
Protein:
0.5
g
Fat:
0.4
g
Saturated Fat:
0.1
g
Polyunsaturated Fat:
0.1
g
Monounsaturated Fat:
0.03
g
Sodium:
11
mg
Potassium:
268
mg
Fiber:
3
g
Sugar:
23
g
Vitamin A:
23
IU
Vitamin C:
4
mg
Calcium:
60
mg
Iron:
1
mg
I am not a health professional and nutrition data is calculated programatically. Accuracy may vary with product selection, calculator accuracy, etc. Consult a professional for the best information.