Easy Dutch Oven or Slow Cooker Ribs
Easy Dutch Oven or Slow Cooker Ribs deliver a flavor sensation for a dinner entree or appetizer. Plus they're easy to make.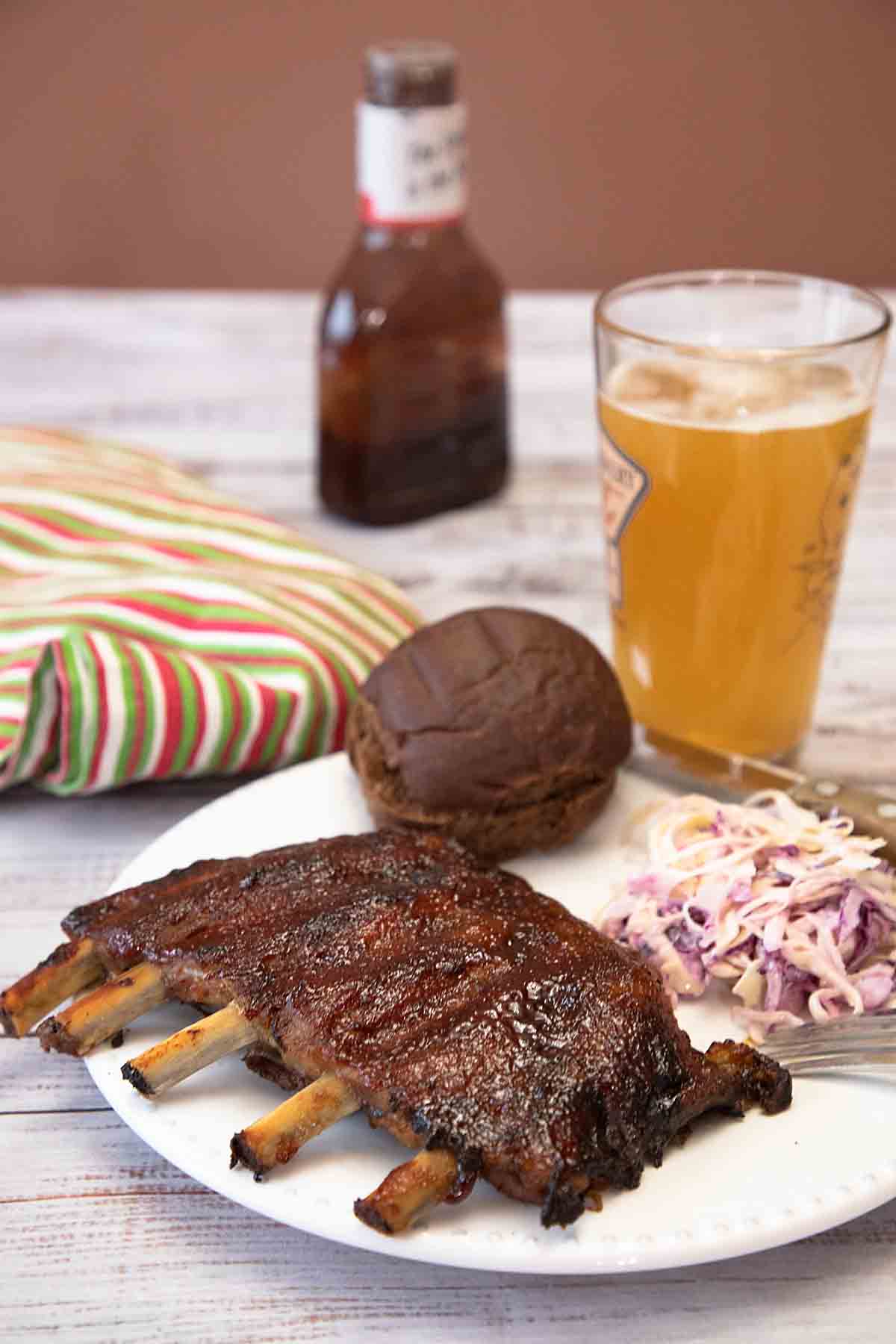 I don't know if it's due to the second winter of Covid–or maybe just life lately. But in any case, I've been feeling a real need for some EASY!
And so I decided to make tasty BBQ ribs tonight–and to do it as simply as possible. This recipe works in a slow cooker or in the oven using a Dutch Oven.
'Cause everyone needs more than one way to make life easier!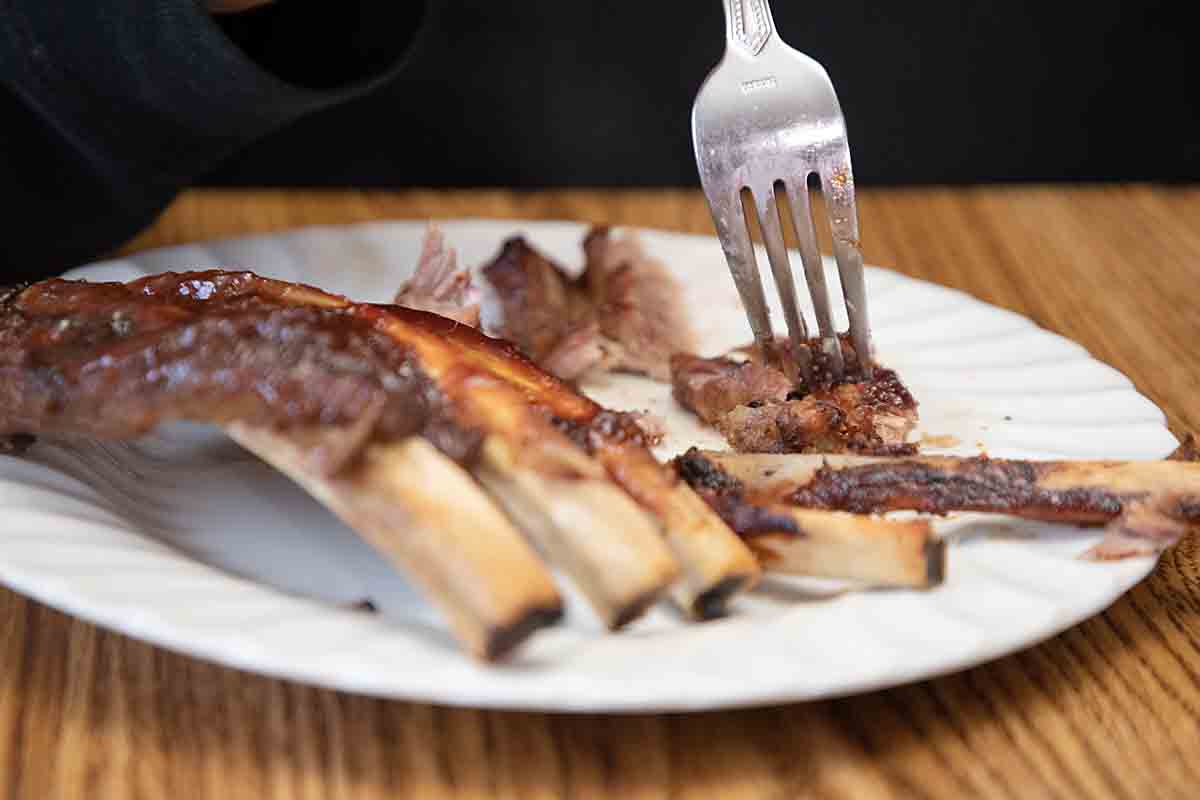 What Makes This a Winner
BBQ Ribs is a perennial favorite entree and for good reason. It is:
Flavorful (almost Comfort Food). Since they are tasty, rich and satisfying BBQ Ribs meet my definition of comfort food! In fact, I'd rank them way above mac 'n cheese!
Easy. There is very little active work in making these ribs. The only time you really need to pay attention is the five or so minutes they spend under the broiler.
Adaptable. No slow cooker? This works great in a Dutch Oven too
Step by Step Directions
You start by mixing together the spices to form your spice rub.
Remove the tough membrane from the ribs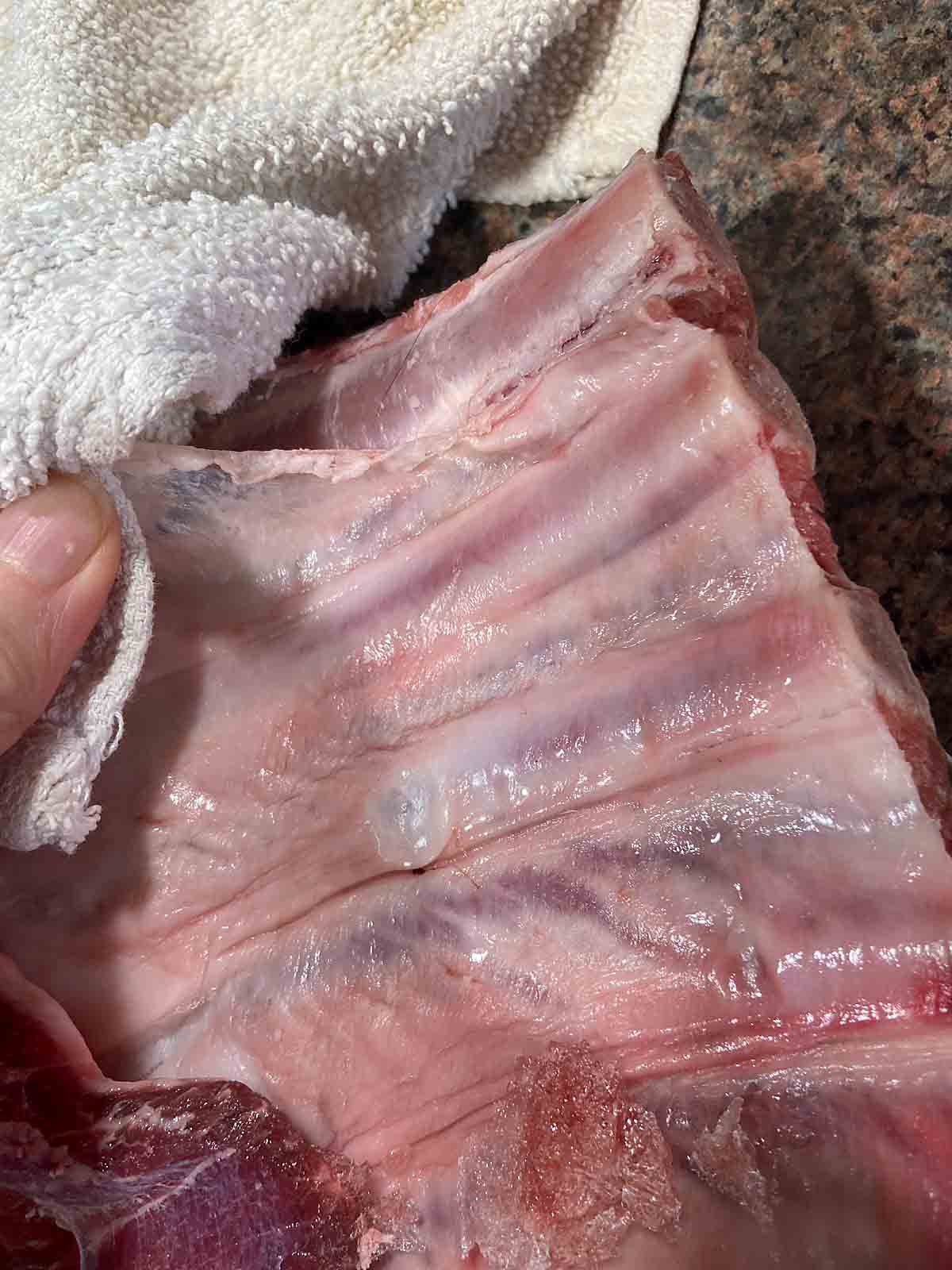 Cut your ribs to fit the Slow Cooker or Dutch Oven as needed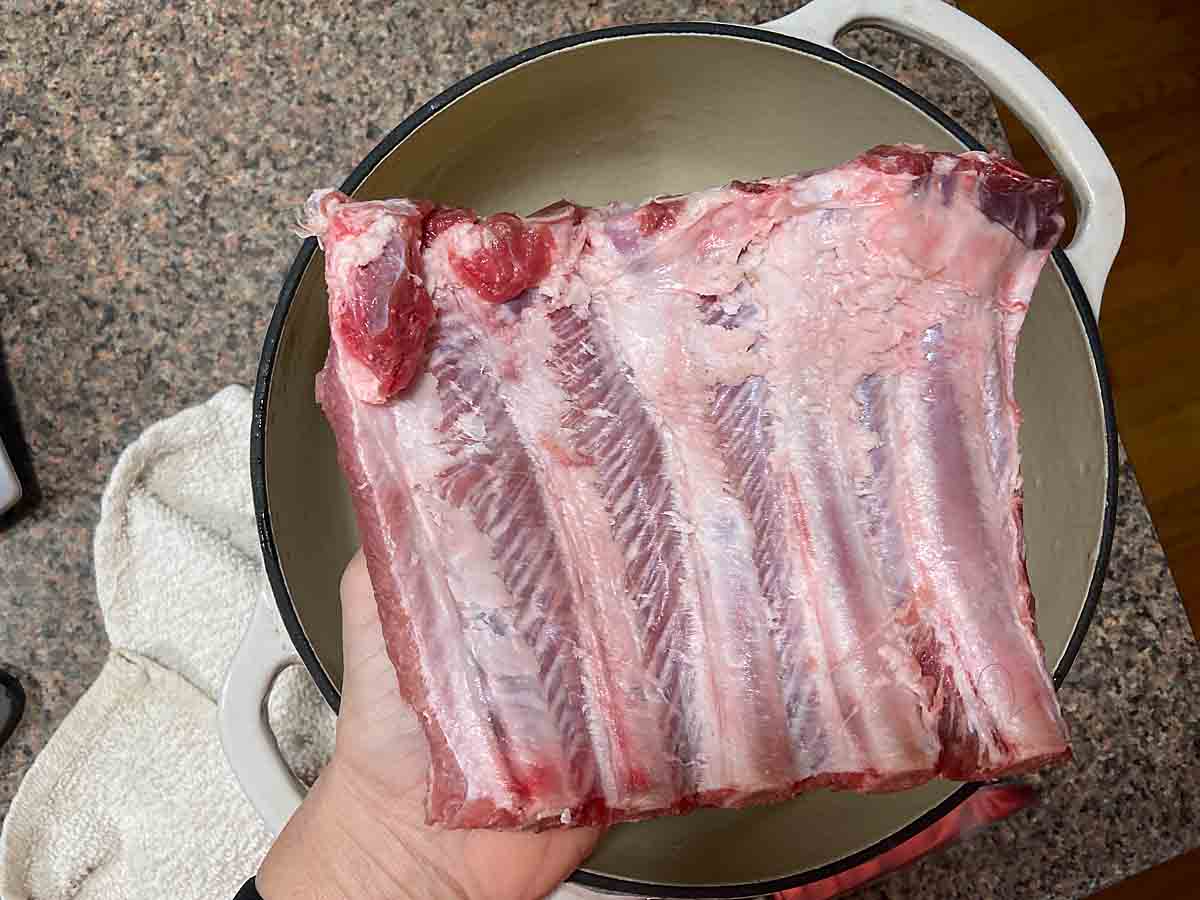 Rub with spice rub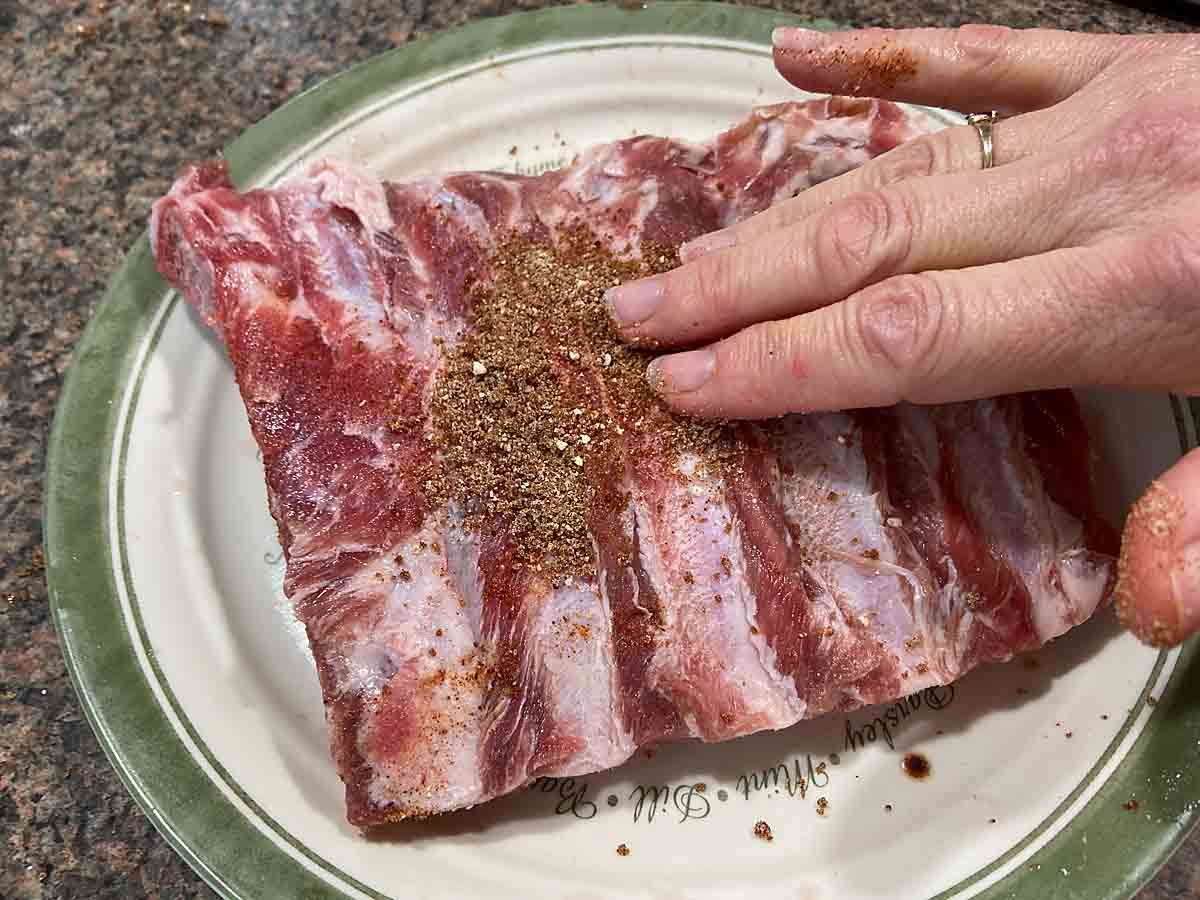 Place in cooker and cook until tender, then remove to broiler pan and brush with BBQ sauce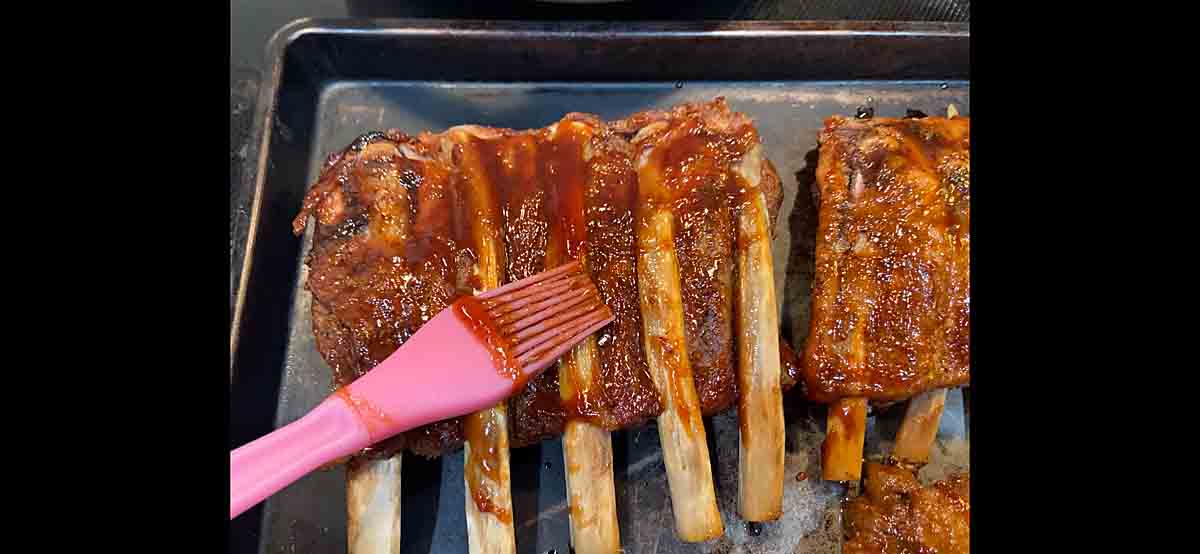 Broil until starting to crisp, about 5 minutes.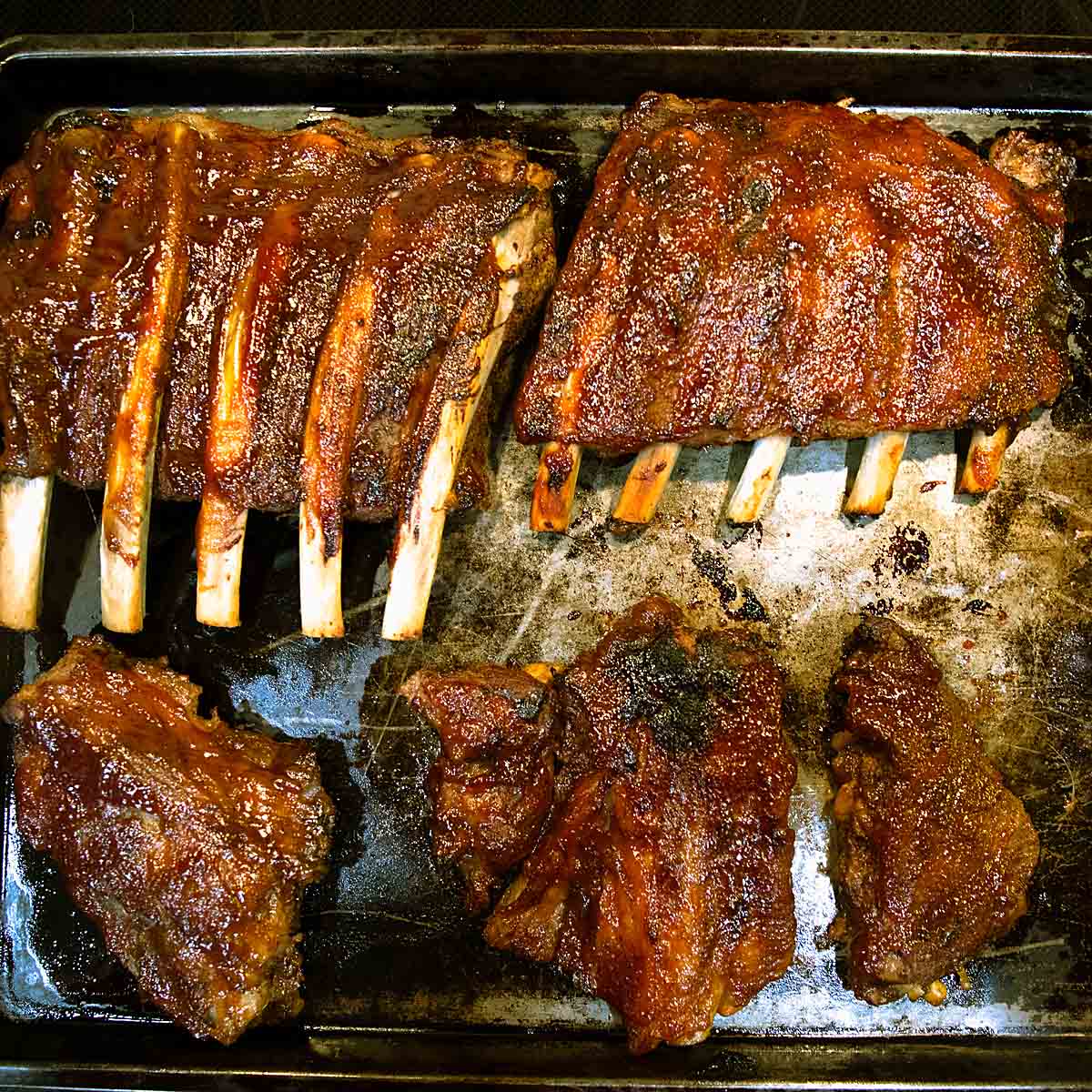 Yum!
Types of Ribs
Pork vs. Beef Ribs
The first thing you need to decide in picking out your ribs is whether you want beef or pork. Pork has always been the classic and you can't go wrong with that choice.
In recent years beef ribs have become increasingly popular. I used to steer away, finding them slightly tough and occasionally… well, almost slimy. But the long slow cooking method I use here should correct these issues and there are many similar online recipes online using beef ribs. So I know I need to give them another try.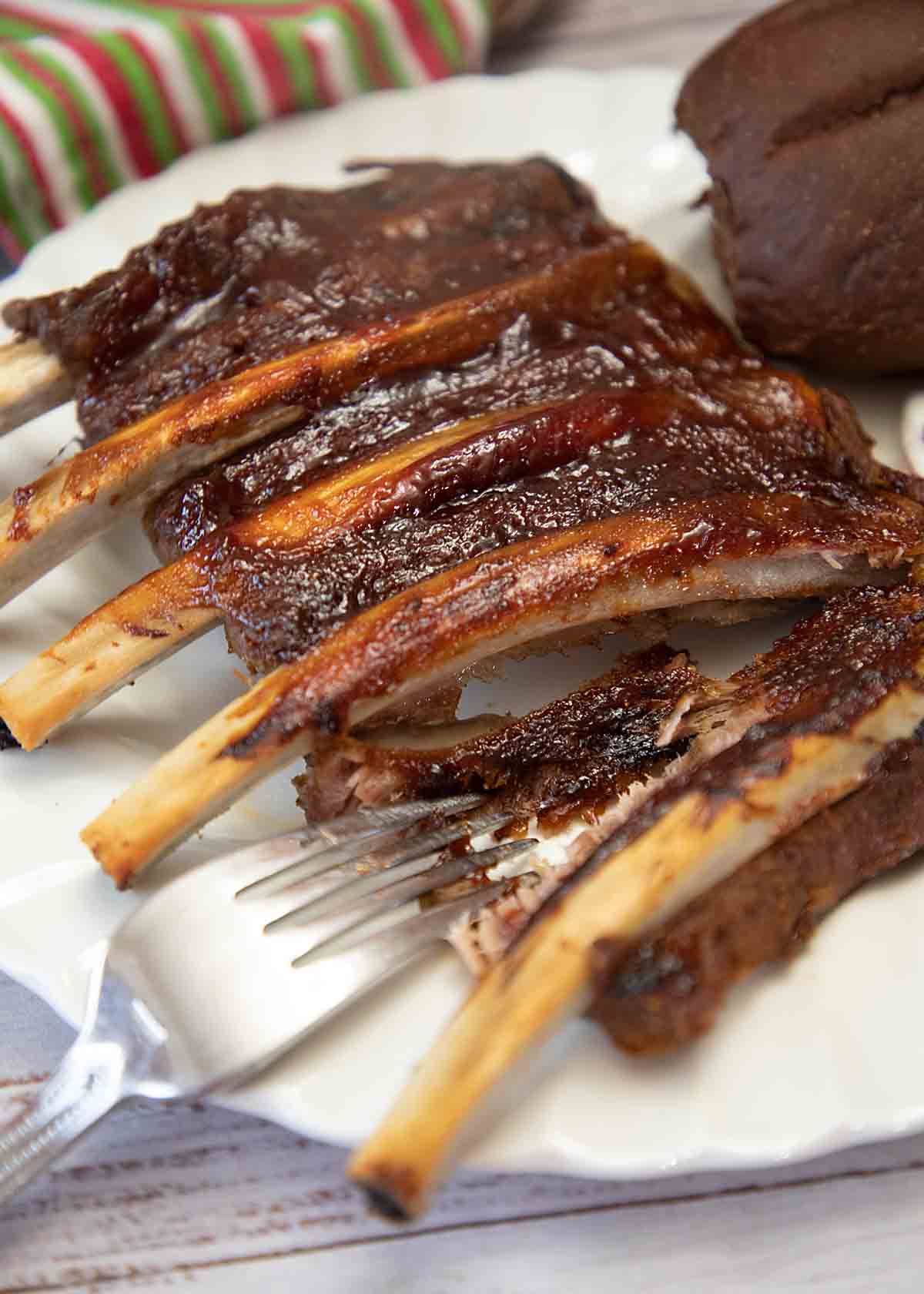 Cuts of Pork Ribs
Both beef and pork ribs come in a variety of cuts. For pork, some of the more common are:
Baby Back Ribs: these come from the top of the rib cage, by the spine. They are shorter than spare ribs and popular in restaurants. A rack of baby back ribs may weight in around 2 lbs and will feed 1-2 people.
Spare Ribs: these are the ribs I ate growing up and are cut below the baby back ribs. They have a higher ratio of bone and an extension of cartilage at the end of the bones. If they are trimmed up to remove this they may be called St Louis Ribs. A rack of spare ribs is about 3-4 lbs and will feed 2-3 people.
Country Style Ribs: these aren't technically ribs at all but actually part of the pork shoulder (aka pork butt). These may have few to no bones and are sometimes called boneless ribs. These can be cooked per this recipe since the shoulder needs slow cooking.
For more information (and a picture showing the origin of the cuts), see Smoked BBQ Source. Beef ribs also come in different cuts. For information about cuts of beef ribs, see BBQ Champs Academy.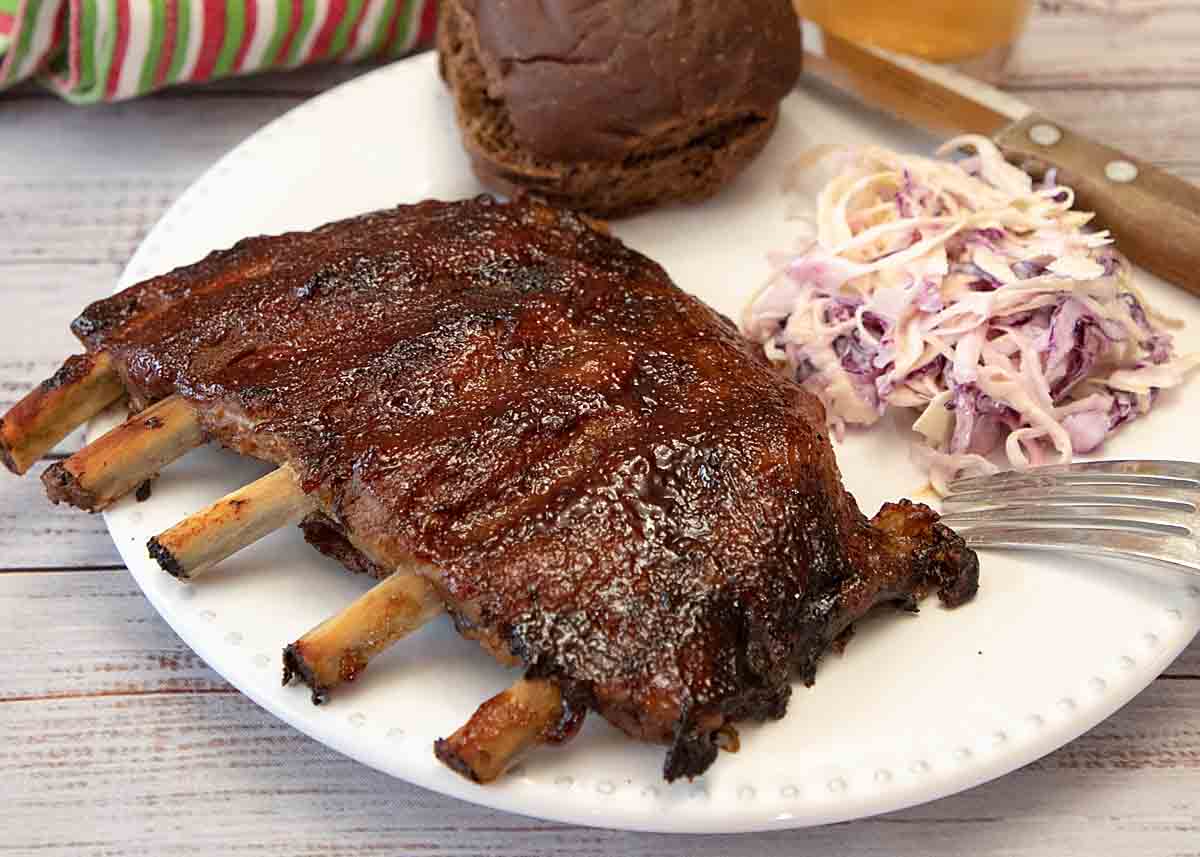 How to remove the membrane
There is one trick to preparing ribs and that is removing the tough membrane that stretches across the back side of the ribs. I read that it's easy, but I was still worried.
Now truthfully, I wondered if removal was even needed since the slow cooking might tenderize it–and I could swear I've left it on in the past . But I decided to give it a try and once I got the hang of it, it was easy.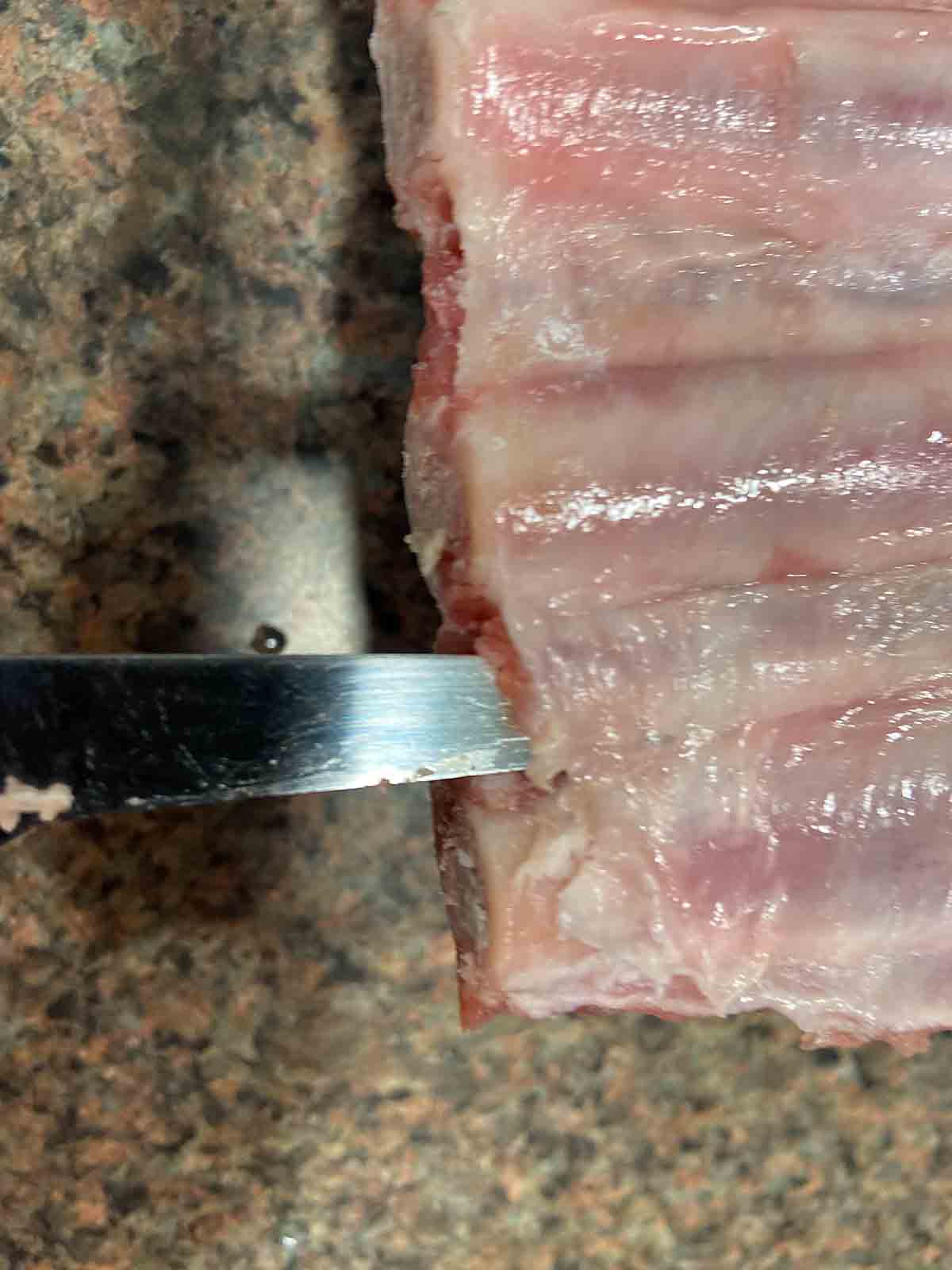 You basically create a flap of membrane then pull the rest off. The only hard part was getting it started. I wasn't successful starting at the end, but when I move one rib over(see above), then sliced toward the outside I quickly had a nice flap.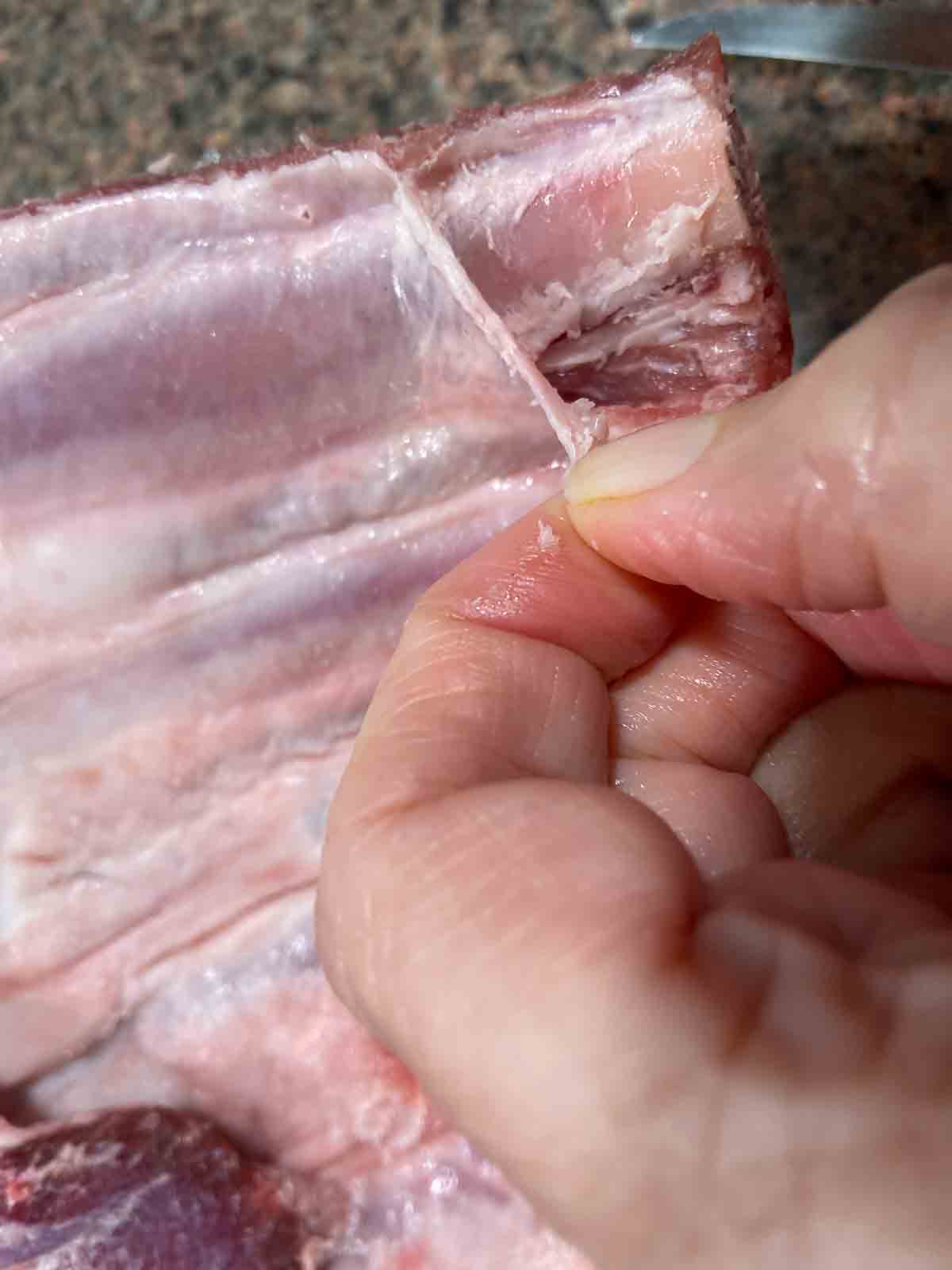 Pulling with a cloth is recommended so that's how I started. I also had some success bare-handed, though that might not have worked in the beginning.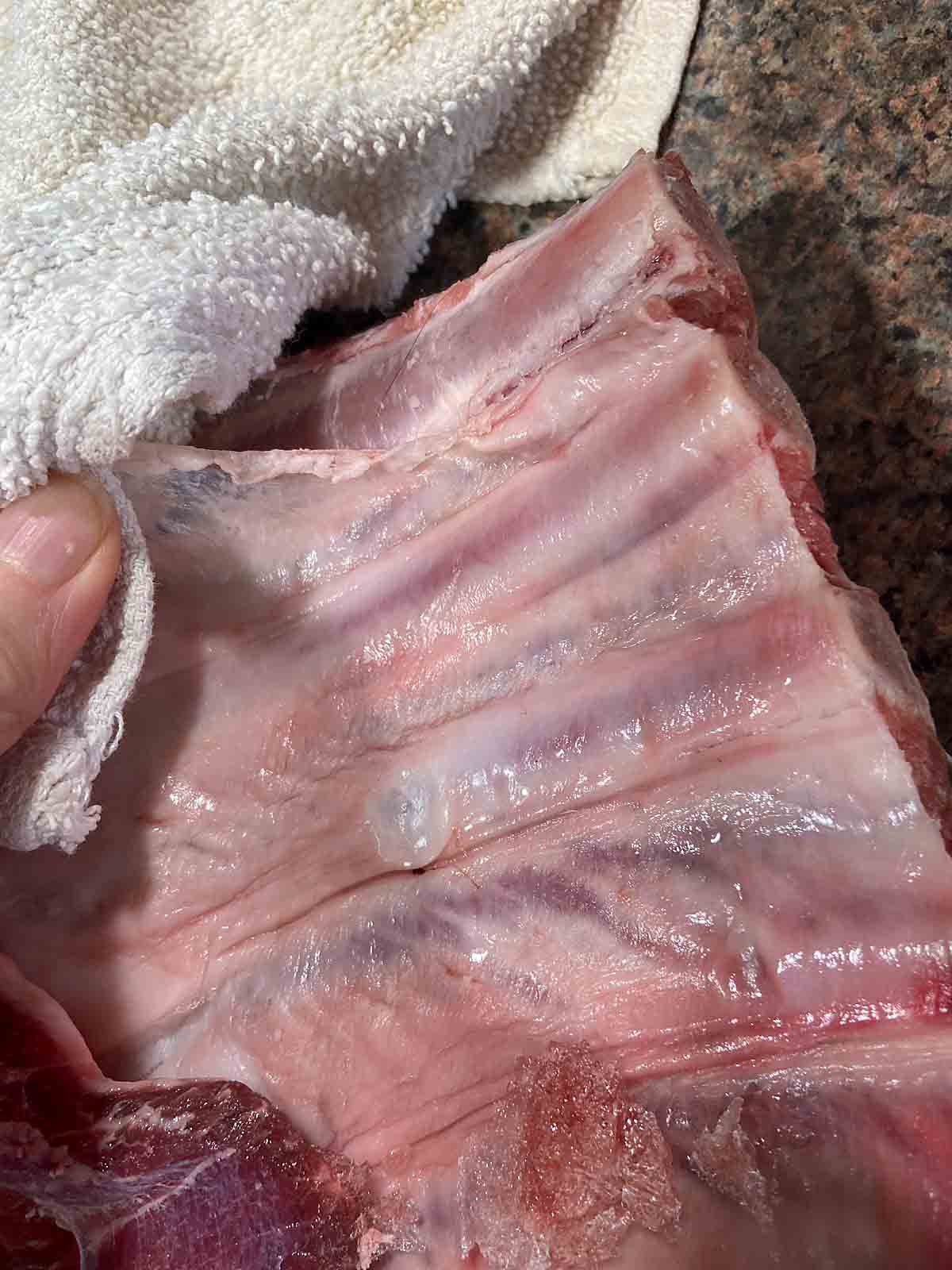 Yup, not so bad after all!
Tips and FAQs
Did you know that you can convert slow cooker recipes to Dutch Oven recipes and vice versa, by changing the cooking time? I usually bake in a Dutch Oven at about 300F and estimate slightly less cooking time than the time for the high setting of a slow cooker. Since the oven uses a higher cooking temperature, the Dutch Oven version will tend to lose more liquid so it's important to check for that periodically. Otherwise easy peasy.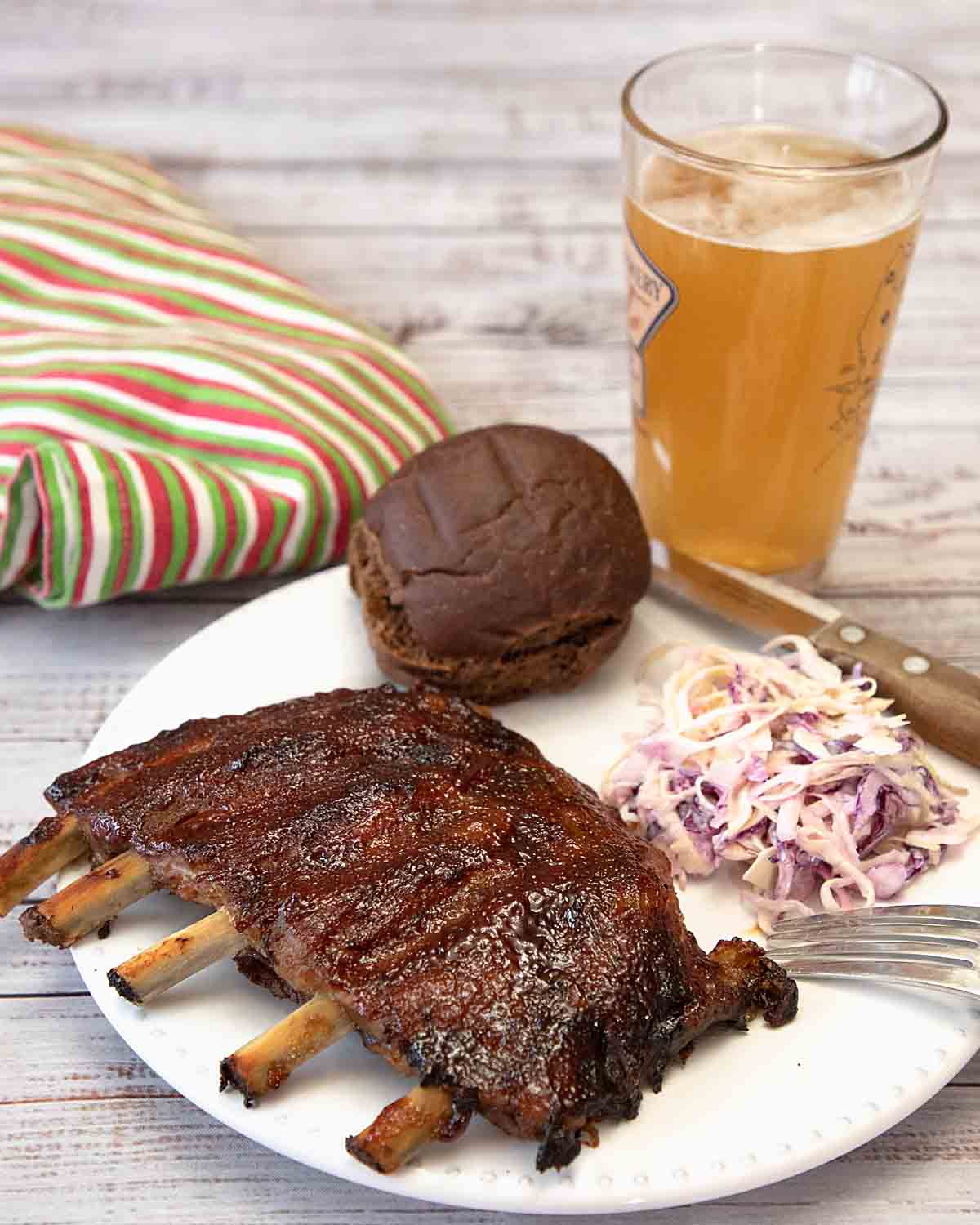 Serving Suggestions
A casual side salad like Cole slaw or potato salad is perfect with ribs. We added rye rolls as well for simplicity—remember, we were in search of an easy meal! Fresh roasted corn and cornbread are other tasty sides. Finally, your favorite beer or hard cider makes a good beverage accompaniment.
Ribs even make good appetizers. Just cut them individually and they'll be a sure hit!
Welcome to our #NationalSlowCookerMonth Celebration!
January is National Slow Cooker Month and this week we are celebrating all things slow cooker! We have delicious recipes from across the country to fill your meal plans with delicious slow cooker recipes!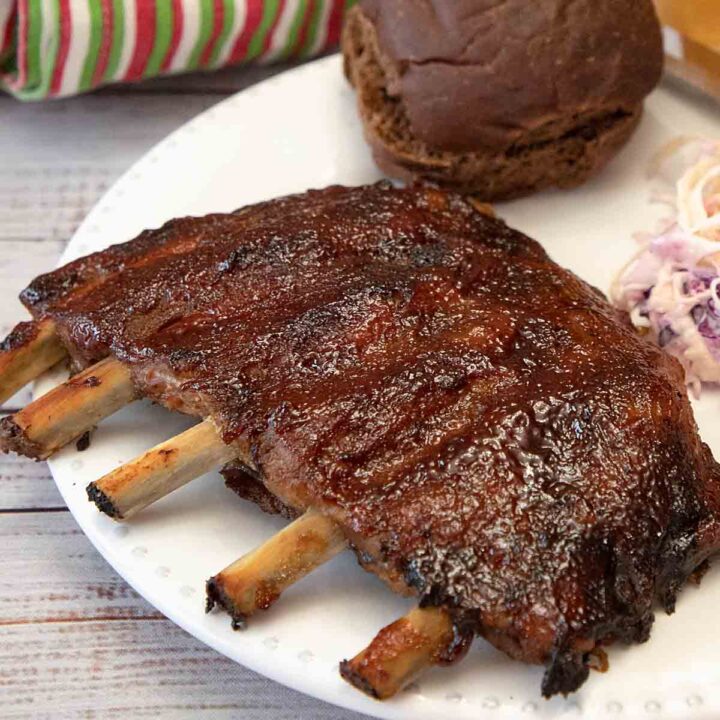 Easy Dutch Oven or Slow Cooker Ribs
Total Time:
4 hours
10 minutes
Easy Dutch Oven or Slow Cooker Ribs deliver a flavor sensation dinner or appetizer.  Plus they're easy to make.
Ingredients
Spice Rub:
1 teaspoon paprika, smoked or regular
1 tablespoon brown sugar
2 teaspoon garlic powder
2 teaspoon onion powder
1 teaspoon salt
½ teaspoon ground black pepper
½ teaspoon dry mustard
pinch cayenne
Other ingredients:
Approximately 4 lbs ribs (about 1 rack spare ribs or 2 racks baby back ribs)
½ cup beer or stock (or other liquid) for moisture
1/2 cup barbecue sauce, plus extra for serving
Instructions
Blend spices to create a dry rub.
Remove tough membrane from back of ribs. Use a knife to create a flap, then pull off the rest of the membrane.
Cut ribs to fit your slow cooker or Dutch Oven. Rub the spice rub onto both sides of ribs then set aside.
Pour beer or stock into bottom of slow cooker or Dutch Oven, add ribs and cover. Slow cook on high for 4-5 hours or low for 7-8 hours or if using Dutch oven bake at 300F for 3-4 hours. Check periodically and add additional liquid if it has dried out.
When ribs are tender to your tastes, remove and place on broiler safe pan. Brush with BBQ sauce. Broil until starting to crisp, about 5 mintues.
Serve hot with additional BBQ sauce on the side.