With tender beef in a flavorful brandy mushroom gravy, Slow Cooker Beef Tips is an easy Sunday dinner! Serve over noodles or mashed potatoes.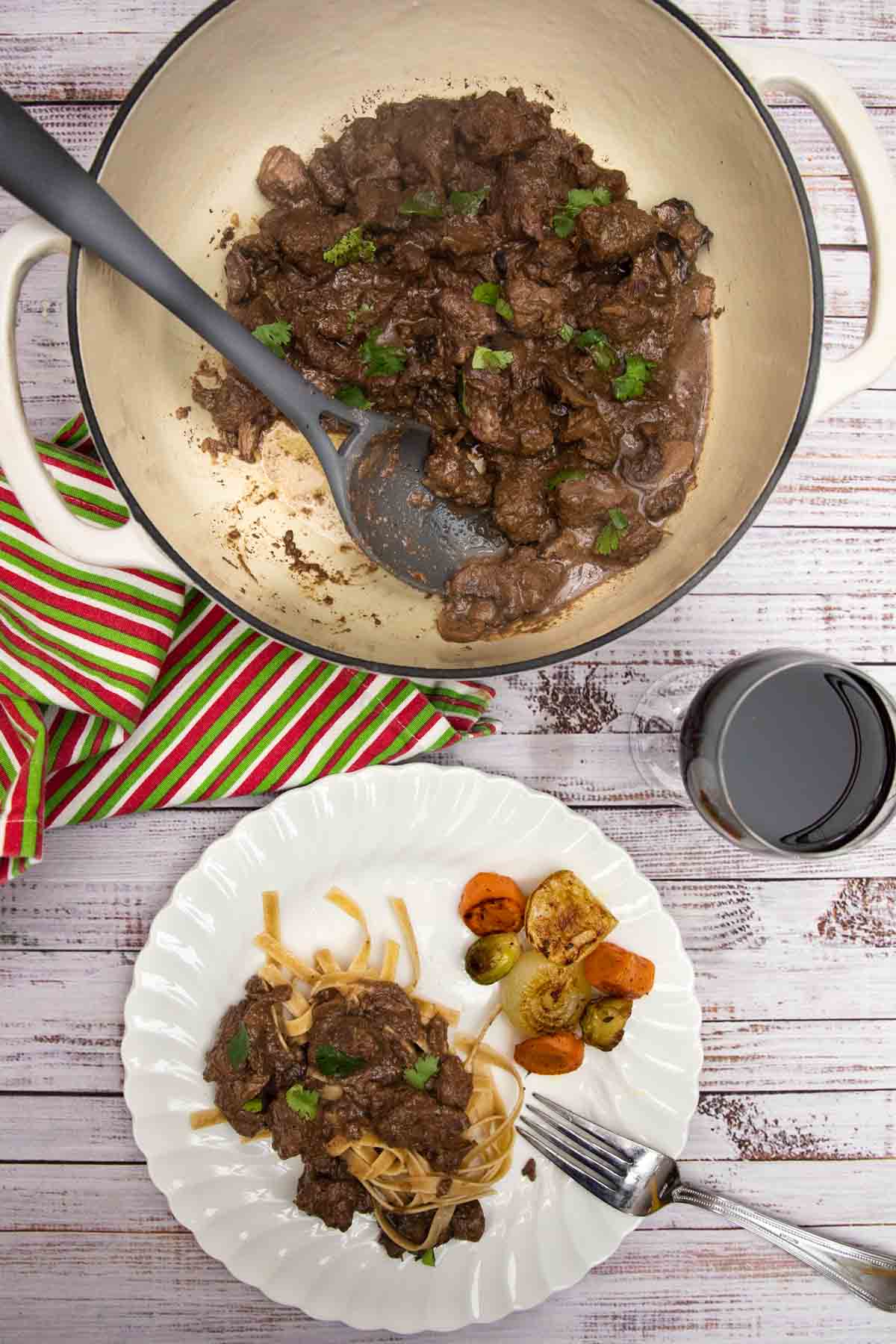 Recently, I saw a beautiful picture of beef tips in gravy. And I totally, completely, wanted to have it. It was even supposed to be easy, prepared in a slow cooker.
Unfortunately, it used cream of mushroom soup. And French onion soup mix. And brown gravy mix. And I didn't have any of these. Could I make it with what I did have?
Happily, the answer was "yes." It wasn't even hard. With just a few pantry seasonings and some beef bouillon, I was there.
Oh, and I did add a little brandy. We'd had something similar recently at a fine dining restaurant and I guess I was felling a little competitive. (Though I offer an alternative for non-drinkers.)
In the next few weeks, I repeated it, um, 3-4 times? I guess I'd call this a winner!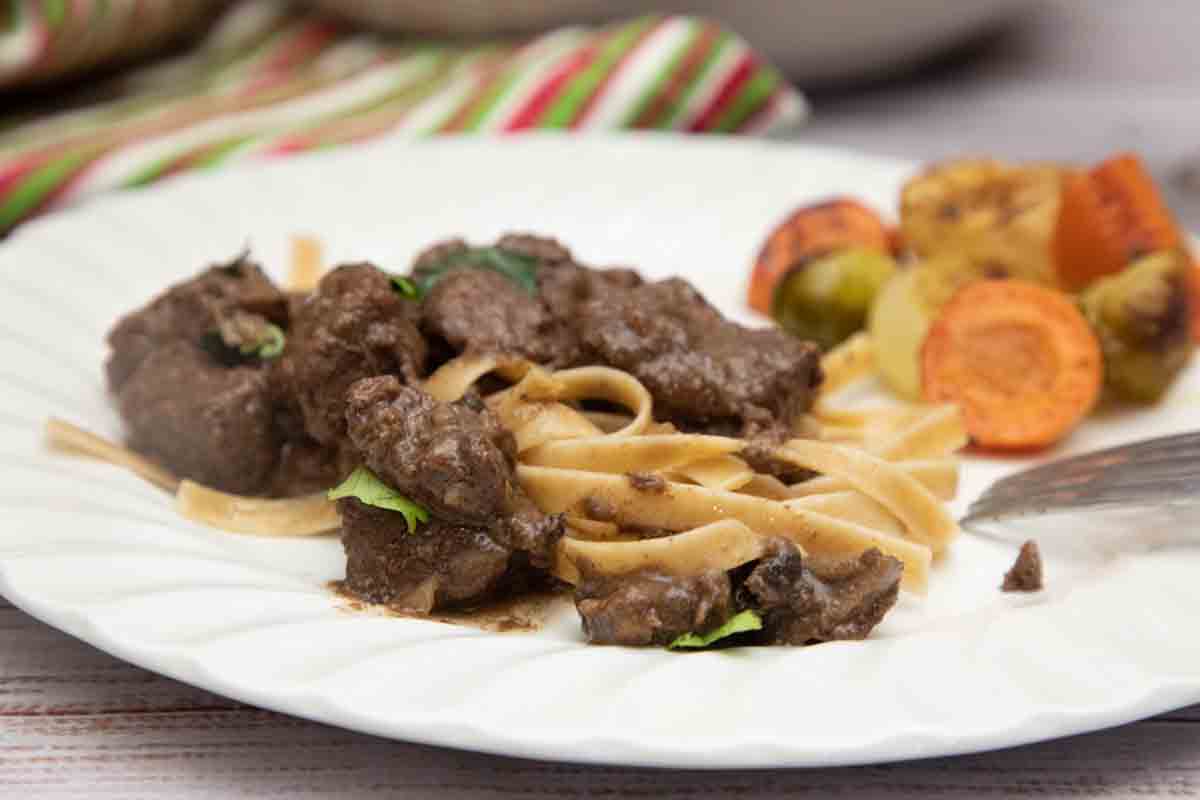 What Makes This a Winner
This dish has become a family favorite! That's because it's:
Tasty. I mentioned the local fine dining beef tip dinner that we've enjoyed frequently. When I realized I could do something similar at home, I was thrilled.
Uses Natural Ingredients. In the end this was delicious with almost 100% natural ingredients—and it was still easy! I even used grass-fed beef!
Easy. This uses just a handful of items that were already in my pantry or freezer and it mixes up quickly. Yes, the only thing hard about it is waiting for it to get done while the smell fills the air.
Upscales Less Expensive Meats. Slow cooking tenderizes the meat and breaks up connective tissues so this is great option to turn trimmings like sirloin tips—or even stew meat into Sunday dinner. I've even made it with pork (shhh and see "Cuts of Beef" below).
Flexible. Make in a crockpot or use a Dutch Oven to cook your beef tips in the oven. (Instructions for both included)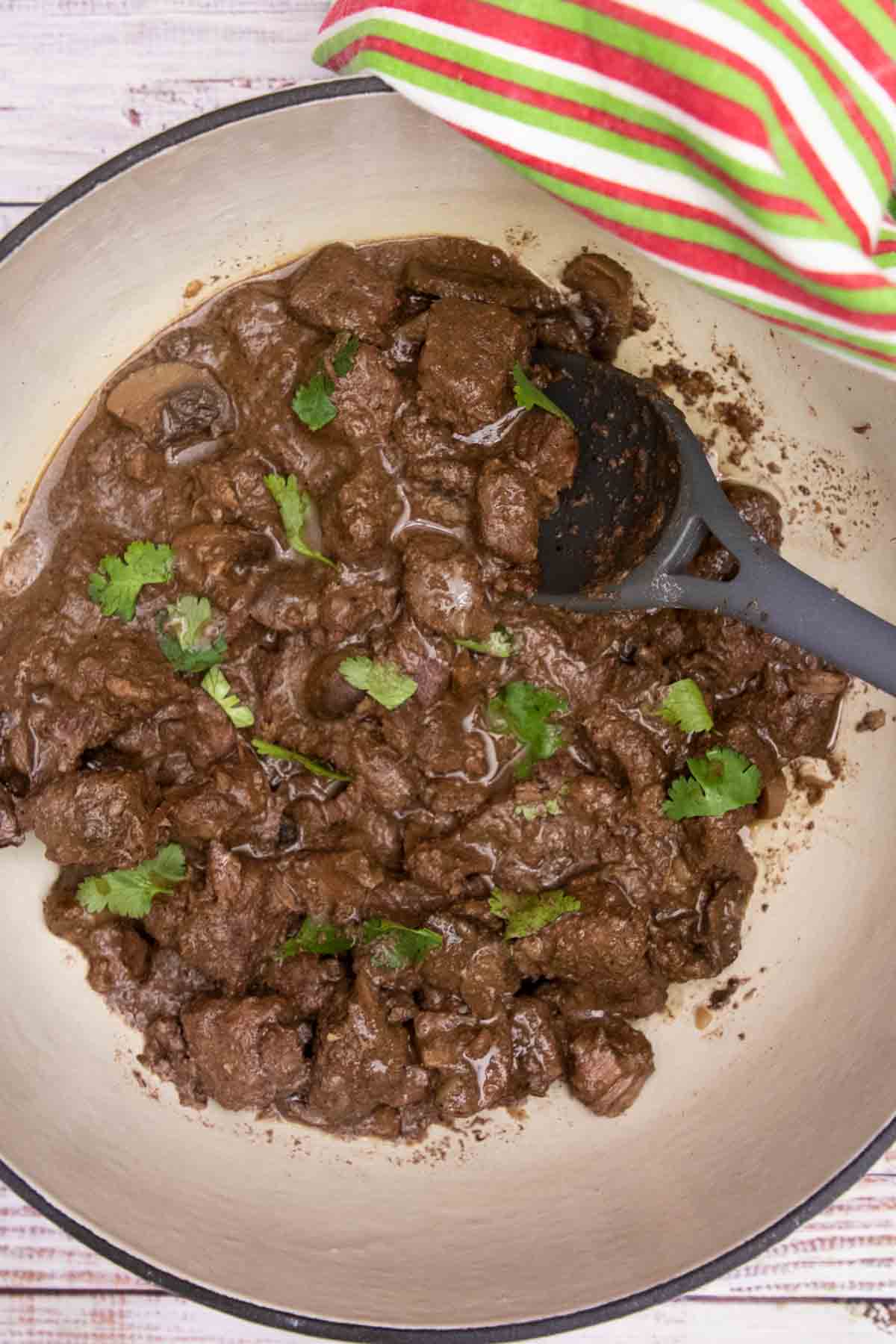 Cooking Steak Tips and Gravy
To start you mix the seasonings, wine and water in a slow cooker or Dutch Oven
Stir in cubed beef and sliced mushrooms.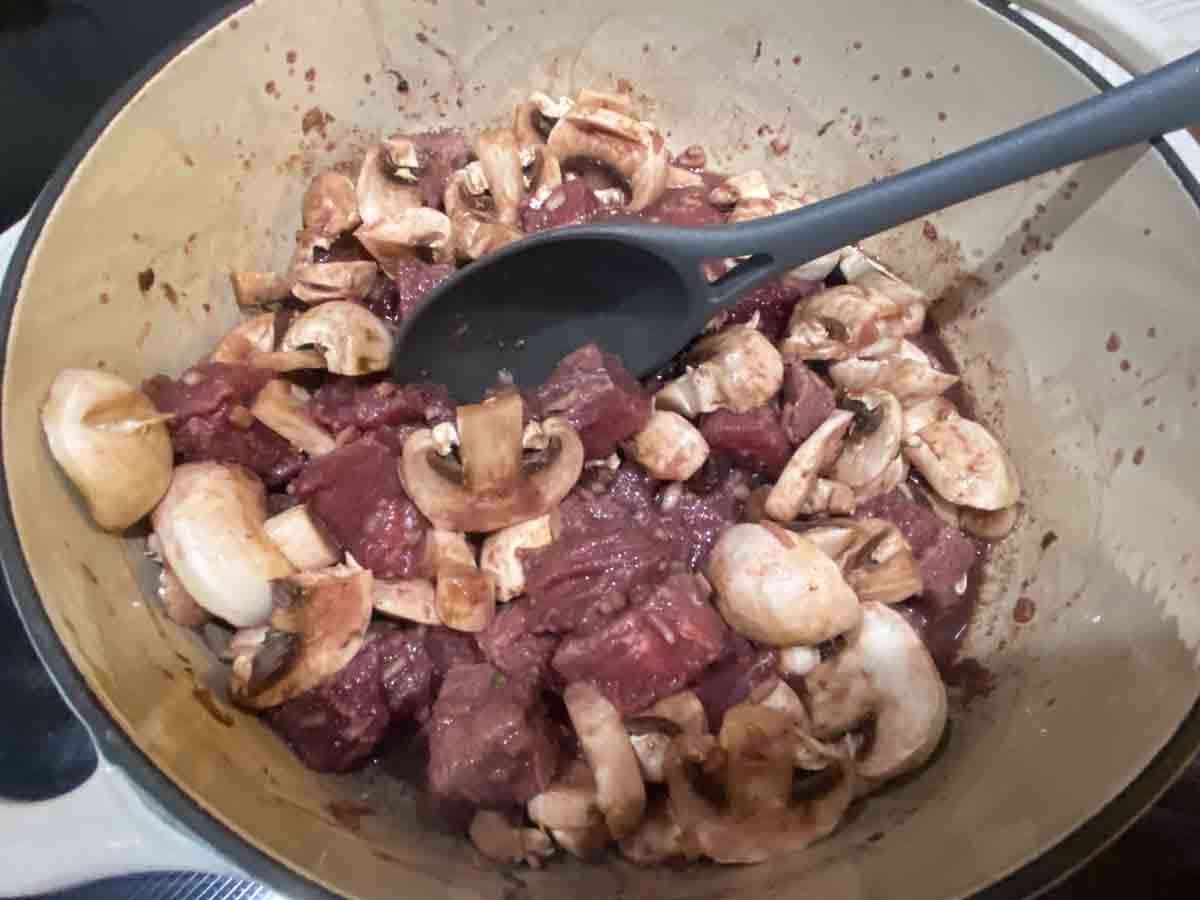 Cook for 3-7 hours depending on setting.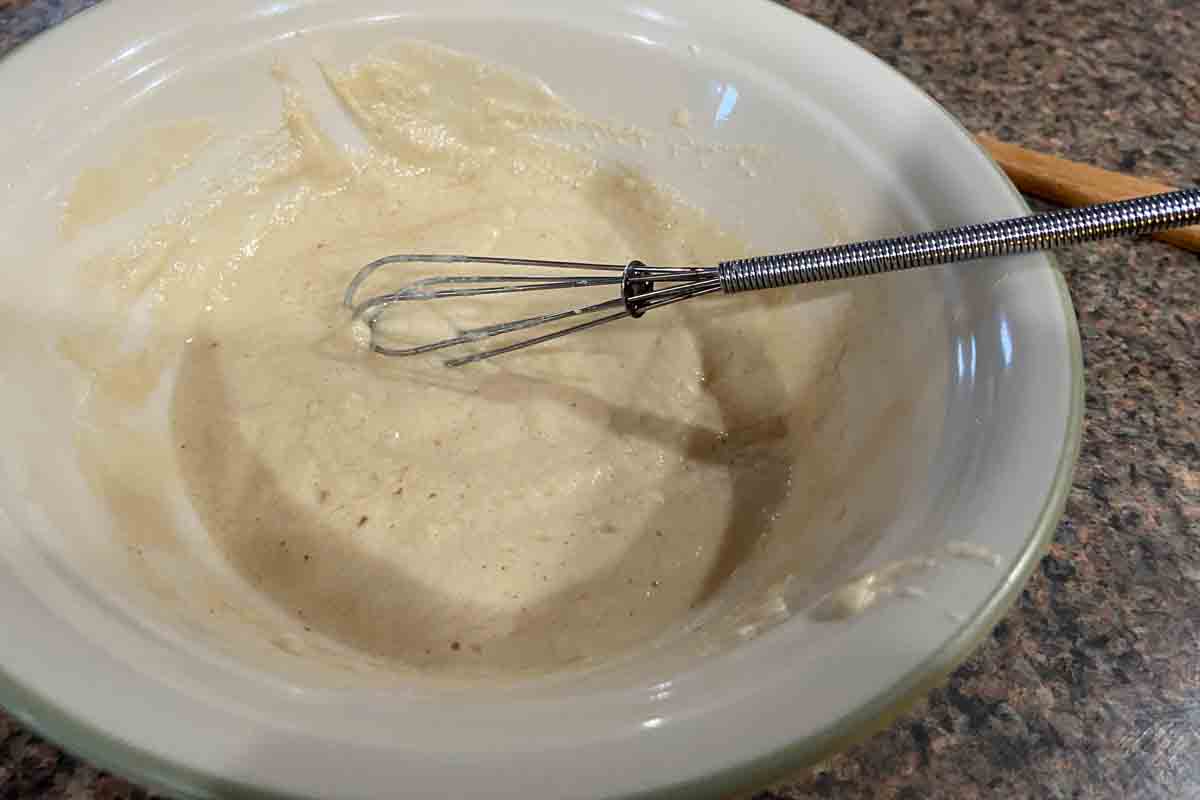 While beef is almost done, mix flour and brandy or water into a slurry.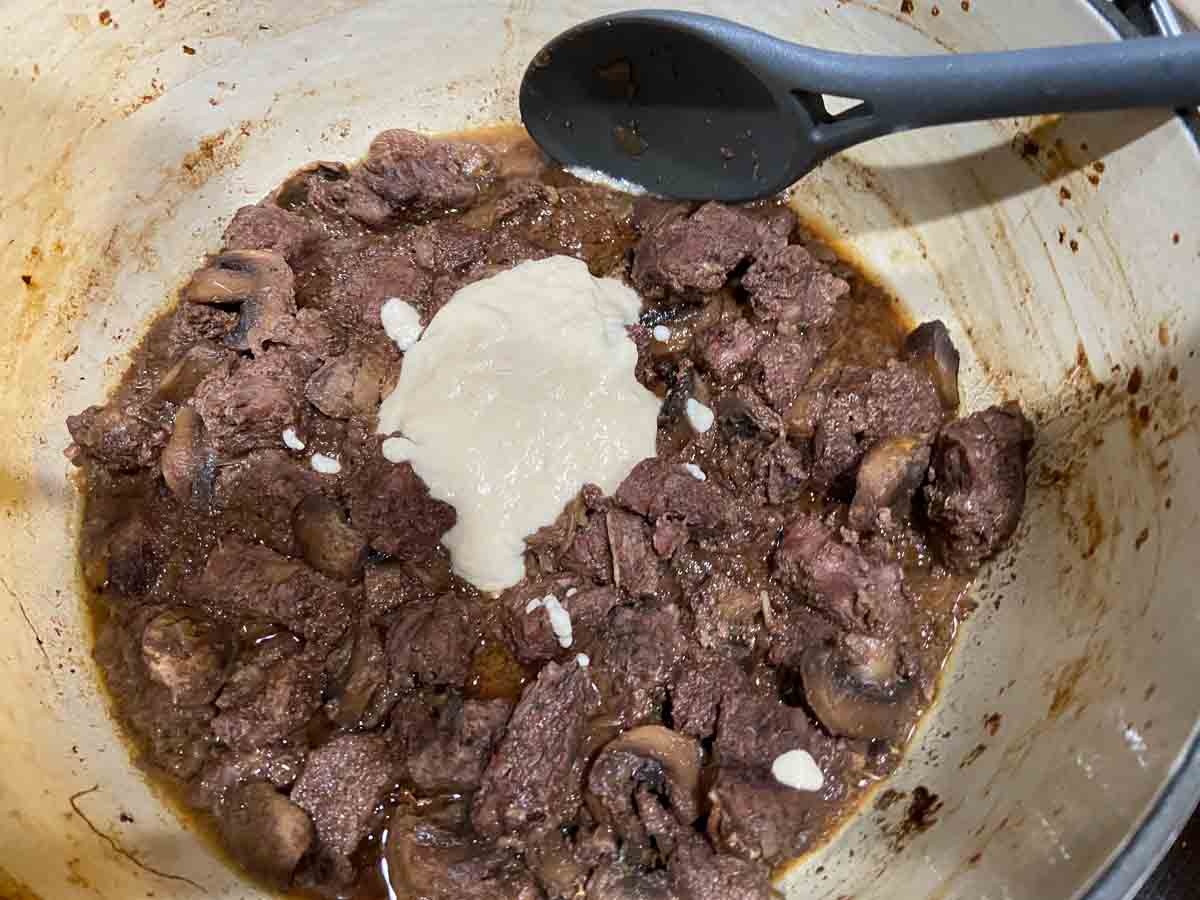 Stir into beef tips and add cream.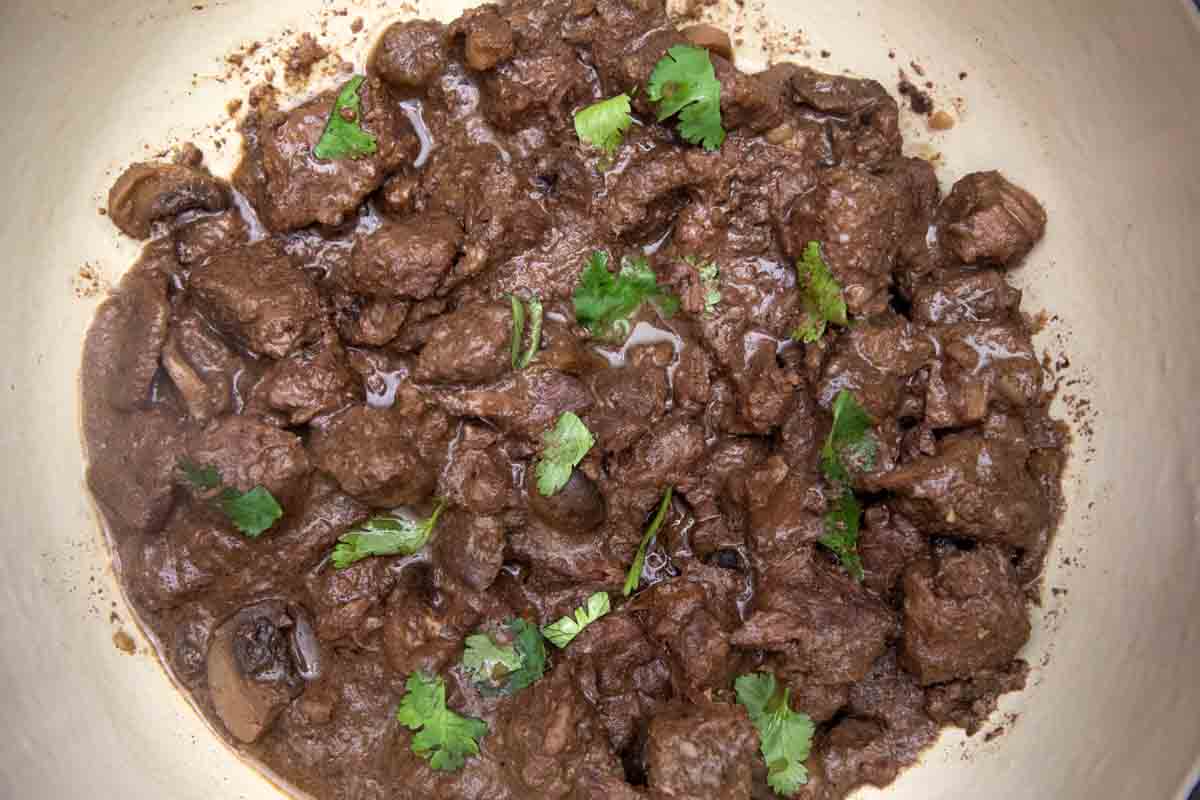 Enjoy!
Ingredient Notes
While I'll occasionally use packaged ingredients like cream of mushroom soup, I try to minimize this–especially for something I make often. I figure that this:
1) allows me to shop local farms more

2) means I don't need to worry about running out

3) and I love not having to read labels!
Now to be completely honest I did use some Organic Better Than Bouillon which is something I do keep on hand. If I wanted to be a purist, I'd have used double strength homemade broth. But my compromise means that is still a complete convenience food while almost completely from scratch. And even Bon Appetit (more or less) says it's okay.
The other possibly unusual ingredient I use is dried minced onion (or dried onion flakes). It's kind of like intense onion powder and is such a versatile ingredient that I recommend it for any spice cabinet. I use it all the time in my Homemade Onion Bagels, homemade salad dressings and appetizers like this Salmon Spread Appetizer.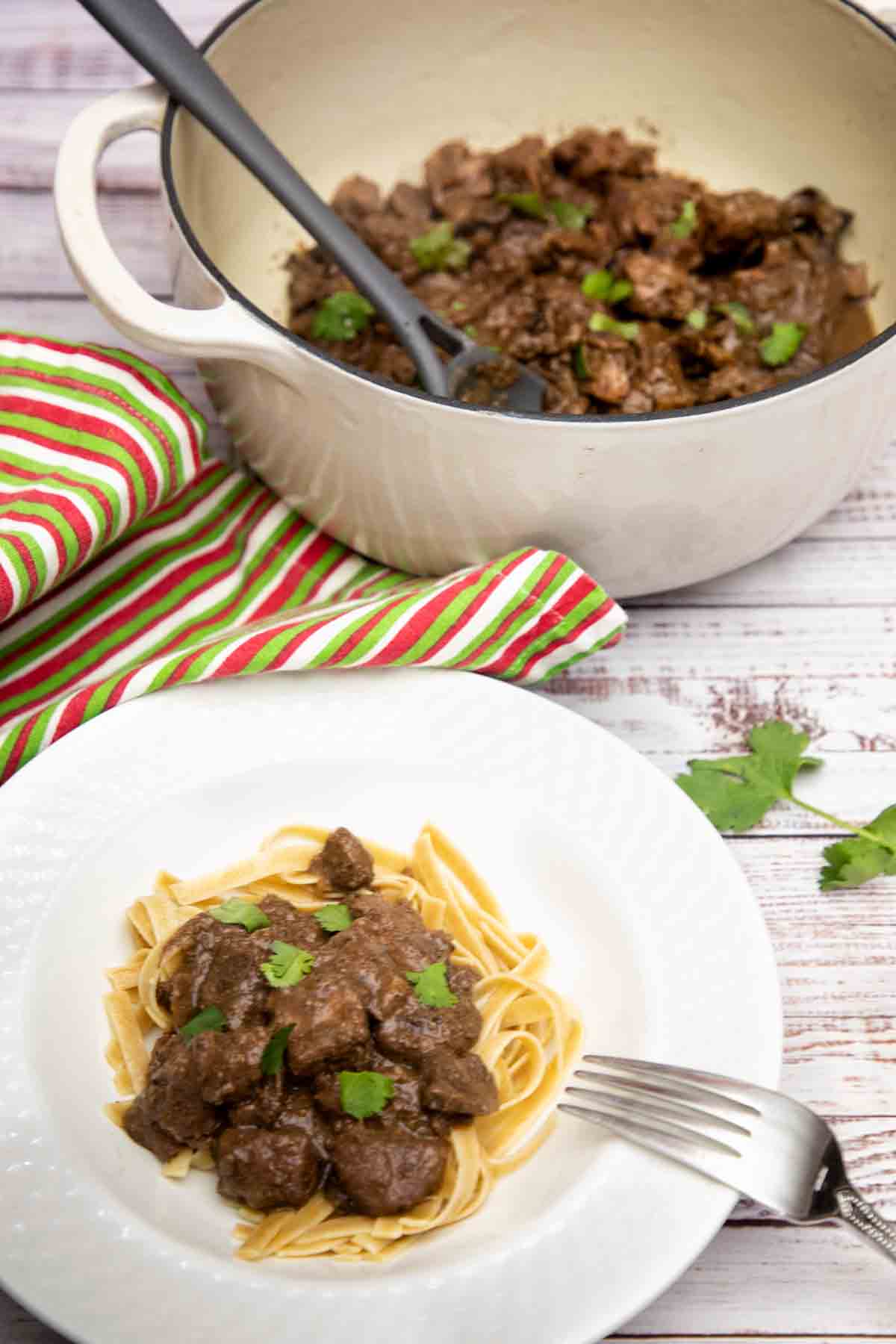 Cuts of Beef (or Pork—shhh)
Beef tips are usually the trimmings from cuts like sirloin and tenderloin. As steaks are cut, they don't always come out evenly and the extra pieces (usually strips) are packaged as "sirloin tips" or "tenderloin tips."
Since these pieces are cut from steak, they should be able to be cooked quickly like steak. The problem I've had is that they are often not trimmed well. This means that to turn them into a nice beef stir fry, I'd either need to spend a lot of time trimming or serve my guests fatty meat.
And neither option is good.
This is where the beauty of long slow cooking comes in. Using this method, things that you might not want on your plate, simply melt away.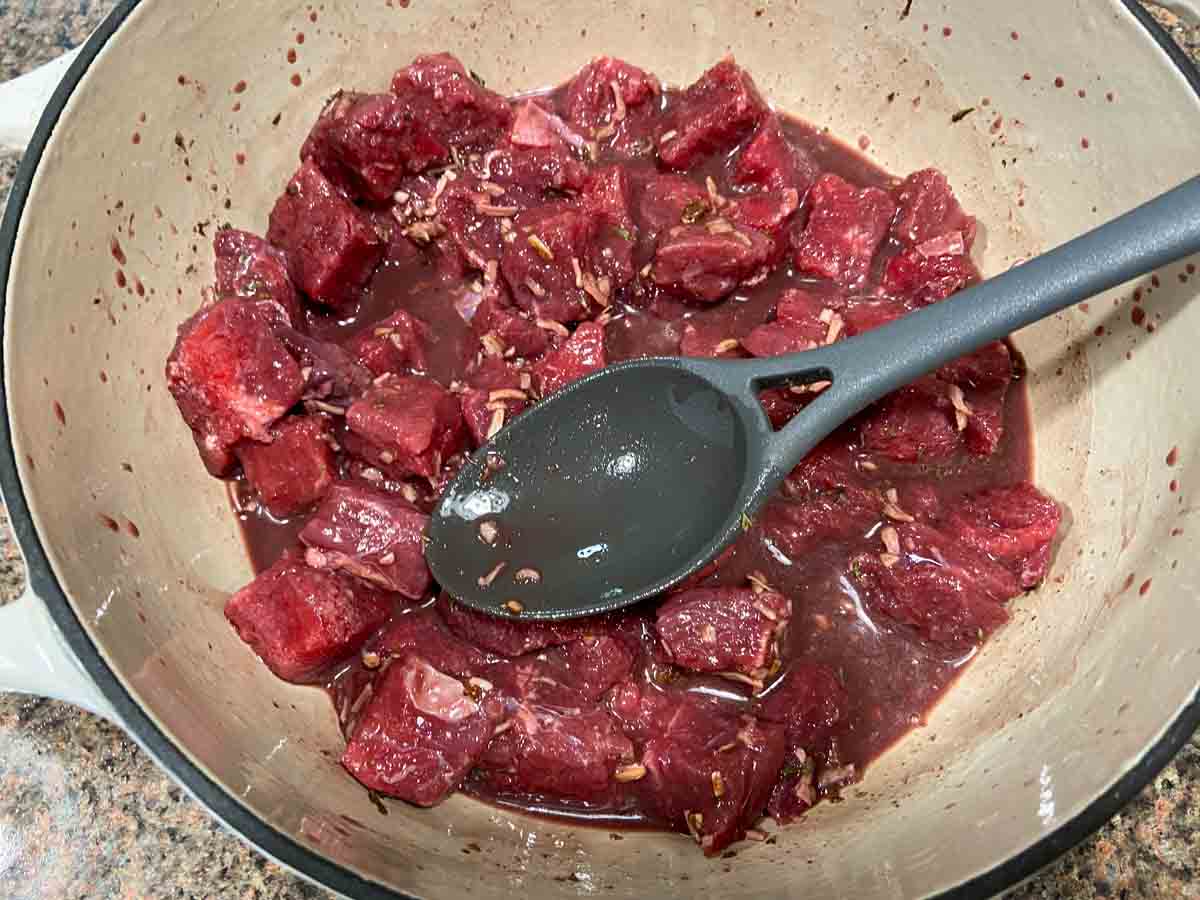 In addition, slow cooking makes tough cuts more tender. While this isn't actually needed for steak tips, it opens up the possibility of using other cuts like stew meat (which may be steak tips or may be a cheaper cut) or possibly even chuck roast.
So far, I've just done this with sirloin tips and round steak, but we'll see what's left next fall when I finish up my quarter of beef.
And recently I tried this with pork. When this year's side of pork arrived, some of my pork steaks were, shall we just say, extensively marbled. So I tried this dish with cubed up pork steak and (drum roll), it turned out delicious.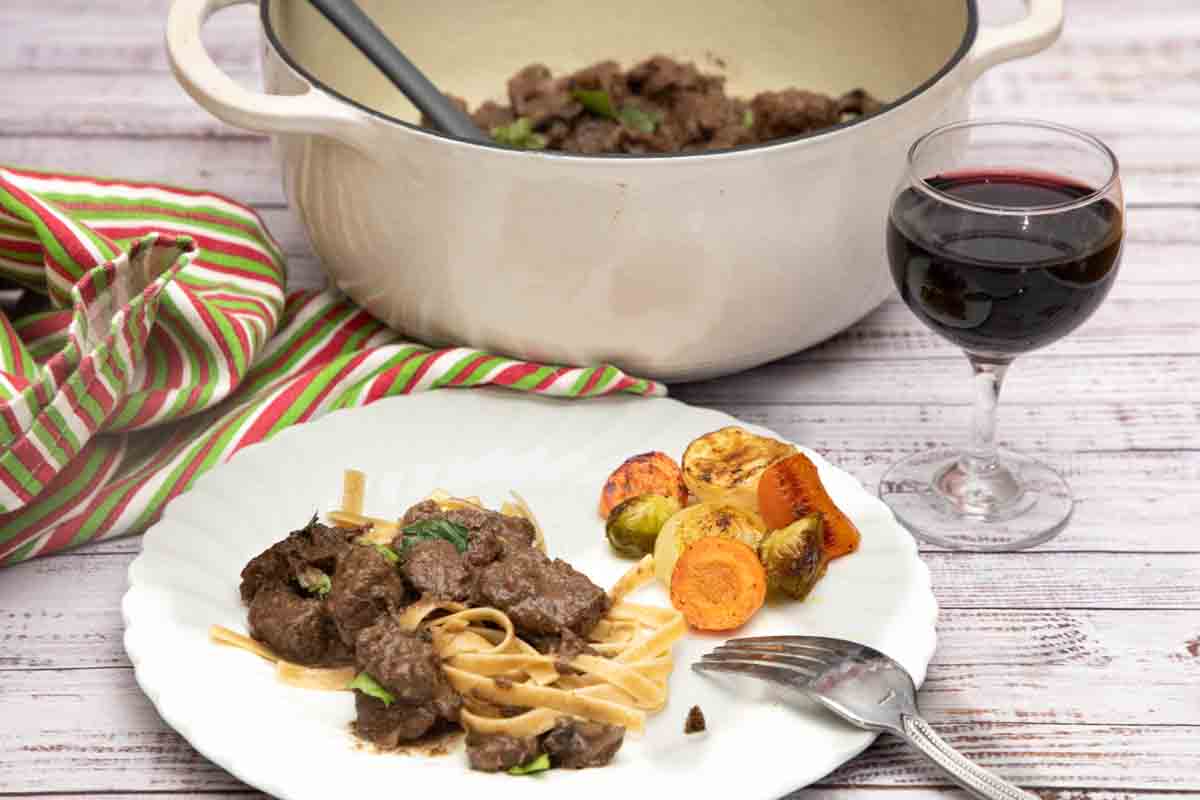 How to Serve
You can serve your Beef Tips over noodles or mashed potatoes for a tasty entree. Rice is another serving option.
Add a vegetable such as green beans or steamed broccoli. And for even more nutrition, there's always room for salad!
Tips and FAQs
If you are cutting up your own meat, remove any significant strips of fat around the outside as well as any bone, then cut into 1-inch cubes. It is easiest to cut meat that is partially frozen (that is still with ice crystals but pliable).
Other than a quick check to make sure you don't need to add water, no peeking—you want to keep this steamy and moist. Sometimes the dish is even called "no peek beef tips!"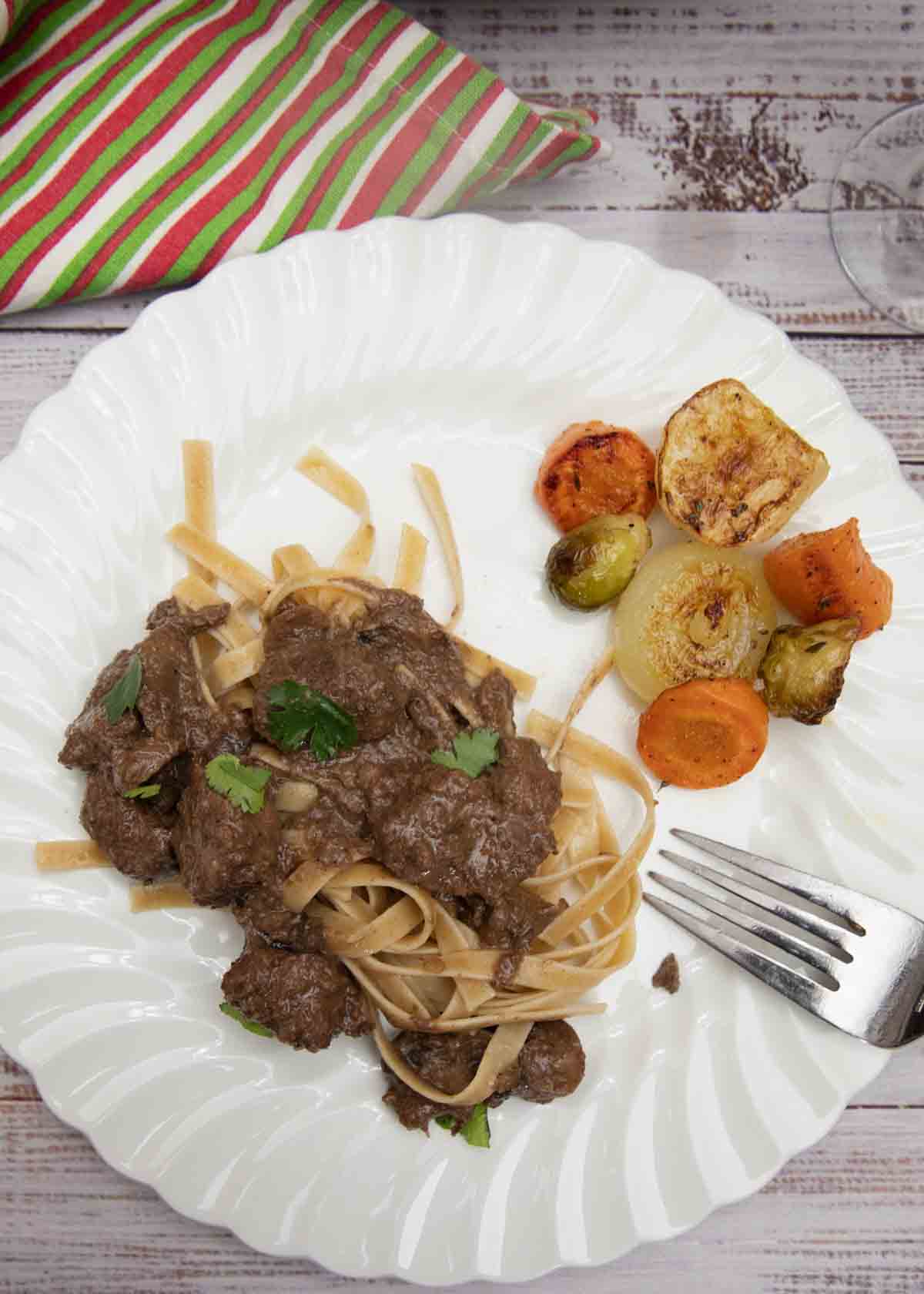 Welcome to our #NationalSlowCookerMonth Celebration!
January is National Slow Cooker Month and this week we are celebrating all things slow cooker! We have delicious recipes from across the country to fill your meal plans with delicious slow cooker recipes!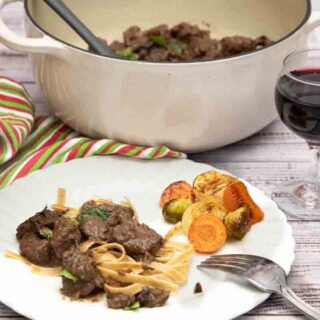 Slow Cooker Beef Tips
With tender beef in a flavorful brandy mushroom gravy, Slow Cooker Beef Tips is an easy Sunday dinner! Serve over noodles or mashed potatoes.
Ingredients
1

Tablespoon

Organic Better Than Boullion or other beef bouillon

¼

cup

dried onion flakes

1/2

teaspoon

parsley flakes

1/4

teaspoon

paprika

¼

teaspoon

ground black pepper

¼

teaspoon

celery seed

1

teaspoon

Worcestershire sauce

(or 1 teaspoon mashed anchovy)

1

cup

red wine or water

½

cup

water

2-3

pounds

beef tips or similar

(cut into 1-inch pieces)

8

ounces

mushrooms

sliced

2

Tablespoons

flour

2

Tablespoons

tomato paste

2-4

Tablespoons

brandy

(may substitute water)

1/4

cup

cream

(or up to 1/2 cup)
Instructions
Mix bouillon, seasoning, wine and water. Stir in cubed beef and sliced mushrooms.

If using a slow cooker cook on high for 3-4 hours or low for 6-7 hours. If using a Dutch Oven, bake covered 3 hours at 300F.

When meat is very tender, make a flour slurry by mixing 2 Tablespoons flour with 2-4 Tablespoons brandy or water whisking until smooth. Stir slurry into beef tips, along with the tomato paste. Stir in cream.

If you want it slightly thicker or if you have some final preparation left, cover the beef tips, set the slow cooker on warm--or if using a Dutch oven, turn off oven and place back for 10-15 minutes.
Notes
Evaporation will vary so feel free to add a little additional flour or water as needed for your gravy. But be sure to give it time to thicken before adding more.
To omit the bouillon, use 1½ cups of strong beef broth instead of the wine and water.
I am not a health professional and nutrition data is calculated programatically. Accuracy may vary with product selection, calculator accuracy, etc. Consult a professional for the best information.