Beef Stir Fry with Rice Noodles
This Beef Stir Fry blends healthy carrots, peppers, mushrooms and snow peas with tender sirloin tips and a tasty sauce. Add rice noodles for a complete meal.
I am not a big stir fry gal. And tonight's dinner really made me wonder why not.
It pairs lots of healthy vegetables (eat a rainbow) with tasty sirloin and easy rice noodles (just soak and add). Which creates a complete one pan dinner that is healthy, satisfying and easy (once the veggies are cut up).
Yes, it took my Sunday blogging group to push me out of my comfort zone again. Thanks, folks!
The other really nice part of this dish was that it used up a lot of things that were lying around the kitchen. Or starting to frost in the freezer. That's a huge win, now that the new growing season is about to begin.
And it's very accommodating. No snow peas? Toss in some broccoli instead.
And finally, are you finding it a little harder to get your 5-a-day (servings of fruit and veggies) during the pandemic? Well this dish can make a substantial contribution to that!
'Cause who could use a break right now? Okay probably any time!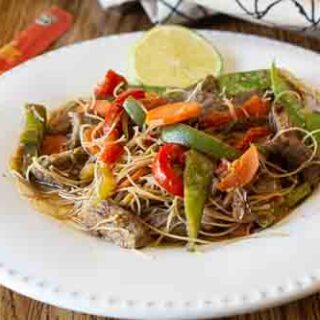 Beef Stir Fry with Rice Noodles
Prep Time: 30 minutes

Cook Time: 15 minutes

Additional Time: 45 minutes

Total Time: 1 hour 30 minutes

This Beef Stir Fry blends healthy carrots, peppers, mushrooms and snow peas with tender sirloin tips and a tasty sauce.  Add rice noodles for a complete meal.  
Ingredients
2 ounces thin rice noodles
1 lb trimmed sirloin tips, cut into 1 inch strips
2 tablespoons oil, divided
1 cup pepper matchsticks
1 cup thinly sliced carrot coins
½ cup sliced shitake mushrooms, fresh or dried and rehydrated (see note)
1 cup snow peas, halved if large
1 large shallot, finely chopped
2 large cloves garlic, minced
1 teaspoon grated ginger
¼ teaspoon crushed red pepper
Sauce:
Juice from 1 lime
2 Tablespoons rice wine vinegar
2 Tablespoon toasted sesame oil
2 Tablespoons soy sauce (or coconut aminos)
¼ cup mushroom water or stock (see note)
Instructions
Soak the rice noodles in water while you prepare the rest of the stir fry.

On medium-high, heat 1 Tablespoon oil in a large sautee pan. Add steak strips, salt them and cook, stirring, until browned on all sides. Remove and reserve the steak and any juices.

Add the remaining 1 Tablespoon oil to the pan. Add the vegetables and sautee until almost tender. Add the garlic, ginger and red pepper and cook another minute or two.

Add the sauce ingredients and cook until the flavors are blended. Add the meat back, then drain the noodles and add these too. Cook until everything is warm, then serve.

Notes
I used dried shitake mushrooms, that I soaked to rehydrate.  Then the flavorful soaking liquid went into the sauce. 
Nutrition Information:
Yield: 4 Serving Size: 1
Amount Per Serving: Calories: 554Total Fat: 32gSaturated Fat: 8gTrans Fat: 0gUnsaturated Fat: 20gCholesterol: 106mgSodium: 624mgCarbohydrates: 33gFiber: 10gSugar: 6gProtein: 38g

Nutrition data accuracy may vary with product selection, calculator accuracy, etc. Consult a professional for the best information.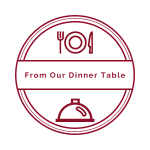 Simply Easy Stir Fry Recipes:
We share Recipes From Our Dinner Table! Join our group and share your recipes, too! While you're at it, join our Pinterest board, too!