Low-Carb Angel Food with Buttercream Roses
Light, airy and sweet, this low-carb angel food cake with whipped cream frosting and buttercream roses is perfect for keto or Atkins or just eating!
This post is sponsored by Nielsen-Massey maker of fine vanillas and other flavorings. I am helping them spread word about the baking lessons in their "Better your Bake" series.
Thanks to Nielsen-Massy, I (who can't draw a straight line) just learned to make buttercream roses. All to top off a low-carb angel food cake.
I can't believe it all worked!
Yes, I often describe myself as the original kitchen klutz. If you check around my blog, you aren't going to find anything like cute Christmas sweater cookies. So I was pretty nervous.
Without going into "how" I did this (since Nielsen-Massy does it so well in both words and video), let me tell you that my even first rose was usable. And each one got better.
The only "special equipment" required is a petal piping tip and optionally a piping nail (or you can use a wine glass) both of which I discovered I had (surprise) when I got down my (underused) decorating tin.
And you can use a zip loc bag if needed for a piping bag. (Which Nielsen-Massey also teaches you to fill.).
For the cake, I started with my vanilla lavender angel food cake, sans lavender, and switched out the flour and sugar. In the end, I had to reduce the sweetener, but then it worked fine. I topped it with whipped cream.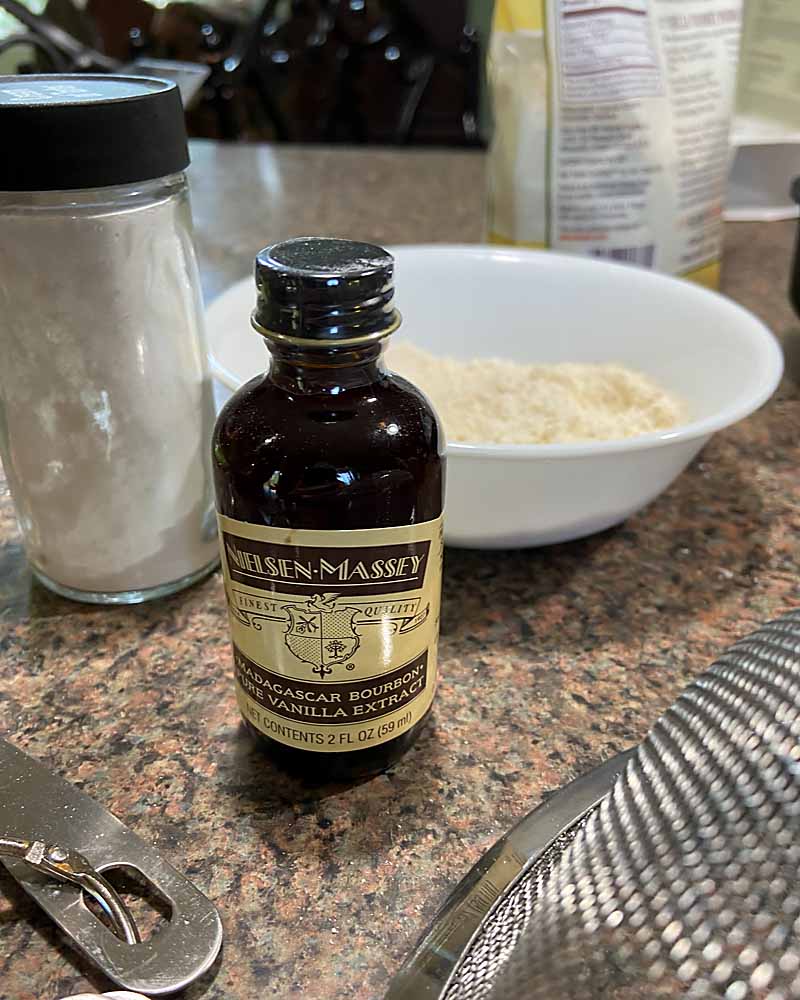 I love working with Nielsen-Massey because they push me (always successfully) outside my comfort zone.
And who doesn't love roses! Including buttercream roses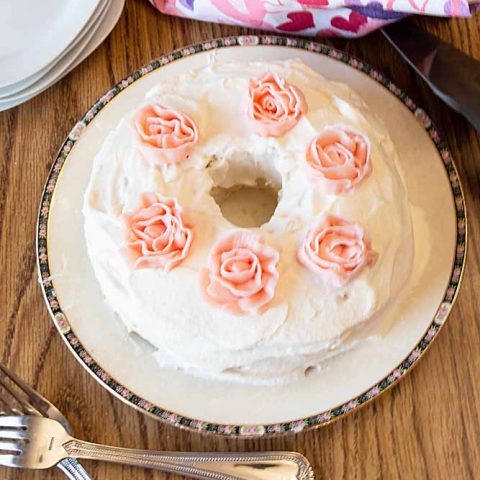 Low-Carb Angel Food with Buttercream Roses
Total Time:
2 hours
15 minutes
Light, airy and sweet, this low-carb angel food cake with whipped cream frosting and buttercream roses is perfect for keto or Atkins or just eating!
Ingredients
Vanilla Buttercream:
1 cup zero-calorie powdered sweetener
½ cup butter
½ teaspoon vanilla
Couple drops red food coloring
Whipped cream:
2 ½ cups heavy cream
¼ cup zero calorie sweetener, or to taste (granulated will work here)
2 teaspoons vanilla
Cake:
1 ½ cups egg whites (from about 12 eggs), at room temperature
1 cup zero calorie sweetener, blended in blender
2 teaspoon cream of tartar
2 teaspoon vanilla extract
½ cup coconut flour
½ cup whey protein powder
½ teaspoon salt
Instructions
To prepare buttercream, mix all ingredients until well blended. Fill a piping bag with mixture and pipe 12 roses on to wax paper. Store in refrigerator.
To prepare cake: preheat the oven to 350 F. Cut parchment to fit the bottom of a 9-inch tube pan and fit into the bottom of the pan. (Do not spray the pan or use a non-stick pan--the cake batter must "cling" to the sides to rise properly)
Blend sweetener in blender to create a powdery texture.
Using a sifter or fine mesh strainer, sift together the flour, whey powder, 1/2 cup sweetener, and salt.
Whip the egg whites until foamy, then add the cream of tartar.
Continue to whip the egg whites until they form soft peaks. Whip the remaining 1/2 cup of sugar into the whites, 1/4 cup at a time, until they form stiff but not dry peaks. Mix in the vanilla.
Gently fold the flour mixture into the whites, about 1/3 cup at a time.
Spoon the batter into the tube pan, smooth the top, and bake for 45 minutes. To be extra sure it is done, you can check for an internal temperature of 205-209 F.
Remove from the oven and immediately invert the tube pan. If the pan doesn't have "feet", you can set it over the neck of a heavy bottle until cool.
To prepare whipped cream, whip cream to soft peaks, then add vanilla and sweetener and whip to stiff peaks. Taste and adjust sweetness. Frost the cake.
Remove buttercream roses from the refrigerator and divide them evenly atop the cake. Store any left overs in refrigerator.
Notes
You will need to use a sweetener that measures like sugar such as Swerve. Real sugar may be substituted for the sweetener, though calories will change
You can substitute cake flour for the coconut flour and whey powder, though calories will change.
Pictures show a cake made in a (half-sized) 7 inch pan.
Nutrition Information:
Yield:

12
Serving Size:

1
Amount Per Serving:
Calories:

313
Total Fat:

27g
Saturated Fat:

17g
Trans Fat:

1g
Unsaturated Fat:

8g
Cholesterol:

77mg
Sodium:

222mg
Carbohydrates:

9g
Fiber:

1g
Sugar:

6g
Protein:

9g
Nutrition data accuracy may vary with product selection, calculator accuracy, etc. Consult a professional for the best information.