Years of food blogging can start to becomd a challenge—you eventually use up all of your tried-and-true recipes. But somehow my recipe for this delicious and easy salmon spread appetizer escaped. I have made and shared it many times over the years, so it's about time I shared it here!
Appetizers are often the bad boys of healthy eating but it doesn't have to be that way. Not all recipes are filled with fatty ingredients and served with chips! This salmon spread appetizer is loaded with healthy, omega-3 rich, salmon (canned so it is convenient and economical) and has nothing worse on the fat scale than lite cream cheese. Serve it with whole grain crackers and you can put away the guilt. And it can be easily converted to gluten free by using gluten free crackers.
I got this recipe in my very first professional job. Not sure why (perhaps because we were just out of school and poor), but our birthday and holiday celebrations had better homemade treats than any job since. It's a bit of an old-fashioned appetizer but… hey, I hear cheese balls are even coming back.
True confession, last night we actually had this as part of our dinner. Our daughter had the very last slot in the state solo ensemble music competition, followed closely by a children's choir concert. Adding a healthy appetizer (made up ahead of time) to lentil soup (from the freezer) turned a quick dinner into something special.
Everything old is new again.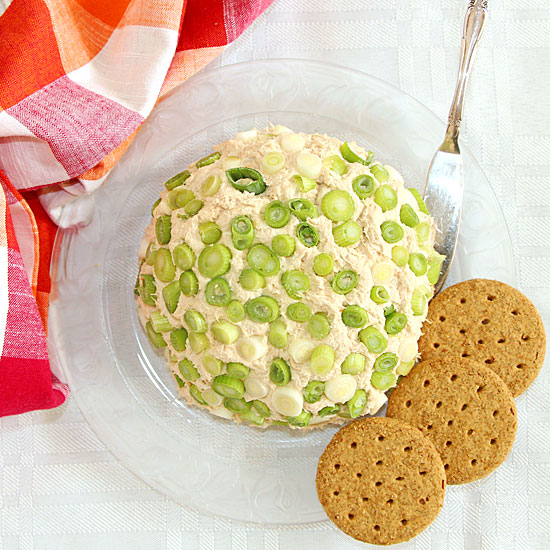 Salmon Spread
2015-05-03 10:59:17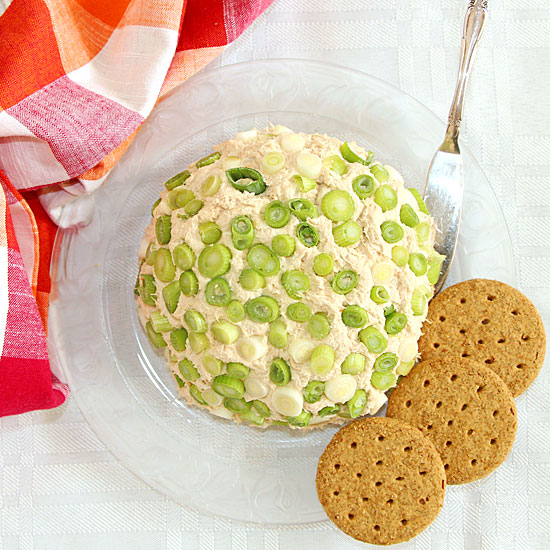 Serves 8
Quick and easy, this Salmon Spread Appetizer is loaded with healthy, omega-3 rich, salmon and low in fat.
Nutrition Facts
Amount Per Serving
* Percent Daily Values are based on a 2,000 calorie diet. Your Daily Values may be higher or lower depending on your calorie needs.
Ingredients
16 oz can salmon, skin and bones removed
8 oz reduced fat cream cheese
1 t horseradish (or a bit more to taste)
1T dried minced onion
1 T lemon juice
½ t salt (optional, to taste)
1 bunch green onions, chopped
Instructions
Mix all ingredients well and cover with fresh chopped green onions.
Serve with crackers.
Art of Natural Living https://artofnaturalliving.com/