Peanut Butter Gluten Free Blondies
Peanut Butter, Gluten Free Blondies, with chocolate chips and quinoa, are an easy, tasty treat. Almost like a creamy Peanut Butter Cup Cookie!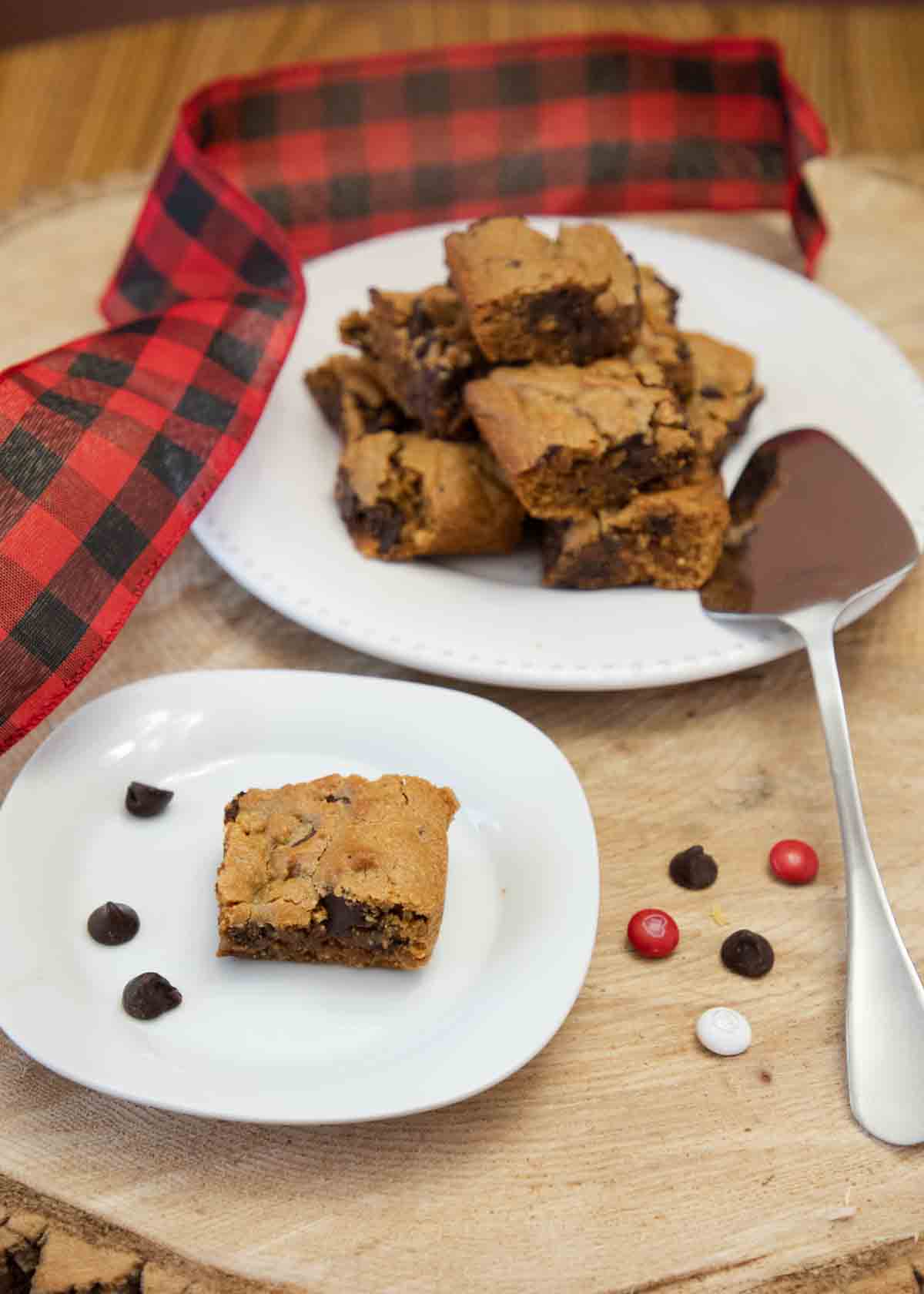 The inspiration for these Gluten Free Blondies, which I first posted in 2015, came from an Eating Well Magazine I had. Now I'll eat just about anything (except maybe fennel), but I have plenty of friends who are gluten free. So I'm always on the lookout for new recipes.
The original recipe used almond butter which I swapped out for peanut butter–mostly for convenience. In the end this proved fortuitous, since paired with the chocolate chips, it made for a tasty, creamy treat.
Almost like a peanut butter cup in cookie form. How good is that!
Happily, I keep quinoa on hand for salads and my quinoa stuffed peppers. Did you know it's easy to turn into quinoa into flour (more below)?
It was all starting to sound like fate.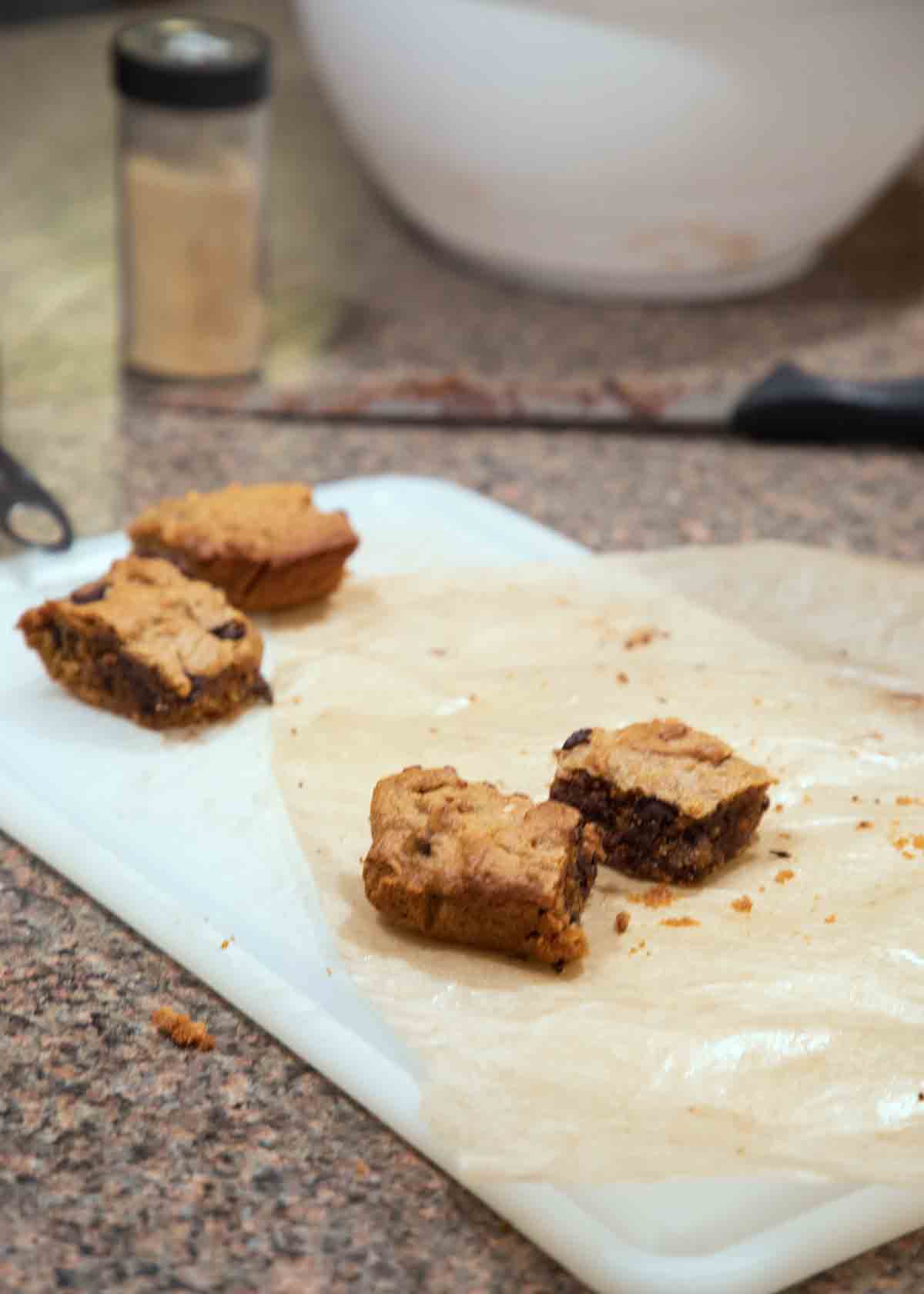 What is a Blondie?
If you aren't familiar with blondies, they are a special form of bar cookie. Per Wikipedia, a blondie "resembles a chocolate brownie, but substitutes vanilla in place of cocoa and contains brown sugar. Blondies also contain flour, butter, eggs, and baking powder and may also contain walnuts or pecans, white or dark chocolate chips, butterscotch chips, or other flavored chips."
Must less well known than their chocolate counterparts, I didn't taste my first until age 18 when we spent Thanksgiving at my Aunt's house. When she took out a plate of blondies and I bit in, I couldn't believe a bar cookie without chocolate could taste that good!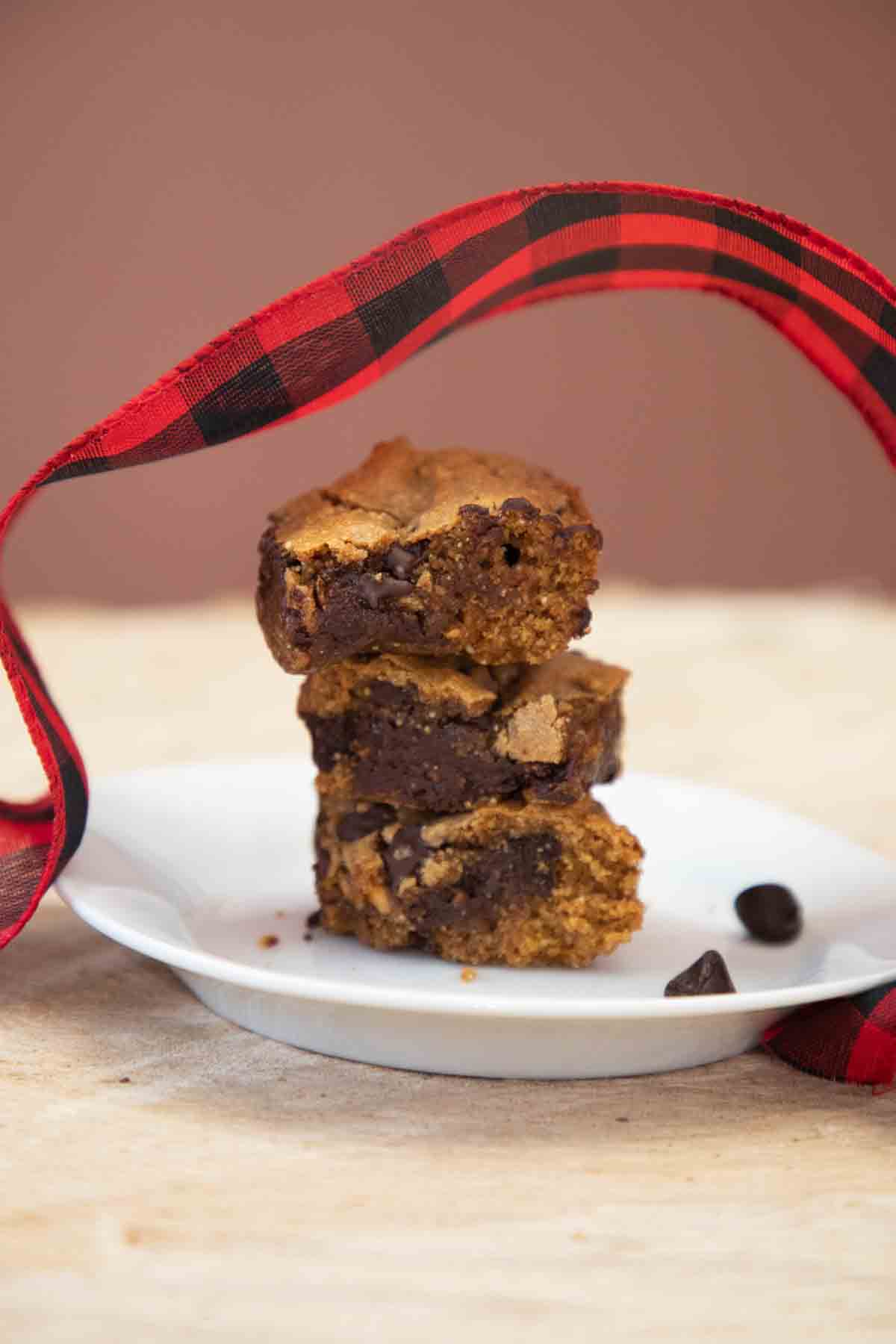 What Makes This a Winner
These gluten free blondies are even more unconventional, but they have a lot going for them. They are:
Gluten Free. If you are gluten free this is an obvious benefit. if not, who doesn't need a tasty snack for gluten free visitors?

Tasty. With the flavors of peanut butter and chocolate and a creamy texture, how can you resist!

Healthy (For a Snack). I love the slight crunch and healthy vibe from the quinoa. And there are just over two teaspoons of sugar per cookie, not counting the chocolate chips. The peanut butter's a bonus.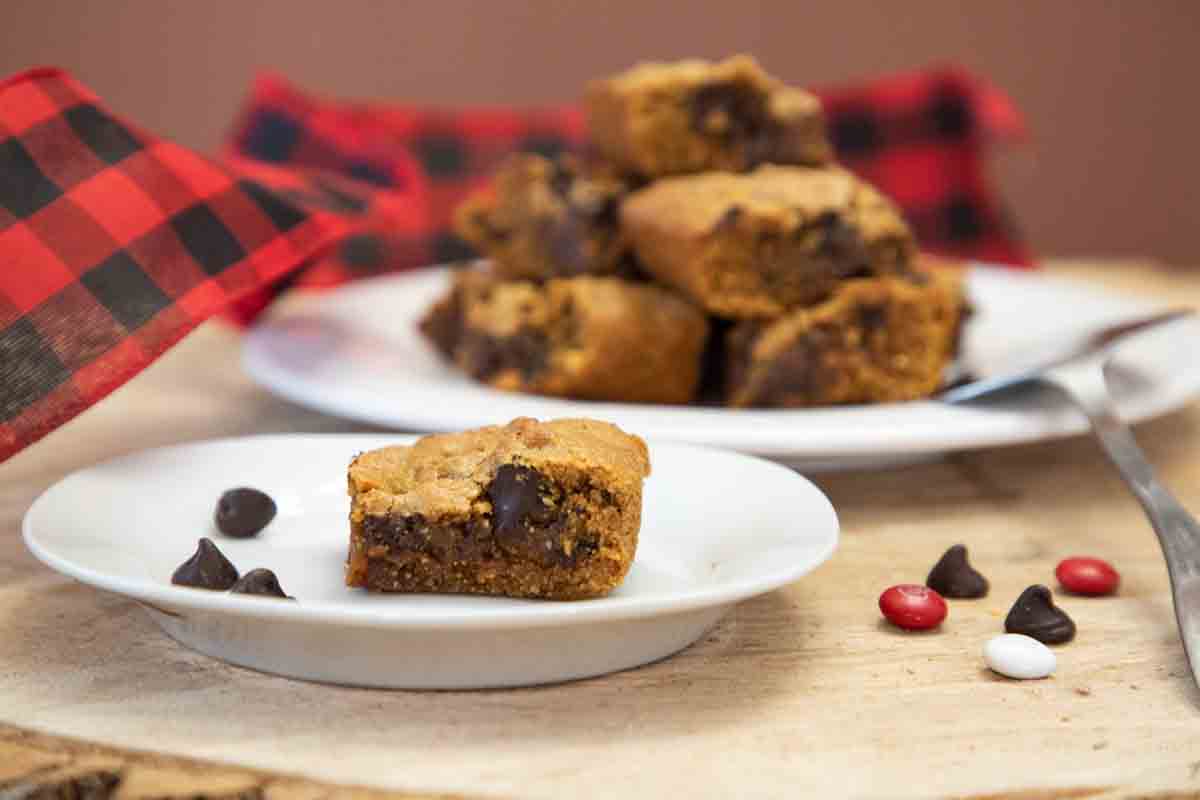 Step by Step Directions
To start, mix together the butter and peanut butter, then add the sugar, egg and vanilla.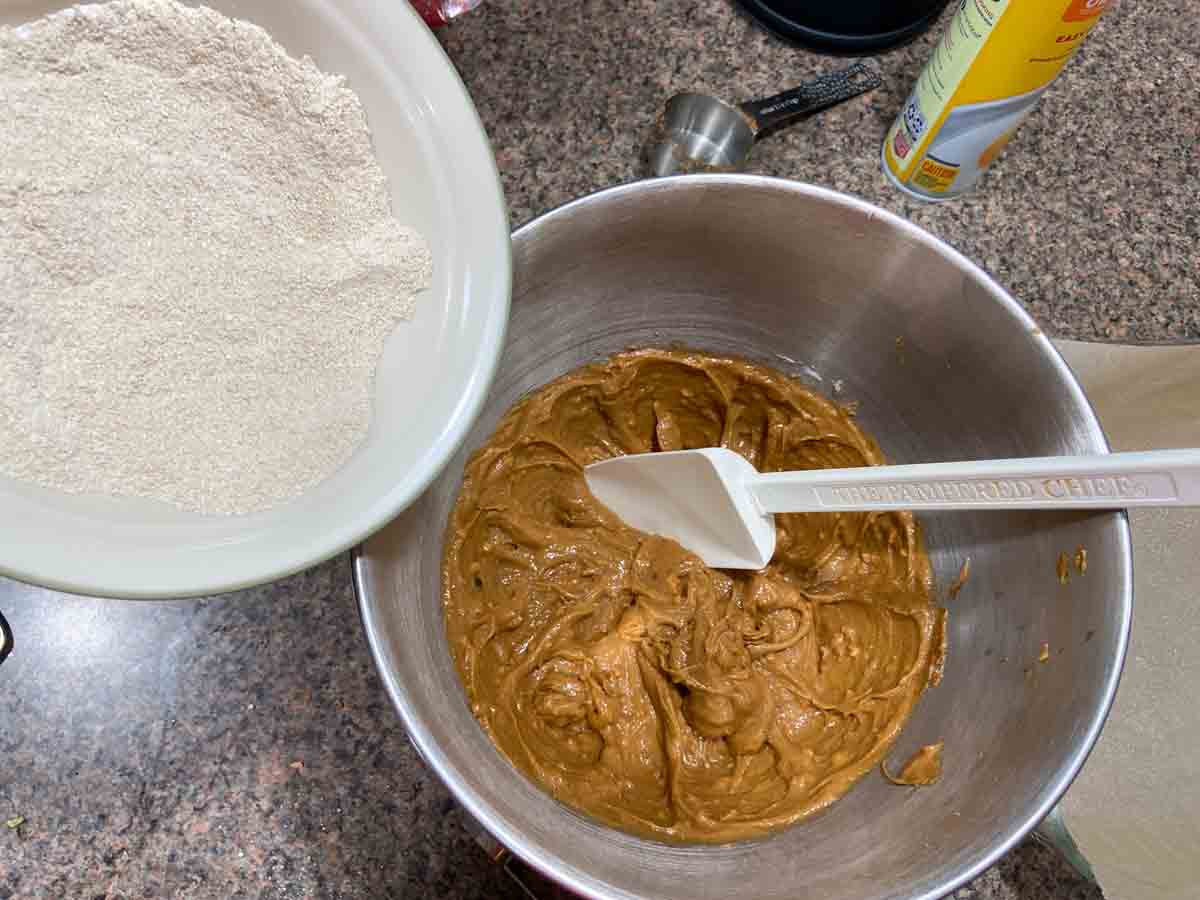 Mix the dry ingredients (except the chocolate chips), then add to peanut butter mixture.
Stir in chocolate chips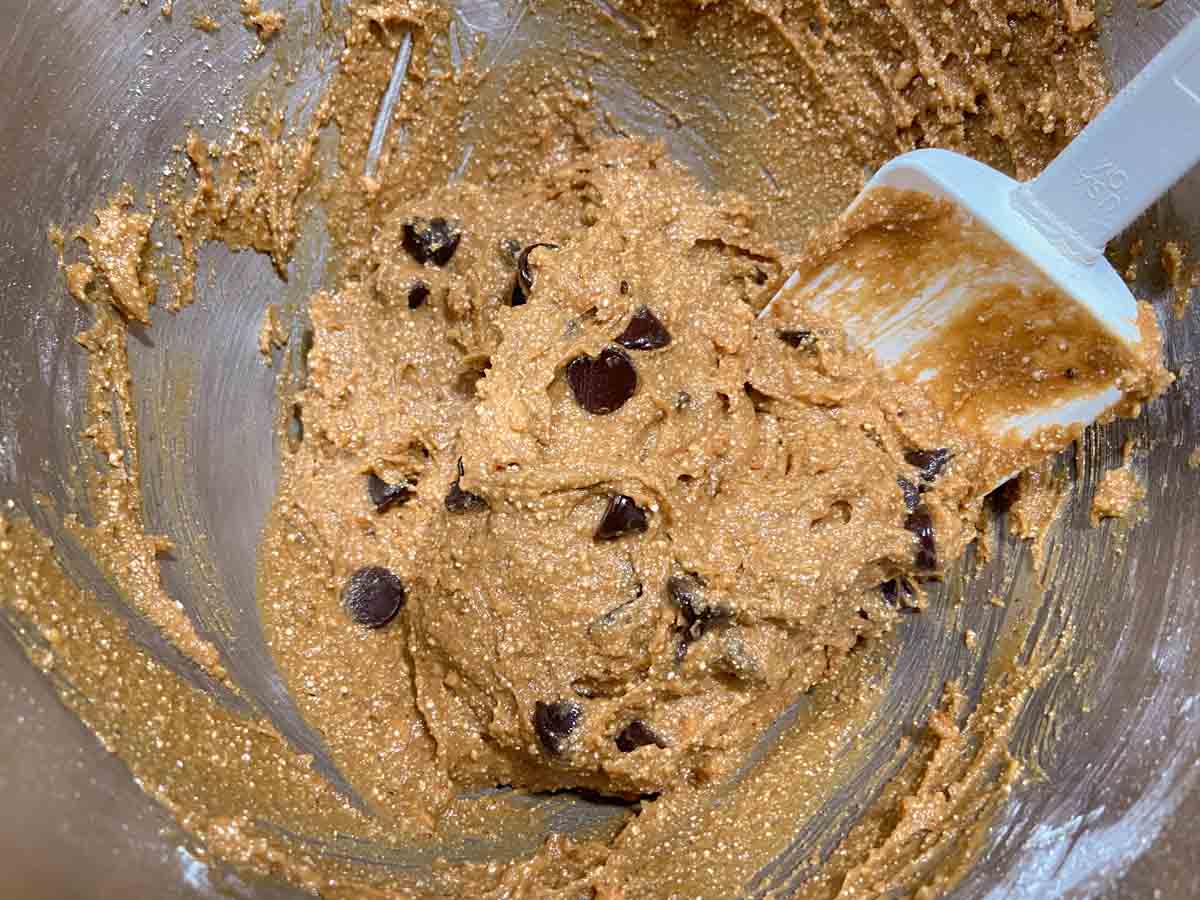 Line a baking pan with parchment and spray.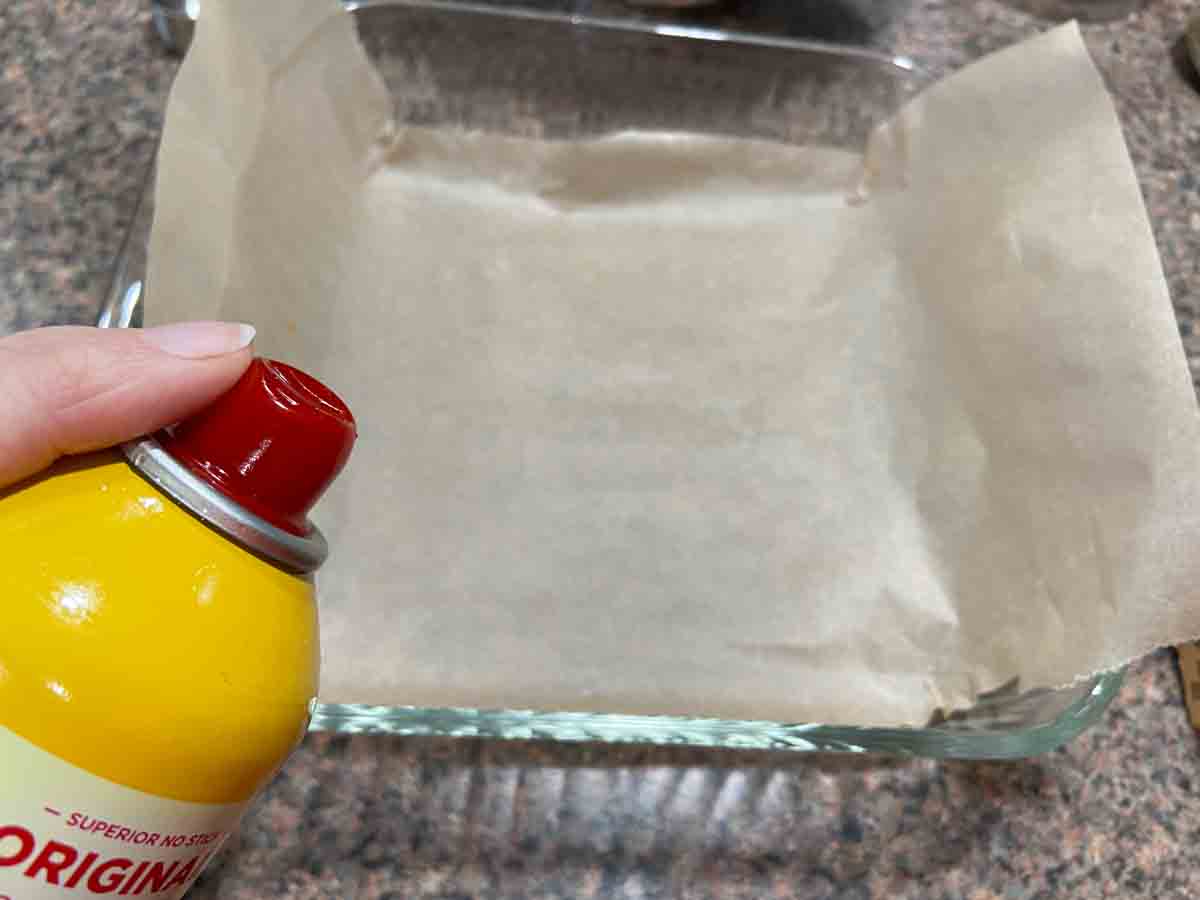 Smooth in blondie dough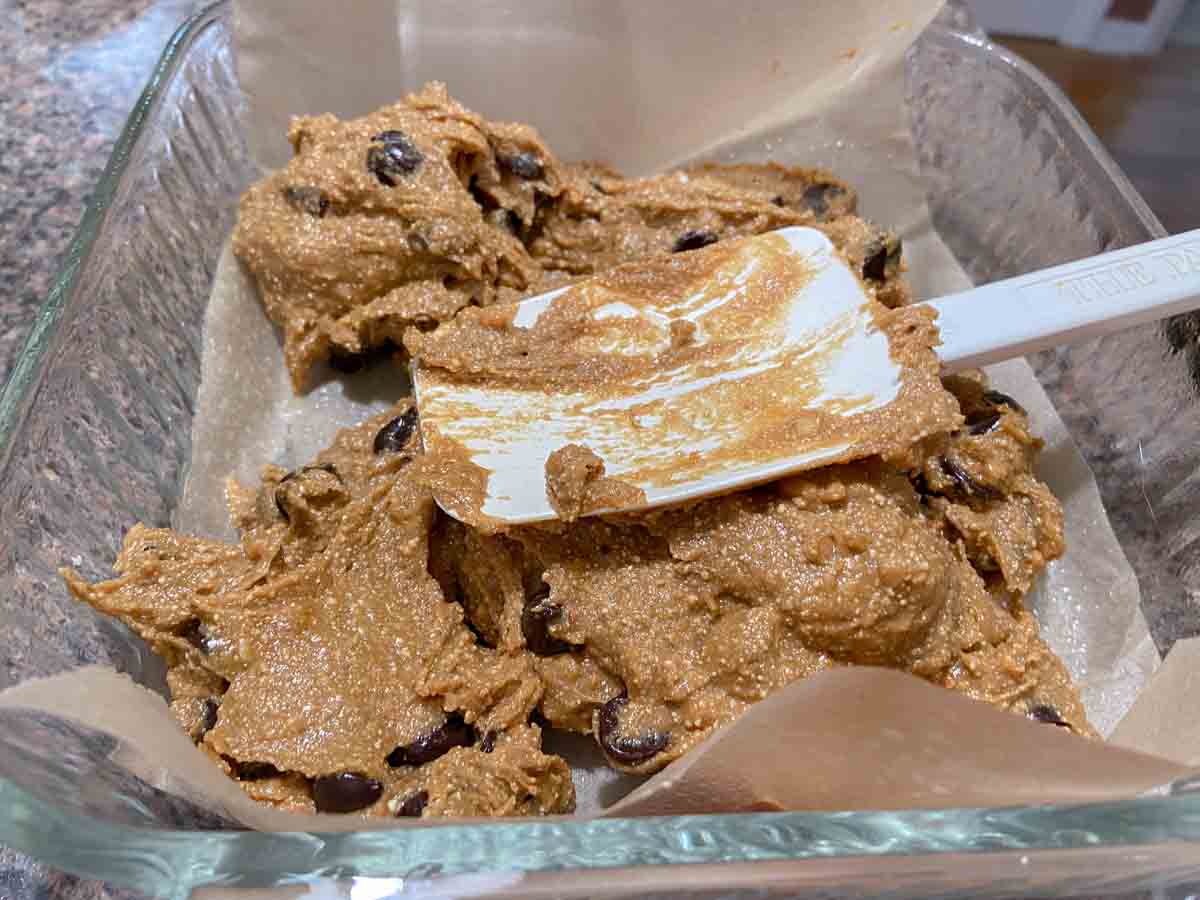 Bake, let cook, then enjoy.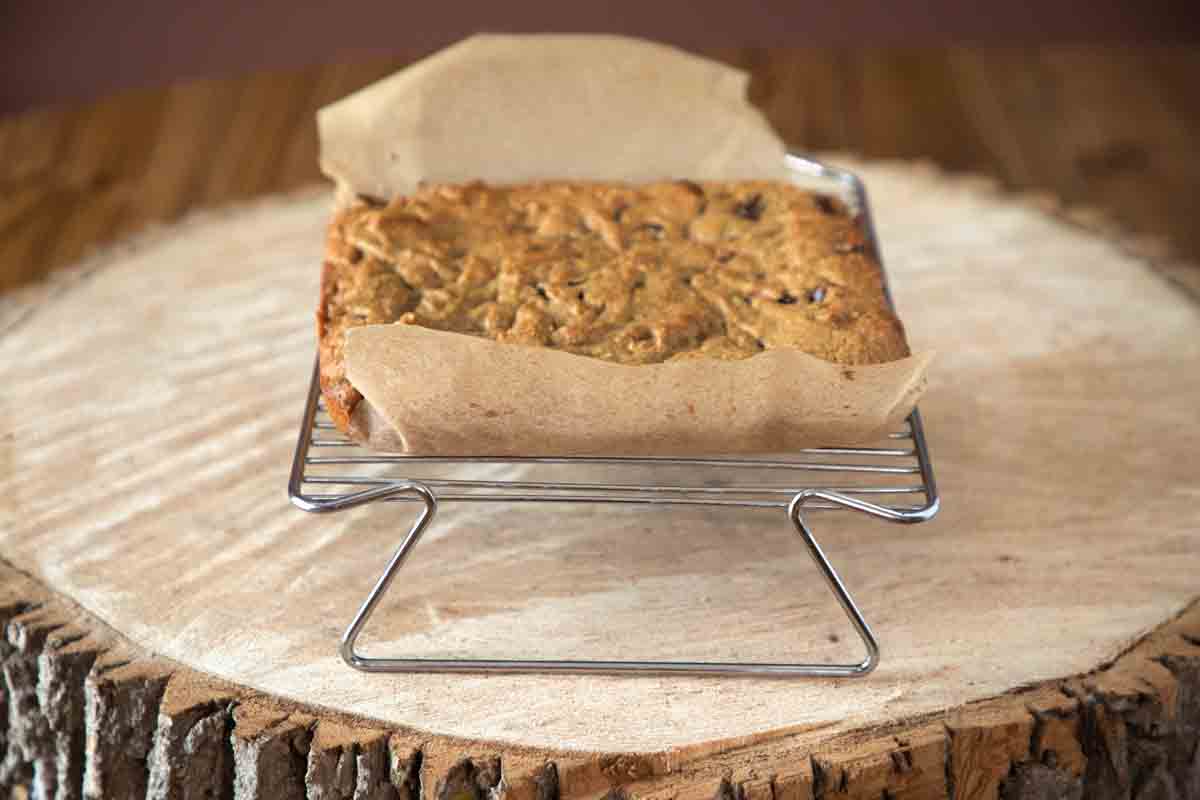 What is Quinoa
Per Wikipedia, "Quinoa is a flowering plant in the amaranth family. It is a herbaceous annual plant grown as a crop primarily for its edible seeds; the seeds are rich in protein, dietary fiber, B vitamins, and dietary minerals in amounts greater than in many grains."
Sometimes called an "ancient grain," it is actually a pseudocereal related to spinach.
Plus it's gluten free, yummy and makes delicious quinoa blondies!
How to turn Quinoa into Quinoa Flour
Most people are much more likely to have quinoa than quinoa flour and fortunately it isn't hard to grind into flour.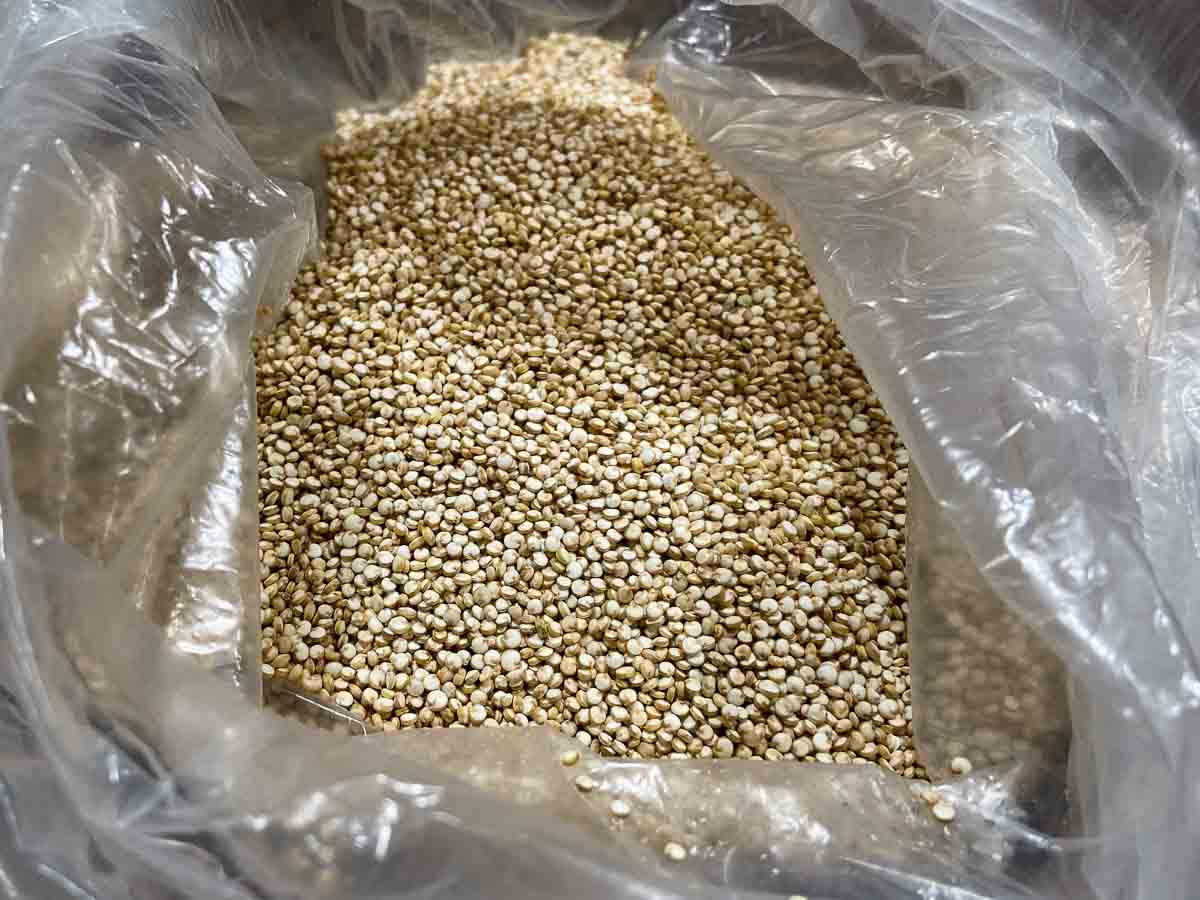 The first time, I used my coffee grinder. It was a little slow since the small capacity meant I had to do it in batches. I also don't like cleaning it before and after. So although it was effective, it wasn't ideal.
The next I tried a small food processor. It barely made a dent in the grain.
Finally I used my blender (admittedly a Vitamix). It actually took a few minutes but when it was done the flour was beautiful and the blender just took a quick rinse.
Just as a side note, the flour looked finer than it turned out to be when I first checked it. So be aware that first impressions may be deceiving. But in the end, I liked the hint of crunch from the tiny bits of quinoa that weren't perfectly ground.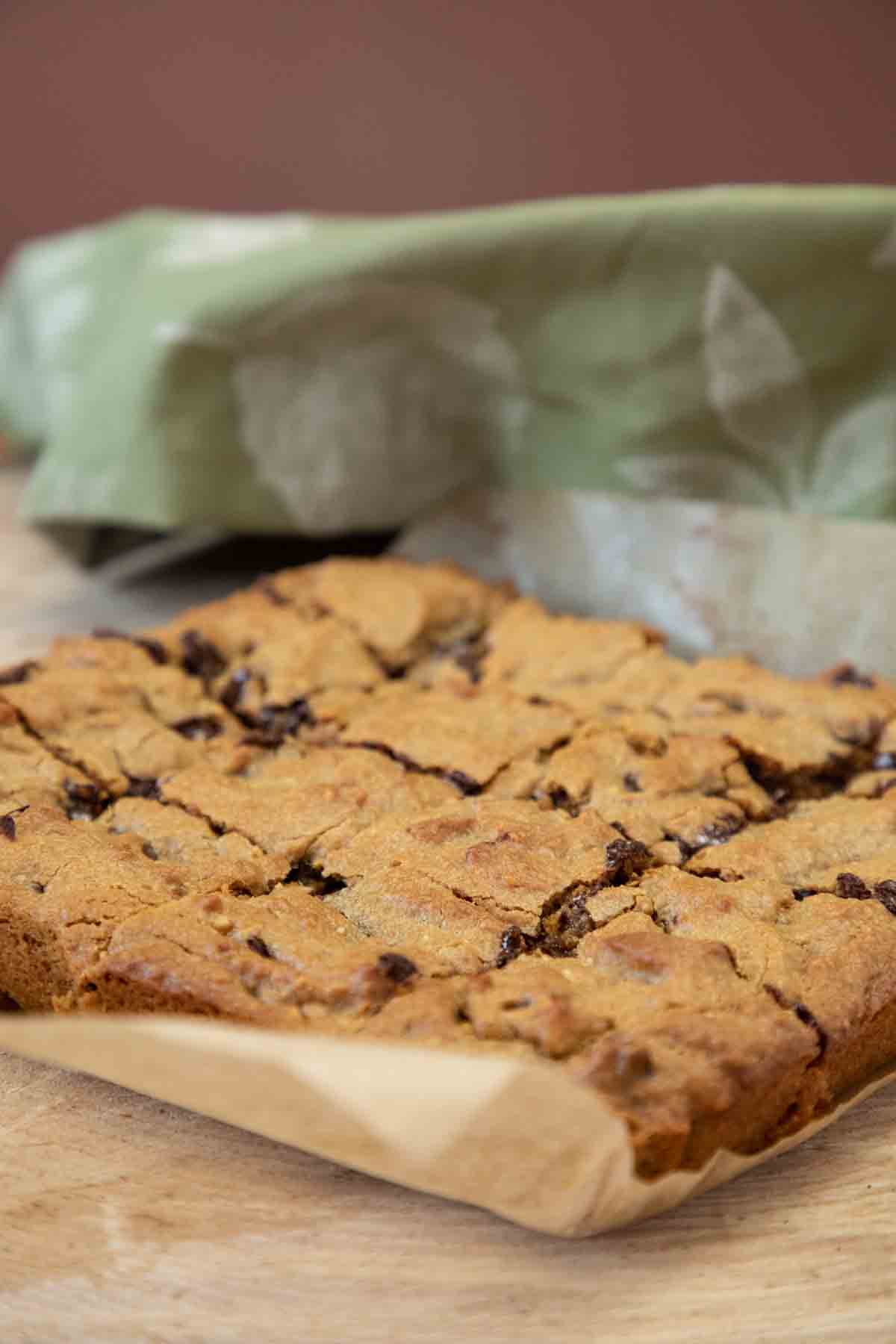 How to Serve This
Quinoa Gluten Free Blondies are perfect as a tasty snack or a casual dessert. They'd also be nice for box lunches. I'd even use these for a grab and go breakfast!
Of course, any kind of Peanut Butter Chocolate Chip Blondie is going to be amazing with a glass of milk!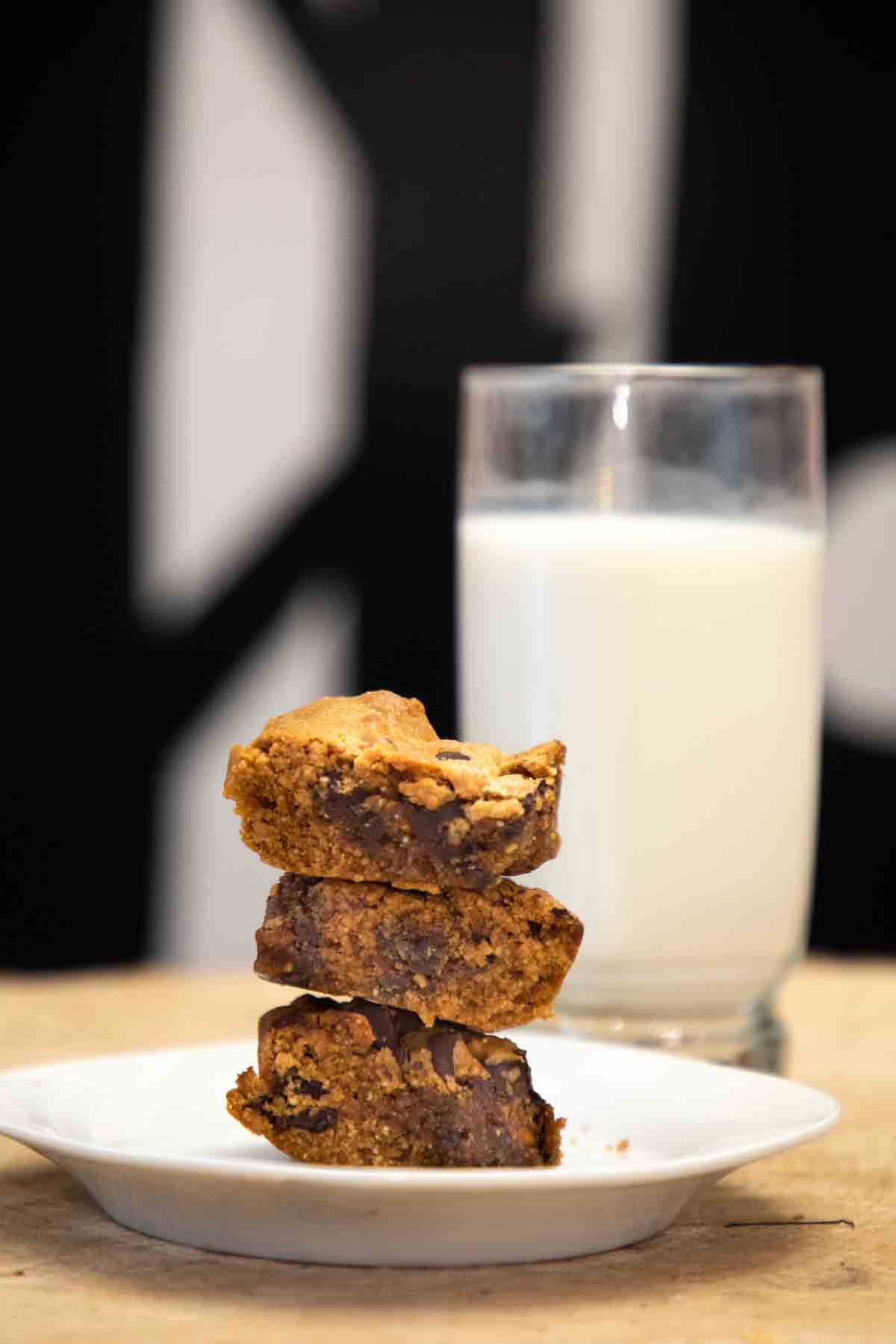 Can you make this sugar free?
I have a family member who is sugar free, so I sometimes try to convert recipes.
And for this cookie (drumroll), the conclusion is yes, you CAN make sugar free, gluten free blondies.
Well, in my case, it was mostly sugar free. Since I didn't have a brown sugar substitute on hand, I used an erythritol/allulose sweetener and added a tablespoon of molasses (hence a small amount of sugar). I would have picked up some sugar free "brown sugar" if I had planned ahead but I keep Lily's sugar free chocolate chips on hand. My conversions were 1 for 1, except for the additional molasses.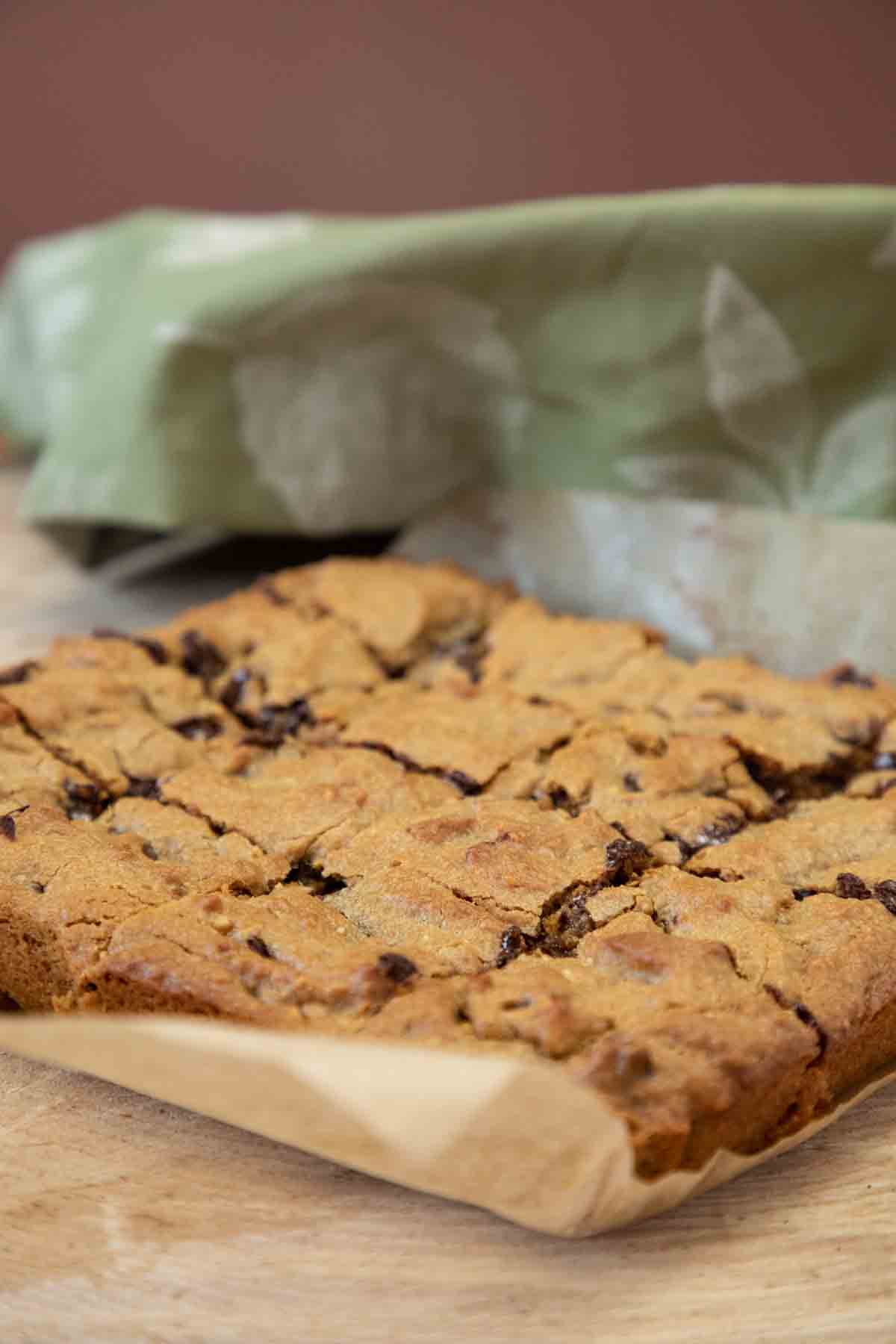 The bars were good but slightly drier, which is a common difference if you omit real sugar. Happily, the base recipe was gooey enough so that impact was minimal.
A surprising difference was that my sugar free version seemed to brown more. When I took it out of the oven at 25 minutes, the edges were quite dark. I was surprised, since a common problem with sweeteners is not browning (though allulose is one of the sugar subs that will brown).
So go ahead and give sugar free a try but, start checking even before 20 minutes.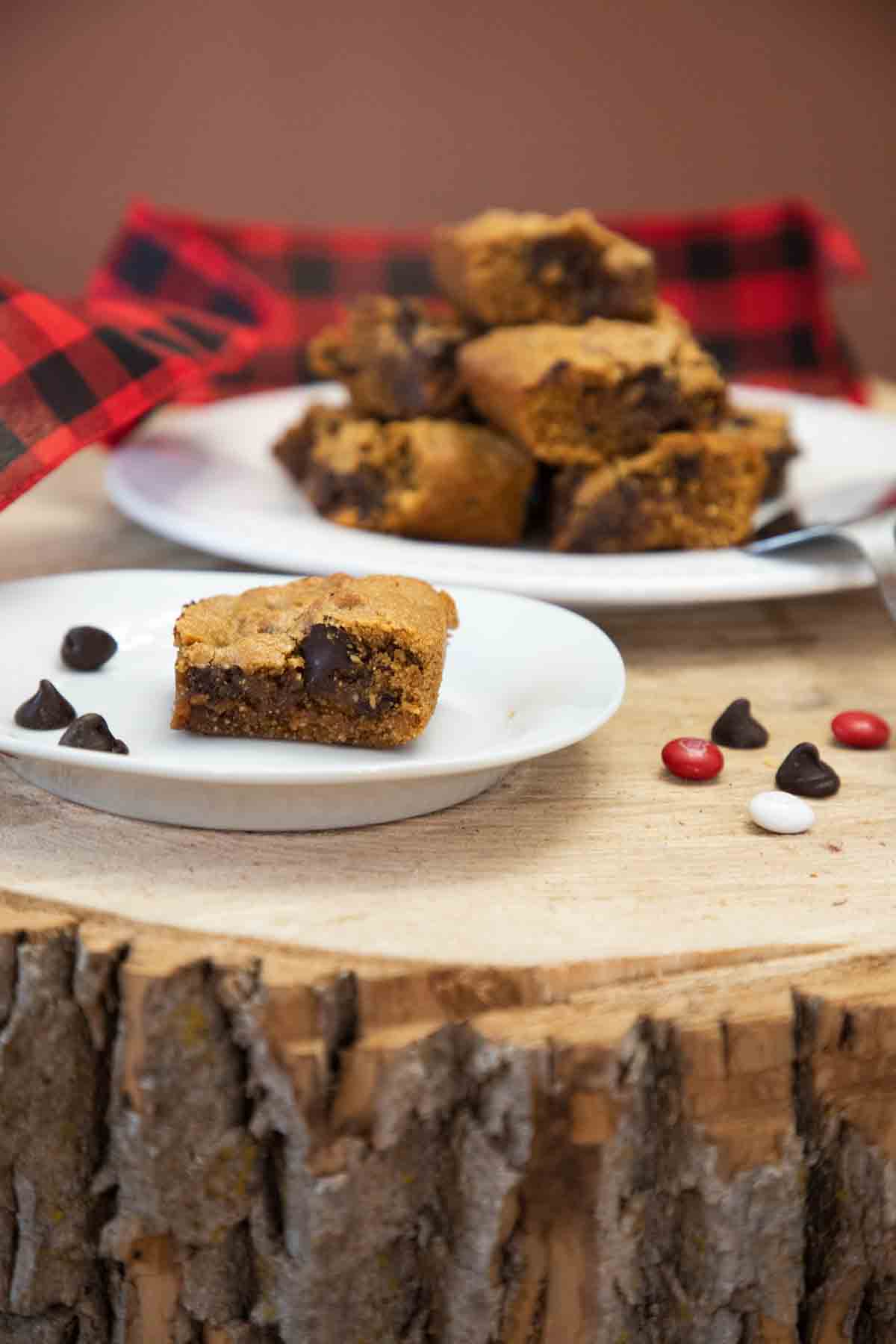 Tips and FAQs
Don't cut the bars until they are cool. This is a gooey cookie—and even more so until the chocolate chips reharden.
The original recipe suggested lining the pan with baking parchment or foil. Did you know that brown parchment paper is usually compostable? This, plus the fact that parchment is non-stick, renewable and poses no threat of leaching aluminum means it's the winner in my book.
For other gluten free treats, take a look at these Molasses Cookies or Chocolate Chip Cookies.
Blondies
We share Recipes From Our Dinner Table! Join our group and share your recipes, too! While you're at it, join our Pinterest board, too!
Peanut Butter Gluten Free Blondies
Total Time:
1 hour
40 minutes
Peanut Butter, Gluten Free Blondies, with chocolate chips and quinoa, are an easy, tasty treat. Almost like a creamy Peanut Butter Cup Cookie!  
Ingredients
1/4 cup butter, softened (or margarine for dairy free)
3/4 cup smooth or crunchy peanut butter
2 large eggs
3/4 cup light brown sugar
1 teaspoon vanilla extract
3/4 cup quinoa flour (see notes below)
1 teaspoon baking powder
1/4 teaspoon salt
1 cup semisweet chocolate chips
Instructions
Preheat oven to 350°F. Line an 8-inch-square baking pan with parchment paper. It should slightly overhang opposite ends so you can pull up on it when it's done. Coat with cooking spray.

Beat butter and nut butter in a mixing bowl with an electric mixer until creamy. Beat in eggs, brown sugar and vanilla.
Combine quinoa flour, baking powder and salt then fold into the wet ingredients until just combined.
Stir in chocolate chips. Spoon the batter into the prepared pan and spread or press as evenly as possible.
Bake until a toothpick inserted into the center comes out clean, 25 to 35 minutes. Do not overbake. Let cool in the pan for at least an hour before removing from pan and cutting.