Easy Gluten Free Molasses Cookies
Have you jumped on the gluten free bandwagon? Or perhaps you have friends or family who have? While I eat almost anything, I know so many people who are gluten free. And doesn't everyone deserve fun foods like these Gluten Free Molasses Cookies?
I previously made some delicious One Flour Gluten Free Chocolate Chip Cookies. But my adventures aren't ending there. When you go to a CSA party–full of people who eat healthy, you can bring home a lot of great recipes!
Like their chocolate chip cookie cousins, these Gluten Free Molasses Cookies (based on a recipe from Camilla Saulsbury) require just a single flour—chickpea—to turn into delicious cookies that are indistinguishable from the originals. If your barrier to baking gluten free is recipes that needed a half dozen ingredients to substitute for the flour, this may be your answer!
And, yes, they are just as easy to bake as the conventional flour version.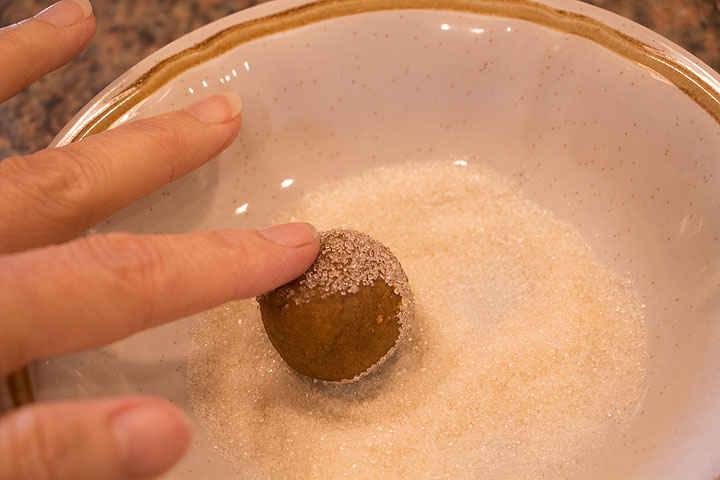 As I transition from fall into holiday baking, (Gluten Free) Molasses Cookies completely fit the bill. Or even, possibly, a favorite year 'round.
I wonder if she has a peanut butter cookie…
Gluten Free Molasses Cookies
2016-11-27 05:30:01
Serves 36
Tired of mixing little bits of this and that as a gluten free flour substitute? Then try these Gluten Free Molasses Cookies--made easy with chickpea flour!
Nutrition Facts
Amount Per Serving
* Percent Daily Values are based on a 2,000 calorie diet. Your Daily Values may be higher or lower depending on your calorie needs.
Ingredients
½ cup brown sugar (or coconut palm sugar)
½ cup sugar (plus more for rolling)
¾ cup butter
1 large egg
6 tablespoons mild molasses
2 ½ cups chickpea flour
1 Tablespoon ground ginger
2 ¼ teaspoons baking soda
¼ teaspoon salt
1 teaspoon ground cinnamon
¼ teaspoon ground cloves
Instructions
With an electric mixer, beat butter and sugars until light and fluffy. Scrape the sides of the bowl, then add egg and molasses. Beat for 1 minute.
Combine flour, baking soda, salt and spices. Stir into butter mixture until just blended.
Cover the bowl and refrigerate for 1 – 24 hours.
Preheat oven to 325 F. Spray a baking sheet with non-stick spray. Form dough into 1 inch balls, roll in extra granulated sugar and place 2 inches apart on baking sheet. Bake for about 15 minutes until set but still soft in the middle. Remove from pan to cool.
Art of Natural Living https://artofnaturalliving.com/
Save
Save