Southwest Pumpkin Black Bean Soup
I love pumpkin soups. But after a while they start to look the same. Pumpkin with curry, pumpkin with coconut, pumpkin with curry and coconut… Why not one with a Southwest flair? Pumpkin Black Bean Soup?
Since I started taking some classes this fall, I am trying to cook… compactly. That is, can I make a dish that is simple, but has it all together (that is, protein, veggies & starch). Of course it has to have great flavor too!
With pumpkin, red pepper, beans and rice (beans + rice = complete protein) plus a bit of spice, this Southwest Pumpkin Black Bean Soup checks all the boxes!
Of course pumpkin (or any winter squash) is a nutrition powerhouse. Add red pepper and black beans, and you are meeting the old nutrition maxim of eating a rainbow.
But this Southwest Pumpkin Black Bean Soup has other attributes as well. With Thanksgiving just around the corner, people will be convening here from near and far—and a healthy snack will be waiting in the wings.
This year we have guests traveling from 3 states, with arrivals stretched from Tuesday night to Thursday (in the morning's wee hours). Knowing that a tired college student will have something healthy and tasty when they step in the door makes me feel like a good mom.
Yes, Happy Thanksgiving! And never too much pumpkin!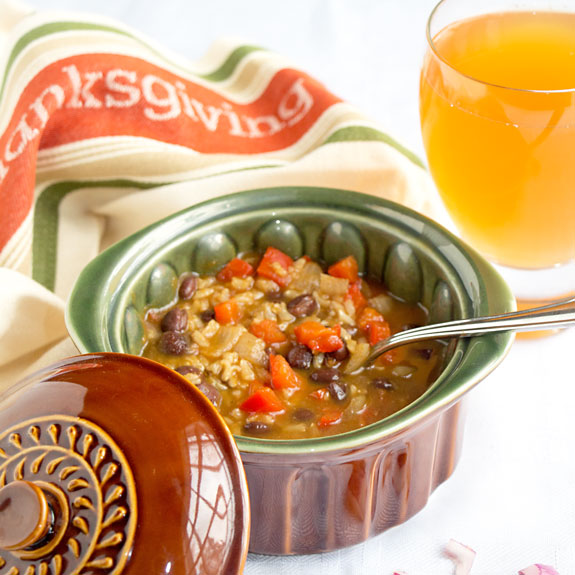 Southwest Pumpkin Black Bean Soup
2016-11-20 10:13:25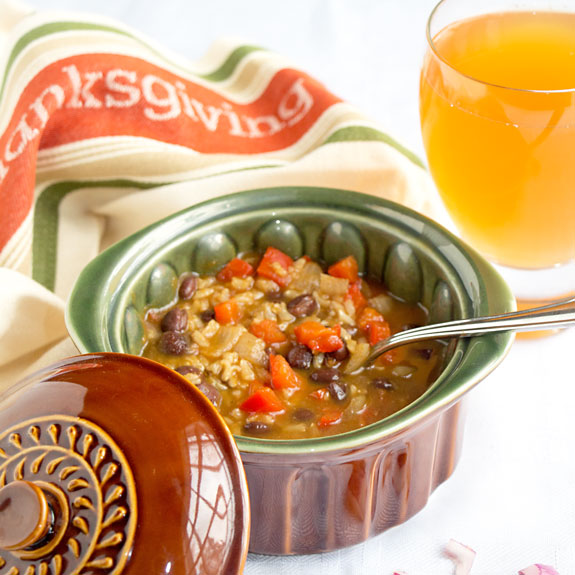 Serves 6
Are pumpkin soups starting to all look the same? How about a Southwest Pumpkin Black Bean soup with beans, red peppers, rice and chili spices!
Nutrition Facts
Amount Per Serving
* Percent Daily Values are based on a 2,000 calorie diet. Your Daily Values may be higher or lower depending on your calorie needs.
Ingredients
½ Tablespoon olive oil
1 small onion, chopped
2 cloves of garlic, minced
5 cups broth (any type)
1 15 ounce can pumpkin puree (about 2 cups)
1 red pepper, diced
1 can cooked black beans, drained and rinsed (a bit over 1 cup after draining)
½ cup raw brown rice (any type, just vary cooking time)
1/4 teaspoon cayenne pepper
1 Tablespoon chili powder
1 teaspoon cumin
1-2 teaspoon salt (see note)
Instructions
Sautee onion in olive oil in a large pan. When just tender, add minced garlic and cook for a minute more.
Add remaining ingredients, stirring to dissolve pumpkin puree in broth. Let cook until rice is tender, 30-45 minutes for regular, 10-15 minutes for quick (see rice package directions for more detail).
Notes
I use homemade broth which is lower in sodium so go up to the full 2 teaspoons of salt (I use lite salt). Normally I am a lower salt person, but it brings out the flavor in this soup, so taste and adjust as needed.
Art of Natural Living https://artofnaturalliving.com/