Healthy & Tasty Sweet Potato Bread
Flavorful sweet potato bread is light and airy with a rich, slightly sweet flavor. As a yeast bread, it is lower in sugar and has oatmeal and white whole wheat flour for added health.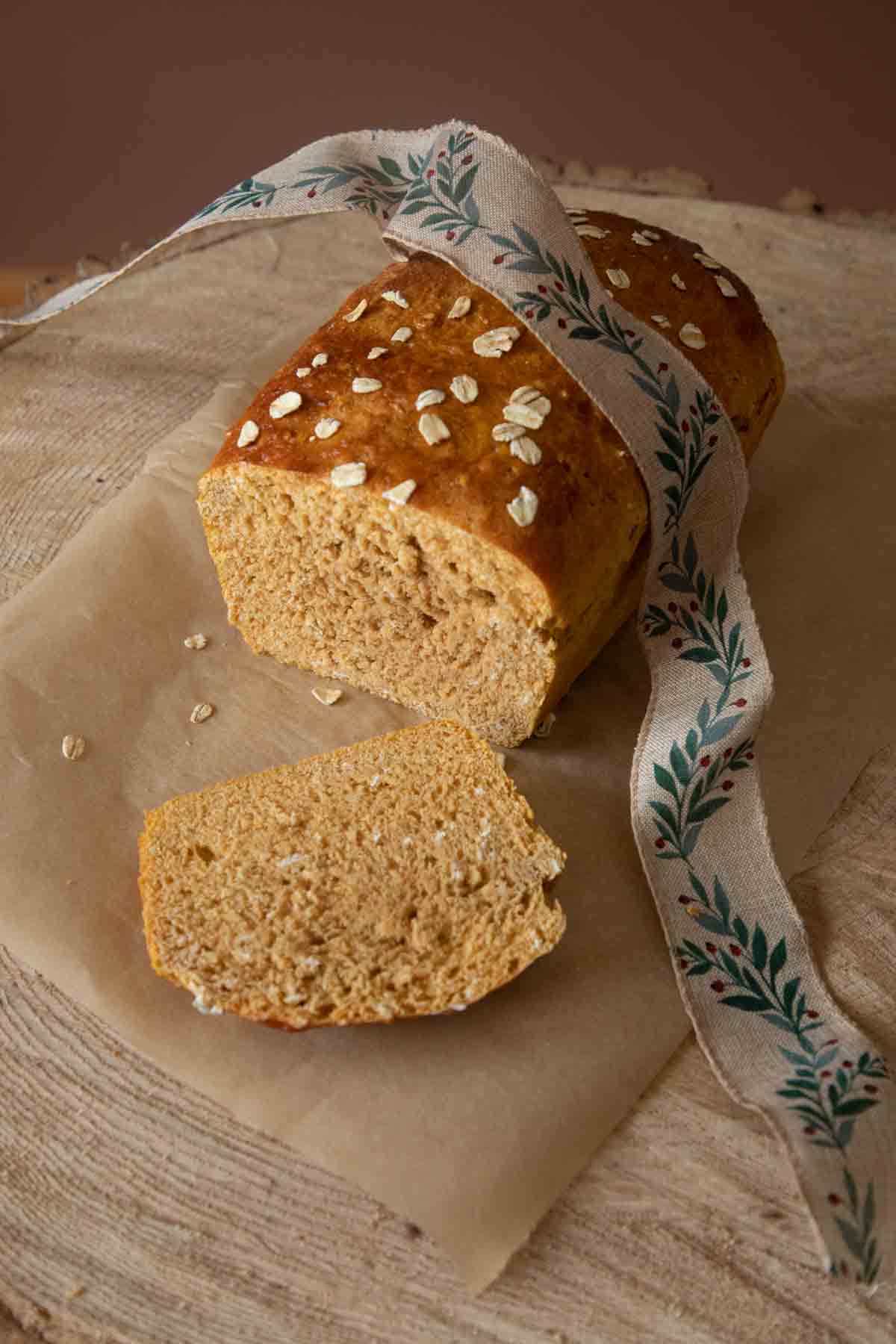 If you search sweet potato breads online, you'll find a lot of quick breads.
And I'm sure they're nice. But a person isn't always in the mood for a quick bread. And in my post holiday healthier eating consciousness, a dessert bread is NOT on the menu.
On the other hand, my taste buds were still coming off a holiday high. So I wanted all the flavor of quick bread but something light and airy with a subtle sweetness–like a special yeast bread.
Like this White Whole Wheat and Oatmeal Sweet Potato Bread. Created back in 2017 simply to finish up the prior year's sweet potatoes, it's proof that pragmatism can lead to something beautiful!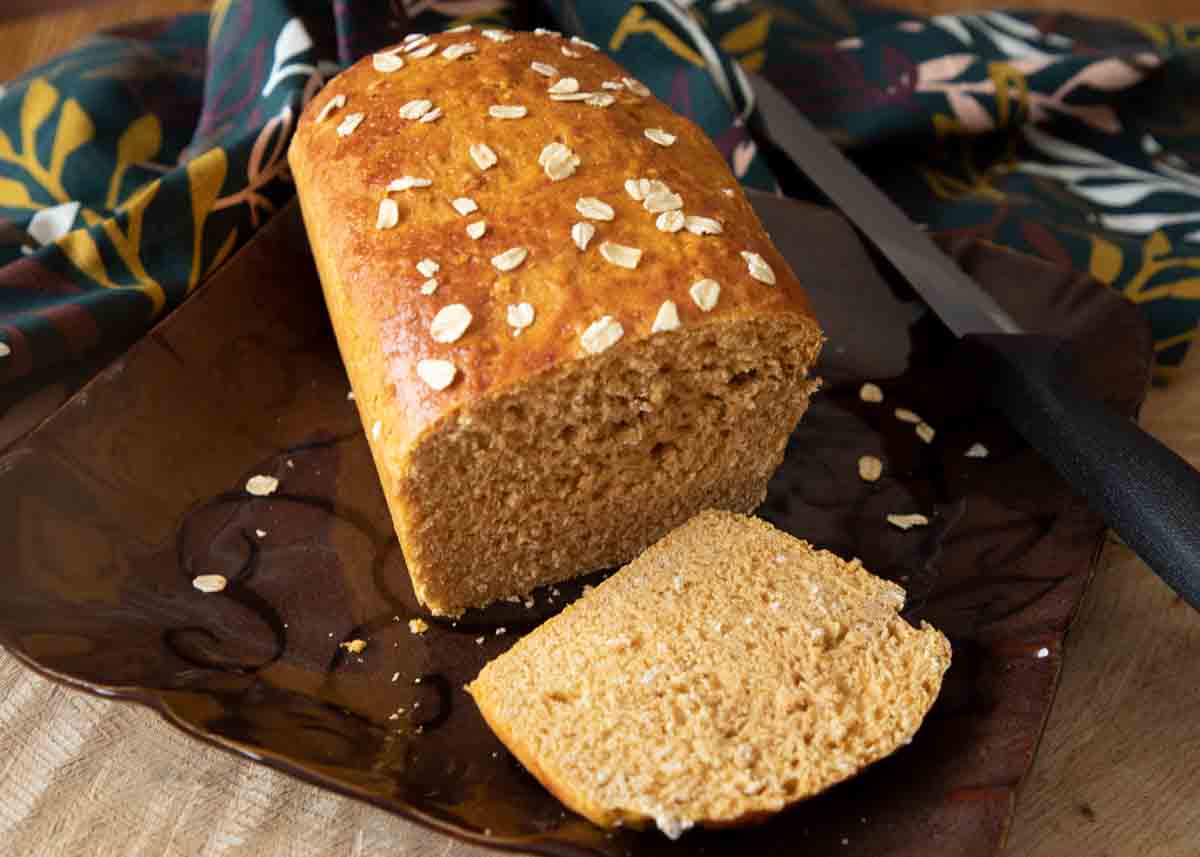 What Makes This a Winner
Airy and Flavorful. I love that this bread is light but still loaded with flavor. For a relatively basic bread, it has a charm and uniqueness that surprises me every time I make it.
Lots of Whole Grain. Part of the surprise? The whole grain wonder is over 2/3 whole grain (white whole wheat and oatmeal) versus all purpose flour, but without a notable wheat flavor or heavy density.
Extra Antioxidants and Vitamins. Finally, the nutrition loaded sweet potato puts it over the top with added vitamins and anti-oxidants.

And for other whole grain breads, take a look at my honey whole wheat and rustic rye loaves!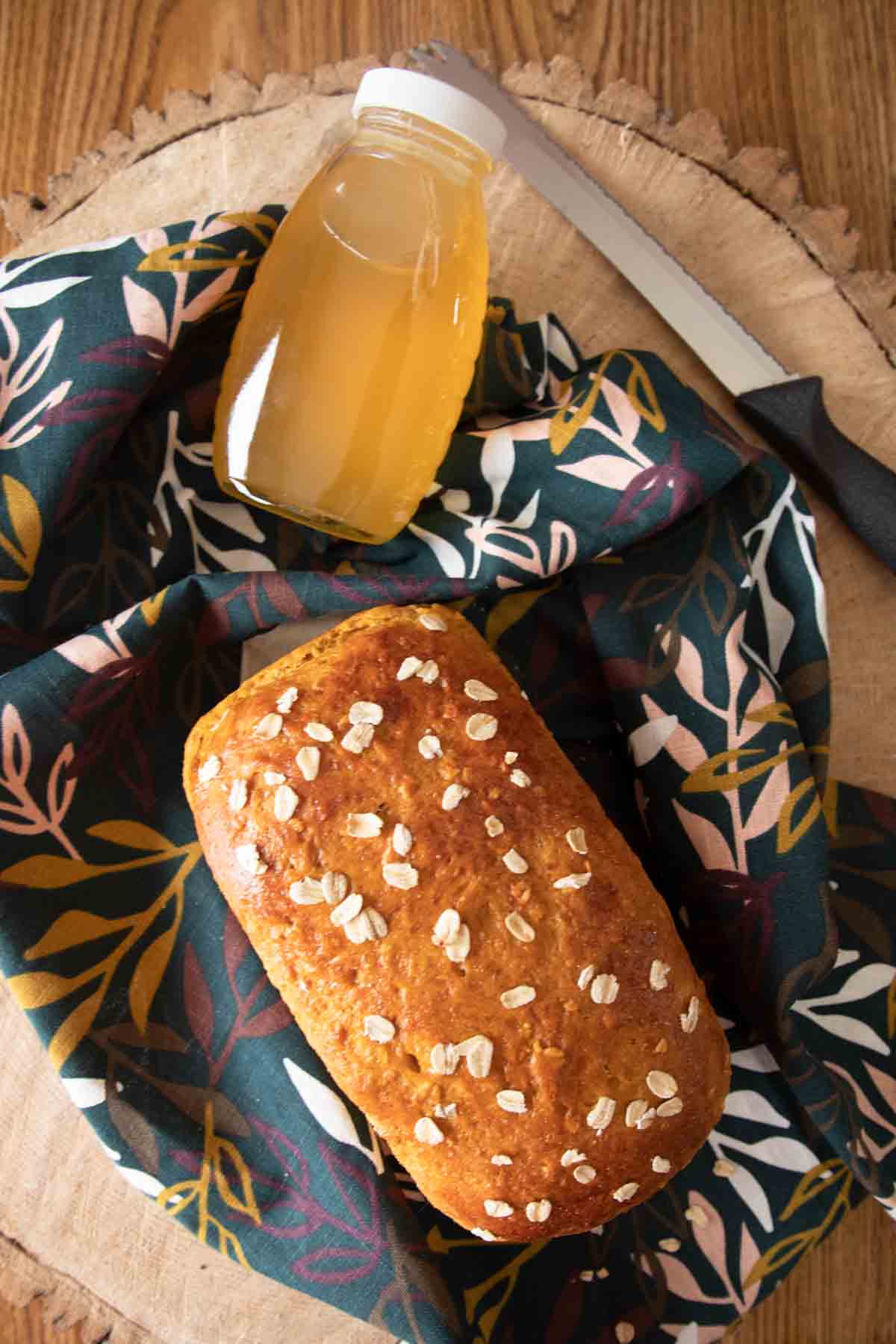 What You'll Need:
Ingredients:
Flour: The combination of white whole wheat and all purpose gives you the health value of whole grain but keeps the bread light and allows the other flavors to shine.
Oatmeal: For more flavor, more health value (and a cute top)
Egg: You just need a teaspoon, mixed with a bit of water, to make the egg wash that gives you the shiny golden top (I refrigerate the rest and put it in scrambled eggs the next day). For vegan, you may omit, though it won't have the same color or shine. Or consider these vegan egg wash alternatives.
Milk. Besides moisture, milk adds tenderness to bread. You may use a non-dairy milk (oat might be nice with the oatmeal in this) if you are dairy-free
Honey. This adds a hint of sweetness. Or use maple syrup for a good vegan option.
Sweet potato puree. This gives you flavor, color and nutrition—and makes this bread distinctive. Used canned puree or see my directions below to make your own.
Fruit brandy. This is optional but it adds flavor and sweetness so I recommend it. I get mine from my homemade boozy fruit preserves!
Butter or oil. This gives the bread added moistness and helps prevent staling.
Other. yeast, salt
Less Common Tools:
Pastry brush. To brush on the egg wash. I like silicone since it's gentle on soft dough.
Mini Food Processor. To easily mash up the sweet potato. Otherwise a fork will do.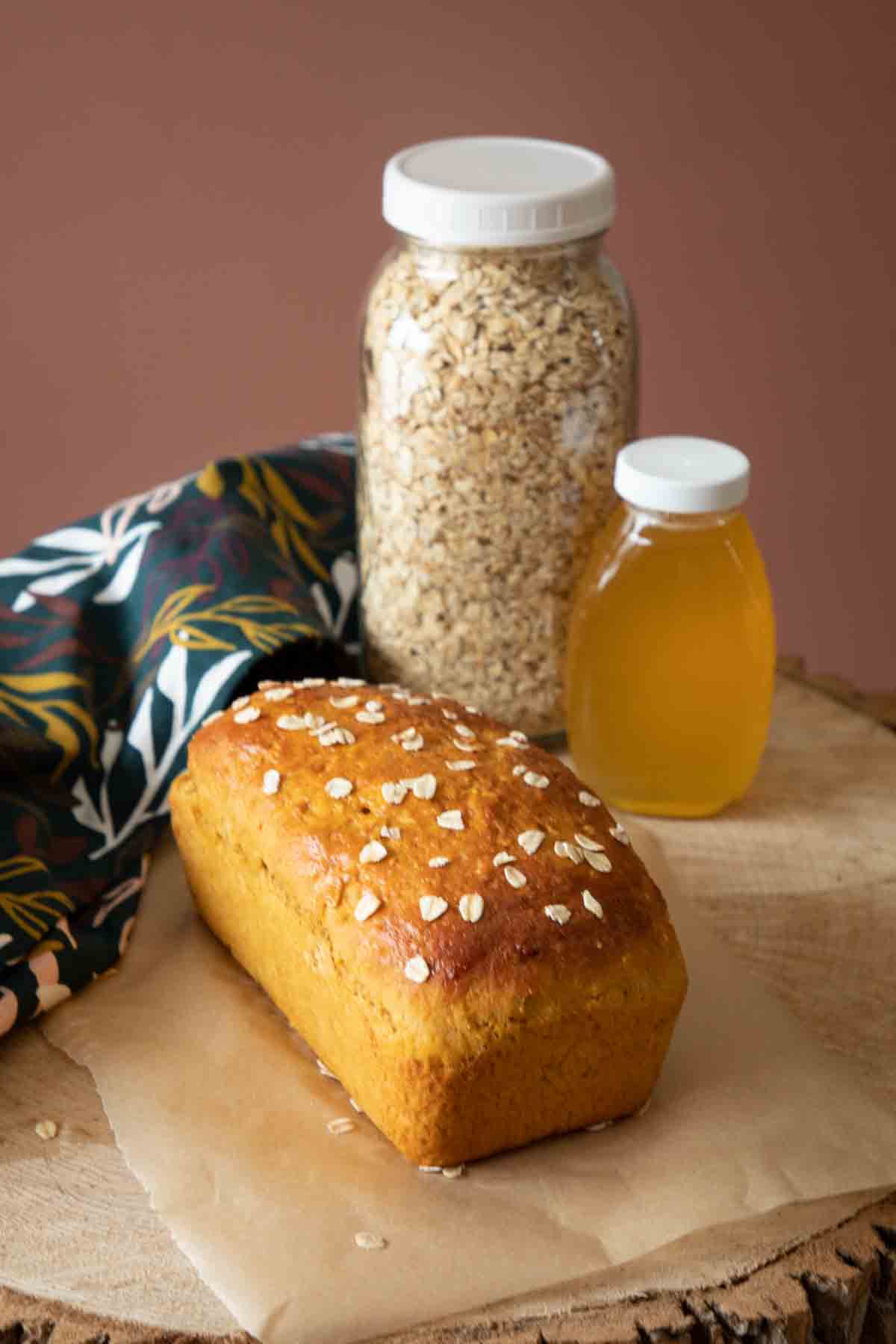 Step by Step Directions
Add yeast to warm milk and honey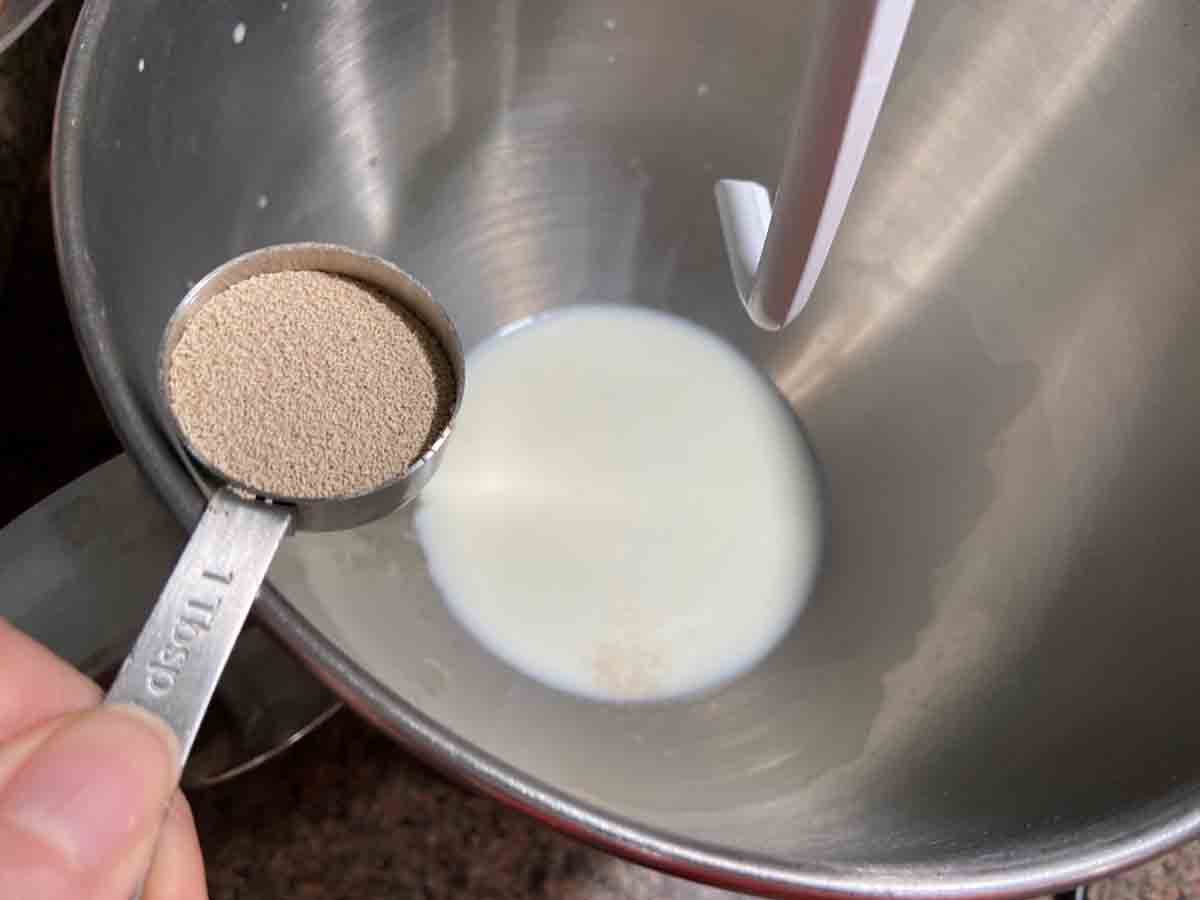 After it bubbles slightly, add the remaining ingredients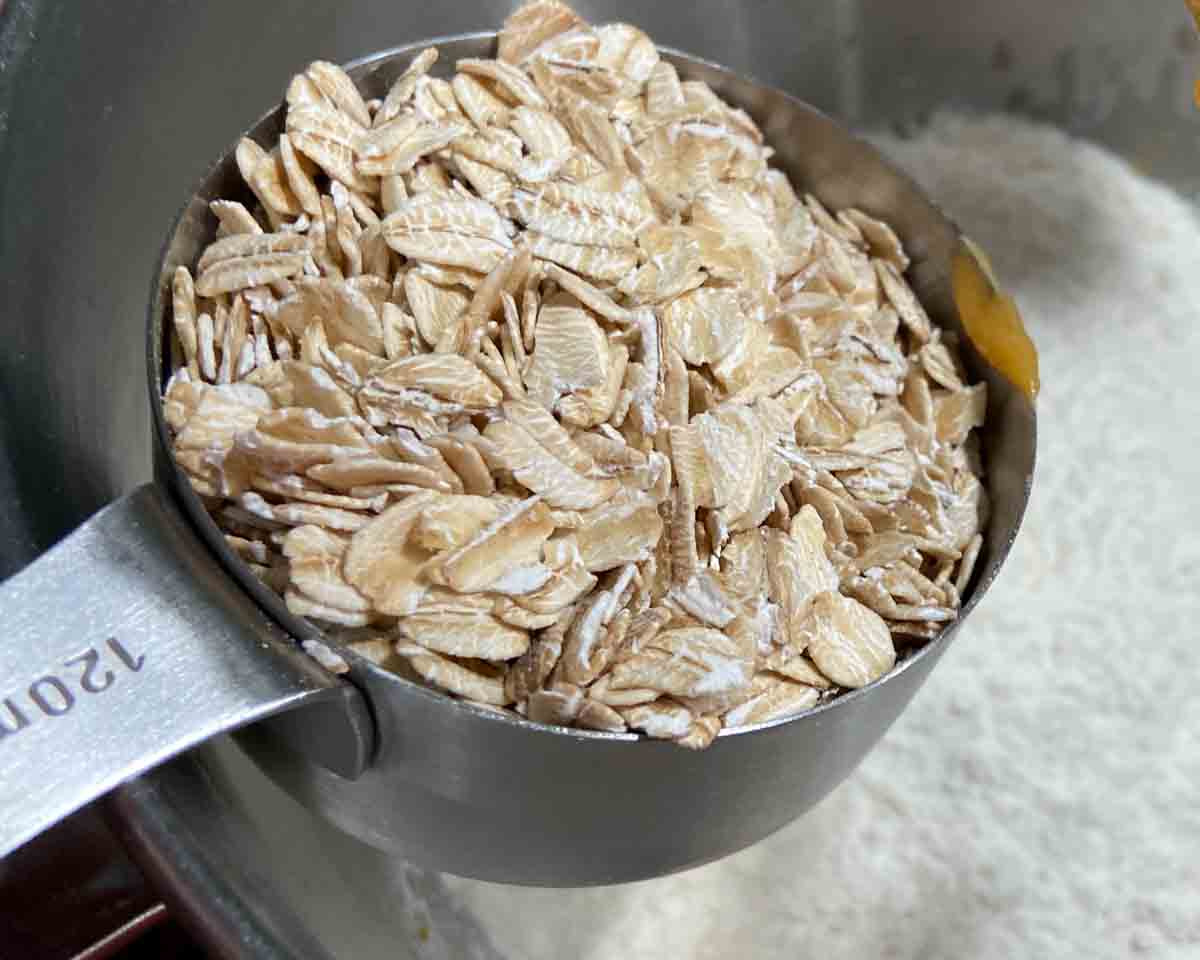 Knead until it forms a solid ball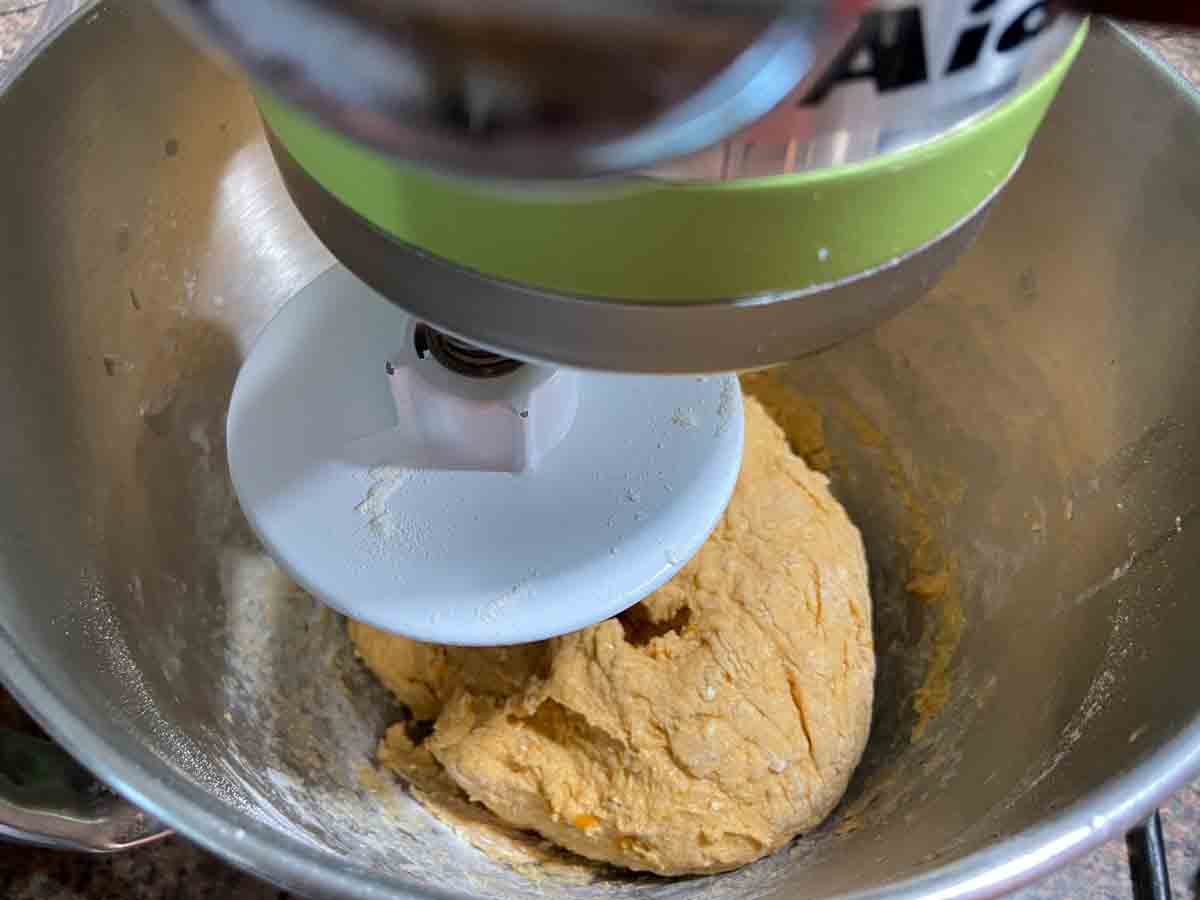 Cover with a damp towel and let rise in a warm(ish) place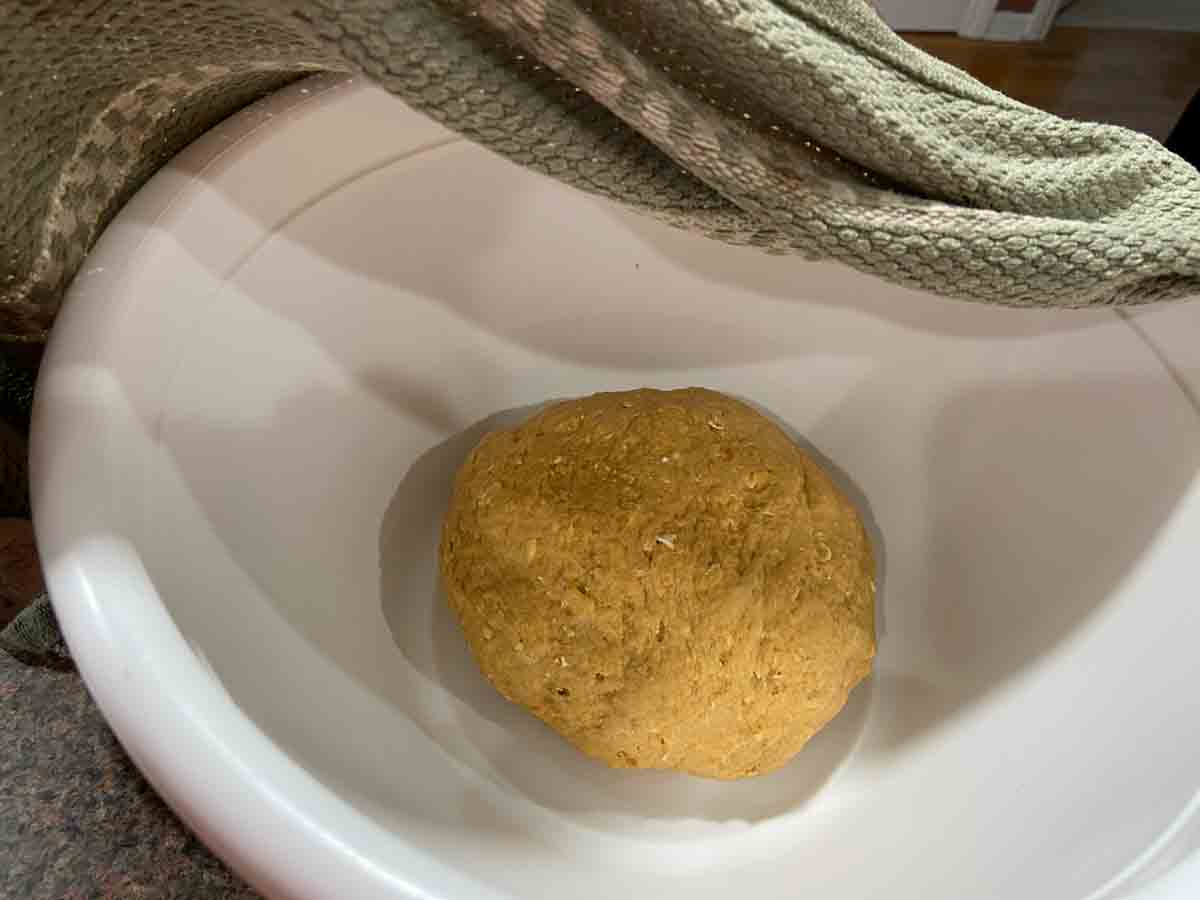 When double (about an hour), form into loaf and place in bread pan sprayed with non-stick spray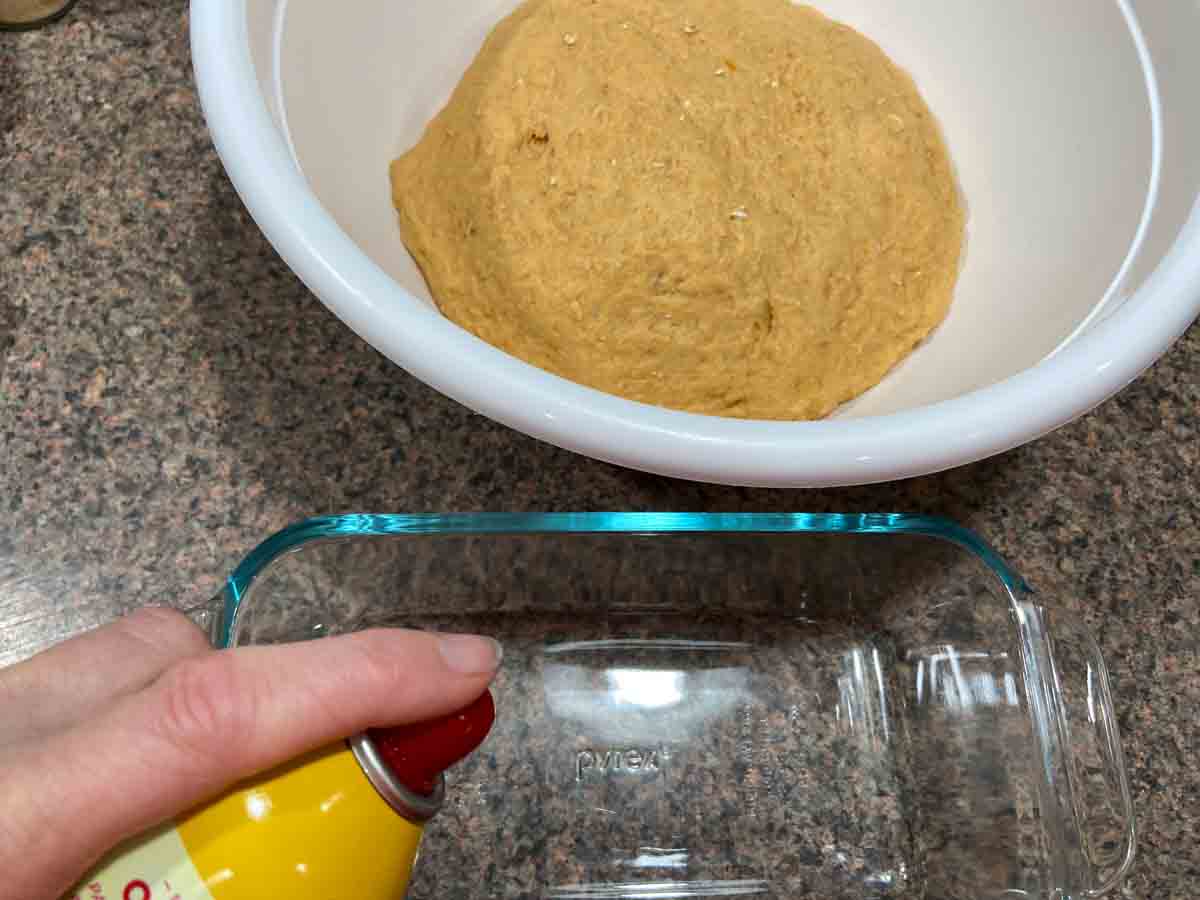 Let rise again until about 50% bigger, then brush with egg wash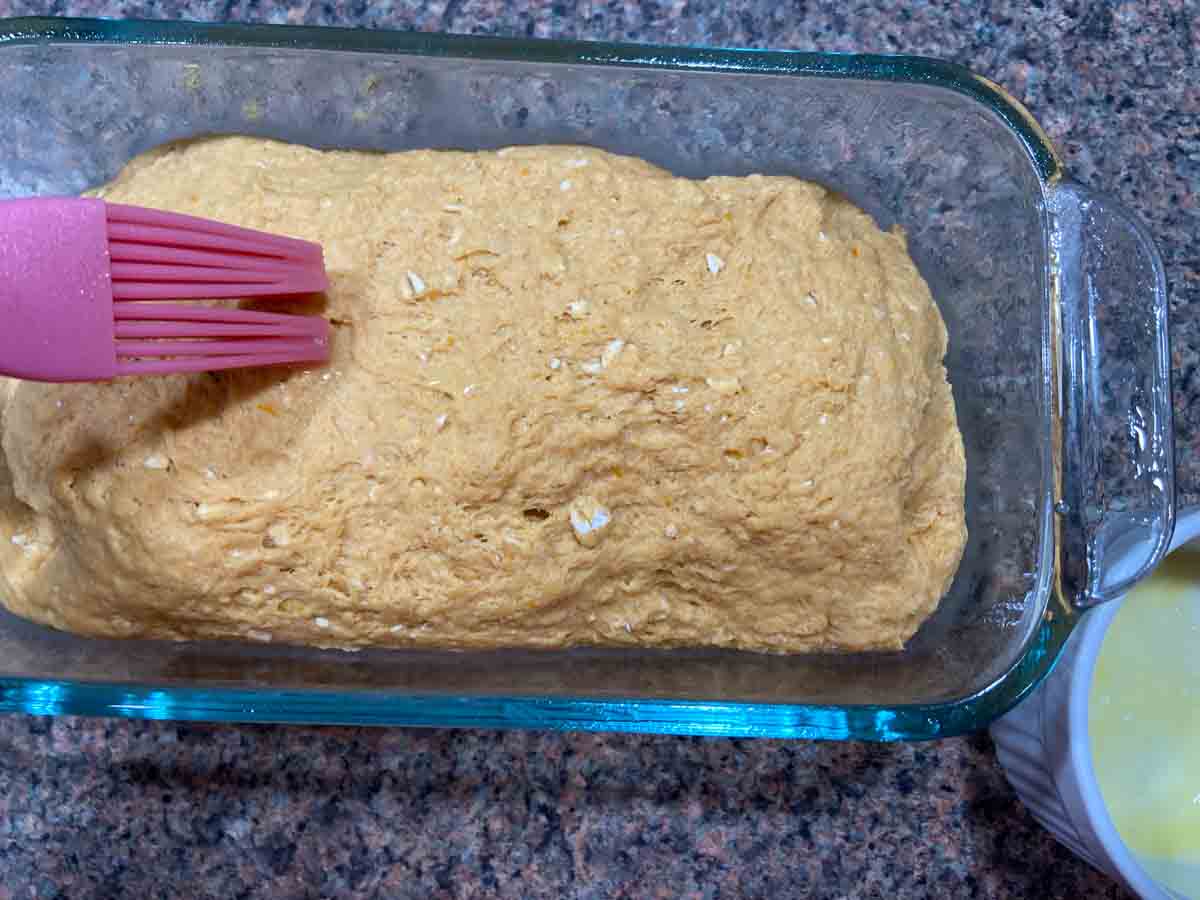 and sprinkle with oatmeal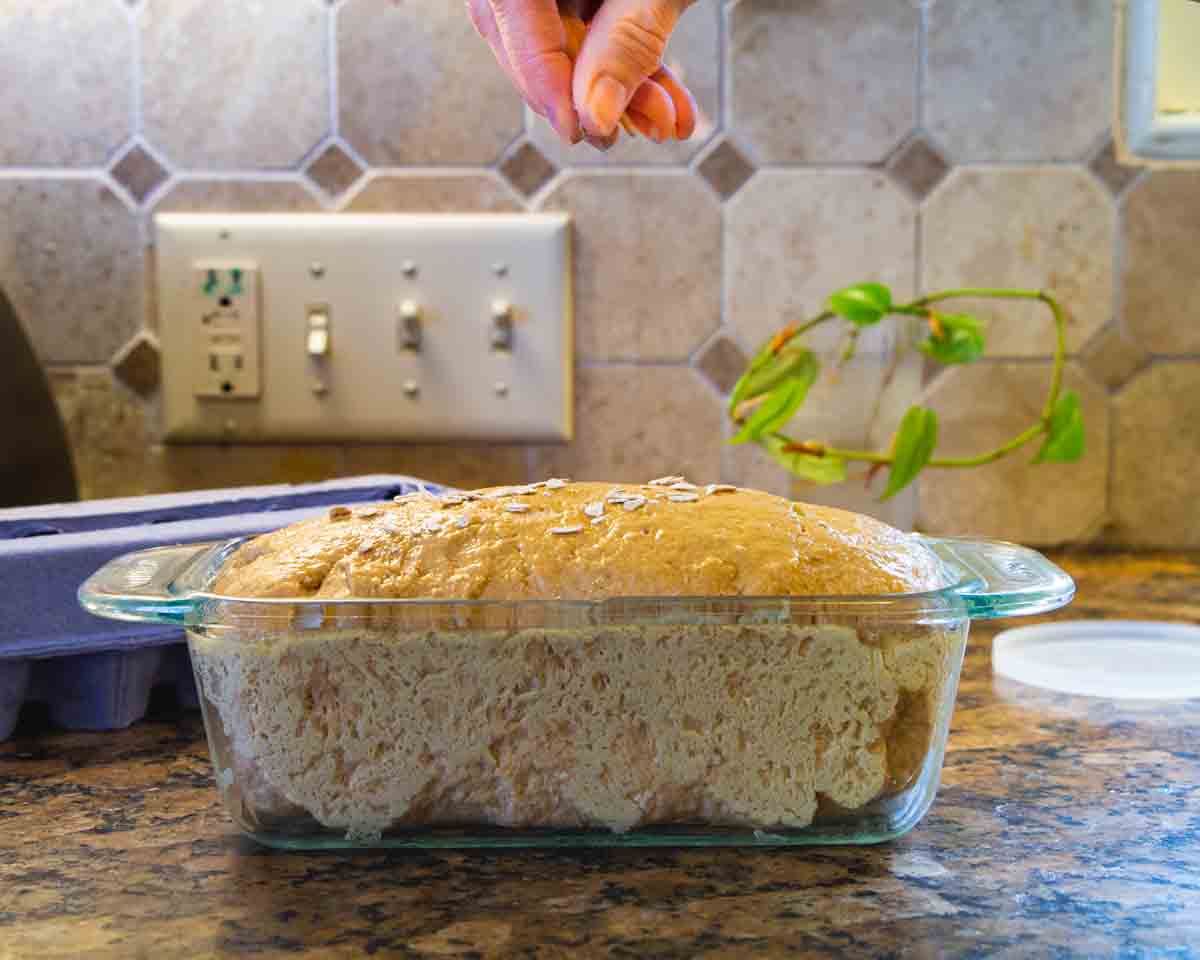 Bake and enjoy!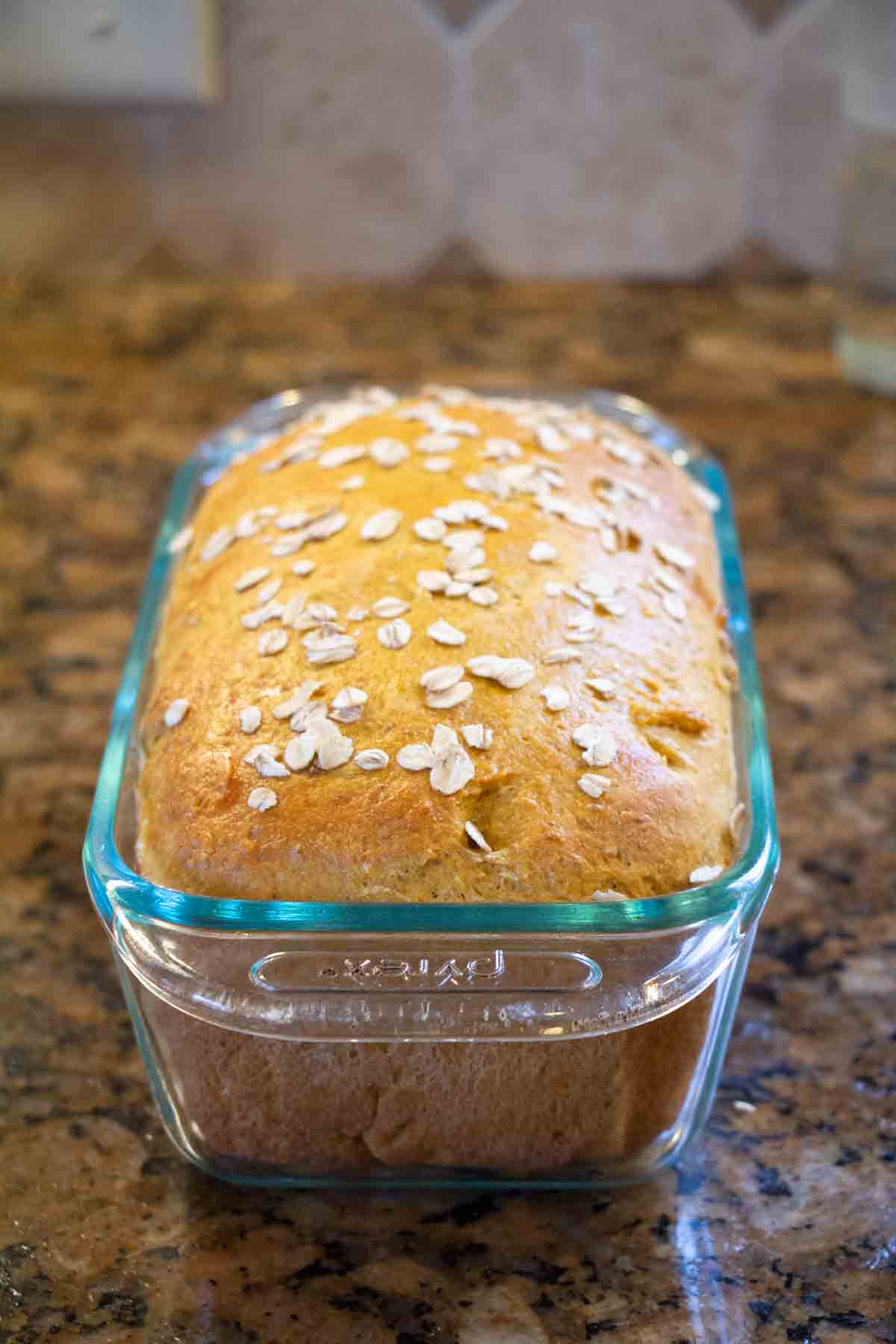 Making Sweet Potato Puree
You could certainly use canned sweet potato puree which would be very easy. And it's even available organic!
But since I try to eat as locally as possible, I usually make my own. For 1 cup of puree, I used two medium-large sweet potatoes—a little over a pound in total. To bake them, I pricked them, and baked unpeeeled on a baking sheet in a 400 F oven. About 45 minutes, when it smelled really good, it waas done.
In a hurry? You can also microwave—prick a few times, then cook on high 7-10 minutes, turning over part way through.
When done, I peel, then puree in a mini food processor. If properly cooked, you can even mash with a fork!
Serving
I love this bread for snacking—and I'm usually a low carb kind a' gal. It has enough moisture and flavor to eat plain (no butter!) or toasted (with butter). It's also good with jam.
We also eat this with eggs at the breakfast table. The extra flavor is fun and not too intrusive.
And you can serve it as the starch course with dinner, especially if you've had one too many potato or rice sides lately.
Sweet Potato Bread is beautiful addition to a bread basket with a selection of other breads and muffins. That's a favorite menu addition both for the winter holidays and spring buffet season (e.g. Easter, Mother's Day, etc). Before adding, I'd cut slices, then cut those in half.
This bread is on the tender side so I don't tend to use it for sandwiches. But if the rise is just right, it might work for something like a PB&J.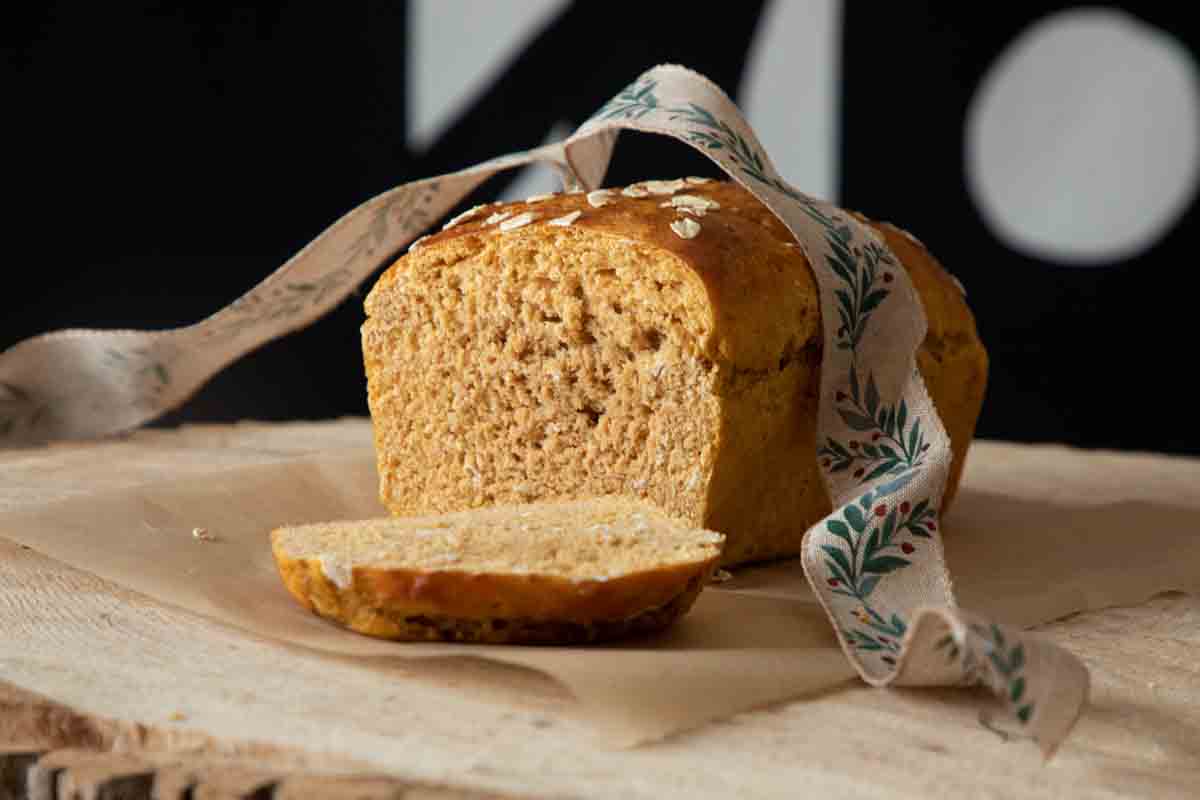 And for More National Oatmeal Month goodness: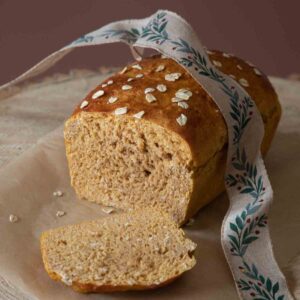 Sweet Potato Bread
Light and airy with a rich, slightly sweet flavor, flavorful sweet potato bread has oatmeal and white whole wheat flour for added health.
Ingredients
Bread:
1/2

cup

milk

warmed, or 1/3 cup milk and 3 Tablespoons fruit brandy

2

Tablespoon

honey

or maple syrup

1

package

yeast

1 scant tablespoon

2

T

butter

melted or oil

2

cup

white whole wheat flour

½

cup

oatmeal

1

cup

all-purpose flour

plus extra for kneading

1

cup

sweet potato

pureed

1/2

teaspoon

salt
For topping:
1-2

teaspoons

egg

beaten with 1/2 teaspoon water

1

Tablespoon

oatmeal
Instructions
Mix milk and honey, then dissolve yeast in the mixture. Let sit until yeast begins to foam (a few minutes).

Combine yeast mixture with remaining ingredients, mix to combine, then knead (by hand on a floured surface or in a mixer) until dough "pushes back" as you knead. Add additional flour as needed so that dough is not too
sticky.

Place dough in a bowl, cover with a damp dish towel and let sit in a warm place until doubled, about an hour.

When dough has doubled, punch it down, then form into a loaf and place in a
bread pan sprayed with non-stick spray. Let rise again until about 50% increased and starting to rise above pan.

Brush top of bread with egg wash and sprinkle with oatmeal.

Bake at 350 for 30-40 minutes, until loaaf sounds hollow when taapped. Keep an eye on the bread and be prepared to cover if the top gets too dark (likely).
Nutrition
Calories:
158
kcal
Carbohydrates:
29
g
Protein:
5
g
Fat:
3
g
Saturated Fat:
1
g
Polyunsaturated Fat:
0.2
g
Monounsaturated Fat:
1
g
Trans Fat:
0.1
g
Cholesterol:
8
mg
Sodium:
124
mg
Potassium:
102
mg
Fiber:
3
g
Sugar:
4
g
Vitamin A:
1649
IU
Vitamin C:
0.3
mg
Calcium:
33
mg
Iron:
1
mg
I am not a health professional and nutrition data is calculated programatically. Accuracy may vary with product selection, calculator accuracy, etc. Consult a professional for the best information.