Homemade Chocolate Syrup: No High Fructose Corn Syrup!
A 5-ingredient recipe that's easy, tasty and fun, you'll wonder why you didn't make homemade chocolate syrup ages ago!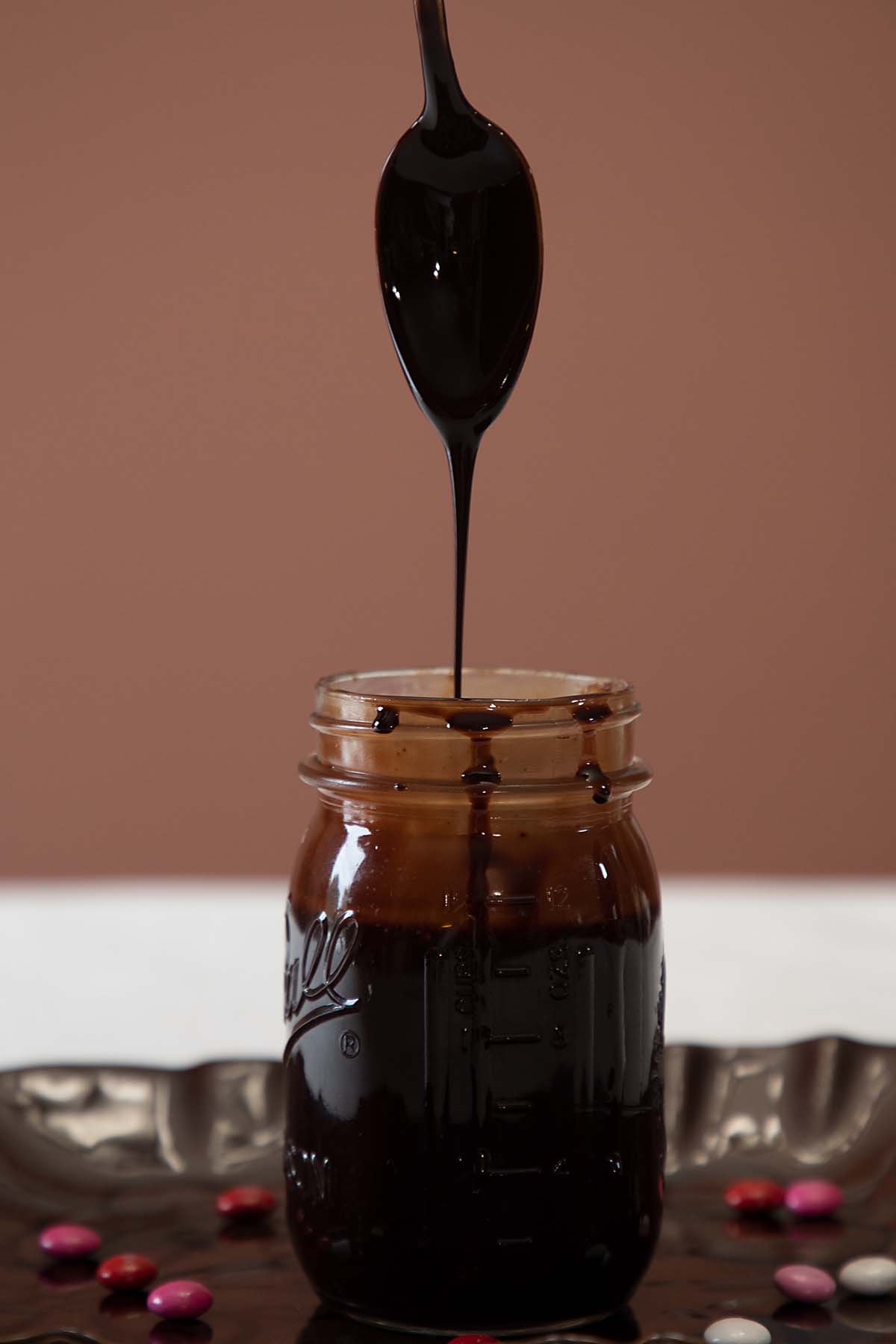 I made an interesting discovery one Thanksgiving. You can bake the most beautiful pies in the world and the kids will head straight for the ice cream. Yes, the "a la mode" (sans pie) is the best. And what put this over the top is the chocolate syrup that my sister in law pulled out of her cupboard. Sundaes!
I can still see the delighted small bodies bent over the gallon tub, digging up scoops, followed by mock battles over the spray whipped cream. So much fun!
On the downside, though, commercial chocolate syrup usually contains high fructose corn syrup. And it isn't a bargain priced item if your family goes through a bottle in… about 30 seconds. So I decided to make my own–with organic cocoa and real (organic) sugar–for Valentine's Day.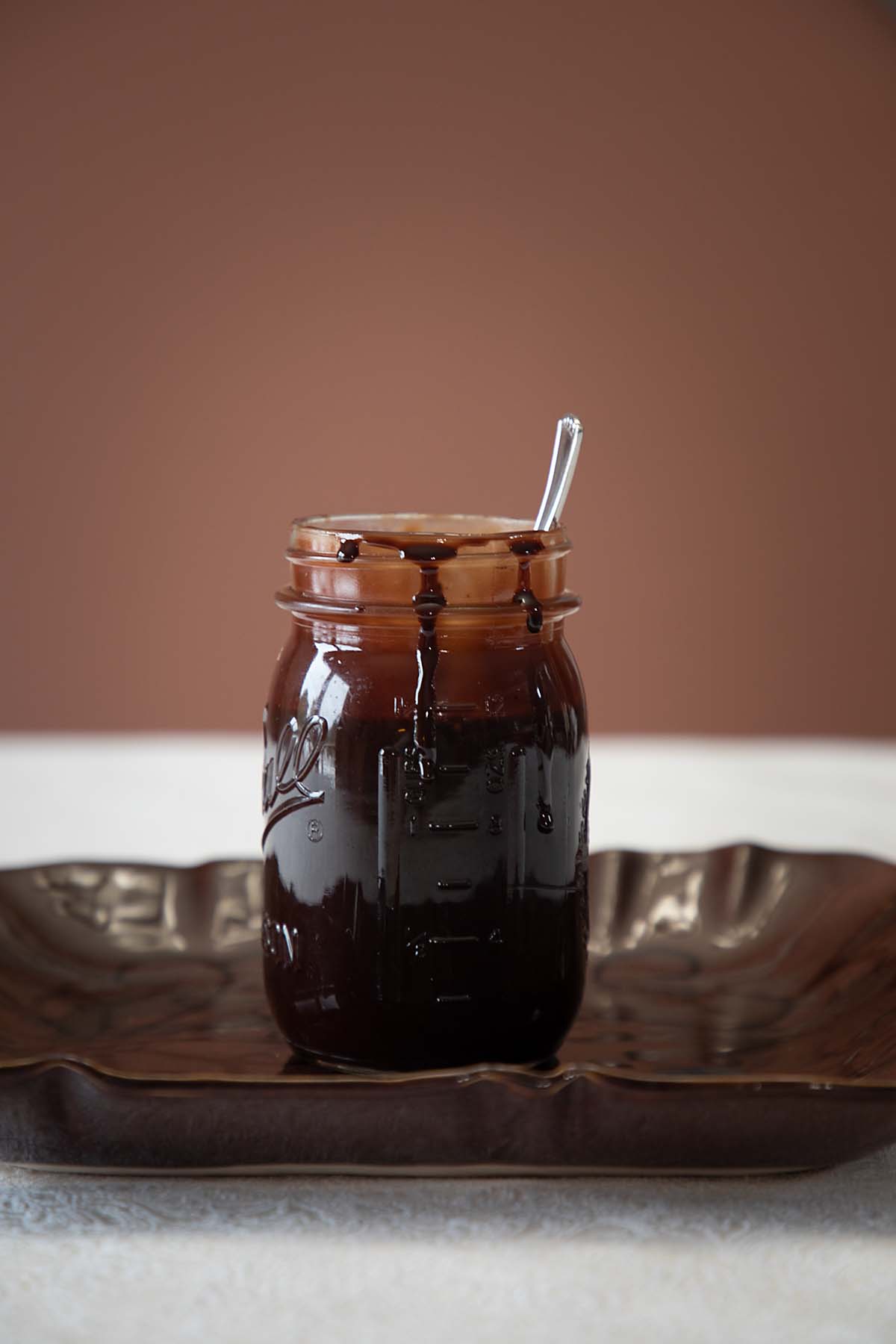 What Makes This a Winner
When I made chocolate syrup again for the first time in ages (this post was first published in 2012!), it reminded me what a fun item it is to have around! Yes, homemade chocolate syrup is:
Tasty and useful. There are so many things you can do with chocolate syrup that my husband and I used up a half pint in a couple days (shhh). No kids needed!
Inexpensive. As usual, homemade is cheaper than store bought. You can buy organic cocoa powder and sugar in bulk for even more savings!
No special ingredients. You may already have all the needed ingredients in your pantry!
Ingredient control. With homemade, you can skip corn syrup and preservatives or go organic if you want!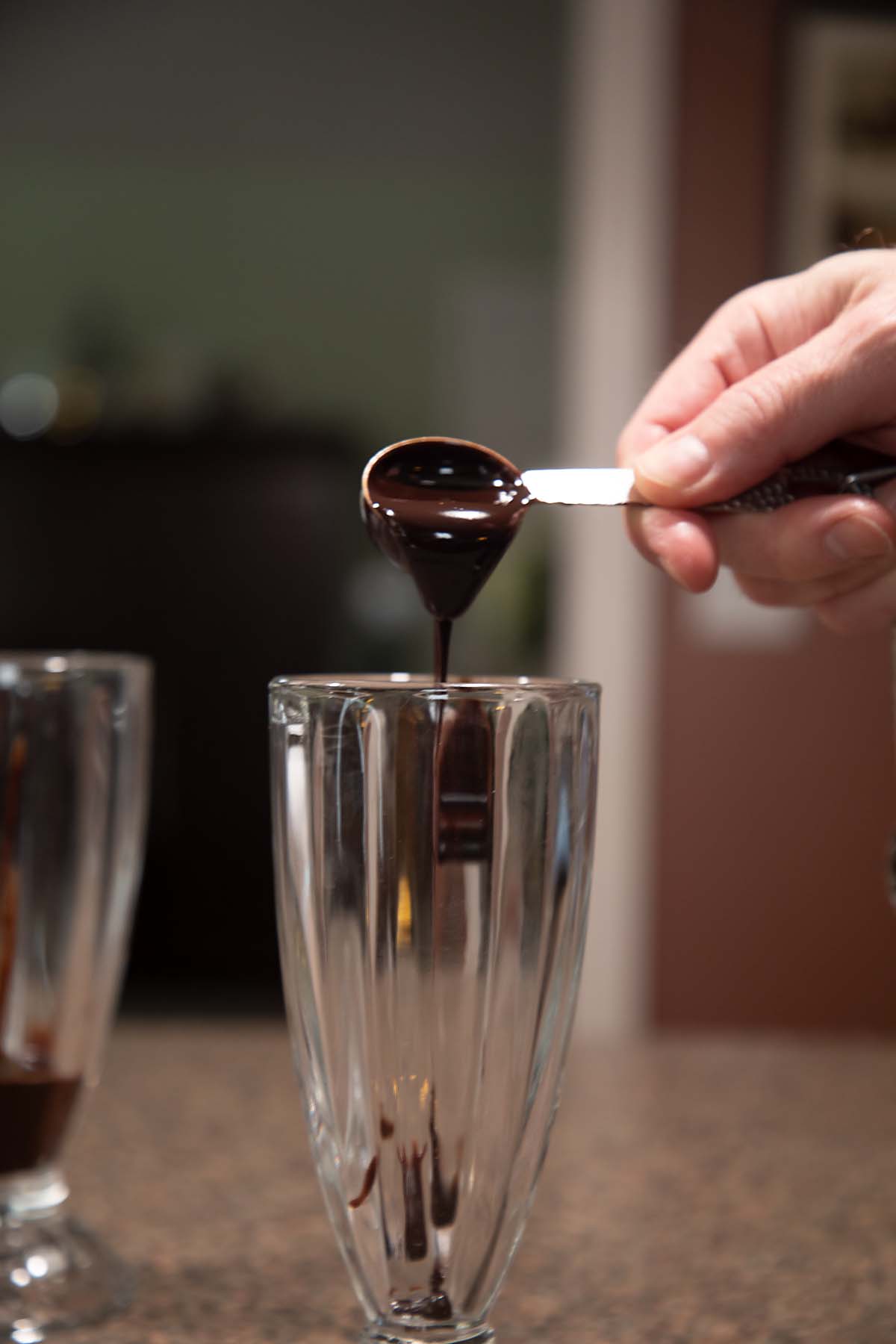 What You'll Need:
No special tools are needed, though a whisk is nice if you have one.
And the ingredients are minimal. In fact this is even a 5-ingredient recipe, three if you don't count the salt or water! You'll need:
Sugar. I used organic raw cane sugar, but regular granulated will work too
Salt
Water
Vanilla
Cocoa Powder. This is the only ingredient you'll need to think at all about. Read the discussion below—or just go with a can of Hershey's from the grocery store.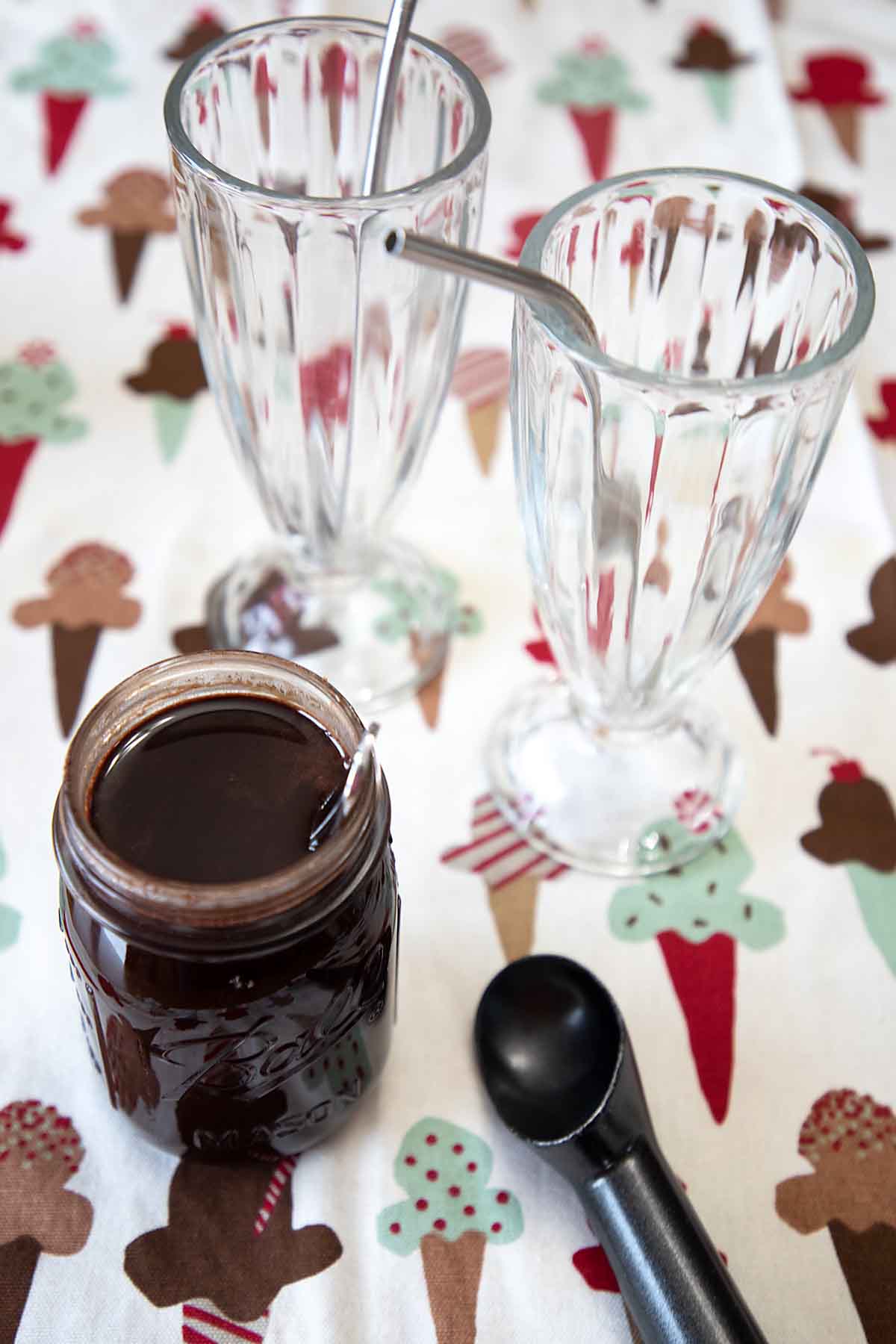 Dutch Chocolate or Natural – Per "the Experts"
Did you know that there are two types of cocoa? The first is natural, and it's the kind your grandmother used. The other is Dutch Chocolate, which per King Arthur "is natural cocoa treated with an alkalizing agent to lessen its acidity… This process makes "Dutched" cocoa smoother tasting and darker in color."
So how do you know which to use?
Well, from a health perspective, natural may be a better option. The World Cocoa Foundations says, "Evidence from the literature indicates that natural cocoas are high in flavanols, but when the cocoa is processed with alkali, also known as Dutch processing, or Dutching, the flavanols are substantially reduced."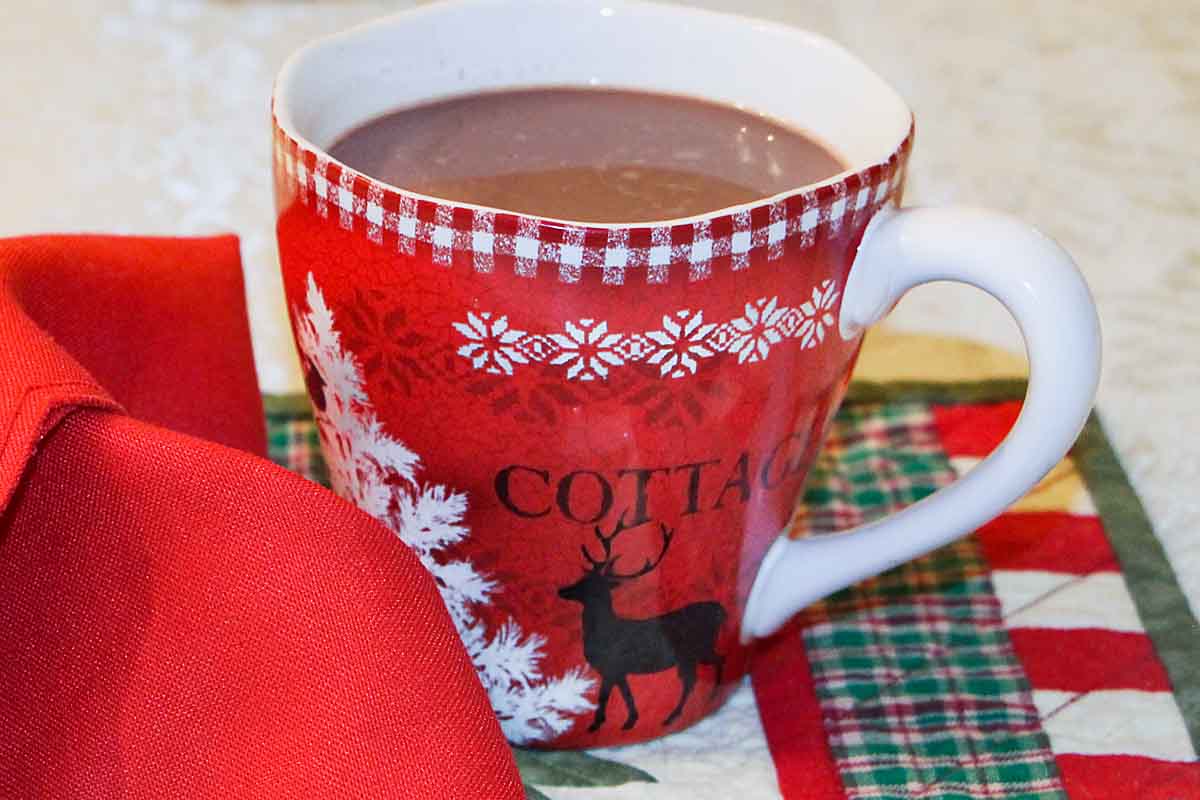 Now if you are baking, the acidity difference gets you into concerns similar to buttermilk vs milk. Basically they don't always act the same. But this doesn't affect non-baking uses like this chocolate syrup. Hooray!
As King Arthur notes "recipes that don't use baking soda or baking powder can be made with whatever cocoa you like." In that case it comes down to flavor.
Now regarding flavor, Cooks Illustrated almost universally prefers Dutch chocolate. King Arthur, on the other hand, comments that frosting seemed to taste (and look) better with natural.
Alas, I realize this is helping…, not very much.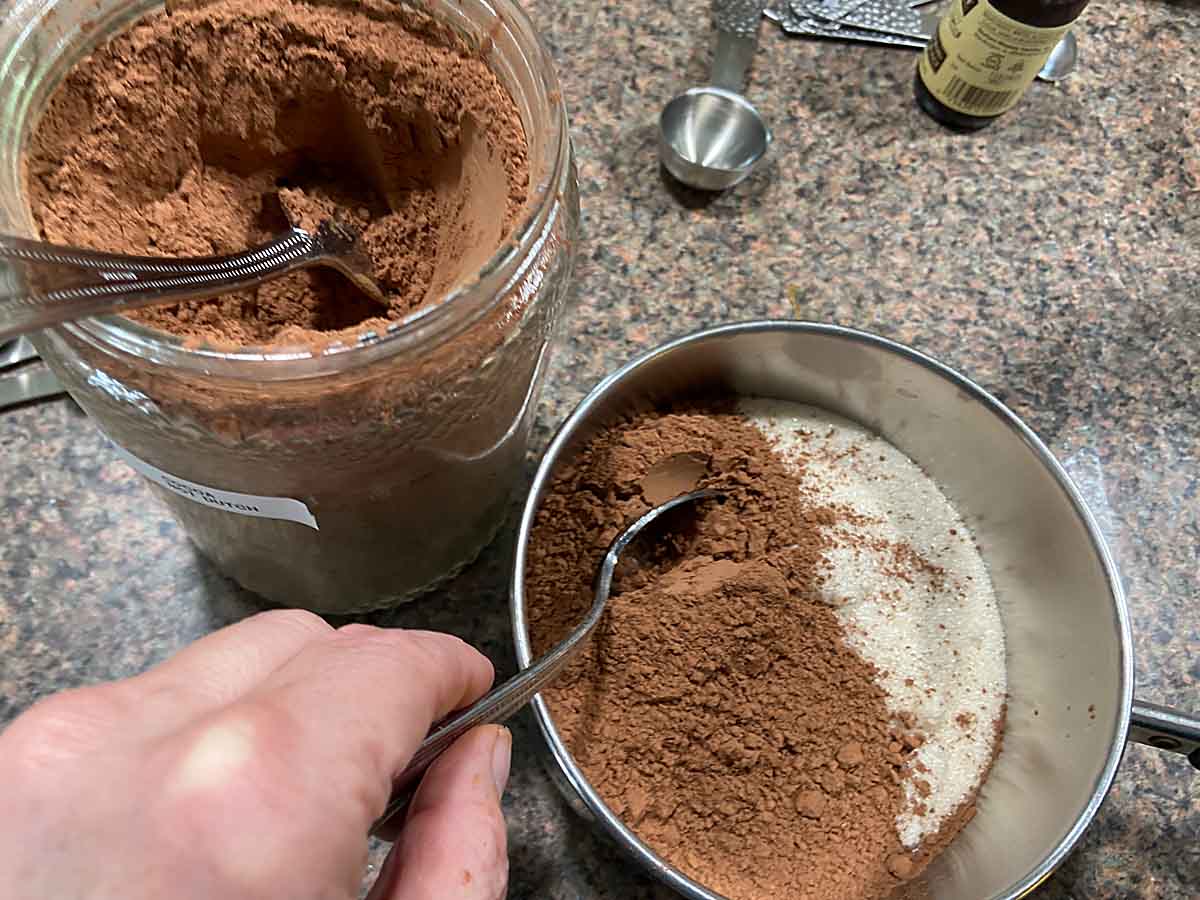 My Experience
I've made homemade chocolate syrup with a variety of different cocoas, Dutch and natural. Though none of mine were bargain cocoas (e.g. not the store brand), I also didn't special order the ultra fine varieties either. And I haven't really hit a bad one.
The first brand I tried was Hershey's Cocoa (this is a natural cocoa powder) and my reaction was that it tasted a lot like Hershey's syrup. So purely from a nostalgia experience—plus availability, this is a good option.
Bottom line—I recommend that you start with whatever you have. Then if you want to be a chocolate syrup connoisseur, branch out and experiment. Give me updates if you do!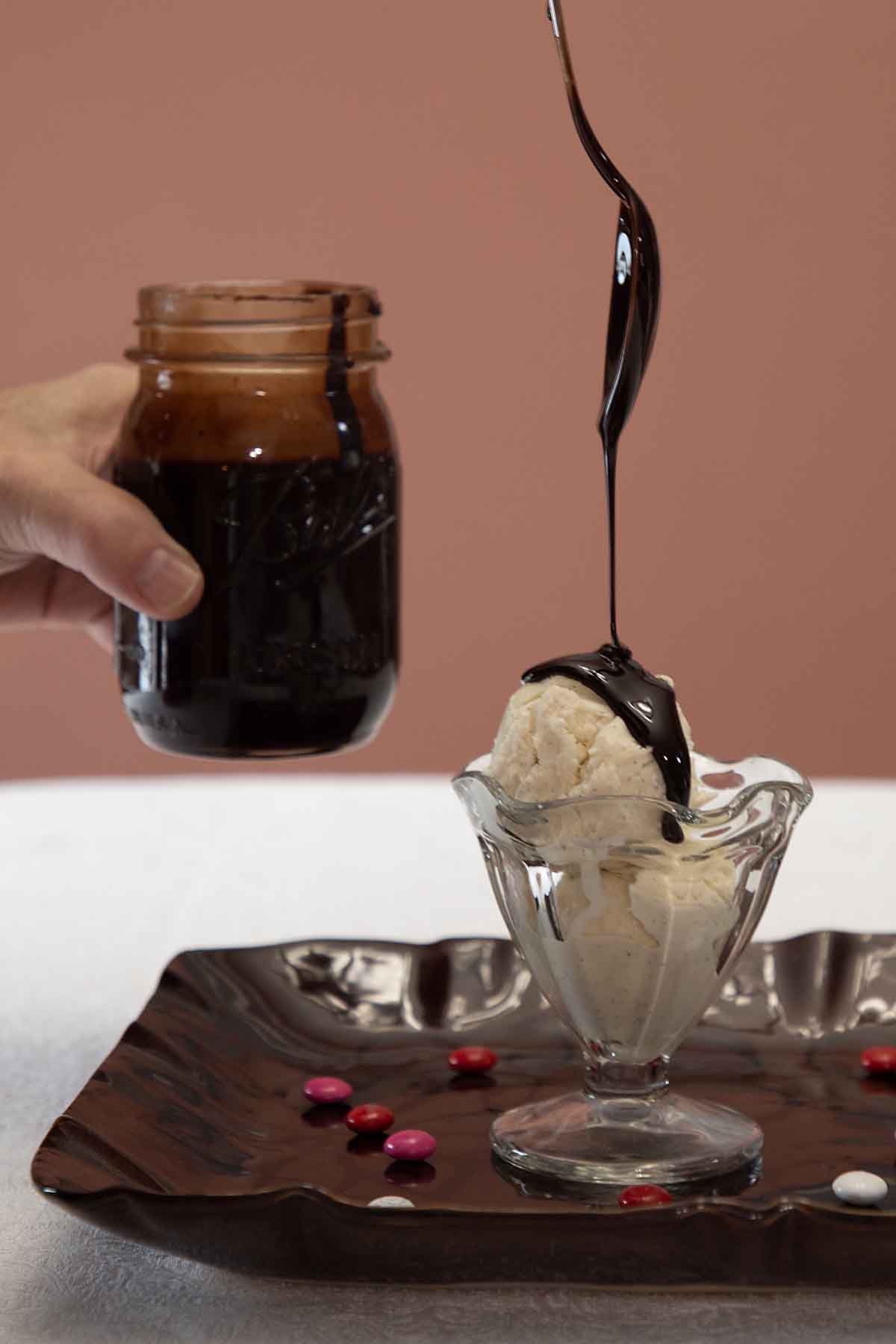 Step by Step Directions
The directions, at least, are easy! First mix (or sift per one of my readers) together the sugar, salt and cocoa powder (this helps eliminate lumps)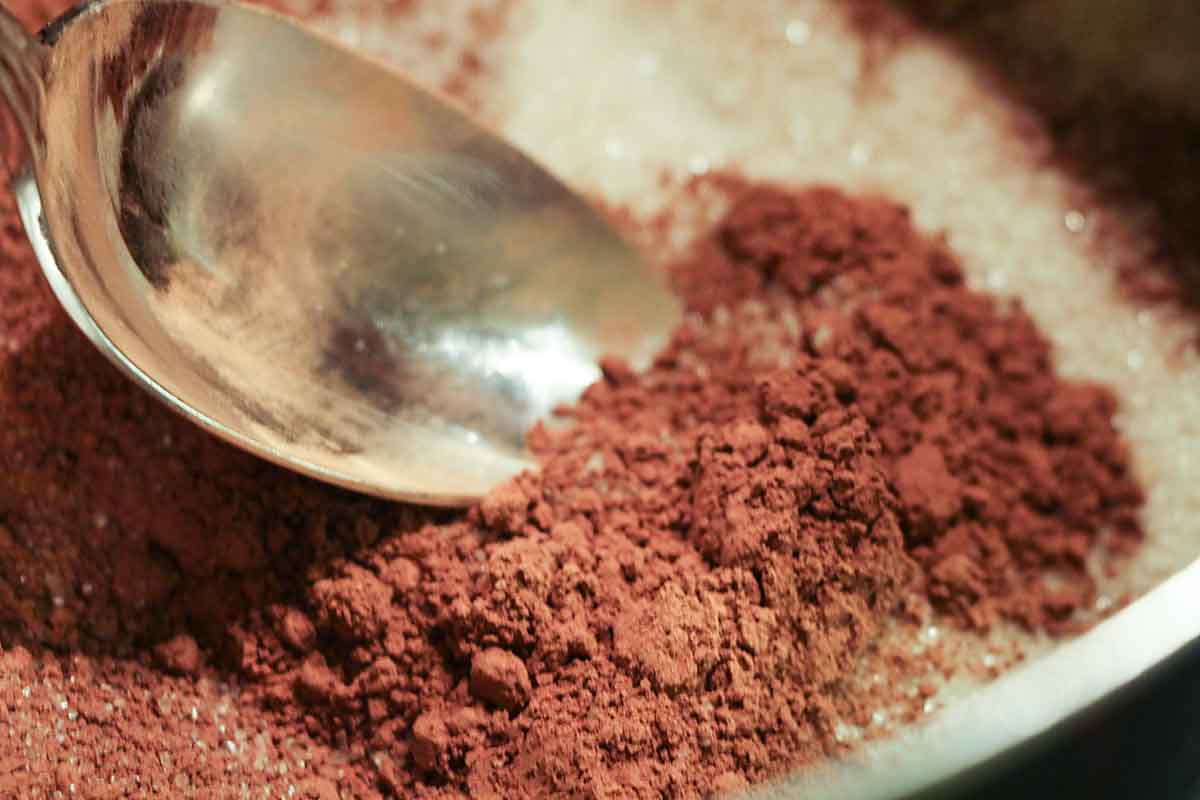 Whisk in the water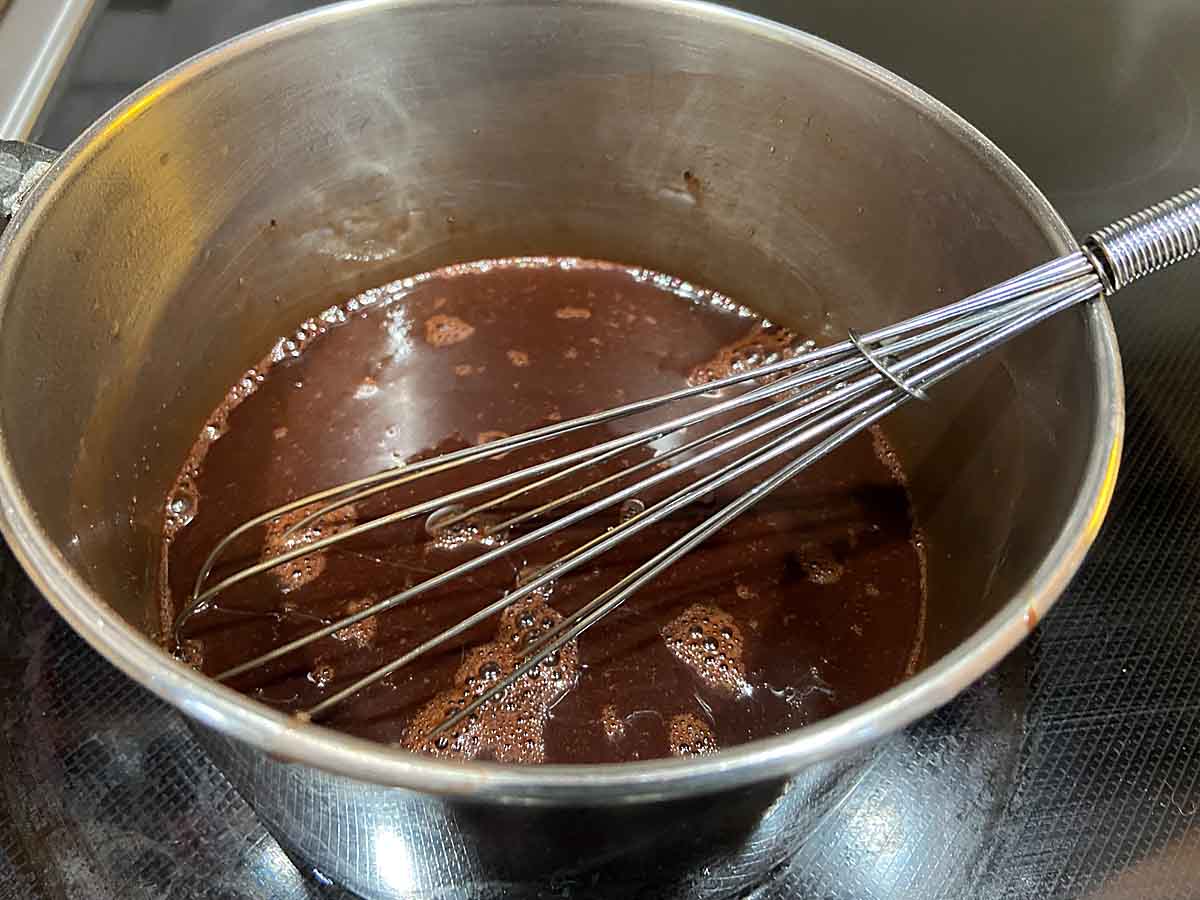 Bring to a boil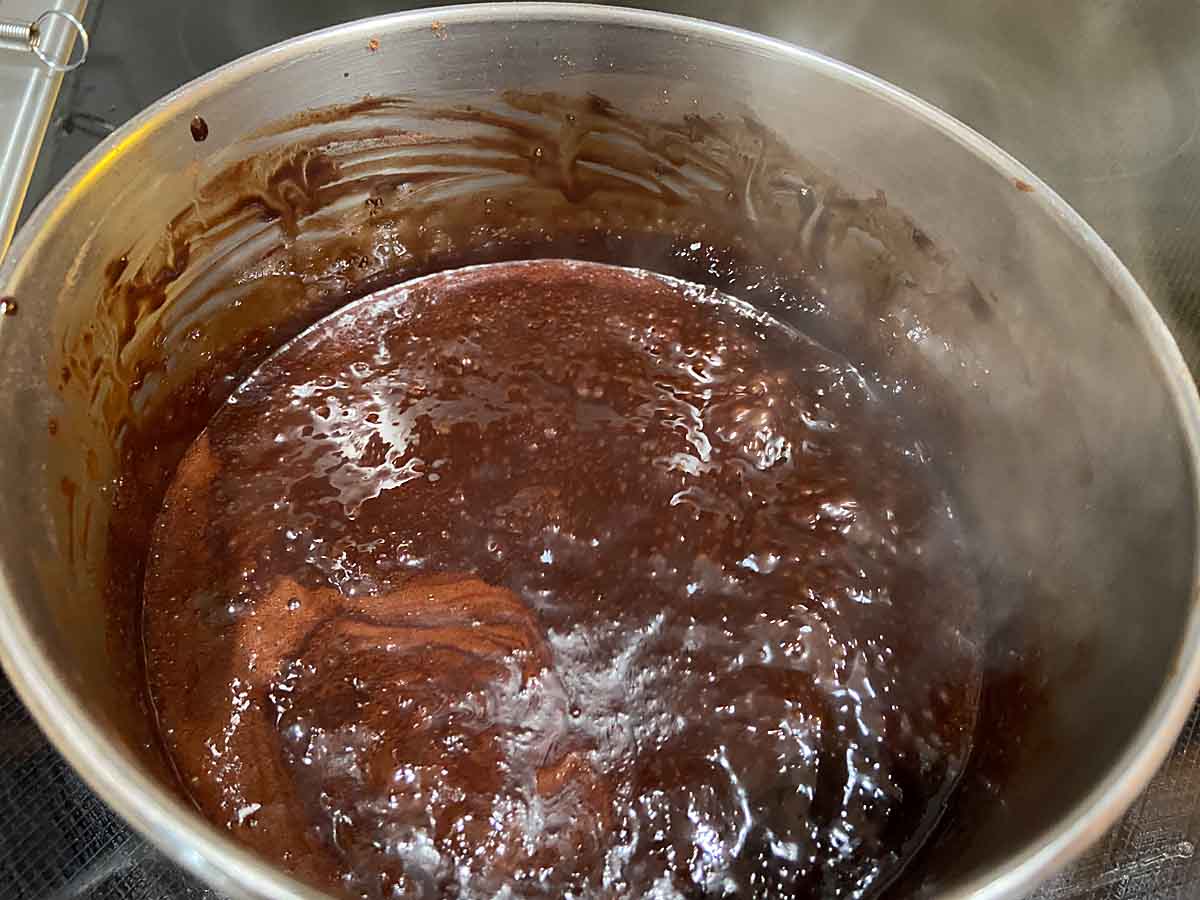 Add vanilla, cool and enjoy!
Chocolate Syrup vs (Hot) Fudge Sauce
Did you ever wonder what the difference is between chocolate syrup (aka chocolate sauce) and (hot) fudge sauce? When I think of chocolate syrup, I think of the Hershey's syrup that I devoured as a kid.
Now hot fudge sauce is similar but thicker and richer due to the addition of butter and cream (and sometimes chocolate chips and sweetened condensed milk). This means that, besides an even richer flavor, it stays thick when you heat it.
Hot fudge sauce is perfect if you are making a hot fudge sundae. But it isn't going to stir smoothly into a cold glass of milk or work in all of the ideas listed below. Bottom line? Chocolate syrup is your more versatile chocolate condiment.
And if you may be serving someone who is vegan or dairy-free, note that this is a dairy-free, vegan chocolate syrup!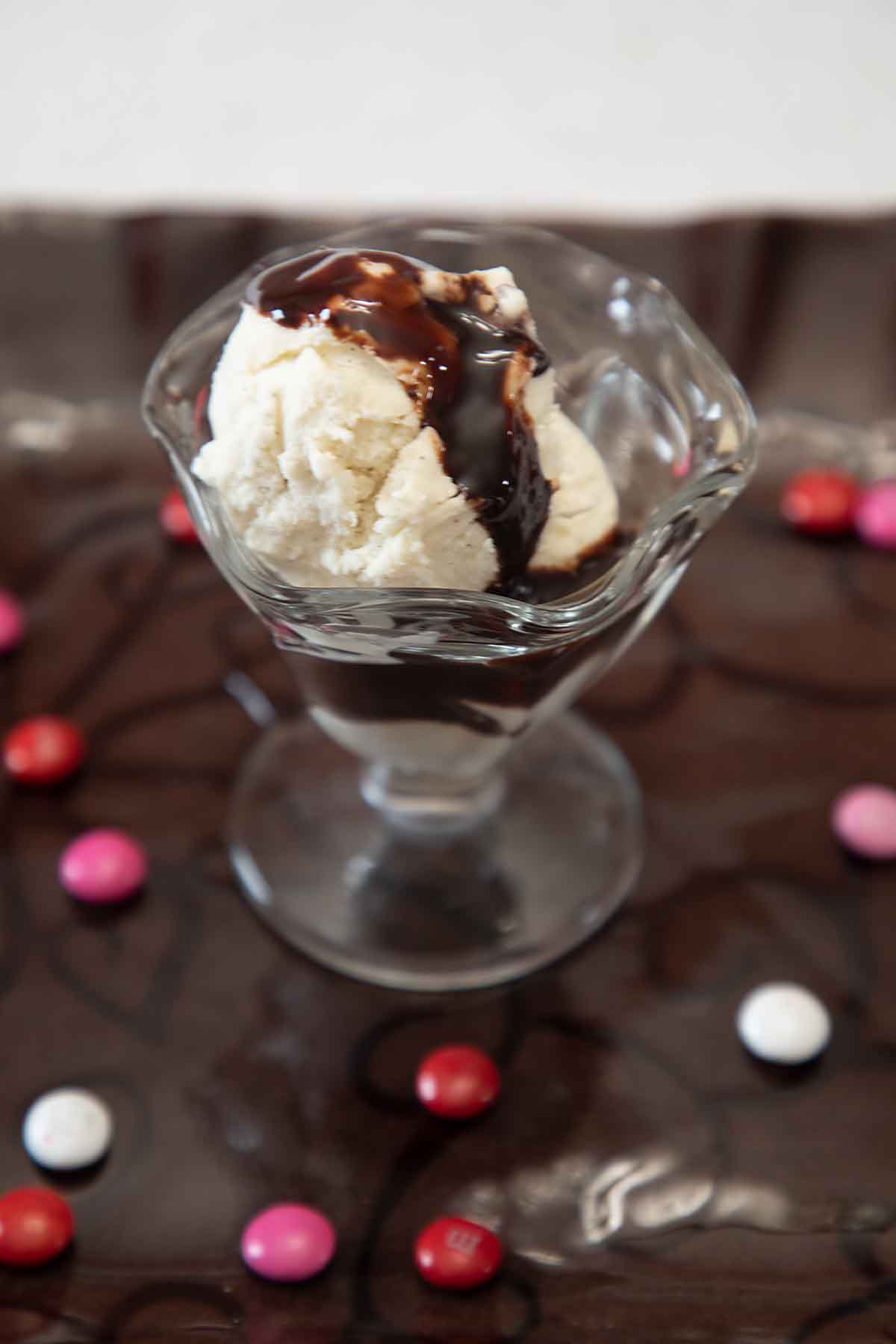 Fun Uses for Chocolate Syrup
Of course, once you've made your cocoa the real fun begins! You can:
Add it to cold milk for instant chocolate milk
Treat it as a hot chocolate syrup by adding it to warm milk (though go with this hot cocoa recipe if time permits)
Turn your coffee into a mocha
Drizzle chocolate swirls onto a plate and top with dessert to create a fancy presentation
Use it as a chocolate sauce for ice cream to create a sundae
Mix it into vanilla ice cream for a DIY chocolate ice cream
Play "malt shop" by making an old-fashioned chocolate ice cream soda
Keep up the malt shop theme with a chocolate malt or shake
Use it on dessert crepes or pancakes
Drizzle pound cake or angel food cake
Dip fruit
Of course I'm sure there are more… Tell me what I've missed in the comments!
More Chocolate Recipes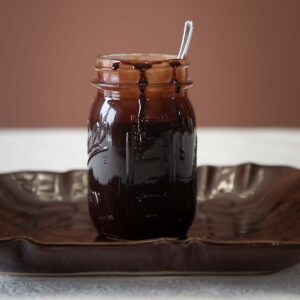 Homemade Chocolate Syrup
A 5-ingredient recipe that's easy, tasty and fun, you'll wonder why you didn't make homemade chocolate syrup ages ago! 
Ingredients
1

c

water

1 1/2

c

sugar

1

c

cocoa

1

t

vanilla

Pinch

of salt
Instructions
Mix together sugar, salt and cocoa.

Whisk in water and bring to a boil whisking to elimiate any lumps. Simmer about a minute. Remove from heat and stir in vanilla.

Cool and store in refrigerator.
Notes
This makes about a pint. Serving size is 1 ounce (2 Tablespoons).
Nutrition
Serving:
2
Tablespoons
Calories:
85
kcal
Carbohydrates:
22
g
Protein:
1
g
Fat:
1
g
Saturated Fat:
0.4
g
Polyunsaturated Fat:
0.02
g
Monounsaturated Fat:
0.2
g
Sodium:
2
mg
Potassium:
82
mg
Fiber:
2
g
Sugar:
19
g
Calcium:
8
mg
Iron:
1
mg
I am not a health professional and nutrition data is calculated programatically. Accuracy may vary with product selection, calculator accuracy, etc. Consult a professional for the best information.