Old Fashioned Chocolate Ice Cream Soda
Enjoy a creamy, flavorful chocolate ice cream soda–made with ice cream, syrup and club soda. Great as a beverage, snack or dessert.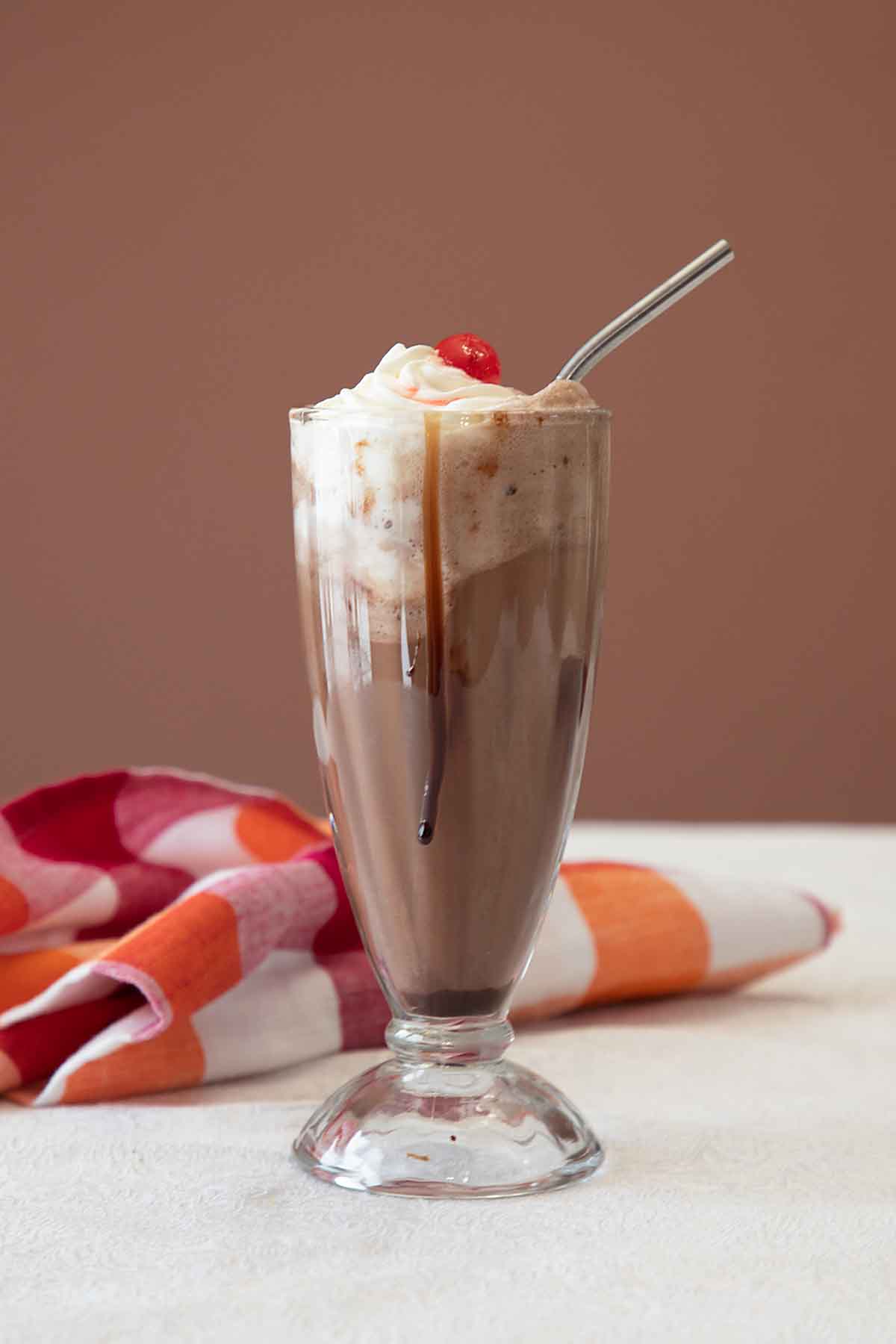 Is a Chocolate Ice Cream Soda romantic? It is if you share one with your sweetie using two straws! And for those who grew up eating them, it may also be nostalgic. And for almost everyone, it's delicious!
I had my first ice cream soda at a genuine ice cream parlor. It was in the small Iowa town of Wilton, where my grandparents were born, then lived in retirement. As a child, my father spent summers there, when his teacher father and mother returned to help out on the family farm.
And I believe that my recipe must have come from there, since it was my father who taught me how to make them.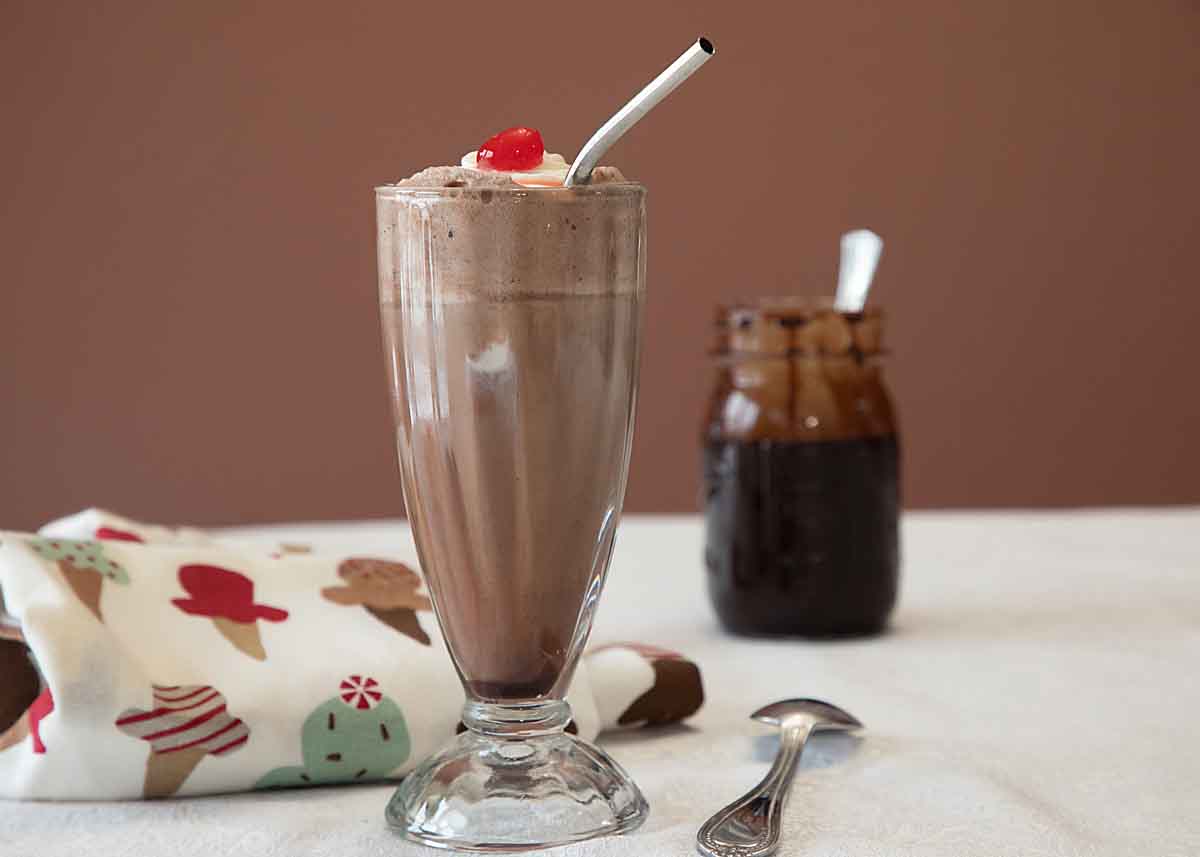 What is an Ice Cream Soda
Per Merriam-Webster online dictionary, the ice cream soda is "is a sweet food drink of soda water, flavored syrup, and ice cream." The term chocolate soda usually refers to a chocolate ice cream soda as well. Of course chocolate syrup isn't required. You can change up the flavor by varying the syrup.
The sweet beverage is made by roughly mixing chocolate (or another) syrup and ice cream, topping with club soda, then adding a scoop of ice cream.
The ice cream soda is very closely related to an ice cream float, except with a float, the flavor is already mixed into the soda. So a root beer float has two ingredients, root beer and ice cream.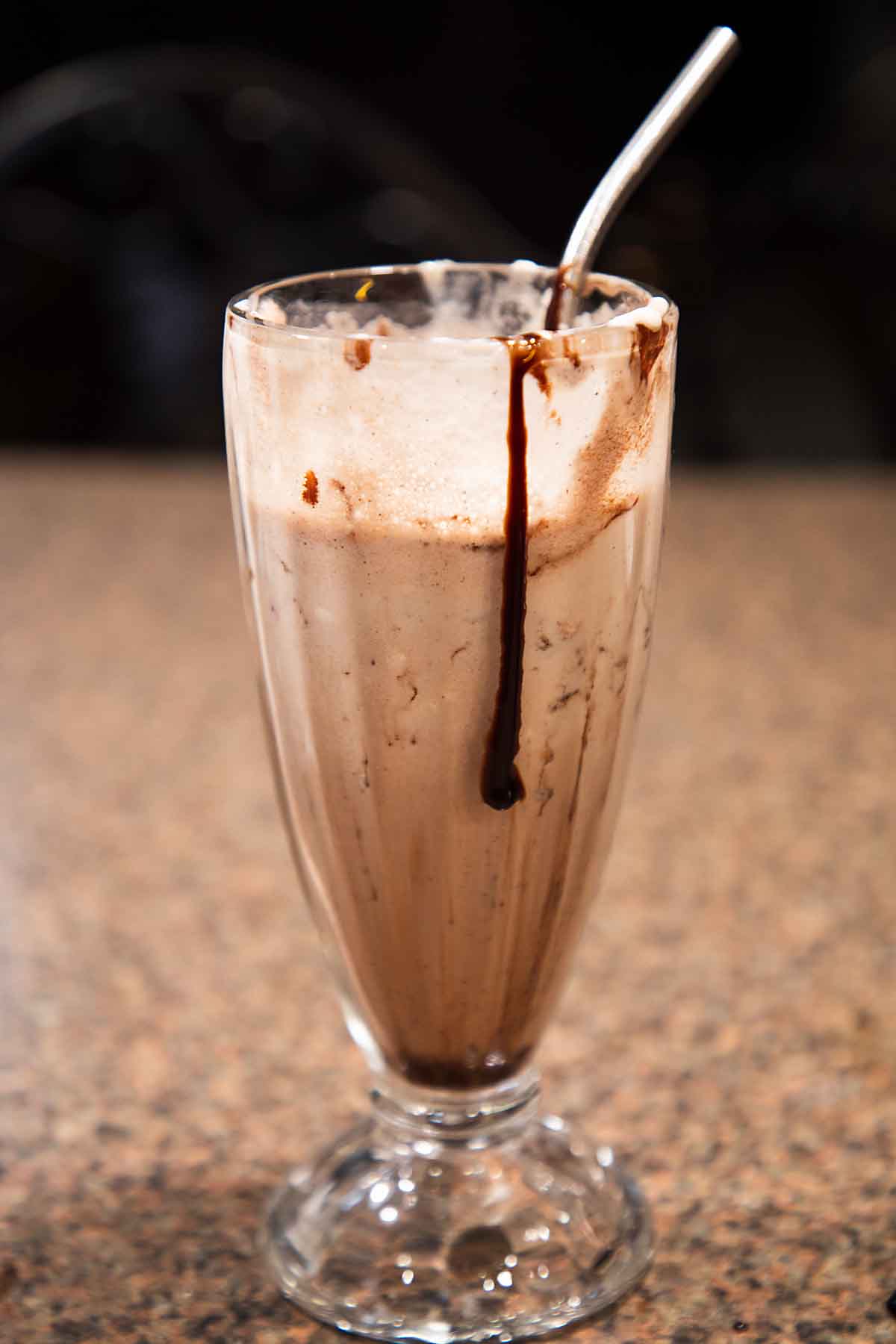 What Makes This a Winner
A chocolate ice cream soda is:
Tasty. Cold, sweet, creamy and chocolatey, this drink has over the top flavor! It is best eaten with both a spoon and a straw for two different taste sensations! The straw delivers a slightly creamy, chocolate soda and the spoon gives you a uniquely flavored, light ice cream!
Fun. With great taste and a malt shop vibe, how can you not have fun drinking this!
Lighter. Want a decadent ice cream beverage that won't break the calorie bank, or leave you stuffed? The club soda portion of this is light and calorie free, so forget the shake or malt and go with a chocolate ice cream soda!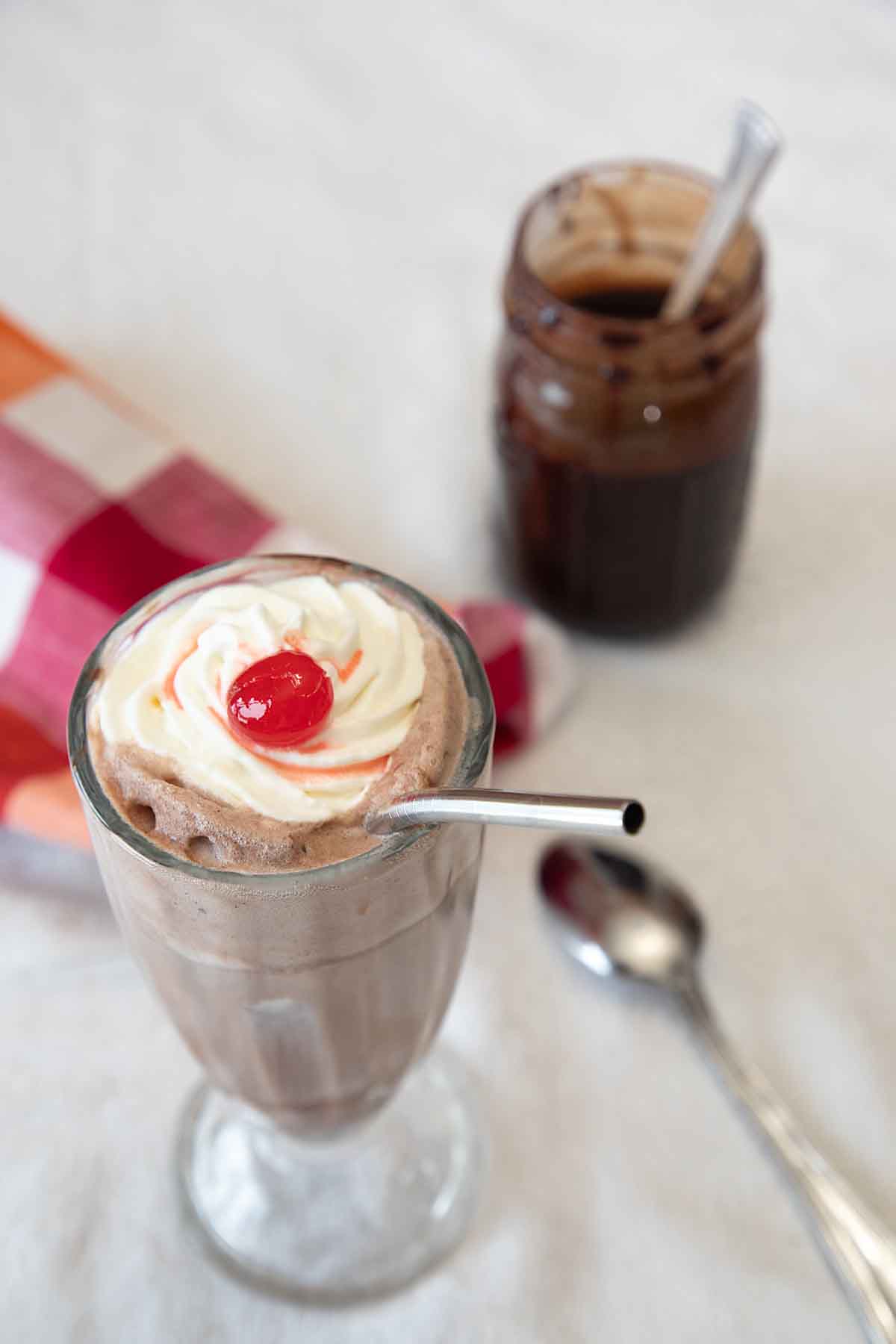 What You'll Need:
Ingredients
Chocolate syrup. Hershey's is a classic or make your own (no corn syrup!)
Ice Cream. Any decent vanilla ice cream will do!
Club Soda. My favorite since the minerals add a hint of flavor but you can also use homemade fizzy water like from a SodaStream.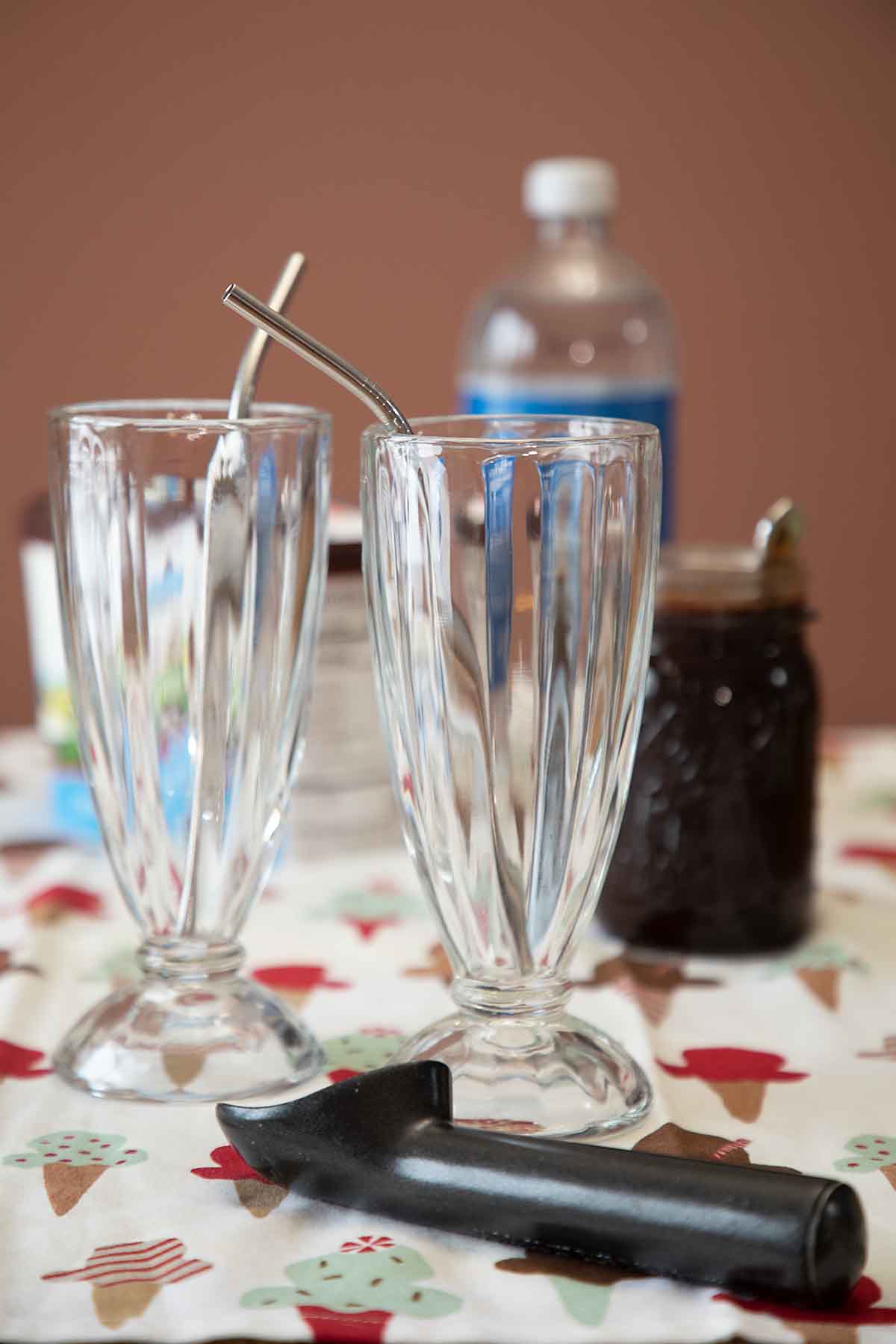 Special Tools
Special ice cream glasses can be fun but are not necessary. In fact, my first choice is usually a 16 ounce glass so I can have a bigger soda!
An insulated ice cream scoop is a nice-to-have. This can make scooping ice cream easier! And once the family hears you are making sodas, you may end up scooping a lot!
Step by Step Directions
First pour in some chocolate syrup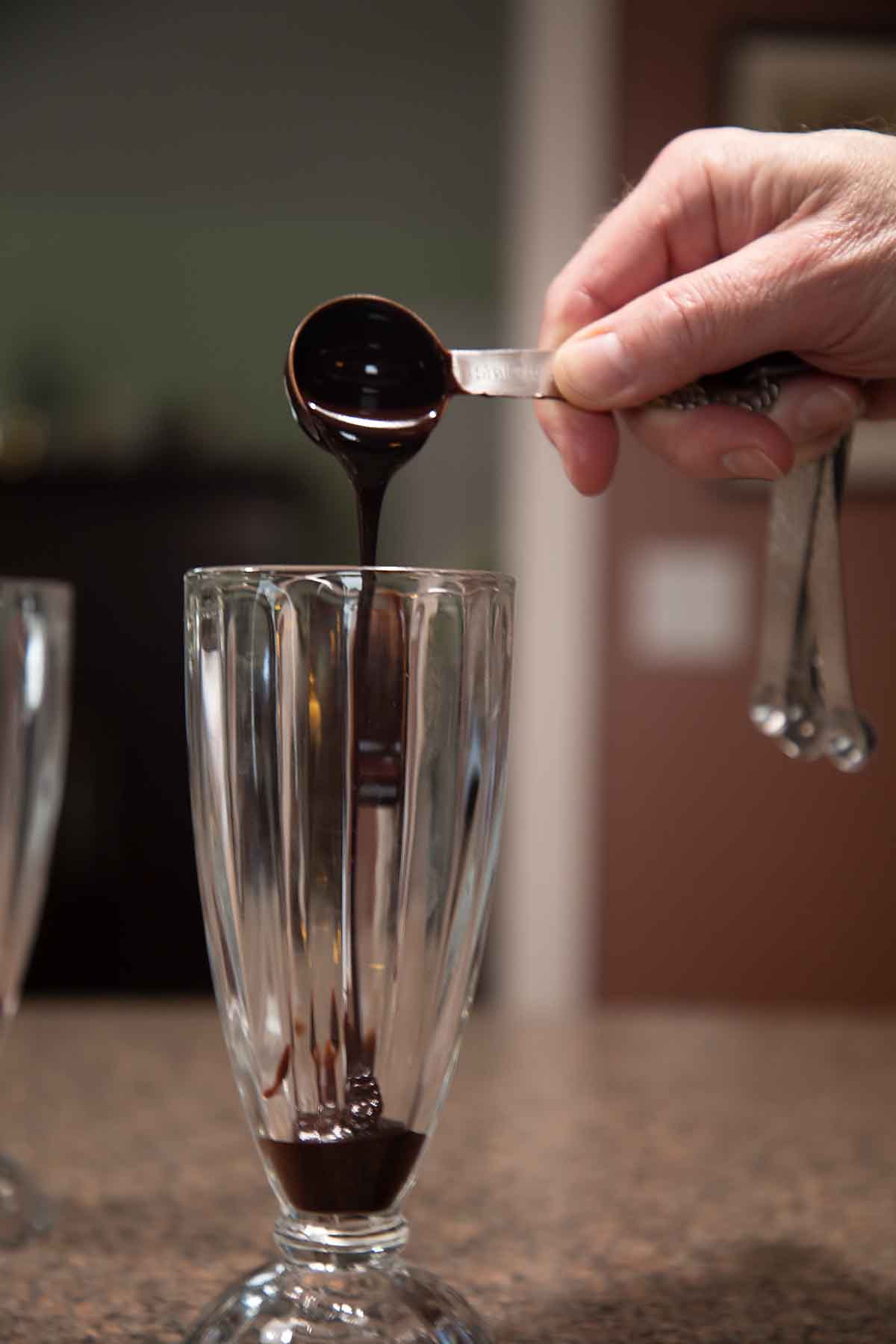 Roughly mix syrup with some ice cream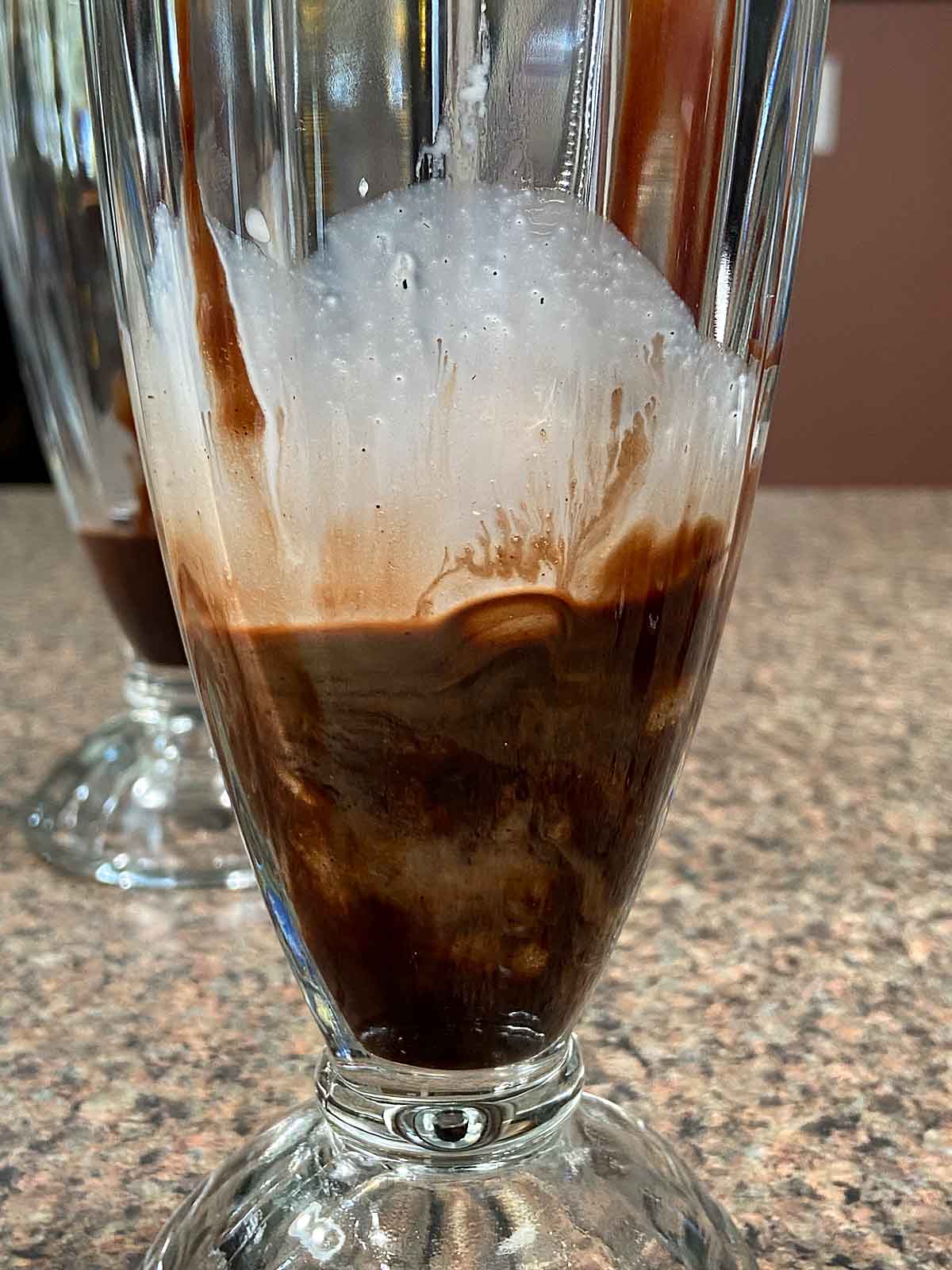 Top with club soda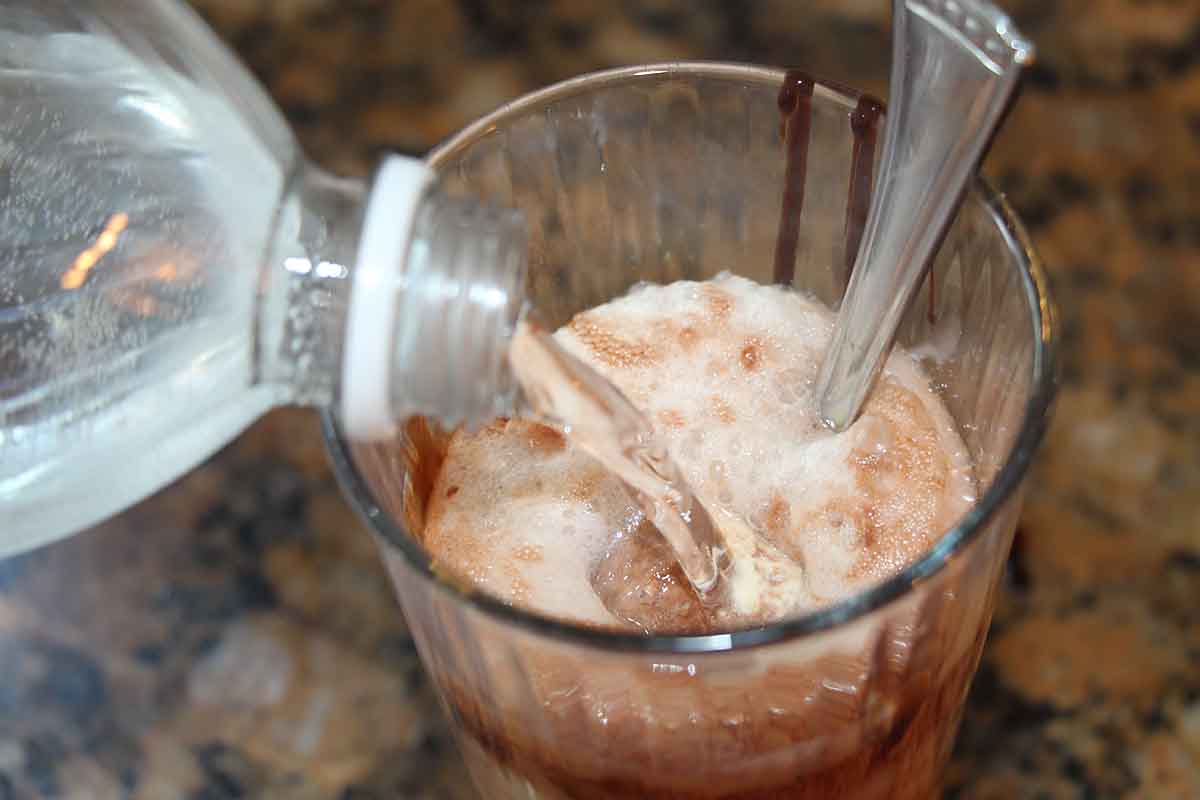 Add a scoop of ice cream
Garnish with whipped cream and cherry if desired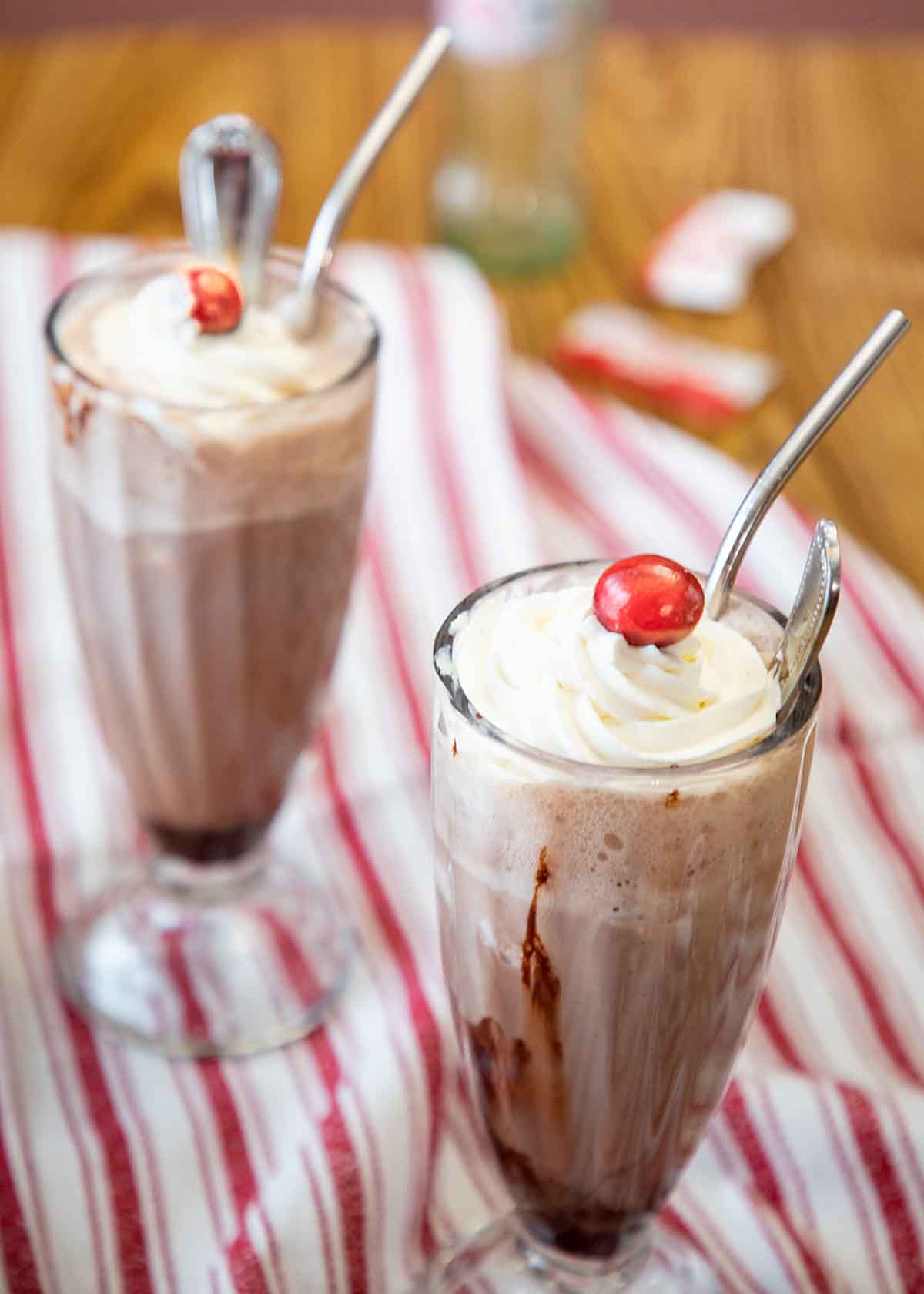 How to Serve
This can be served alone as a snack, as a beverage accompanying a meal, or as dessert.
It is often topped with whipped cream and a cherry.
It should be served with both a straw and a spoon. A red and white straw is cute and matches the cherry but I now use reusable metal straws!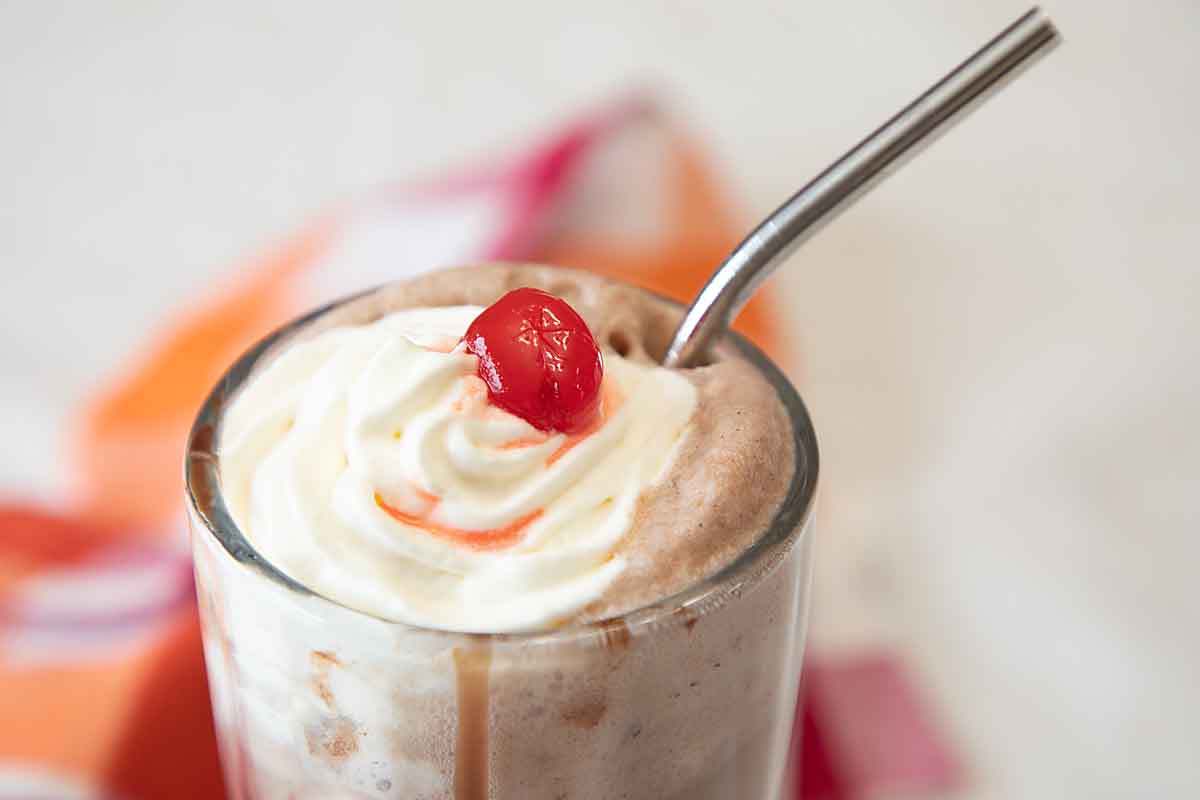 Origin
The old fashioned ice cream soda has been around for over a century and is generally attributed to Robert Green, a soda fountain operator who began serving them at an 1874 centennial celebration. Prior to this time, a similar drink existed, but made with cream instead of ice cream.
Depending on the version of the story, Green either ran out of cream and substituted ice cream, or was trying to create something more impressive to compete with another soda fountain operator. He ended up offering 16 flavors of syrup mixed with vanilla ice cream and soda water. (source: Dr Pepper Museum).
In any case, the drink became a hit with soda fountain patrons and spread rapidly. Per the Dr Pepper Museum, "by 1895 there were more than 50,000 soda fountains in the United States and virtually every one of them was serving ice cream soda. With more than sixty syrup flavors available, there was a taste to satisfy every taste bud."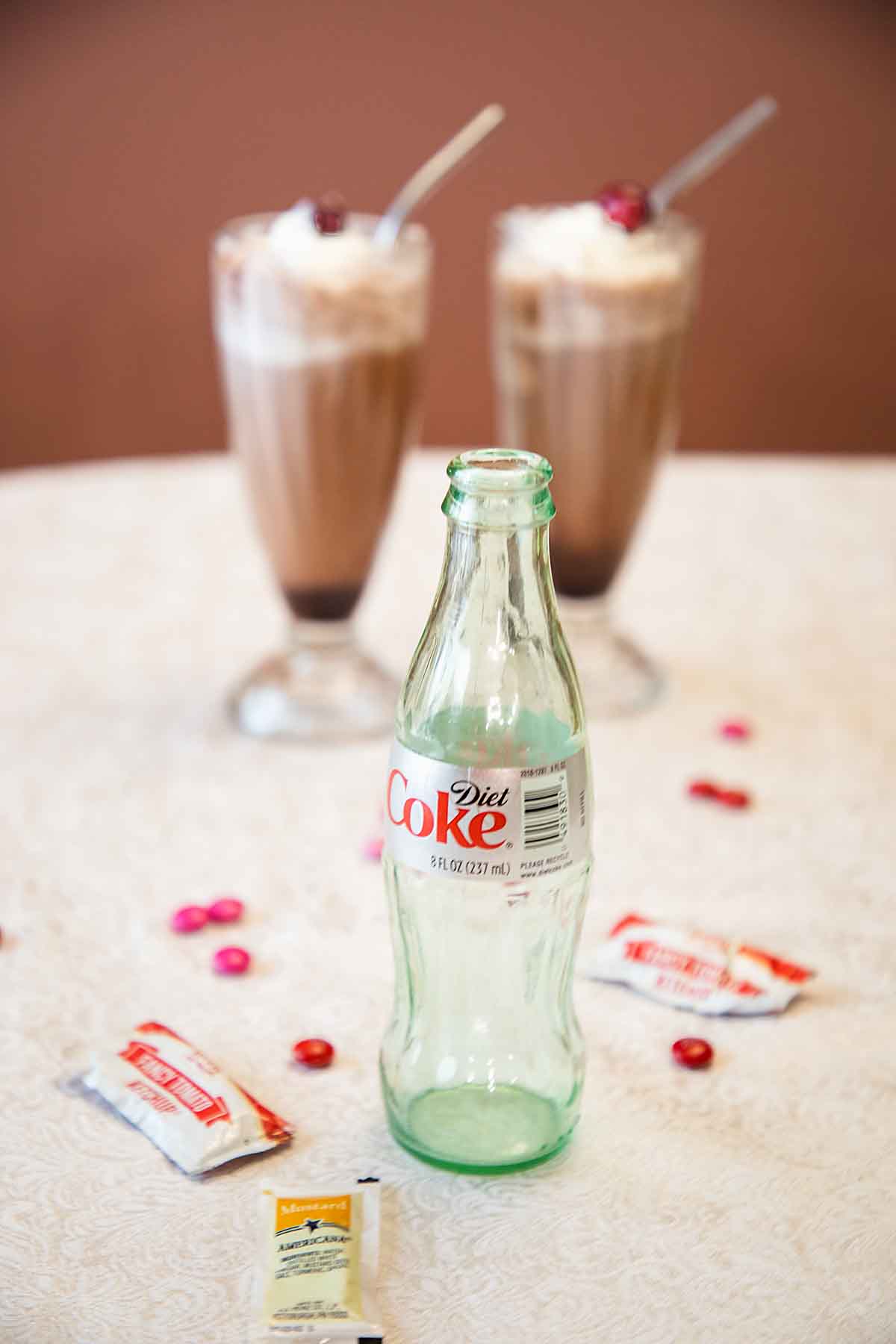 Historic Soda Fountains
If you want to sample a chocolate ice cream soda at a genuine soda fountain, it isn't quite as easy to do anymore. But Scooby and Shaggy managed to find a malt shop to hang out at and you may too with this list from Taste of Home.
I had my taste many years ago at The Candy Kitchen, the ice cream parlor in Wilton, Iowa where my grandparents lived. Established in 1860 and still open today, they served up parlor drinks like a Green River or Dipsy Doodle. But our favorite was their chocolate ice cream soda—made with homemade ice cream and chocolate syrup.
My next genuine ice cream parlor was Wilson's, established in 1906 in Ephraim, WI and open summers today. They have a juke box that still works (at least some of the time), loads of ambiance and delicious ice cream sodas and chocolate malts!
Or just make your own at home!
Variations
Although you'd be hard pressed today to find 60 flavors of syrup like you could in the 1890s, you can change the flavor of these just by changing up your syrup flavor. How easy is that!
I do a cherry ice cream soda, using antioxidant-loaded organic cherry concentrate. That might ease any guilt a little!
And I make a diet chocolate soda as well!
Tips and FAQs
June 20 is National Ice Cream Soda Day. Mark your calendar!
Use refrigerated club soda if possible, to reduce the foaming. If it's warm and you just can't wait, go ahead—but pour slowly!
And if you're still hungry for great chocolate recipes, take a look at more great ideas from my blogging friends!
More Chocolate Recipes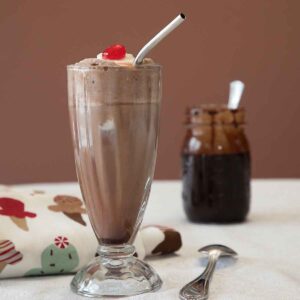 Chocolate Ice Cream Soda
Enjoy a creamy, flavorful chocolate ice cream soda--made with ice cream, syrup and club soda. Great as a beverage, snack or dessert. 
Ingredients
3

Tablespoons

chocolate syrup

2/3

cup

vanilla ice cream

1

cup

club soda

approximate

whipped cream, cherry

optional
Instructions
Put about 3 tablespoons of chocolate syrup in the bottom of a 16 ounce glass.

Add a scoop of ice cream (about 1/3 c) and mix the two together until chunkily blended.

Pour in about 8 ounces of club soda. Add it slowly so it doesn't fizz up over the top of the glass. Be sure to leave room to add a scoop of ice cream (and whipped cream if using)

Top it off with another scoop of ice cream. Optionally garnish with whipped cream and a cherry. Serve with both a spoon and a straw.

Nutrition
Calories:
350
kcal
Carbohydrates:
60
g
Protein:
4
g
Fat:
10
g
Saturated Fat:
6
g
Polyunsaturated Fat:
0.4
g
Monounsaturated Fat:
3
g
Cholesterol:
39
mg
Sodium:
163
mg
Potassium:
314
mg
Fiber:
2
g
Sugar:
48
g
Vitamin A:
370
IU
Vitamin C:
1
mg
Calcium:
133
mg
Iron:
1
mg
I am not a health professional and nutrition data is calculated programatically. Accuracy may vary with product selection, calculator accuracy, etc. Consult a professional for the best information.