Baileys Chocolate Martini
Sweet, creamy and chocolatey, this Baileys Chocolate Martini is a perfect Valentine's Day Cocktail. Or dessert or after dinner drink!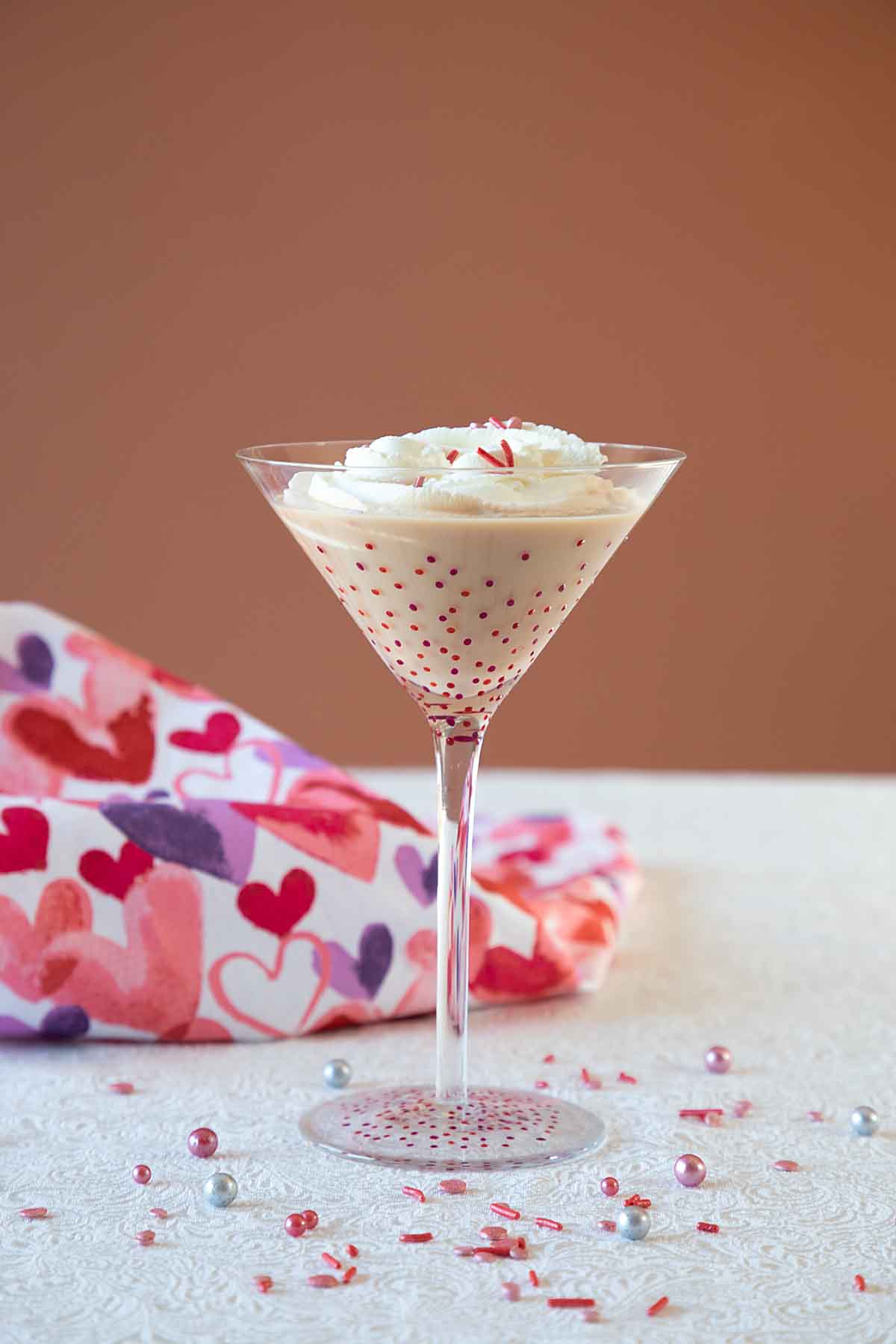 When my blogging friends decided to share sweet treats and alcoholic beverages for Valentine's Day, I knew which option I was picking. Yup, not a question in my mind!
You see, while a sweet dessert is tasty, the same can be said about a sweet martini like this Baileys Chocolate Martini. And it might just be a little more fun.
A Chocolate Martini Bar Story
Now chocolate martinis really came in handy for me a number of years ago. At that time my mother was getting married again–and both families were getting together at my house.
Hmmm, what should I do to break the ice…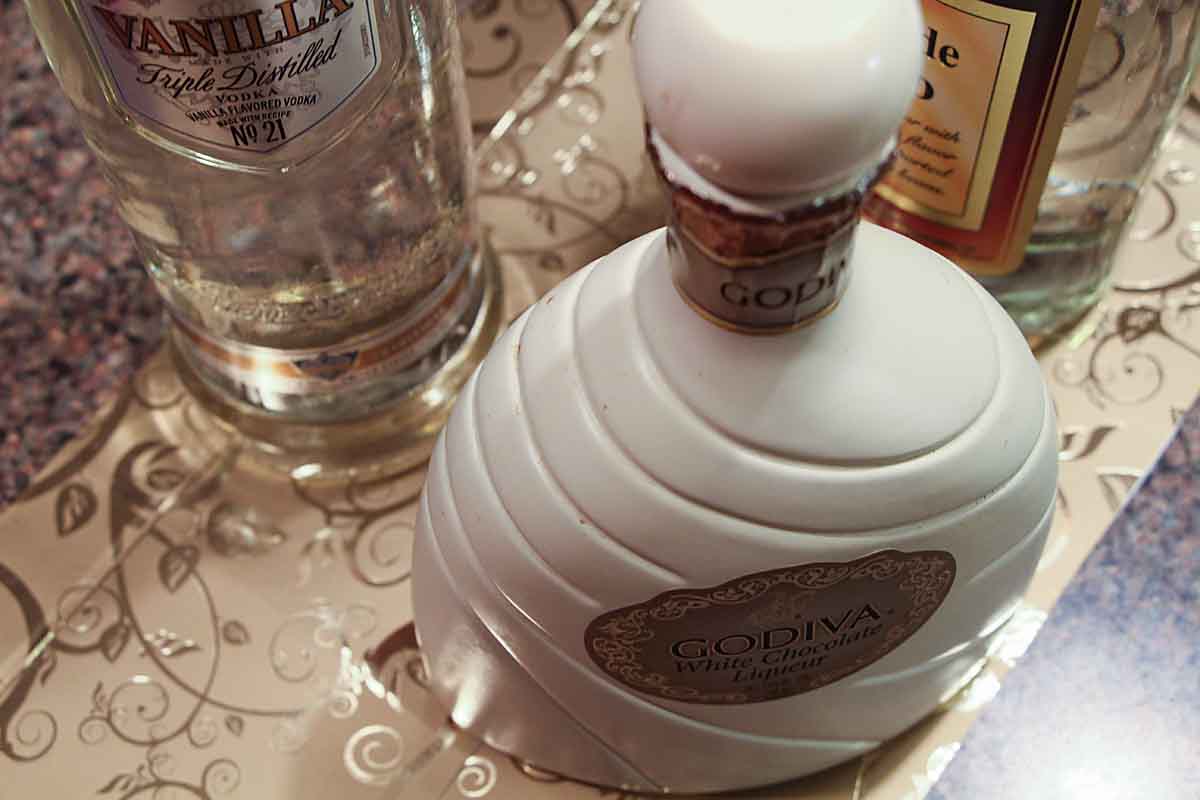 The answer was a chocolate martini bar—white and milk chocolate Godiva liqueur, dark and clear crème de cacao, various flavored vodkas….
Add a beautiful summer evening, some tiki torches, four or five drink recipes and pretty soon everyone was having lots of fun!
Alas this was in my pre-blogging days and the only recipe I saved was a Blizzard White Chocolate Martini.
What is a (Dessert) Martini?
Back in the day, martinis weren't a sweet drink at all. Wikipedia says "The martini is a cocktail made with gin and vermouth, and garnished with an olive or a lemon twist".
Then, later they concede, "Sometimes the term "martini" is used to refer to other mostly-hard-liquor cocktails such as Manhattan, Cosmopolitan, and ad hoc or local concoctions whose only commonality with the drink is the cocktail glass in which they are served."
So I guess anything goes, as long as it's in a martini glass! Though just remember, even a dessert martini should be shaken not stirred.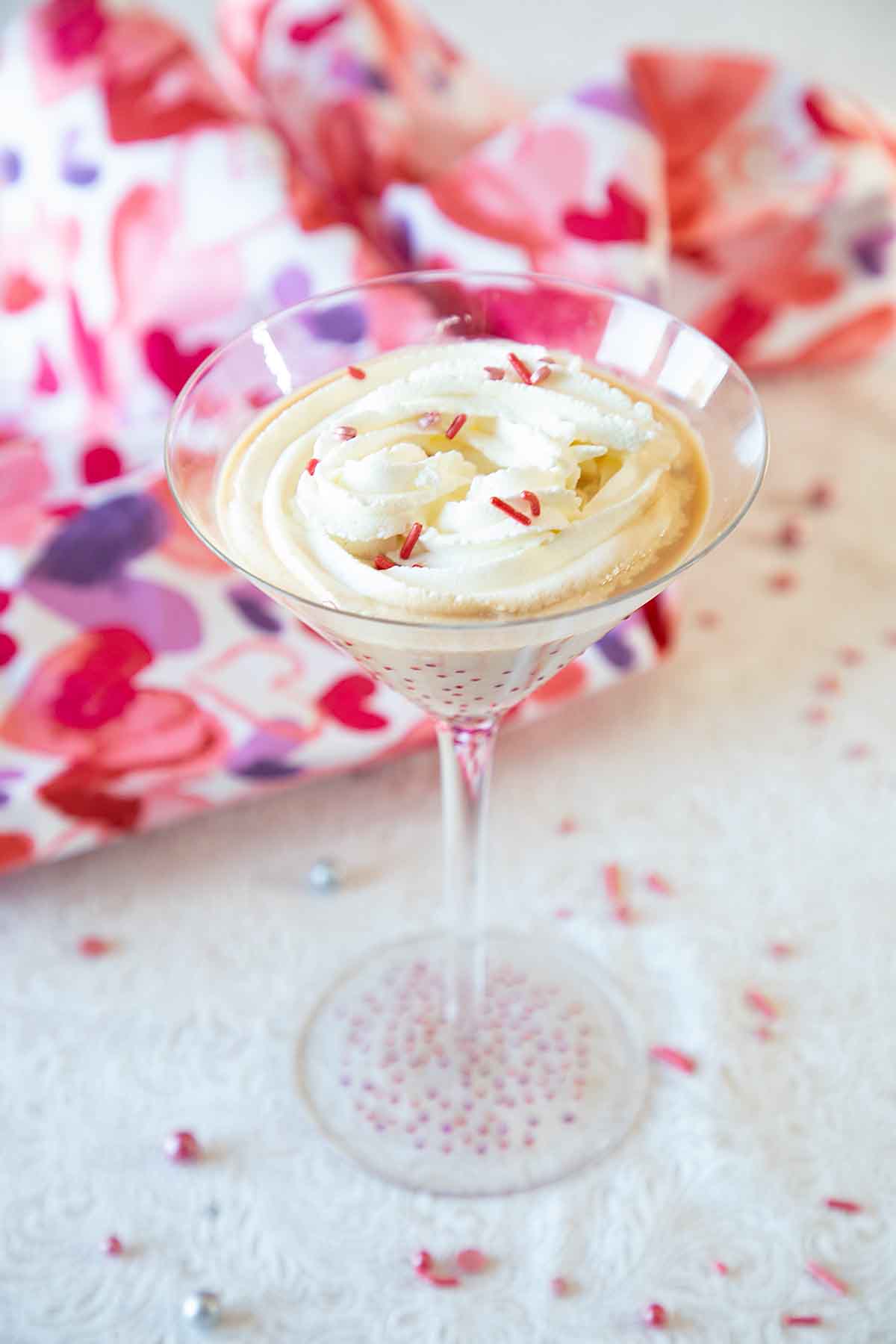 What you'll need
This Baileys Chocolate Martini is a 4-ingredient recipe!
Ingredients
Baileys Irish Cream (or the equivalent). This consists primarily of whisky, chocolate and cream. Think of this as a boozy chocolate milk.
Dark Crème de Cacao (or a Chocolate Liqueur). This adds more alcohol and will boost the sweetness and chocolate notes in the drink.
Half & half or cream. This adds richness, smoothness and cuts the sweetness a bit.
Vanilla. A touch of vanilla is my homage to the vanilla vodka that I omit.
Why I don't use vanilla vodka. There are two reasons. First, I am sensitive to people who may not own it. And second, there is already a full drink's worth of alcohol in this drink (more on this below).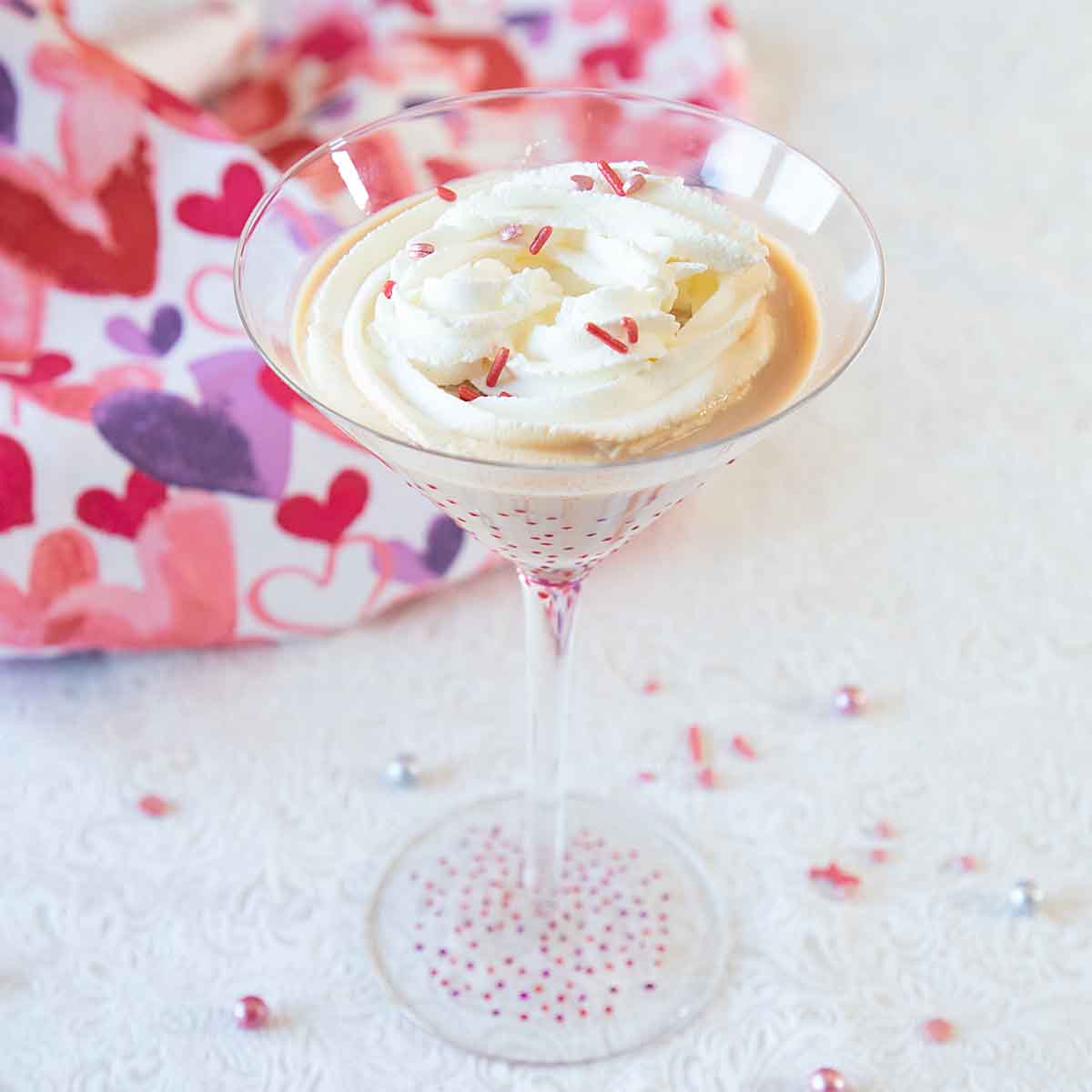 Tools
Cocktail Shaker. It's nice but in lieu of this, just stir and transfer the mixture to another glass leaving the ice behind–it won't get that diluted (but don't tell anyone I told you this)
Martini glass. I like pretty martini glasses. But if you're low on space or serving a crowd, consider stemless martini glasses which are great for martini's but also work for cocktails, dessert and even wine.
Step by Step Directions
Making this Baileys Chocolate Martini is super easy! You fill a shaker halfway with ice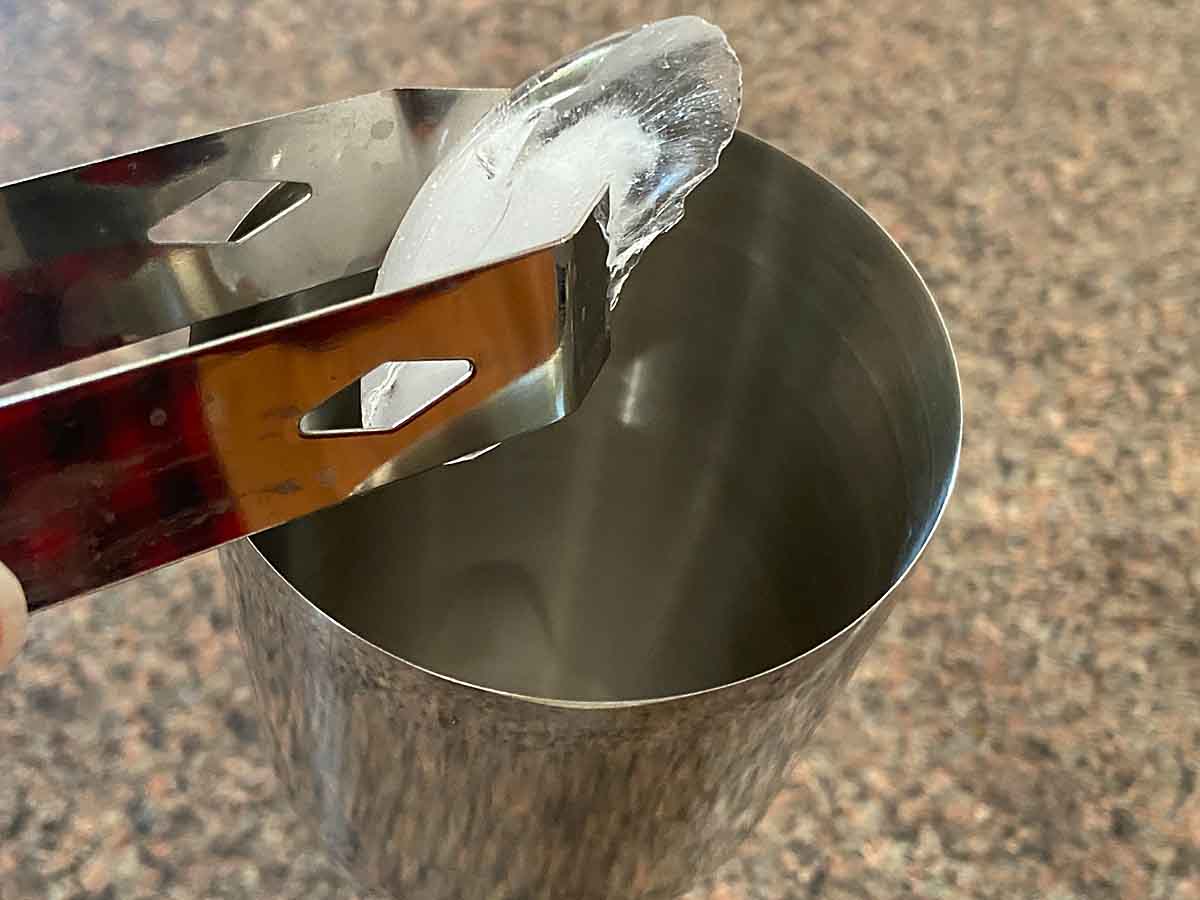 Add ingredients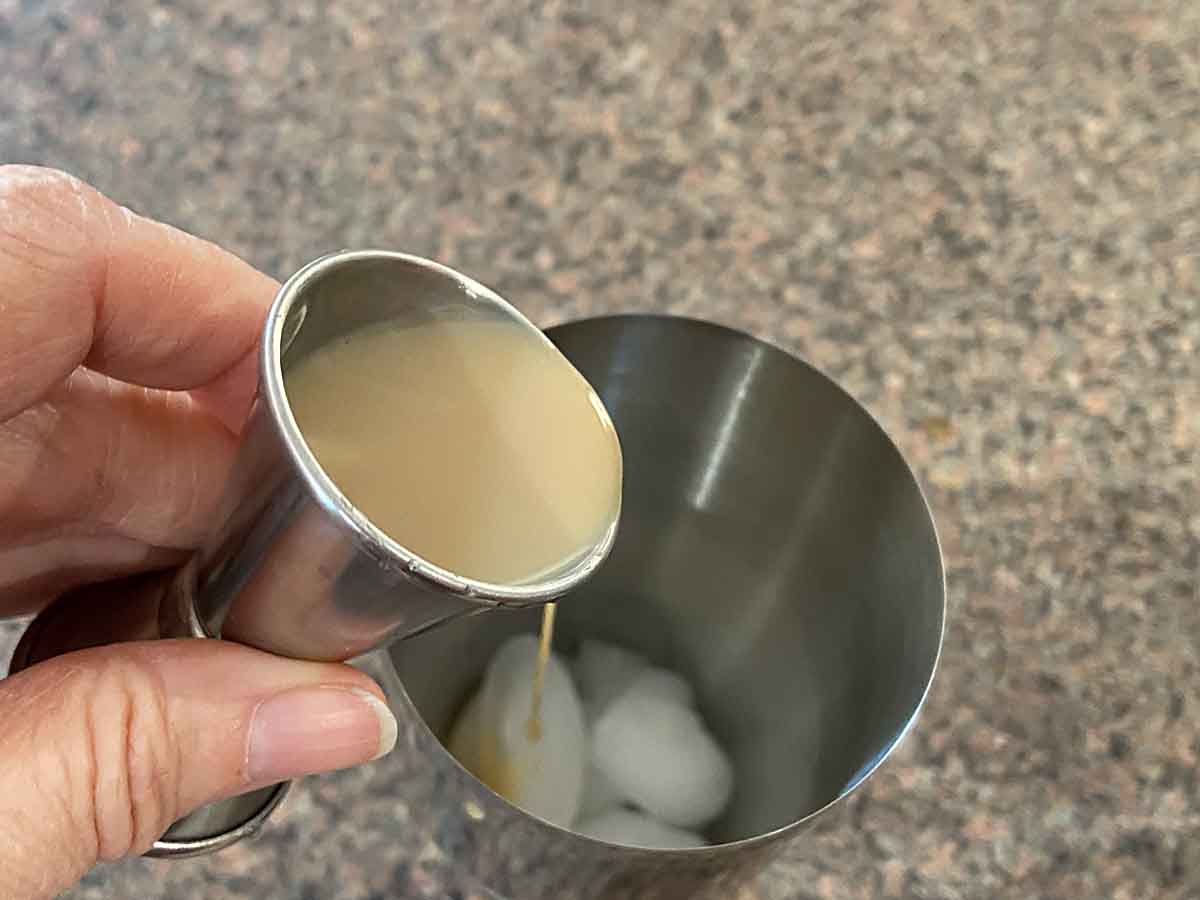 Cover and Shake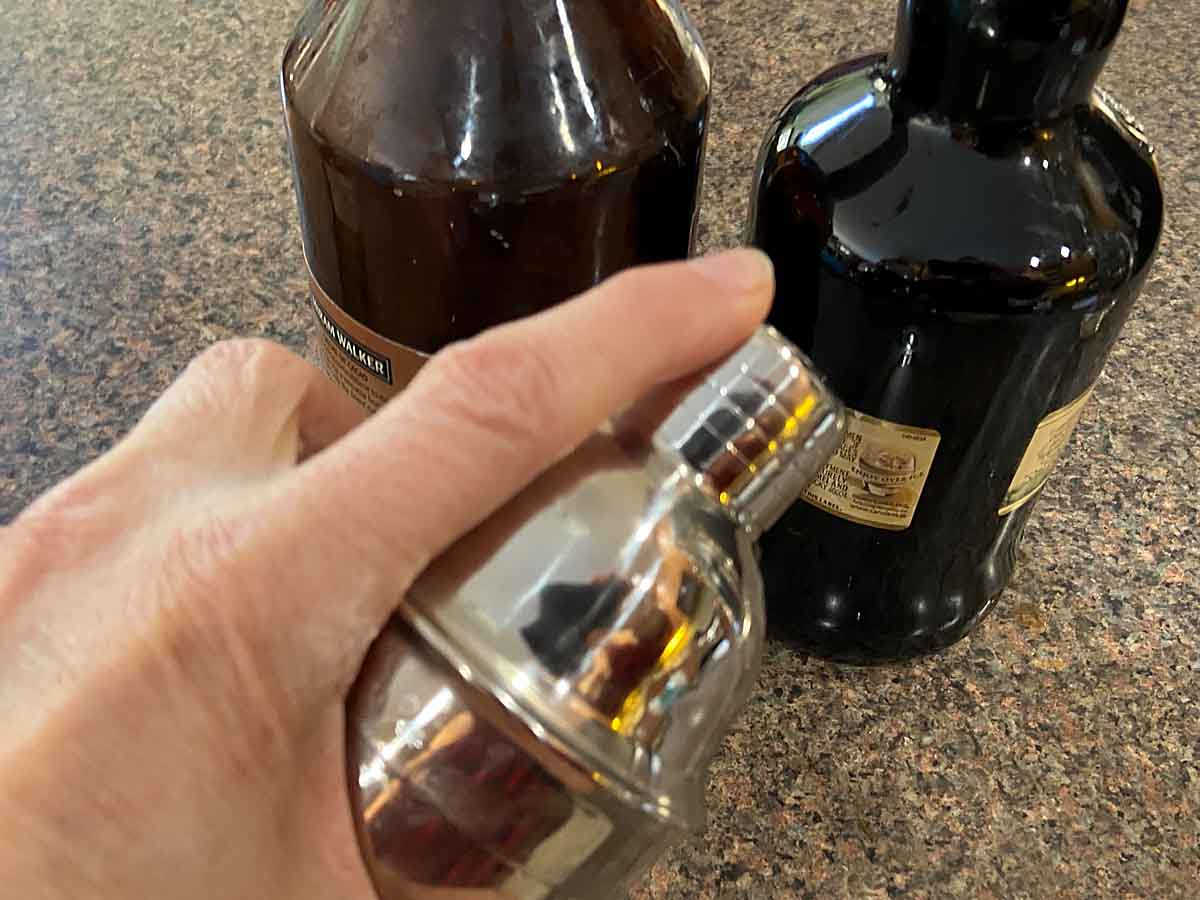 Pour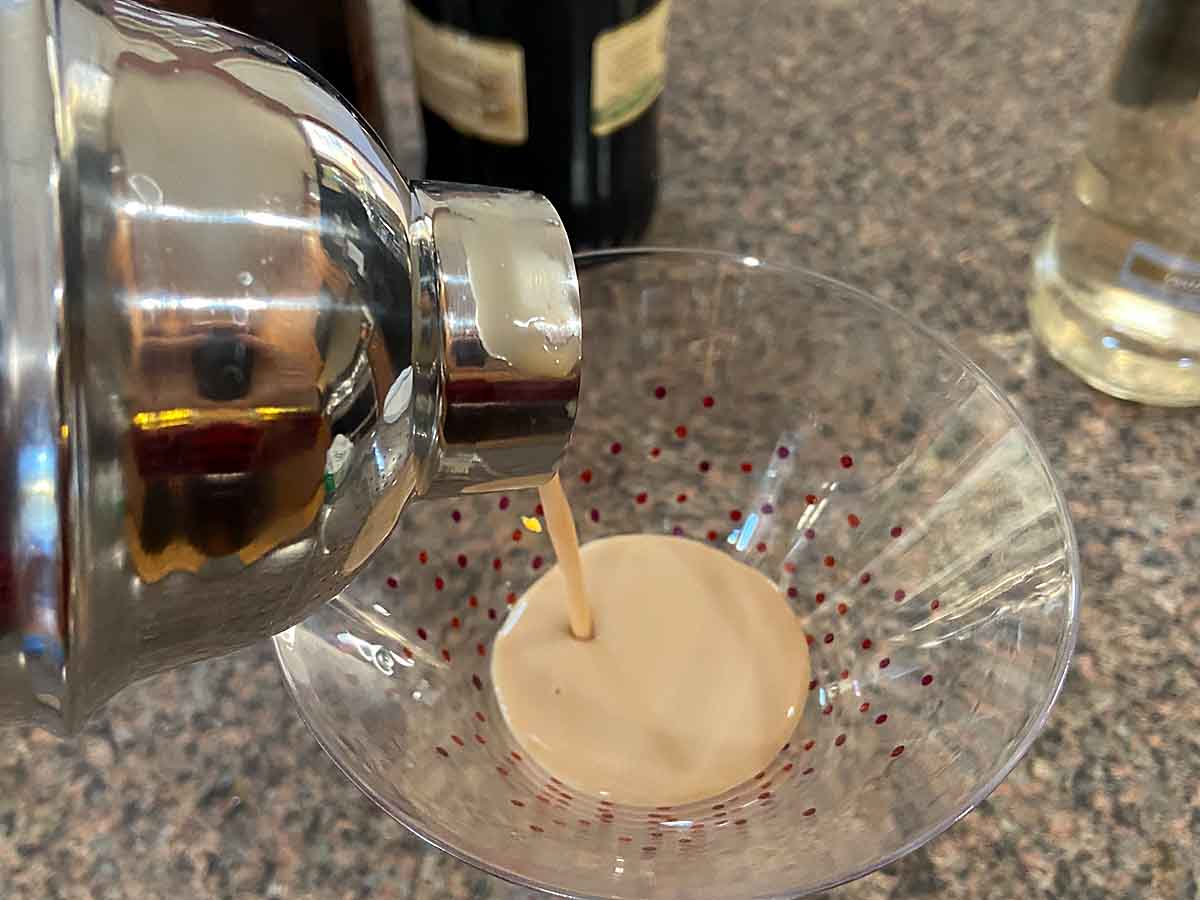 Is your martini 1 drink, or 2, or 4?!!
Now when I began researching this recipe and checked out recipes online, I was taken aback by the volume of alcohol in some of them. One in particular had (in a single martini), 4 ounces of vodka and 4 ounces of liqueurs. While 8 ounces is a good sized drink, this equals the amount of alcohol in approximately 4 drinks (depending on the specific products selected).
Now a woman who would never drink 4 beers (or most of a bottle of wine) in a sitting, would probably not bat an eyelash at a single (albeit large) chocolate martini. Until it hit her.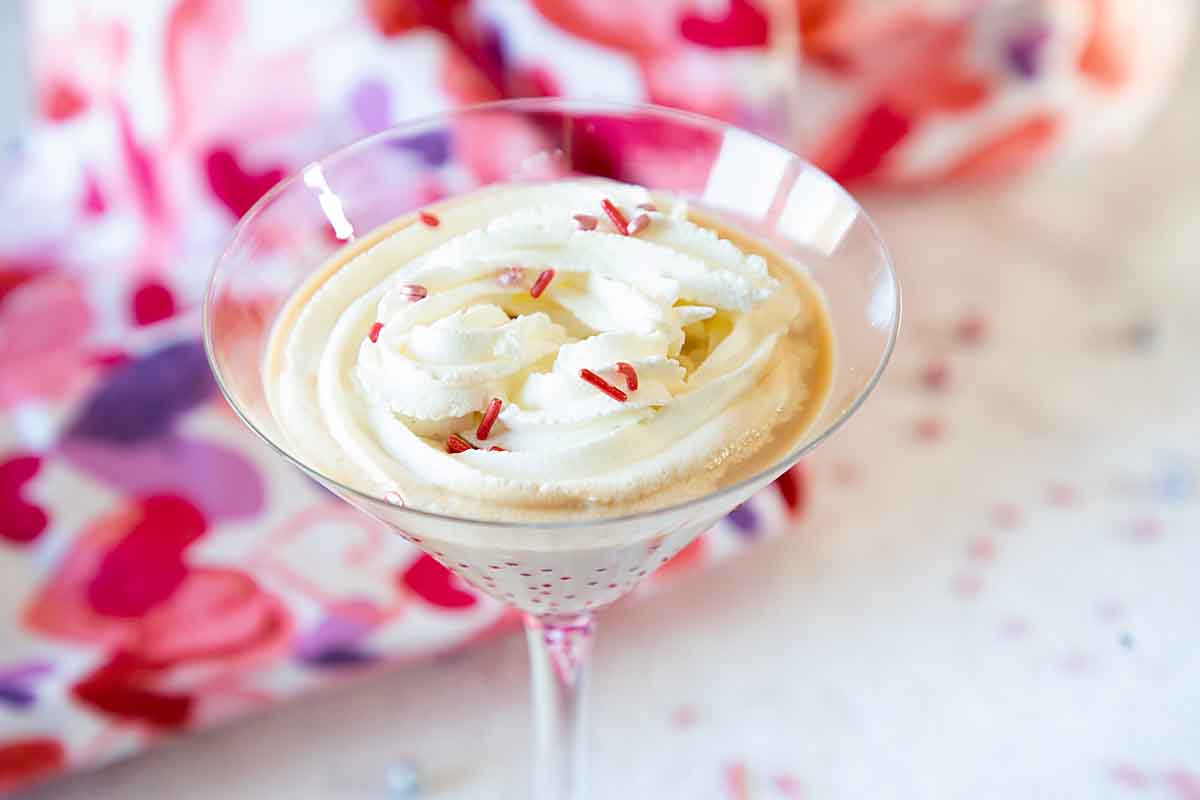 Yes, the alcohol concentration of different types of liquor factors in to the size and equivalency of a drink. This is why a (typical) beer serving is 12 ounces, wine 5 ounces and a shot 1 ½ ounces. For more information see the NIH or Greatist. And I also found a fascinating drink calculator here.
Now part of the issue when it comes to martinis is that martini glasses have gotten larger. While the traditional glass was about 4.5 ounces, today 7+ ounces is more common.
To deal with this, I like to use some half and half or cream to boost the volume. And it has the added benefit of adding richness and cutting sweetness. Finally, a chocolate martini can handle a topping of whipped cream which adds height and luxury.
And if all of this is making your head swim, how about a nice chocolate malt or ice cream soda?
Tips on developing your own martini recipes
The first time I created a martini recipe of my own, it went like this. I compared a lot of online recipes, tweaked a few things and started mixing up drinks.
Pretty soon I was, as the saying goes, three sheets to the wind. This was not sustainable.
Today when I am testing and my experimental martini recipe calls for an ounce (which is two tablespoons), I use one teaspoon and prorate everything down. This gives me a tiny "trial drink" of about 1 ½ tablespoons.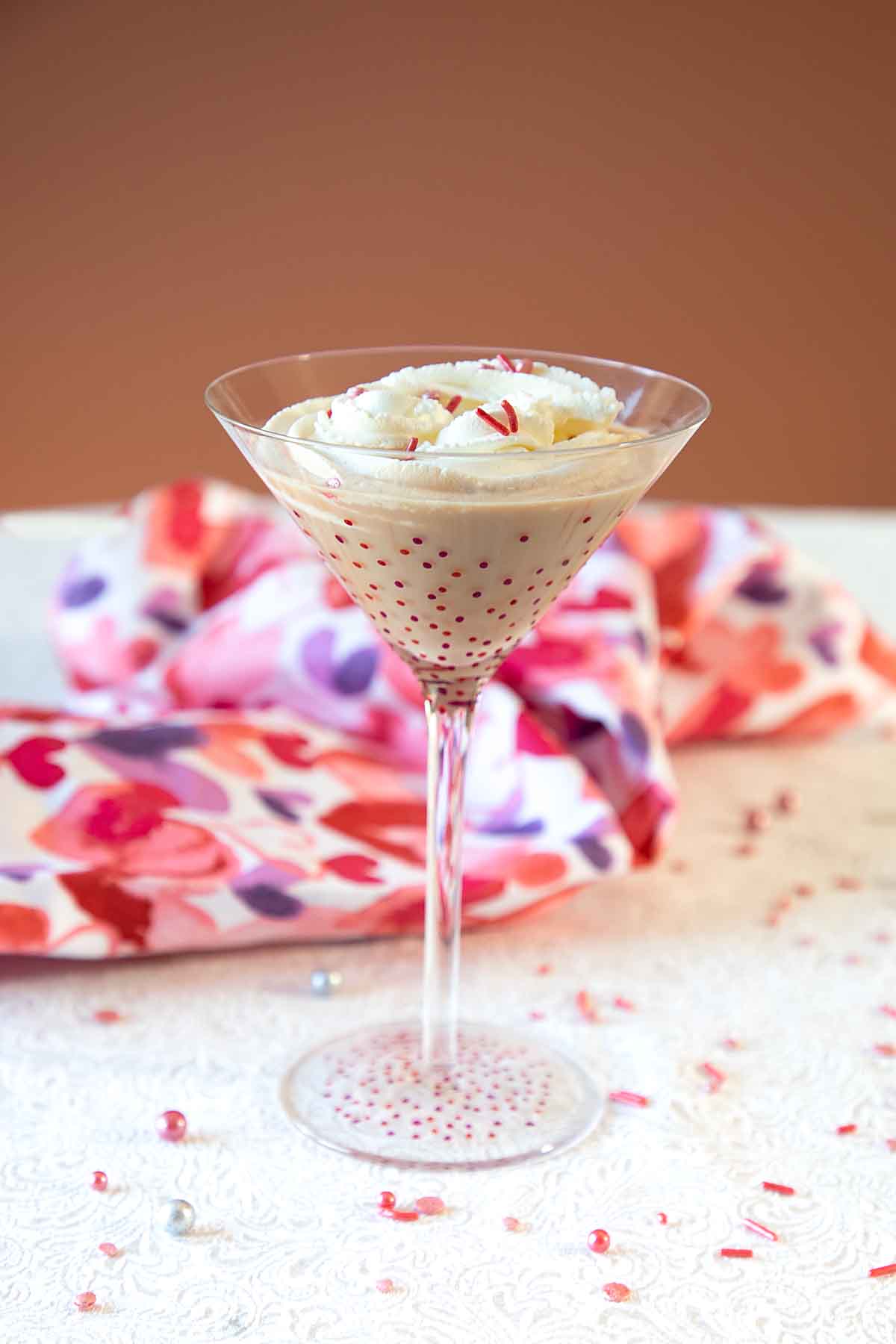 This is enough to take more than one sip for comparison but leaves me enough capacity for a few experiments. It also removes the pressure of hitting the best combo in the first or second try.
And as an added bonus, I'm a lot more confident in my judgement when I'm done!
It's time to start planning our Valentine and Galentine events, you'll need some lovely recipes to serve! Check out these delightful Valentine Sweets and Cocktails, all part of the #ValentineSweets blogging event hosted by Michaela from An Affair from the Heart:
Baileys Chocolate Martini
Sweet, creamy and chocolatey, this Baileys Chocolate Martini is a perfect Valentine's Day Cocktail.  Or dessert or after dinner drink!
Ingredients
1

ounces

Crème de Cacao

or other Chocolate Liqueur

1 ½

ounces

Baileys Irish Cream

or another Irish Cream

1/8

teaspoon

vanilla extract

1

ounce

half and half

or cream

Optional whipped cream and sprinkles to garnish
Instructions
Fill cocktail shaker halfway with ice

Add remaining ingredients

Shake for about a minute

Pour into martini glass

Garnish with whipped cream and sprinkles if desired
Nutrition
Calories:
276
kcal
Carbohydrates:
27
g
Protein:
2
g
Fat:
9
g
Saturated Fat:
5
g
Polyunsaturated Fat:
0.2
g
Monounsaturated Fat:
1
g
Cholesterol:
10
mg
Sodium:
17
mg
Potassium:
38
mg
Sugar:
18
g
Vitamin A:
100
IU
Vitamin C:
0.3
mg
Calcium:
30
mg
Iron:
0.01
mg
I am not a health professional and nutrition data is calculated programatically. Accuracy may vary with product selection, calculator accuracy, etc. Consult a professional for the best information.