Steak Diane in Mushroom Brandy Sauce
A classic entree of steak medallions drenched in a mushroom brandy sauce, Steak Diane delivers an elegant dinner in under 30 minutes.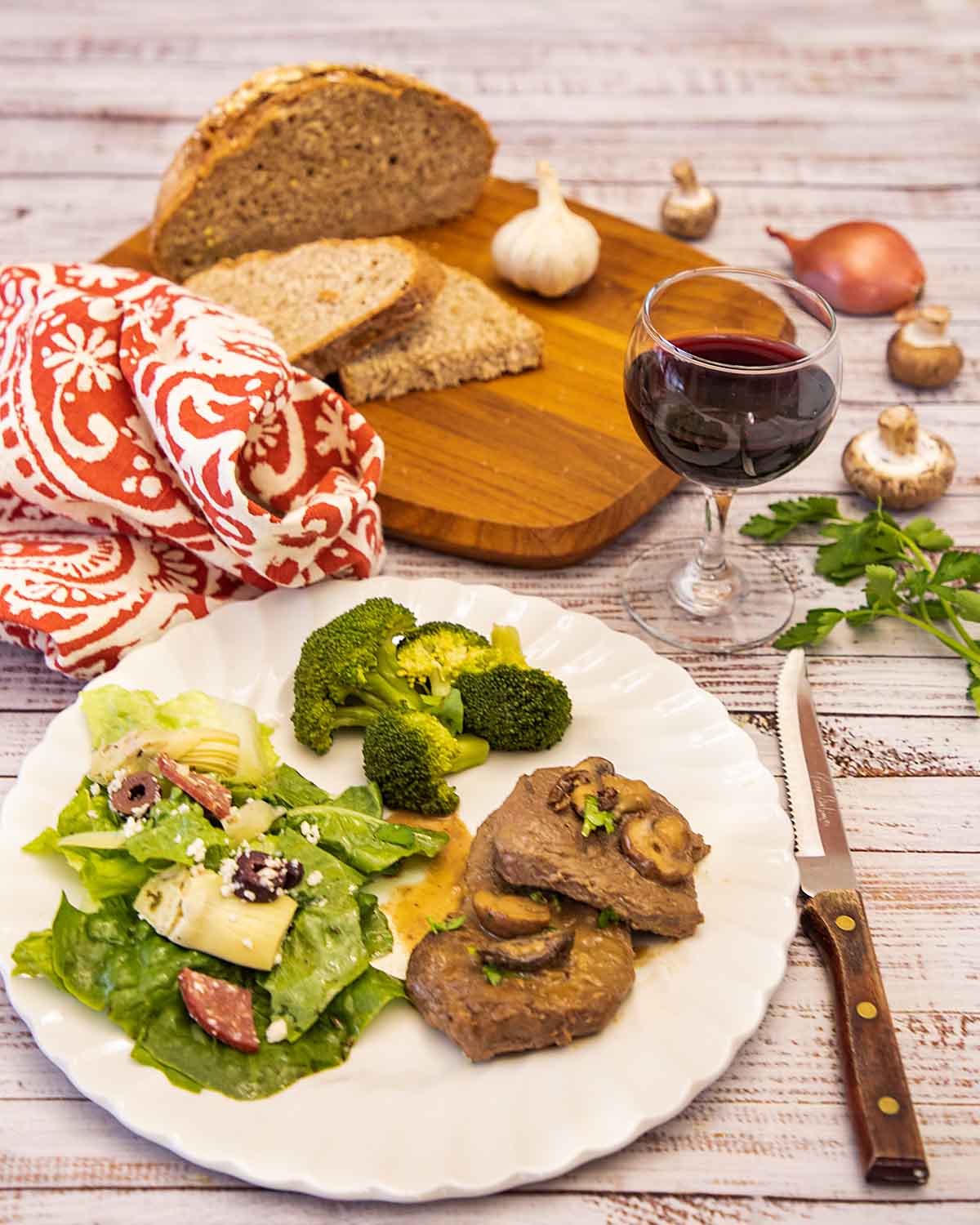 I still remember supper club dinners growing up–featuring entrees like Steak Diane! Back then, my parents had "date night" on Fridays and when I was lucky I'd get invited along. One regular destination was the Ulao Inn in Grafton, WI where I enjoyed this tasty classic. Yes, it's been far too long!
My recipe is based on Emeril's with a few modifications for what I had on hand. Since the grass-fed beef quarters that I buy typically have no tenderloin and lots of sirloin, that was my biggest change.
I hadn't flamed anything in a number of years, so I was a little intimidated but it went fine. I poured the cognac into the pan, let it get hot, tipped it away from me, then set it alight with a long handled lighter. I always make sure to pull my hair back when I do this (okay I always do that when I cook anyway).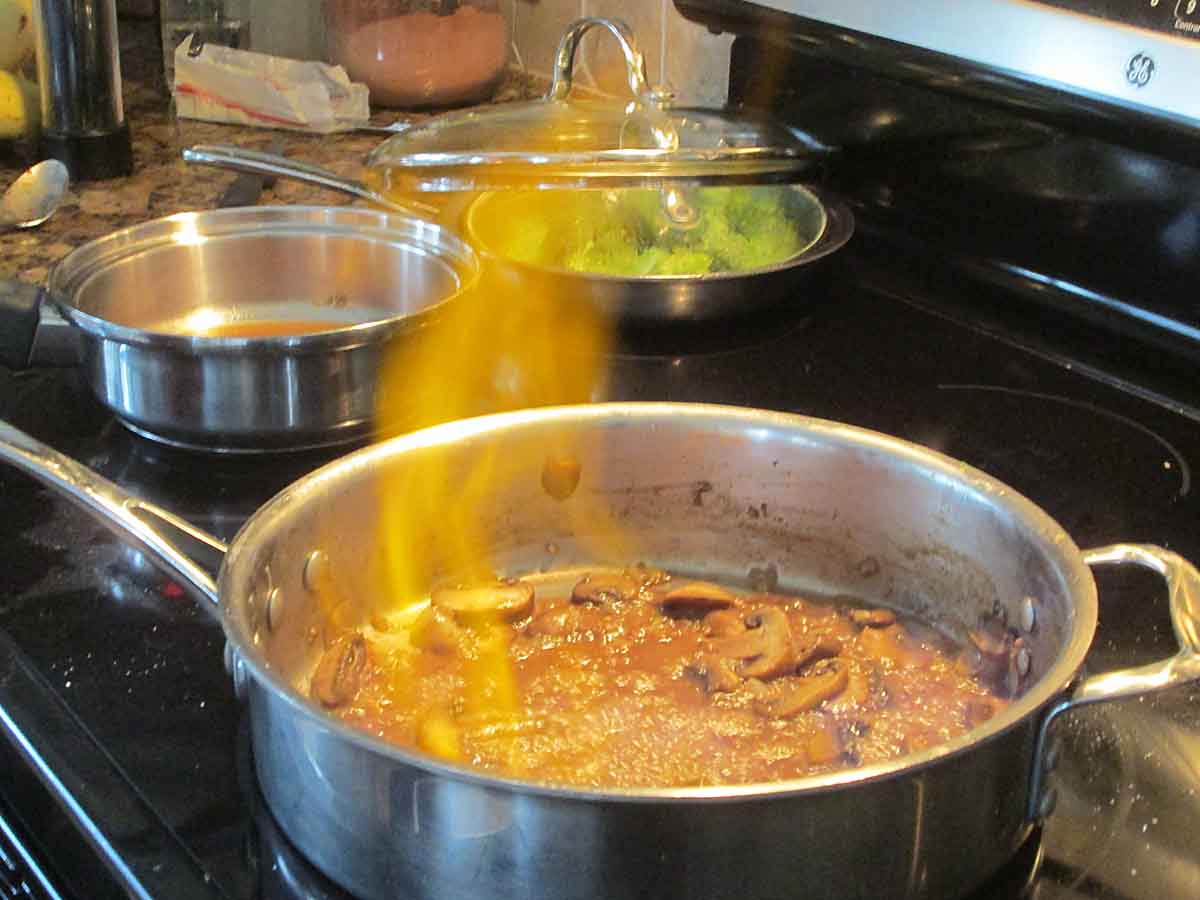 What is Steak Diane?
What's Cooking America, describes Steak Diane as "thin tenderloin steak… sauteed with shallots, thyme, mustard, mushrooms, and cream."
They add that "Steak Diane was very popular in the 1950's and early 1960's, especially in New York city in upscale restaurants prepared table side with its theatrics arising from the flambéing of the cognac" While some sources report that it was named after the goddess, Diana or Diane, the Goddess of the Hunt and originally made with venison, others cite different origins.
Now Steak Diane is sometimes confused with Steak au Poivre. The two dishes are similar in that they are both elegant steak entrees in a rich, alcohol-infused sauce. But the main flavor component of the sauces differs, with the au Poivre flavored intensely with crushed peppercorn and lacking mushrooms.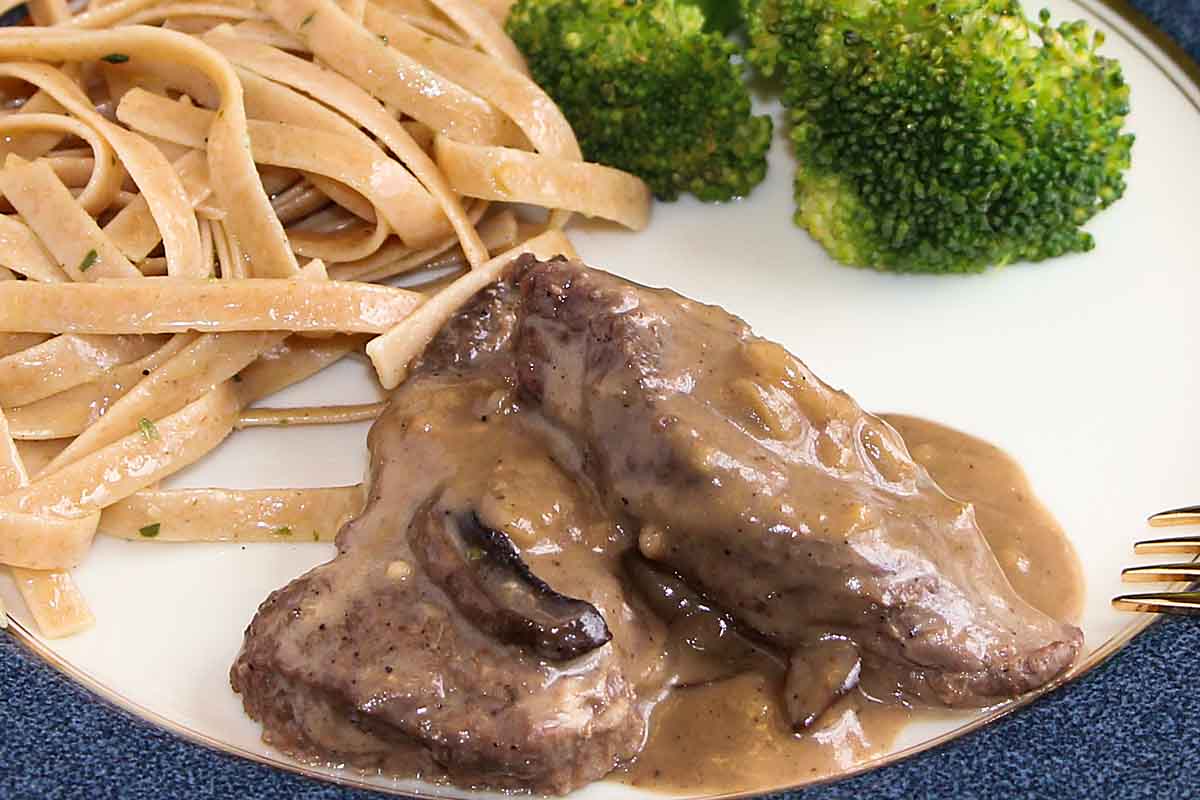 Why you'll love this!
Okay, true confessions. The sauce was so good, I dragged the cooking pan to the table and we fought over the dribbles on the side of the pan. This dish is:
Flavorful. Tender steak in a rich, flavorful sauce is pretty hard to beat! I believe that the classics are remembered for good reason–great flavor!
Impressive. Even if you decide not to flame your Steak Diane, it's classic charm and flavor are sure to impress.
Quick and Easy. Restaurants were able to do this tableside because it's really quite easy. Chop (ahead of time), sauté, serve!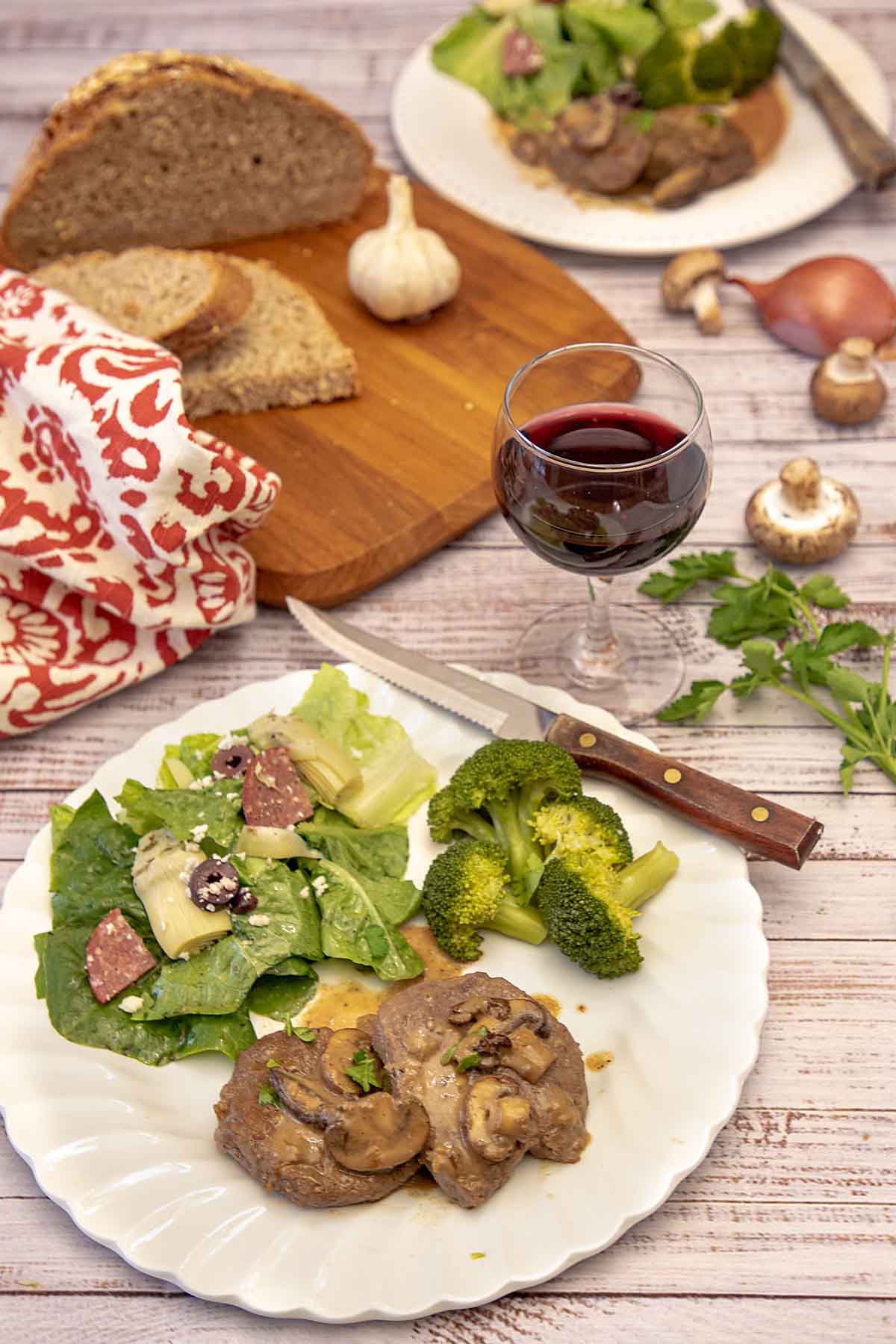 What You'll Need:
Ingredients and Substitutions:
Beef tenderloin is the traditional meat for this. This has the advantage of serious tenderness plus cutting nicely into attractive rounds. Since grass-feed beef quarters rarely include tenderloin, I cut up sirloin which was still plenty tender. Other cuts should also work—I'd go with any steak that is tender and can be well-trimmed (so I'd avoid a rib eye).
Shallots and garlic add flavor to the sauce.
White button mushrooms are traditional though I used cremini since I had them. These both look very nice sliced, but for flavor, I think you could use other mushrooms.
Reduced beef stock. Start with 1 cup of stock (ideally lower sodium) and cook down to ¼ cup. Alternatively you can make a stronger concentration of a bouillon like Better than Beef (or even Better than Chicken). I mixed 1 teaspoon (which is supposed to make a cup) with ¼ cup hot water.
Salt, pepper. With the salty reduced stock, you don't need to salt the sauce. But the steak and mushrooms should both be salted to cook properly.
I like butter in this for the richness. But you can substitute another oil.
Cognac or Brandy. Cognac is more traditional, but if you have brandy, that will be good as well. In a pinch you could use red wine, especially a fortified wine, but don't try to flame it then, since the alcohol concentration is too low.
Dijon mustard, cream and Worcestershire sauce round out the sauce.
Special Tools
You will want a long handled lighter if you are going to flame the dish. Alternatively, this doesn't need to be flamed—you can just cook the sauce for a few minutes until the alcohol boils out.
Step by Step Directions
To start you cut up your ingredients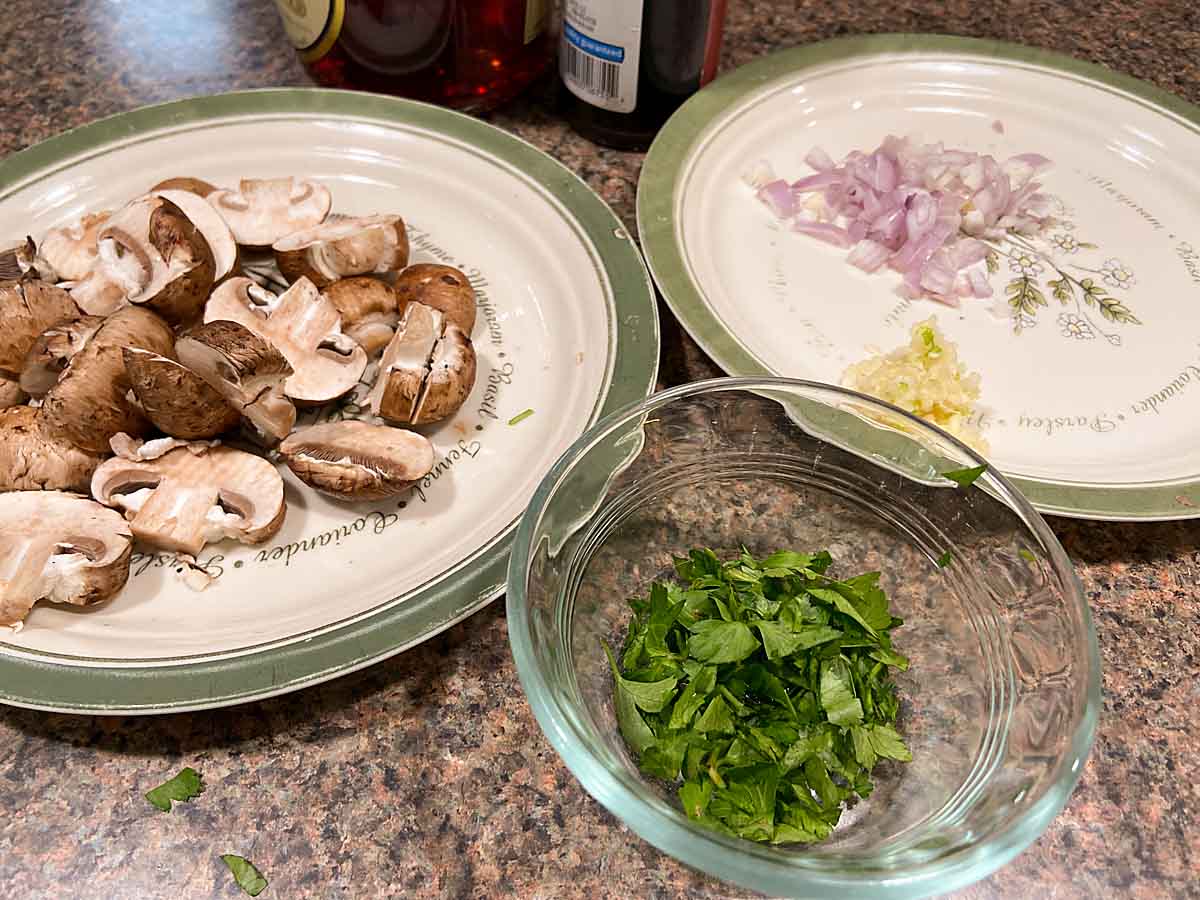 Brown your meat, then keep warm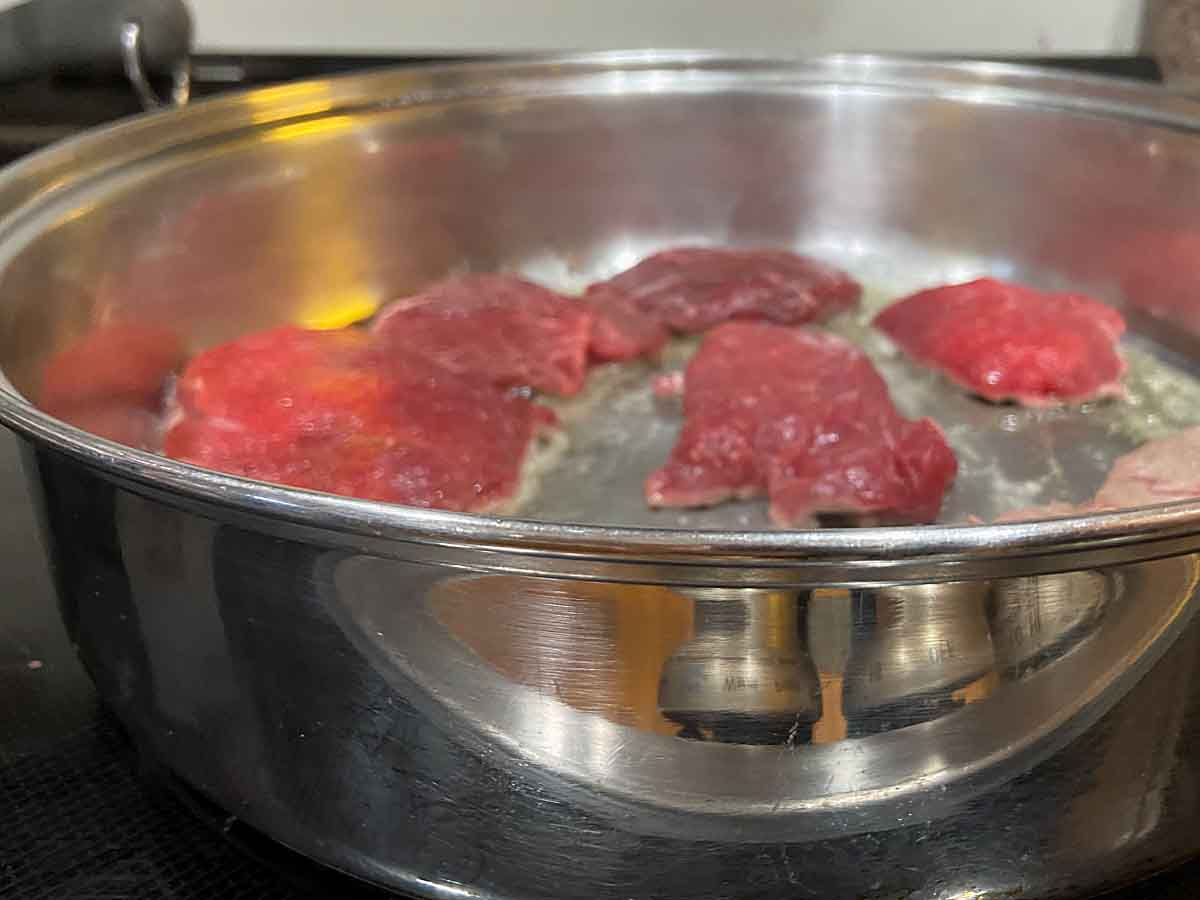 Cook shallots and garlic, then mushrooms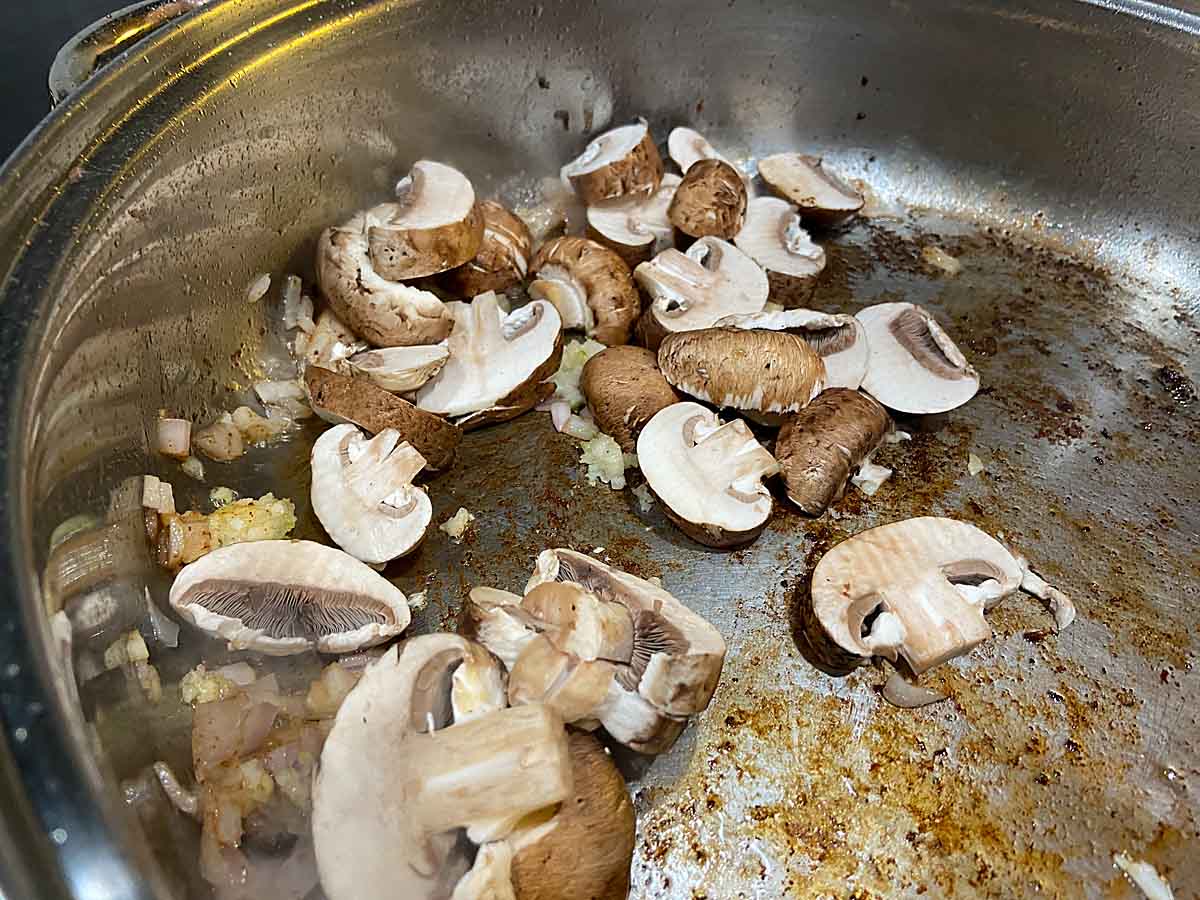 Add cognac or brandy and light the vapor with a long handled lighter to flame (carefully)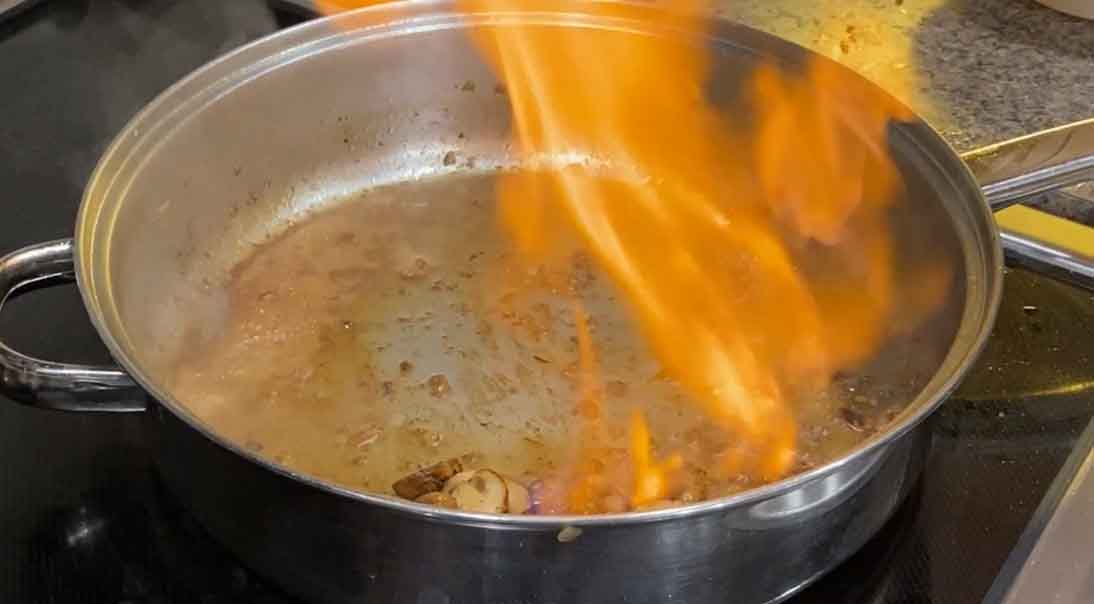 Stir in the remaining sauce ingredients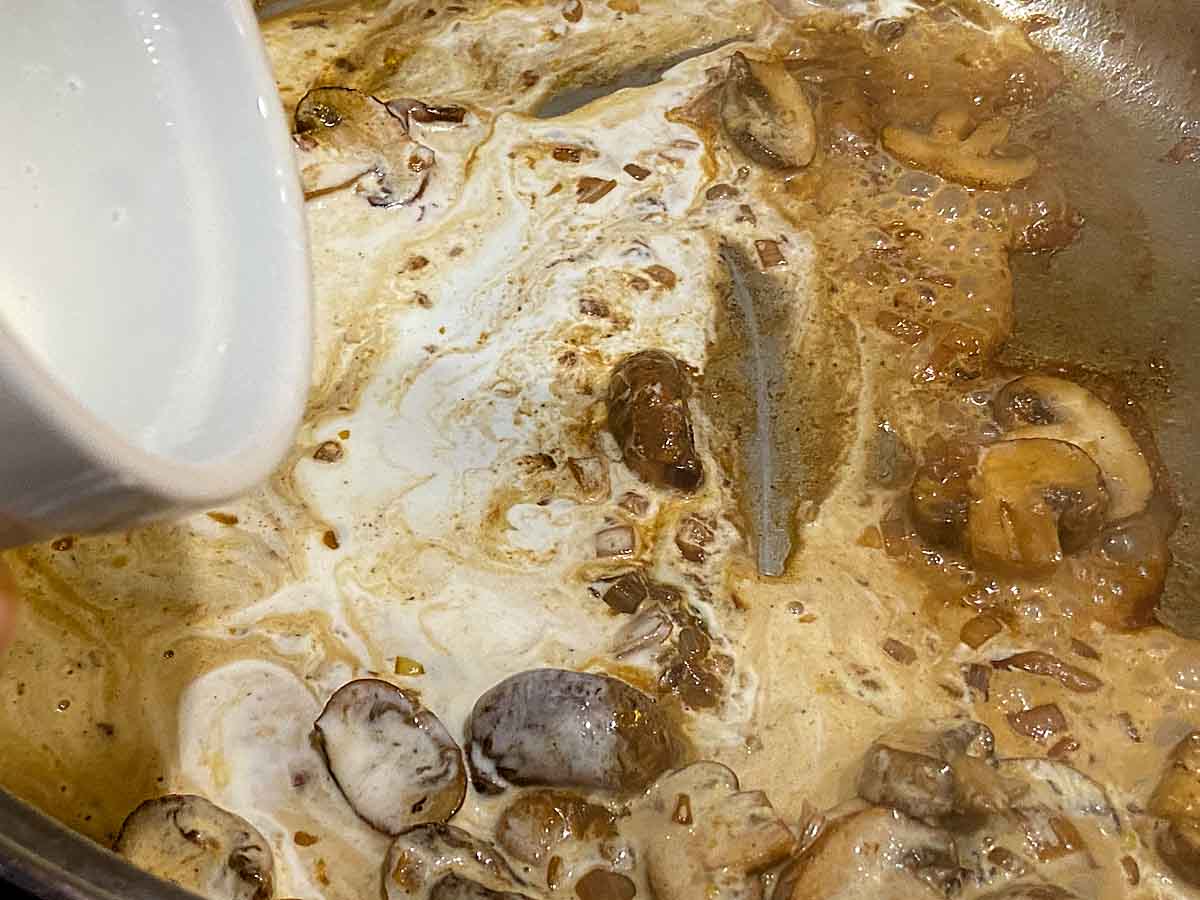 Return the meat and accumulated juices, finish cooking, and serve.
How to Serve
This is an elegant entrée and would be lovely for a formal dinner. And truthfully, it's easy enough that if I were alone for a night and wanted a treat, I'd go for it.
For a vegetable accompaniment, my inclination is to do a basic vegetable like broccoli or green beans. Potatoes, noodles or crusty bread would make a nice starch. And to keep with the Supper Club vibe, how about a Wedge Salad and/or a relish tray!
Now I don't have a cart to flame tableside, but sometimes I still want to put on a show. So I have invited dinner guests into the kitchen when I light a dish! It always makes an impression!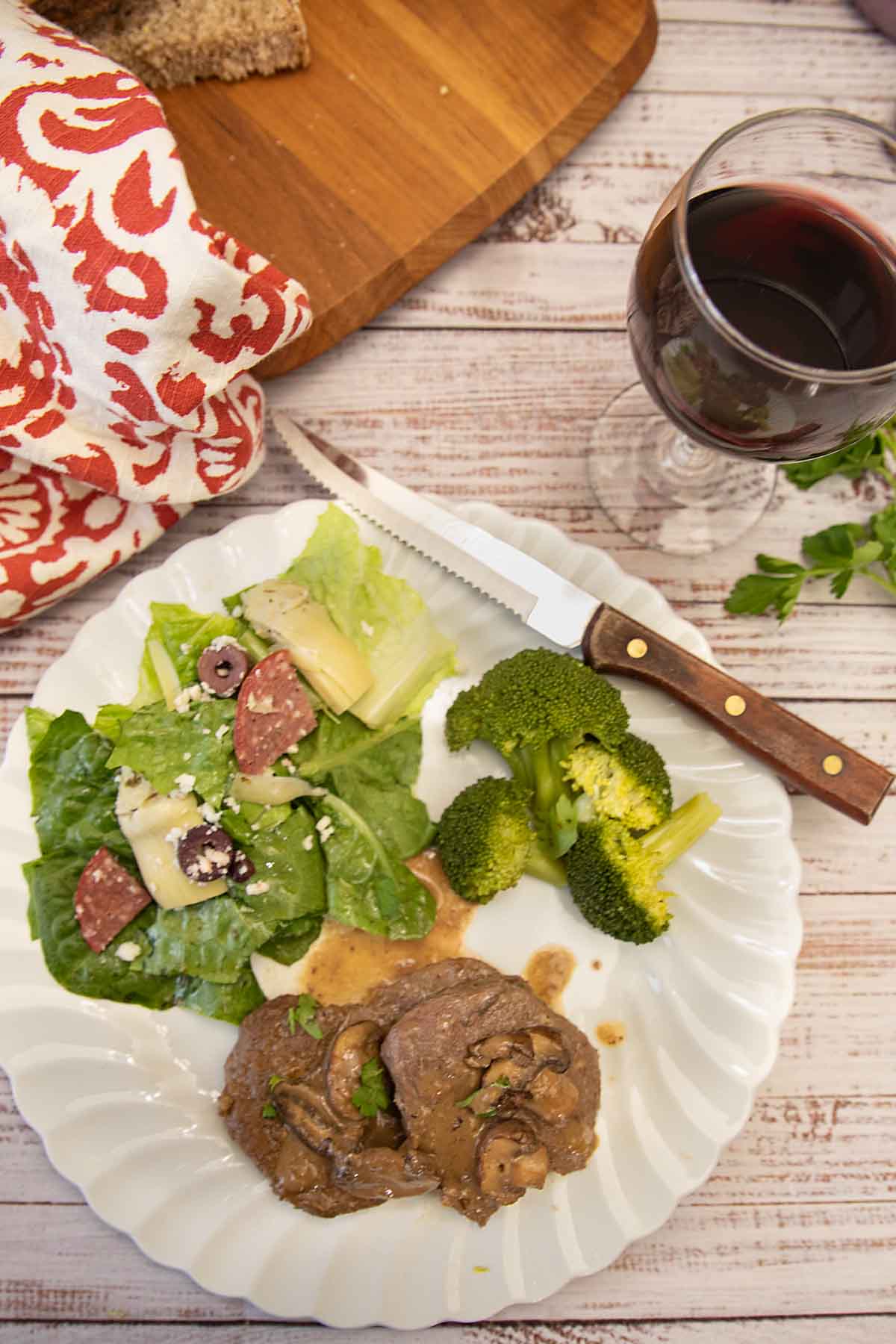 Tips and Notes
You can save a little time by pre-cutting ingredients.
As mentioned, if you want to skip the flaming, just cook for a few minutes after adding the cognac to let the alcohol evaporate instead.
If you are new to flaming, you should know that what you are lighting is the alcohol vapor, as it evaporates in the heat. You won't be able to see the vapor and the whoosh as it catches flame may take you by surprise.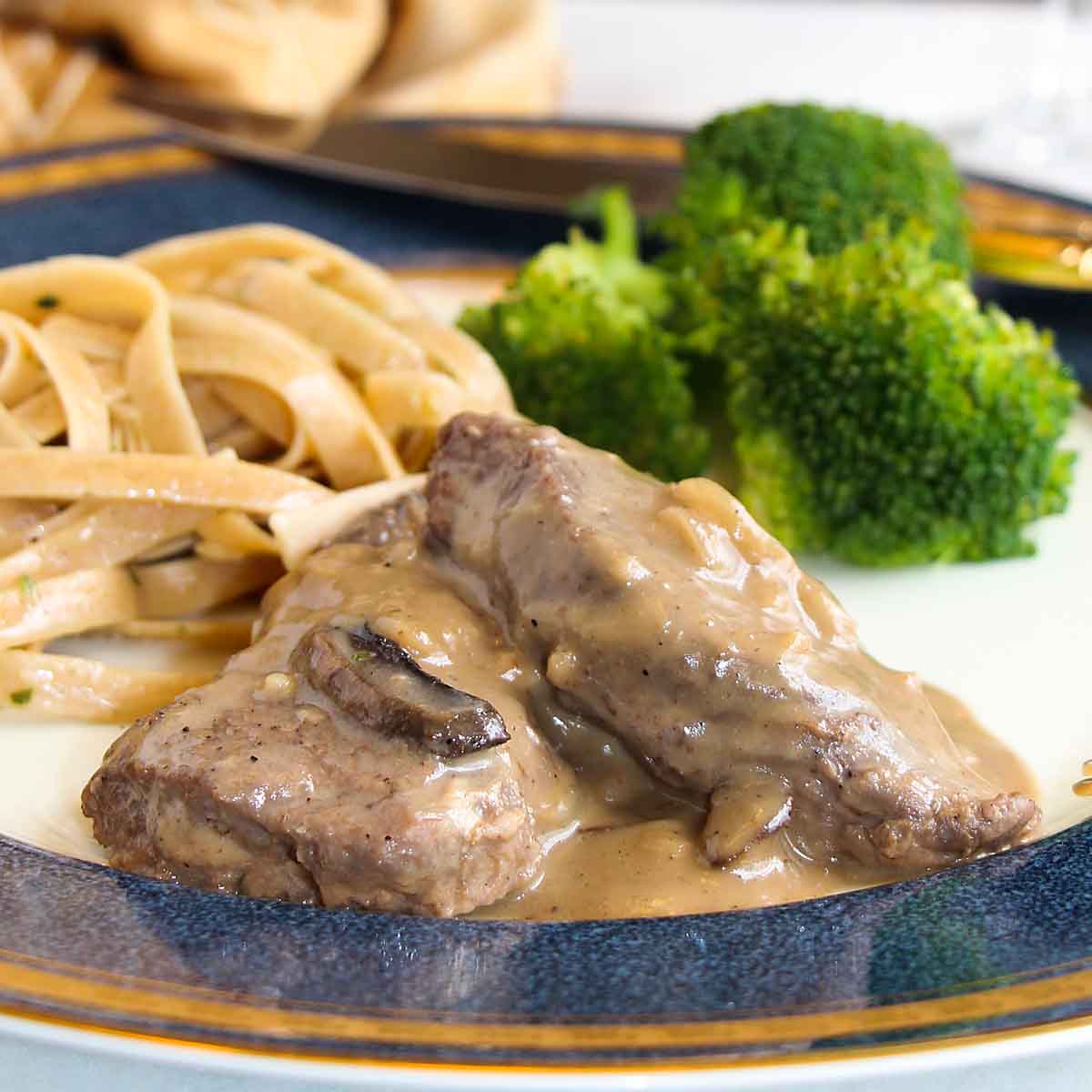 Welcome to Supper Club Saturday #2 (February 2022)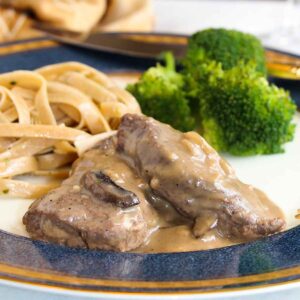 Steak Diane
A classic entree of steak medallions drenched in a mushroom brandy sauce. Ready in under 30 minutes.
Ingredients
12

oz

fillet

cut in medallions and pounded thin (see note)

Salt

pepper (for the meat and mushrooms)

1-2

Tablespoon

butter or oil

1

shallot

minced (a generous Tablespoon)

2

medium garlic cloves

minced

1

cup

sliced mushrooms

1/4

cup

Cognac or brandy

2

teaspoons

Dijon mustard

1/4

cup

heavy cream

1/4

cup

reduced beef stock

see note

2

teaspoons

Worcestershire sauce
Instructions
Season the beef medallions on both sides with the salt and pepper. Melt 1 Tablespoon butter or oil in a large skillet over medium-high heat. Add the meat and sear for 45-60 seconds on each side to get a nice brown coating. Remove the meat to a plate and keep warm in a 170 F oven.

Reduce the heat to medium. Add the shallots and garlic and cook, stirring, a minute or two. Add the mushrooms to the pan, salt them, and cook, stirring, until soft. If pan is too dry, add the second Tablespoon of butter or some water, a Tablespoon at time.

Add the cognac (or brandy) to the skillet. Tilt the pan away from you and ignite the alcohol vapor with a long handled lighter. If you prefer not to flame this, simmer the mixture a few minutes to let the alcohol evaporate.

When the flame has burned out, add the mustard, cream, beef stock and Worcestershire sauce. Stir to combine. Return to a low simmer. Add the meat and any accumulated juices to the pan and turn the meat to coat with the sauce. Continue cooking to desired doneness.

Divide meat between two serving plates and top with sauce. Enjoy!

Nutrition
Calories:
500
kcal
Carbohydrates:
4
g
Protein:
38
g
Fat:
31
g
Saturated Fat:
14
g
Polyunsaturated Fat:
13
g
Cholesterol:
154
mg
Sodium:
495
mg
Fiber:
1
g
Sugar:
2
g
I am not a health professional and nutrition data is calculated programatically. Accuracy may vary with product selection, calculator accuracy, etc. Consult a professional for the best information.