An ice cream soda is like a first-rate malt. Rich, chocolatey & a decadent. And you won't even be able to tell that this diet ice cream soda is lo-cal!
Okay, true confession time. For two years in a row, I've gained 3-4 pounds over the holidays.
This year was especially tough. You see, we started celebrating two weeks before Thanksgiving with a trip to New Orleans. Yup, it's not a city for watching your waistline.
But this year, I'm determined to get the extra pounds off! And I know it will be easier if I can still have a few treats. Like this Diet Ice Cream Soda.
Surprisingly, this whole idea actually started with Italian Sodas. I would treat myself to one on occasion for late coffee shop meetings. Alas, I need to put away my coffee cup by 3 PM if I intend to sleep a wink!
I glanced up at the barista to see a wall full of Torani syrups behind her (nope, not a sponsored post). And when I learned there were sugar-free options, I was soooo in. One online order later, I was a master and a Diet Ice Cream Soda was my next step.
Now I don't advocate consuming massive quantities of artificial sweeteners. But sugar is known to have its own risks (including natural forms like maple syrup) and I'm not giving up sweets entirely. Even if I did eat my weight in oysters to get where I am today.
Yes, I figure, sugar or sweetener, I'm taking a chance. But I'm hoping a few special treats like this Diet Ice Cream Soda will help me move to moderation.
Now some of you may not be familiar with ice cream sodas since they're an old-fashioned treat. We grew up enjoying them when we visited our Iowa grandparents' hometown, complete with historic soda fountain! Yes, a good ice cream soda has fizz, richness, sweetness—and a touch of decadence.
A creamy chocolate dessert? Count me in–especially now!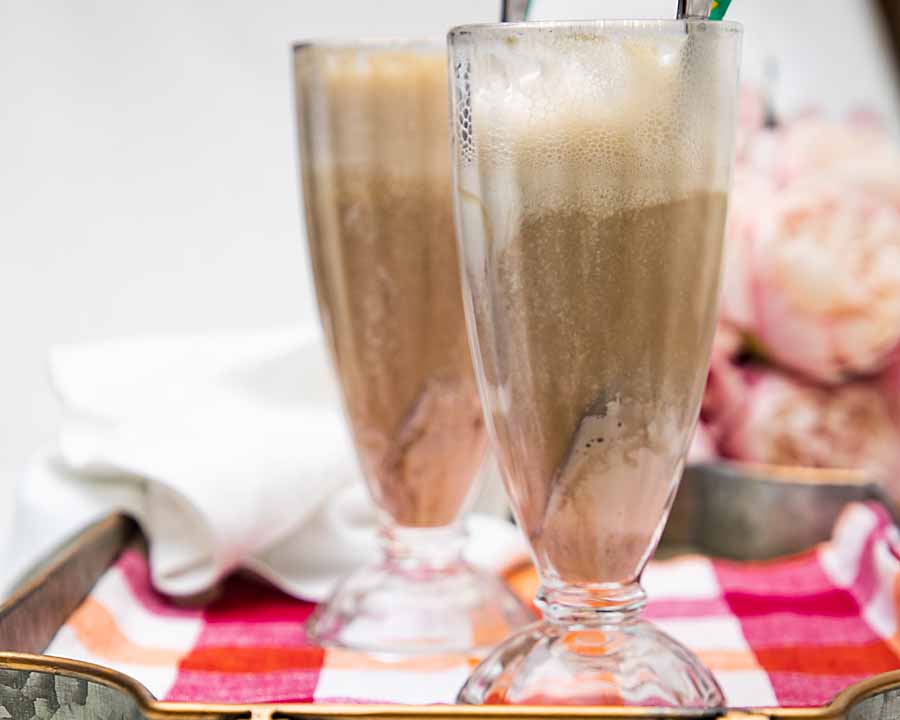 Diet Chocolate Ice Cream Soda
2020-01-04 15:28:34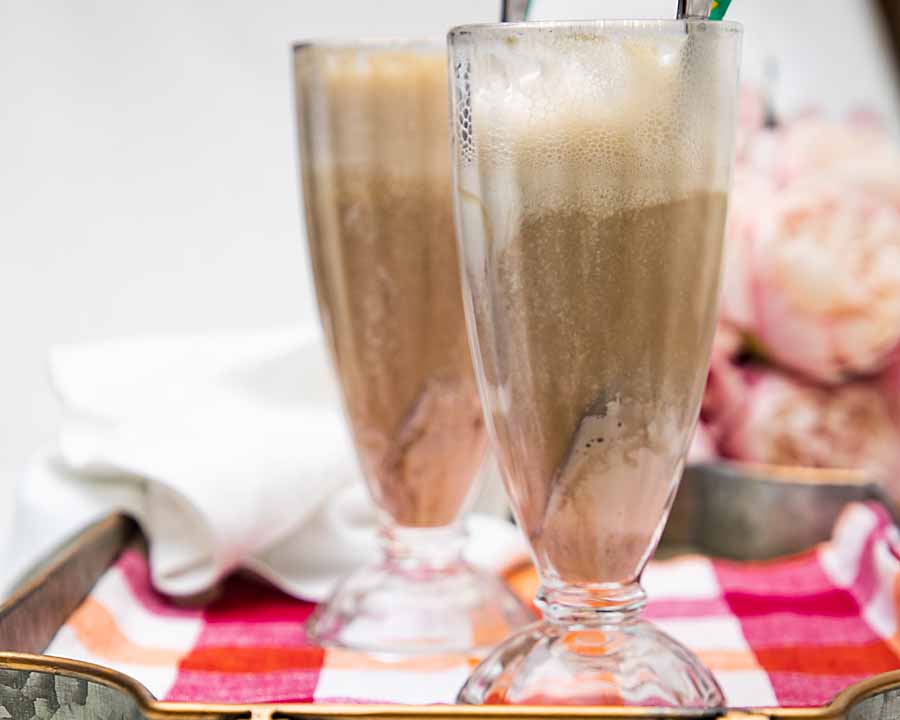 Serves 1
An ice cream soda is like a first-rate malt--rich, chocolatey & a decadent. And you won't even be able to tell that this diet ice cream soda is lo-cal!
Nutrition Facts
Amount Per Serving
* Percent Daily Values are based on a 2,000 calorie diet. Your Daily Values may be higher or lower depending on your calorie needs.
Ingredients
2 T Torani sugar free chocolate syrup
3 ounces vanilla ice cream, divided (1 scoop plus a rounded Tablespoon)
1 c club soda
Instructions
Pour the chocolate syrup in the bottom of a large glass. Add a rounded Tablespoon of ice cream and "muddle" the two until partly blended.
Pour in about 8 ounces of club soda. Add it slowly so it doesn't fizz up over the top of the glass.
Top it off with the remaining scoop of ice cream. Serve with a spoon and a straw!
Notes
Your calories will vary with the ice cream you use, so check the package label if you're feeling obsessive!
Art of Natural Living https://artofnaturalliving.com/
Healthier Recipes for the New Year
We share Recipes From Our Dinner Table! Join our group and share your recipes, too! While you're at it, join our Pinterest board, too!