As we move from Football Season to Brunch Season, get ready with everyone's favorite daytime drink, the Bloody Mary. Five variations!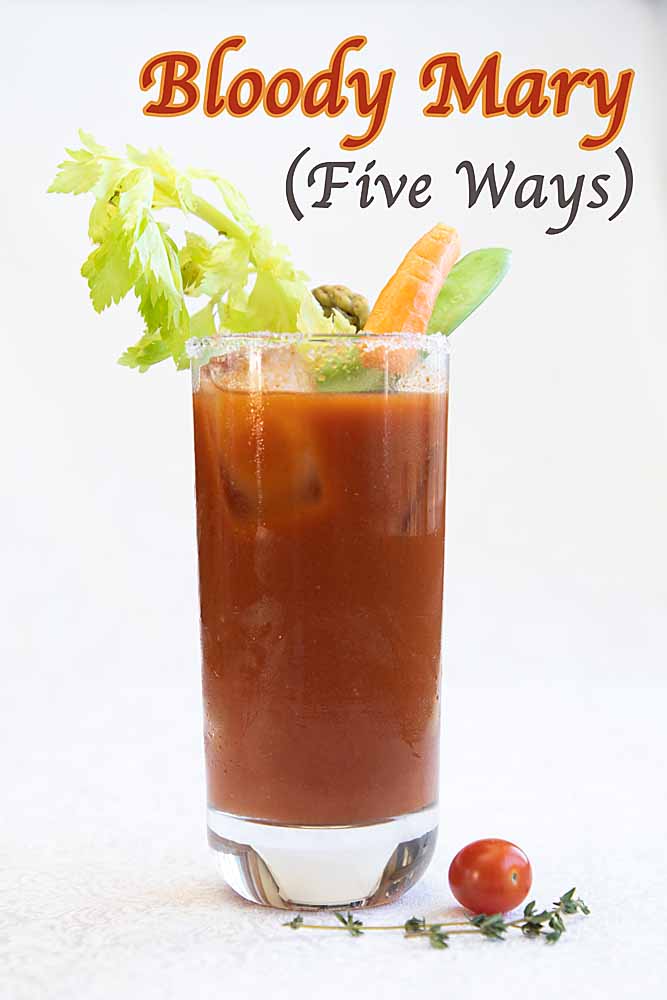 Are you ready for some football? Or maybe a nice brunch? And how about a Bloody Mary or two? Cause nothing says it's okay to drink in the daytime like a Bloody Mary!
Yes, happily for brunch-ers everywhere, the classic alcoholic beverage has an early-imbibing respectability. As in, "what do you mean wait 'til 5; I'm not waiting 'til noon". Key to this would be the serving of vegetables delivered via tomato juice.
I mean, it's practically food.
Not to mention, it readily converts to the alcohol-free Virgin Mary. Hooray, now I can have two.
Of course, a lot of the pizazz of the Bloody Mary comes from the garnishes. A classic addition can be as simple as a celery stick or pickle spear. But for serious Bloody-lovers, anything goes. Bacon, asparagus, olives, cheese, sausage, even shrimp.
Mini-burger on a slider bun? Poke it with a stick and add it in!
Five Variations
Looking for the simplest mix? Buy vodka and a mixer. But for some real fun, read on.
Uncle George's Bloody Mary. My brother-in-law is famous for his traveling setup which he brings to parties! His flavor is close to the classic, but with a little kick ensured. Alas, he makes the drink like everyone's Grandma cooks—a dash of this and a little of that. But I think I'm at least close in my rendition below.
Virgin Mary. Key to a good alcohol-free cocktail, is making sure there is enough flavor. Fortunately this isn't a problem here. Yes, I still remember the virgin margarita I had while pregnant. Almost. No. Flavor. (The waitress suggested a Virgin Strawberry Margarita in the future.) For the Virgin Mary, prepare as usual–just leave out the vodka!
The Caprese. This delivers an Italian twist—and is a great way to "class up" an event. Muddle a couple basil leaves with a splash of balsamic vinegar in the bottom of the glass. Then proceed as usual. Top with a garnish of fresh mozzarella, basil and cherry tomatoes.
The Veggie. Swap in V8 or another vegetable juice instead of straight tomato juice. Garnish with a loaded vegetable skewer. You might even get two servings of vegetables this way!
The Bloody Mary Bar is a perfect option if you are entertaining a large crew (e.g. Super Bowl party, Father's Day brunch). Serve up a glass with a couple ounces of vodka, then let your guests go wild on fixings and garnishes.
Uncle George's Bloody Mary
2020-01-09 09:22:13
Serves 1
As we move from Football Season to Brunch Season, get ready with everyone's favorite daytime drink, the Bloody Mary.
Nutrition Facts
Amount Per Serving
* Percent Daily Values are based on a 2,000 calorie diet. Your Daily Values may be higher or lower depending on your calorie needs.
Dipping Salt
coarse salt
celery salt
black pepper
Bloody Mary
2 ounces vodka
5 shakes tabasco
1 tsp Worcestershire sauce
1 -2 tsp pickled pepper juice
Ice
1 cup tomato juice (approximate)
Instructions
Pour the vodka into a 16 ounce glass.
Top with Tabasco, Worcestershire sauce and pickle juice
Fill the glass with ice mostly to top, then pour in tomato juice
Rim a second 16-ounce glass with lime juice, then dip into salt mixture.
Place the salted glass against rim of filled glass then invert to mix and transfer the Bloody Mary (see note).
Notes
I did this nervously over the sink but Uncle George just does it anywhere!
Art of Natural Living https://artofnaturalliving.com/