The Best Hot Cocoa from Scratch
What would winter be without cocoa?
I have many wonderful childhood memories but one of my favorites is sledding–right in my own front yard. I grew up on a big hill, and on a snowy day, all the neighborhood kids would be over, sledding first, then making snowmen and snow forts. When it grew too dark to go on, everyone headed home, cheeks rosy and fingers pale, to warm their toes over steamy heating vents. My siblings & I got an extra treat when we went inside–our mother made hot cocoa from scratch!
Hot cocoa helped make winter special, poured into a pretty mug and topped with marshmallows or sweet whipped cream! I swear that sometimes I went outside just for the cocoa afterwards. Today I wonder if my mother wasn't complicit–make a little hot cocoa for a couple hours of peace inside!
When I had children of my own, homemade hot cocoa was high on my list of treats to share. And after switching to natural foods, homemade looked even better. If I'm entertaining someone vegan, I can even use a non-dairy milk like almond milk. And it isn't hard at all!
Now my mother made her cocoa right out of the Hershey's can and that is where my recipe comes from. But I buy my organic cocoa in 1 lb bags, two at a time, from one of my Buying Clubs!
Today, the health value of chocolate is all over the news. While the joy of cocoa may be enough, if you want to maximize the health value, consider buying a cocoa that is not dutch processed. Per Wikipedia,Dutch cocoa, (processed with alkali, to lower the natural acidity of cocoa) has lower levels of antioxidants, (though both kinds may be organic).
Happy winter!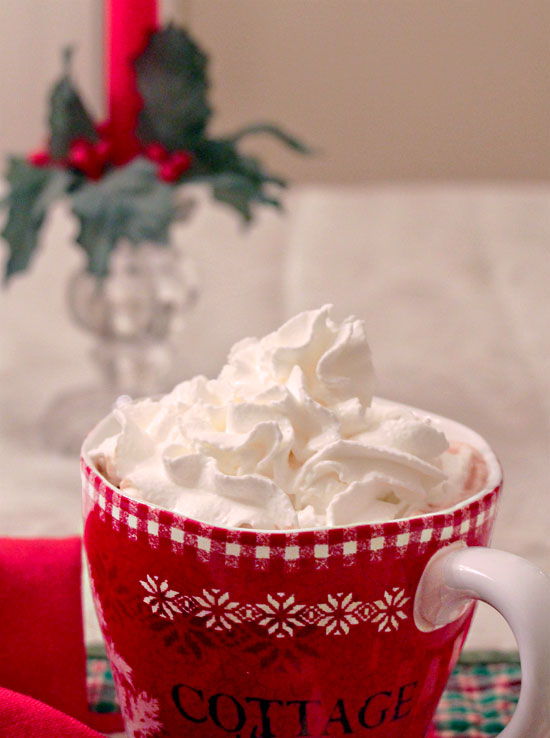 Homemade Hot Cocoa
2015-01-08 12:05:16
Serves 5
Making hot cocoa from scratch is a perfect winter treat--easy, extra tasty, and an all natural alternative to mixes.
Nutrition Facts
Amount Per Serving
* Percent Daily Values are based on a 2,000 calorie diet. Your Daily Values may be higher or lower depending on your calorie needs.
Ingredients
• 1/2 cup sugar
• 1/4 cup cocoa powder
• Dash salt
• 1/3 cup hot water
• 4 cups skim milk (or full fat or non-dairy milk if you prefer)
• 1 teaspoon vanilla extract
• Miniature marshmallows or sweetened whipped cream (optional)
Instructions
Stir together sugar, cocoa and salt in medium saucepan, pressing out most of the cocoa lumps with the back of a spoon. (This helps it whisk together without lumps)
Stir in water and cook over medium heat, stirring with a whisk, until mixture comes to a boil. Boil and whisk 2 minutes.
Add milk; stirring periodically, and heat to serving temperature. Do not boil.
Remove from heat and add vanilla. Pour into mugs and top with marshmallows or whipped cream, if desired.
Notes
MICROWAVE SINGLE SERVING: Combine 1 heaping teaspoon cocoa, 2 heaping teaspoons sugar and dash salt in microwave-safe cup or mug. Add 2 teaspoons cold milk; stir until smooth. Fill cup with milk. Microwave at HIGH (100%) 1 to 1-1/2 minutes or until hot. Stir to blend; serve.
Art of Natural Living https://artofnaturalliving.com/