The Other Probiotics: Sauerkraut and Kimchi
Probiotics are big in the news lately. Yogurt and Kefir are probably the most well known, but two other fermented foods, sauerkraut and kimchi, are also excellent sources of the "good" bacteria that can be so beneficial for our health. Sauerkraut, the traditional (often German) dish used historically to preserve cabbage, is familiar to many Americans. Kimchi, less well known but equally delicious, is a Korean national dish made from a variety of naturally fermented vegetables.
For the do-it-yourselfer, it is possible to make both sauerkraut and kimchi at home. But if you can find a good commercial source, that can be an easier route. Yes, someday I'll post about my sauerkraut making failures…
Finding a good source is key to maximizing benefits. People may not realize it but kimchi and sauerkraut come in two different forms. Some are pasteurized and shelf stable while others are fresh (unpasteurized) and need refrigeration. For a vegetable, either is a good choice, but for a probiotic source you need the latter. The heat from pasteurization kills the beneficial bactieria–just think of checking your yogurt for "active cultures".
Both sauerkraut and kimchi are loaded with healthy vegetables, which the fermentation process makes more nutritionally available. According to Seattle Natural Health, "the nutritional value of fermented foods is enormous, increasing B vitamins such as riboflavin, thiamin and niacin. The activated form of folic acid is increased, which helps with cardiovascular and cancer risks. Choline is increased, which breaks down fat in the body and liver and helps with constipation. In addition, fermentation increases glutathione, an anti aging amino acid, and enzymes needed for digestion and detoxification." And don't forget all the fiber!
If that's not enough, recent medical studies have highlighted the importance of gut bacteria to various aspects of our well being. Besides aiding digestion, gut bacteria may impact brain function, metabolic function and may someday even be the key to weight loss.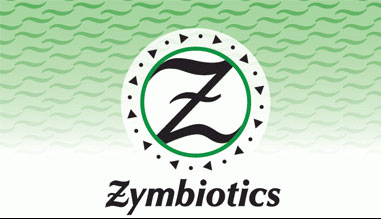 I recently had the opportunity to meet with Jeff Ziebelman of Zymbiotics to taste his version of these products which he calls … Zauerkraut and Zimchi ;-). A serial entrepreneur, Jeff formed Zymbiotics in 2014 with partner Betty Holloway (a registered dietitian) who cited an extra incentive– the value of running a business that is also a passion. Actively into both exercise and healthy eating, Jeff said that he would be excited to "shift people into a healthier lifestyle."
Besides creating food that is healthful and outstanding in flavor, Zymbiotics has some additional objectives. They want to produce products at a price that makes the them accessible to ordinary people and they want to keep their carbon footprint small. A local farmer provides cabbage nine months of the year, which is transported by another farmer who happens to be traveling that way anyway.
Zymbiotic's Zauerkraut is made with red cabbage in addition to the tradition green which gives it a beautiful color that hints at the extra antioxidants inside (don't forget to "eat a rainbow"). The outstanding flavor is more complex and subtle than traditional varieties while still tasting like sauerkraut. I had never had kimchi before and the Zimchi was a perfect introduction. It brings a gingery, slightly hot spiciness that I would describe more as flavorful than in your face. Since our meeting, he has added a new fermented product, gingered carrot, which I will be trying soon!
Zymbiotics products are available at a variety of (mostly independent) grocers in southeastern Wisconsin, as well as farmers markets and mail order (you need to email him now, but they will soon be available for direct online ordering from his website).
Serving Sauerkraut and Kimchi
One of the challenges of serving probiotics is that heat can kill the beneficial bacteria and decrease the health value of the products. I still intend to make my traditional pork chops and sauerkraut, since I love it. But I have started looking for more ways to eat them without heating and have found I like them cold as a side dish (think "zingy" Cole Slaw). Looking for some other ideas? Add kimchi to potato salad, kraut to a hot dog (perfect for playoff season!), mix kimchi with fried rice or top off a salad of microgreens. Or check out some of Jeff's online recipe ideas.
For a recent lunch, I decided to try adding kimchi to a grilled cheese sandwich with delicious results. Grilled cheese is perfect for a simple meal and a sure kid pleaser, but it's usually too bland for my tastes. Easy and tasty, I think Grilled Zimchi and Cheese may be my answer! Given that the cheese barely melts I am guessing that some priobiotcs survive the heating process.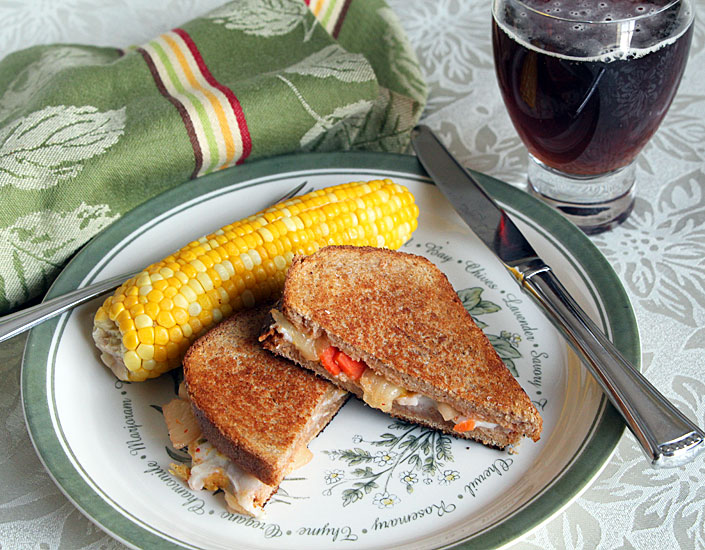 Grilled Kimchi and Cheese Sandwich
2015-01-11 18:21:07
Serves 1
Nutrition Facts
Amount Per Serving
* Percent Daily Values are based on a 2,000 calorie diet. Your Daily Values may be higher or lower depending on your calorie needs.
Ingredients
2 slices of whole wheat or rye bread
2 ounces of cheese, sliced (flavorful, meltable cheese like aged cheddar, gruyere, gouda)
1/4 cup kimchi, drained
2 teaspoons butter
Instructions
Preheat skillet over medium/low heat. Butter one side of a slice of bread. Place bread butter-side-down onto skillet bottom. Top with cheese and kimchi.
Butter a second slice of bread on one side and place butter-side-up on top of sandwich. Grill until lightly browned and flip over.
Continue grilling until cheese is melted and second side is golden, then serve.
Art of Natural Living https://artofnaturalliving.com/