Homemade onion bagels aren't difficult and can be made with ordinary home ingredients. Who wants bagels for breakfast!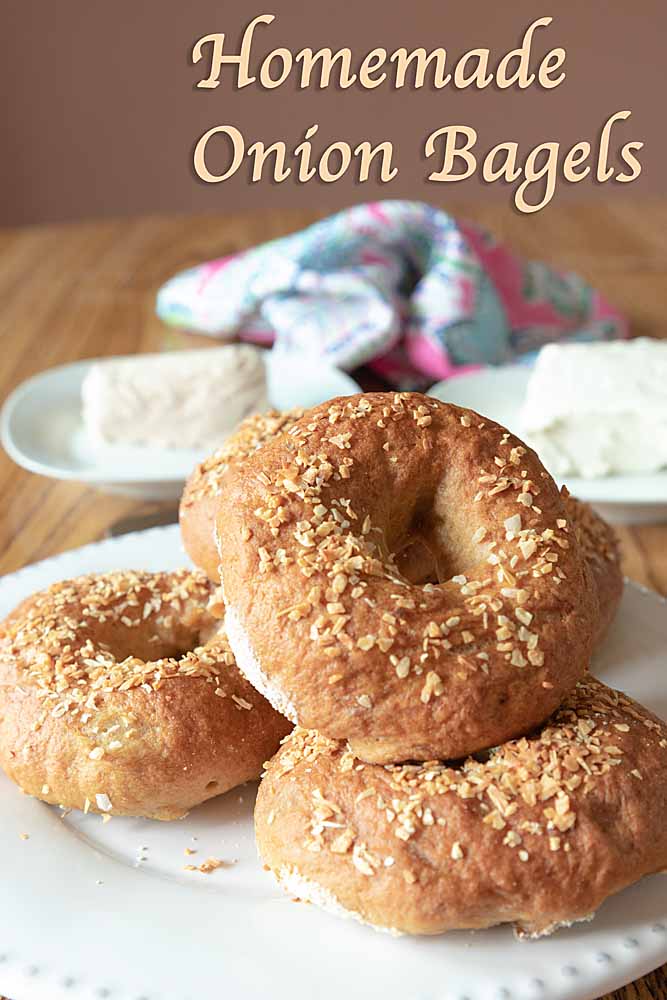 What's your idea of good comfort food? Mac n cheese? Chicken soup? Chocolate Chip Cookies? Anything chocolate?
Well for me, bagels are comfort food.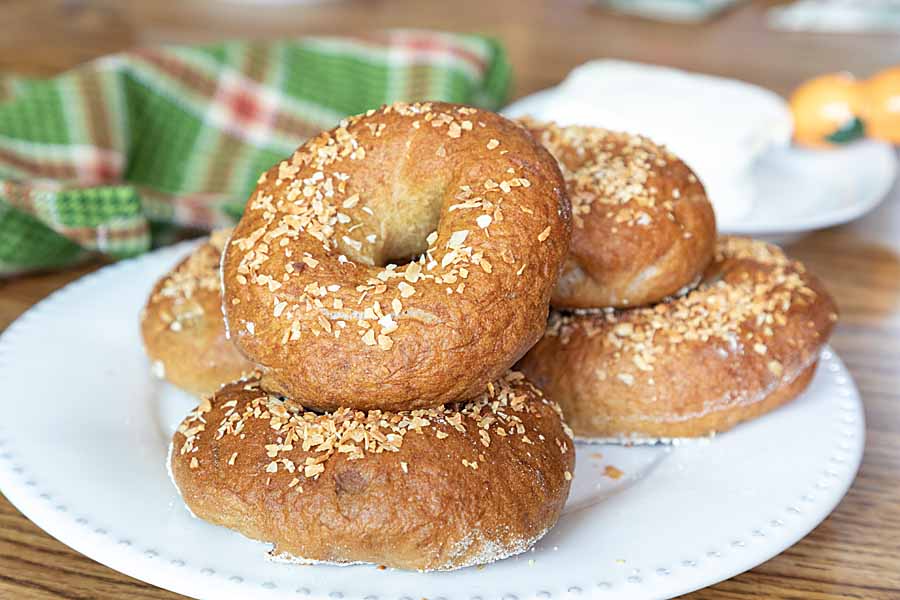 I think it goes back to all the brunches in my youth when cream cheese, bagels and lox were served. It was a great way to have a meal that was delicious and festive but easy enough for the hostess to relax too.
Of course, making the bagels from scratch is actually work. But it's much easier than you'd think.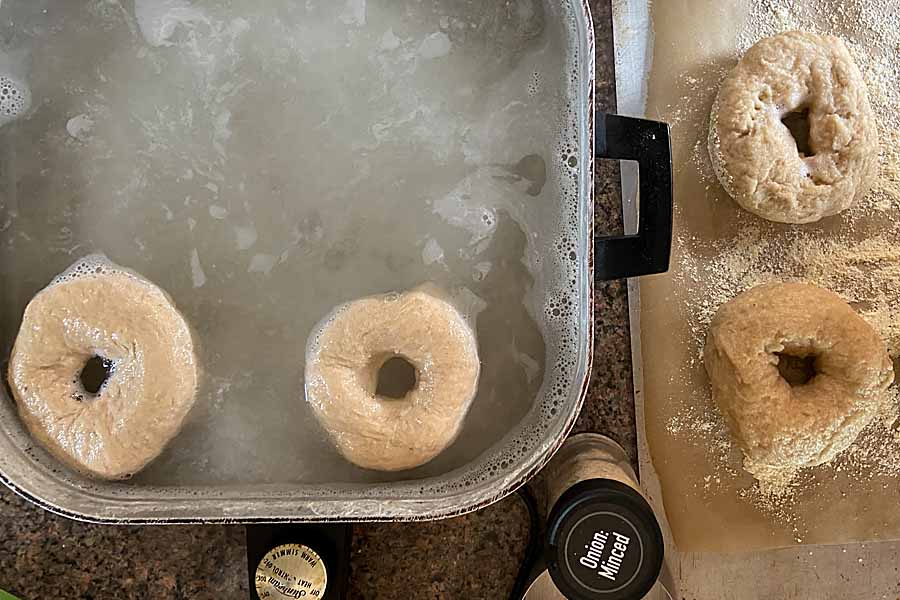 You start by making a bread-like yeast dough and let it rise for about an hour. Next you form bagels, give them a brief second rise, then boil and bake. Easy peasy.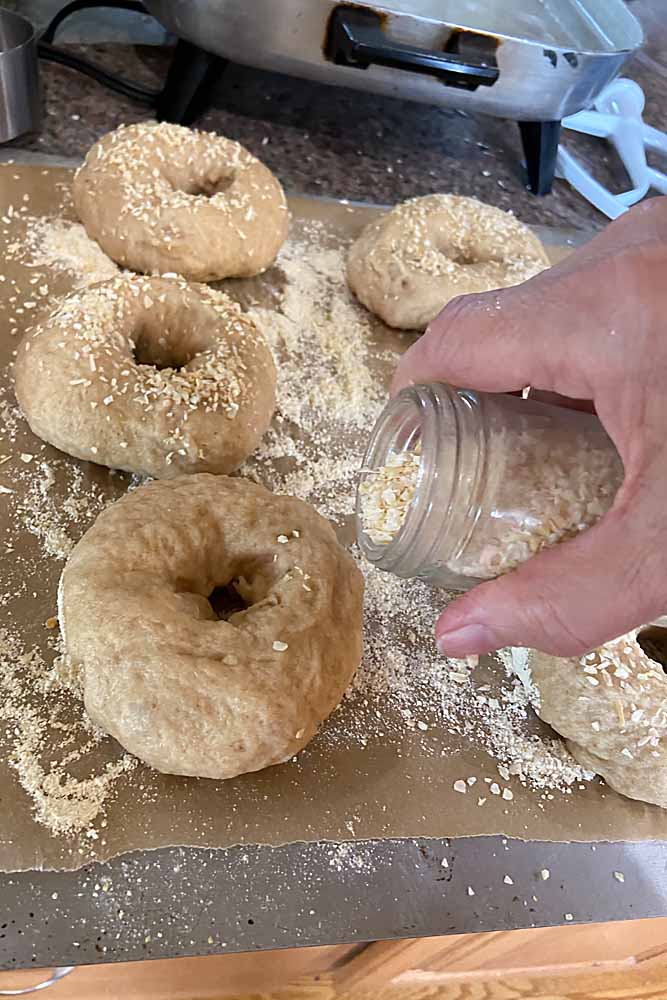 The boiling is done in water mixed with baking soda which helps them brown nicely as they bake. If you are interested in the science check out this NPR analysis.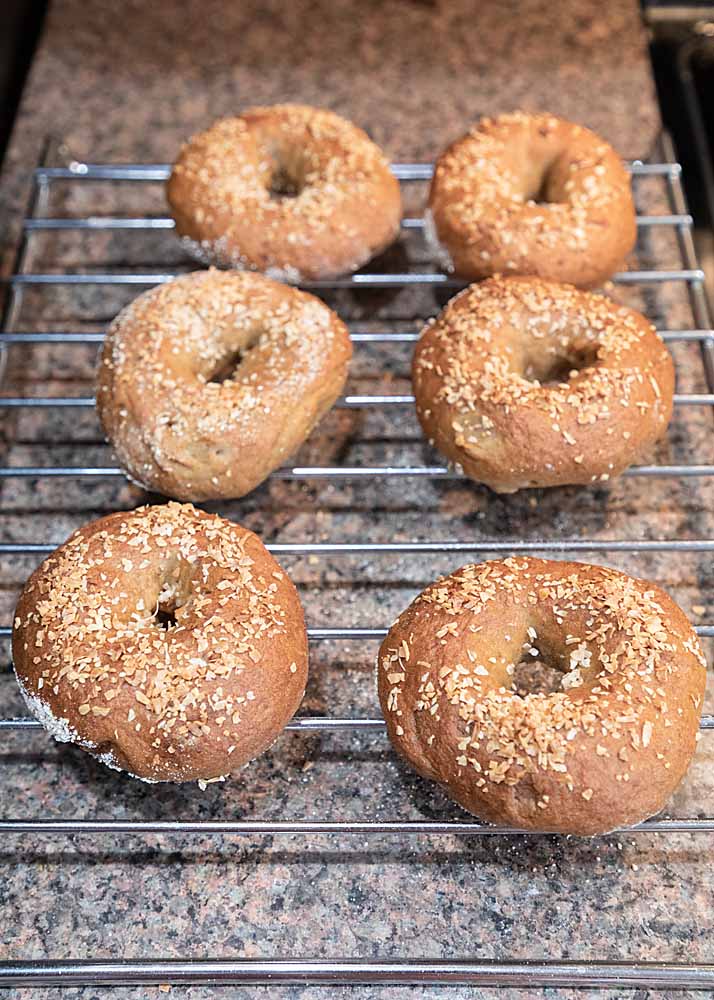 I hadn't made bagels in years but my Sunday bloggers onion theme was the perfect incentive. Despite the appeal of homemade, they had fallen by the wayside as I juggled career and kids.
So I was excited to try them again.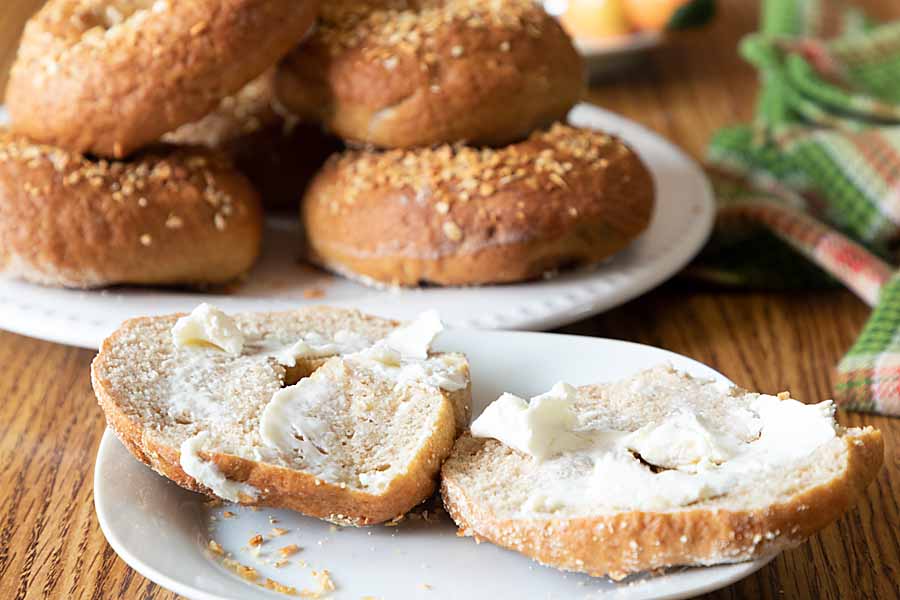 It was also fun to use the old electric frying pan I got from my mother. She used it for so many recipes growing up that it was positively nostalgic. Why had I let it sit unused for months in the basement!
Happily, this bagel worked for me the first time I tried. So then my next thought was all of the other flavors I could try. Cinnamon Cranberry anyone?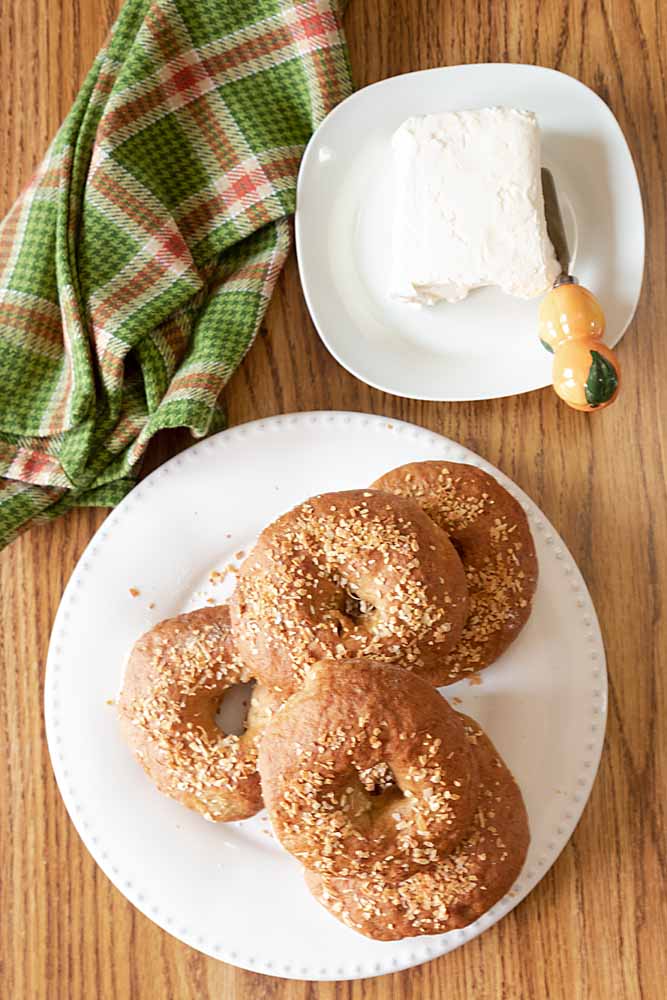 Yup that frying pan's going to get a lot of use now!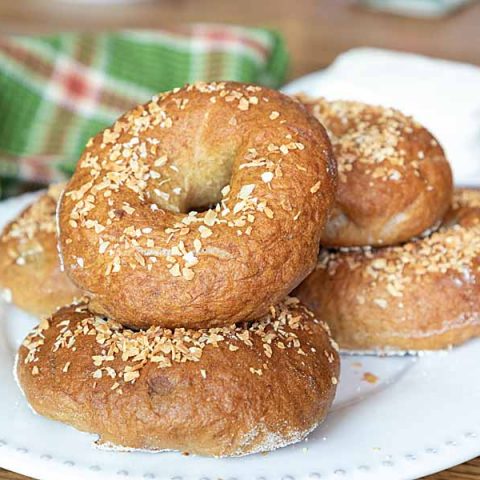 Homemade Onion Bagels
Cook Time: 20 minutes

Additional Time: 1 hour 15 minutes

Total Time: 1 hour 35 minutes

Homemade onion bagels aren't difficult and can be made with ordinary home ingredients. Who wants bagels for breakfast now!
Ingredients
Bagel dough:
1 cup warm water (about 115 F)
1 ½ t active dry yeast (or ½ packet)
1 tablespoon sugar
1/2 tablespoon salt
1 T onion powder
2 1/2 cups flour
Other:
¼ cup baking soda
Water for boiling
1-2 T dried minced onion
Instructions
Combine the warm water, yeast and sugar and let stand for 5 minutes, or until foamy.


Combine the salt, flour and onion powder, then add to the water and yeast mixture. Mix and adjust flour or water if needed to make a dough that is just slightly sticky. Knead the dough until it "pushes back", 5-10 minutes.


Put the dough in a bowl at least double its size and top with a wet cloth. Let the dough rise for about an hour until it has doubled in size.


Punch down the dough and divide into 6 pieces. Form each into a ball and poke your thumb through the center to make a bagel shape. Set the bagels in a warm place to rise about 15 minutes.


Line a baking sheet with parchment or spray with non-stick spray.


Add the baking soda and enough water to a tall frying pan or saucepan that is deep enough to float the bagels. Bring to a boil.


Set the bagels in the boiling water, 2-3 at a time and boil for 1-2 minutes on each side. Remove the bagels with a slotted spoon, drain them on a towel, and place them on the prepared baking sheet. Sprinkle with dried mined onion. Bake at 400F for 15-20 minutes until golden and cooked through.

Allow to cool at least 5 minutes before serving.
Nutrition Information:
Yield: 6 Serving Size: 1
Amount Per Serving: Calories: 207Total Fat: 1gSaturated Fat: 0gTrans Fat: 0gUnsaturated Fat: 0gCholesterol: 0mgSodium: 3052mgCarbohydrates: 44gFiber: 2gSugar: 3gProtein: 6g

Nutrition data accuracy may vary with product selection, calculator accuracy, etc. Consult a professional for the best information.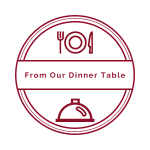 All About the Onion
We share Recipes From Our Dinner Table! Join our group and share your recipes, too! While you're at it, join our Pinterest board, too!