Salmon Salad with Grapes and Pecans
Salmon Salad with Grapes & Pecans updates a classic chicken salad. Serve as a sandwich or as a salad for lunch, brunch, shower or dinner.
This post is sponsored in conjunction with #FallFlavors Week. I received product samples from sponsor companies to help in the creation of these recipes. All opinions are mine.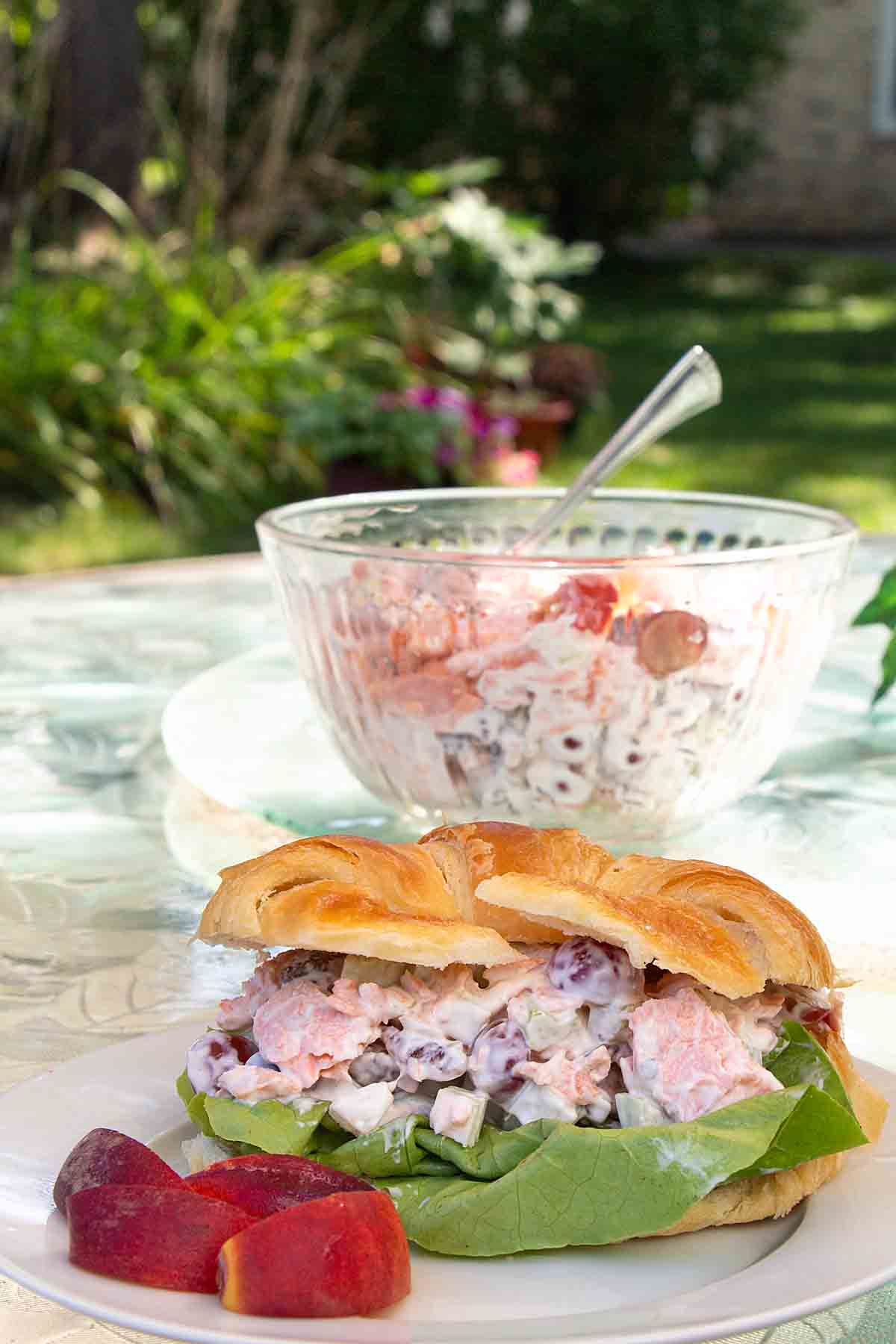 Today's Salmon salad with grapes and pecans recipe is based on a chicken salad with grapes recipe I ate growing up. I was a picky eater back then and always suspicious of sandwich spreads–who knows what could be lurking inside! But this recipe was an exception.
With a sweet brightness from the grapes, I went it for every time. Now, as an adult on a mission to eat more salmon, I wondered, could this be even better with salmon?
So when the Melissa's Produce box I got for #FallFlavor Week included beautiful red grapes, I knew the time was now. Melissa's Produce is the largest distributor of specialty produce in the United States and carries fun, "exotic" items like kumquats along with must-haves like grapes!
Check the giveaway below for a chance to win a subscription of your own and other great prizes.
What Makes This a Winner
Just in case the punch of freshness from the grapes isn't enough to convince you, this recipe is:
A Healthier Updated Classic – who can resist a classic that gets an update, especially if it's healthier! With the omega-3 rich salmon plus a lower-fat, higher-calcium dressing, you get the best of both worlds.
Versatile – this salmon salad can be served as a sandwich, or as a simple salad with lots of fun variations (see "Variations" below)
Go Fancy or Everyday — Serve this salad on toast or in a wrap for every day. Or go upscale for a shower or elegant brunch by serving on a croissant or topping half of an avocado.
Step by Step Directions
Since, I couldn't find my mother's recipe, I went out to her old Betty Crocker cookbook. And with some tweaks we were in for a tasty easy lunch! And prep was so easy!
You cook salmon, cool and cut into bite-sized pieces.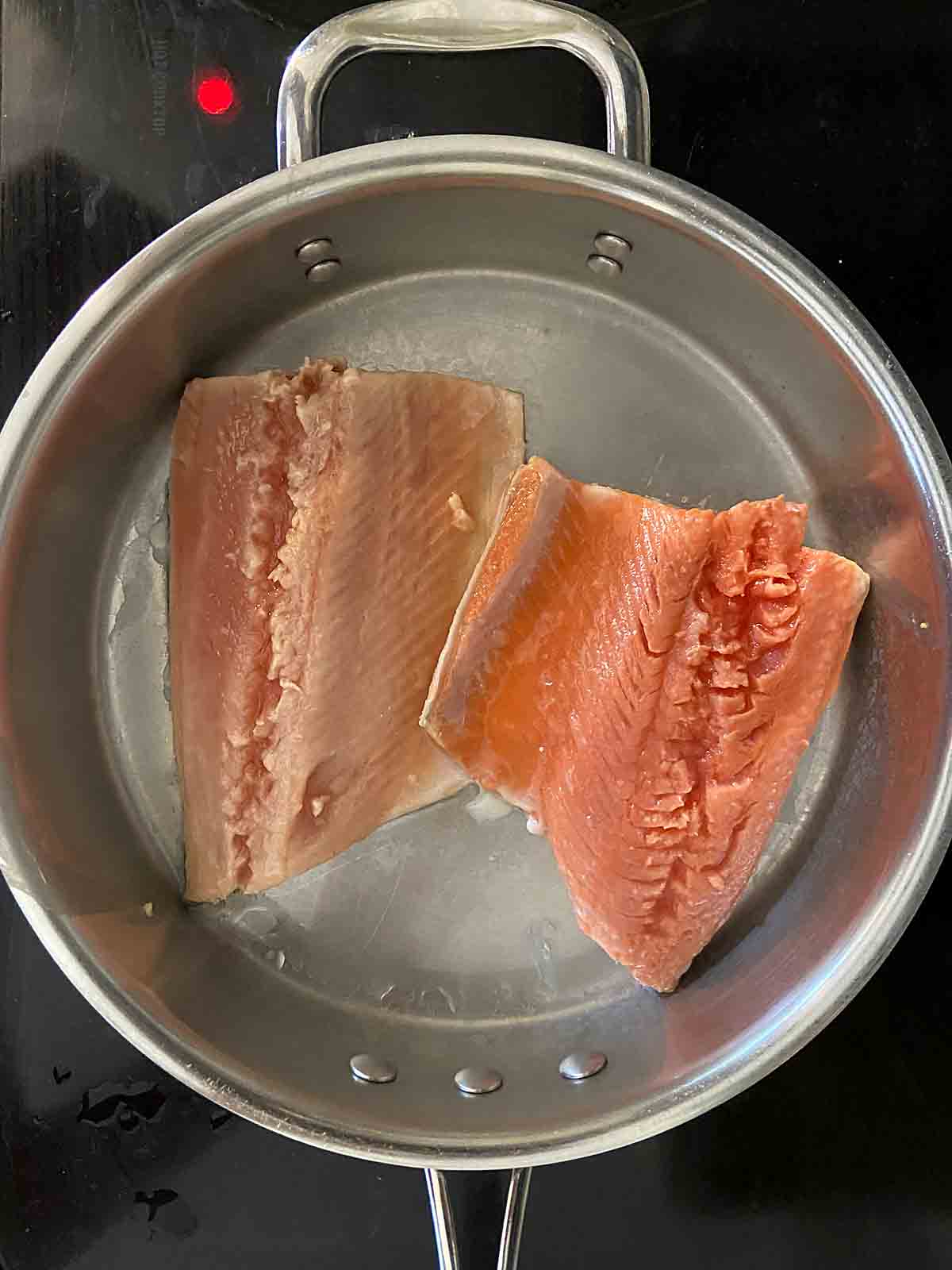 Halve grapes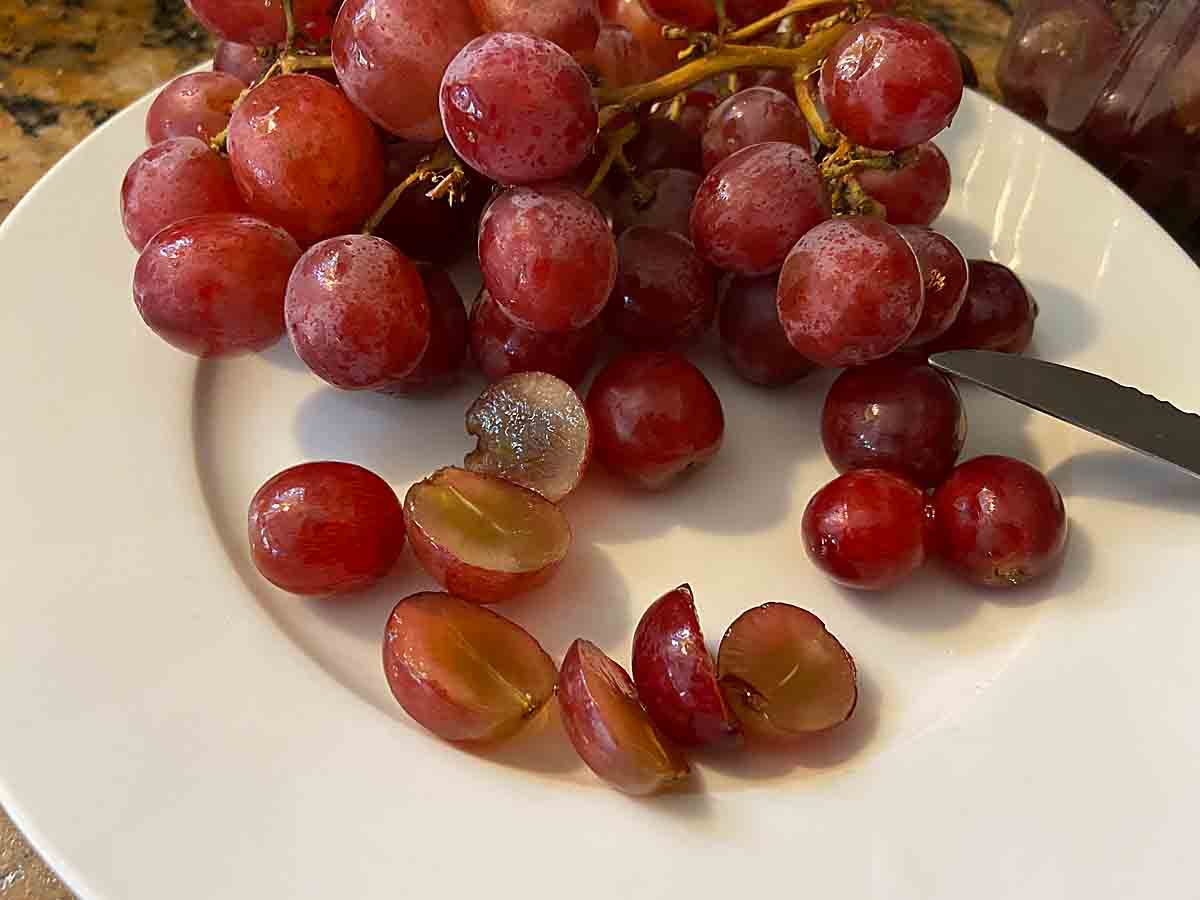 Chop other ingredients as needed.
Mix up dressing and combine everything.
Serve as a salad or as a sandwich filling.
Variations
While I think the simplicity is part of the beauty of this Salmon Salad, there is still room for creative add-ins. Betty Crocker did a variation with bacon bits which is hard to argue with. And dried cranberries are a common add-in that would up your fruit intake.
Now one of the reasons that this recipe is fun is because it can go sandwich or salad. For a sandwich, you get to decide between serving on a croissant for an elegant look, or going with a wrap or toast for a more casual treat. In any case, I'd add lettuce.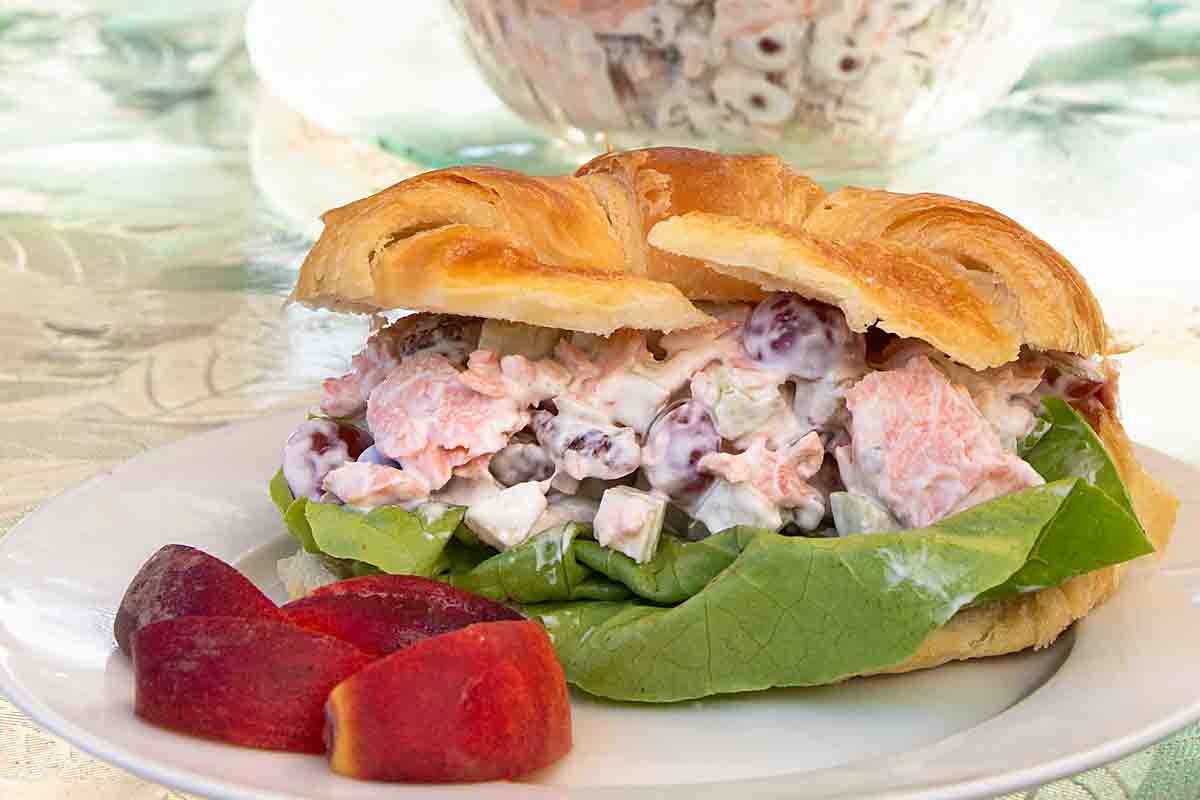 As a salad you can simply go plain—probably on top a lettuce leaf. Or serve atop a full mixed green salad for super nutrition! Serving in a hollowed out tomato or on half of an avocado would be other fun options!
What to Serve With
Since you really don't get a full serving of fruit from the grapes in the salad, a cluster of grapes would be lovely on the side, whether this is served as a sandwich or a salad.
If used in a sandwich, some pasta salad would be a fun side dish. Other options include fruit slices, raw veggies or the classic pickle and chips. I've used my Broccoli Waldorf Salad too.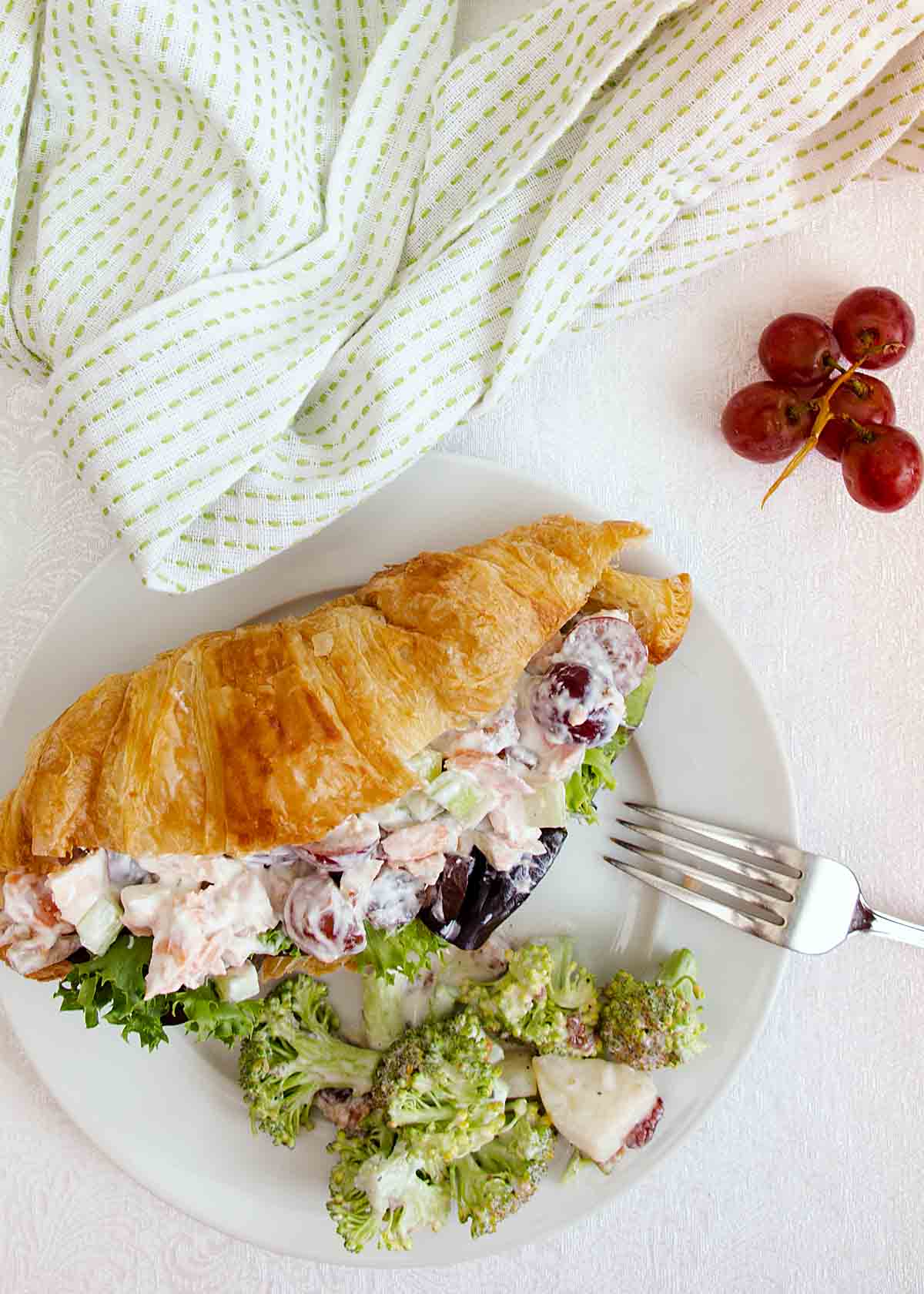 If serving as simple salad, I'd top a nest of lettuce leaves, then consider a croissant or dinner roll on the side. Raw veggies or apple slices would also be nice. These sides would also work for a stuffed tomato or avocado.
Tips & FAQs
I made this with fresh salmon that I poached in wine. But salmon leftovers would work well—or salmon cooked according to your favorite method!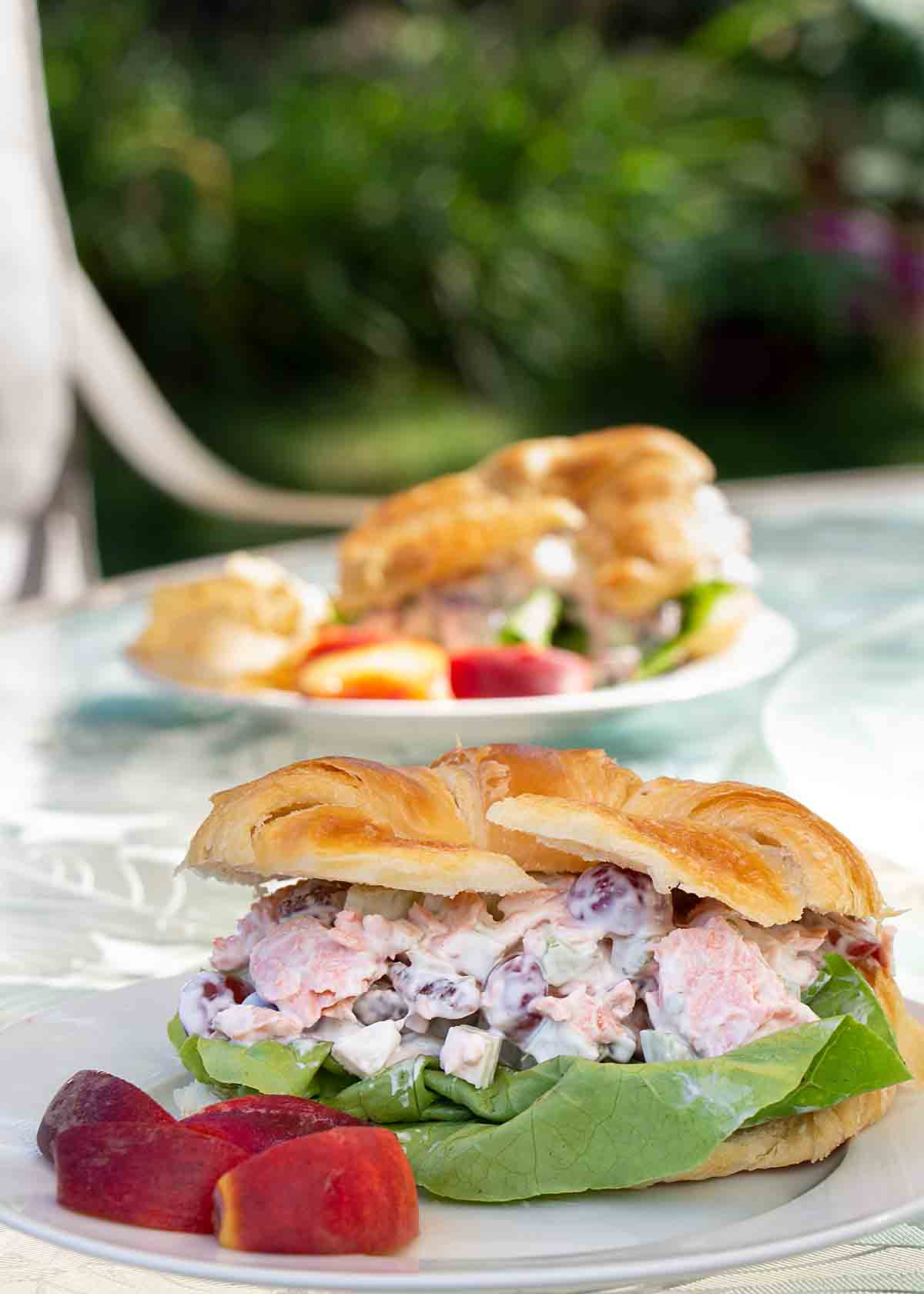 Of course, to save time or money—or simply for convenience, I don't see why canned salmon wouldn't work. You would probably need two cans (after removing bones and skin) for a full recipe. Just mix it in gently since it will be more fragile.
More #FallFlavors Recipes Below:
Appetizers and Snacks
Breakfast and Baked Goods
Soups and Salads
Side Dishes
Main Dishes
Desserts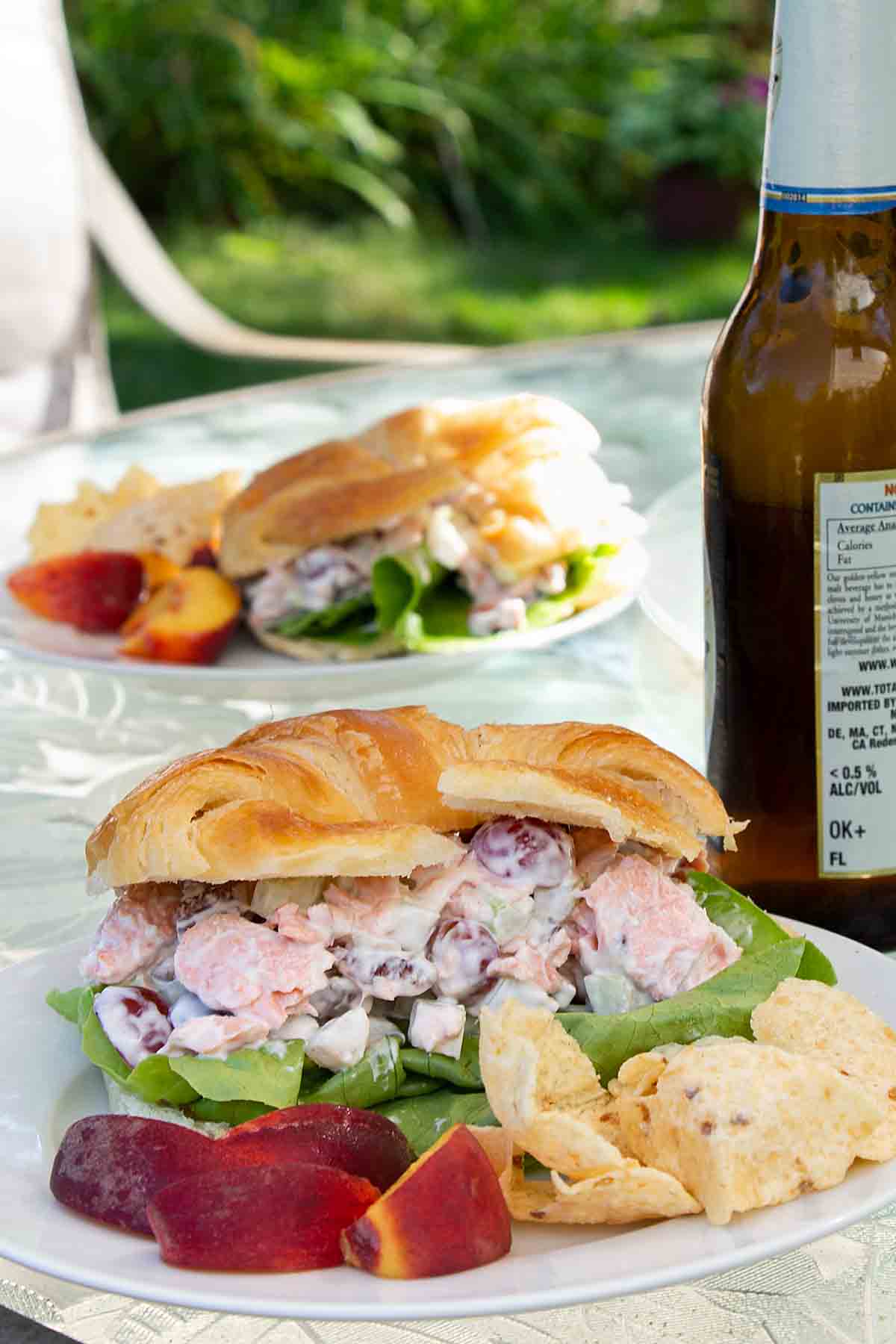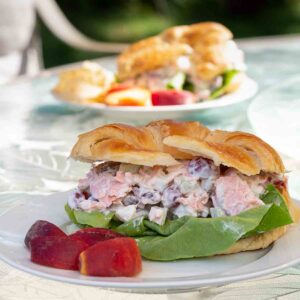 Salmon Salad with Grapes and Pecans
Salmon Salad with Grapes and Pecans updates a classic chicken salad. Perfect for lunch or a light supper on croissants, lettuce leaves, avocado half or more! 
Ingredients
Salmon Salad:
20

ounces salmon fillets

or a bit more, about 3 cups of cooked cubes

½

cup

water

½

cup

white wine

1

cup

halved red seedless grapes

½

cup

chopped celery

½

cup

chopped pecans
Dressing:
½

cup

mayonnaise

½

cup

plain Greek yogurt

2

Tablespoons

apple cider vinegar

or enough to thin to mixable consistency

¼

teaspoon

salt

pepper (or to taste)
Instructions
Bring ½ cup white wine and ½ cup water (can sub all water or broth) to a simmer in a large skillet. Salt salmon lightly, then add to the skillet and cover. Simmer until cooked through, about 10 minutes. Cut into bite-sized cubes and cool (can set cooked salmon briefly in freezer to hasten cooling).

Halve grapes and chop celery. Chop pecans if needed.

Mix dressing ingredients.

Combine cooled salmon with other ingredients and the dressing. Mix with a spoon until just combined.

Serve on bread or croissants as a sandwich or over lettuce as a salad.
Nutrition
Calories:
256
kcal
Carbohydrates:
8
g
Protein:
5
g
Fat:
22
g
Saturated Fat:
3
g
Polyunsaturated Fat:
18
g
Cholesterol:
15
mg
Sodium:
231
mg
Fiber:
1
g
Sugar:
5
g
I am not a health professional and nutrition data is calculated programatically. Accuracy may vary with product selection, calculator accuracy, etc. Consult a professional for the best information.