Classic Broccoli Bacon Salad
Crunchy with a hint of sweet, Broccoli Bacon Salad is healthy and tasty. My versions adds apples for a perfect lunch, dinner or picnic side!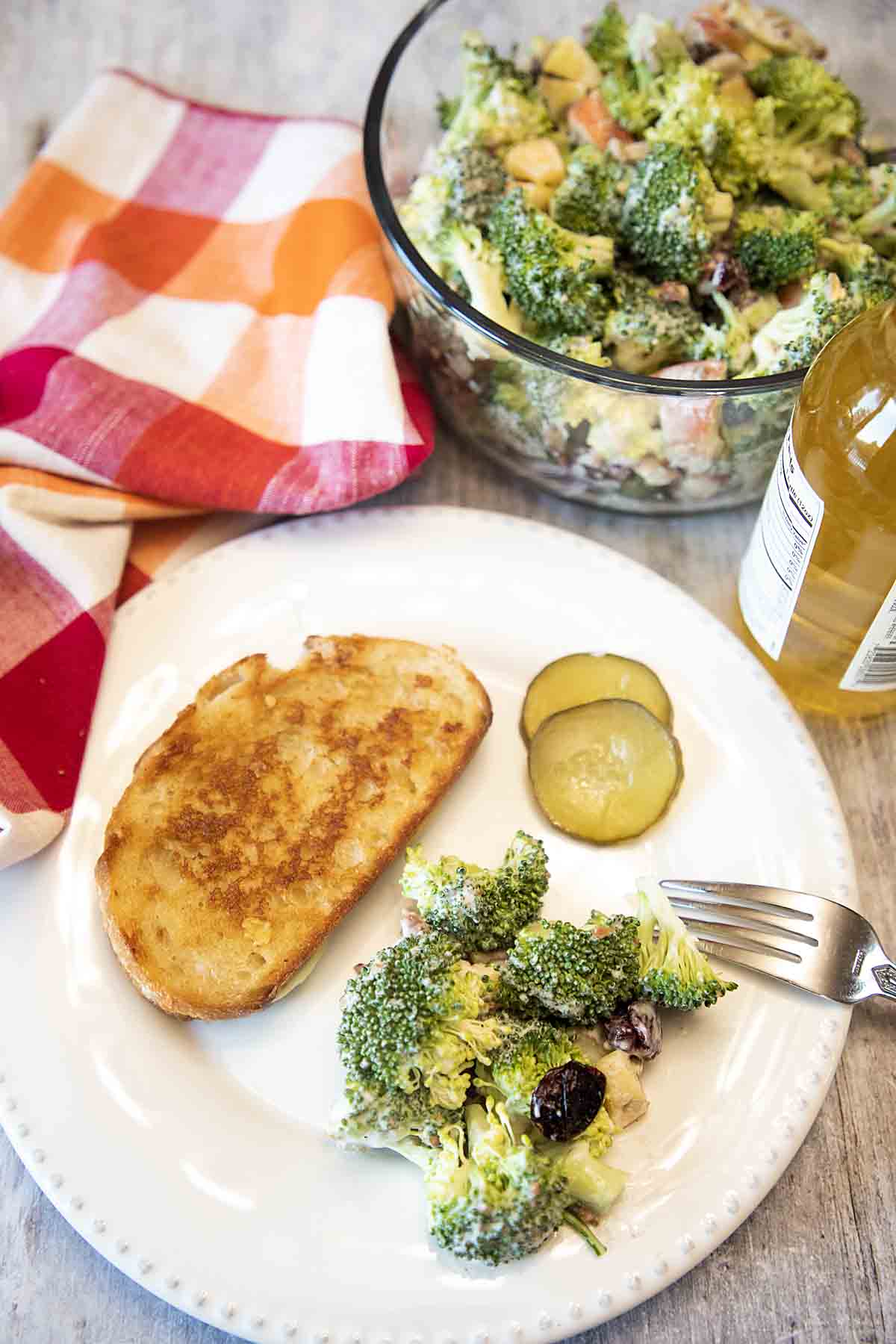 There's a restaurant near us that we like. And every summer, just for summer, they put a Broccoli Bacon Salad on the menu. Three months only! Once Labor Day rolls around, it's history. Eat it while you can.
So finally I said, "Silly girl, everyone makes a Broccoli Bacon salad. Just do it." Which is how I learned that it's not just tasty, it's easy too! Especially with the efficiency tips I include below!
Yes, Broccoli Bacon Salad has a broadly appealing flavor, but it also has real character! How good is that!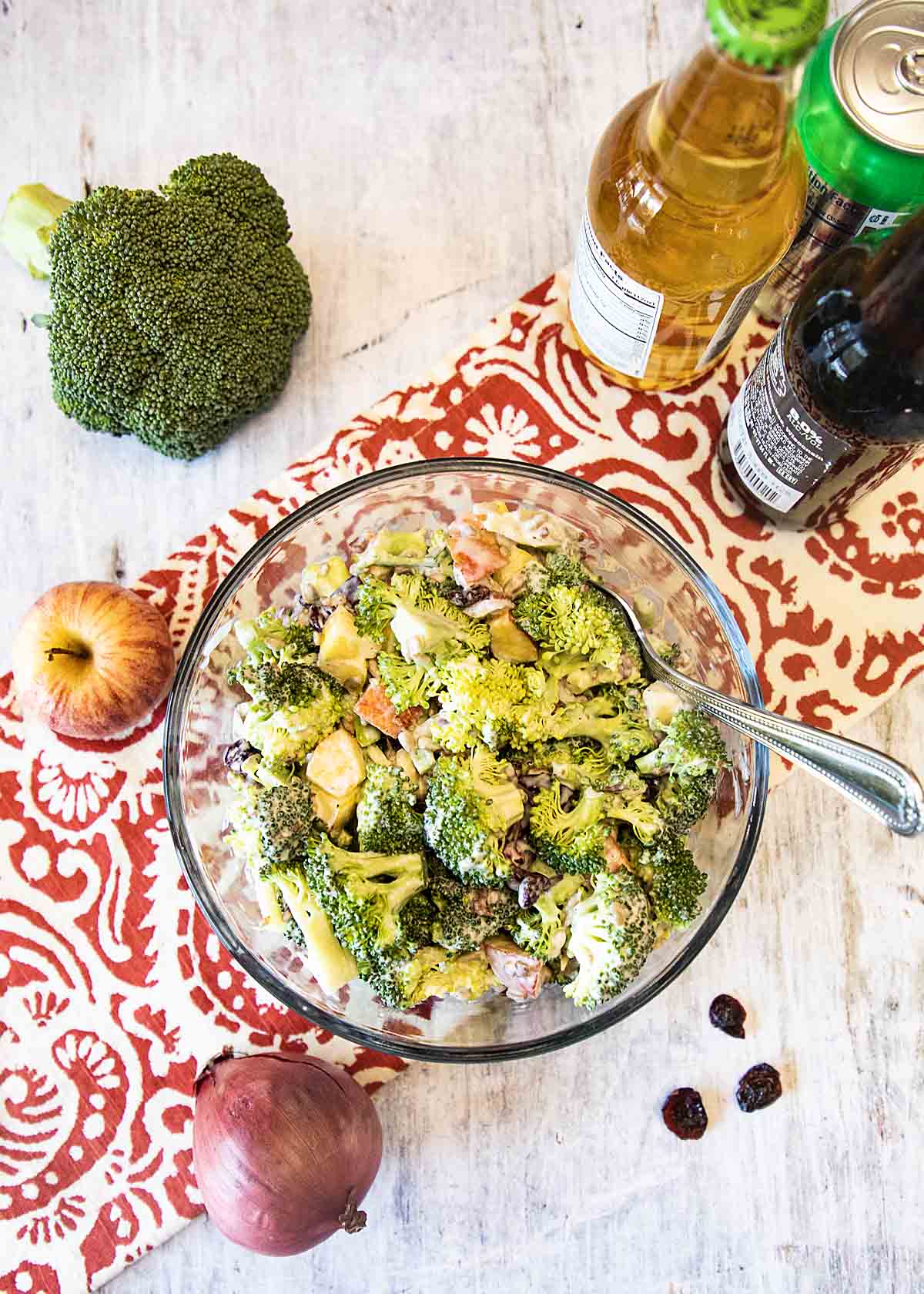 What is Broccoli Bacon Salad?
The Broccoli Bacon Salad is a classic vegetable salad with broccoli, dried cranberries or raisins, bacon, sunflower seeds, and red onion tossed with a light, slightly sweet mayonnaise dressing.
Now sometimes this dish takes some inspiration from the Waldorf salad, a crunchy apple salad with a similar dressing. In that case, chopped apples are added to the Broccoli salad in which case it may be called a Broccoli Waldorf Salad. I'll sometimes use a crisp pear rather than an apple, if those are looking good.

Of course in my best "add a veggie (or fruit)" mode, I pretty much always add apples or pears to mine whether I call it Broccoli Bacon Salad or Broccoli Waldorf Salad!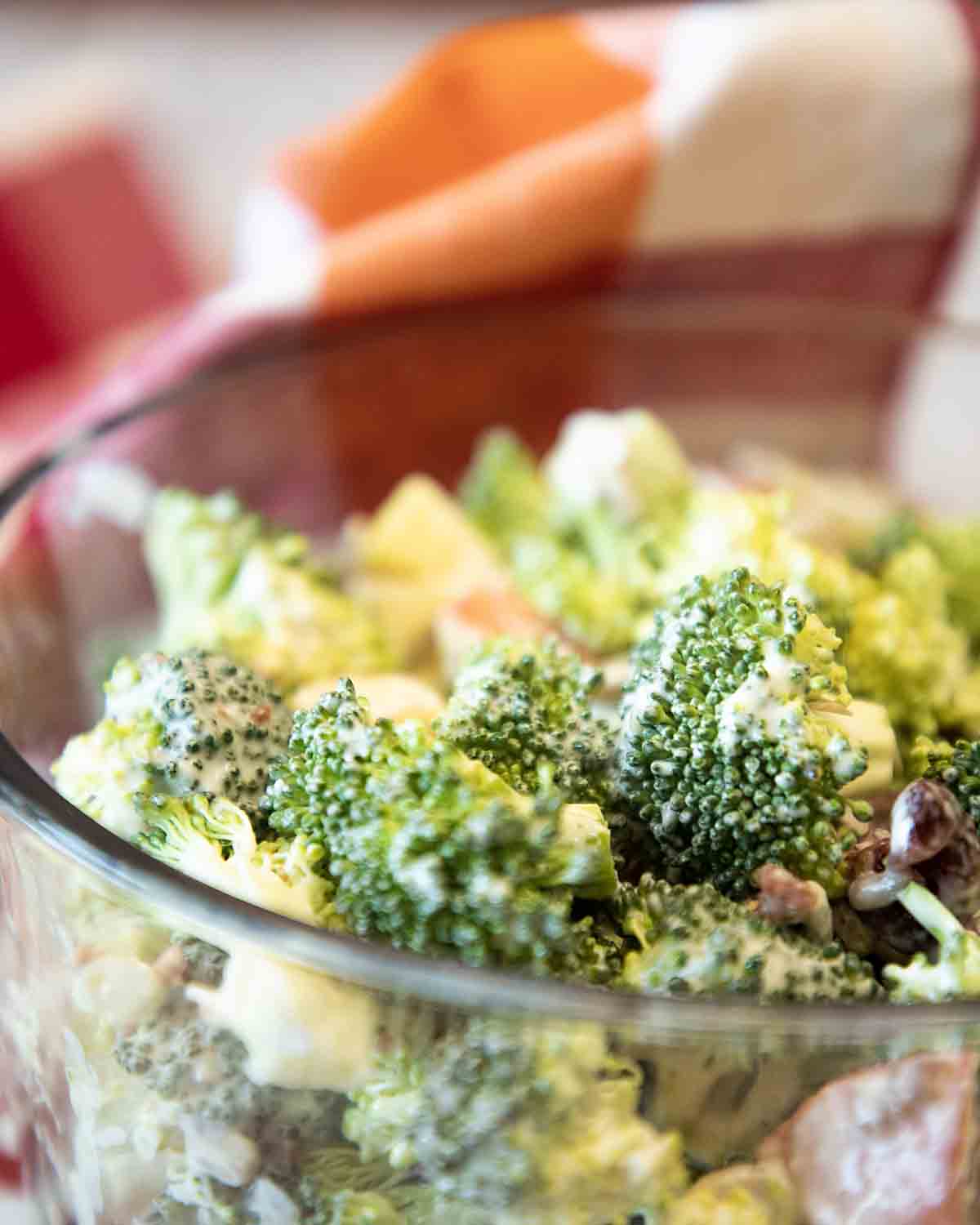 Why You'll Love This!
Tasty. I eat this because I love its sweet, savory, crunchy goodness. The other benefits are just gravy.
Easy. While in a perfect world I always eat local, I don't hesitate to use options like pre-cut broccoli when I'm busy. Even pre-crumbled bacon. Yup, gotta live in the real world!
Healthy. Full of healthy broccoli with some fruit and nuts, this is a nutritious salad option. I've even lowered the calories and increased the nutrition by using some yogurt in the dressing.

What You'll Need
Ingredient Notes
Broccoli florets. This is the nutritious and tasty main ingredient.
Pear or apple. Adds a light sweetness and nutrition.
Walnuts, pecans or sunflower seeds. Adds crunch and nutrition.
Bacon bits or bacon substitute. Adds flavor.
Dried cranberries. Adds nutrition and chewiness. You can use raisins or dried currants if you prefer.
Red onion. Adds a savory note that helps balance the salad.
Mayonnaise. This is the main dressing ingredient.
Greek yogurt. Lightens the dressing and adds nutrition.
Apple cider vinegar. Adds a hint of balanced tartness to the dressing.
Honey. Adds flavor and a sweet note to the dressing.
Salt, pepper. Adds flavor.
Special Tools
No special tools are needed.
Step by Step Directions
Chop ingredients as needed.
Mix dressing.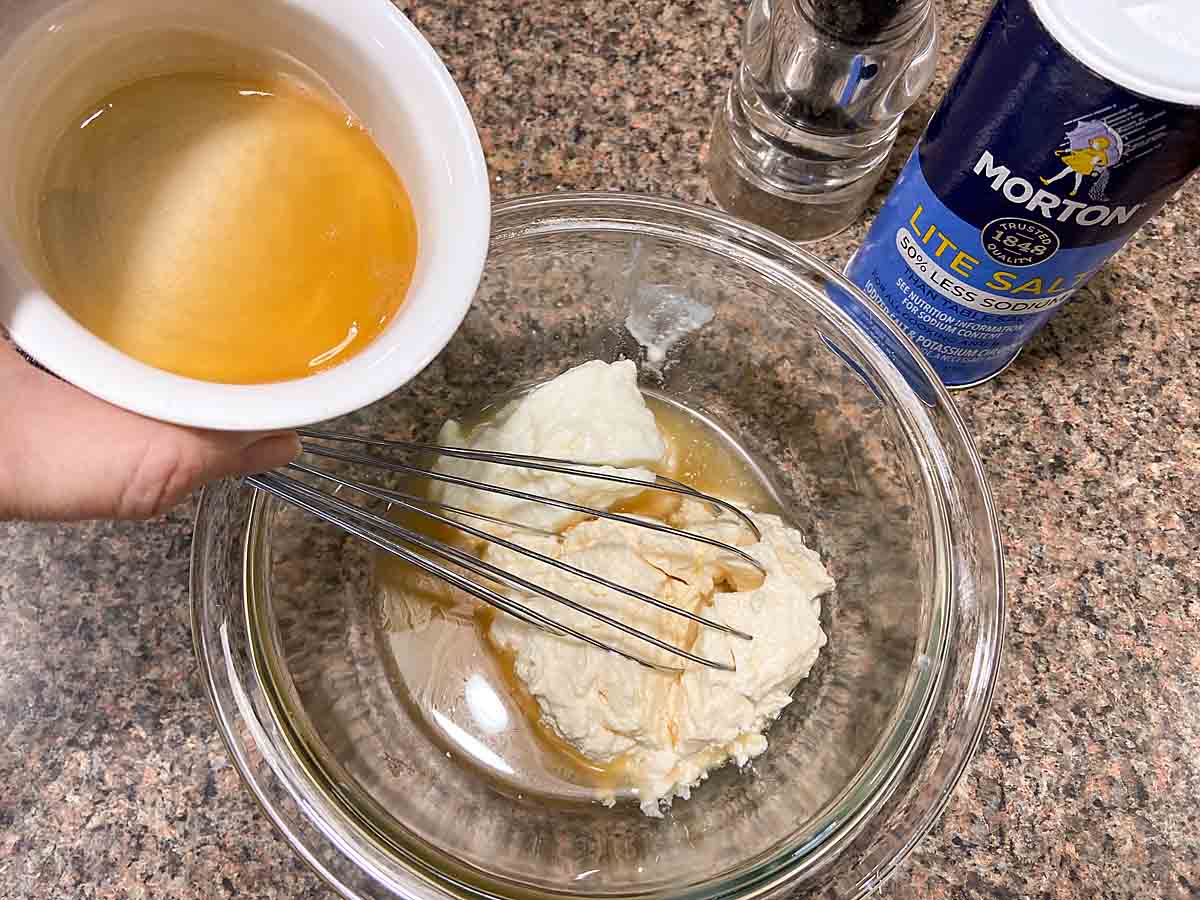 Combine salad ingredients.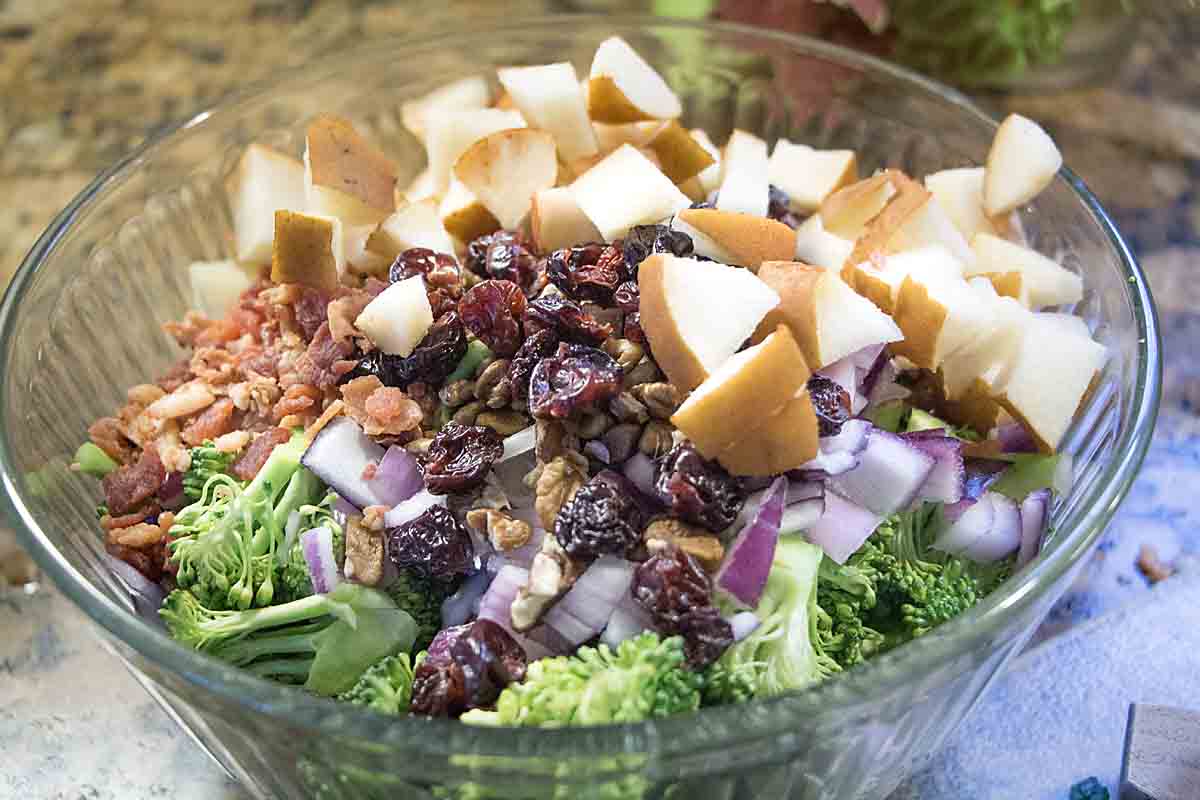 Toss salad with dressing.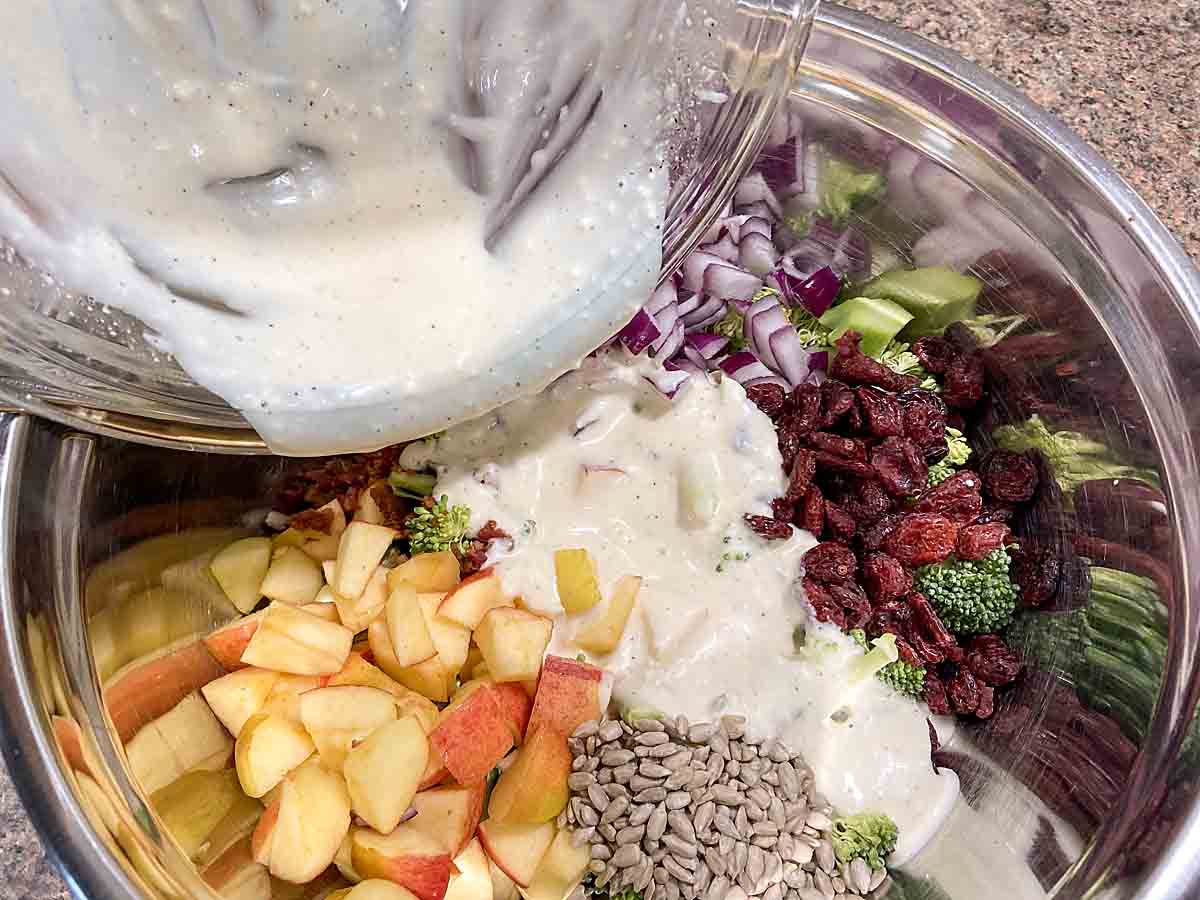 Enjoy!
How to Serve
This falls into the category of what I call "casual salads." These are (usually) vegetable-based salads that are right at home alongside sandwiches, burgers, and other informal foods. And since they don't wilt when dressed, they are perfect to mix up ahead of time, then pack up for picnics, potlucks, and other fun events.
Some other favorite casual salads include my Classic Carrot Raisin Salad, Kale and Brussels Sprout Salad, Asian-Inspired Broccoli Slaw, or Easy Thai Carrot Salad.
And while I probably wouldn't serve this at a very formal dinner, I wouldn't hesitate to include it at an semi-formal garden party or a nice weekend dinner say with Whole Roast Chicken or Slow Cooker RIbs.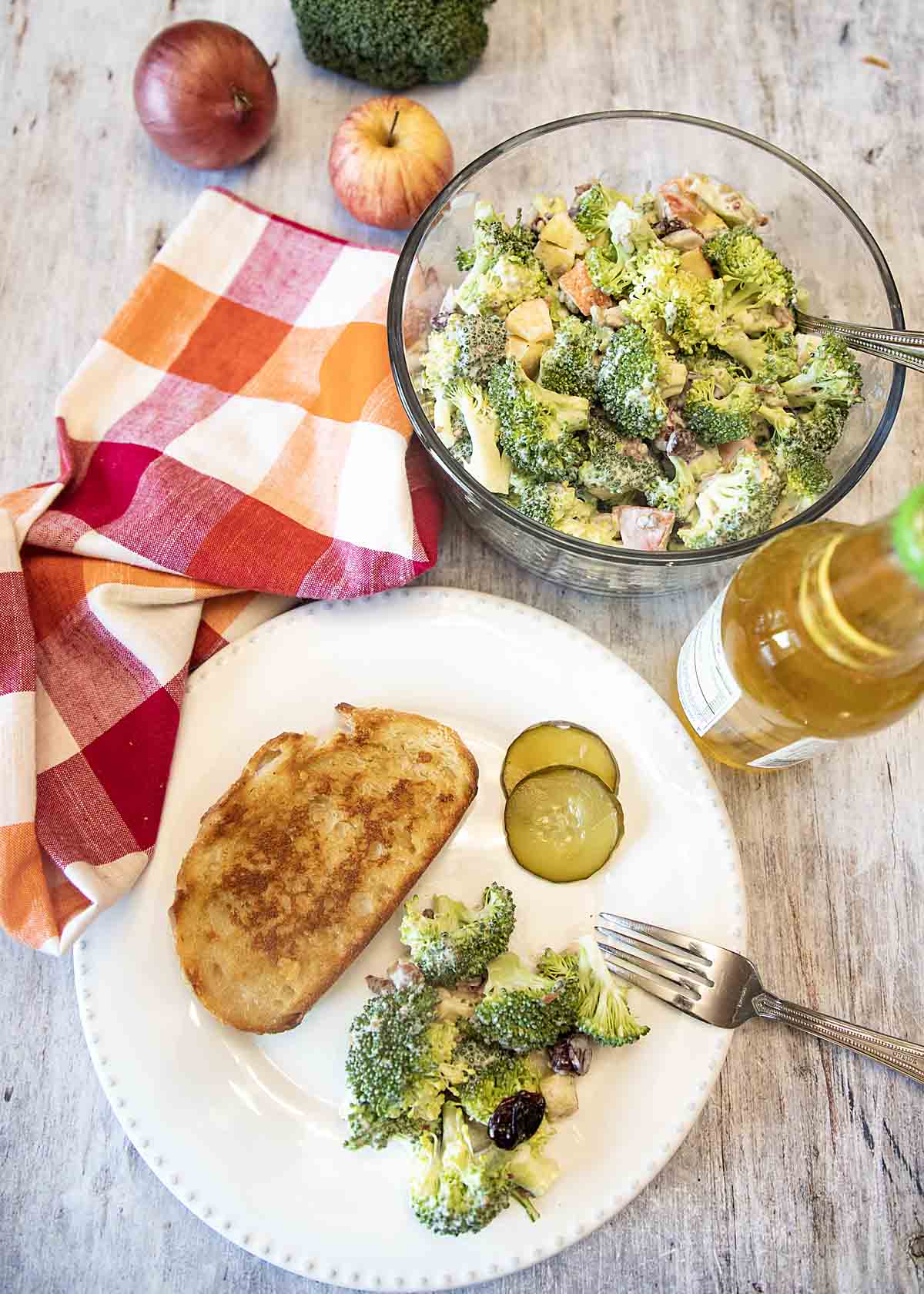 Variations and Special Diets
A favorite way I enjoy this is served over lettuce, so I get even more healthy goodness. That's one of my mottos–add a veggie!
Some people like to add grated or chopped cheese, usually cheddar, to this. I prefer it without, though cheese would increase the protein and calcium.
I like this with nuts, like walnuts or pecans, but sunflower seeds are very commonly used. I prefer the flavor and find that nuts are less likely to wind up in a pool at the bottom of the serving bowl!
Special Diets
For a vegetarian salad, you can use one of the soy bacon bit substitutes that are readily available. And it's even easy to turn this salad vegan. Besides the bacon substitute, use a vegan mayonnaise and yogurt in the dressing and maple syrup (or sugar or sweetener) instead of honey.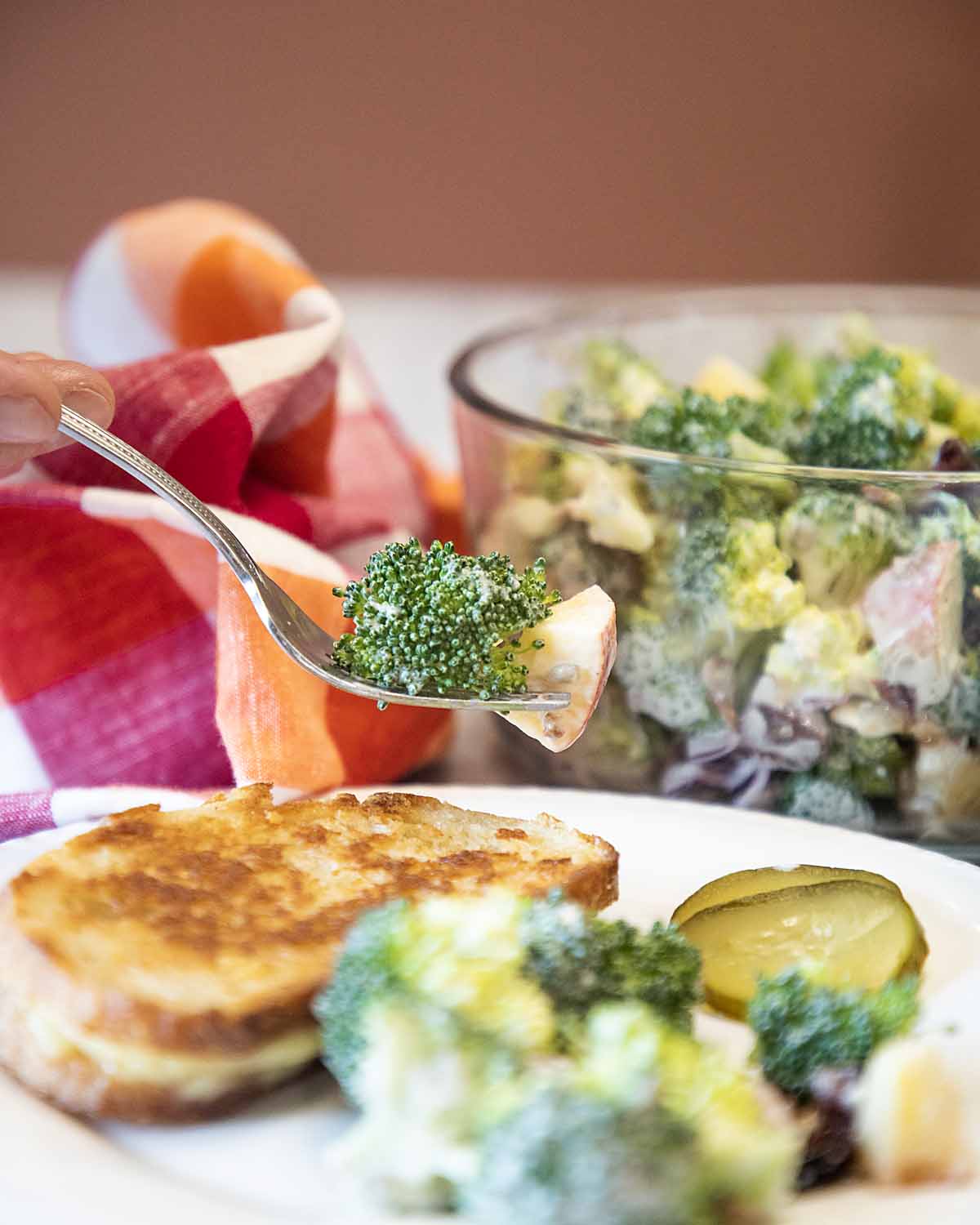 Preparation and Leftovers
Unlike a lettuce salad, this doesn't turn limp and unappealing once it's dressed. So leftovers can be kept sealed and refrigerated for 3-4 days.
Broccoli Bacon Salad is not suitable for freezing.
Tips & FAQs
Go organic on the pear or apple if you can. Those consistently make the dirty dozen section of the EWG's rating system.
Pre-cut broccoli florets, even organic, are easy to find and inexpensive at retailers like Trader Joe's and Costco.
If your broccoli (pre-cut or otherwise) has a lot of stems, you can use some of these in the salad. Cut the stems into smaller cubes, consider peeling if tough and make sure you don't use so much that the stems dominate.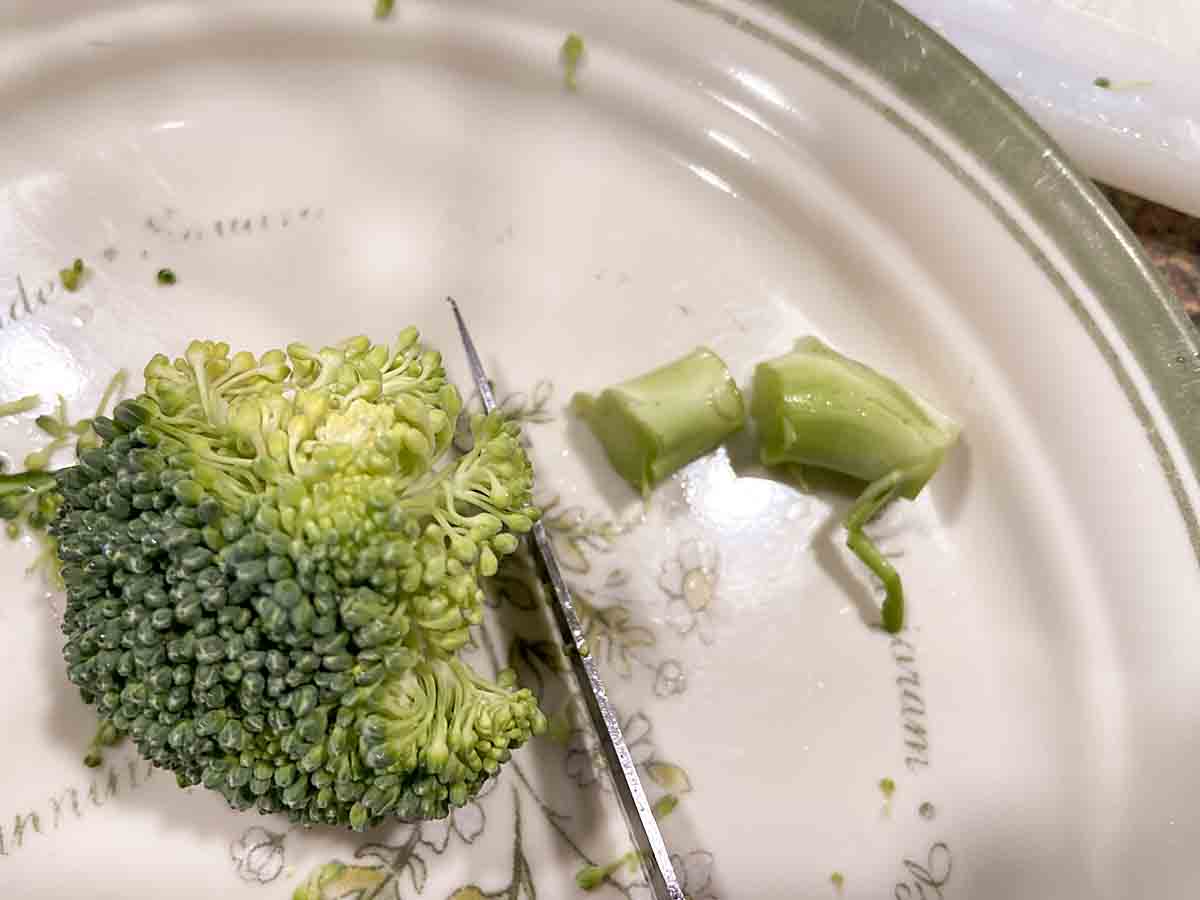 I typically use packaged pre-crumbled bacon bits in this. If you aren't familiar with this, it is shelf stable until opened. After that I keep the resealable package in my freezer for up to a few months until they are used up. You can even find brands without any added nitrates.
If you are frying your own bacon for this, consider purchasing bacon ends at a discount. These aren't as pretty for serving, but a bargain for making bacon crumbles.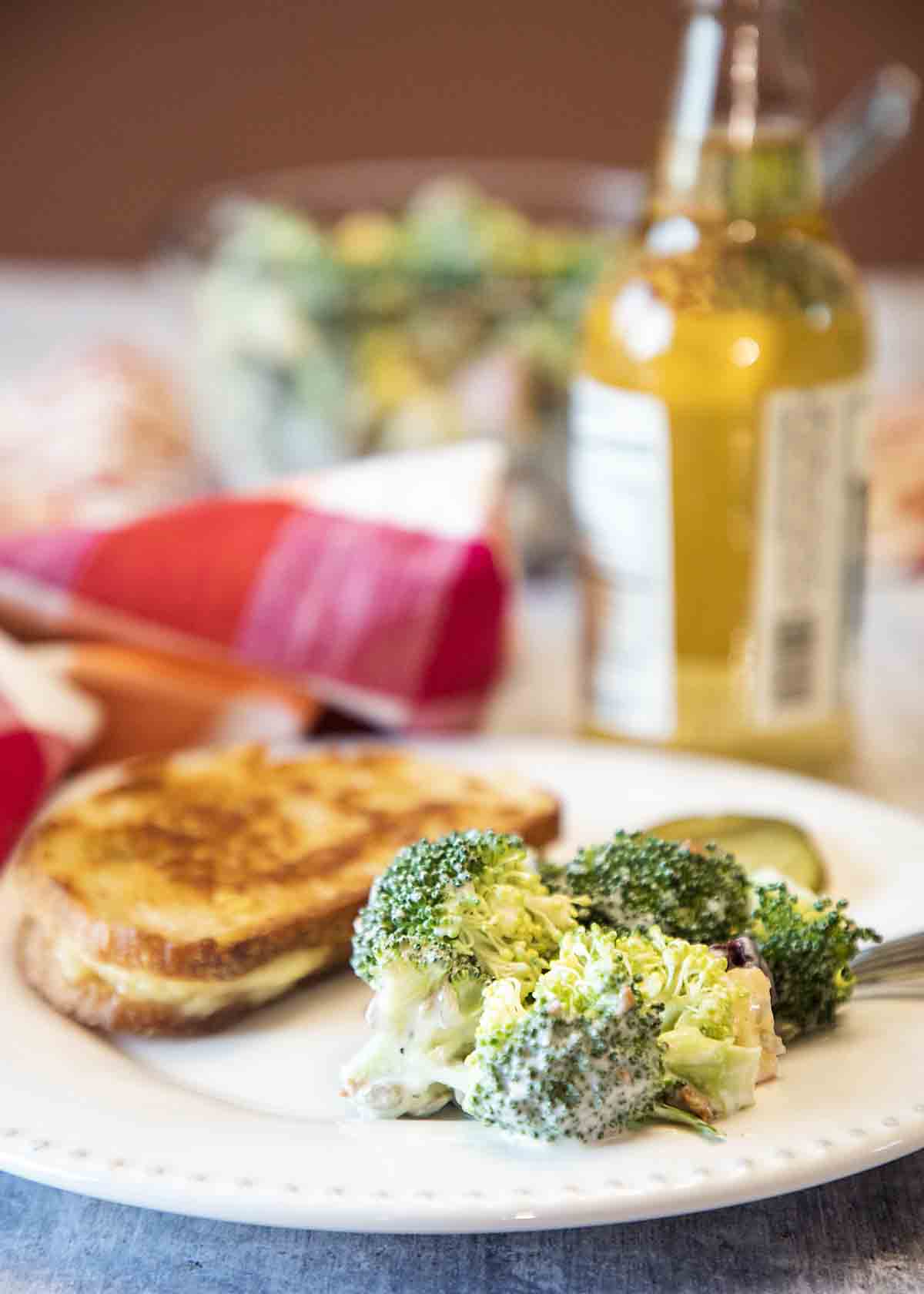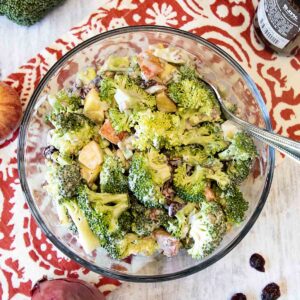 Broccoli Bacon Salad
Crunchy with a hint of sweet, Broccoli Bacon Salad is healthy and tasty.  My versions adds apples for a perfect lunch, dinner or picnic side!
Ingredients
Salad
12

ounce

broccoli florets

1 package, or about 5 cups

1

pear

or apple , cored and cubed

1/4

cup

chopped walnuts

or sunflower seeds

1/4

cup

bacon bits

or bacon substitute

1/4

cup

dried cranberries

1

red onion

diced, about ½ c
Dressing
1/2

cup

mayonnaise

1/4

cup

Greek yogurt

1/4

cup

apple cider vinegar

2

Tablespoons

honey

1/4

teaspoon

salt

pepper
Instructions
Mix dressing ingredients in a small bowl. Set aside.

In a large salad bowl, combine remaining ingredients. Mix with dressing or serve dressing on the side.
Nutrition
Calories:
220
kcal
Carbohydrates:
18
g
Protein:
5
g
Fat:
15
g
Saturated Fat:
2
g
Polyunsaturated Fat:
9
g
Monounsaturated Fat:
3
g
Trans Fat:
0.03
g
Cholesterol:
6
mg
Sodium:
310
mg
Potassium:
229
mg
Fiber:
3
g
Sugar:
11
g
Vitamin A:
281
IU
Vitamin C:
40
mg
Calcium:
45
mg
Iron:
1
mg
I am not a health professional and nutrition data is calculated programatically. Accuracy may vary with product selection, calculator accuracy, etc. Consult a professional for the best information.
Originally posted May, 2019.
Looking for more fun summer salads? Then check out these recipes from some of my blogging friends:
Summer Salads
We share Recipes From Our Dinner Table! Join our group and share your recipes, too! While you're at it, join our Pinterest board, too!