Crunchy with a hint of sweetness, Broccoli Waldorf Salad is healthy and tasty. Perfect for summer picnic season–or anytime of the year!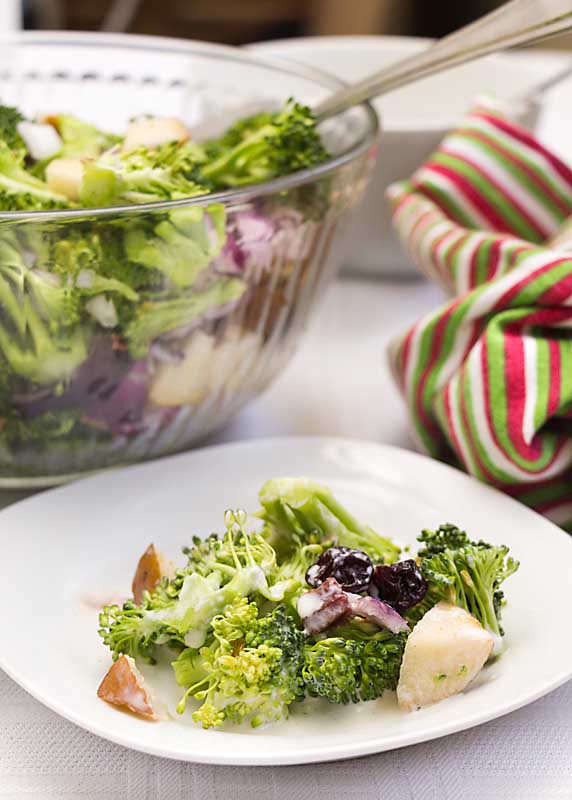 There's a restaurant near us that we like. And every summer they put a Broccoli Waldorf Salad on the menu. Three months only. Once Labor Day rolls around, it's history.
Eat it while you can.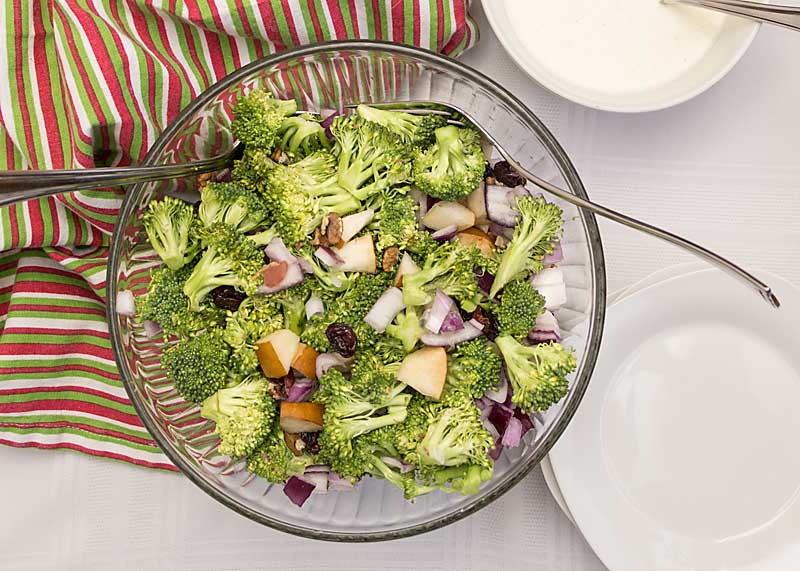 So this year, I finally said, "Silly girl, everyone makes that a Broccoli Waldorf salad. Just do it."
And it worked the first time–it was even educational. I learned that you can buy bacon bits pre-cooked on the grocery shelf. Add that to the precut broccoli florets and the whole thing is a piece of cake.
I looked at a number of online recipes, did some picking and choosing, then adjusted after tasting. I also used a Bosc pear instead of an apple. Bosc pears keep their crispness beautifully and looked fresher than the late apples I saw. It was perfect.
Go organic on the pear or apple if you can. Those consistently make the dirty dozen section of the EWG's rating system. But even organic broccoli florets were easy to find and inexpensive at Trader Joe's. Alas, I was not ambitious enough to fry up my own organic bacon bits and went with packaged conventional.
So here is my version, just in time for summer picnic season.
Or anytime. 🙂
Broccoli Waldorf Salad
2019-05-10 11:44:15
Serves 8
Crunchy with a hint of sweetness, Broccoli Waldorf Salad is healthy and tasty. Perfect for summer picnic season--or anytime of the year!
Nutrition Facts
Amount Per Serving
* Percent Daily Values are based on a 2,000 calorie diet. Your Daily Values may be higher or lower depending on your calorie needs.
Salad
• 12 oz package broccoli florets, about 5 cups
• 1 pear or apple, cored and cubed
• 1/4 c. walnuts bits (or sunflower seeds)
• ¼ cup bacon bits or bacon substitute
• 1/4 c. craisins
• 1 red onion, diced, about ½ c
Dressing
• 1/2 c. mayonnaise
• ¼ cup Greek yogurt
• 1/4 c. apple cider vinegar
• 2 tbsp honey
• ¼ t salt, pepper
Instructions
Mix dressing ingredients in a small bowl. Set aside.
In a large salad bowl, combine remaining ingredients. Mix with dressing or serve dressing on the side.
Art of Natural Living https://artofnaturalliving.com/

Looking for more fun summer salads? Then check out these recipes from some of my blogging friends:
Summer Salads
We share Recipes From Our Dinner Table! Join our group and share your recipes, too! While you're at it, join our Pinterest board, too!