How to Roast a Chicken (the Lazy Way)
Do you have days when you just want to make the easiest meal ever? But something that still tastes really, seriously, good. Enter Lazy Roast Chicken.
Yup, I almost feel guilty calling this a recipe.
Now back when I made my very first roast chicken, I was actually scared. I had always bought my chicken at the grocery store, conveniently cut into serving sized pieces–and every one of my recipes used cut up chicken. But I had committed to buying free range chickens, right off the farm, and well… they only came whole.
I didn't realize this was a lucky break.
You see simply sprinkling a little salt and pepper on a roasting chicken can be the start of an amazing dinner. Throw some carrots under the bird–those bags of peeled baby carrots are super easy (note theme). Add pre-washed salad & bakery bread and you have dinner. Pretty near zero effort.
Would a chicken taste better with herbs rubbed under the skin and stuffed with grandma's homemade dressing? Actually not, because if you're really tired, you'd do take out instead.
There is one efficiency issue and that is the elapsed time–about 1 1/2 hours. But pop your chicken in the oven, then put in a load of laundry… do the final work conference call… maybe even read the newspaper(gasp!). Or make it during the weekend or the night of the late afterschool activity and you're good.
A few ingredients, some restful (or not) waiting, dinner.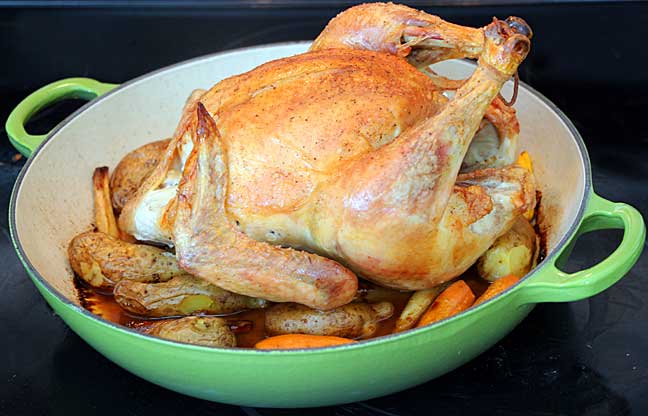 A Few Quick Tips About Roast Chicken
A good roaster is key to success–I like a nice sized (5-6 lb) free range bird right from the farm (via my freezer). Trussing probably results in a better end product, but if you arrive home with not one ounce of extra energy or can't find your kitchen twine, skip it. Make sure your bird is completely thawed–no ice crystals hiding in the crook of the legs–to avoid safety and quality issues. And don't rinse your chicken before cooking; it was recently found to be more likely to spread germs than reduce them. An instant read meat thermometer works great to ensure your chicken reaches a minimum 165F and I check both the thigh and breast to be sure everything is up to temperature. Finally, when you are done, consider saving any leftover skin and bones for homemade chicken broth.
Roast Chicken
2014-05-13 08:42:34
Serves 8
Nutrition Facts
Amount Per Serving
* Percent Daily Values are based on a 2,000 calorie diet. Your Daily Values may be higher or lower depending on your calorie needs.
Ingredients
Whole Chicken, giblets removed
salt
pepper
Instructions
Preheat the oven to 425°F. Do not rinse your chicken, but dry any condensation or other moisture on the outside with paper towels. Double check that the giblets have been removed.
If you experienced at trussing, go ahead and use your customary method. Otherwise, to do a very basic truss, tie the ends of the drumsticks together with kitchen twine and tuck the wing tips underneath the bird. (This is optional)
Salt the chicken generously--this contributes to both flavor and crispness. Season to taste with pepper.
Set the chicken in a roasting pan and, place in preheated oven. Baste or brush the chicken with its own juices after about an hour (if you remember, otherwise don't worry about it). Roast it until it reaches a minimum 165F in both thigh and breast, about 1 1/2 hours.
Remove chicken from the oven and remove to carving plate. Cut off the twine if used and carve the chicken.
Art of Natural Living https://artofnaturalliving.com/