Dutch Oven Whole Chicken (the Lazy Way)
With crispy roast chicken atop golden vegetables, Dutch Oven Whole Chicken is a one pan meal that's easy, tasty and healthy!
Do you have days when you just want to make the easiest meal ever? But something that still tastes, well, seriously good. Enter Lazy Dutch Oven Whole Chicken. Yup, I almost feel guilty calling this a recipe.

Now back when I made my very first roast chicken, I was scared. Truly. I had always bought my chicken at the grocery store, conveniently cut into serving sized pieces–and every one of my recipes used cut up chicken. But I had committed to buying free range chickens, right off the farm, and well… they only came whole.
I didn't realize this was a lucky break. And that it could be the easiest chicken recipe ever!
You see, simply sprinkling a little salt and pepper on a roasting chicken can be the start of an amazing dinner. Throw some baby carrots and fingerling potatoes under the bird and you have a complete meal!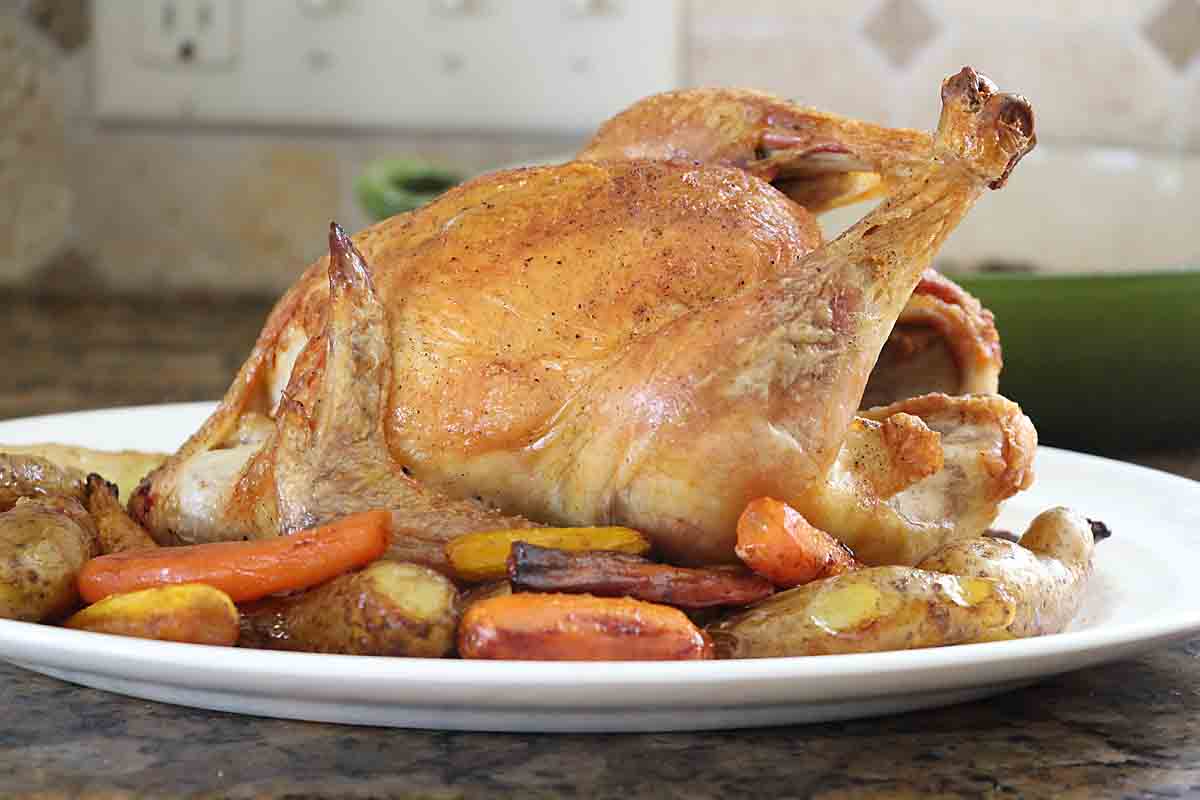 What Makes This a Winner
Easy with little working time. Although Dutch Oven Whole Chicken spends about an hour in the oven, the working time is short. So put the bird in the oven, then do a load of laundry. Or take the final work conference call… maybe even relax and read the newspaper (gasp!).
Flavorful & Family Pleasing. There's a reason that "a chicken in every pot" is proverbial. It may be a simple meal, but the flavor is over the top
A complete meal in one. Adding potatoes and vegetables to the roasting pan is a simple way to make a complete meal easy
Step by Step Directions
Pat the chicken dry.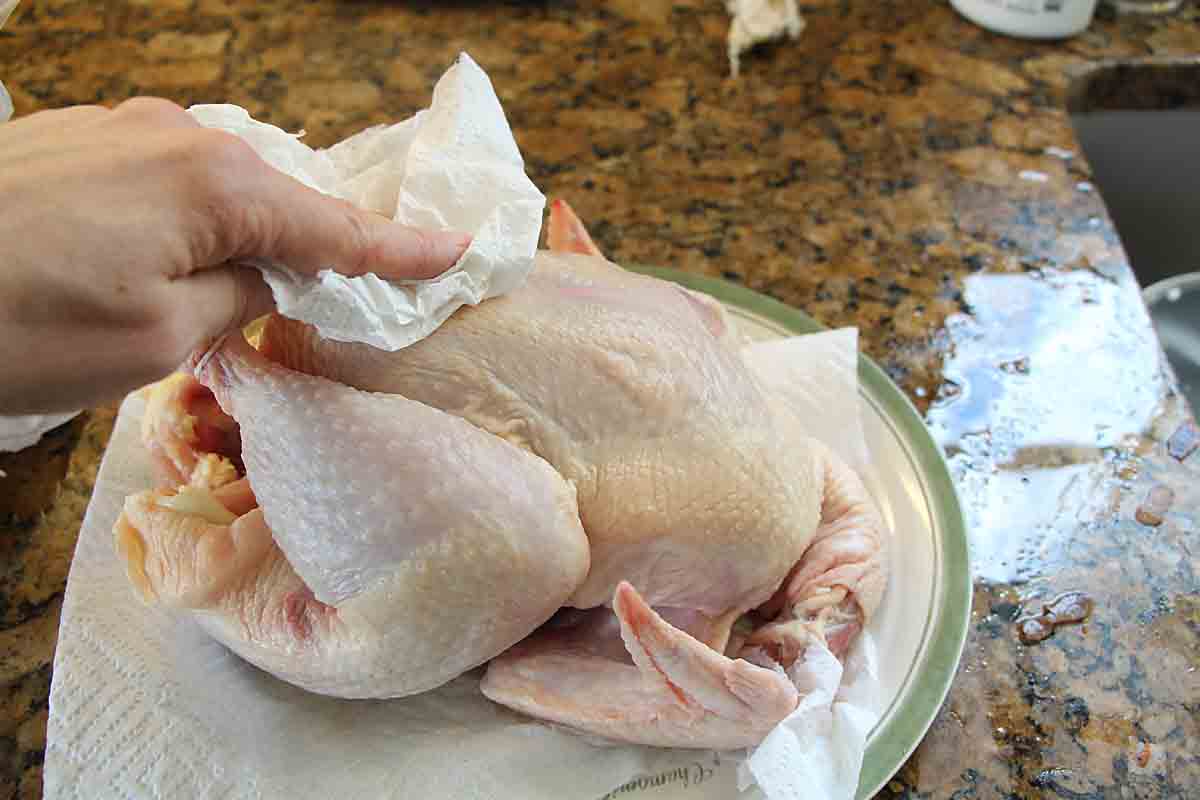 Generously rub all over with salt. Sprinkle with pepper. Let sit while you prepare the vegetables.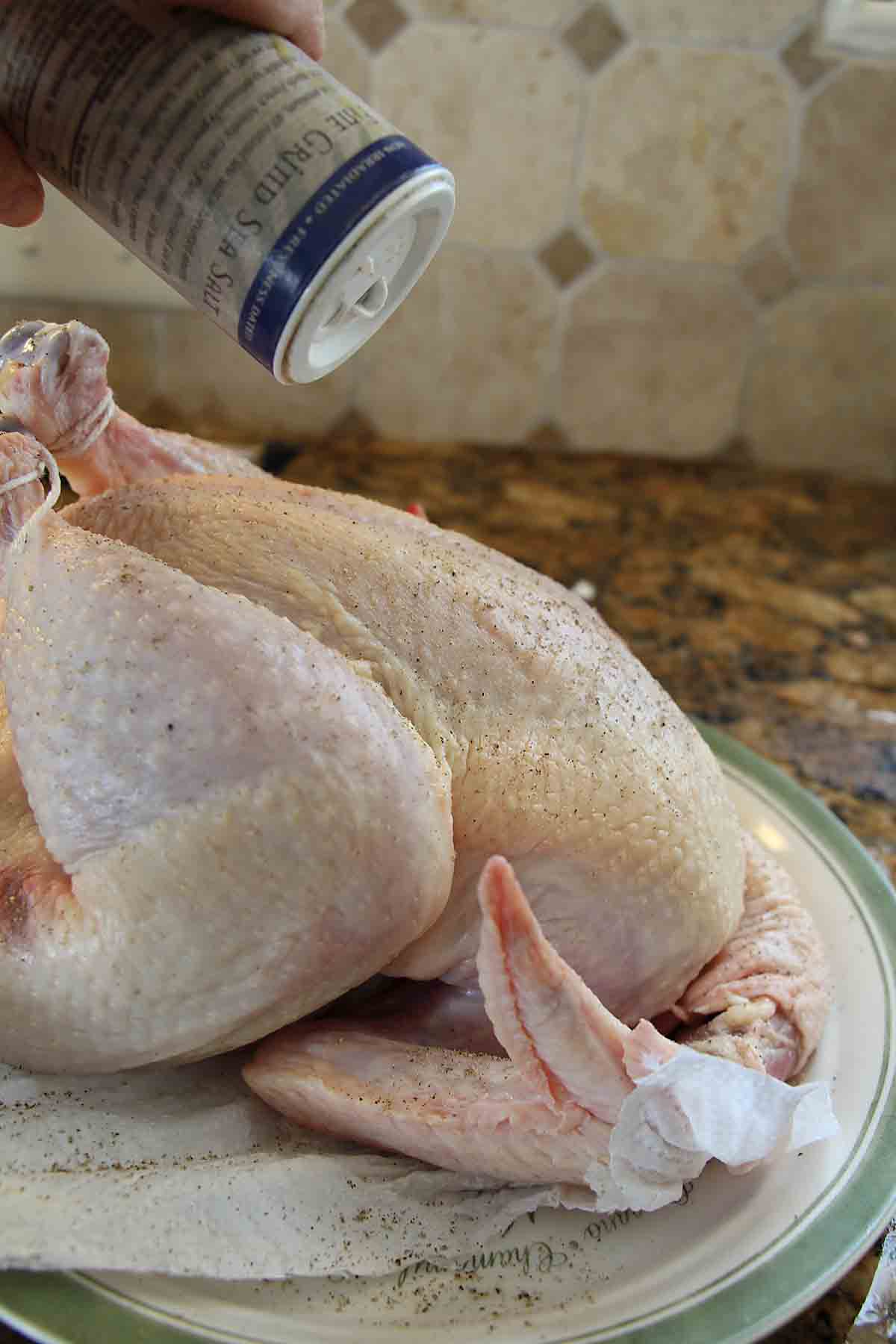 Peel vegetables if needed, and cut into generous "chunks." Set vegetables into roasting pan.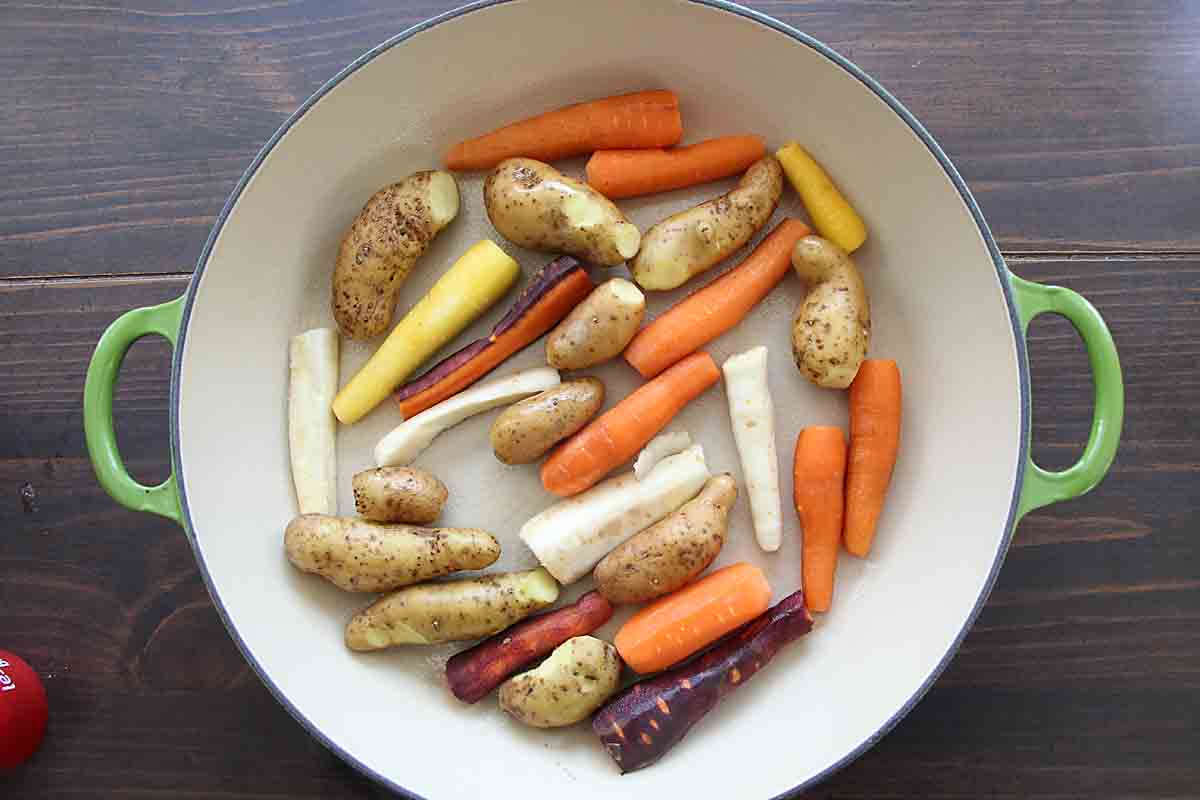 Place the chicken on top of the vegetables, tie the legs together and tuck the wing tips under.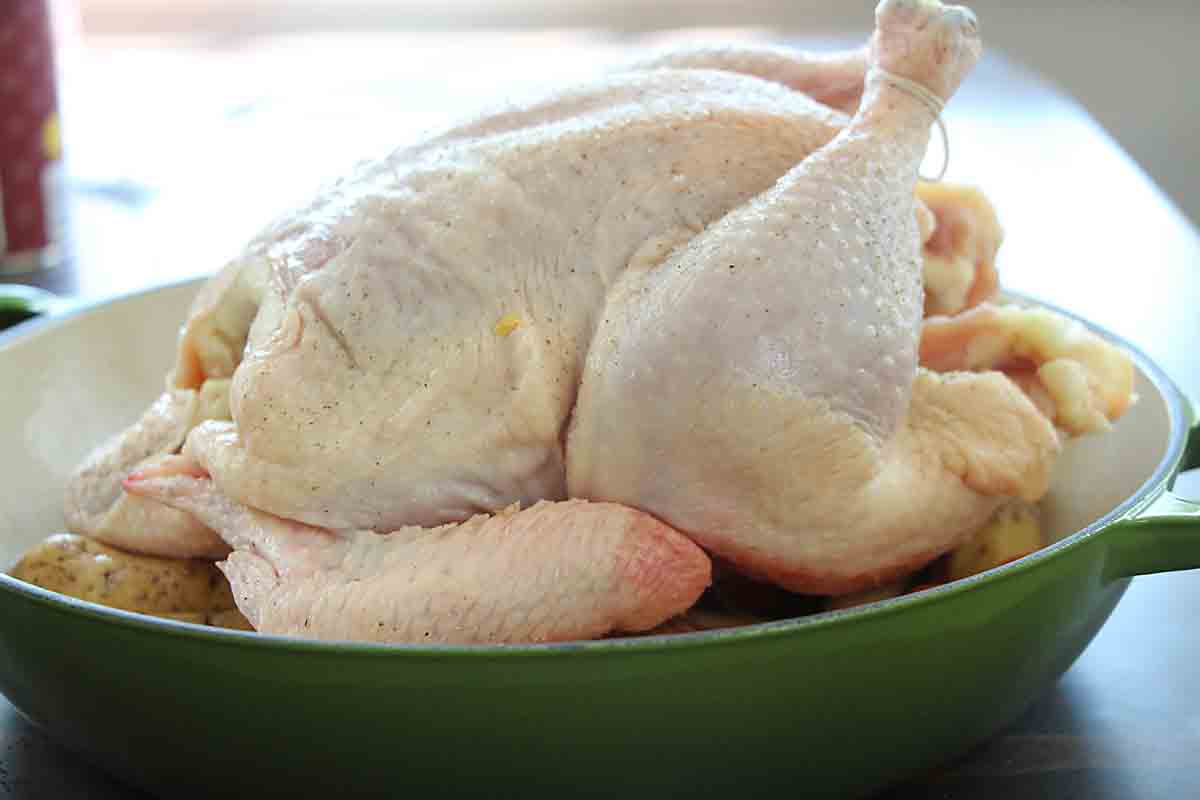 Roast at 425 F until thermometer reads at least 165 F, checking breast and thigh. Serve hot.
Can I really skip seasoning and marinating?
Well, you can't skip the salt. This creates a simple "dry brine" that helps seal in moisture and pulls water out of the skin for good crisping. If you feel you have to do a little more, prick a lemon or two all over with a fork and insert into the cavity, a la Marcella Hazan. Still easy!
Would a chicken taste better with herbs rubbed under the skin and stuffed with grandma's homemade dressing? Actually not, because when you need a simple recipe, you're going do take out instead.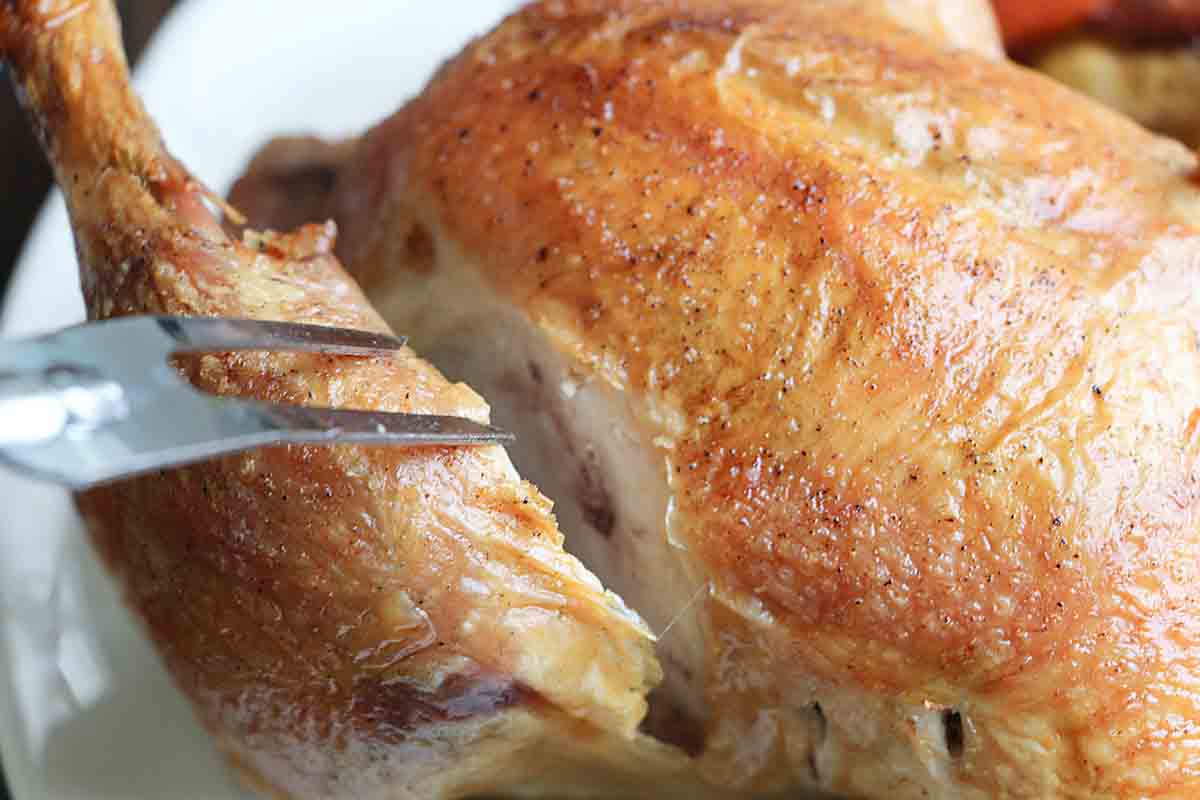 The Best Vegetables
Root vegetables work beautifully in this because they stand up well to both the long hot cooking and the weight of the chicken. I like to use a variety because I'm always counting my "5-a-day" I generally use larger chunks to give them a fighting chance 🙂 .
Potatoes are probably my favorite since they also fill the "starch" course requirement. And they are glorious roasted!
To make this as easy as possible, you can use bagged baby carrots and skip peeling your potatoes. And consider chunking up salad turnips or even radishes, which don't require peeling.
Beyond root vegetables, Brussels sprouts hold up very well and diversify the selection well. I have even added broccoli because I needed to use it up. Yes, broccoli gets too soft to be an ideal option but the flavor was outstanding.
Do I need to include vegetables? No the chicken will cook fine without them. But since we are often short of the recommended amount of vegetables and this is so easy, I encourage you to include them.
What to Serve With
The potatoes and vegetables mean you don't need anything else to turn Dutch Oven Whole Chicken into a complete meal. How easy is that!
But hearty eaters will enjoy a basket of muffins or a nice crusty bread (easy if you stop at the bakery). And–regular readers have heard it before–a salad is an easy way to add extra nutrition and round out a meal.
Ideas for Leftovers (including the bones!)
There are so many things to do with leftover chicken! Consider chicken sandwiches from basic to chicken salad. Cube or cut strips and use in tacos or enchiladas. And if you are a soup lover, this is my favorite chicken soup–made with sage!
And speaking of soup, you can make a delicious and easy stock with your scraps. Deglaze the pan and save those juices along with the bones and any skin that isn't eaten. Then you can use this broth recipe for (effectively) free broth. If I'm too busy to do this, I freeze the bones and deglazing juices and make stock later, sometimes combining the bones from multiple meals.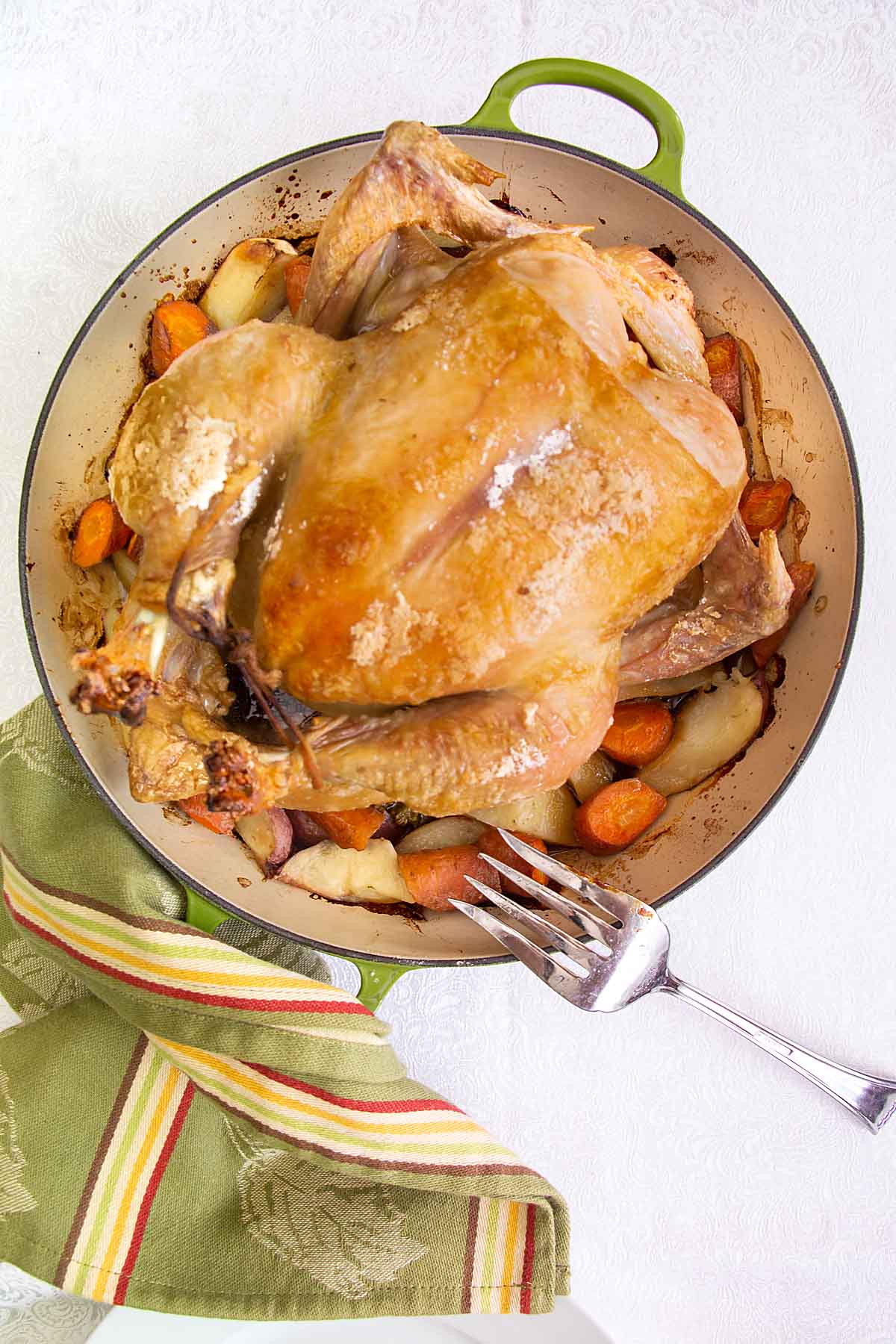 What pan can I use?
While initially I used a Dutch Oven, now I use a Braiser since it moves so well right from oven to table. But since the chicken cooks uncovered, you have a lot of options. Your pan must be sturdy enough to handle the weight and deep enough not to slosh hot juices. A roasting pan is another good option and I saw a similar NY Times recipe that used a large cast iron frying pan, though that omitted the vegetables.
Do I need a roasting rack? The vegetables will act like a roasting rack keeping the chicken off the bottom of the pan. But even if you aren't using them, a rack is not required.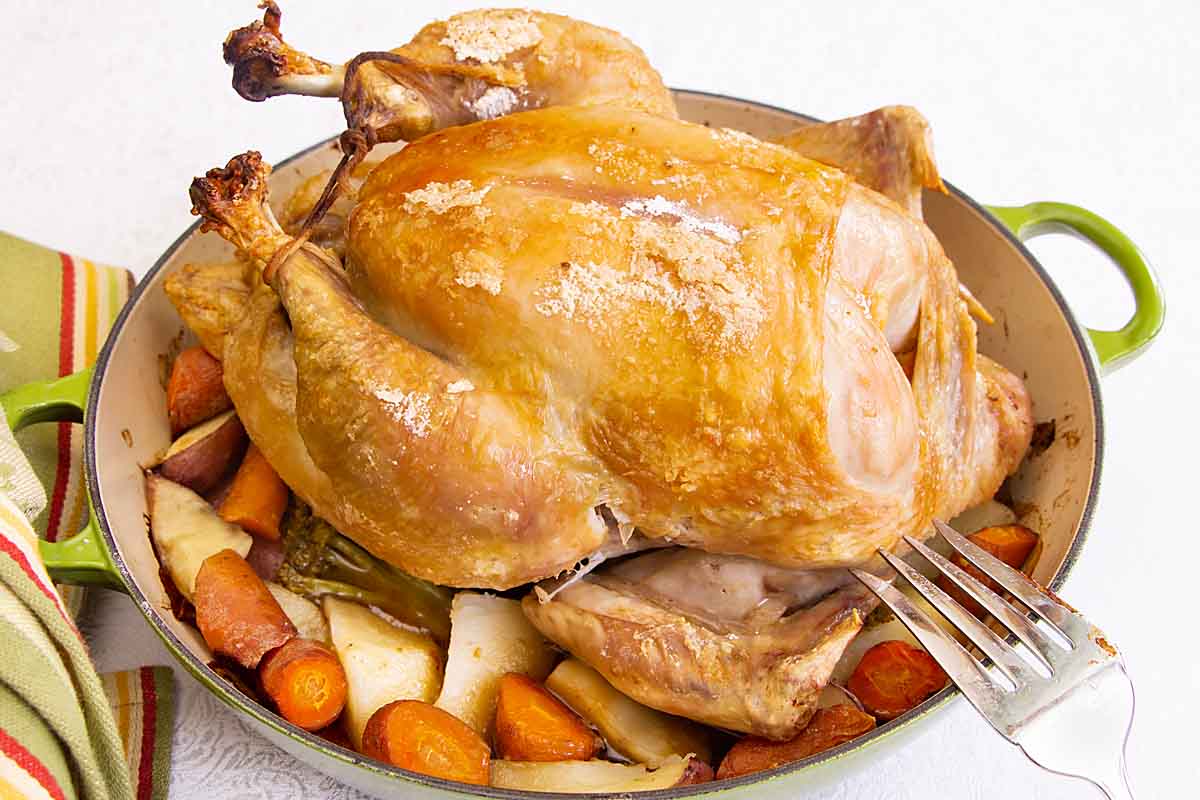 Tips & FAQs
Use a good quality chicken. Because in a simple recipe the ingredients really make or break the final dish! Look for as minimally processed as possible and go free-range, organic if possible. A friend one had a commercial chicken spatter like crazy—in that case, lower the temperature, increase the cooking time and next time select a different bird.
Make sure the chicken is absolutely fully thawed. Otherwise the outside may crisp up and dry out before it is fully cooked (ask me how I know this).
Don't rinse your chicken before cooking; the CDC notes that it's more likely to spread germs than reduce them.
Use an instant read thermometer and cook to 165F per this FDA link and check both the breast and thighs. There really isn't another good way to be 100% sure and not risk overcooking your bird. Yes, I have childhood memories of the early Thanksgiving turkey pop-up timers and there were always 3-4 women in the kitchen debating if the bird was really done.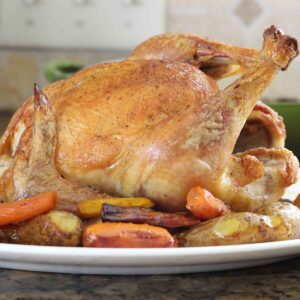 Roast Chicken
With crispy roast chicken atop golden vegetables, Dutch Oven Whole Chicken is a one pan meal that's easy, tasty and healthy! 
Ingredients
Whole Chicken

giblets removed

salt

pepper

3-4

cups

of root or other sturdy vegetables

cut into 2 inch pieces
Instructions
Preheat the oven to 425°F. Do not rinse your chicken, but dry any moisture on the outside with paper towels. Double check that the giblets have been removed from the cavity.

Salt the chicken generously--this contributes to both flavor and crispness. Season to taste with pepper.

Prepare your vegetables if using. Wash, peel as needed and cut into 2 inch pieces. Set in bottom of roasting pan.

Set the chicken in the roasting pan, on top of the vegetables. Tie the ends of the drumsticks together with kitchen twine and tuck the wing tips underneath the bird. (This is optional if you don't have kitchen twine.)

Place in preheated oven. Roast it until it reaches a minimum 165F in both thigh and breast, about 1 hour. This will vary with the size of the chicken so don't rely on time.

Serve hot.
Nutrition
Calories:
130
kcal
Protein:
21
g
Fat:
3
g
Cholesterol:
80
mg
Sodium:
85
mg
I am not a health professional and nutrition data is calculated programatically. Accuracy may vary with product selection, calculator accuracy, etc. Consult a professional for the best information.