Pumpkin Pudding with Chocolate Spider Webs
Tasty, creamy pumpkin pudding is full of spiced pumpkin flavor but lighter than pumpkin pie. Top with a chocolate spider web for fun—or not.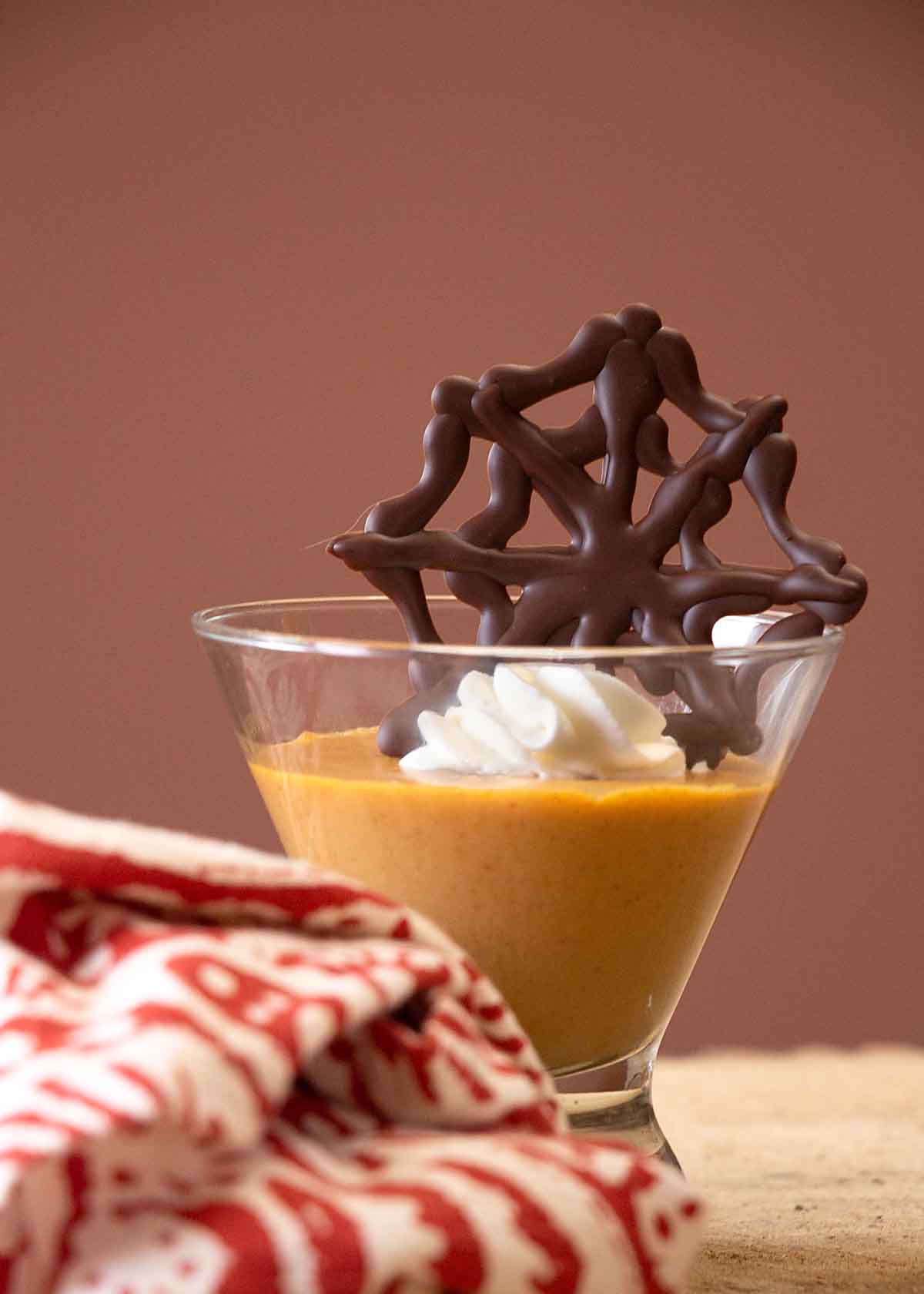 Pumpkin pudding is the perfect dessert to end a fall meal. Creamy & flavorful, it's lighter than pie–but just as tasty.
Now if you check around online, you're going to see lots of pumpkin pudding recipes. And most of these are simply pumpkin pie filling without the crust. But this recipe, based on one from Cincy Shopper, is different. It's lighter and has a smooth texture–more like chocolate pudding than dense pumpkin pie.
Yes, I was looking for something that I'd be able to eat after a big meal. Not that I'll be eating a lot of big meals this season or anything!
And since Halloween is coming up I decided to dress it up with chocolate spider webs!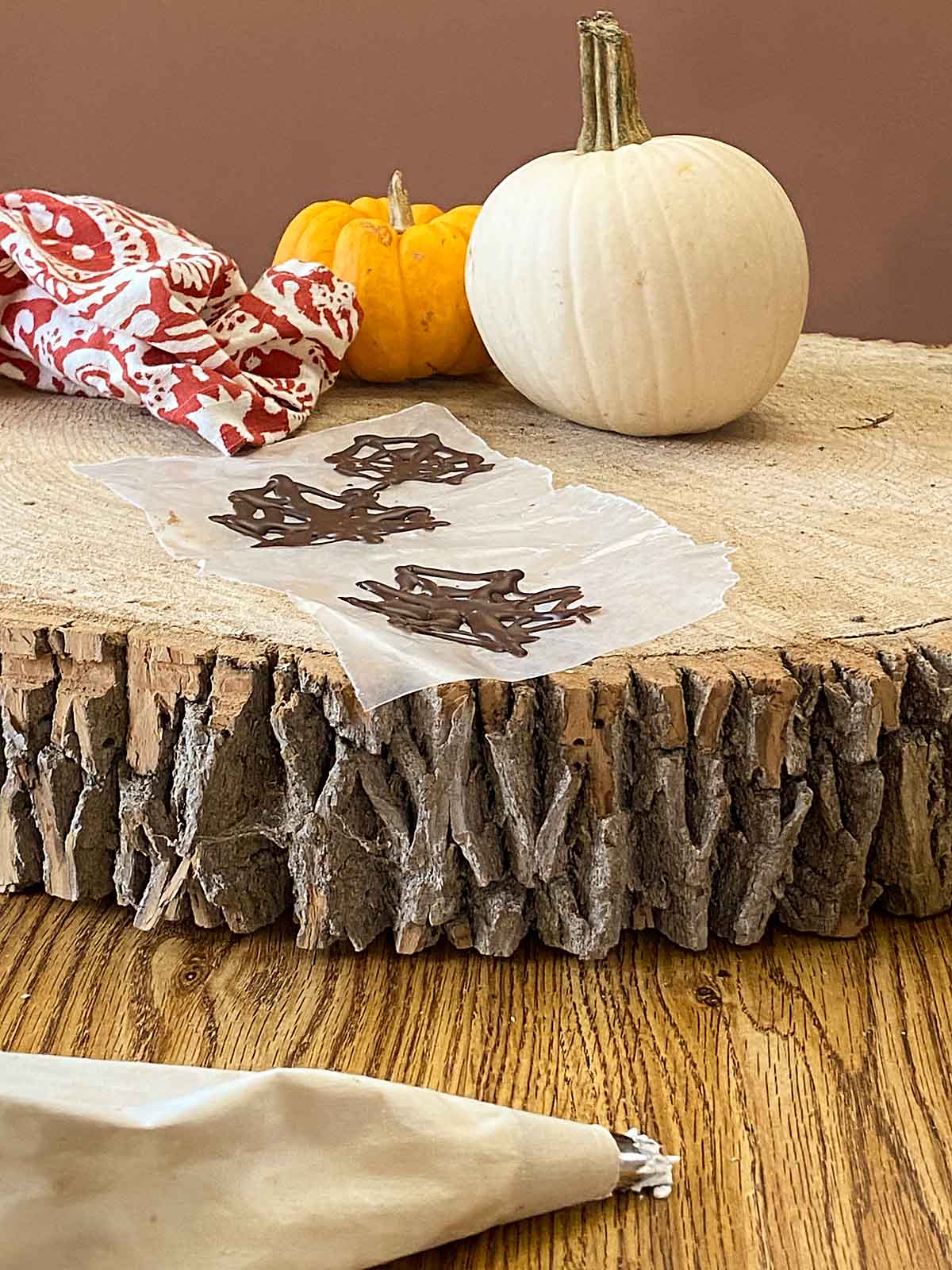 What is Makes "Pudding" Pudding Rather than Custard
Now technically many of those pie-like "pumpkin puddings" are not pudding but custard. By definition, a custard is thickened with egg, while pudding is thickened with a starch, usually cornstarch.
Of course in practice, things aren't quite that clear, and my pudding still contains egg. But that's for richness since the main thickening comes from the cornstarch.
Likewise custards can sometimes have some starch. In that case it's to stabilize the eggs and allow the custard to get hotter without curdling. But the thickening power in custards comes from the egg. See Chowhound if you want to read more.
From a sensory perspective, pudding is generally less rich than a custard and has more of a homespun feeling. Ultimately pudding should say comfort!
What Makes This a Winner
In the end I got the simple dessert I wanted! I love that it's:
Light with Tasty Pumpkin Flavor – For better or worse, the holidays are full of heavy meals. This dessert is light enough to eat even after a big meal, but is still feels like a treat!
Made with Simple Ingredients – the most exotic ingredient in here is canned pumpkin, so you're unlikely to need to run to the store for anything. You aren't busy now are you?
Healthy – there less than a half cup of brown sugar in this and everything else is healthy (milk, egg, pumpkin) to neutral (2 T cornstarch).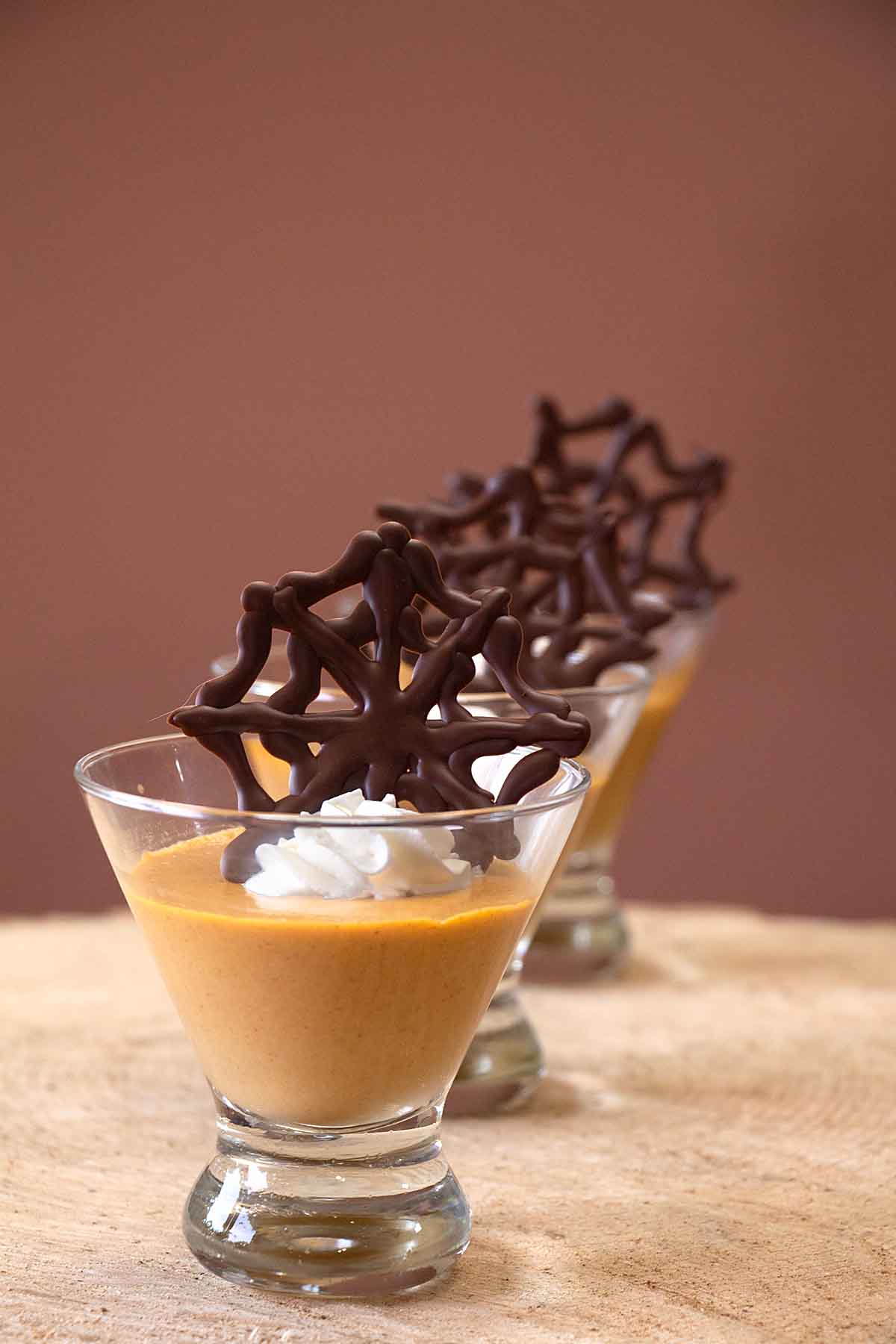 Step by Step Directions
Puddding is an easy dessert to make. You start by beating together the eggs and milk, then add the pumpkin.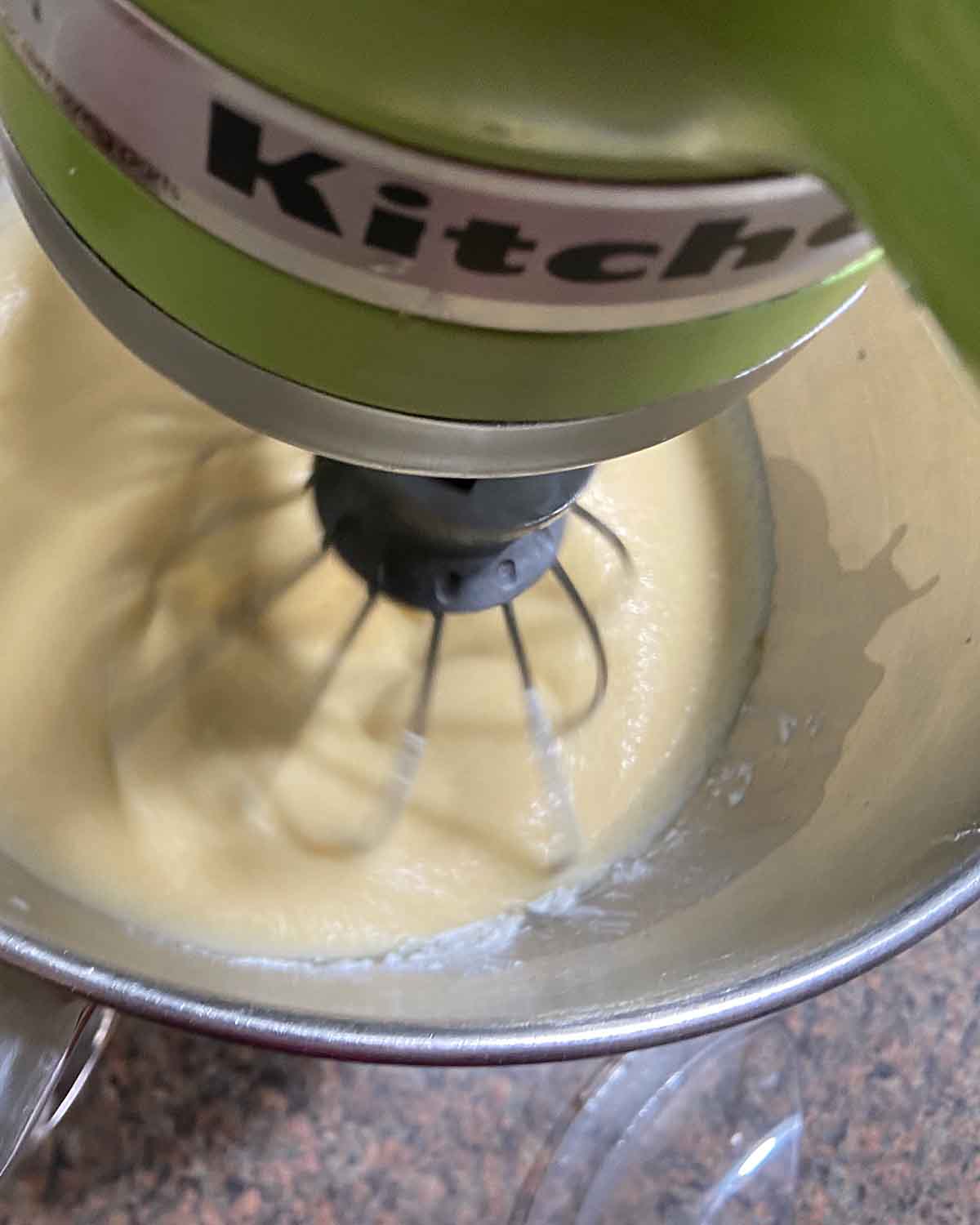 Mix the dry ingredients and add to the pumpkin mixture. Cook, stirring until thickened. Mix in the vanilla.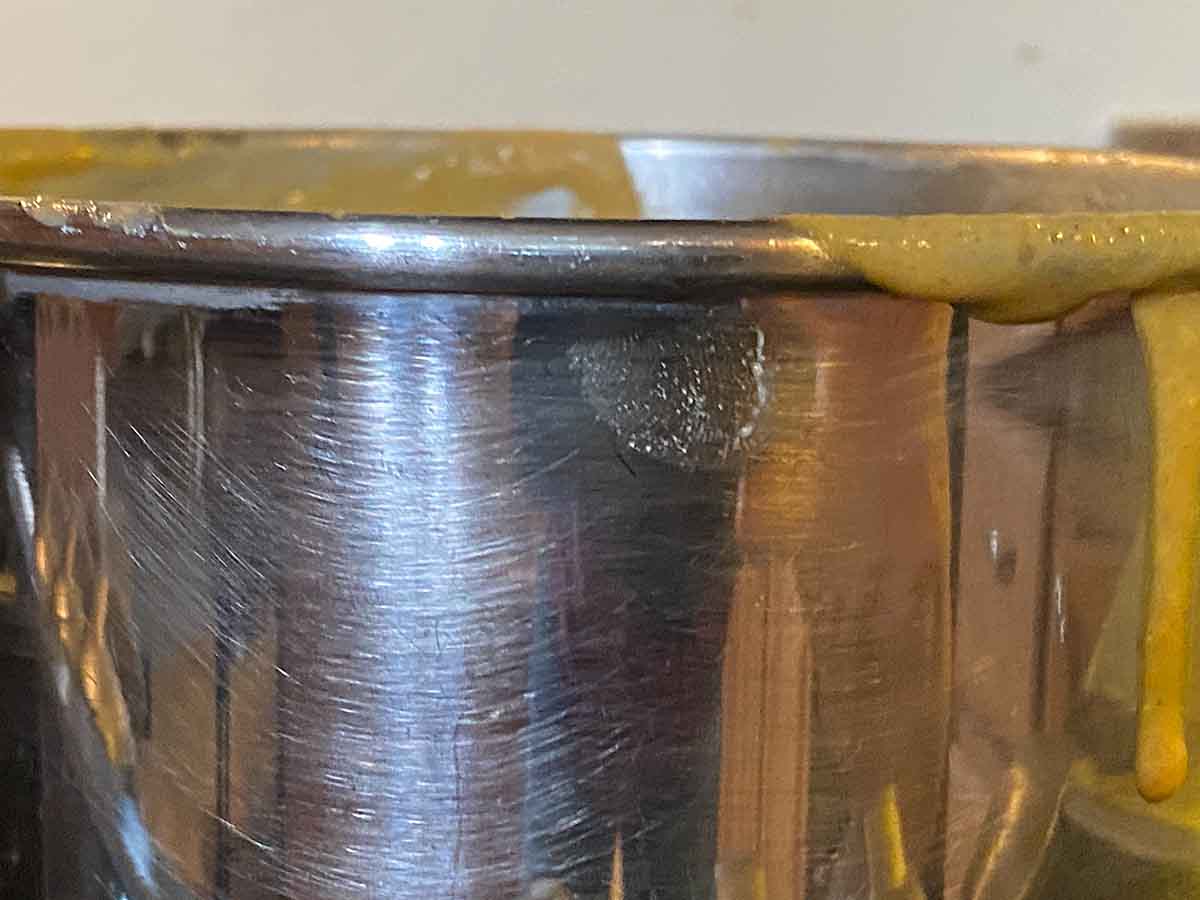 Pour into serving dishes and place in refrigerator until cool and set.
How to form spider webs
The spider webs are, of course, optional, but they aren't hard as long as you aren't too obsessive.
I poured my melted chocolate (see below on how to prep chocolate), into a piping bag fitted with a small circle tip. Then I piped out the inner "spokes" you see below. A zip loc bag with a tiny cut in the corner will work if you don't have a piping bag.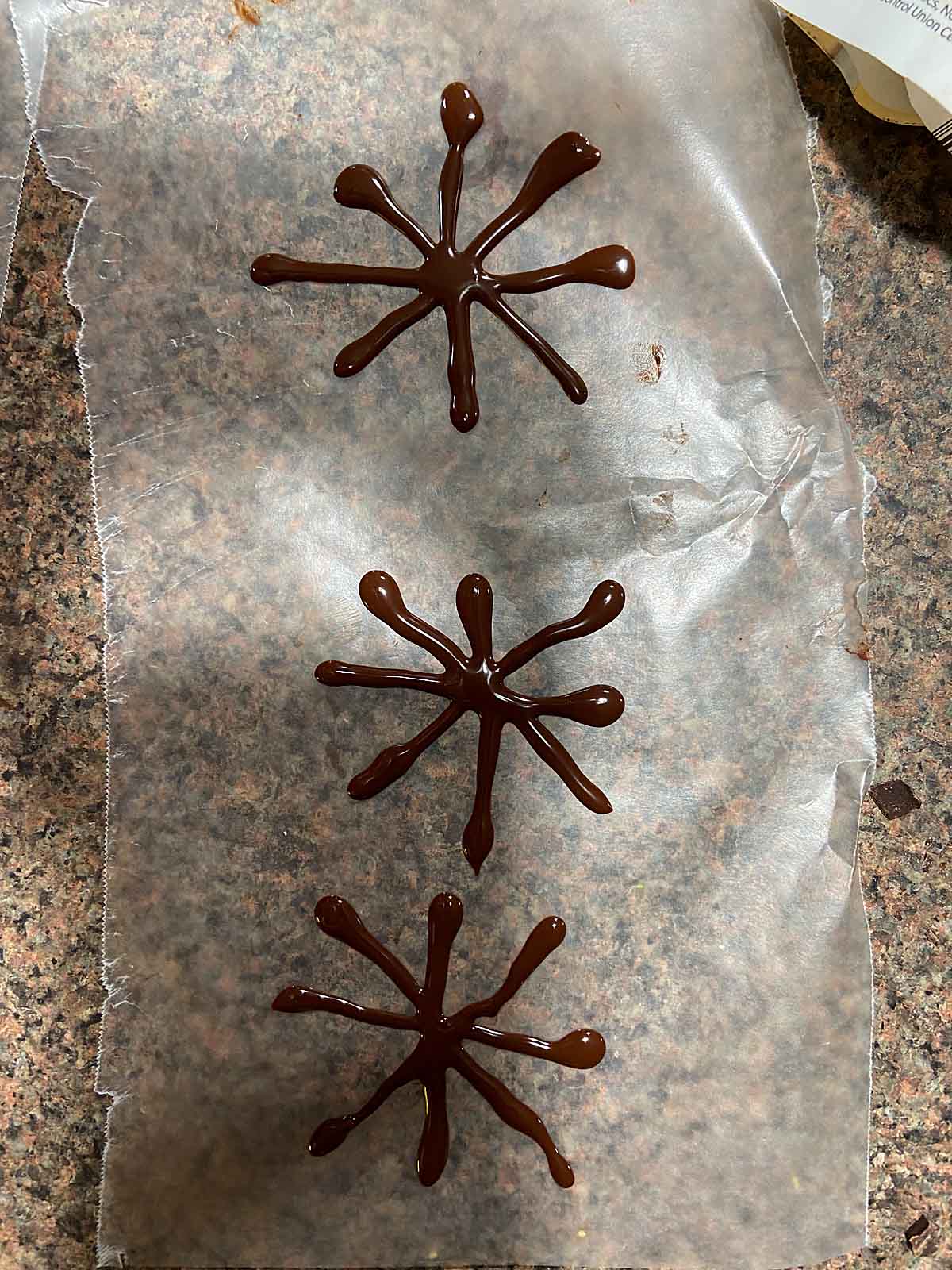 After giving these a minute or so to harden I piped the circles. I piped straight for the inner circle and more scalloped on the outer circle.
But if you have another approach that works for you, go with that.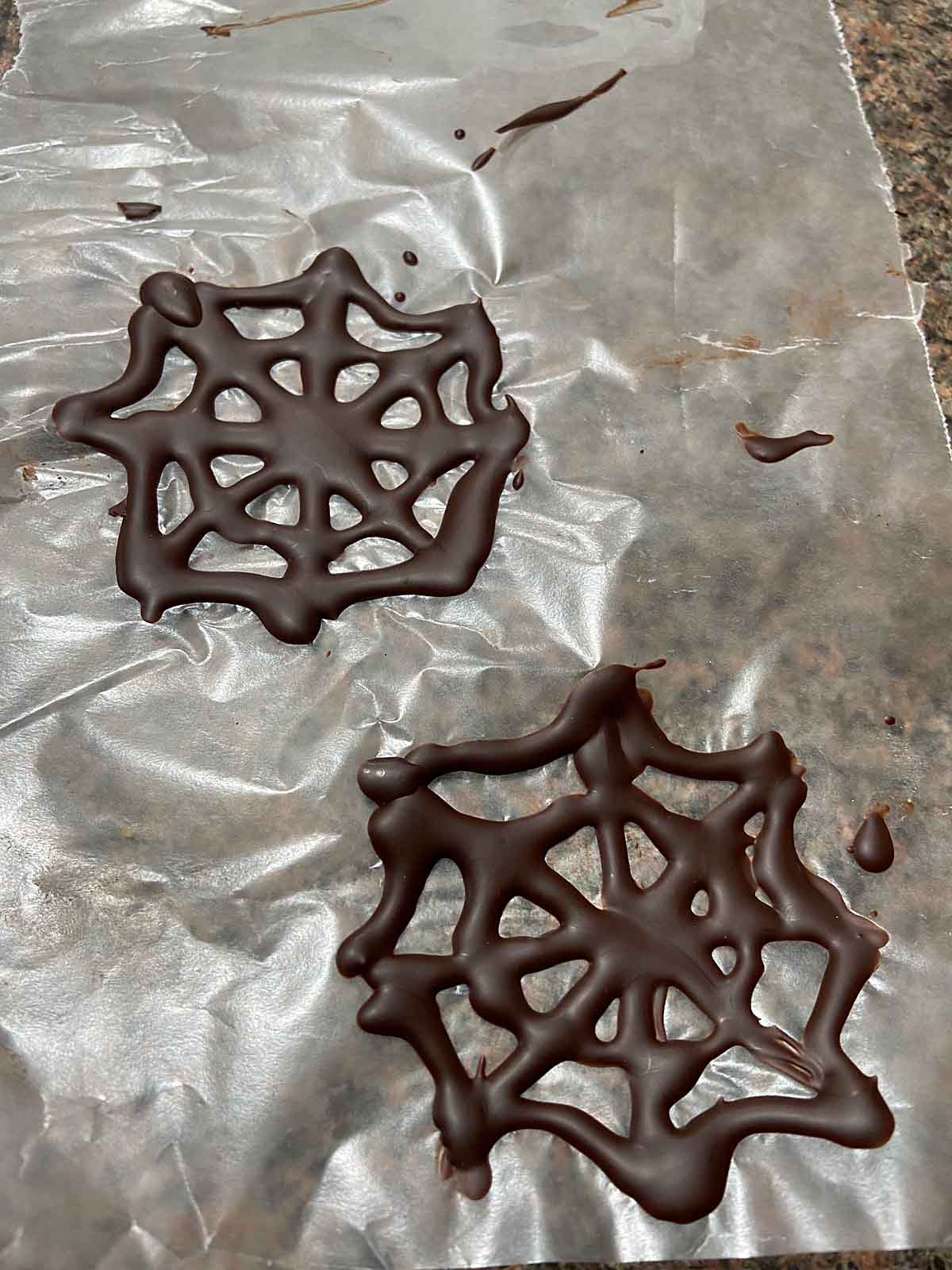 Now if you look closely, my spiderwbes are rough, but once atop the pudding, everyone though they were cute!
How to Prep Chocolate
My first choice is always to work with real chocolate but I admit that chocolate candy melts can be easier, especially if you are new to working with chocolate. Since the chocolate for this is more decorative than essential, I wouldn't object if you want to use them here.
Now If you decide to use real chocolate (look for cocoa butter in the ingredients to double check), it will taste better and be healthier, but it will need to be tempered. As long as it's tempered, your spider webs will be crisp and hard at room temperature.
Alas tempering can be difficult so the easiest approach is to start with tempered chocolate and keep it tempered by not heating it too hot.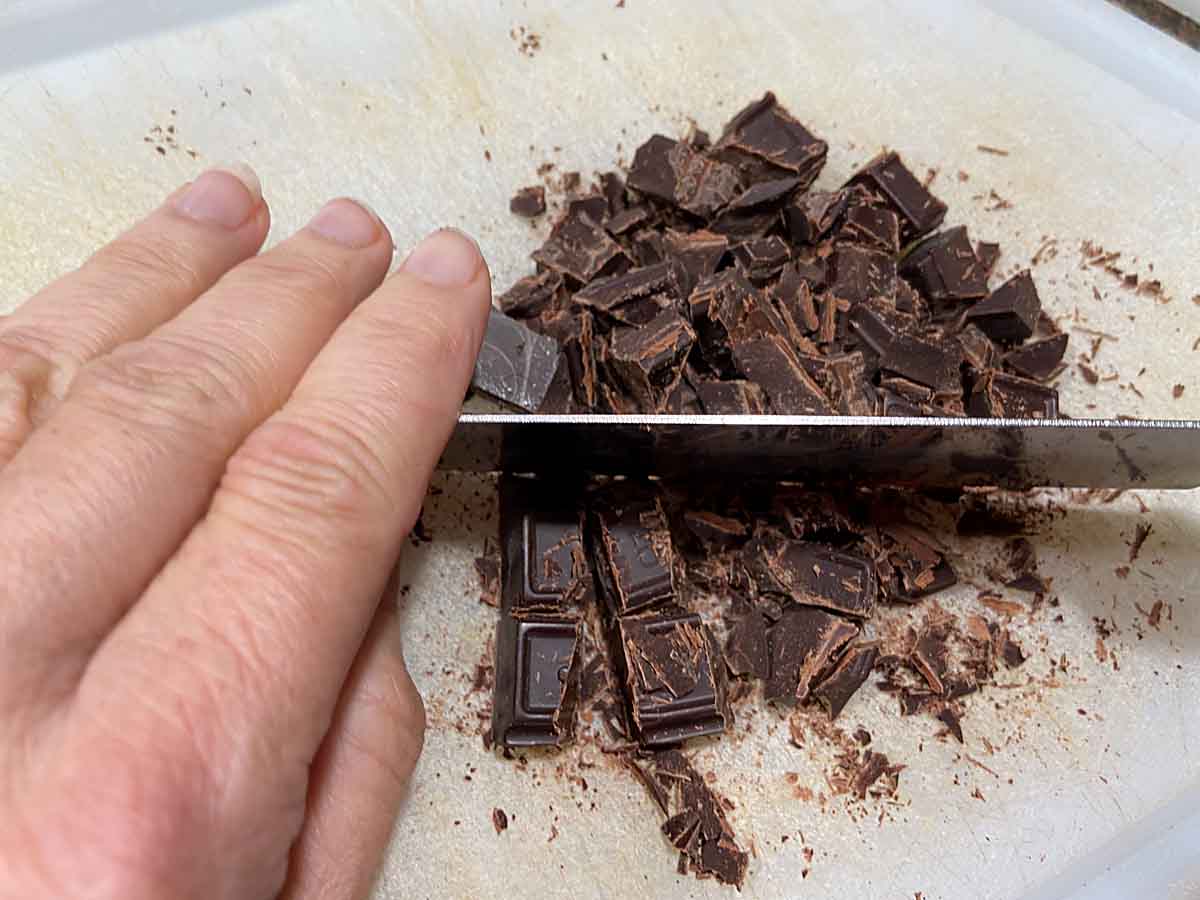 Yes, as long as you don't heat dark chocolate over 91F (88F for milk and white) you are good to go. Now I have tried a double boiler, sous vide and microwaving and the latter is my current favorite. Just microwave finely chopped chocolate in slow bursts (a 30 second burst, a few 10 second bursts, then down to 5), stirring and measuring the temperature between each burst.
As a word of caution, If your container is getting too hot, you may need to pause briefly or scrape the chocolate into a new container. But at or before your chocolate reaches 91 F (88 for white, milk), it should be melted any easy to work with. You can then pour it into the piping bag and make your spider webs as described above
A final caution, any water and even many extracts can cause chocolate to seize–which means get dry and clumpy. So keep your chocolate unadulturated as you do this. For more information, see the Sugar Geek. And for another twist on this approach, see this article by Alton Brown.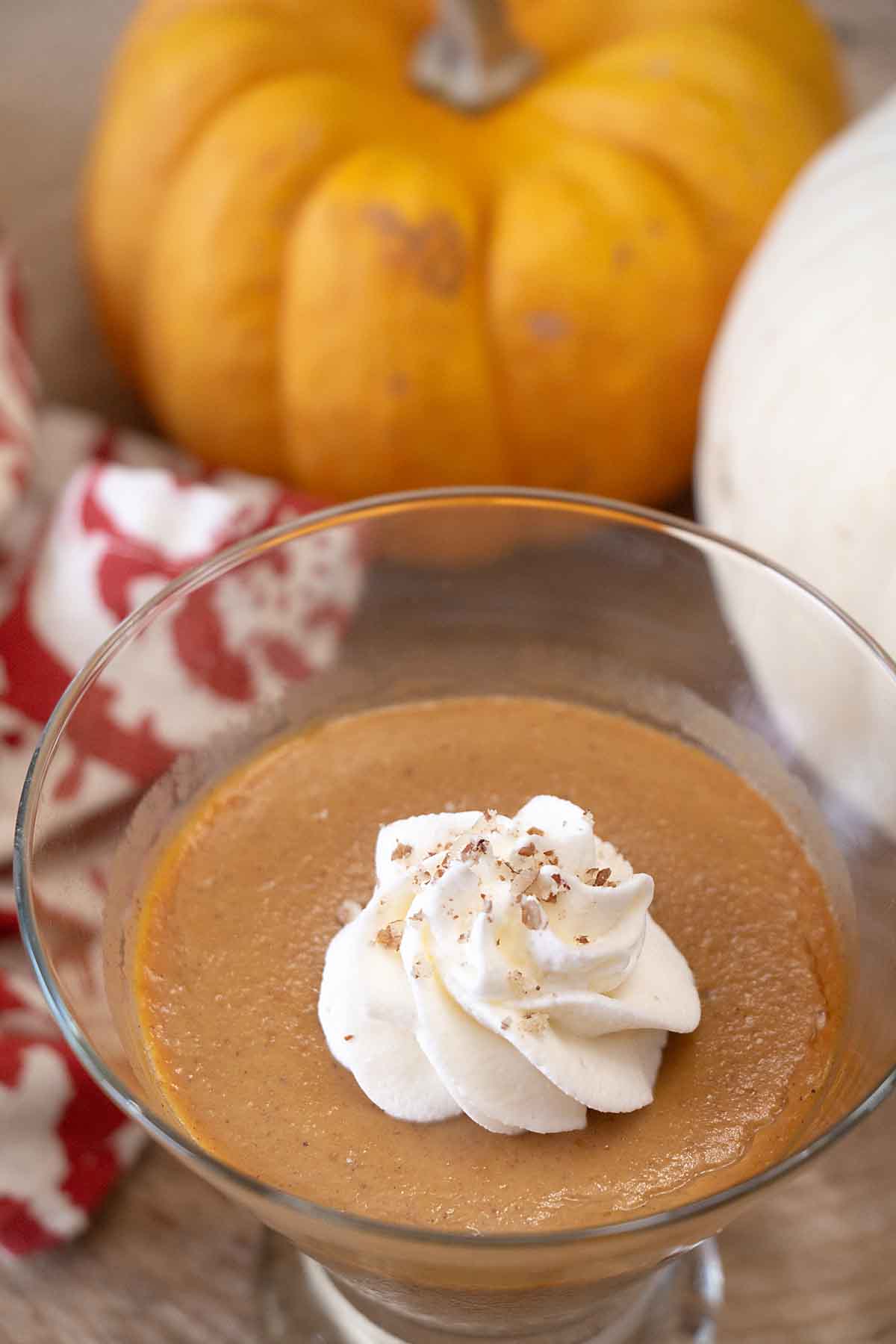 Topping Alternatives
Of course, if you are serving this after Halloween, you probably won't be making the spider webs!
In that case, just using whipped cream is delicious and compliments the pumpkin flavor beautifully. Consider sprinkling the whipped cream with ground nuts, graham cracker crumbs, cinnamon or nutmeg.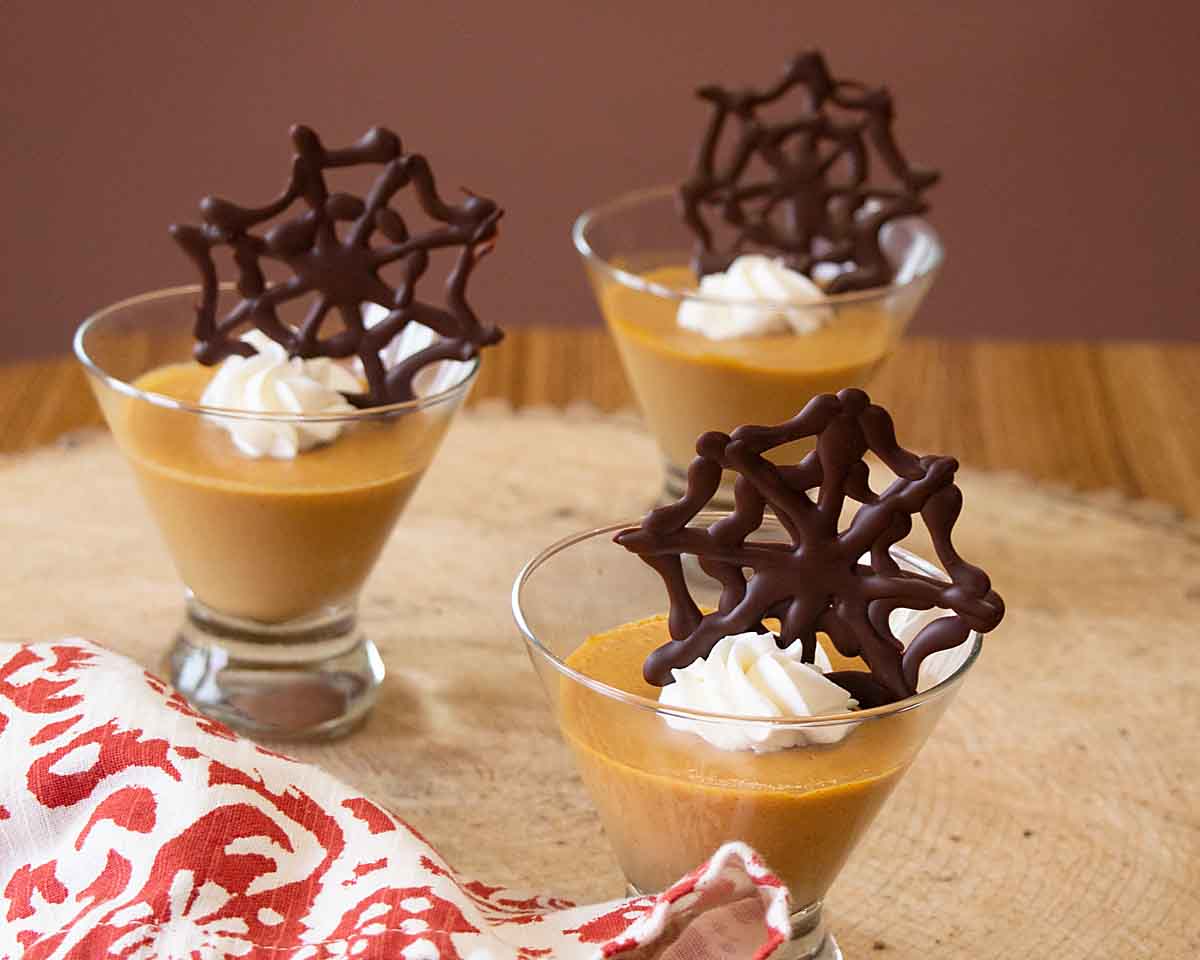 Tips & FAQs
How do I deal with pudding lumps? If you are lax stirring while the pudding cooks, you may get some pudding lumps. The good news is that, with this recipe, the lumps are probably not curdled egg. I found I was able to get the few lumps I had reincorporated by whisking vigorously. If that doesn't work, adding a tablespoon of butter (for emulsification) and whisking again may work. As a last resort, you can strain the pudding through a mesh strainer but I doubt you'll need to.
If you make the spider webs, plan to make extras. You'll get better as you go along and have spares if you break any. And my extras were fun to munch on over the next few days.
And I recommend you eat the spider web before the pudding. The pudding is very flavorful and even good chocolate pales in comparison.
Creepy Creations
We share Recipes From Our Dinner Table! Join our group and share your recipes, too! While you're at it, join our Pinterest board, too!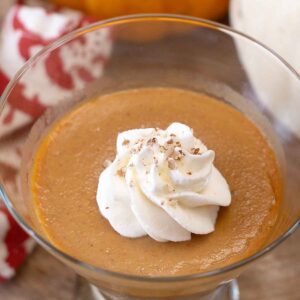 Pumpkin Pudding
Tasty, creamy pumpkin pudding is full of spiced pumpkin flavor but lighter than pumpkin pie. Top with a chocolate spider web for fun—or not.
Ingredients
1 ¾

cup

milk

1

egg

1/2

cup

Pumpkin Puree

2

Tablespoon

Cornstarch

1/3

cup

brown sugar

1/2

teaspoon

Cinnamon

pinch

Salt

pinch

Nutmeg

optional

1

teaspoon

Vanilla
Instructions
Whisk together the egg and milk. Stir in the pumpkin.

In a separate bowl, whisk together sugar, cornstarch, salt, cinnamon and nutmeg, then add to the pumpkin mixture.

Transfer to a small saucepaan and cook on medium heat, stirring, until thickened (you can look for a temperature of about 175F – 185F) about 10 minutes. Stir in vanilla.

Pour into four serving dishes and refrigerate until thickened and cool, 2-3 hours.

Serve with whipped cream
Notes
I used 2 ounces of Bakers semisweet chocolate and about a half ounce of cocoa butter to make my spider webs.
Nutrition
Calories:
179
kcal
Carbohydrates:
30
g
Protein:
5
g
Fat:
5
g
Saturated Fat:
2
g
Polyunsaturated Fat:
0.3
g
Monounsaturated Fat:
1
g
Trans Fat:
0.01
g
Cholesterol:
54
mg
Sodium:
63
mg
Potassium:
265
mg
Fiber:
1
g
Sugar:
24
g
Vitamin A:
4999
IU
Vitamin C:
1
mg
Calcium:
163
mg
Iron:
1
mg
I am not a health professional and nutrition data is calculated programatically. Accuracy may vary with product selection, calculator accuracy, etc. Consult a professional for the best information.