Pork Chili (or Spicy Pork Stew?)
This savory Pork Chili blends flavorful spices, peppers and tomatoes with rich tender pork for a tasty lunch or dinner. But is it a chili or a stew?
What's in a name? Per Romeo & Juliet, not a lot. But to my family, you'd better not call something chili if they think it's pork stew.
I first learned this lesson when my kids were teeny. That time I made a meatless spaghetti sauce using garbanzo beans. Presented to them atop spaghetti, they turned up their unanimous noses and refused to touch it. Rather than abandon the recipe, I waited a couple months, then served it again as Garbetti. Huge hit. Lesson learned.
So when I first served and posted this Pork Chili from Epicurious in March of 2019 I told my kids it was Chili Spiced Pork Stew. But I hated to think that someone looking online for a Pork Chili would miss this it. So when I updated it, I also renamed it.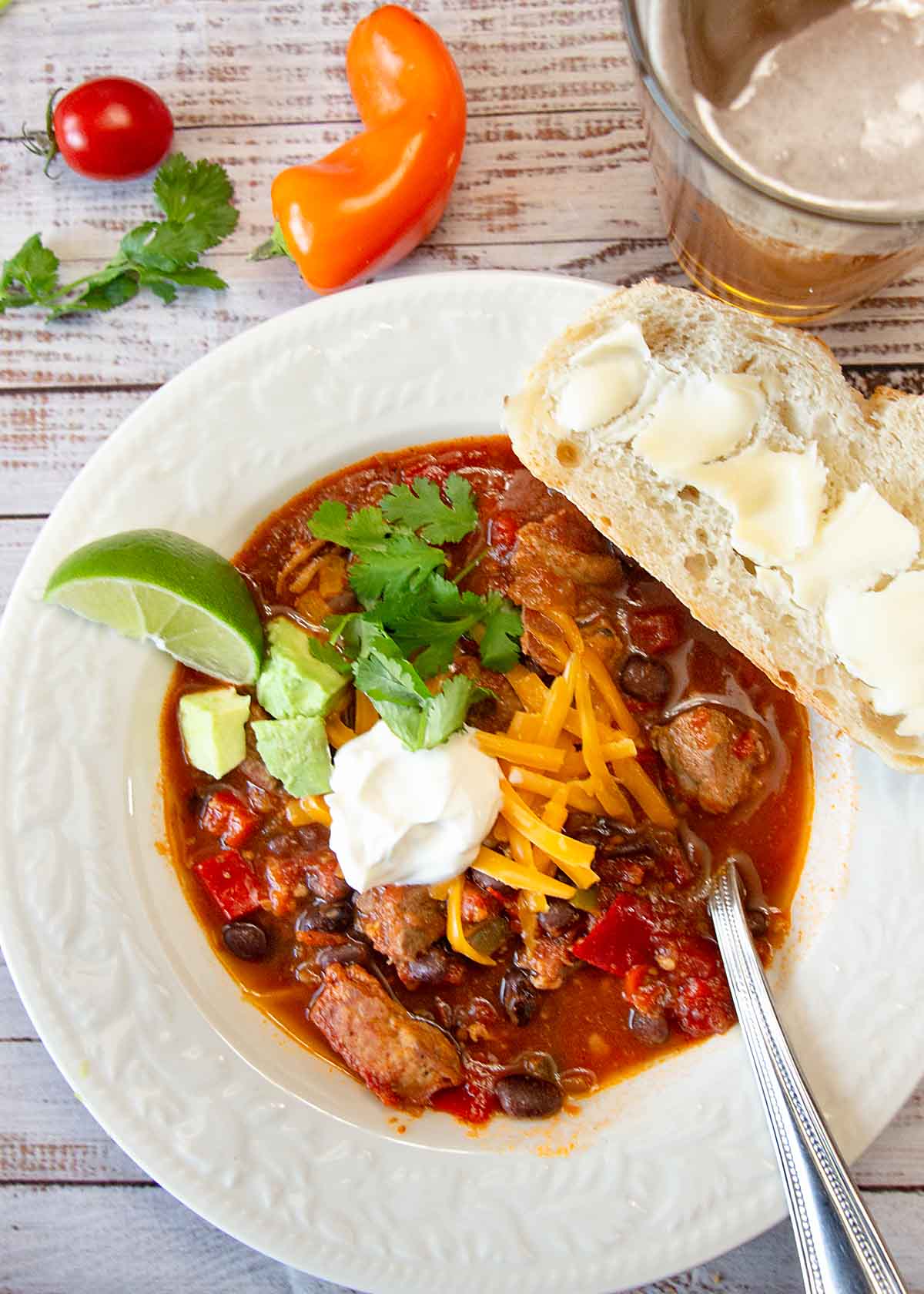 If the kids turn it down now, that's just more for me!
What makes "chili" chili
As I was going through the name debate, I actually looked up a definition of chili! Per Wikipedia chili "is a spicy stew containing chili peppers, meat (usually beef), and often tomatoes and beans. Other seasonings may include garlic, onions, and cumin." Hmm, that's my recipe.
Of course there is also the "beans or no beans" debate. Some people assert that real chili doesn't have beans while others say it's not chili without them. I won't speak to authenticity, but given their health value I'm pro beans!
Why This is a Winner
Family pleaser–this tasty, warming dish is loved by kids and adults alike!

Perfect for many occasions–pork chili is equally at home for Game Day, an after-ski meal, at a potluck or a family lunch or dinner.
Make ahead meal–this can be made 100% ahead of time and reheated. Some people say it's even better the second day!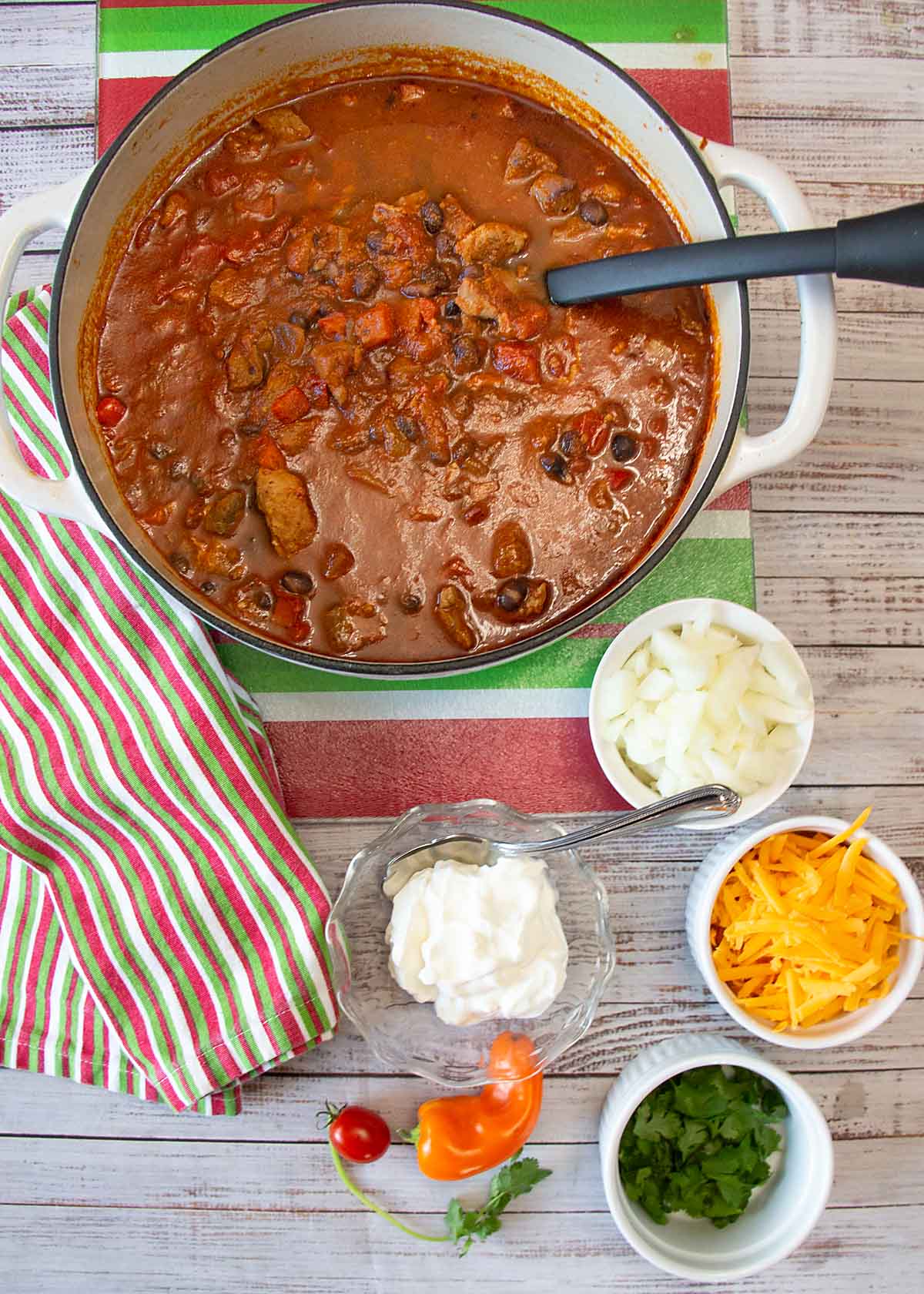 Step by Step Directions
To start, you cook bacon until crisp then remove and reserve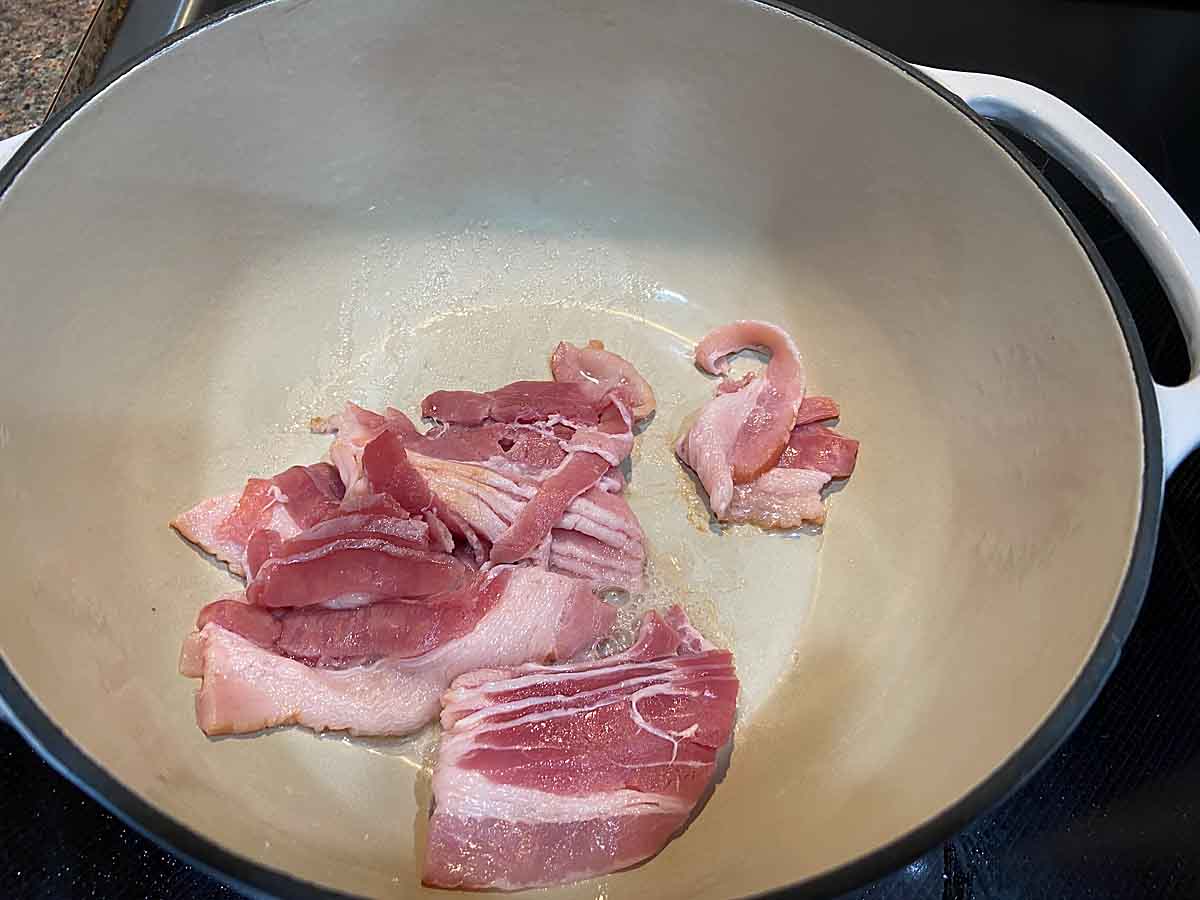 Saute the pork cubes then remove and reserve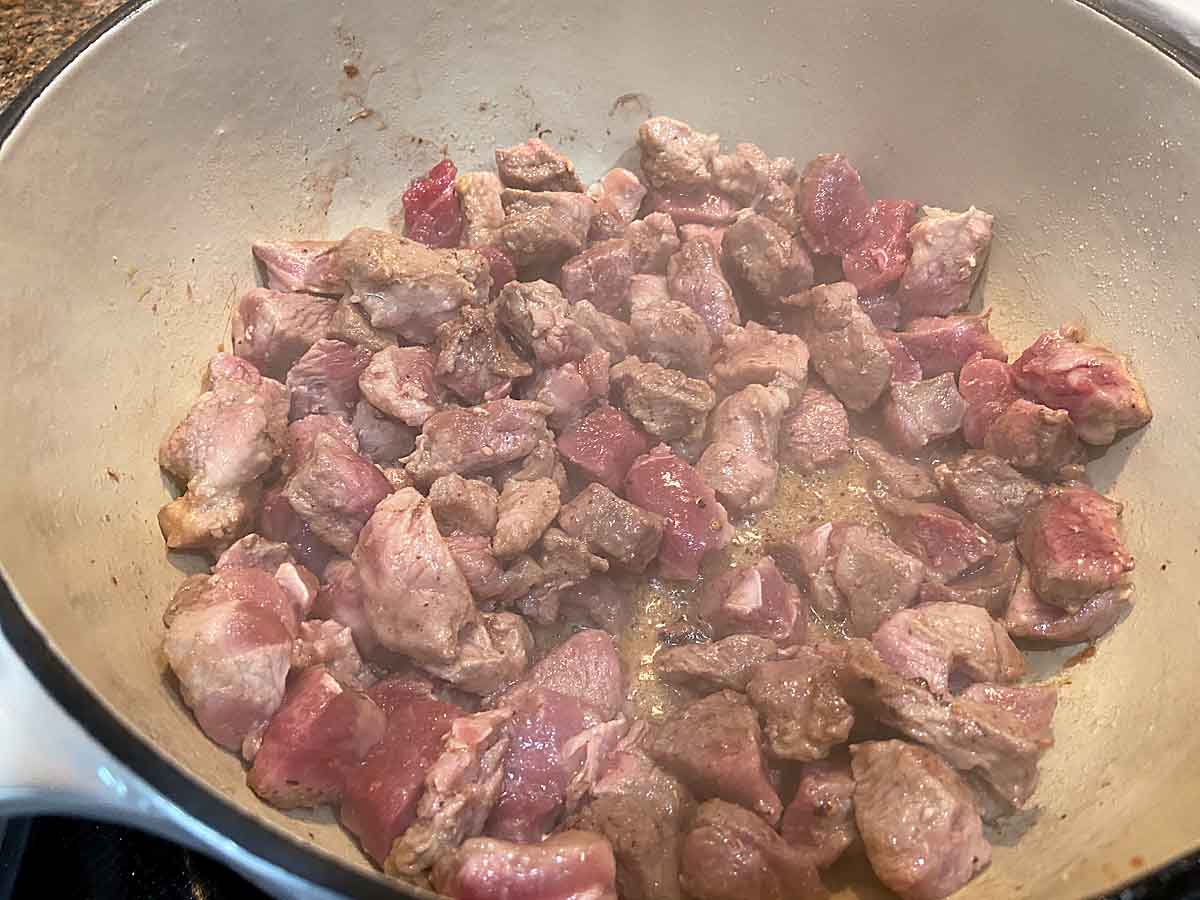 Cook onions until tender, then add garlic and spices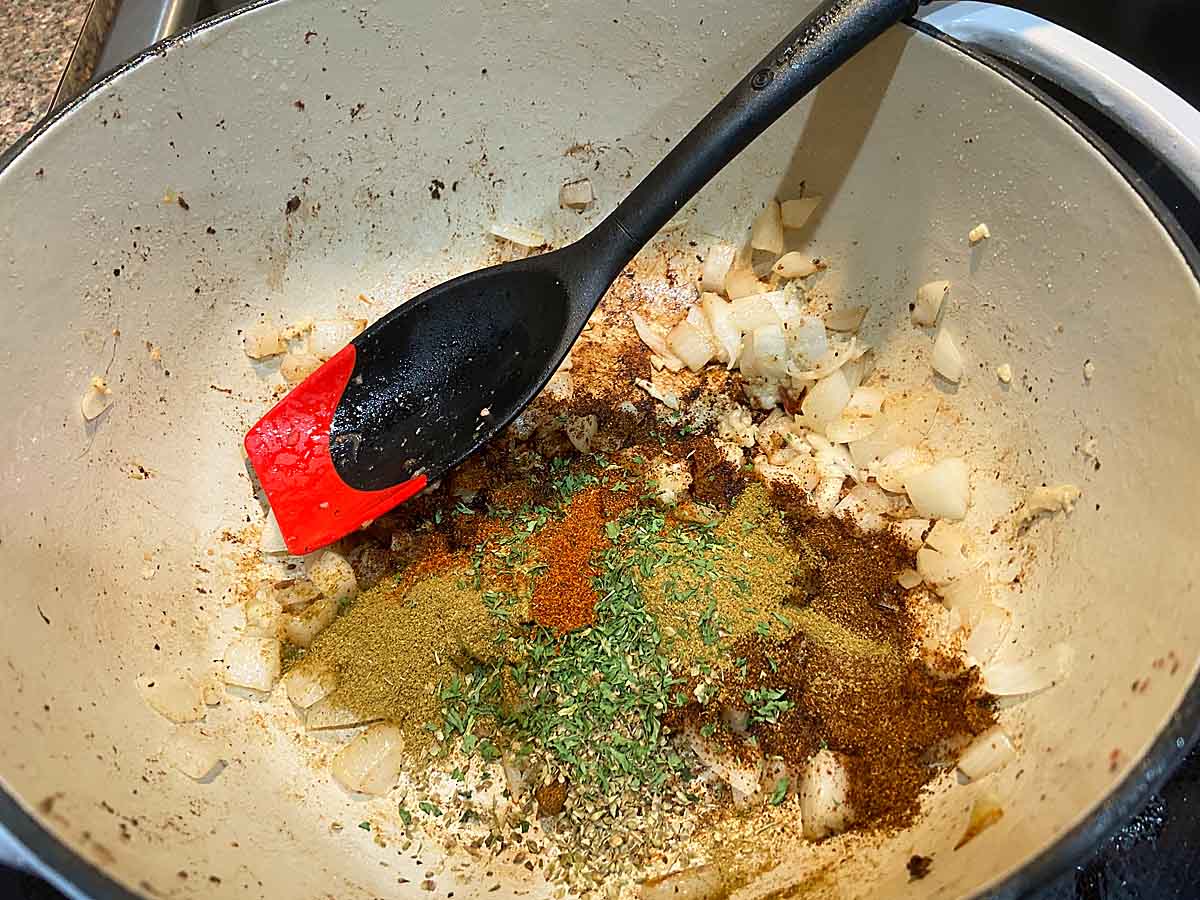 Add tomatoes and peppers and bring the meat back, Cook until tender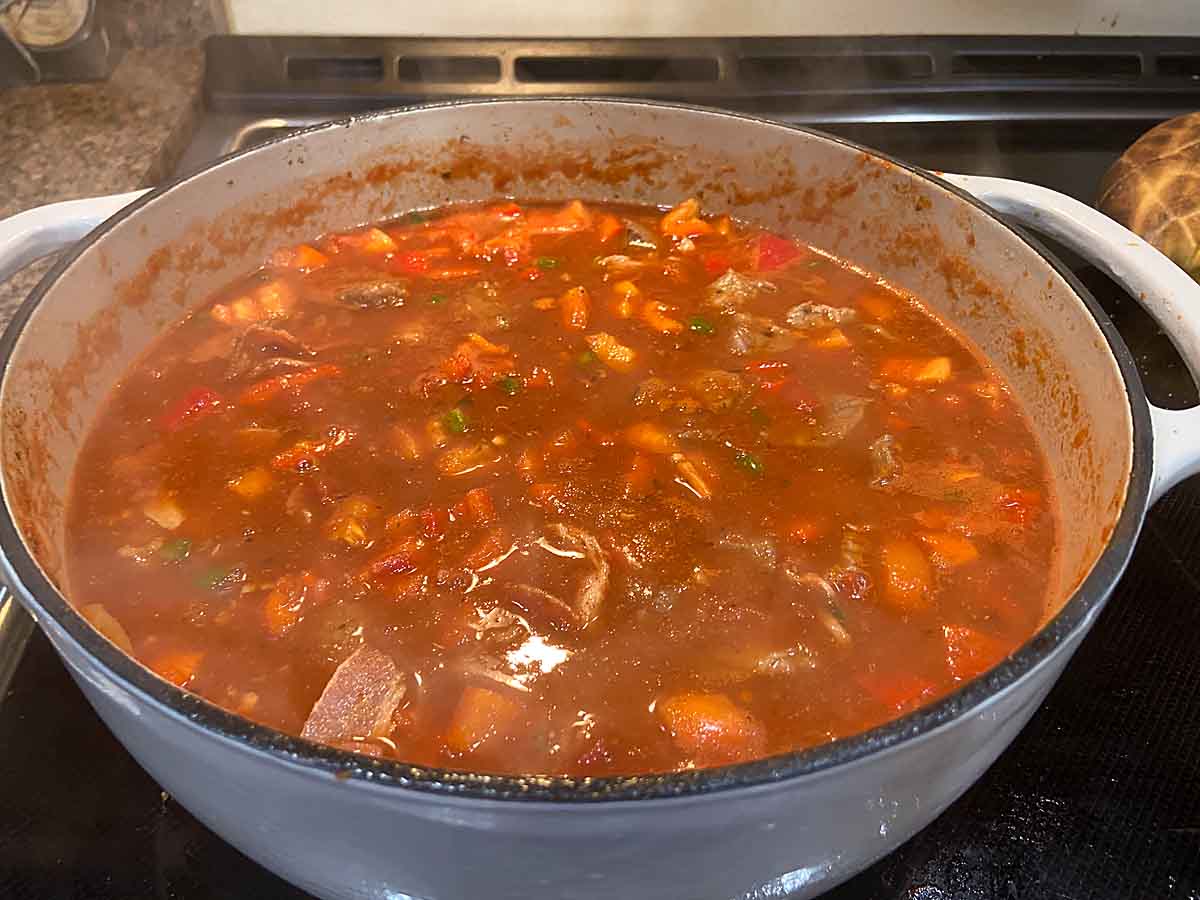 Add the beans, cook another half hour, then serve.
Sides and Toppings
Part of the fun of chili is picking out tasty toppings to individualize your bowl. Besides letting you "have it your way," this ups the flavor profile and rounds out an already tasty dish!
Some popular topping choices include:
Diced tomatoes
Chopped avocado
Diced onion
Shredded Cheddar or Monterey Jack cheese
Sliced jalapeño peppers
Chopped fresh cilantro
Sour cream
Fresh Lime wedges
You can even set up a chili bar!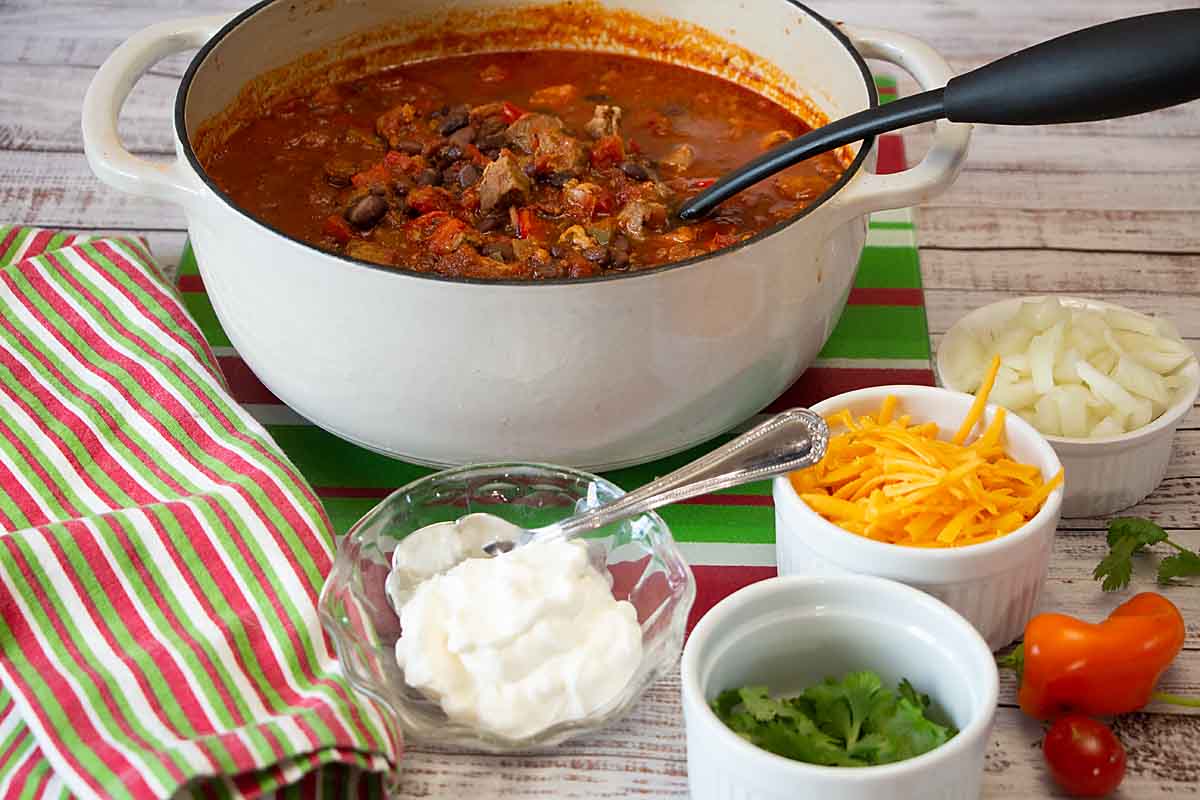 When it comes to sides, tortilla chips and corn bread are at the top of the list. And for the winning combination of ease of preparation plus hardiness, a crusty bakery bread with butter is another good choice. Of course, I'll add a salad to any meal—perhaps something with a southwest flair.
For beverages, lime fizzy water or Mexican beer (or a good local beer) are favorite options.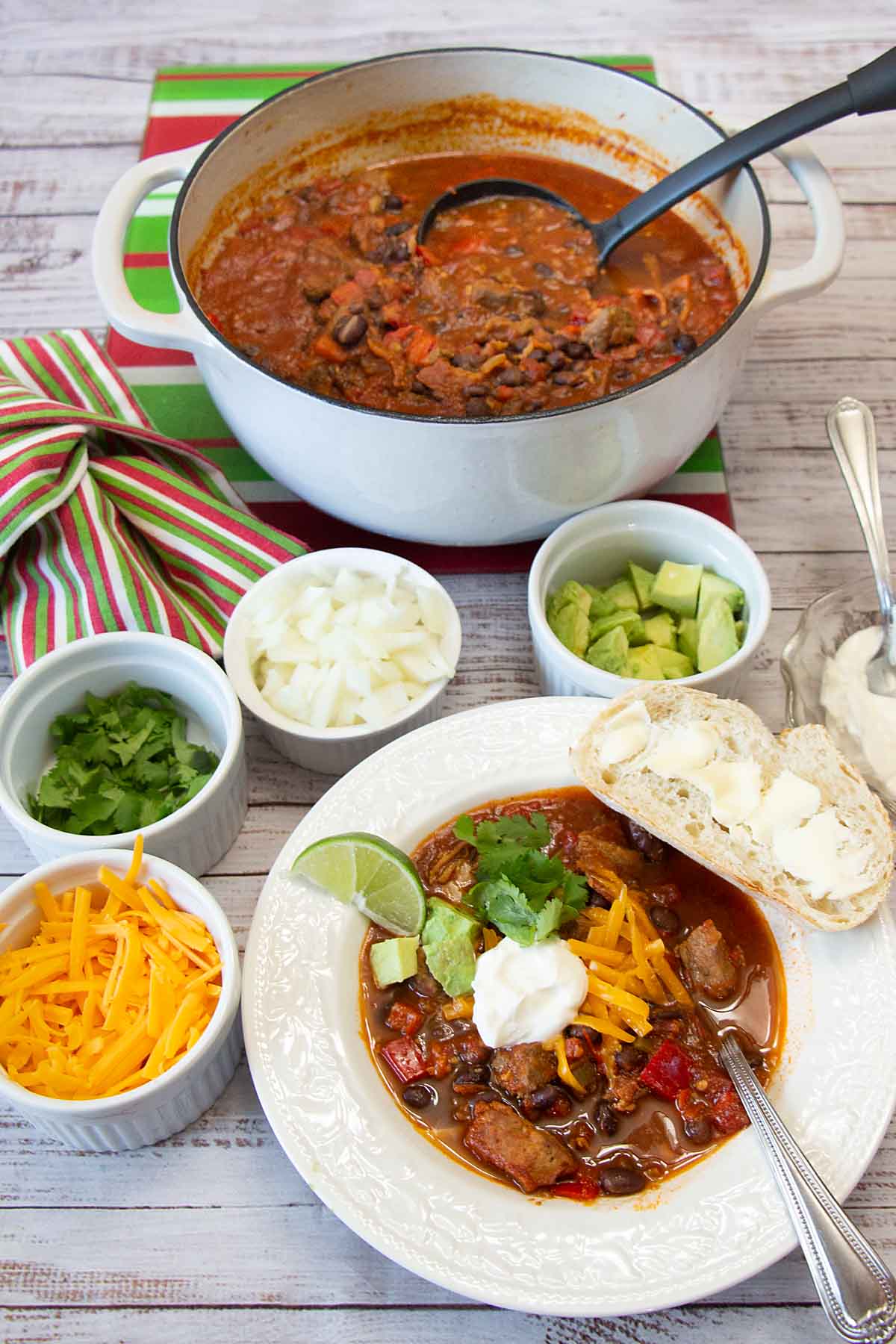 Ideas for Leftover Chili
Chili will last a few days in the refrigerator, but if you're not a leftovers family, there are plenty of other things to do with it. First, you can freeze it. 'Cause once it's been in the freezer a week, it's not leftovers anymore! Consider freezing some in individual serving sizes for times when you need a solo meal.
Beyond tasty reruns, leftover Pork Chili can round out lots of other dishes. Toss some over hot dogs for chili dogs or top a baked potato for the tastiest loaded potato ever.
You could also stir some into mac n cheese—even the boxed variety will taste good with this added! Or give yourself a hearty breakfast or brunch by adding to scrambled eggs or a breakfast bowl. Finally using it in a nice queso dip would be a surefire hit on Game Day!
Yes, the possibilities are endless. Hmm, I might make this again just for the leftovers!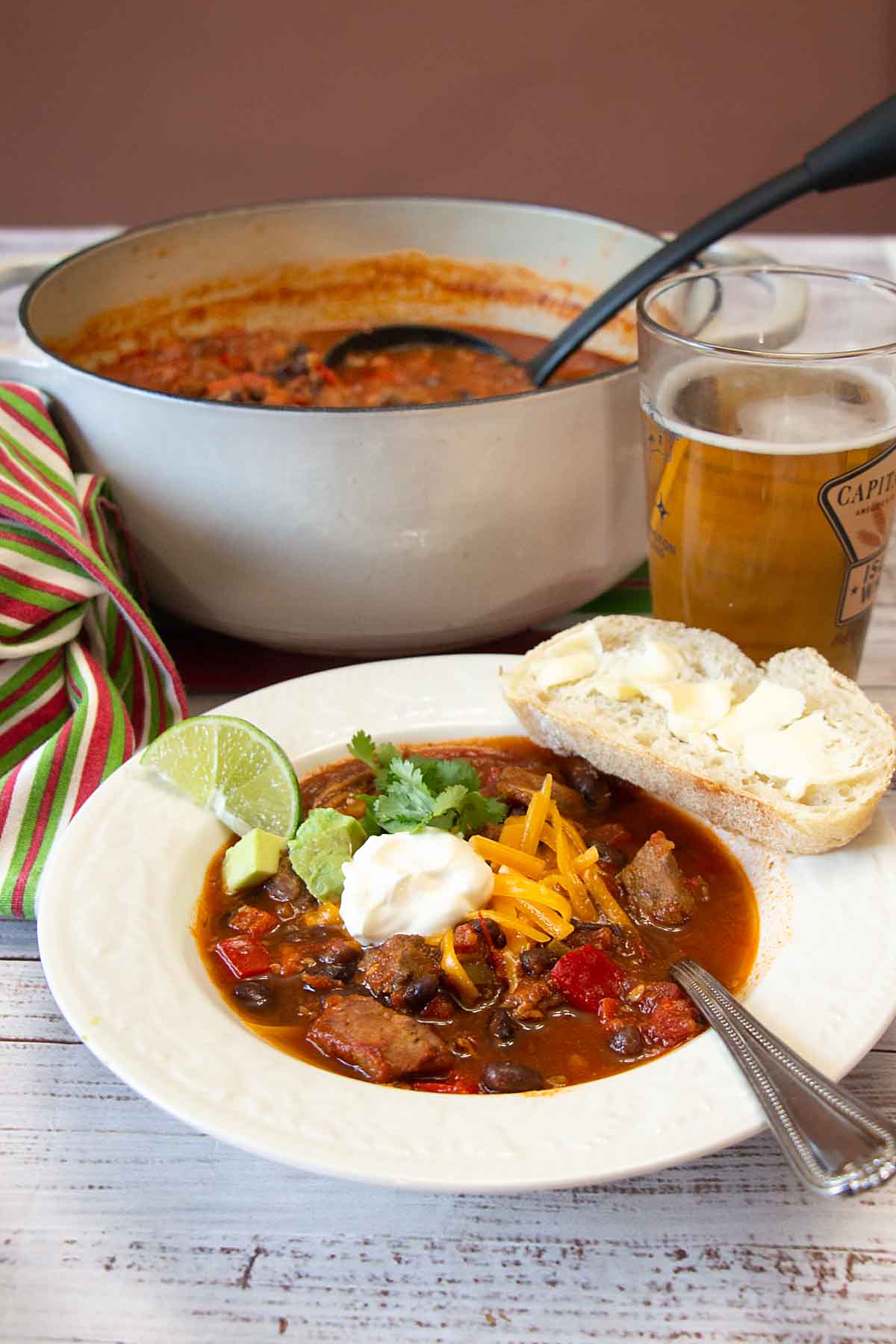 Meat Selection
The original recipe got mostly rave reviews in the comments, but he biggest complaint was that it was too fatty. I initially solved this by using well-trimmed stew meat instead of the cut-up pork shoulder the original used. (If you are looking to use up a pork shoulder take a look at my recipe which renders most of the fat.)
I have also cut up pork steaks or chops to make this. Pork loin would be another good option with the benefit of easy fat removal! Browning ground pork would also work, though is slightly less elegant.
The most time consuming part of this recipe is trimming the pork. So go for something with less bone and fat if you can.
Of course, if you aren't a pork lover (or are working on using up the quarter of beef in your freezer), you can always switch up the type of meat entirely.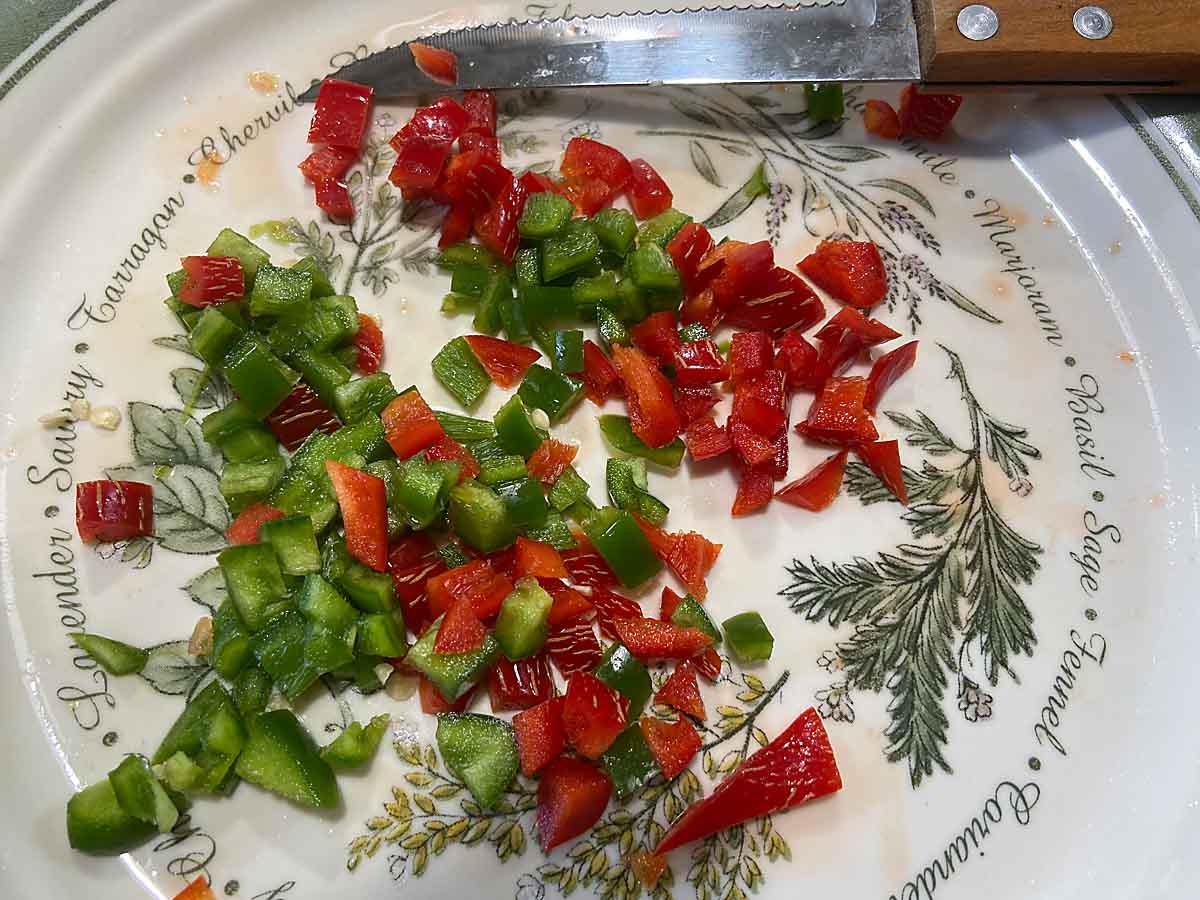 Tips & FAQs
I like to make my Pork Chili in an enameled cast iron Dutch oven. It is so pretty, you can take it right from the stove to the table! I guess that makes this a one pot meal.
I love making large batches of soup or stew. It takes a little time initially but pays dividends for weeks. We got two meals out of this, and then I froze leftovers. It always feels good when there is healthy soup waiting in the freezer. Plus it's a great safety net for busy times!
So check out more great chili recipes below!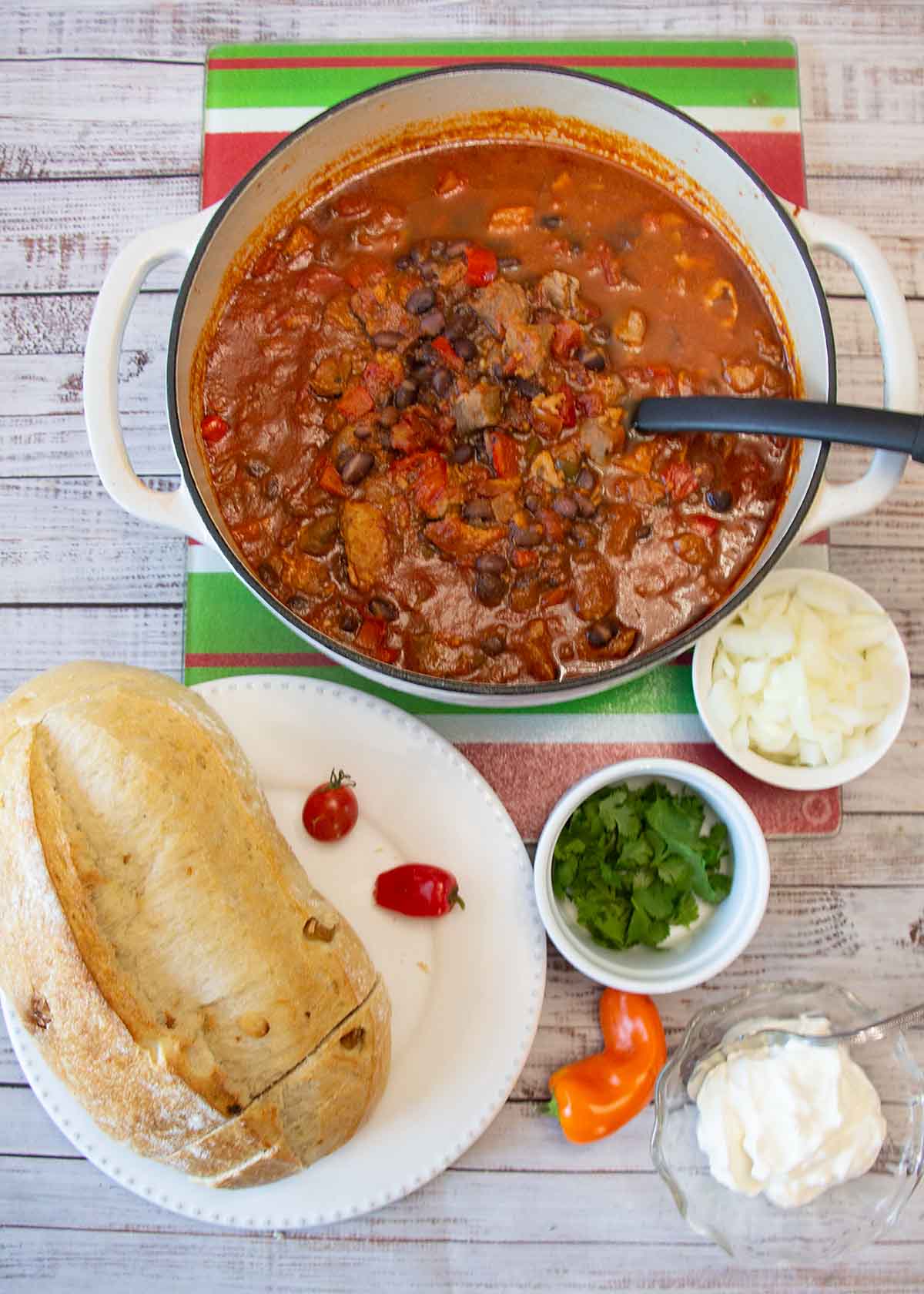 Welcome to our 2021 Chili Cook-Off!
October is Chili Cook-Off Month! We have delicious recipes from across the country to get your chili making to the next level of deliciousness!
#ChiliCookOff is an annual blogging event that is hosted by Ashley from Cheese Curd In Paradise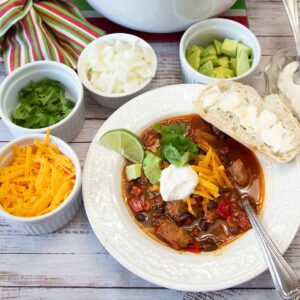 Pork Chili
Chili Spiced Pork Stew blends flavorful spices, peppers and tomatoes with rich tender pork for a delicious dish.  But is it a stew or a chili? 
Ingredients
1

tablespoons

vegetable oil

or more as needed, divided

1/2

pound

bacon

3-4

pounds

lean pork

trimmed and cut into bite sized pieces

1

onion

chopped

2

jalapeño peppers

fresh or frozen, seeded and minces

3

red bell peppers

seeded and chopped

4

large garlic cloves

minced

2

teaspoons

dried oregano

1

Tablespoon

chili powder

1

Tablespoon

ground cumin

1/4

teaspoon

cayenne

4

cups

beef broth

28

ounces

crushed tomatoes

1 can

20

ounces

fire roasted tomatoes with chilis

2 10-ounce cans

45

ounces

beans

drained and rinsed, 3 15-ounce cans

Sour cream

cilantro, etc. for serving
Instructions
In a large stockpot, cook bacon until crisp. Remove and reserve, then pour off all but 2 tablespoons fat from pot. Crumble bacon.

Pat pork cubes dry and season with salt and pepper. Add additional oil to pot if needed. Brown pork in multiple batches and transfer with a slotted spoon to another plate.

Add onion and cook, stirring, until softened. Add garlic and spices, then cook another minute. Return bacon and pork to pot with any accumulated juices. Add broth, jalapeños, bell peppers, tomatoes with chilis and tomatoes with purée and bring to a simmer.

Simmer chili, uncovered, stirring occasionally, until pork is tender, about 1-1 1/2 hours. Stir in beans and cook an additional half hour.

Serve chili with your choice of toppings.
Notes
Note: Since the heat in spices and jalapeños will vary, feel free to add addditional cayenne or your favorite hot sauce to taste.
Nutrition
Calories:
300
kcal
Carbohydrates:
18
g
Protein:
32
g
Fat:
12
g
Saturated Fat:
4
g
Polyunsaturated Fat:
3
g
Monounsaturated Fat:
5
g
Trans Fat:
0.1
g
Cholesterol:
86
mg
Sodium:
663
mg
Potassium:
998
mg
Fiber:
5
g
Sugar:
10
g
Vitamin A:
1544
IU
Vitamin C:
63
mg
Calcium:
80
mg
Iron:
4
mg
I am not a health professional and nutrition data is calculated programatically. Accuracy may vary with product selection, calculator accuracy, etc. Consult a professional for the best information.