Chili Spiced Pork Stew blends flavorful spices, peppers and tomatoes with rich tender pork for a delicious dish. But is it a stew or a chili?
What's in a name? Per Romeo & Juliet, not a lot. But to my family, you'd better not call something chili if they think it's a stew.
I got so much flak I actually looked up a definition! Per Wikipedia chili "is a spicy stew containing chili peppers, meat (usually beef), and often tomatoes and beans. Other seasonings may include garlic, onions, and cumin." Alas being right is not worth arguing with your kids. So I guess I'm sticking with "Chili Spiced Pork Stew."
Like so many of the new recipes I try, the inspiration for this came from ingredients leftover in my freezer–in this case 4 pounds of pork stew meat. It came from a convenience package of pork from a local farmer, a lucky accident I guess!
I love making large batches of soup or stew. It takes a little time initially but pays dividends for weeks. We got two meals out of this, and then I froze the leftovers in one or two serving containers. I never feel guilty going out if there is healthy, easy soup in the freezer for the family!
The original recipe, which came from Epicurious (they called it chili), got mostly rave reviews. The biggest complaint was that it was too fatty. I solved this by using well-trimmed stew meat instead of the cut-up pork shoulder they used. (Here is my favorite recipe for pork shoulder which renders a lot of the fat.) Then I made a couple other small changes like adding red peppers in my customary "add-a-veggie" mode.
There is one other thing I need to emphasize–don't skip topping with sour cream and cilantro (okay skip that if you are a cilantro hater). When I tasted the Chili Spiced Pork Stew as it cooked, my reaction was, "ah well, another mediocre recipe that won't pass for the blog". But when it was done, then topped with sour cream and cilantro, I loved it. My husband liked it either way (as long as I didn't call it "chili"), but our daughter was big into the toppings like I was.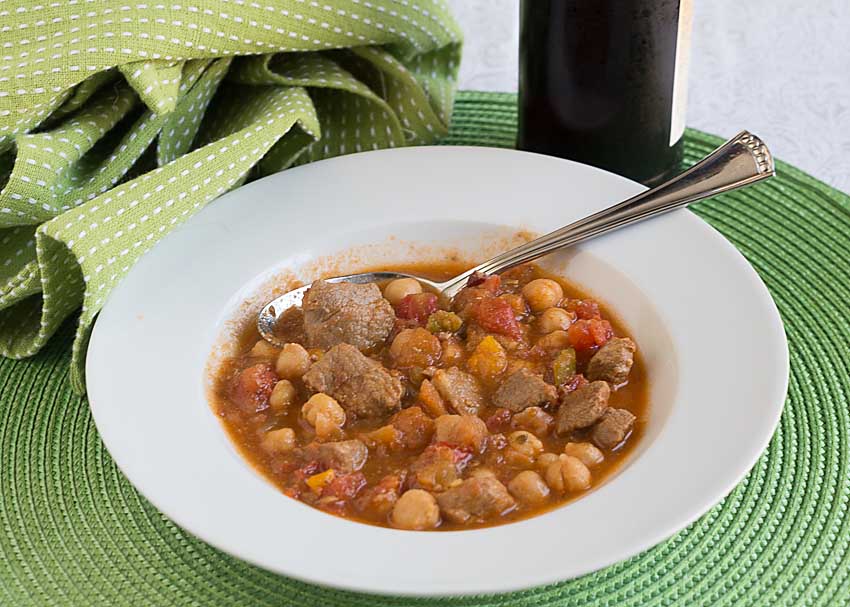 Chili Spiced Pork Stew
2019-03-21 07:07:33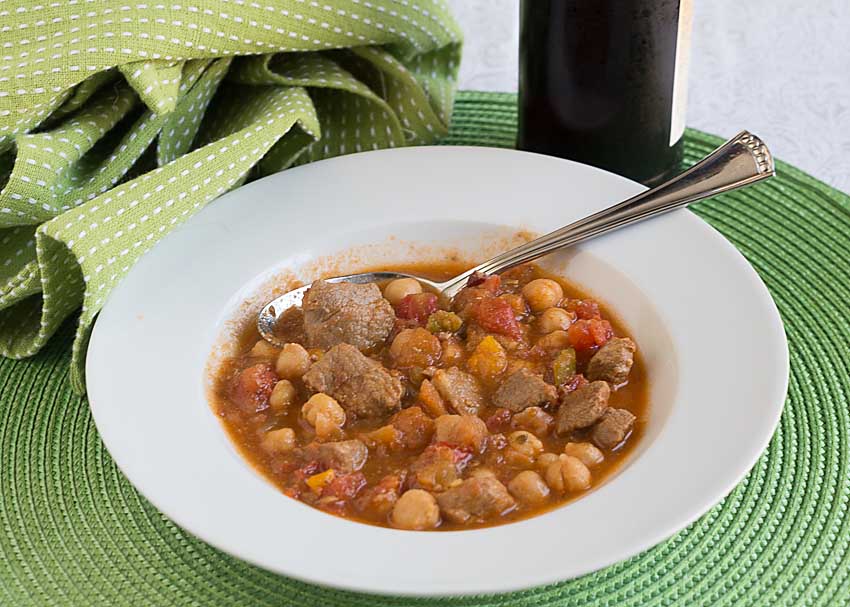 Serves 16
Chili Spiced Pork Stew blends flavorful spices, peppers and tomatoes with rich tender pork for a delicious dish. But is it a stew or a chili?
Nutrition Facts
Amount Per Serving
* Percent Daily Values are based on a 2,000 calorie diet. Your Daily Values may be higher or lower depending on your calorie needs.
Ingredients
o 2 tablespoons vegetable oil, divided, more as needed
o 1/2 thinly sliced ham, cut into 1 inch pieces or bacon
o 3-4 pounds lean pork stew meat, trimmed of most fat
o 1 large white onion, chopped
o 1 to 2 fresh or frozen jalapeño chiles, seeded and chopped
o 3 red bell peppers, seeded and chopped
o 4 large garlic cloves, minced
o 2 teaspoons dried oregano
o 1 Tablespoon chili powder
o 1 Tablespoon ground cumin
o 1/4 teaspoon cayenne
o 4 cups.beef broth
o 28 ounce can crushed tomatoes with purée
o 2 cans fire roasted tomatoes with chilis
o 3 (19-ounce) cans chickpeas or other beans, rinsed and drained
Sour cream, cilantro for serving
Instructions
Cook ham in 1 Tablespoon oil, or bacon without oil, in a large stockpot until crisp. Transfer to plate and pour off all but 2 tablespoons fat from pot. Crumble bacon if using.
Pat pork cubes dry and season with salt and pepper. Add remaining oil to pot and heat over moderately high heat until hot but not smoking. Brown pork in multiple batches and transfer with a slotted spoon to a plate. Add additional oil as needed.
Add onion and cook over moderate heat, stirring, until softened. Add garlic, oregano, chili powder, cumin, and cayenne, then cook, stirring, 1 minute. Return ham or bacon and pork to pot with any juices accumulated on plate. Add broth, jalapeños, bell peppers, tomatoes with chilis and tomatoes with purée and bring to a simmer.
Simmer chili, uncovered, stirring occasionally, until pork is tender, about 1 1/2 hours. Stir in beans and cook an additional half hour
Serve chili with sour cream and chopped cilantro.
Notes
Note: Since the heat in spices and jalapeños will vary, feel free to add your favorite hot sauce if needed
Art of Natural Living https://artofnaturalliving.com/