Homemade Maple Vanilla Granola take less than 10 minutes working time for a cost-saving, all natural treat. Great for breakfast or snacking.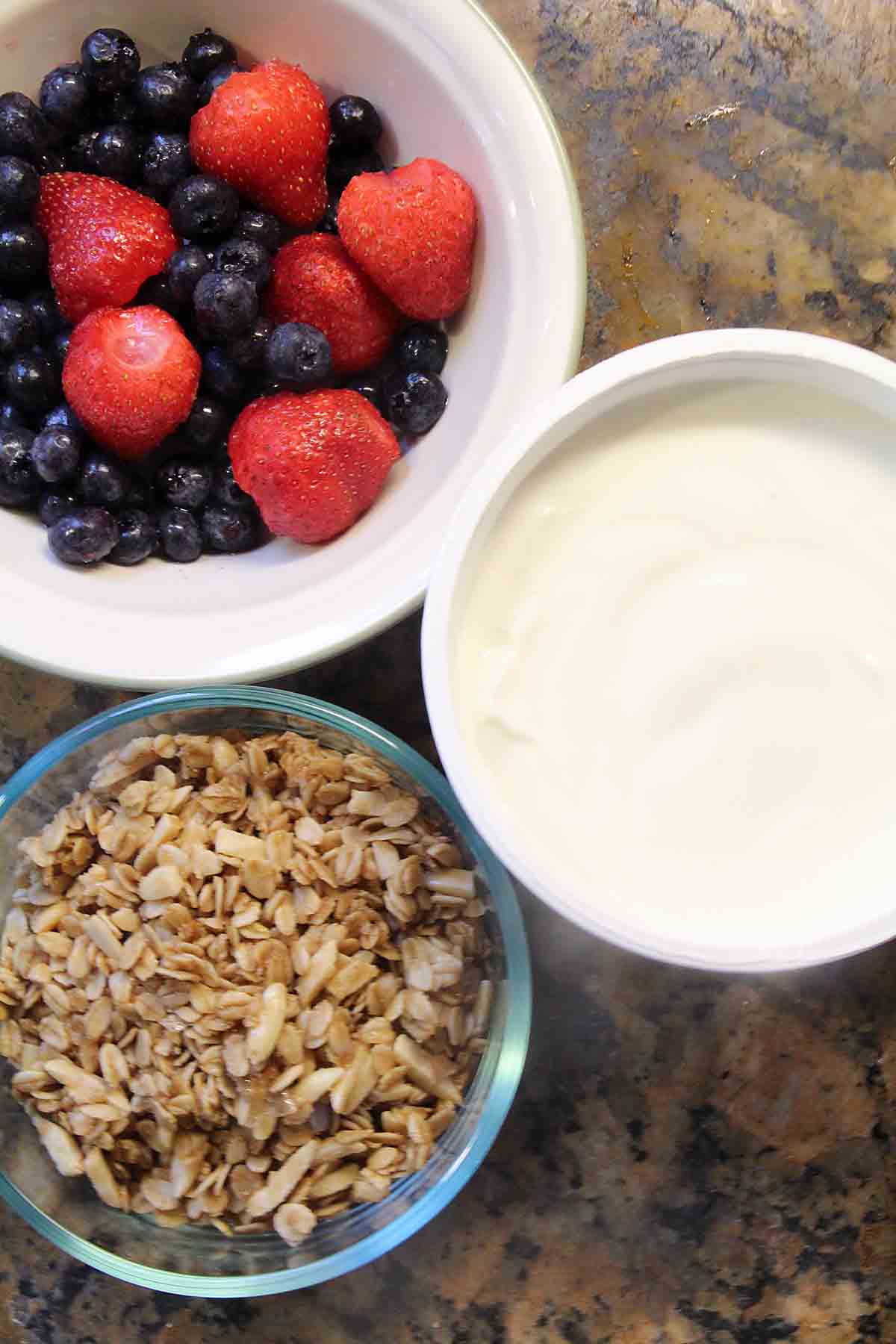 Granola and I have always had a love-hate relationship. The love part is what a good granola can do for yogurt! The hate part is my feelings about some of the uber-sweet, super hard granola bars I grew up with. Hey with all that sugar, why didn't I just eat a candy bar.
But my Maple Vanilla Granola (originally published in 2014) is different. It is less sweet, less chunky and less toasty–which lets the maple and vanilla flavors shine through.
And that all goes back to my college days.
You see, back in my youth, I spent a semester studying in Dublin where I lived with an Irish family. One of my first surprises was that my daily breakfast was cold cereal and not one of the hearty bed and breakfast meals with sausage, eggs, bacon, and soda bread.
Yes, I know… who could eat a giant breakfast like that on a daily basis! What was I thinking!
Problem was, I had never been a cold cereal fan. So a daily dose of cornflakes (or rice krispies for a special treat) was going to be a challenge. Consulting with some other American students, I found a solution. Top the cereal with sprinkles of granola-like "Muesli", available in the grocery store. Problem solved!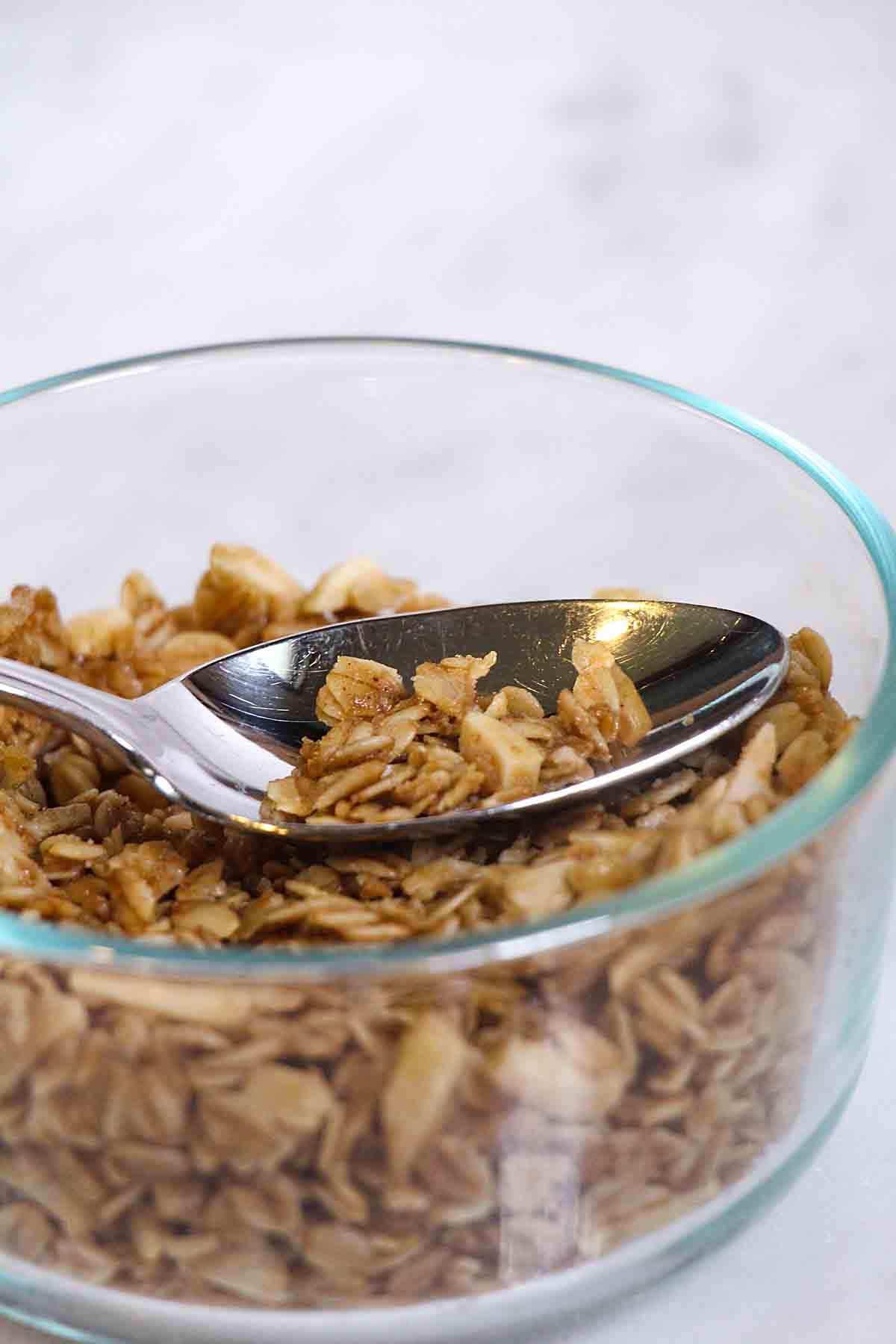 What is the definition of granola and muesli?
Never heard of Muesli much less how it differs from granola? Per the Irish Times, "while they're both typically made with oats, nuts, fruits and seeds, granola is mixed with a sweetener, such as honey, and oil, before being baked. Muesli remains unbaked, and can be served hot or cold."
Because my Maple Vanilla Granola recipe is sweetened and baked, it would be considered a granola (as I suspect was my Irish "Muesli"), but the fact that it is has a lot of oatmeal and is cooked on low makes it less chunky and a little closer to Muesli.
Either way, yum!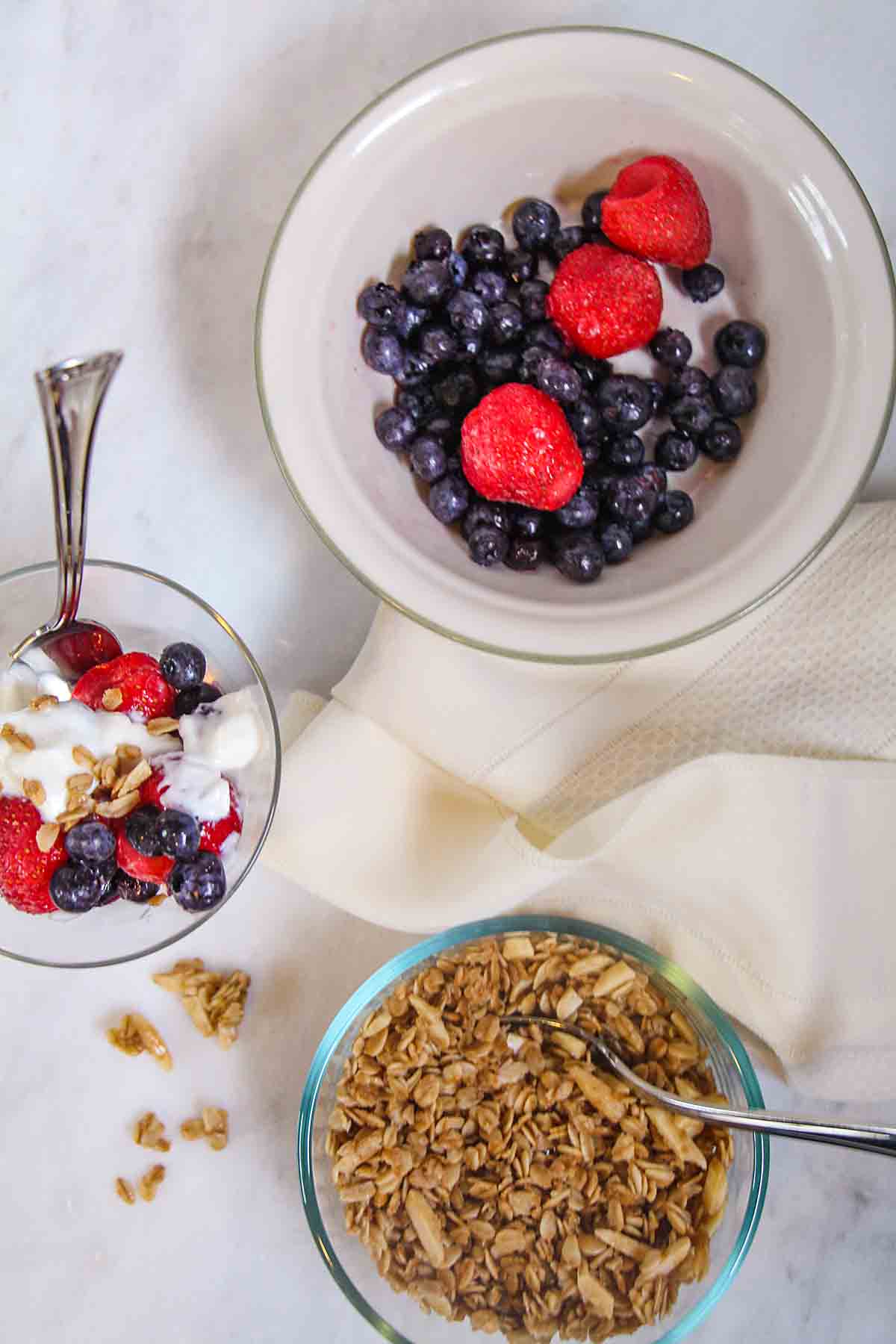 What Makes This a Winner
When I started eating more yogurt, I knew I needed a granola I loved in my life! And this one is
Quicker than a grocery run – While the recipe does take time to bake, working time is only about 10 minutes. I can't even make a quick mart trip that fast!
Cost Savings – I think this recipe has all the flavor of an artisan granola—but at a fraction of the cost. When I see the (smallish) $12 bags of granola at the grocers now, I just smile knowingly.
Quality Control – want organic oats in your granola? No problem if it's homemade!
Step by Step Directions
This recipe is super simple to make. You mix the dry ingredients first, then top with the wet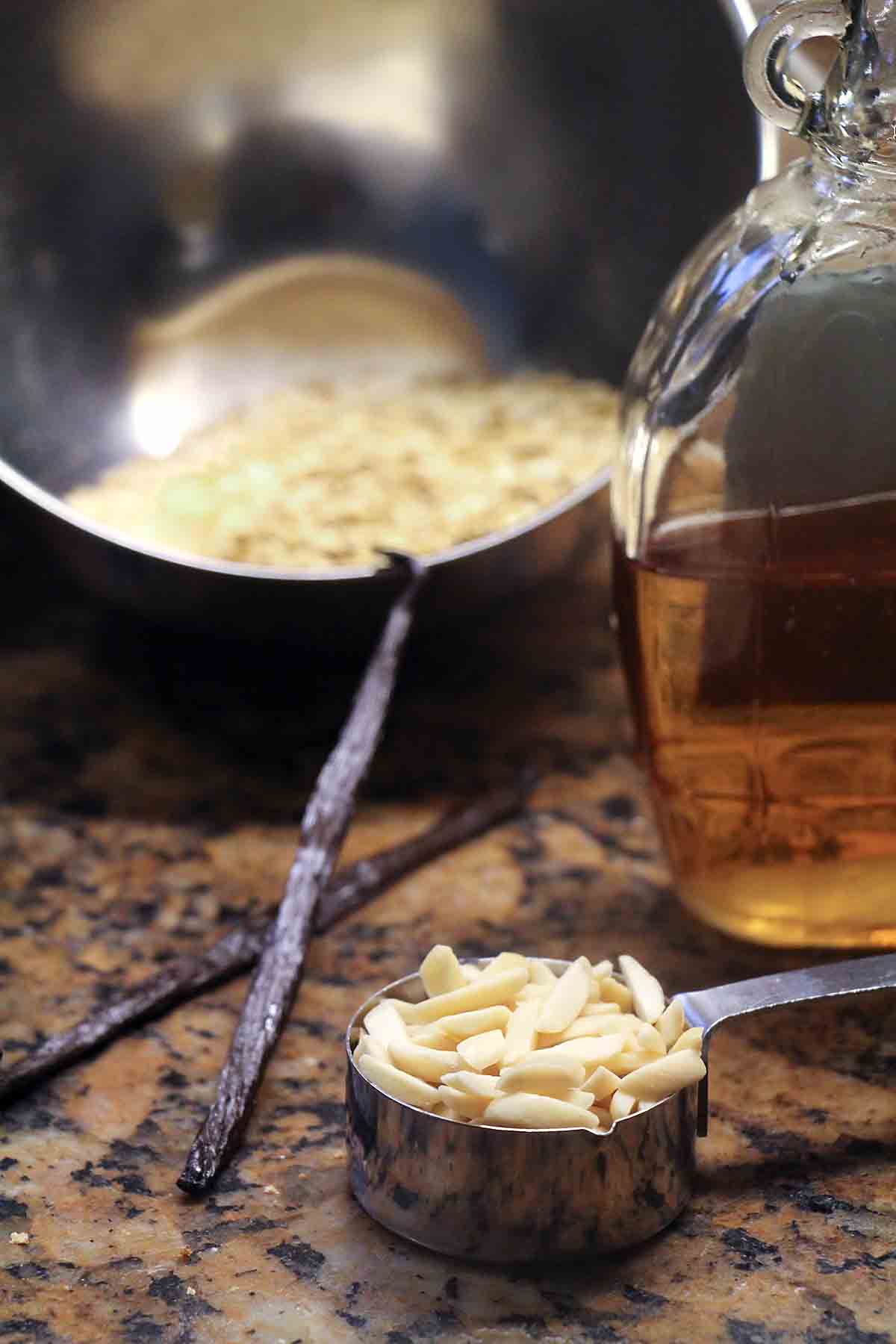 Mix together and bake on low heat until dry. Stir once or twice while baking.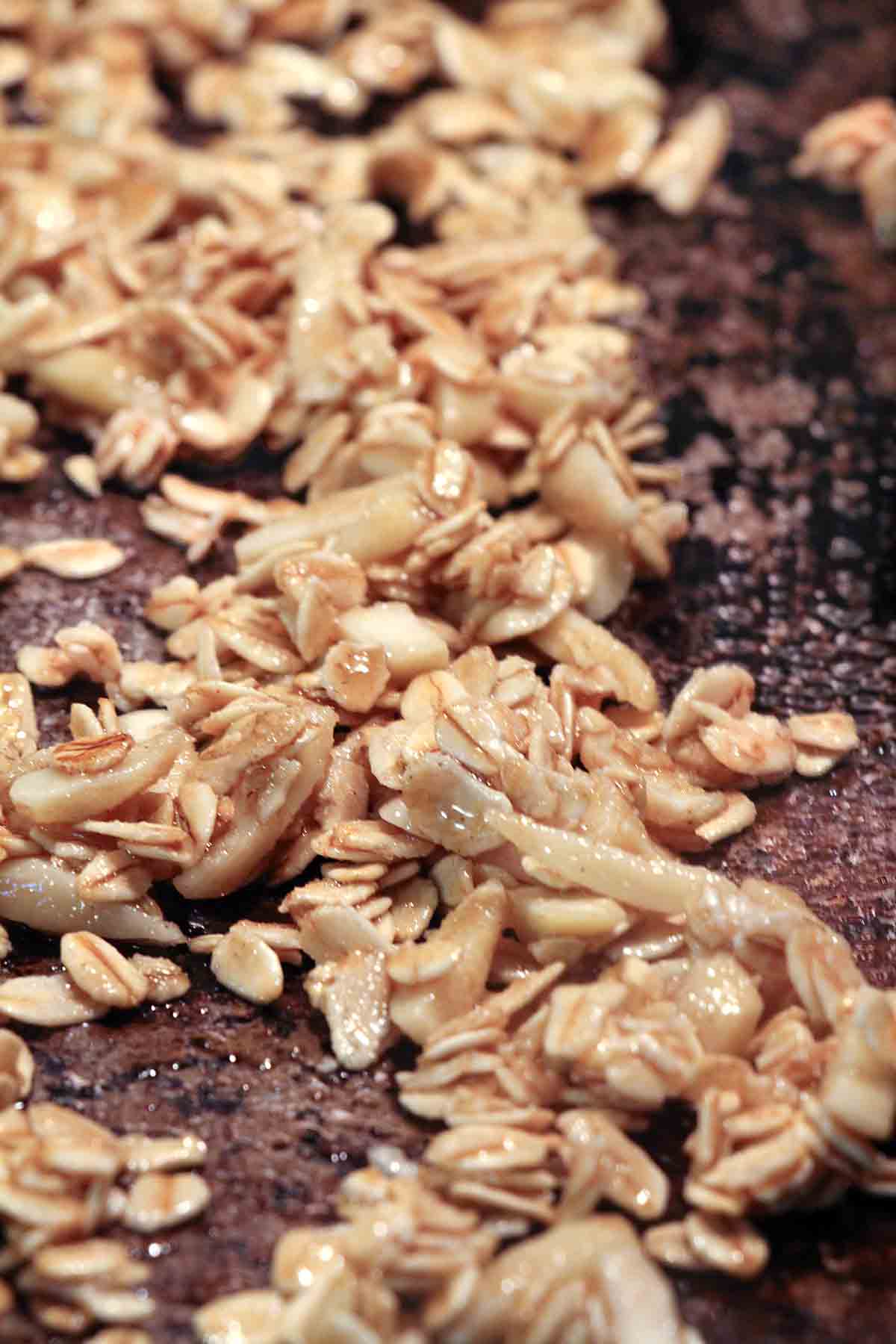 How to use Granola
My very favorite way to use granola is to top yogurt mixed with fruit. That little bit of crunch always take this right over the top.
Granola can also be used to top cereal like I did in college or even as a cereal all by itself.
Other foods that are great topped with granola include applesauce, roasted carrots, and butterscotch pudding. For the latter, I like to add a big dollop of whipped cream then sprinkle granola over that.
Another fun use for granola was this holiday trail mix, blended with holiday colored M&Ms, raisins (or dried cranberries) and nuts. I show a Valentine's version here but there are colors available for lots of different holidays!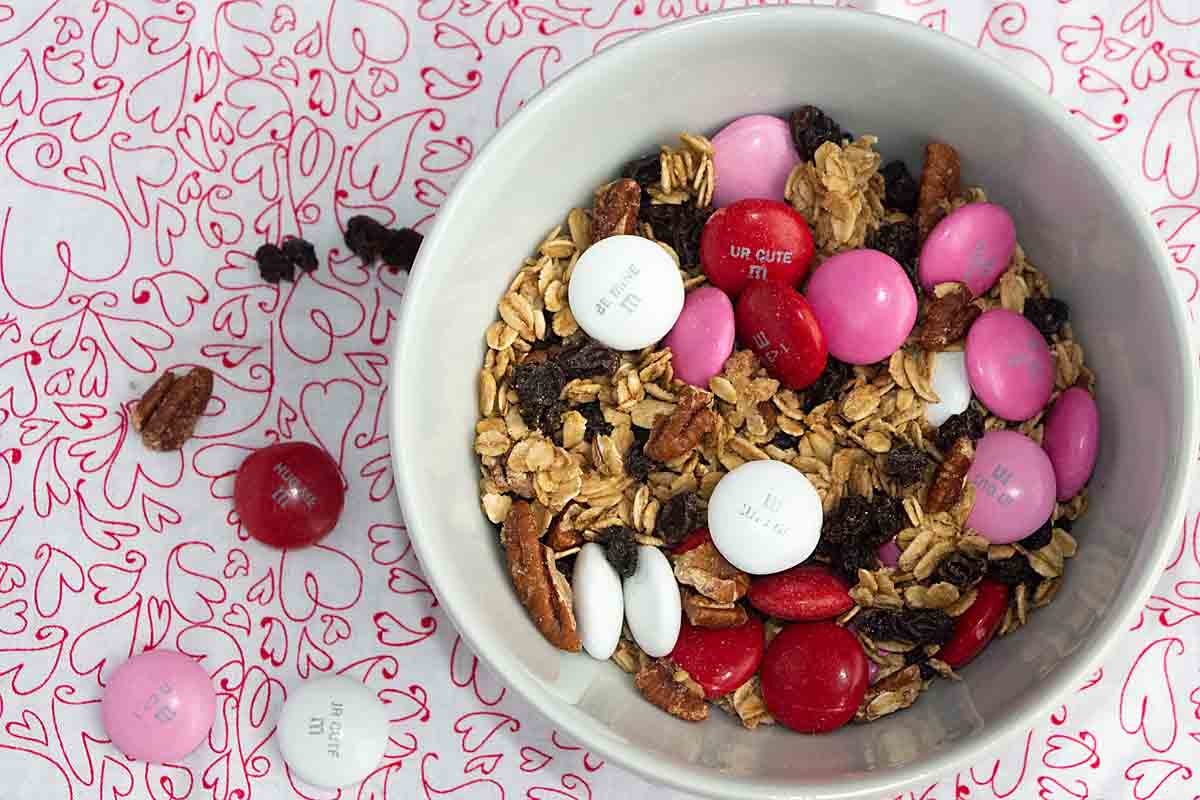 Tips & Variations
If you prefer a more toasted flavor bake at 300 until golden brown, stirring occasionally, for approximately 30 minutes.
While vanilla granola is my favorite, granola is also tasty in other flavor variations. Consider Cranberry Nut Granola for the holiday season!
I used slivered almonds because they pick up the maple and vanilla flavors well. And the color is consistent with the other colors. But if I didn't have them, I'd use pecans or any other nut I had handy rather than make a special trip to the store. And if you have a tree nut allergy, using peanuts or seeds like pepitas or sunflower seeds if you can would be another way to get the crunch!

Get More Nutty Recipes:
We share Recipes From Our Dinner Table! Join our group and share your recipes, too! While you're at it, follow our Pinterest board, too!
Maple Vanilla Granola
Homemade Maple Vanilla Granola take less than 10 minutes working time for a cost-saving, all natural treat. Great for breakfast or snacking.
Ingredients
Nonstick vegetable oil spray

2

c

oatmeal

old-fashioned

1/2

c

slivered almonds

3

T

packed golden brown sugar

1/4

t

salt

1/8

t

ground cinnamon

2

T

coconut oil

or other oil

1/4

cup

maple syrup

1 1/2

T

vanilla extract
Instructions
Combine dry ingredients.

Melt coconut oil (if using) and add oil, maple syrup and vanilla to the dry ingredients. Toss to combine.

Spray a baking sheet with nonstick spray, then spread out granola mixture. Bake at 225 for about an hour until no longer damp, stirring halfway through. Let cool completely then store in airtight container.
Notes
If you prefer a more toasted flavor bake at 300 until golden brown, stirring occasionally, for approximately 30 minutes.
Serving size is approximately 1/3 cup (a light serving of cereal but more than you'd use to top yogurt)
Nutrition
Calories:
177
kcal
Carbohydrates:
17
g
Protein:
3
g
Fat:
11
g
Saturated Fat:
3
g
Polyunsaturated Fat:
7
g
Sodium:
77
mg
Fiber:
2
g
Sugar:
8
g
I am not a health professional and nutrition data is calculated programatically. Accuracy may vary with product selection, calculator accuracy, etc. Consult a professional for the best information.