It's really my father's fault. He started delivering Valentine's Day candy to his (adult) children many years ago. And when his grandkids came along, they got miniature boxes. Hand delivered with love. Talk about feeling special!
When my father passed away in 2009, I couldn't let the tradition go. And this year I included something new, Valentines Day Trail Mix!
The Valentine's Day Trail Mix wasn't really a plan. Rather it was due to an unusual constraint. One of my gifts needed to be shipped out of state… in the spare space around a pair of safety shoes… in a flat rate box. College kids!
So instead of shipping a box from Amazon, I tucked cream filled hearts into the toes of the shoes. And looked for moldable treats like bags of valentine candy to fit the edges of the box. Better than bubble wrap!
Which is how I got to the idea of making trail mix. To avoid delivering a complete candy coma, I wanted to add something a little healthier. And the holiday M&M's were so cute (are they marketing geniuses or what!), they got me thinking. I always have jars of my homemade Maple Vanilla Granola around, plus nuts, and dried fruit. Done!
But if you are reading this after Valentine's Day—or don't want to make an M&M run, this "Valentines Day" Trail Mix will work beautifully with chocolate chips (which I always have bags of). Or it can be dressed up for another holiday with color matched candies.
Happy Valentines Day!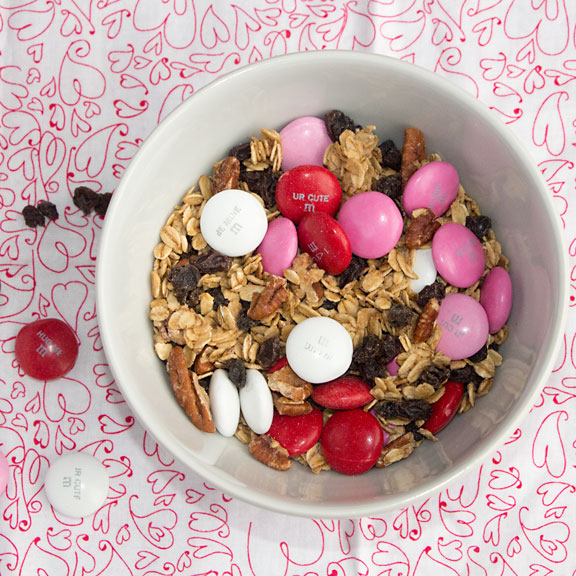 Valentines Day Trail Mix
2017-02-12 14:38:24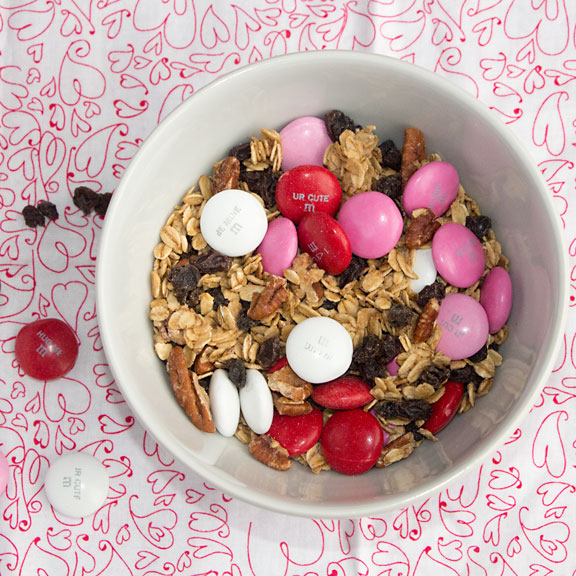 Serves 6
Avoid a holiday candy coma-try some trail mix made with granola, nuts, dried fruit & holiday M&Ms. Great for Valentines Day Trail Mix or for any holiday!
Nutrition Facts
Amount Per Serving
* Percent Daily Values are based on a 2,000 calorie diet. Your Daily Values may be higher or lower depending on your calorie needs.
Ingredients
1/2 cup granola
1/2 cup walnuts (or your favorite nut)
1/2 cup raisins (or other bite-sized dried fruit)
1/2 cup holiday M&Ms or chocolate chips
Instructions
Mix all ingredients together. Store in an air-tight container.
Notes
Change M&M colors for the holiday!
Art of Natural Living https://artofnaturalliving.com/