Step by Step Home Cured Gravlax (Salmon)
It's month two of the Food in Jars Canning Challenge–and I'm still psyched. This time I've made Home Cured Gravlax (Salmon).
If you're not familiar with gravlax, it is (per Wikipedia) "a Nordic dish consisting of raw salmon, cured in salt, sugar, and dill. Gravlax is usually served as an appetizer, sliced thinly and accompanied by … a dill and mustard sauce, either on bread, or with boiled potatoes."
Home cured gravlax has been on my list ever since I saw it made on PBS's New Scandinavian Cooking show. Nothing like watching food prepared with a backdrop of scenic coasts and soaring mountains to make you want to try it yourself.
Many people are motivated to try this due to the high price of lox. If you are paying $60/lb at a New York deli, I would totally understand this. Since I might have headed to Trader Joe's for cheap lox–and bought expensive salmon for this, I can't claim a financial motive.
But the flavor was amazing—mild and without a trace of fishiness, which I have sometimes found even in expensive deli lox.
And just as important, the preparation was truly easy. The hardest part was slicing it when I was done! Here's how it goes:
I started out with two pieces of similarly sized salmon, each just under a pound (if you have just a single piece you can cut it in half). I deboned them with a special tweezers, but for years I washed and used pliers my husband retrieved from the basement. I also decided to trim off the thin portions of my fish (optional).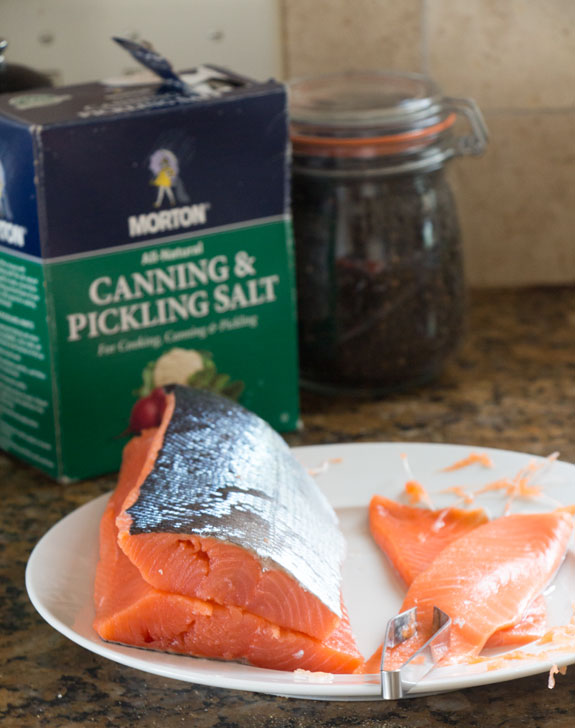 I mixed up sugar, salt and pepper and rub it into the cut (non-skin) sides of the fish.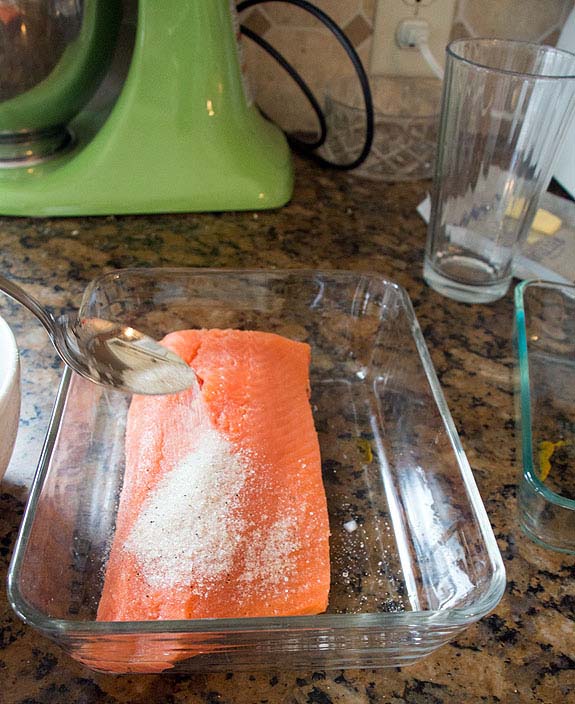 Then I laid one piece skin side down in a well-fitting tray, topped with dill.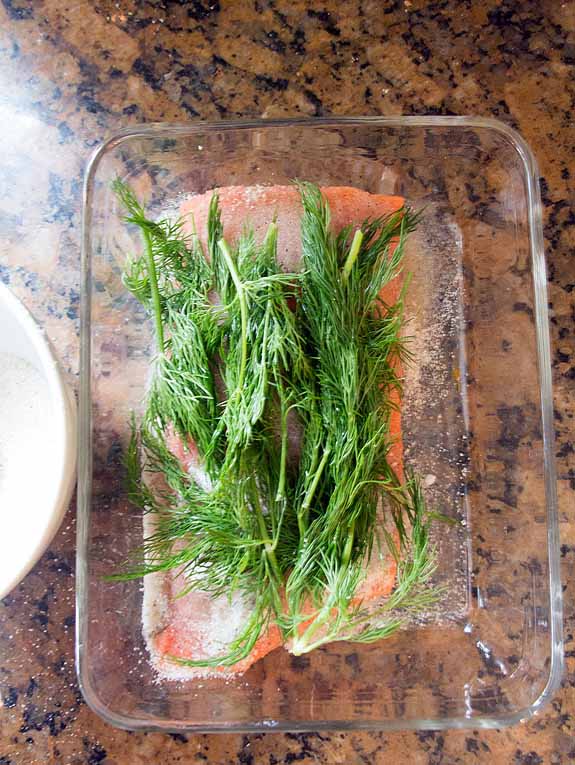 Then added the second piece, skin side up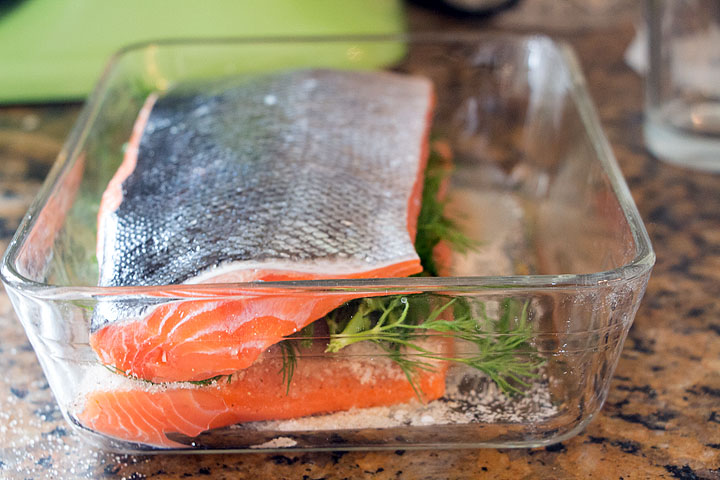 I then covered the tray with plastic wrap (leaving some slack)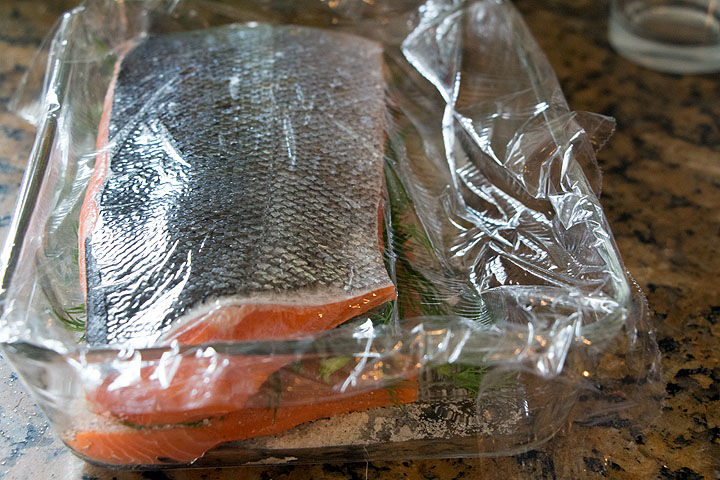 then placed a smaller tray on top which I weighted with canned goods.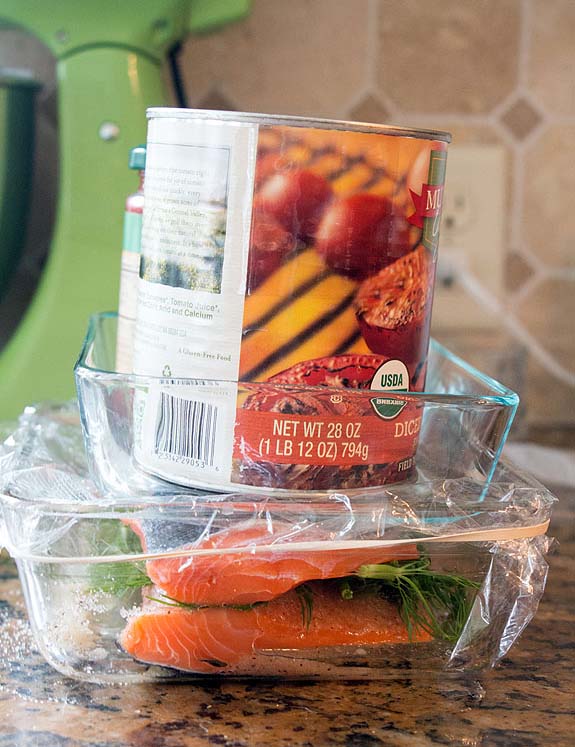 Now it needs to sit in the refrigerator for 3 days, and get turned every 12 hours (or 24 if you forget).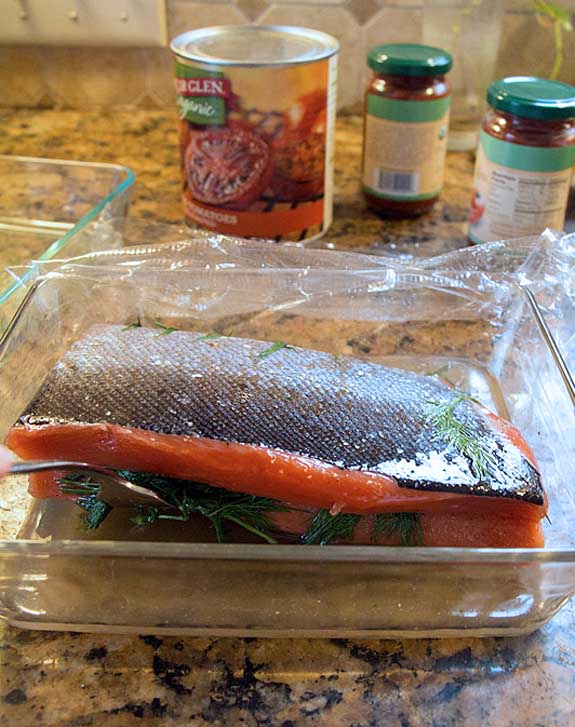 After 3 days, I removed the fish, rinsed off the excess salt mixture and sliced the fish on the diagonal with a sharp knife (discard the skin). It's a little intimidating but no one is going to be grading you on your evenness I told myself!
I served mine on homemade rustic rye, with a homemade garlic aioli. Mmmm!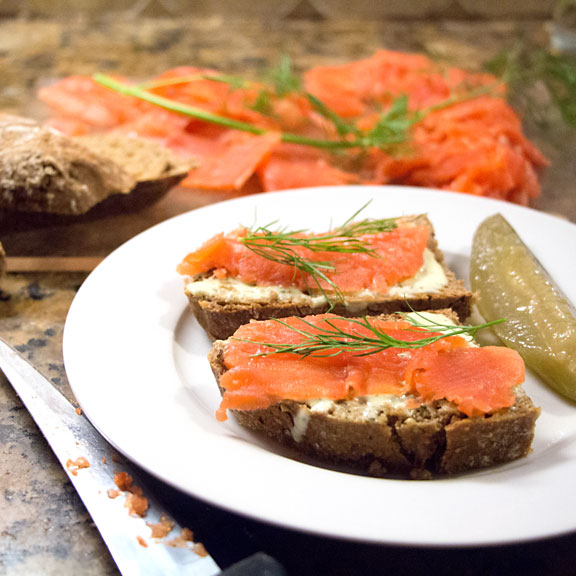 Home Cured Gravlax
2017-02-16 15:41:33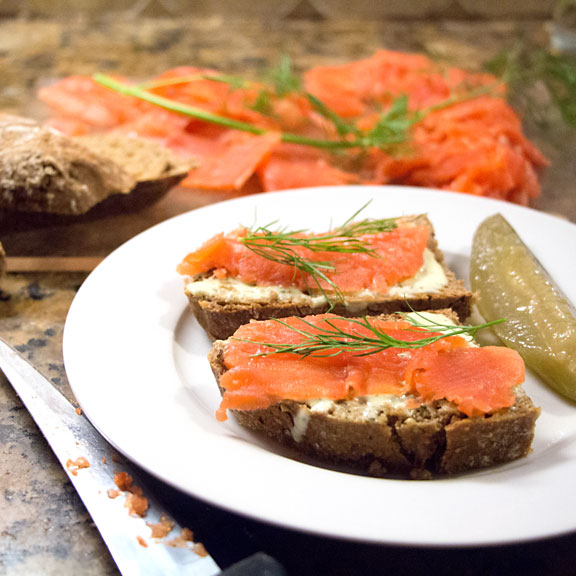 Serves 32
Nutrition Facts
Amount Per Serving
* Percent Daily Values are based on a 2,000 calorie diet. Your Daily Values may be higher or lower depending on your calorie needs.
Ingredients
2 lb salmon filet (1 large filet, cut into 2 pieces or 2 medium)
2 Tablespoons sugar
2 Tablespoons kosher salt
1 teaspoon ground black pepper
1 cup of loosely packed dill
Instructions
Place one piece of salmon, skin side down, in a deep tray. Combine the salt, sugar and pepper and sprinkle it evenly over the piece of fish. Top with dill.
Place the other half of salmon over the dill, skin side up. Cover the dish with plastic wrap or aluminum foil. Place a smaller pan on top and weigh it down with some heavy cans.
Refrigerate the salmon for 3 days, turning it every 12 -24 hours.
After 3 days, rinse each piece of salmon. With a long, sharp knife, slice the salmon on a diagonal like you cut smoked salmon. Discard the skin.
Serve open faced on rye with mustard sauce or aioli or on bagels with cream cheese.
Art of Natural Living https://artofnaturalliving.com/