Chocolate Fondue–Fondue Pot Optional
Due to an uncommon family tradition, whenever I think of fondue, I think of New Year's Eve. For years, instead of going out, we have celebrated quietly–with a holiday film and three fondues in front of the fire. Cheese and meat for dinner, then chocolate fondue for dessert!
But fondue is too much fun to limit to just one night—and chocolate fondue is perfect for Valentine's Day! So why not melt a little chocolate and pull up some plump ripe strawberries! How many people have chocolate covered strawberries as their favorite Valentine's Day dessert, after all!
There is even a romantic tradition associated with fondue. If your dipper falls off in the pot you are supposed to kiss the person next to you!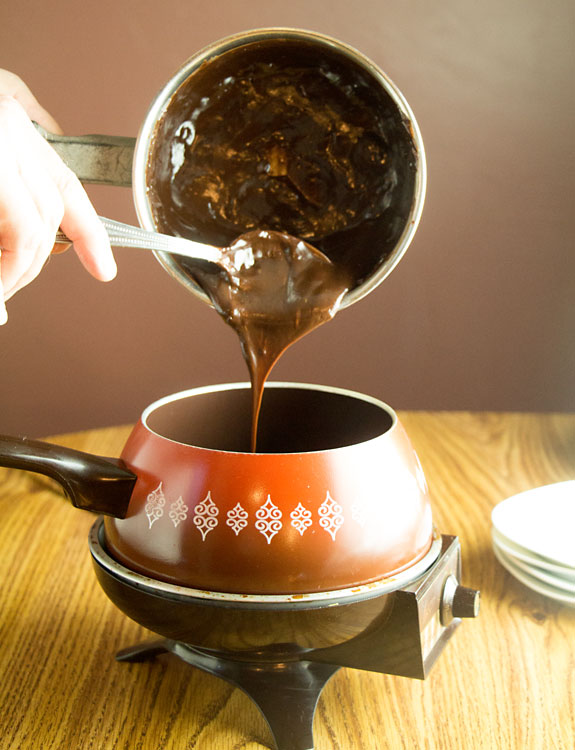 Did you know that many fondues don't even require a fondue pot? This year, with my pots at our "cabin up north" and us staying home (oops), I learned that a basic crock pot works just fine for chocolate and cheese fondues. And word on the street is that bamboo skewers can sub for fondue forks (we DID have fondue forks at home—go figure).
This year, I decided to reprise my chocolate fondue as a (pre-)Valentine's day treat–and to do it with a twist. In honor of healthier eating, (and Veggie Wednesdays/Thursdays), I would not serve any cake. My dippers would all be fruit and nuts.
I really was worried we'd miss the carbs. And I'll admit I looked wistfully at my husband at one point and said, "just one donut…" But when the pot was empty, everyone felt satisfied. And we liked every single fruit we tried, even the orange slices!
Dessert goes healthy—who'd have thought!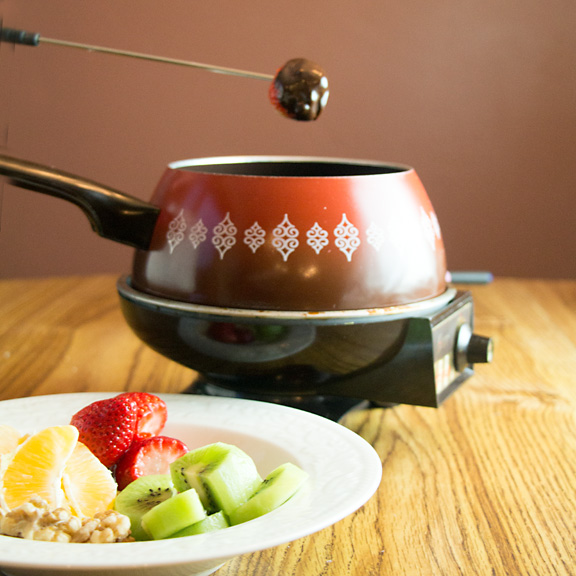 Chocolate Fondue
2017-02-08 22:23:42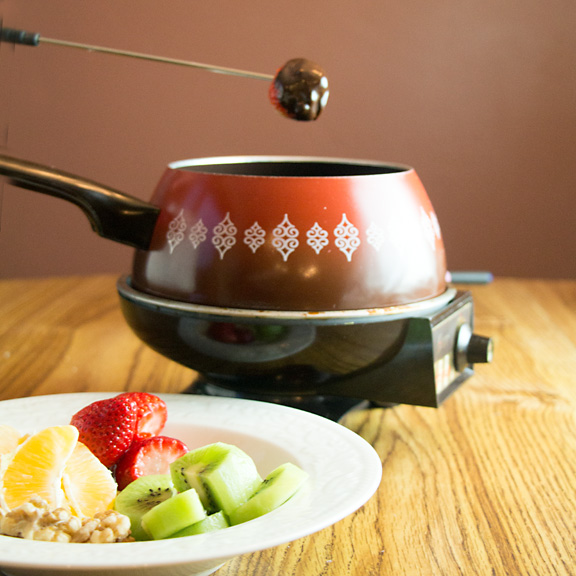 Serves 6
Fondue makes any occasion fun! And chocolate fondue with strawberries & fresh fruits is tasty, healthy & perfect for Valentine's Day!
Nutrition Facts
Amount Per Serving
* Percent Daily Values are based on a 2,000 calorie diet. Your Daily Values may be higher or lower depending on your calorie needs.
Ingredients
12 ounces chocolate (milk, semi-sweet or dark)
1 cup heavy cream (or about 2/3 cup half & half--see note)
(optional) 2 Tablespoons Liqueur (Irish cream, Kahlua, etc.)
Fruit and nuts as dippers (or cut up cake if you don't mind the carbs)!
Instructions
Melt chocolate in a saucepan on medium low or in a double boiler, stirring constantly (chocolate burns very easily). Gradually add cream (or half & half) and stir until combined. Add liqueur if using.
Transfer mixture to warm fondue pot or crock pot.
To serve, spear a dipper like a fresh berry with a fondue fork, then dip in the melted chocolate.
Notes
You can substitute half and half for the cream to save calories. In that case, start with no more than 2/3 cup and test the consistency, adding more if desired. Half and half is thinner and can produce a runny fondue if you add too much.
Art of Natural Living https://artofnaturalliving.com/