One Dish Mediterranean White Fish
I was looking for a killer catchy way to start this post. But I kept coming back to being tired—which is really how my Mediterranean White Fish was created.
Last fall, with my youngest off to college, I decided to go back to school myself. Just one class. Well, I had so much fun that this semester, I am taking two. Enter that tired stuff—and I love it!
But I need to get more efficient. Starting with dinner.
One way to cook efficiently—without missing out on flavor or health is to find tasty one dish meals. Get some protein and two veggies in a single recipe.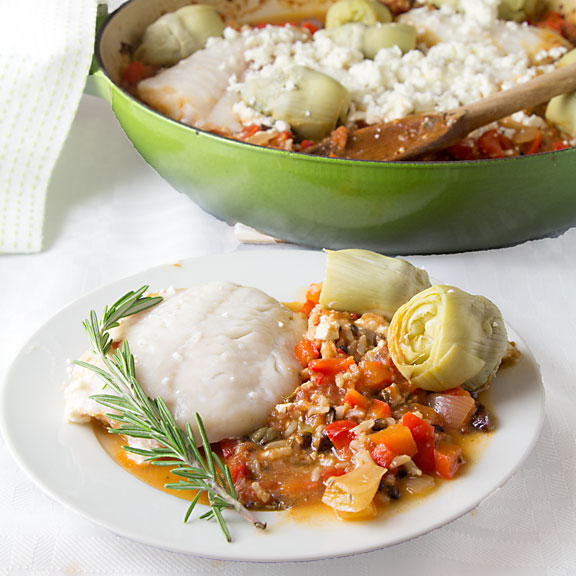 But I do have a caution here—this won't last long if you drop your standards.
I remember when one of my blogging friends did a newspaper feature on casseroles. The story turned out great but after it was published she was done with casseroles for a while. In her words, "I think there's a reason they went out of style."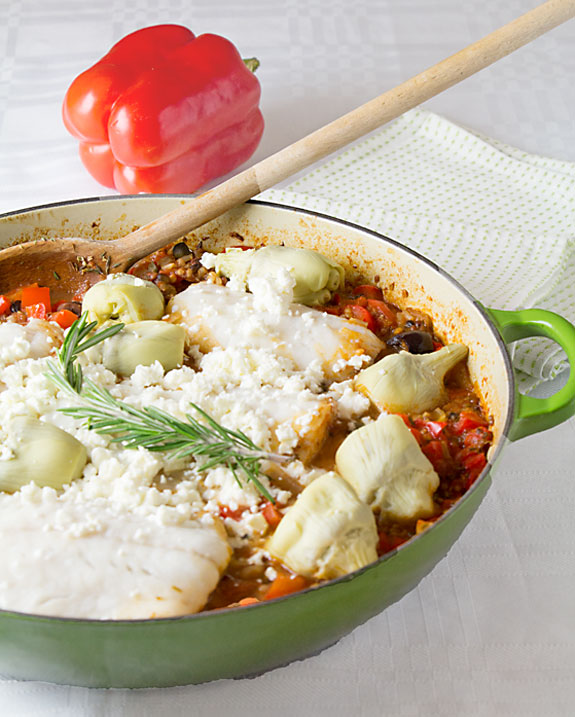 Yes, some of my mother's old casseroles wouldn't pass muster on flavor–or nutrition. But this Mediterranean White Fish does! With tomatoes, artichokes and red peppers, it is full of wholesome veggies, along with healthy fish and tasty herbs, olives and capers. Rice completes the meal and soaks up the sauce–you can even use pre-cooked brown rice in a pinch!
Yum—and time left for a walk!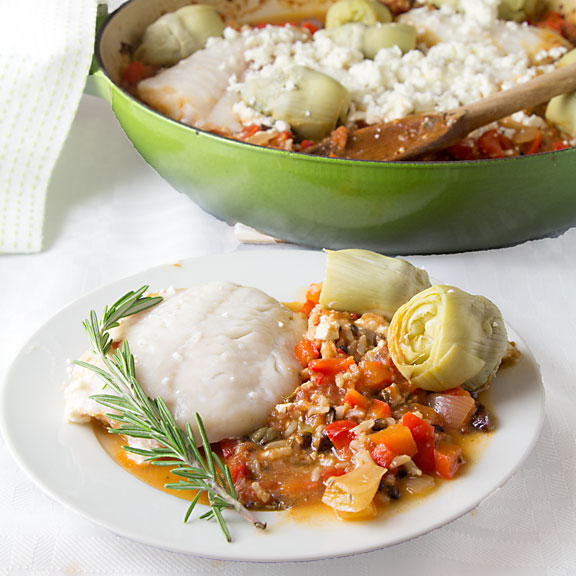 One Dish Mediterranean White Fish
2017-02-02 09:23:26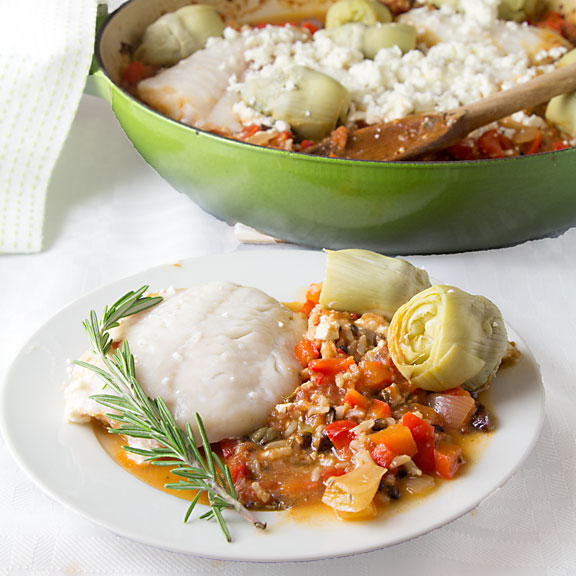 Serves 4
With tomatoes, artichokes & red peppers, Mediterranean White Fish is full of wholesome veggies. Along with healthy fish & tasty herbs, olives & capers.
Nutrition Facts
Amount Per Serving
* Percent Daily Values are based on a 2,000 calorie diet. Your Daily Values may be higher or lower depending on your calorie needs.
Ingredients
1 T olive oil
½ onion, chopped
2 garlic cloves, minced
1 quart of canned tomatoes
2 red peppers, diced
¼ chopped Kalamata olives
1 cup brown rice (see note re: quick-cooking rice)
2 t capers
1 t thyme
1 T oregano
½ t salt
2 t capers
1 15 oz can artichoke hearts
4-6 oz portions of cod or other white fish
2 ounces crumbled feta cheese
Herbs for garnish (optional)
Instructions
In a braiser (or other stove top/oven-save dish), sauté onion and garlic in olive oil until just tender.
Stir in tomatoes, peppers, olives, capers rice and herbs.
Cover then bake at 350 until rice is almost cooked, about 20-30 minutes. If liquid is reducing too much, add some additional water.
Top rice and veggies with fish and artichoke hearts, re-cover and bake until fish is cooked through (about 10 minutes).
Remove from oven and sprinkle with crumbled feta cheese. Garnish with fresh herbs if desired.
Notes
Regular rice will take 20-30 minutes for the initial cooking, quick rice may be much quicker—consult package directions
Art of Natural Living https://artofnaturalliving.com/