Pretzel Rolls (with Sourdough Discard Option)
Homemade Pretzel Rolls are chewy, salty and tasty. Use as a sandwich roll, hamburger bun or a fun side with lunch or dinner.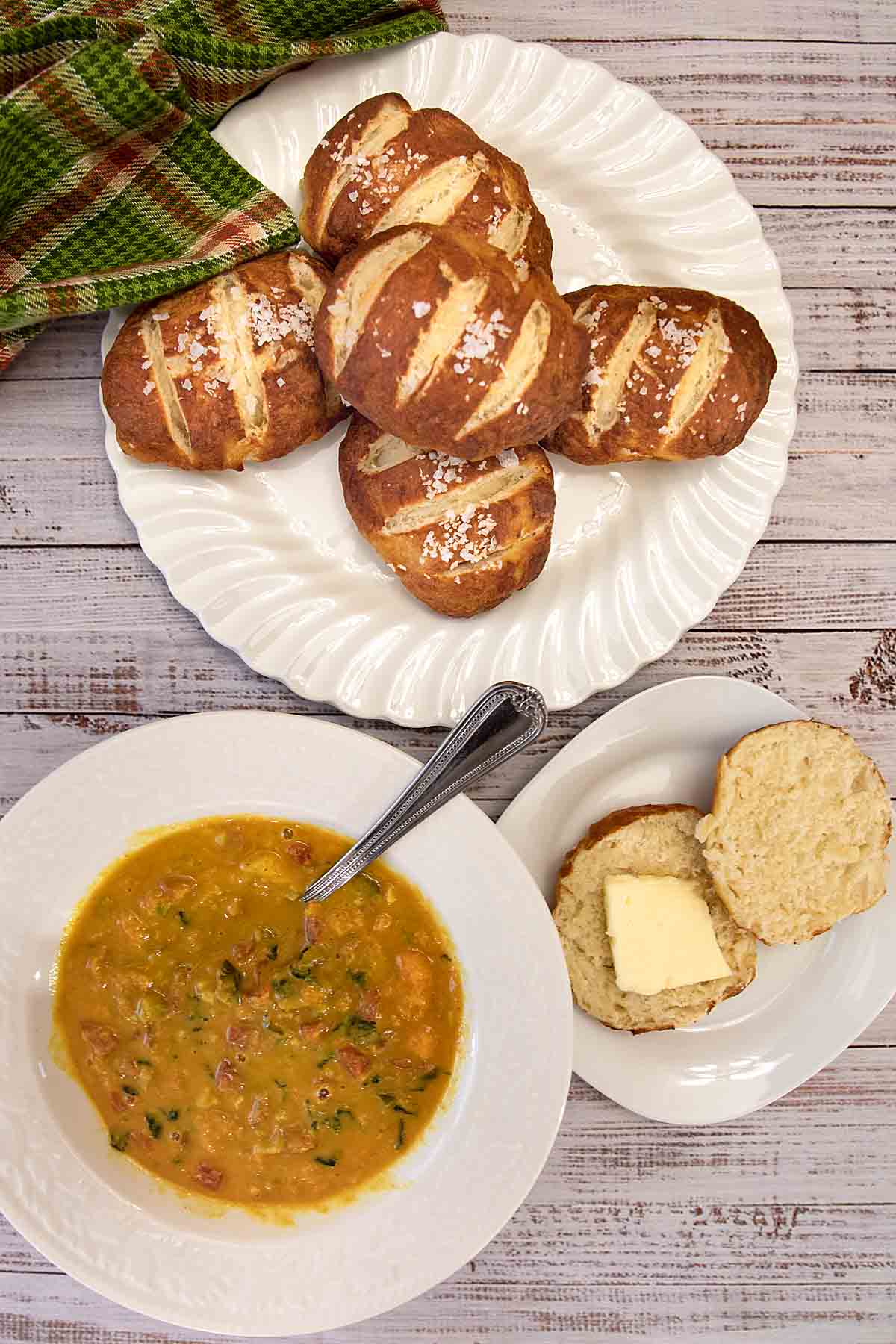 What's the latest fun thing in dinner rolls or sandwich buns? How about pretzel rolls! And to give them even more great flavor, I have a sourdough discard option too.
I started eating pretzel rolls during the height of the pandemic. At that time it was hard to get bakery sandwich rolls and I didn't like the uber-soft packaged hamburger buns.
So when I found a recipe for soft pretzels at Jennifer Cooks, I decided to adapt it and make pretzel rolls myself!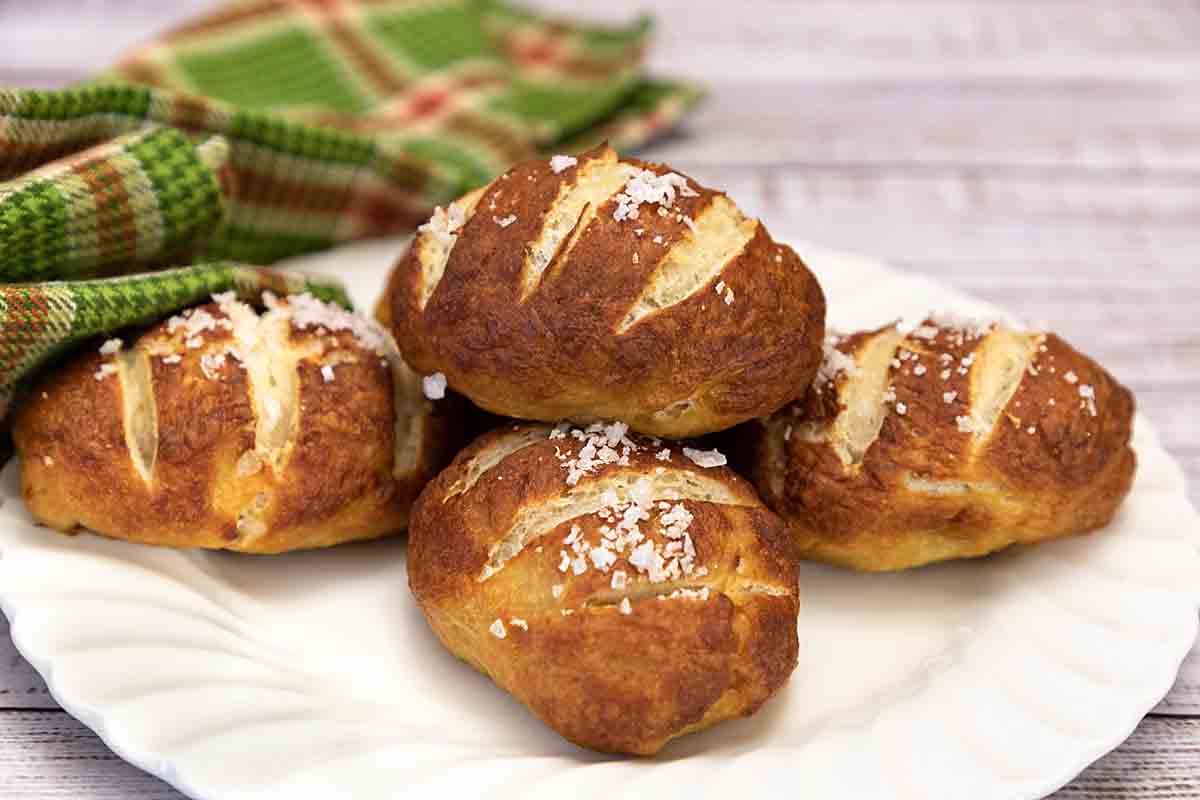 Homemade Pretzel Rolls are made a little differently than most breads. Before baking, they get a brief boil in a water bath—which is actually very simple. If you've made bagels before, you know the routine.
I include the option to treat this as a sourdough discard recipe or not. If you are keeping a prolific starter you may welcome the opportunity to use some up! But if not, there is a non-sourdough option too for this fun and tasty recipe!
What are Pretzel Rolls
If you haven't seen or tried Pretzel Rolls before, you are in for a treat. These chewy, golden orbs are like soft pretzels made over in roll form. A favorite in our household for sandwiches and hamburgers, they are also a tasty side served with butter.
Pretzel Rolls can be made in different sizes too. We will go smaller for dinner rolls or lager for hamburger buns. And I've even made them oblong for hot dog and brat buns!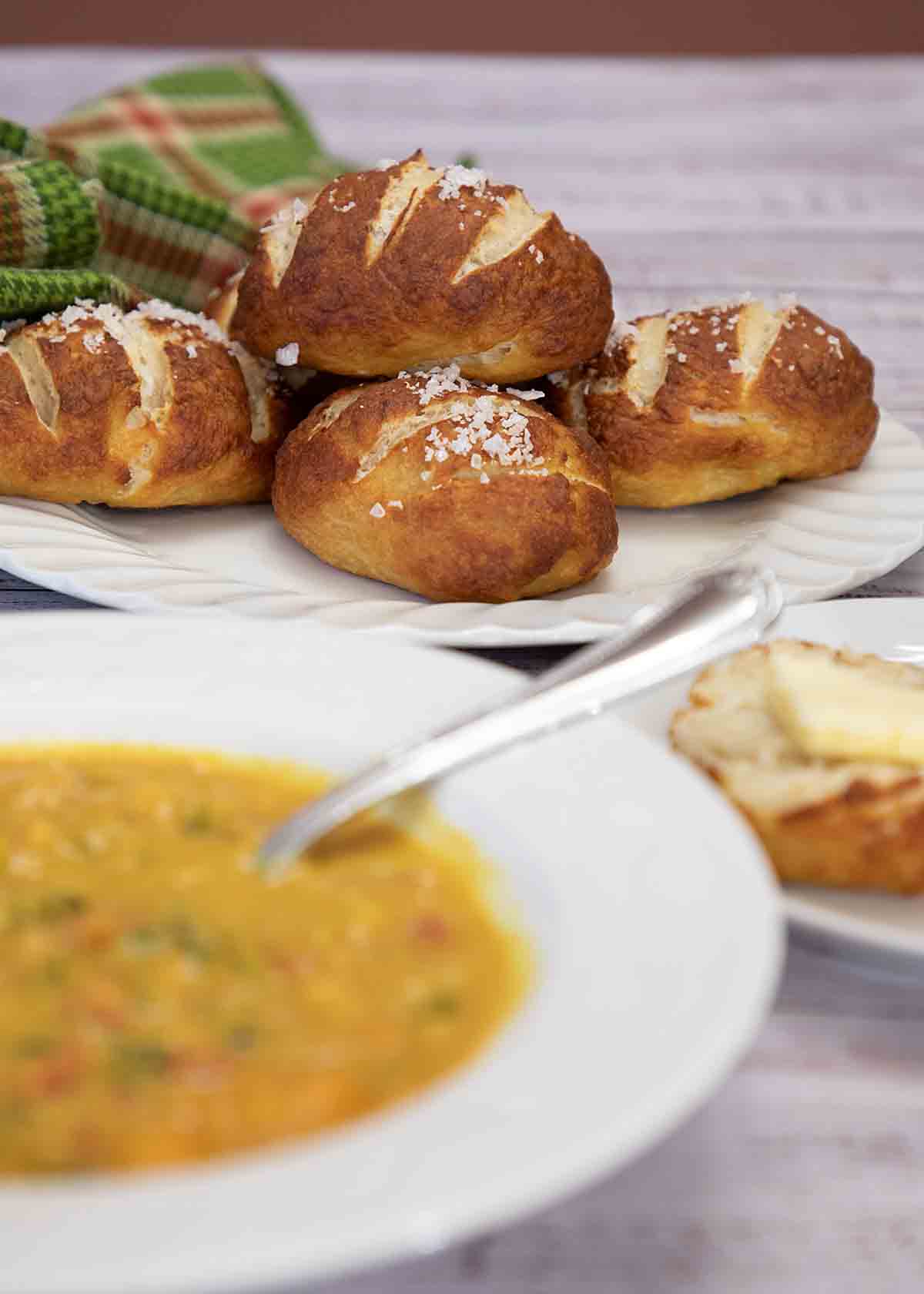 What Makes This a Winner
Great Flavor – with a golden salt-topped exterior, this is more flavorful than your average roll or bun (especially if made with sourdough discard). We even eat them as snacks.
Perfect Texture—I find some sandwich buns so hard I pull out the meat trying to bite/tear through. Or so soft they crumble when holding a brat or burger. This has a texture in the middle so works beautifully.
Fun and Trendy—these will make a splash served at your next event or for family dinner. They even impressed my youngest (aka my picky daughter)!
The Movie
Now just in case that water bath is making you nervous, I put together a little video to show you how doable it is. If video isn't your thing, there are step by step directions below!
Step by Step Directions
To start, you blend and knead the dough ingredients, then let rise.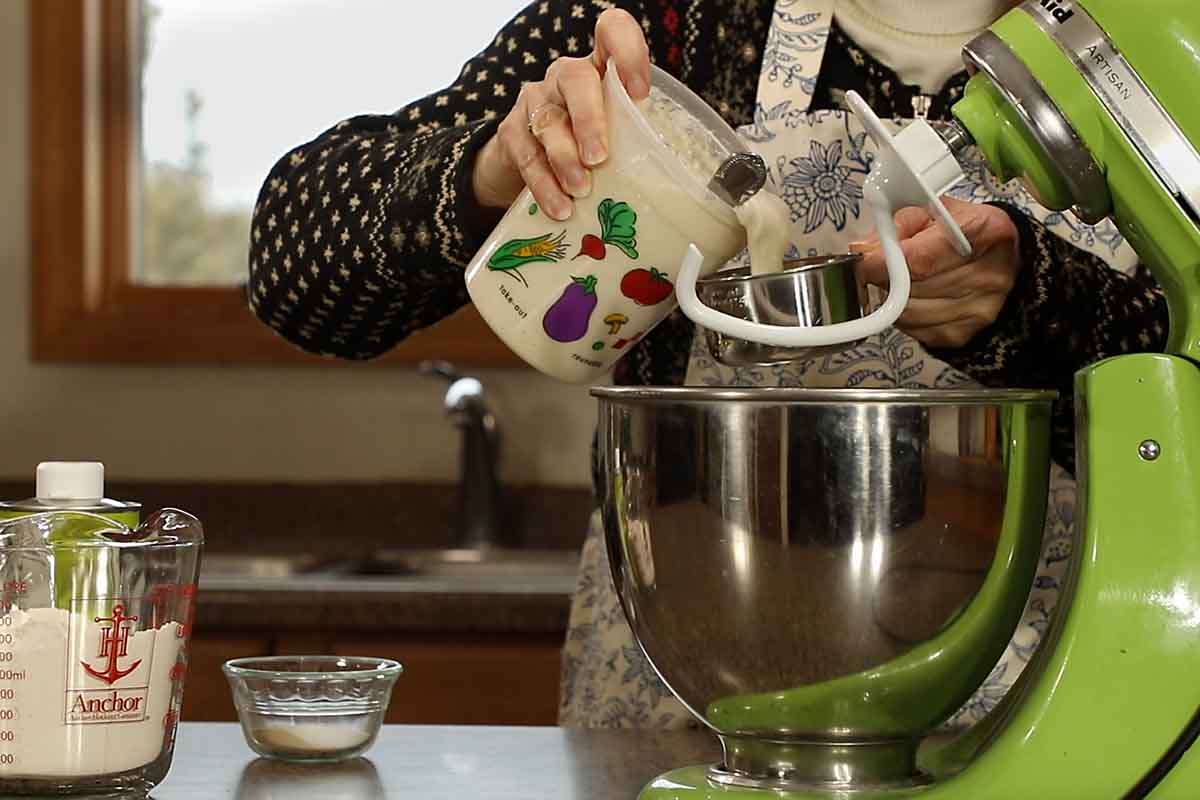 Form into rolls.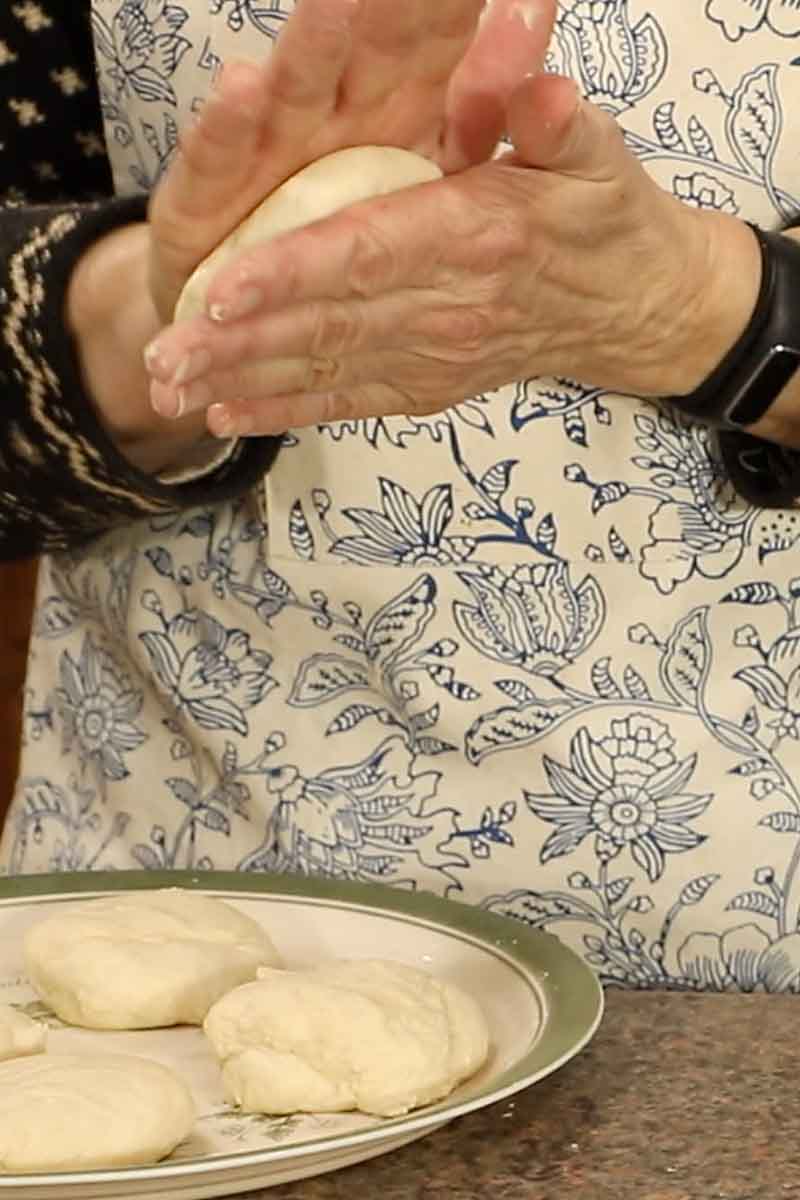 Prepare water bath with water and baking soda.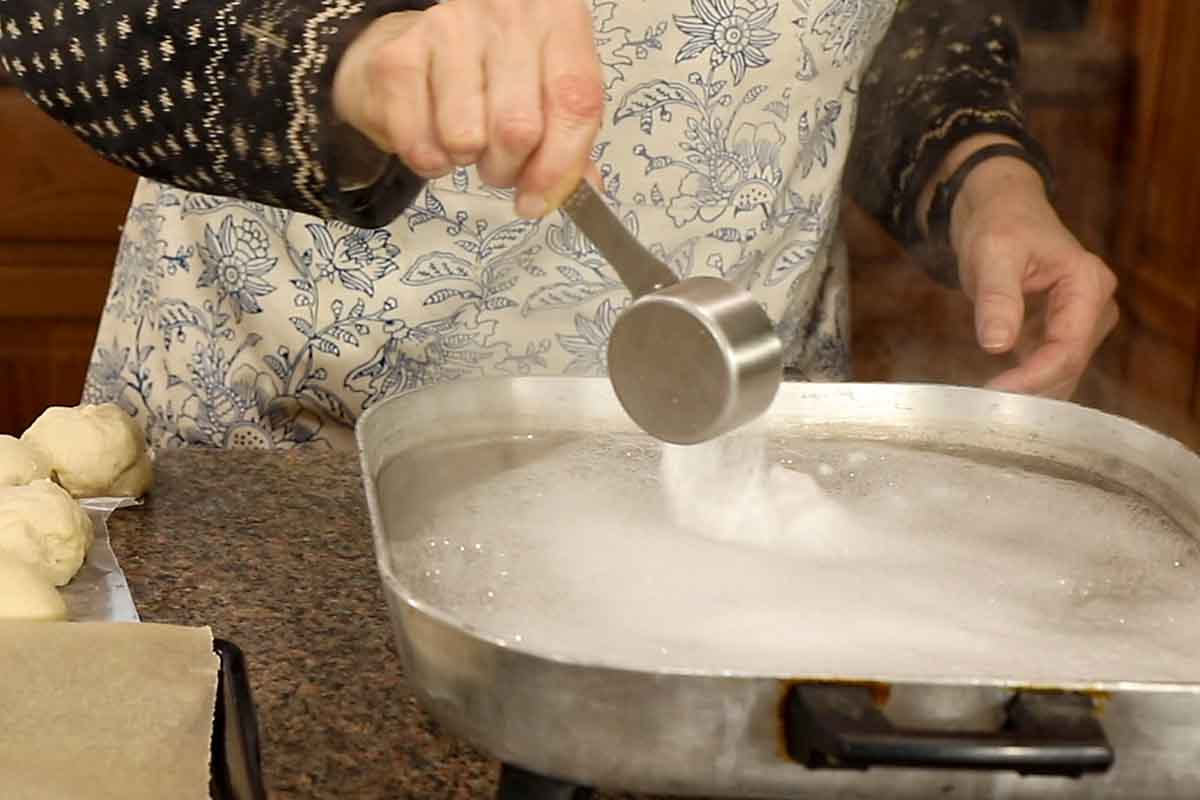 Boil rolls for 1-2 minutes per side.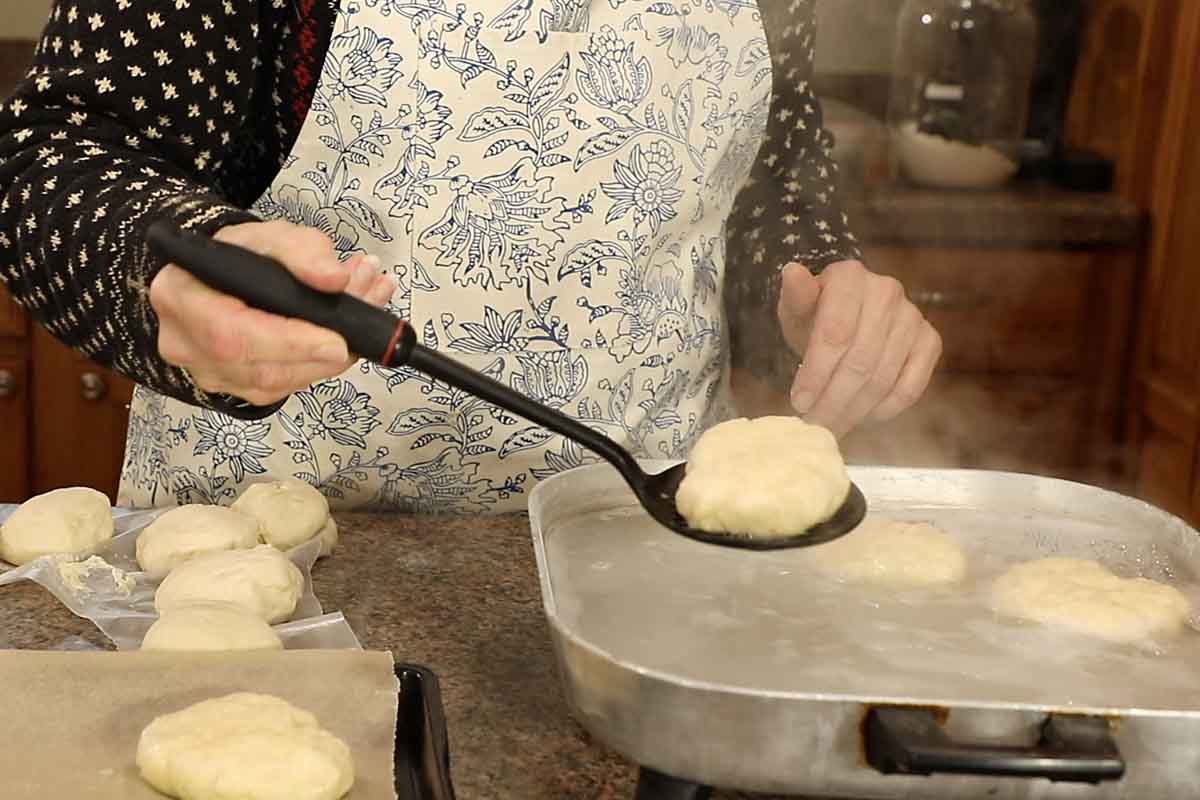 Make three slashes in each roll and top with coarse salt.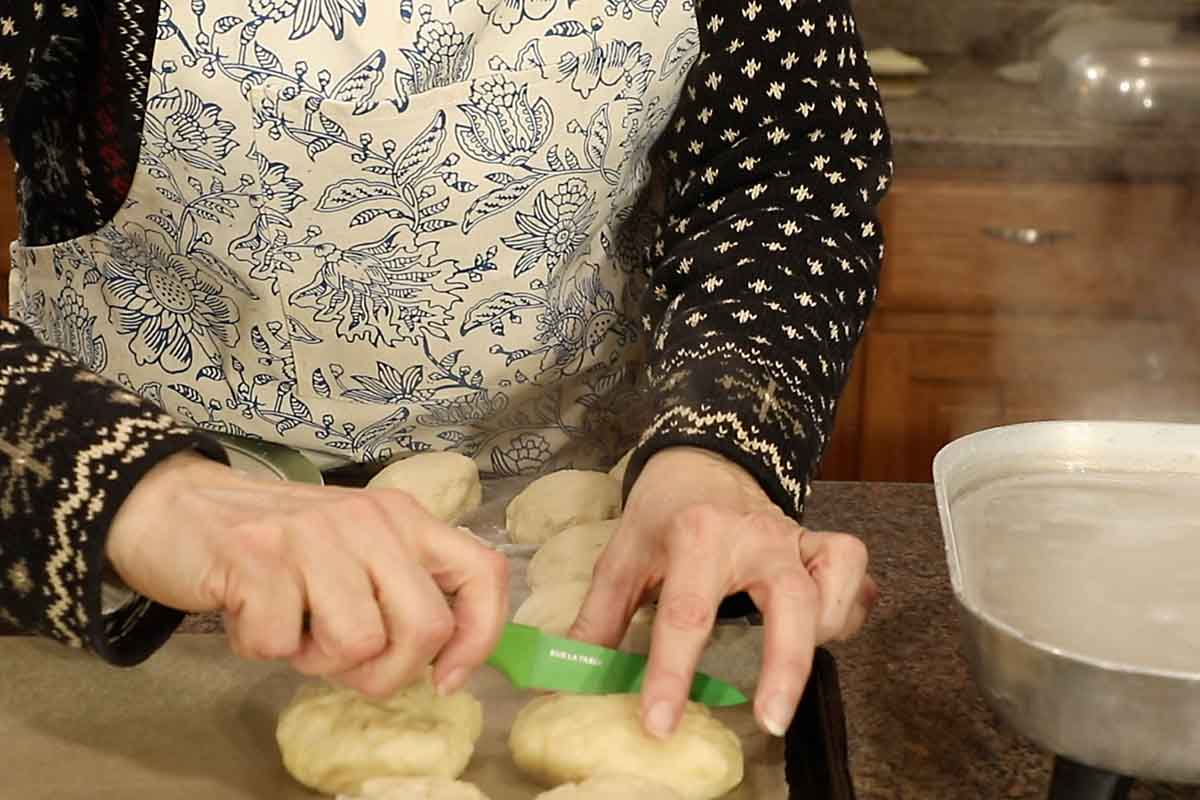 Bake on parchment lined baking sheet until golden brown.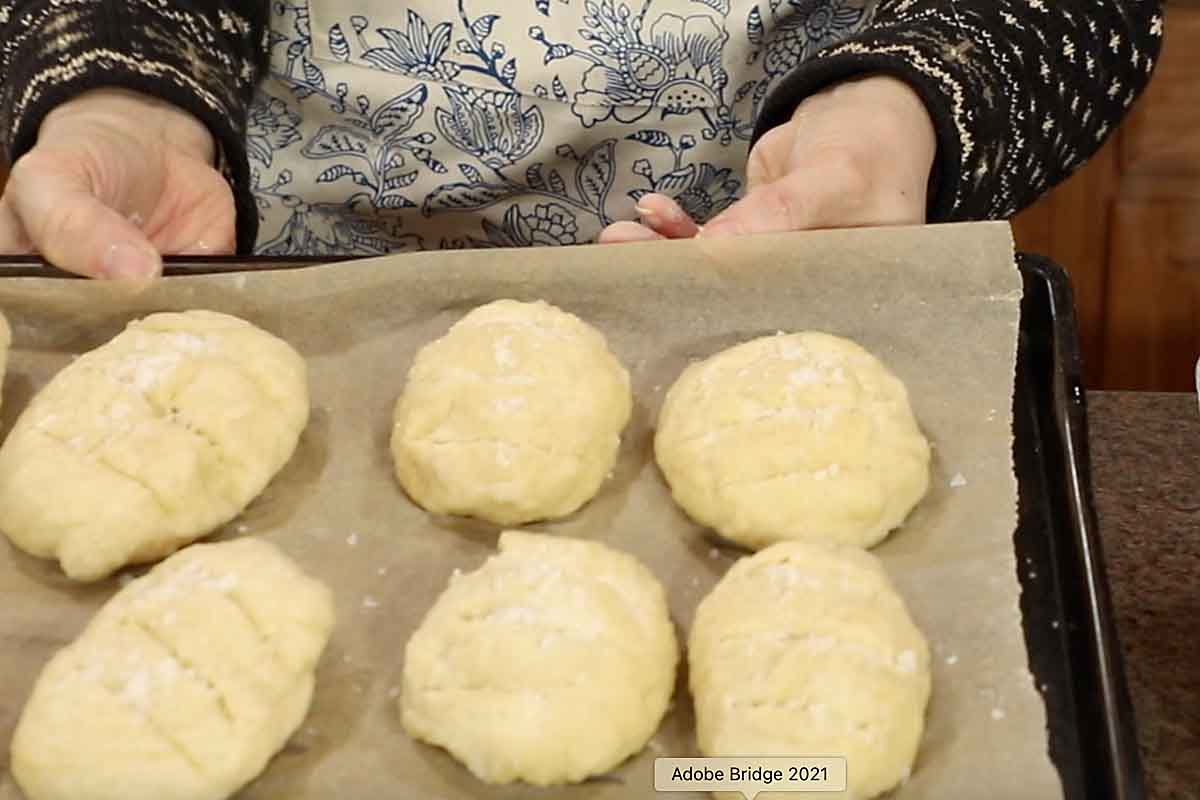 Enjoy!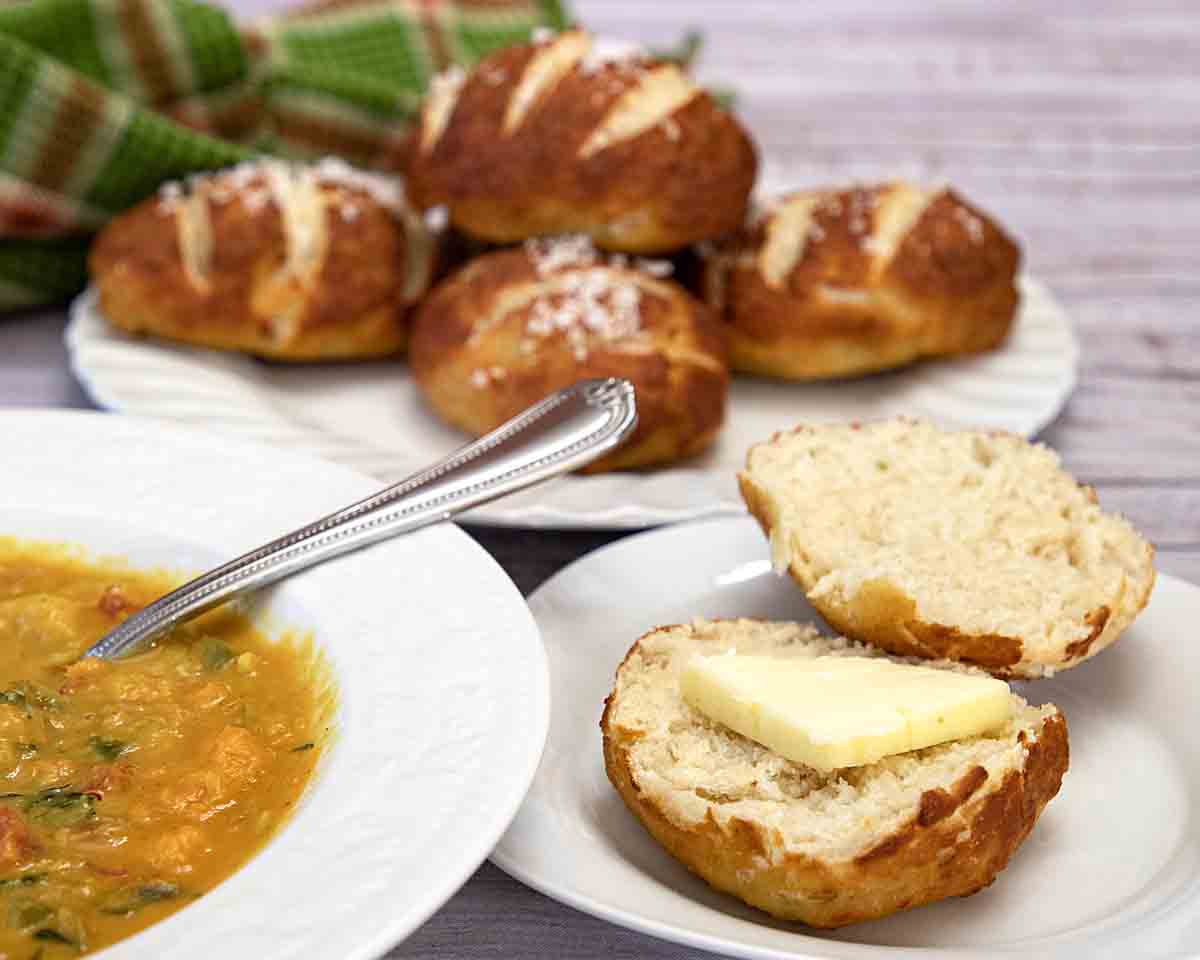 What does the baking soda and water bath do?
Boiling in a baking soda bath before baking is an important part of making pretzels and bagels and helps with texture, flavor and browning. But since I'm not a food scientist, I'll quote some authorities!
Per the Kitchen, "Boiling breads like bagels and pretzels effectively sets the crust before it goes in the oven. The water doesn't actually penetrate very far into the bread because the starch on the exterior quickly gels and forms a barrier. Bagels are typically boiled for 30-60 seconds on each side. The longer the boil, the thicker and chewier crust. In the oven, the fact that the crust is already set means that the bagels don't rise nearly as much. This is partly what gives bagels their signature dense, chewy interiors."
And per Seasoned Advice, this also helps browning and flavor. "You can increase browning two main ways, by promoting the Maillard reaction and/or promoting caramelization. Baking soda, lye, or sodium carbonate baths increase the Maillard reaction, and increase surface gelatinization by breaking down some starch, but also give the bagels a "pretzely" taste."
Yum!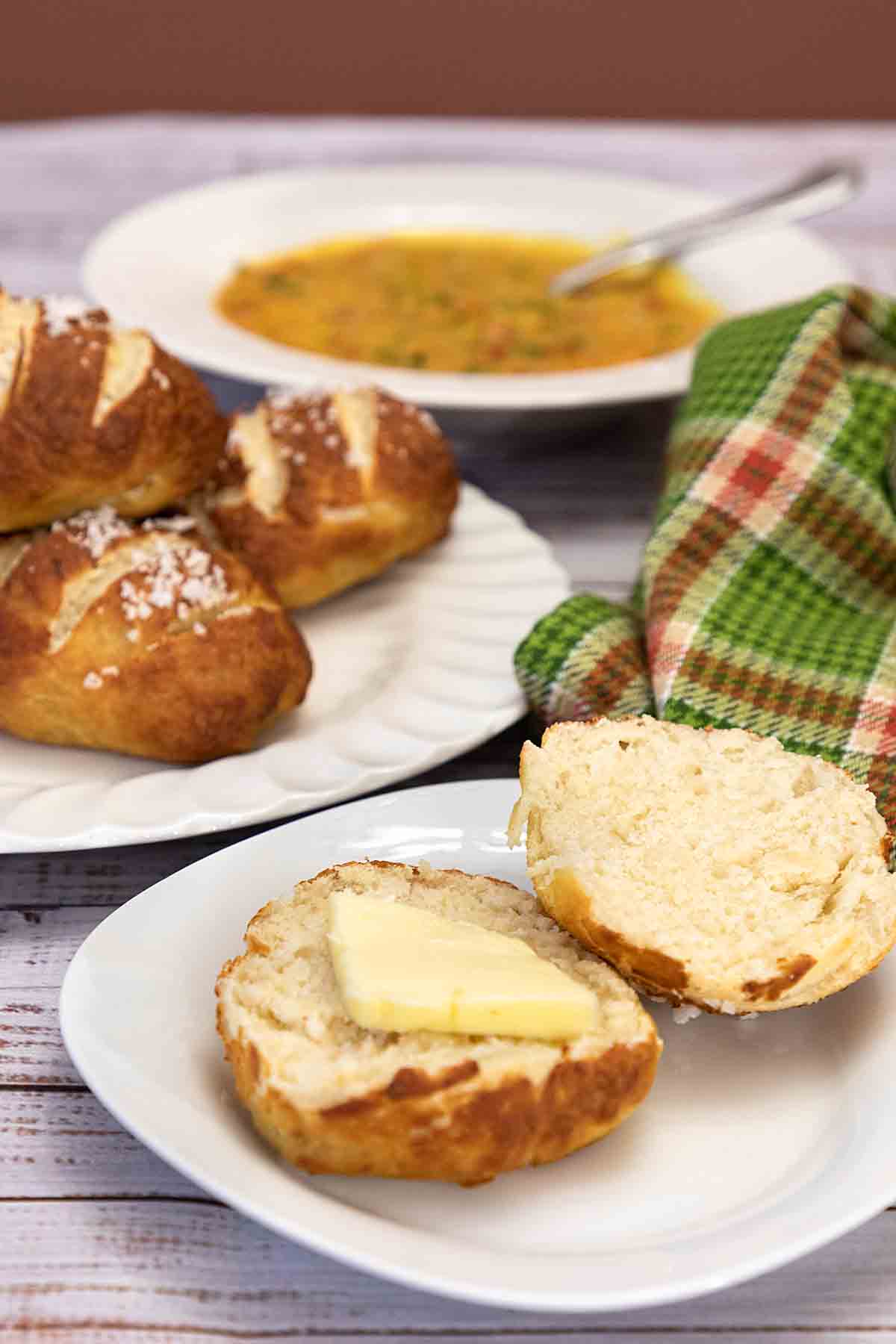 How to Serve
As I mentioned, these make nice buns for sandwiches or hamburgers. Pretzel Rolls are also a great "dinner roll" side and can help make soup a meal! Break out of the "crusty bread" rut today!
Variations
Of course you can always make these as pretzels too! Take a look at the original recipe for pretzel forming instructions!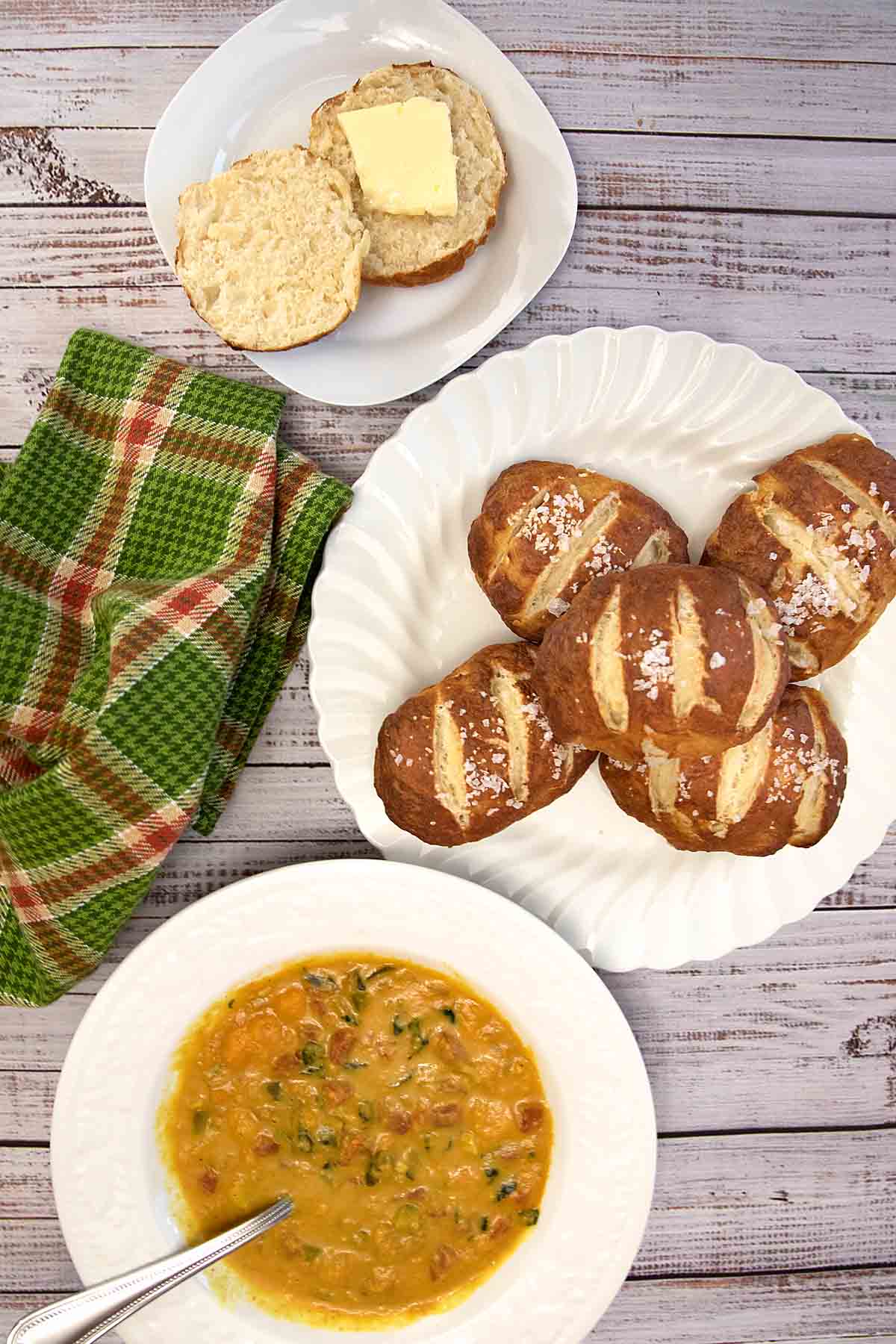 And for more Pretzel Month fun, check out: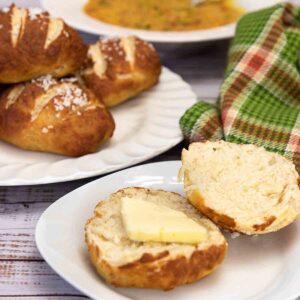 Pretzel Rolls (with Sourdough Discard Option)
Homemade Pretzel Rolls are chewy, salty and tasty.  Use as a sandwich roll, hamburger bun or a fun side with lunch or dinner.
Ingredients
Dough
¾

cup

reduced fat milk

1

Tablespoon

sugar

2

teaspoon

yeast

1

Tablespoon

oil

1

cup

sourdough starter discard

or ½ cup each, flour and water

3

cups

all-purpose flour

1

teaspoon

salt
Water Bath
¼

cup

baking soda

Approximately 2 quarts water

depending on pan size
Instructions
In mixer bowl, stir together warm milk (about 115F), sugar and yeast. Let sit 5 minutes until the yeast starts to foam.

Add flour, oil, sourdough starter (or substitute) and salt. Using the dough hook attachment, mix and knead the dough mixture until it forms a smooth ball. It should be slightly sticky. Add more flour or water in one tablespoon at a time, if needed to get to the right texture. Continue kneading until dough "pushes back" when pressed.

Cover the dough and let it rise in a warm place for an hour (it doesn't need to double).

Preheat oven to 400 F.

Scoop the dough from the bowl, fold it over a few times, then divide it into 9 approximately 3-ounce pieces for dinner rolls or 7 approximately 4-ounce pieces for hamburger buns.

Roll into slightly oval rolls and set aside while you prepare water bath (there is no formal second rise).

Bring 2 quarts of water to a boil in a deep skillet or Dutch oven. Add baking soda to the water. Cook half of the rolls in the water bath for 1-2 minutes per side, then place on a parchment lined baking sheet.

Make 3 slashes in each roll, then sprinkle them with coarse salt if desired. Repeat with the remaining rolls

Bake for 12-15 minutes, until golden brown.

Nutrition
Calories:
267
kcal
Carbohydrates:
51
g
Protein:
8
g
Fat:
3
g
Saturated Fat:
1
g
Polyunsaturated Fat:
1
g
Monounsaturated Fat:
1
g
Trans Fat:
0.03
g
Cholesterol:
2
mg
Sodium:
1519
mg
Potassium:
101
mg
Fiber:
2
g
Sugar:
3
g
Vitamin A:
26
IU
Vitamin C:
0.1
mg
Calcium:
39
mg
Iron:
3
mg
I am not a health professional and nutrition data is calculated programatically. Accuracy may vary with product selection, calculator accuracy, etc. Consult a professional for the best information.