One Pan Baked Halibut w/ Cherry Tomatoes
With flaky fish resting on a juicy and flavorful mix of cherry tomatoes and peppers, One Pan Baked Halibut is an easy, healthy weeknight dinner.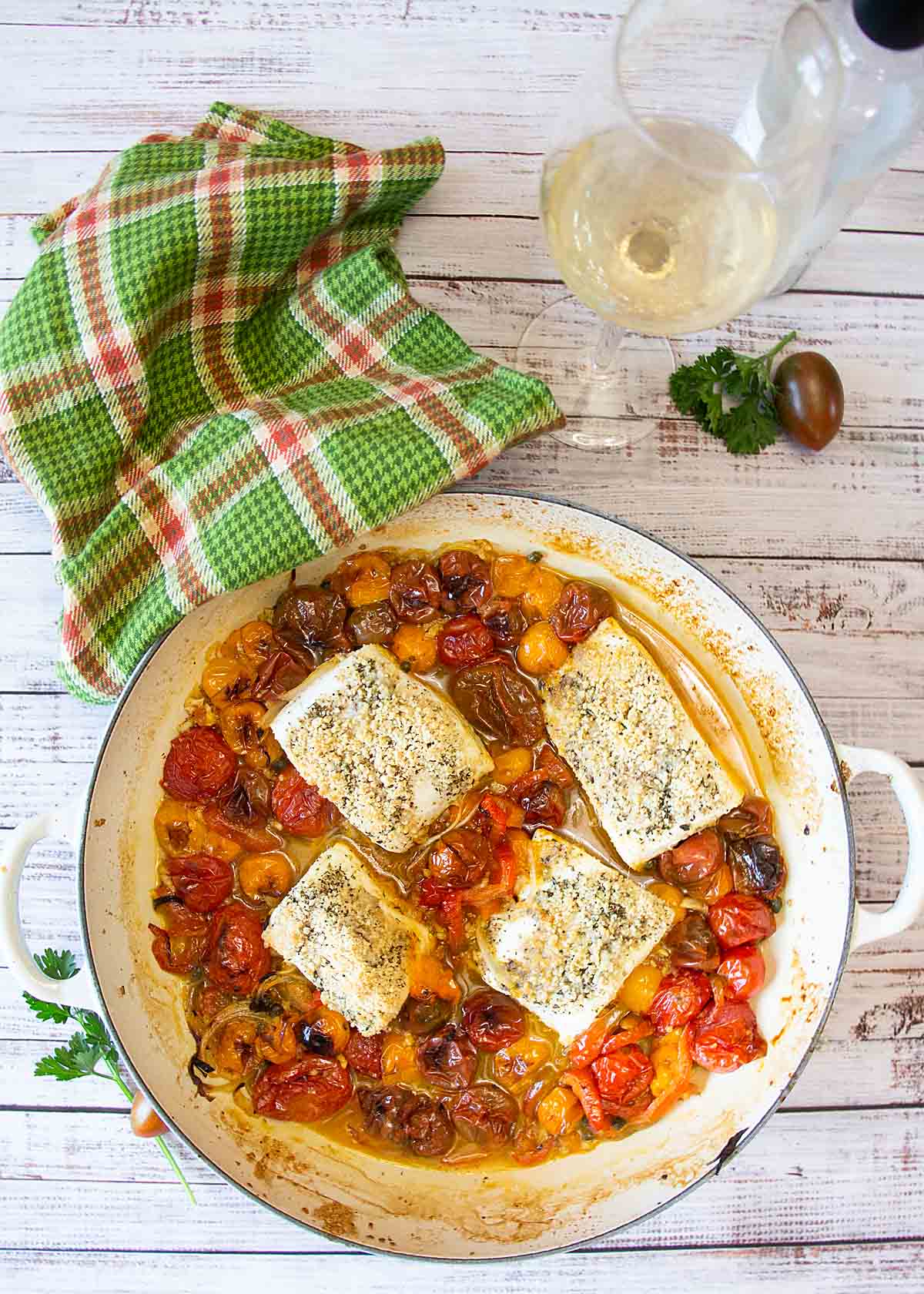 Don't you think fall should be restful? I mean who doesn't want spare time to hike through the falling leaves or capture the changing colors on their iPhone.
Alas, things don't always work that way. Instead, there's back to school, preserving local food for winter, garden cleanup and holiday planning. Plus all of regular life.
So, who could use a nice easy seafood recipe like this One Pan Baked Halibut for a quick weeknight dinner?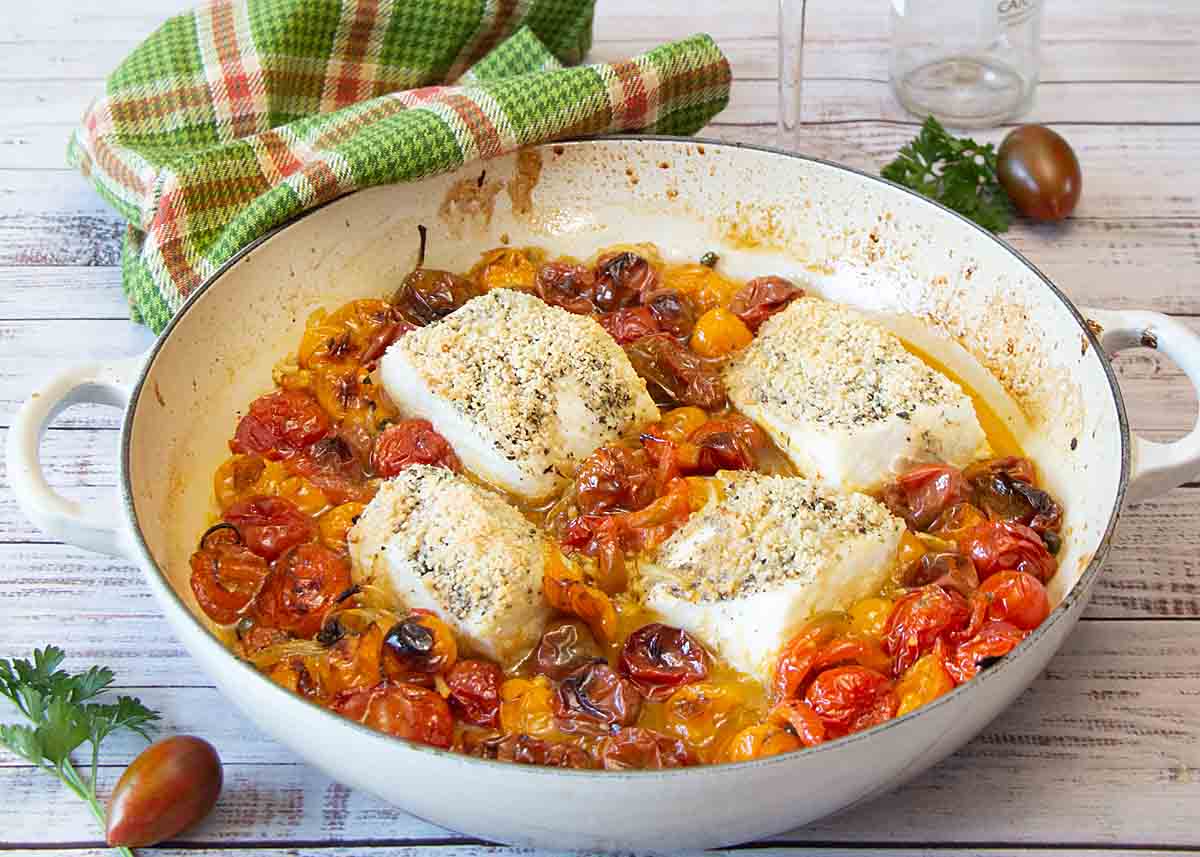 What Makes This Recipe a Winner
Fun & Flavorful – the sauce is lovely and everyone really enjoyed this dish. But what really got rave reviews was soaking up the extra sauce with French bread.
Quick & Easy – it's pretty hard to beat made in one pot and ready in a half hour!
Healthy – with healthy seafood, lots of tomatoes and a smattering of peppers and onions, this ticks all the health boxes, especially if you add a salad!
Uses up Cherry Tomatoes – is your patio cherry tomato trying to feed the world all by itself? Truthfully, this was my real motivation in making this. Come bountiful fall, a locavore can't have too many cherry tomato recipes!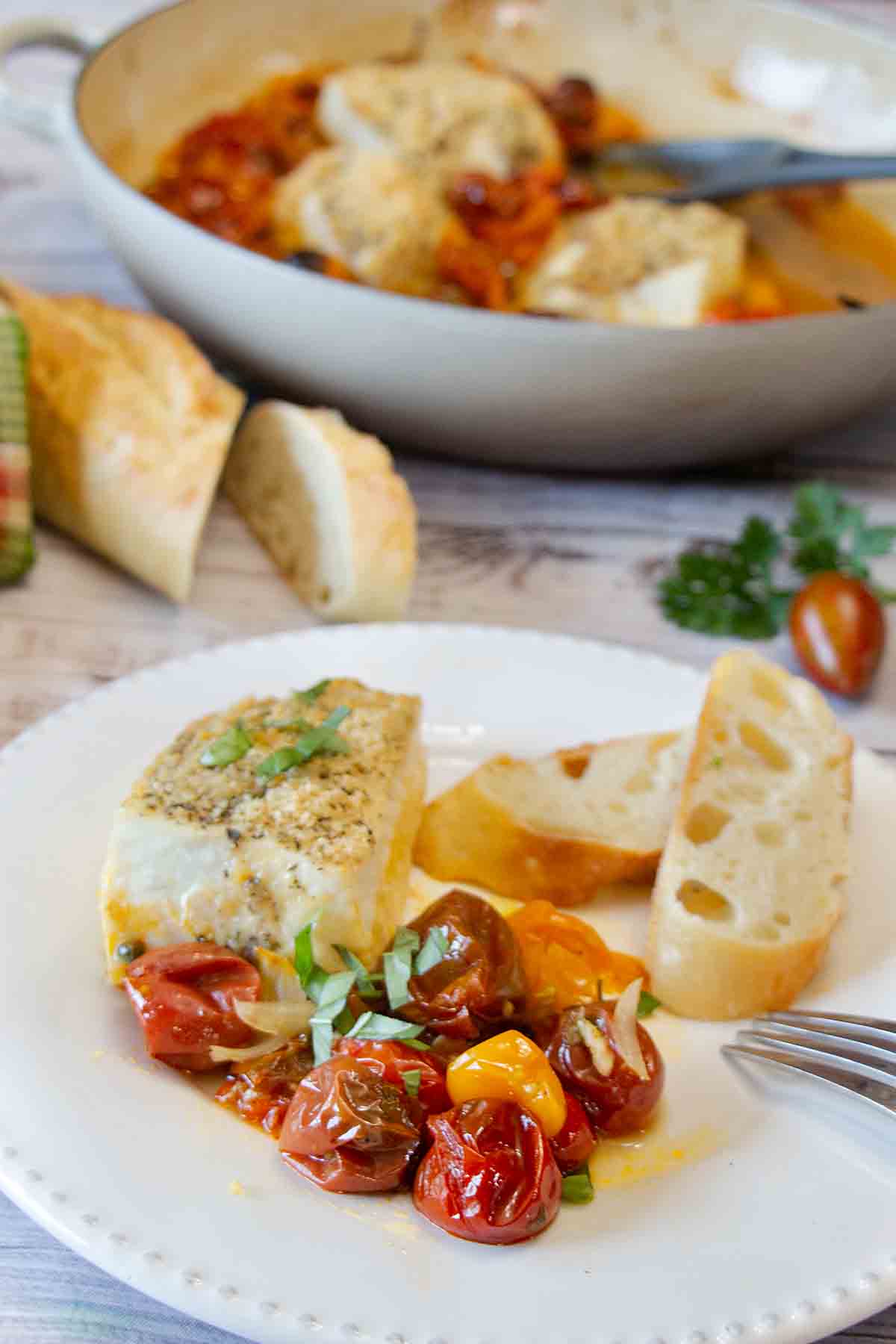 Step by Step Directions
Whisk together the dressing ingredients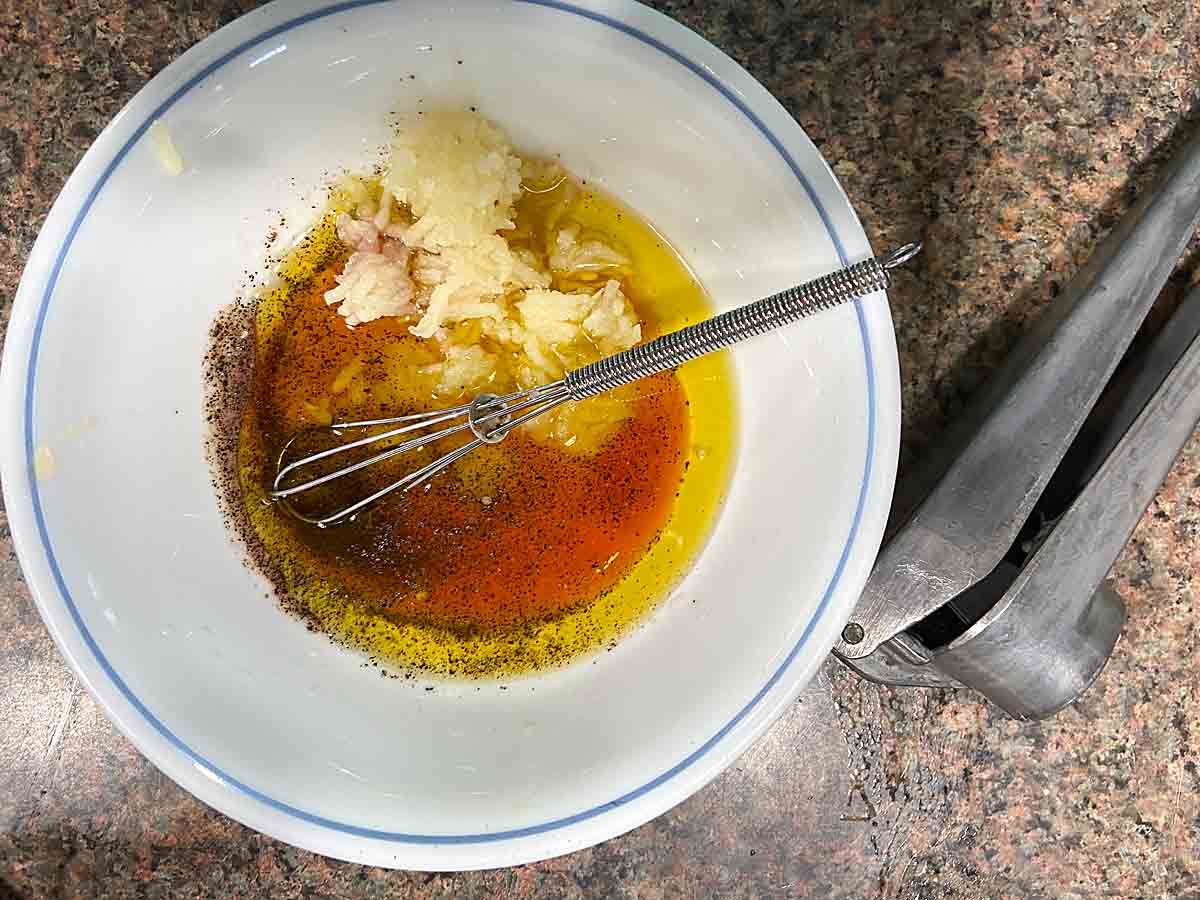 Then toss with the vegetables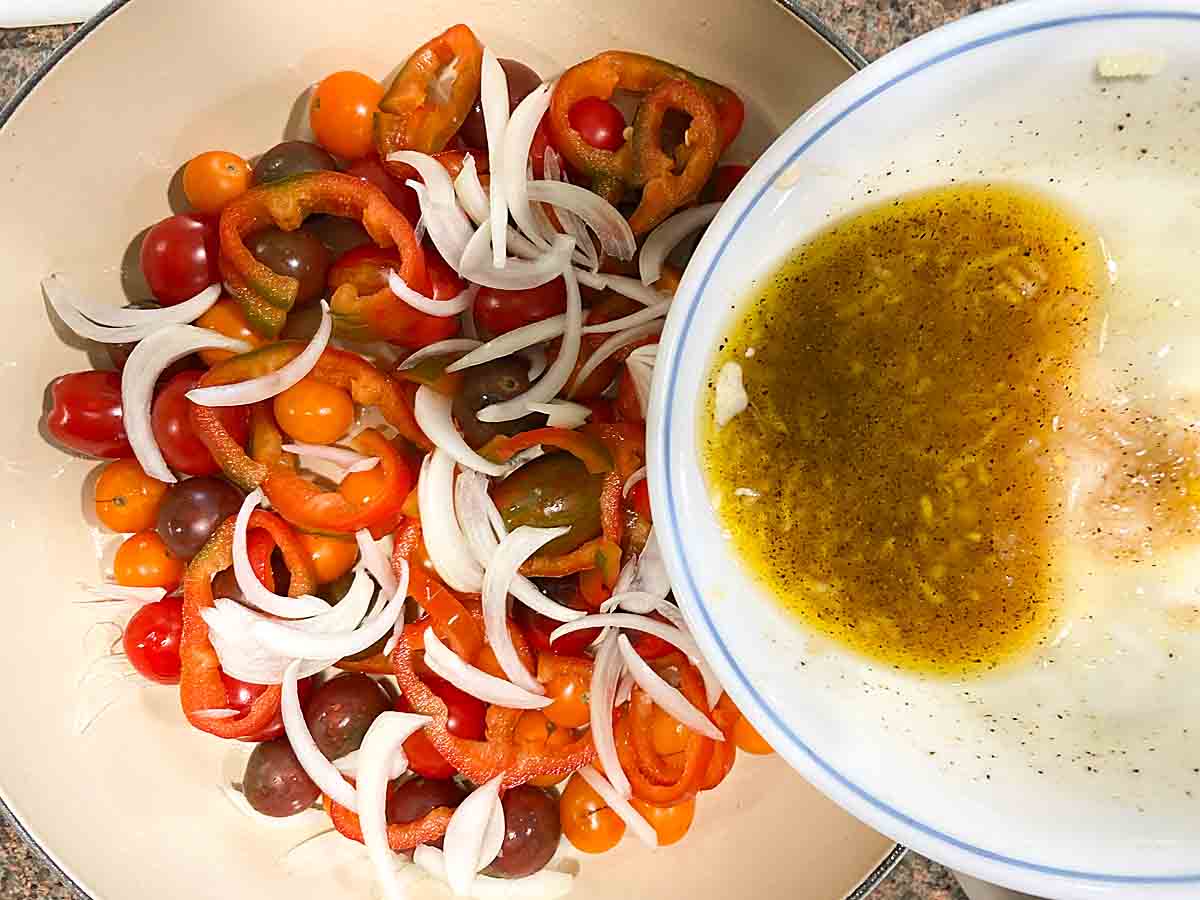 Start baking the vegetables and prepare the fish–pat dry and season with olive oil, salt and pepper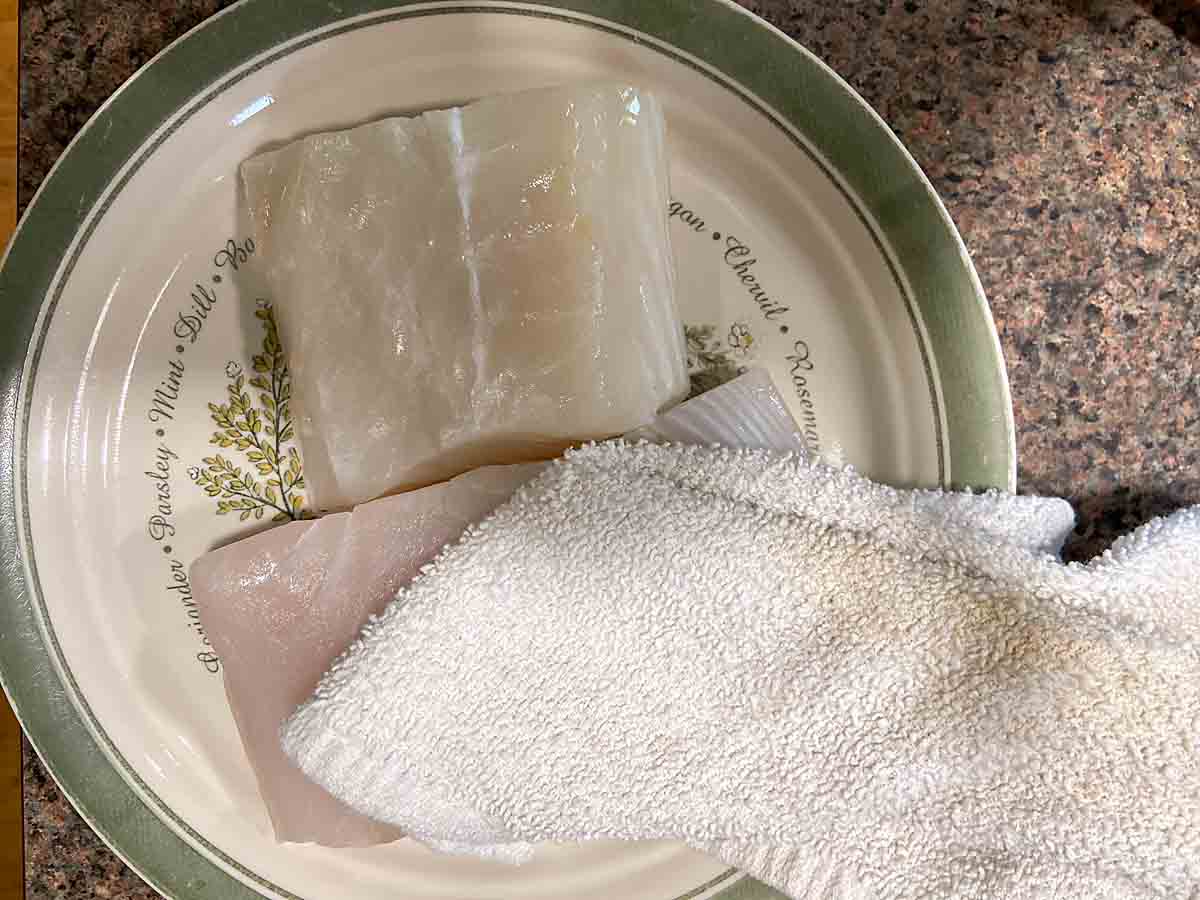 When the tomatoes start to collapse, tuck the fish into the sauce and return to the oven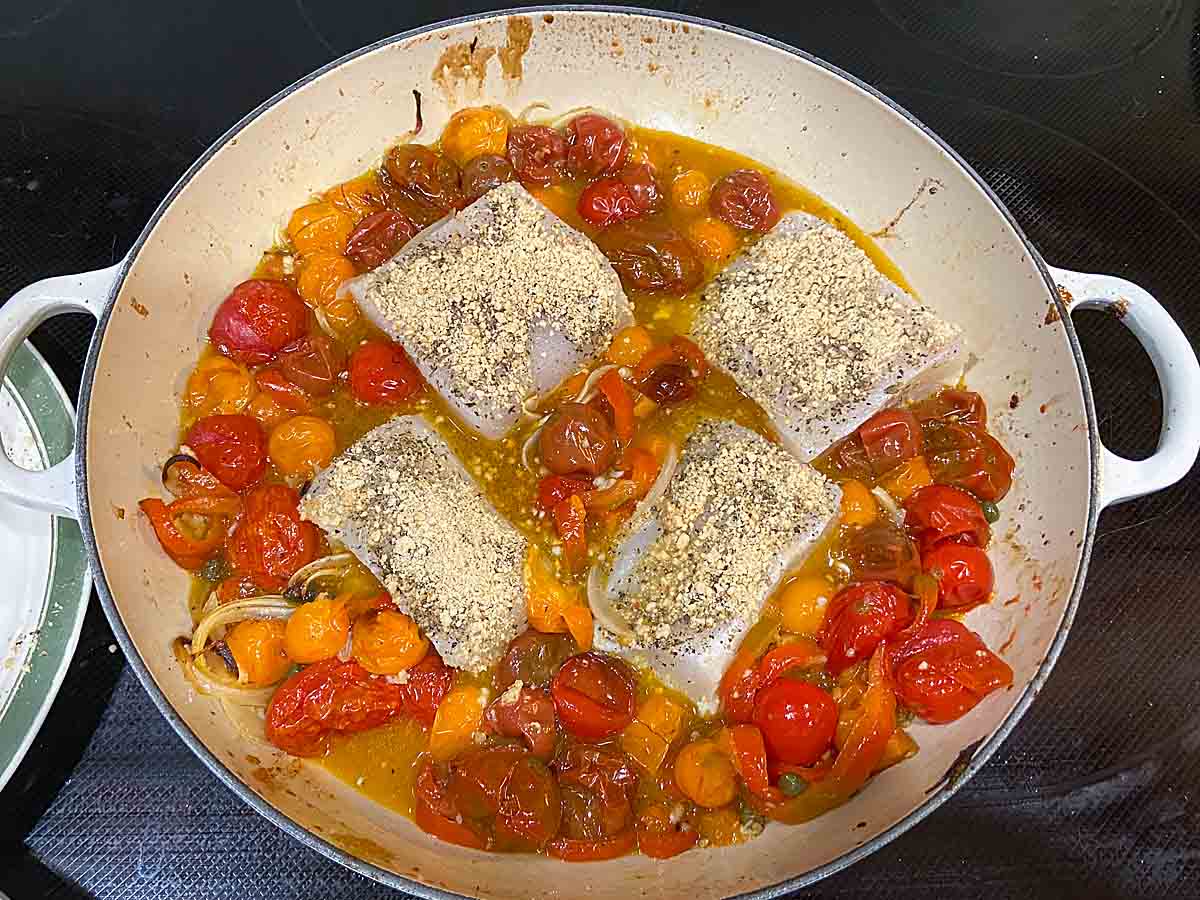 Finish baking & enjoy!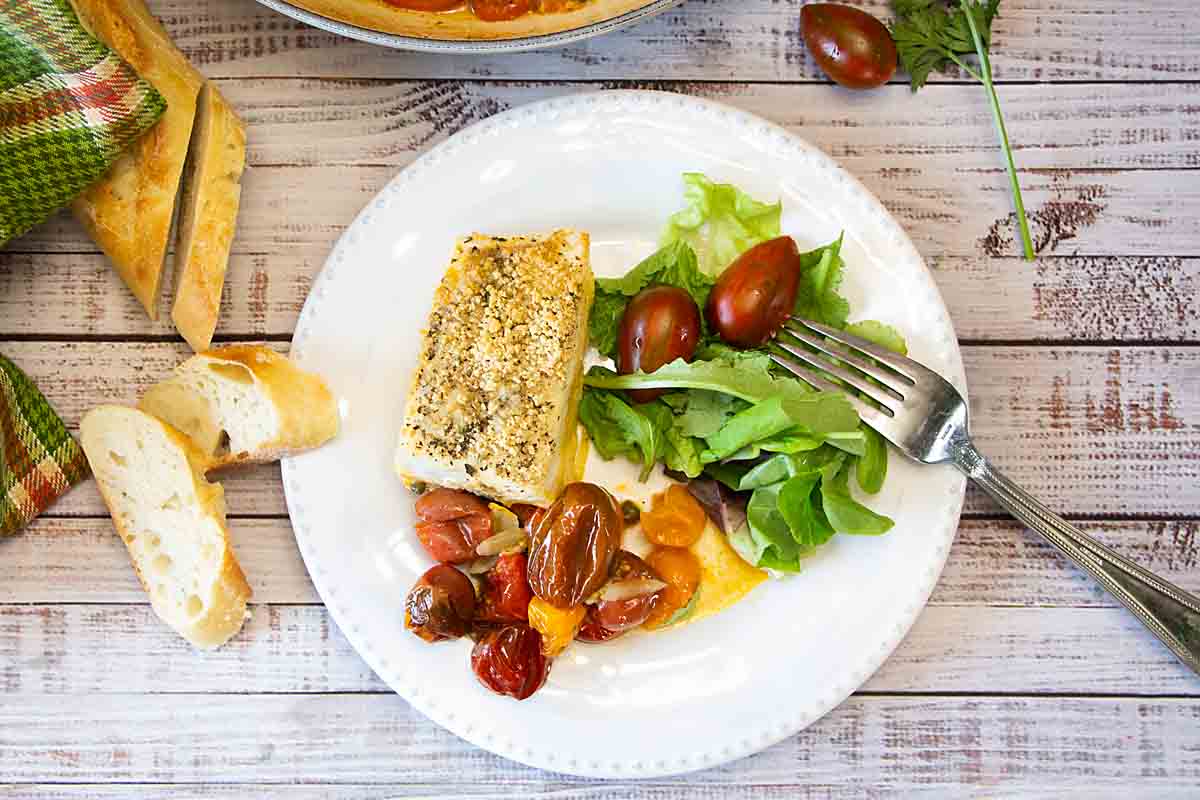 Fish Selection
The original NY Times recipe simply called for white fish, which gives you an idea how wide your choices are! I decided on Baked Halibut since I had it frozen from my Community Supported Fishery. Baked Haddock was very popular in the comments and the ubiquitous cod would be another option.
Just remember to adjust your cooking time for the thickness of the fish. While the 10-15 minutes in the recipe is great for a thicker fillet, a thinner option will be done more quickly.
Finally, I always urge people to pay attention to how their fish is sourced. Seafood buying challenges can range from environmental contamination (e.g. mercury, PCBs), sustainability concerns and even authenticity issues. But a conversation with a trusted fishmonger or recommendations from organizations like the Monterey Bay Aquarium Seafood Watch can help!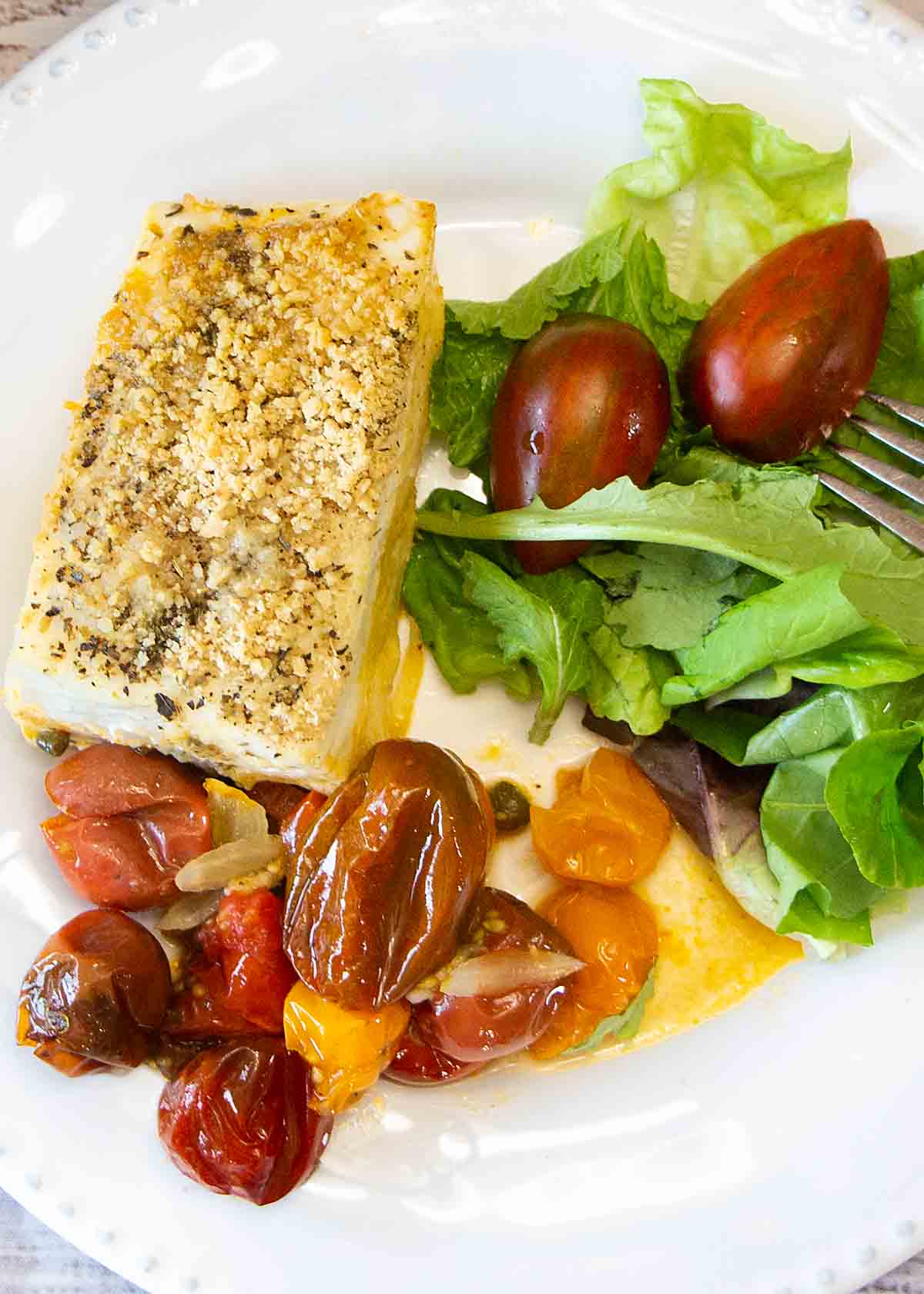 What to Serve With
A salad and a nice crusty bread are perfect accompaniments to this dish. The salad is a light addition that adds variety, nutrition and another "color." Eat a rainbow!
The bread gives you a starchy side and helps satisfy the bigger eaters at your table. But the best part is that it's perfect for sopping up the seriously delicious extra sauce.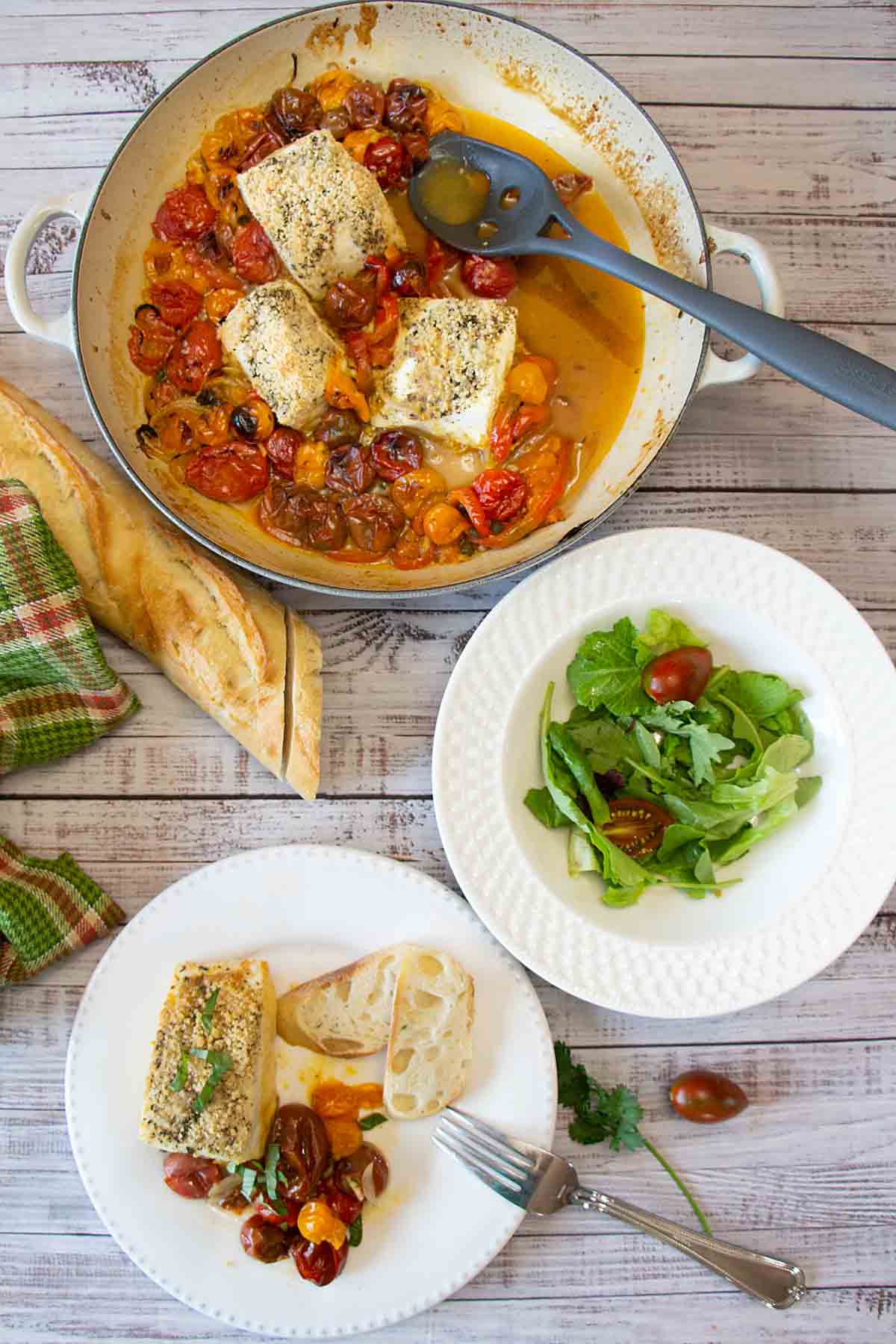 Tips & FAQs
This recipe is based on one from the NY Times which I changed up slightly. First, I added capers and sliced peppers ("add a veggie"), then swapped in common items instead of things you might not have on hand (e.g. onion for shallot). And since we so enjoyed the sauce (especially once we started dipping our bread), I doubled that. Finally, I didn't halve the cherry tomatoes.
Any mild ripe pepper should work in this. Yellow, orange or red bell pepper or ripe banana pepper would all be lovely.
I often top baked fish with oil, herbs and panko which can add a little extra punch to a seafood recipe. While the pictures show the breadcrumbs (if you look closely), I decided this didn't add much and omitted it from the final recipe.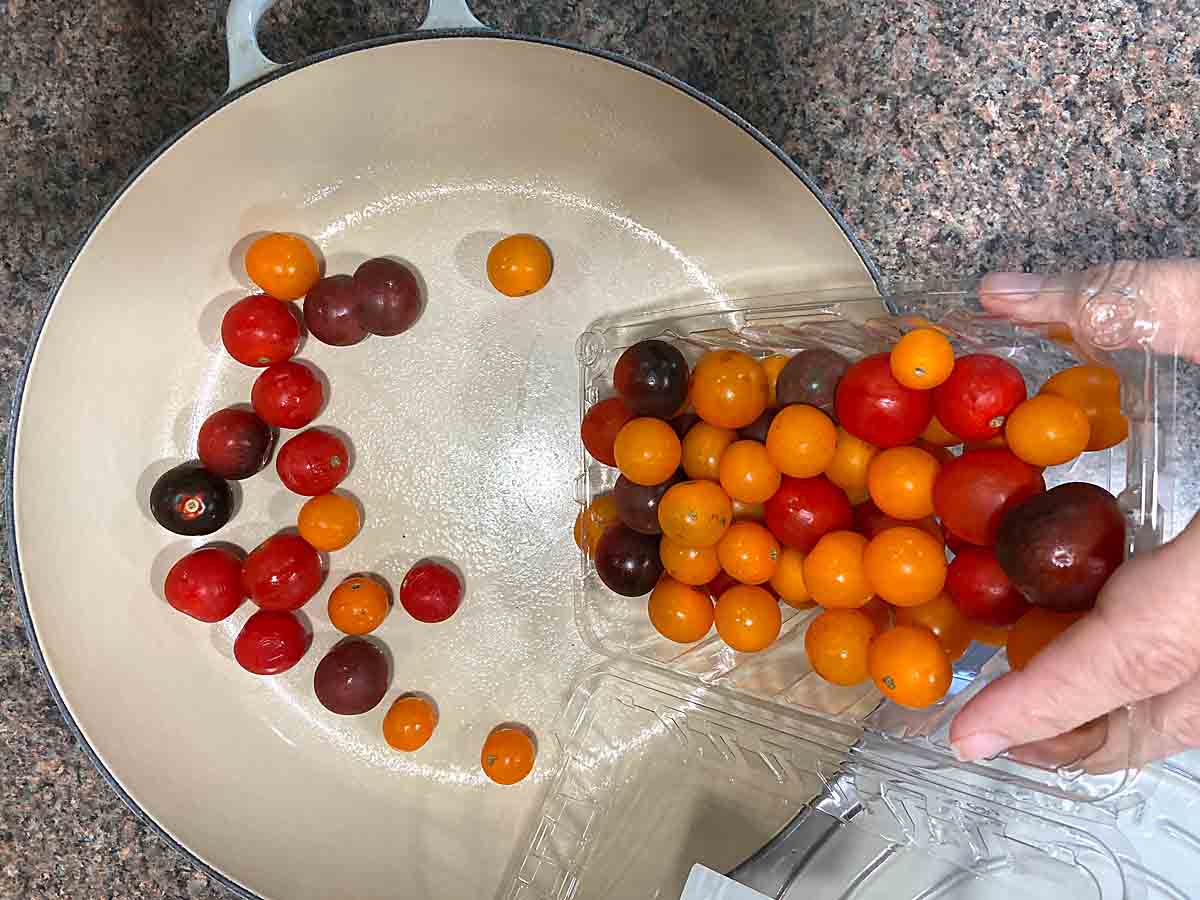 I used heirloom cherry tomatoes from our CSA in this and loved the color variation. But use whatever you have. As my brother likes to say, "Perfection is the enemy of done!"
Get More Seafood Recipes:
We share Recipes From Our Dinner Table! Join our group and share your recipes, too! While you're at it, follow our Pinterest board, too!
One Pan Baked Halibut w/ Cherry Tomatoes
With flaky fish resting on a juicy and flavorful mix of cherry tomatoes and peppers, One Pan Baked Halibut is an easy, healthy weeknight dinner. 
Ingredients
1 quart cherry tomatoes
1 medium onion sliced pole to pole
4 cloves of garlic, minced
1-2 ripe bell peppers or banana peppers, sliced thinly
4 (6-ounce) mild white fish fillets, such as halibut or haddock
Olive oil for brushing
Salt, pepper
Chopped fresh basil or parsley for serving
Dressing:
1 Tablespoon capers
1 teaspoon honey
1 teaspoon salt or to taste
½ teaspoon black pepper or to taste
3 Tablespoons olive oil
2 Tablespoons red wine vinegar
Instructions
Preheat the oven to 400 F

Put the cherry tomatoes, sliced peppers, sliced onion and minced garlic in a large braiser or cast iron skillet, or a 9 x 13 baking dish. Whisk together the dressing ingredients then toss with the vegetables. Bake until the tomatoes start to collapse, about 15 minutes.

Pat the fish dry, then brush with olive oil and sprinkle with salt and pepper.

Nestle the fish pieces into the hot vegetables and return to the oven. Cook about 10-15 minutes until the fish flakes with a fork at the thickest point (or a temperature of 145 F per the FDA). Taste the sauce and adjust salt and pepper.

Garnish with julienned basil or chopped parsley. Serve the fish and sauce hot, ideally with French bread for soaking up extra sauce.