Classic Betty Crocker Blueberry Muffins
Fruity with a hint of sweetness, Betty Crocker Blueberry Muffins are great for brunch or snacking. Or an artisan bread basket with dinner!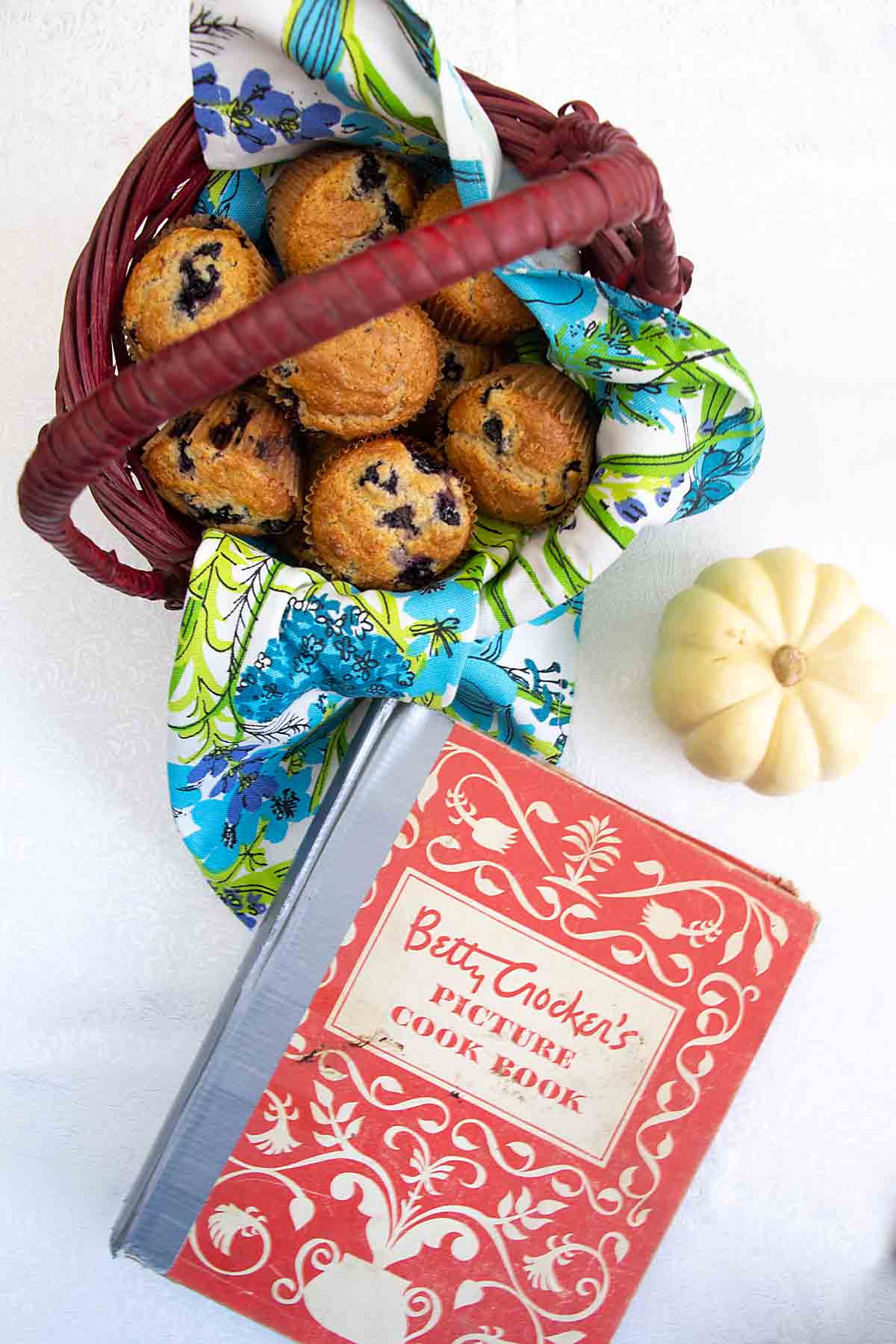 My mother was an old-fashioned cook. She carried around a Betty Crocker cookbook, full of every kind of recipe from muffin to meatloaf. I couldn't have been happier when, out of her three kids, I scored that prize.
While today I cook many "modern" dishes, sometimes you can't beat the classics. This muffin is always a favorite with it's flavorful blueberries and light sweetness. So I decided to update my 2011 post for today's cookbook roundup!
'Cause everything old is new again!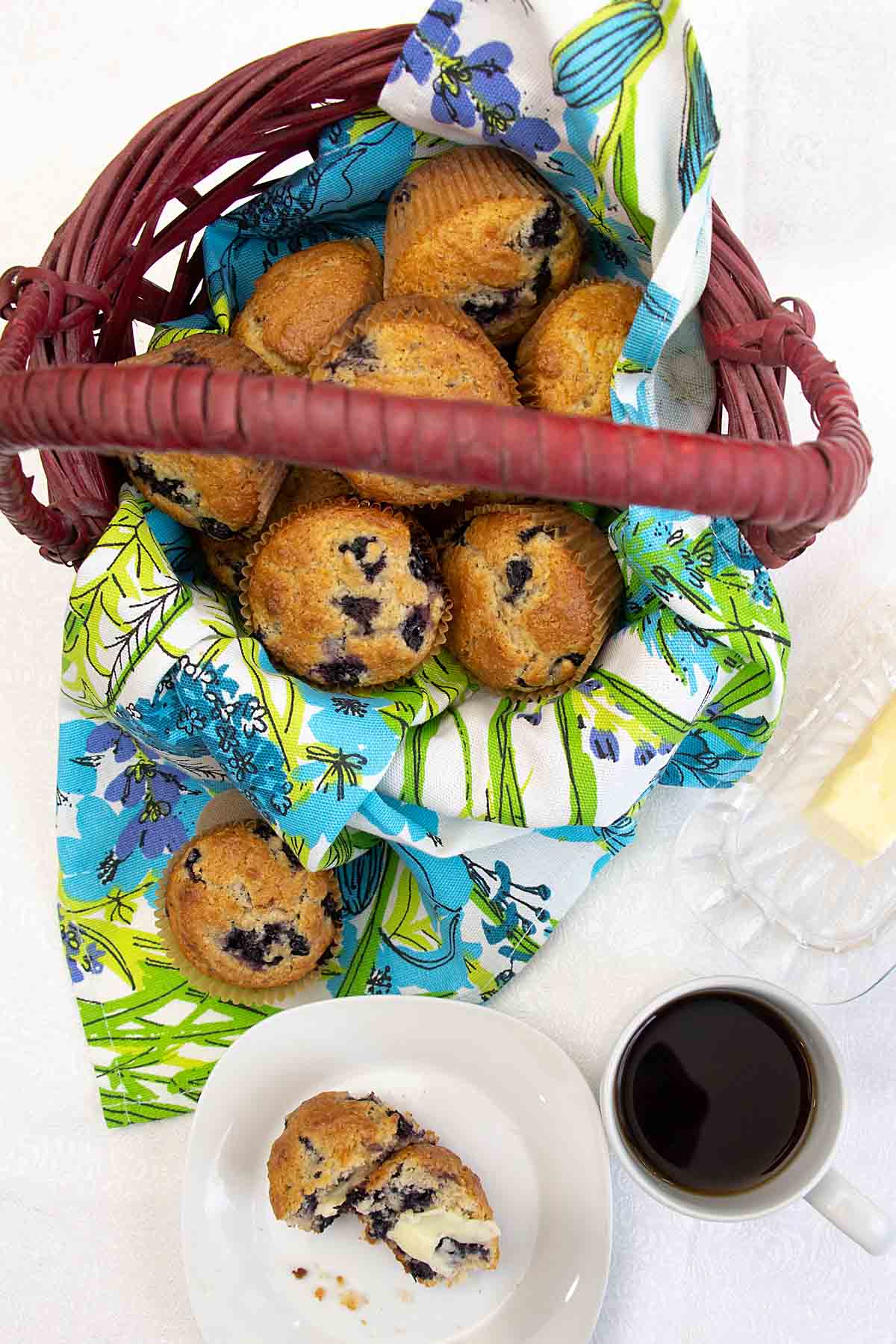 What Makes This a Winner
Great Classic Flavor – I don't know what it is about older recipes but they always taste like comfort food to me. I'd say it's nostalgia but my Gen Z daughter got wide-eyed and happy just like me, when I took these out of the oven!
Quick & Easy – This can be made in one bowl, and mixed and baked in just over a half hour!
No Special Ingredients – Except for the blueberries (which you can "stock" in your freezer), you're likely to have all of the ingredients in your kitchen already. No grocery runs for buttermilk or sour cream!
Step by Step Directions
In a medium bowl, whisk together the egg and 1/2 cup milk. Continue whisking and add the melted butter or oil.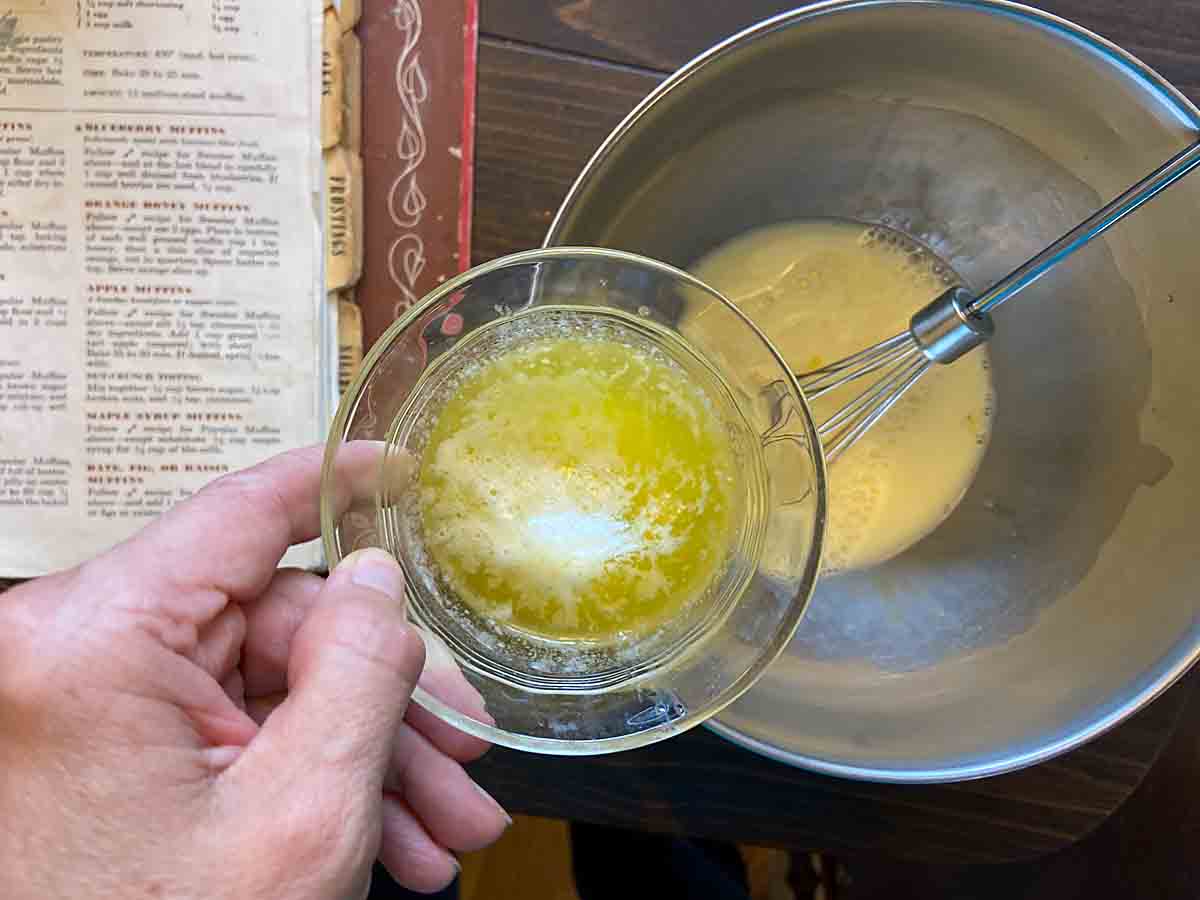 Add the flour, sugar, salt and baking powder to the same bowl, then gently stir the dry ingredients together. When roughly combined, stir into the milk mixture. Mixture should be thick (scoopable, not pourable) but if it is very dry, add some extra milk.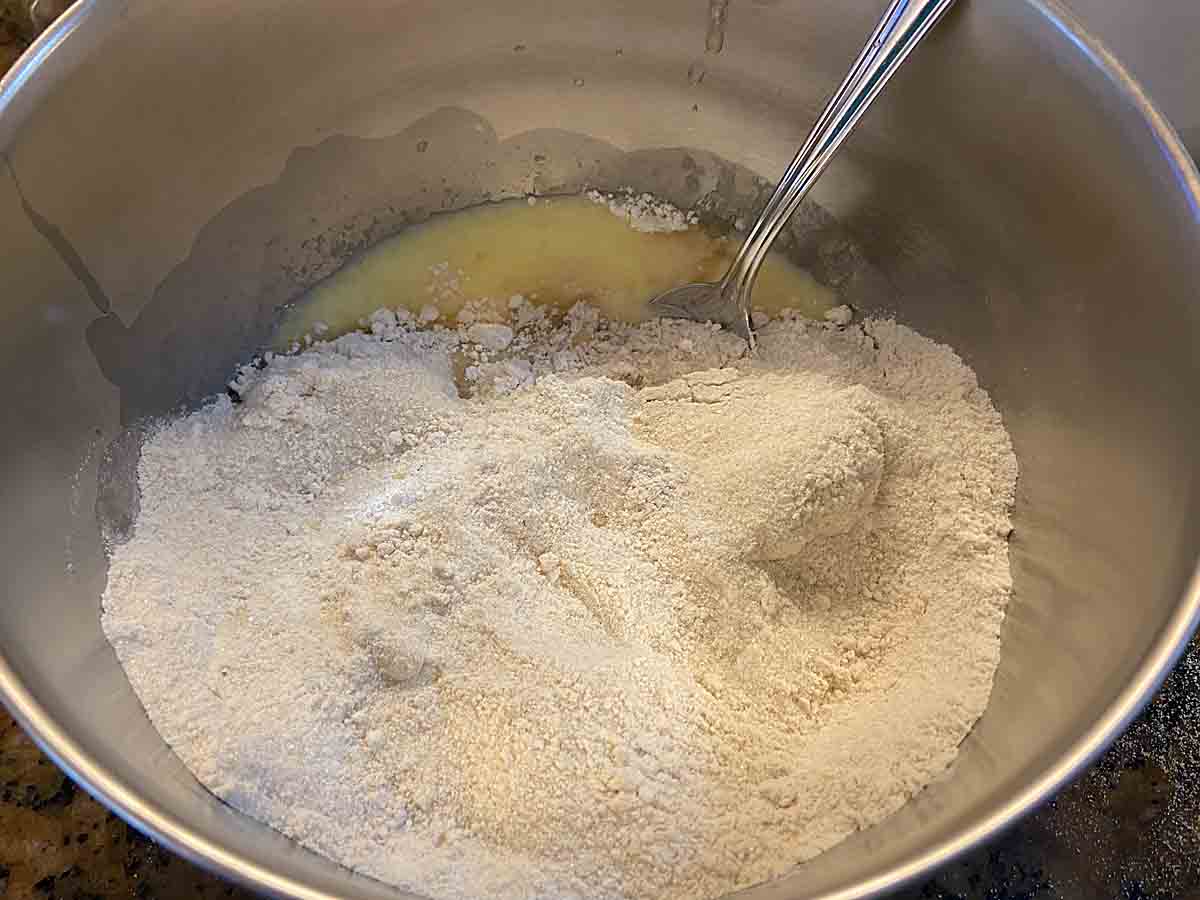 Gently stir in the blueberries.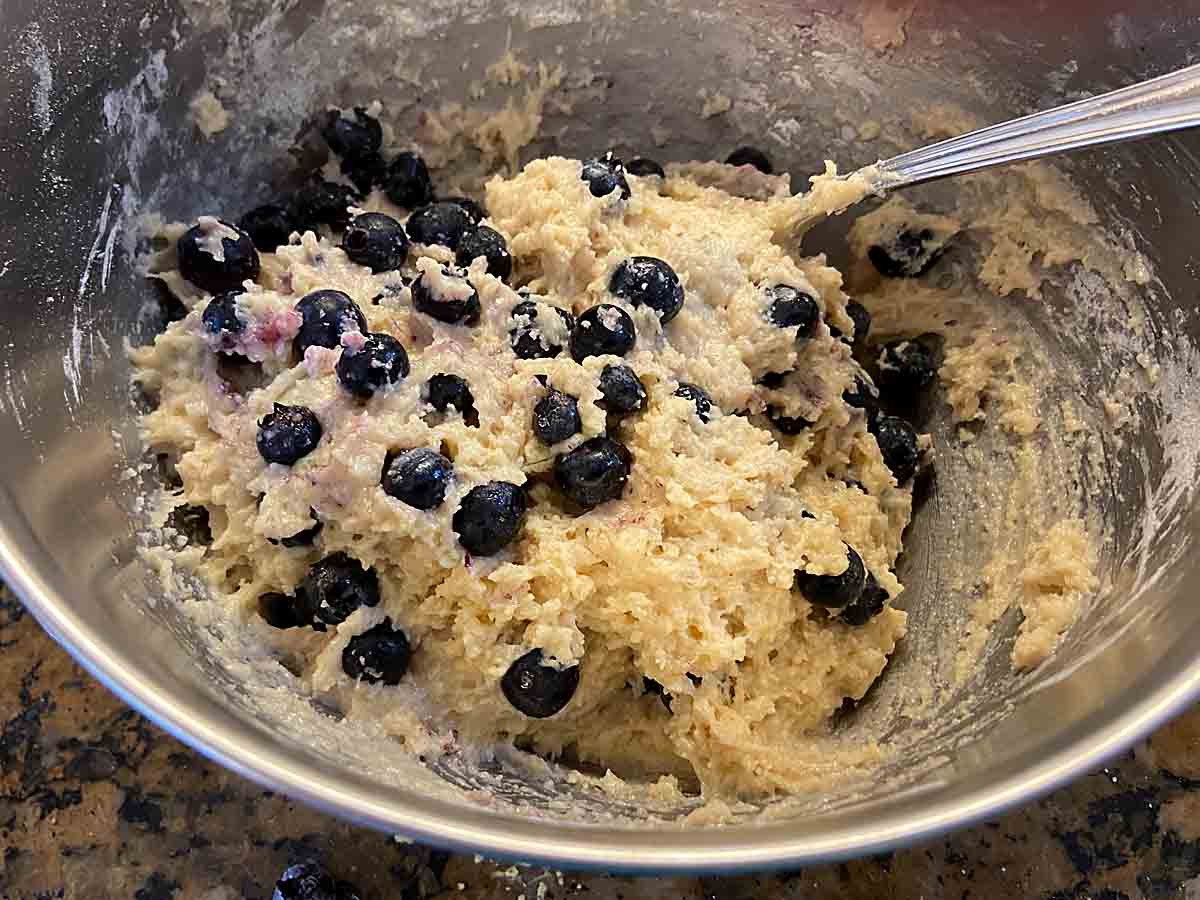 In a muffin pan that is greased, or lined with disposable muffin cup liners, spoon batter evenly into 12 muffin cups. They will reach to the top but because the batter is thick, they won't fill into to the sides until they cook.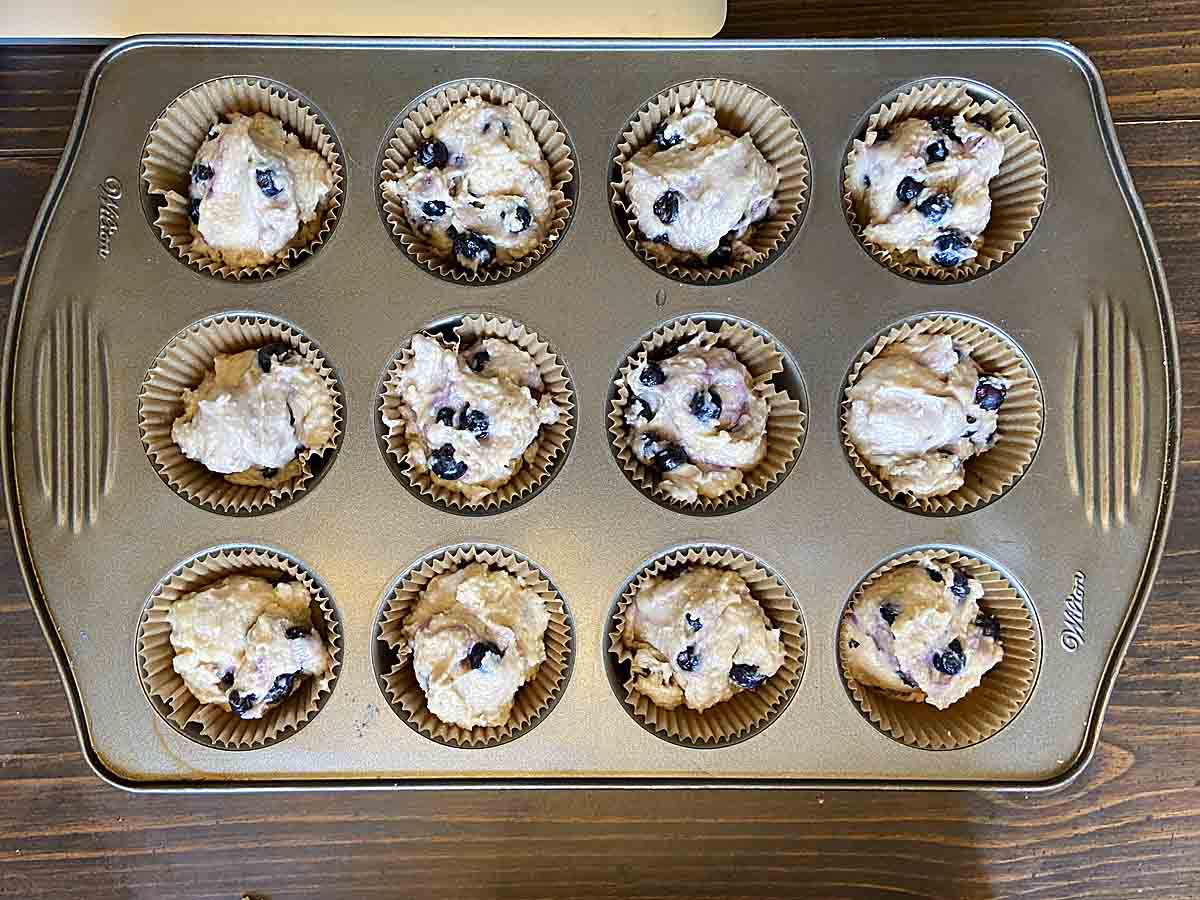 Bake & enjoy warm or cool.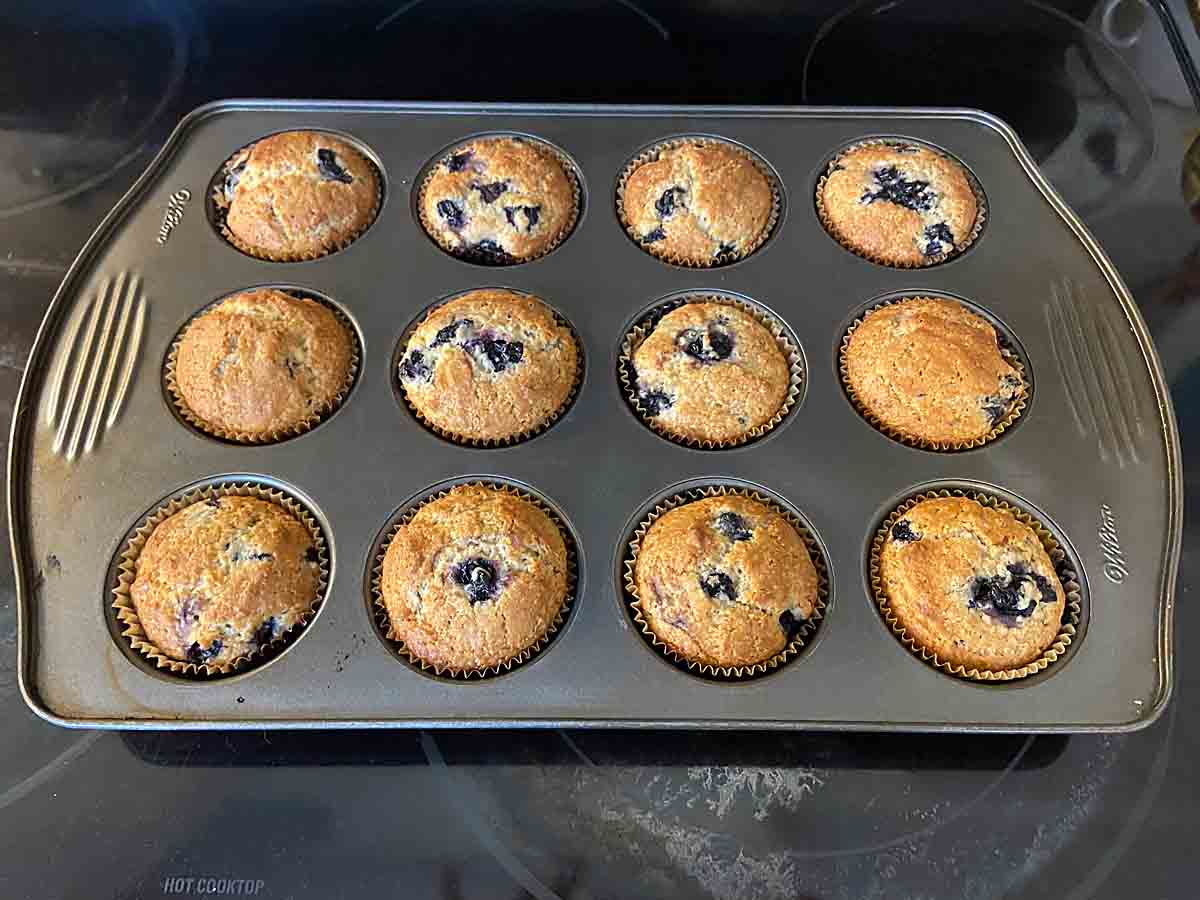 How to Serve
For an easy breakfast, Betty Crocker Blueberry Muffins are lovely just served with a glass of milk. And if you are thinking of something more formal, like a special breakfast or brunch, serving up a basket of these muffins would add a touch of elegance.
Muffins can also make an nice side dish with lunch or dinner, especially if you are doing something festive like a baby or bridal shower. Or add them to an artisan bread basked for a formal dinner party.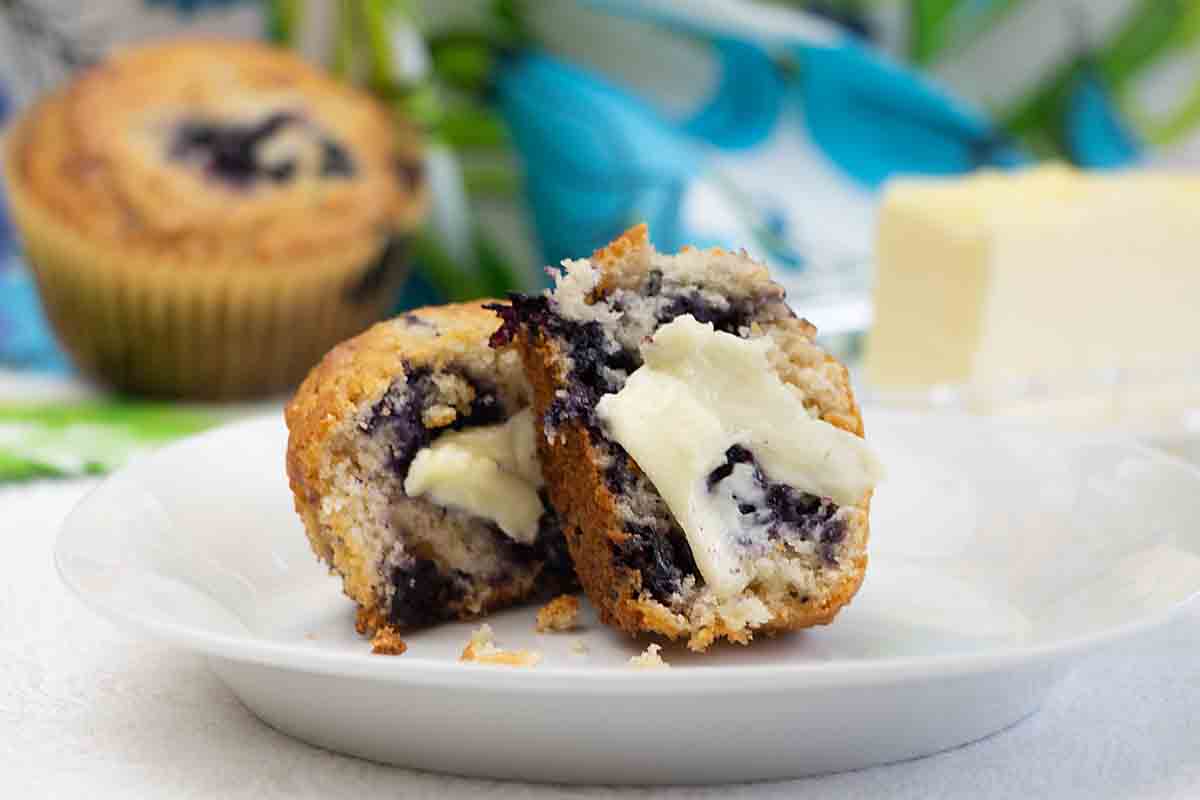 Variations
Betty Crocker called the base recipe (sans blueberries) a sweet muffin and offered up a whole variety of options to consider. So feel free to shake things up according to your tastes.
Instead of blueberries, you could use other fruits or even chocolate chips. Now if you do use another fruit, pay attention to size and chop first if the fruit is large (e.g. strawberries). And even though fresh cranberries are small, I'd chop these to distribute the tartness.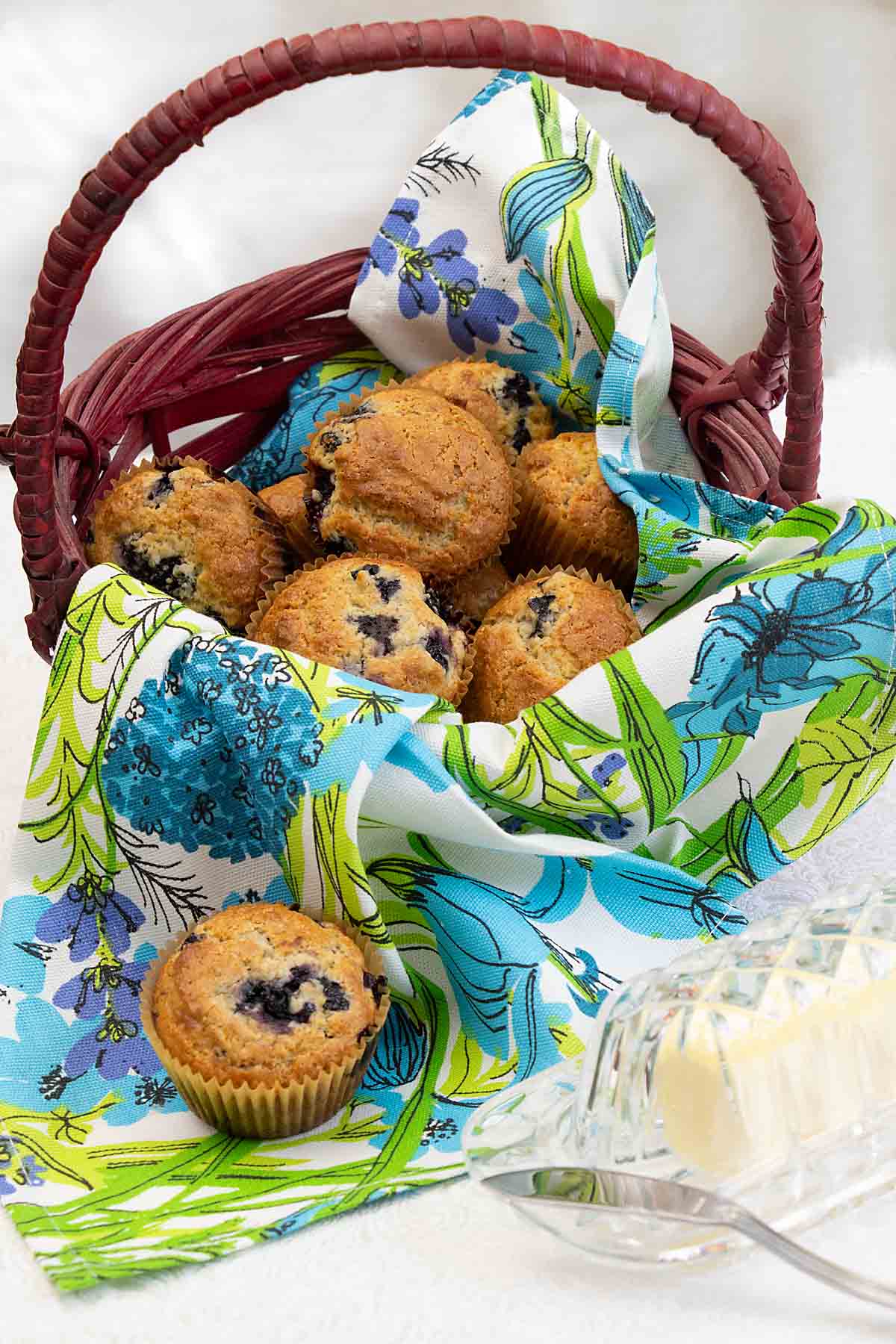 How to Make this as a Sweet Bread
While I've never tried making this recipe as a bread, I switch up muffin recipes and sweet bread recipes all the time. Basically 12 muffins = 1 loaf, though oven temperature and cooking times change.
Since this recipe doesn't produce towering muffins, I'd go with a 8 ½ x 4 ½ pan rather than 9 x 5 if you can. You should also lower the heat to 350 and cook for about 50-60 minutes. Be sure to carefully check for doneness with a toothpick and cook longer if needed, since sweet breads are harder to get reliably cooked through.
For more on this check out King Arthur's tips.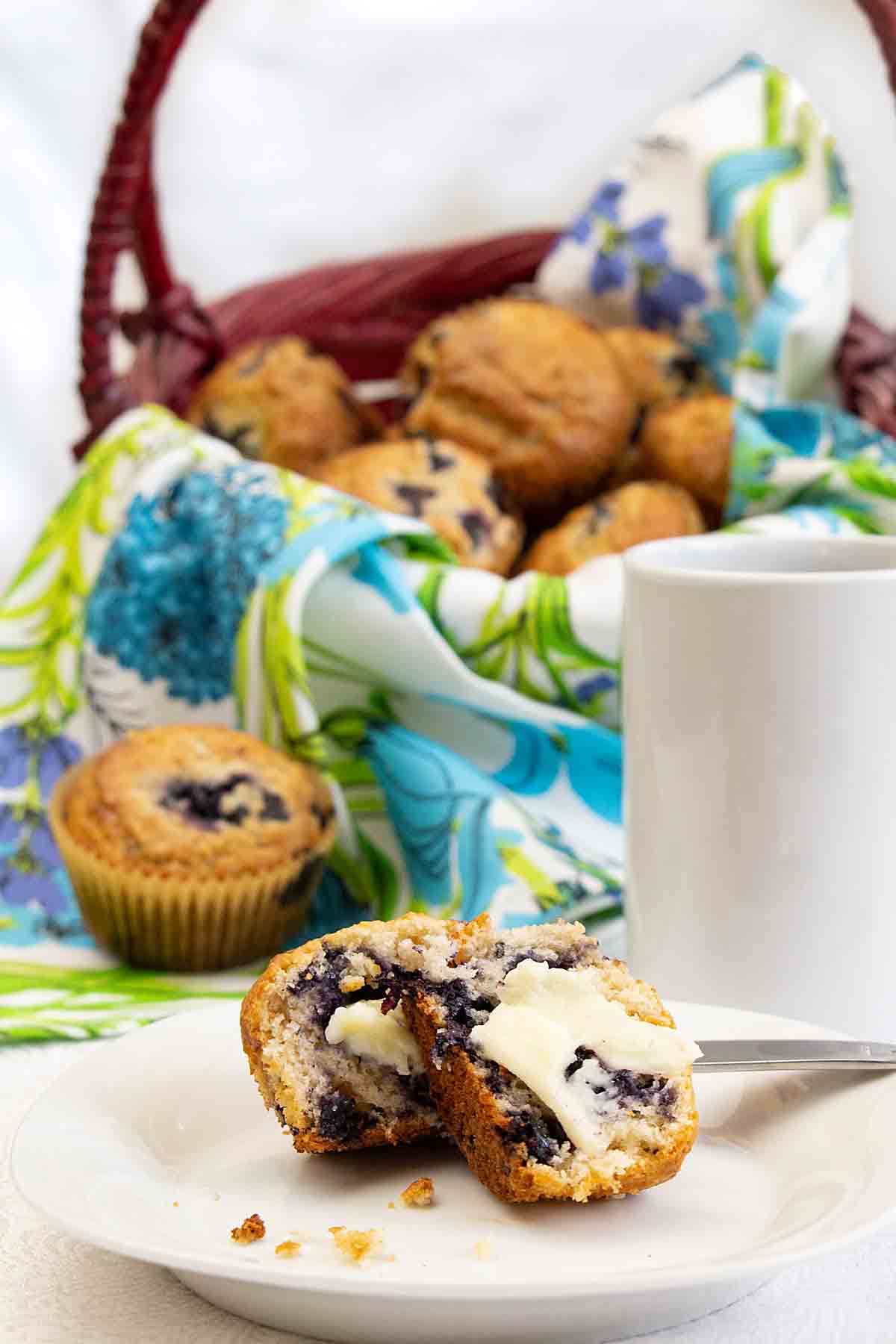 Tips & FAQs
Betty Crocker Blueberry Muffins are pretty foolproof! That said I tend to mix them by hand. Overworking muffins can develop the gluten in the flour and make them a little tougher. And since you mix them so little, it's even easier than cleaning a mixer!
The original recipe calls for all-purpose flour and you can use that if you prefer. I like to up the health value slightly by using half whole grain flour like white whole wheat flour.
You can use fresh or frozen blueberries in this. Try not to thaw first if using frozen or you may have blue muffins!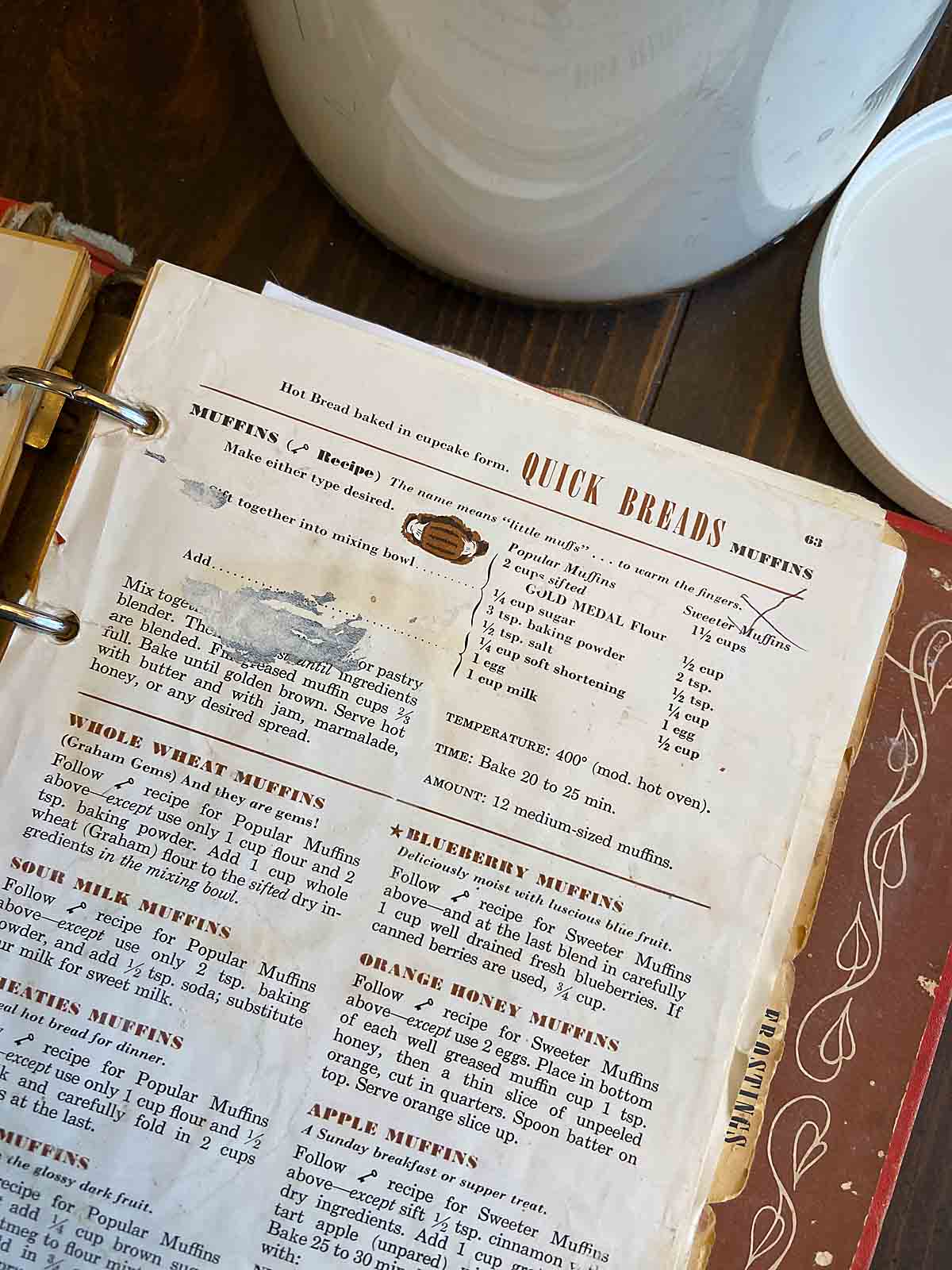 Can I use a non-dairy milk? I haven't personally tried a non-dairy milk but I have successfully used every dairy milk from skim to whole. So I'm confident it non-dairy would work fine.
Can I substitute applesauce for the butter or oil? This is something I don't recommend. ¼ cup of fat is really the minimum for a moist muffin that doesn't stale almost immediately. Divided by 12 muffins, it's only 1 teaspoon each, so it won't break the calorie bank in any case.
Can I freeze these? Wrapped airtight, these muffins will freeze well. And while I try to bake the day of for a special event, I wouldn't hesitate to bake the day before if need be. Any leftovers should last a few days if kept covered.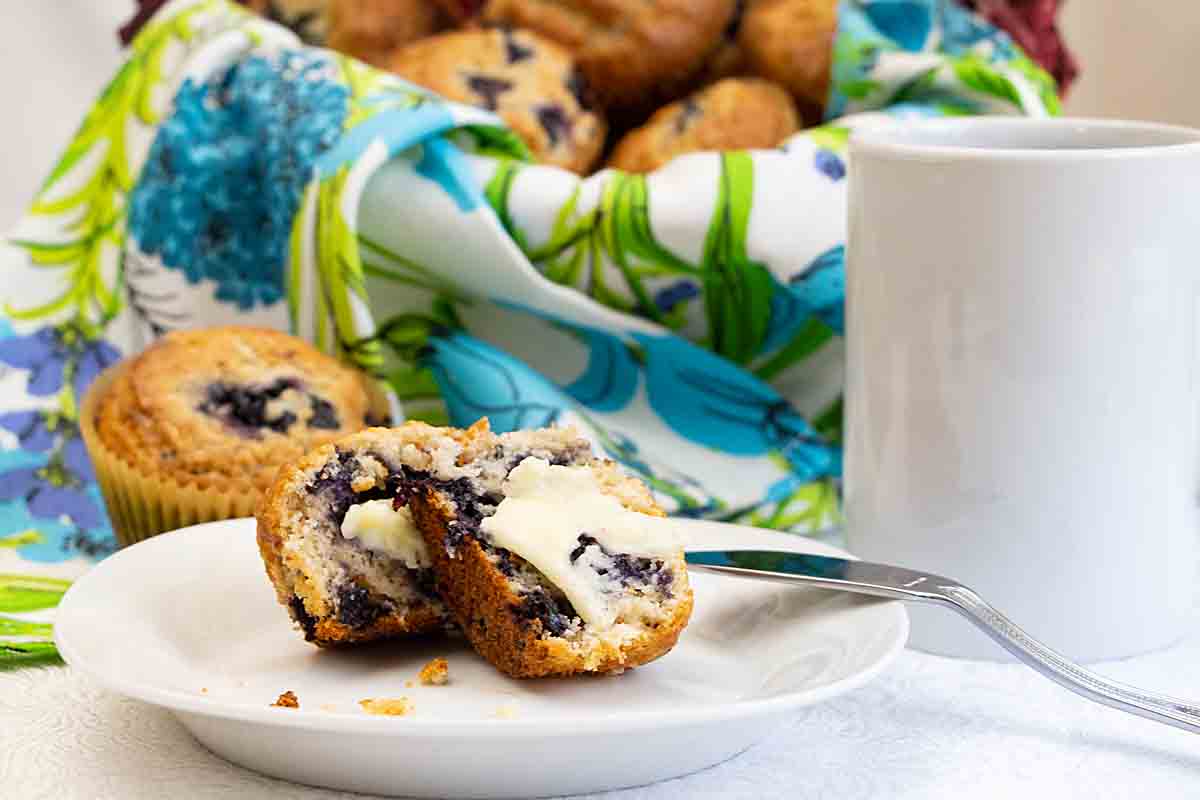 And for more fun check out these other tasty recipes!
National Cookbook Month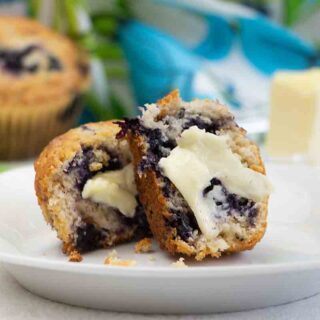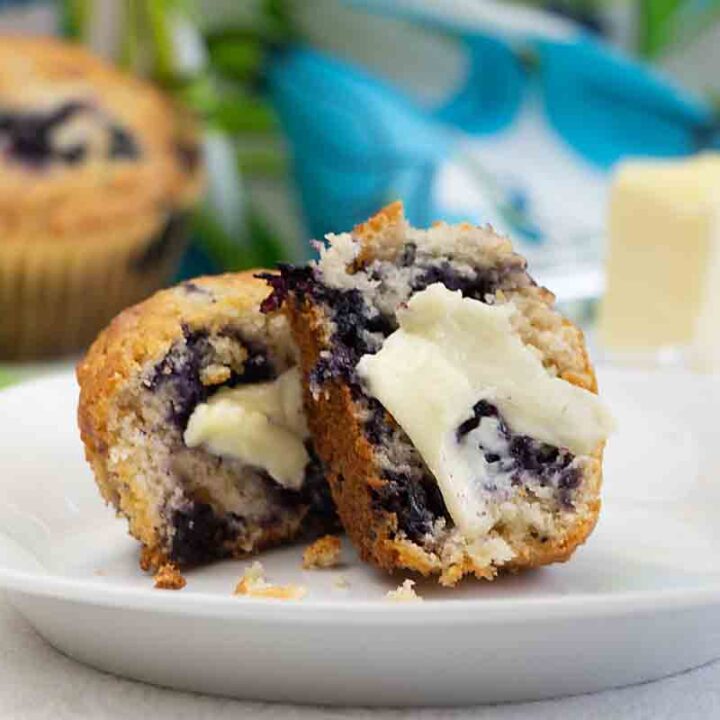 Classic Betty Crocker Blueberry Muffins
Fruity with a hint of sweetness, Betty Crocker Blueberry Muffins are great for brunch or snacking. Or an artisan bread basket with dinner!  
Ingredients
3/4

cup

unbleached all purpose flour

3/4

cup

white whole wheat flour

may sub unbleached

1/2

cup

sugar

2

teaspoons

baking powder

1/2

cup

milk

plus up to an extra 2 Tablespoons if needed

1

egg

1/4

cup

butter

melted, or oil

1

cup

blueberries

or a bit more
Instructions
Preheat the oven to 400 F

Beat egg with a whisk, then combine with 1/2 cup milk. While whisking, add melted butter or oil to egg/milk mixture

In the same bowl, gently mix the flour, sugar and baking powder together.

Combine wet and dry ingredients and add additional milk if needed (mixture should be thick but not dry).

Gently fold in the blueberries.

Bake for 20-25 minutes until muffins are a rich gold color and an toothpick comes out clean.
Nutrition
Calories:
138
kcal
Carbohydrates:
22
g
Protein:
3
g
Fat:
5
g
Saturated Fat:
3
g
Polyunsaturated Fat:
0.3
g
Monounsaturated Fat:
1
g
Trans Fat:
0.2
g
Cholesterol:
25
mg
Sodium:
111
mg
Potassium:
48
mg
Fiber:
1
g
Sugar:
10
g
Vitamin A:
161
IU
Vitamin C:
1
mg
Calcium:
62
mg
Iron:
1
mg
I am not a health professional and nutrition data is calculated programatically. Accuracy may vary with product selection, calculator accuracy, etc. Consult a professional for the best information.