Made with a Mexican twist, Taco pizza uses seasoned beef, salsa and other taco toppings for a fun variation on a favorite lunch or dinner.
Pizza is always a fun meal. And it's pretty utilitarian as well, working as a weeknight dinner or a casual party meal.
And happily, pizza doesn't ever have to get boring. Even served regularly there are a wide variety of flavor options like today's taco pizza. And see the list below for lots of ideas from some of my blogging friends!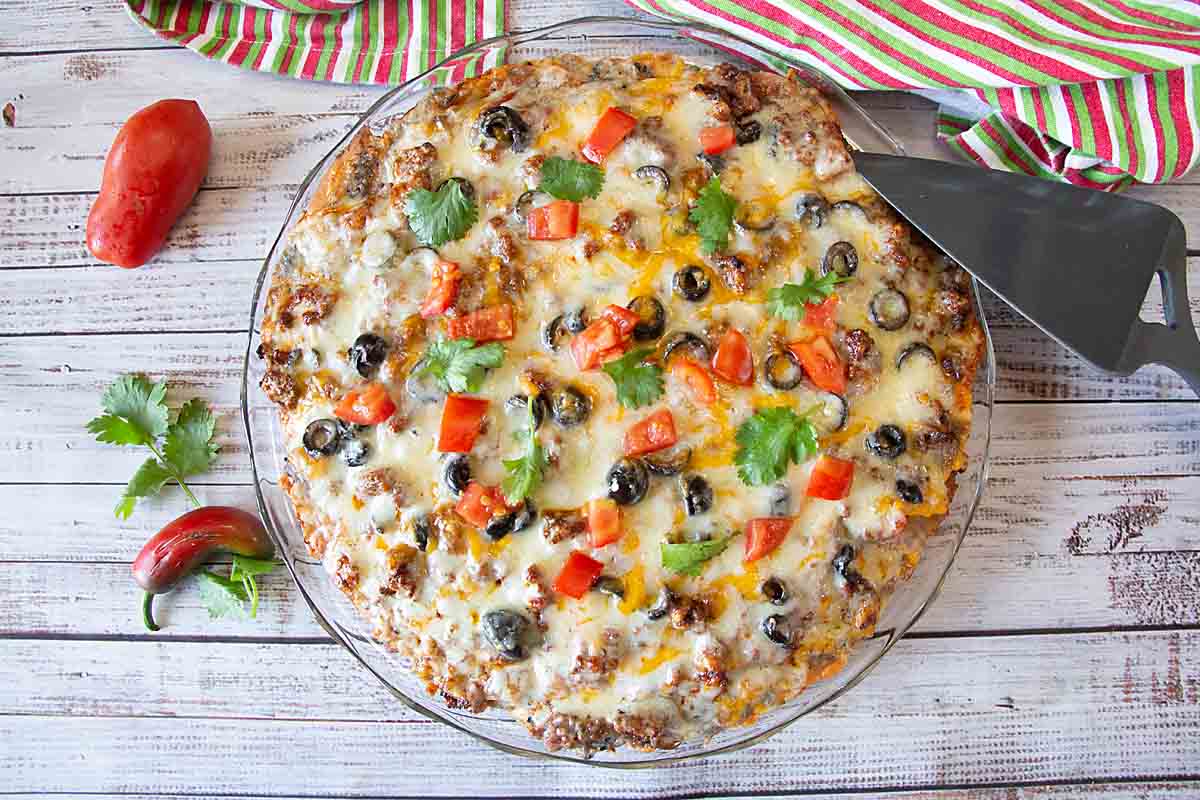 What is a Taco Pizza
I don't think there is a standard definition of what a taco pizza is but my version is basically a pizza crust layered with toppings you might find in a taco. This includes ingredients like refried beans, spicy ground beef, salsa and cheese.
In some ways it's easier to say what it isn't. It isn't a taco bell Mexican pizza copycat. This would have similar ingredients but be built on tortillas. And it's not the 80's/90's era appetizer of mostly raw taco toppings on a rolled out crescent roll crust–as fun as that always was!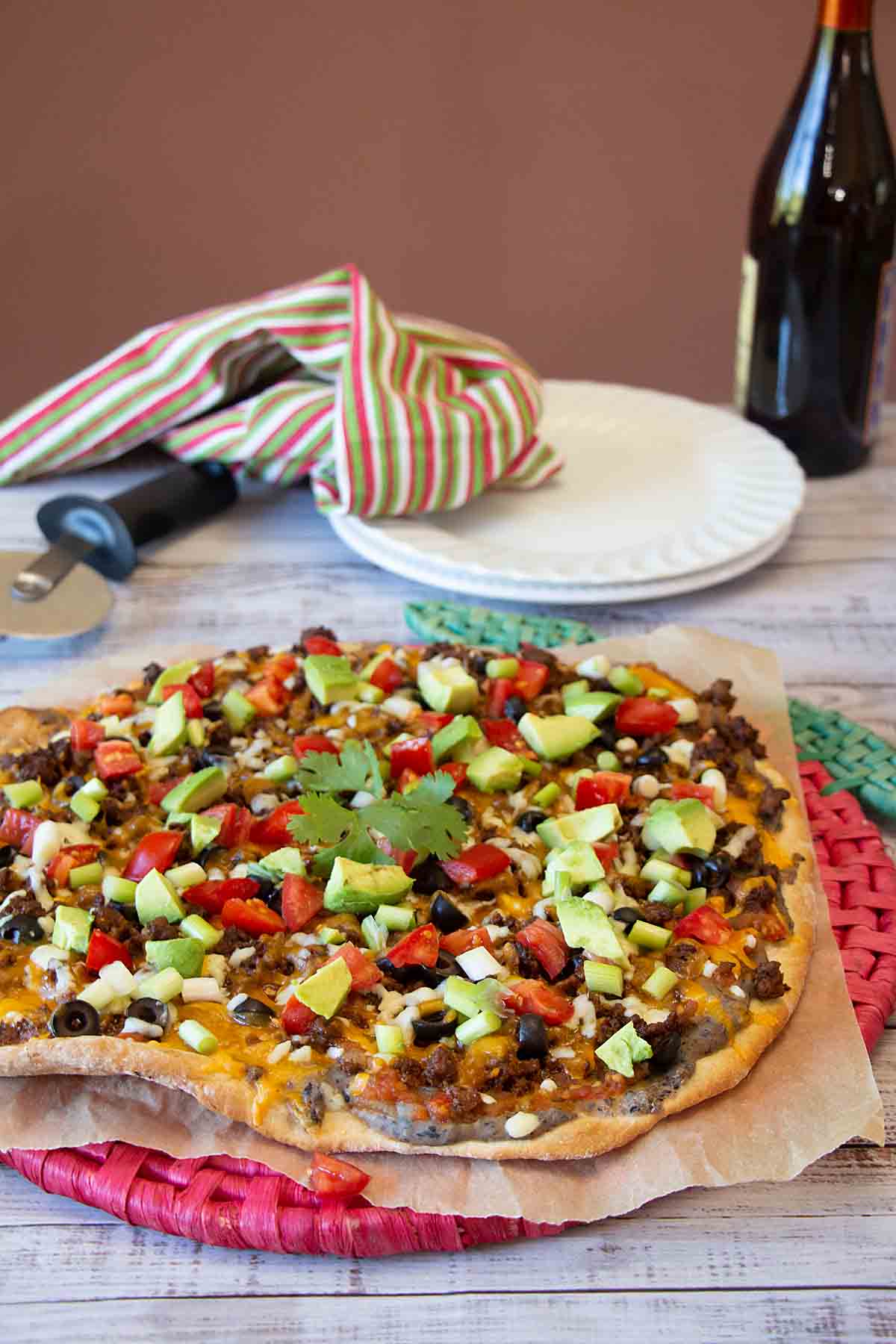 What Makes This a Winner
Makes Dinner Fun – I'm not sure why… but pizza is always a fun, welcome dinner. You can even have kids help top it to start the fun early!
Make it Your Way – We like to eat organic grass-fed beef. Try finding that on a commercial pizza!
Crowd Pleaser – This pizza is would be equally at home feeding hungry kids, topping off a study binge in the college dorm or filling up sports fans on Game Day.

What You'll Need
Ingredients
Pizza Dough. This is the base for all the toppings.
Ground Beef. This is the delicious, juicy element at the core of the pizza.
Taco Seasoning. This is what puts the "taco" in taco pizza.
Salsa. This is integral to any Mexicanor Mexican inspired dish.
Refried Beans. This adds a smooth and savory element to the pizza.
Cheese. Use shredded cheddar, Monterey jack, or a combination of both. This creates the creamy, melty classic pizza experience.
Olives. These provide a delicious, unique flavor.
Toppings. Avocado, tomato, green onion, and cilantro all make for great fresh toppings.
Special Tools
Rolling pin. This is only necessary if you are making your own crust.
Step by Step Directions
Bake crust if needed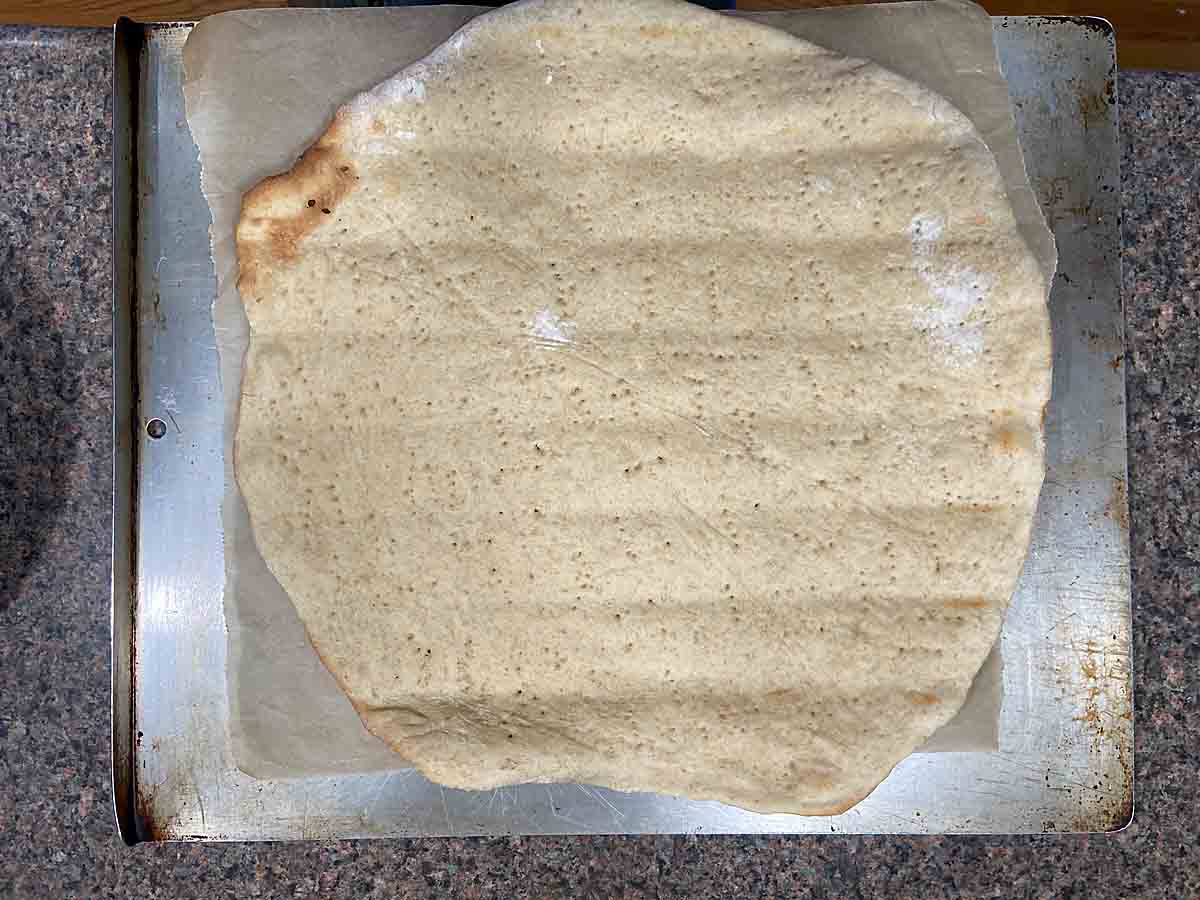 Drain salsa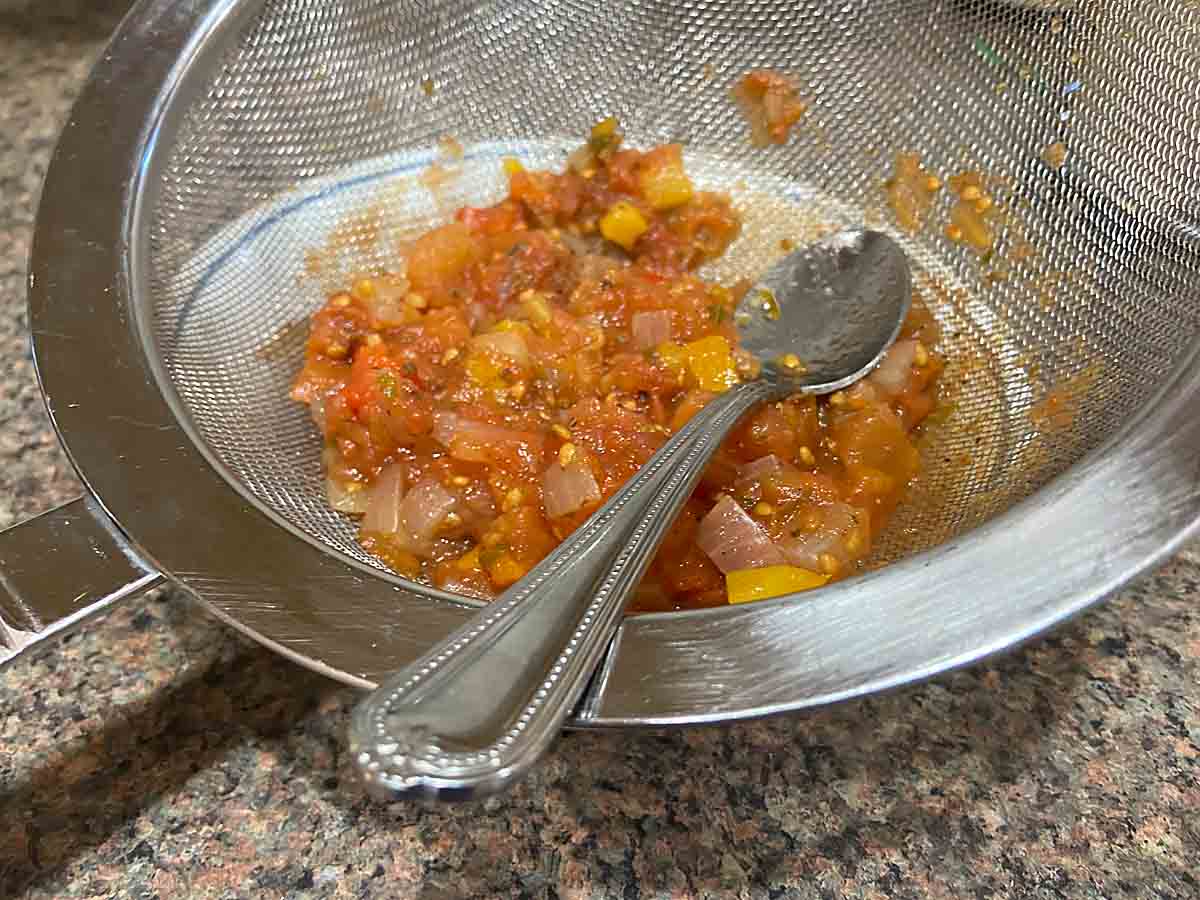 Brown & season ground beef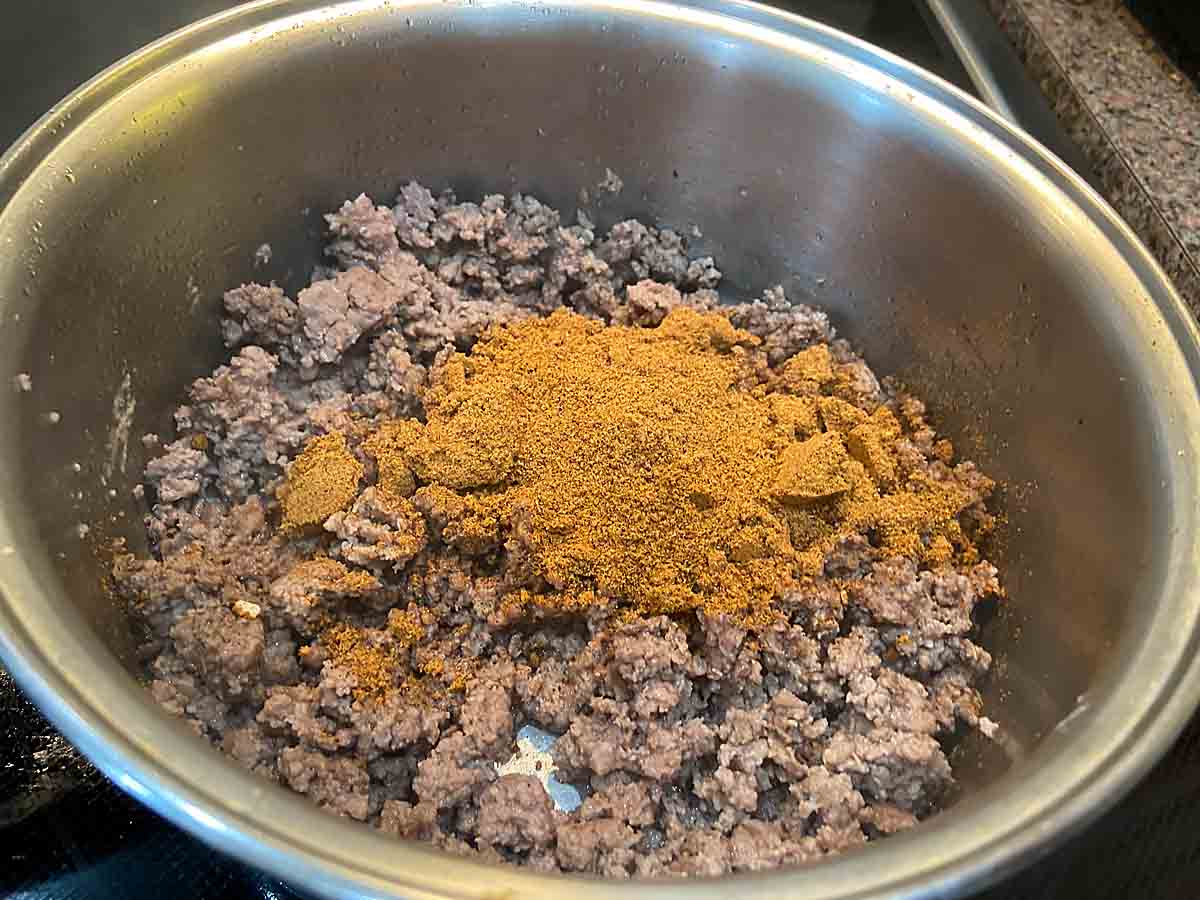 Layer pizza with toppings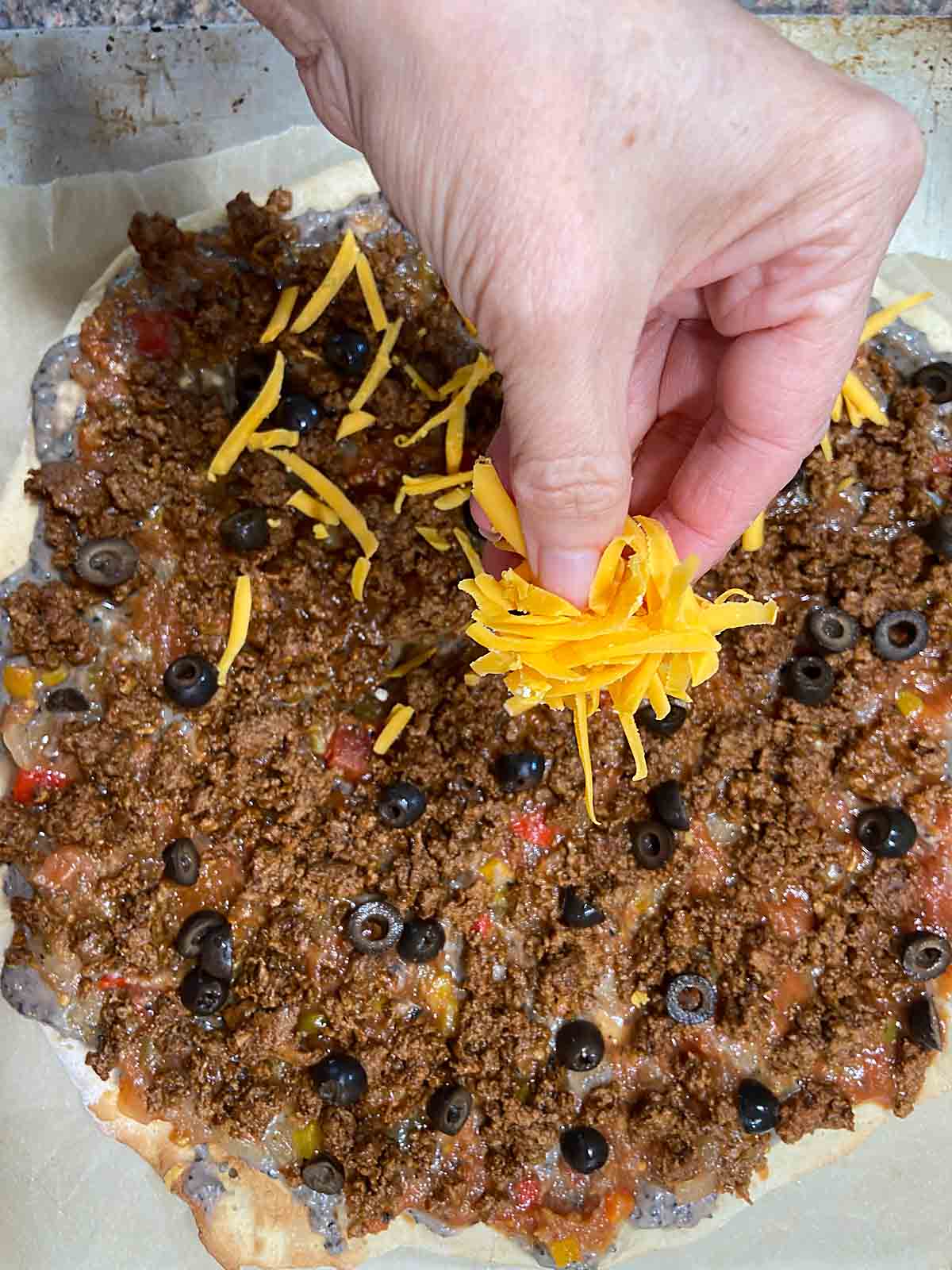 Bake & Enjoy!
Pizza Crust Options
For the very easiest crust option, I go with a pre-baked. I've had a hard time reliably finding these in stores, so sometimes I pre-bake my own. In about 20 minutes I have 3 crusts and I freeze two for later (or maybe make a different pizza, like this White Seafood Pizza, later in the week).
The next easiest option is pre-made dough. A local Italian bakery and Trader Joe's are my two favorite sources. Usually these are about 1 lb which can make two 12-14 inch crusts if you like them thin like I do. You can always freeze half of the raw dough for later in that case. Pillsbury has packaged crust in two sizes—the smaller, 11 ounce size would work well for this.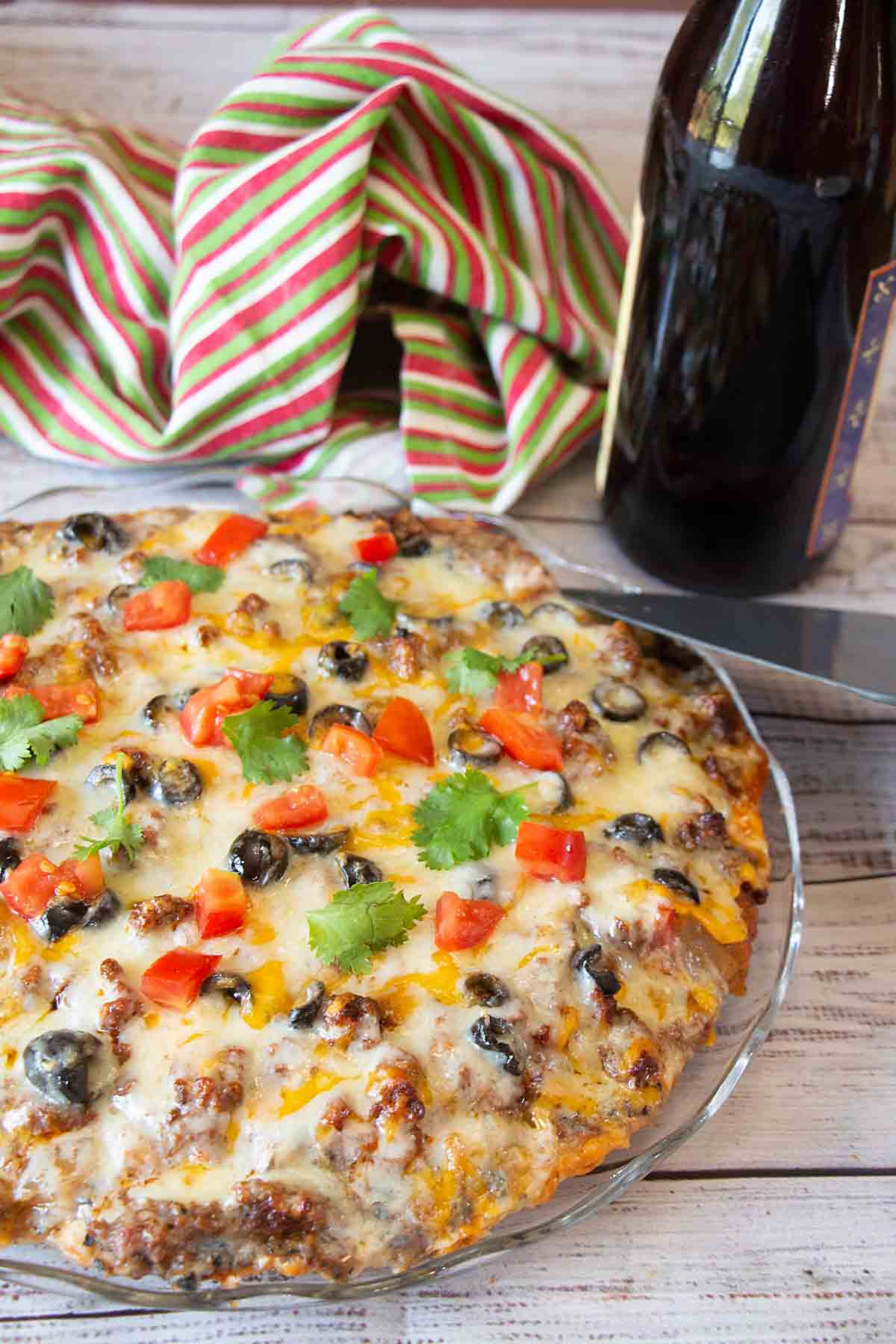 But even if you need to make your own crust on the fly, the dough doesn't need to rise like regular bread dough, so it's just a quick mix and bake. You can use my pre-baked crust recipe if you'd like and save the extra dough for later
I typically go with a traditional round pizza. But making a rectangular pizza is a perfectly fine option as well.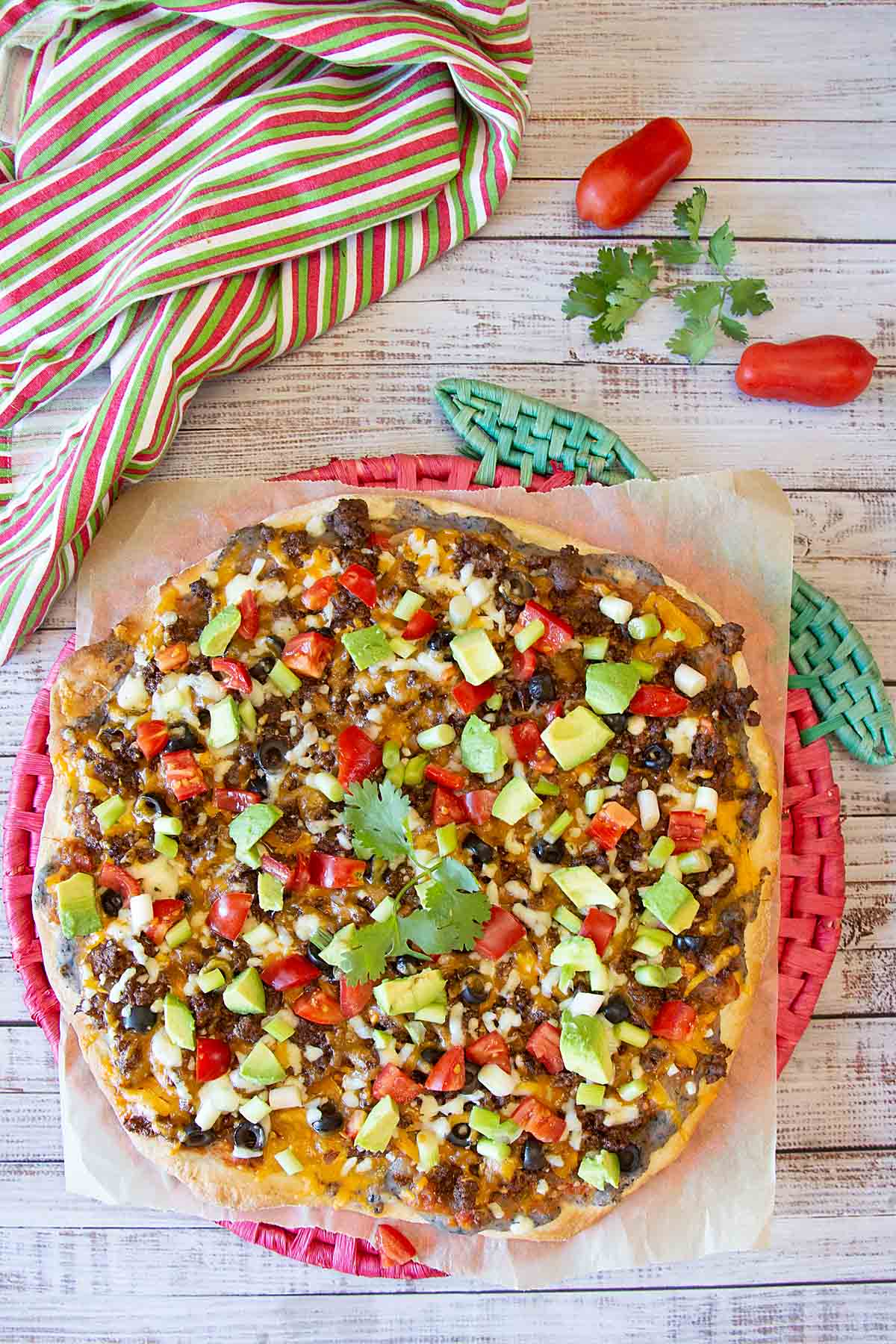 What to Serve With
Pizza can be a complete meal in itself, so additions are optional. That said, a salad is always welcome, both for variety and added nutrition. And since this is a Taco pizza, some salsa and chips would be a great starter or side!
This recipe is an inspiration for beverages. Mexican beer (I like a Dos Equis Amber) or a pitcher of Margaritas would be great complimentary adult beverages, From a non-alcoholic perspective, I like fizzy water to help break up a heavier meal or a nice Mexican orange crush would be fun.
Tips & FAQs
If your pizza dough has attitude and "fights" you as you roll it out, cover it and set aside for 10-15 minutes to let it relax.
For the crispest crust, cook right on the rack (round is easiest for this) or a pre-heated pizza stone. If a pizza on the rack is "dripping" you can insert another cookie sheet on a rack underneath.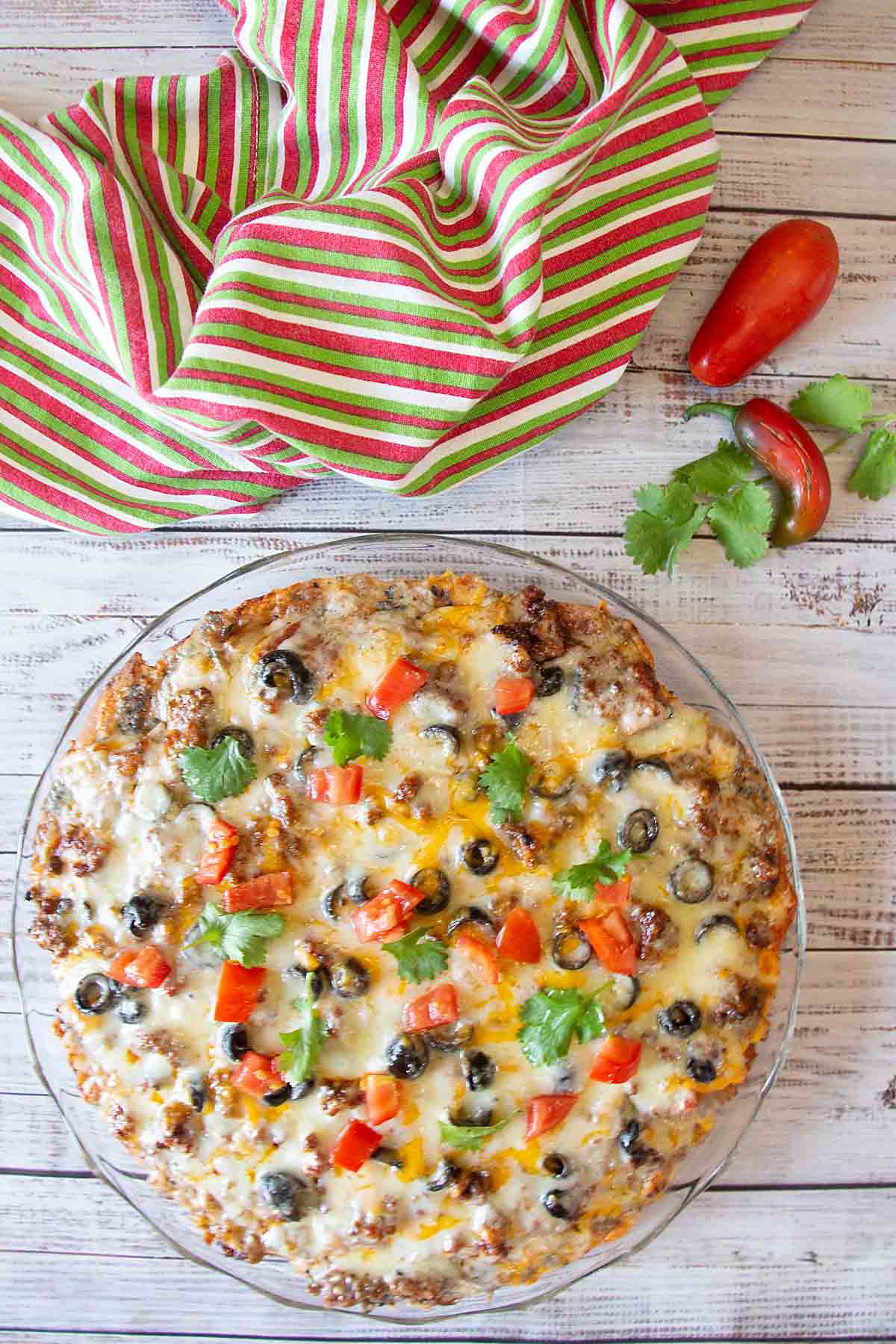 You can use a flat cookie sheet as a peel to slide the pizza in and out of the oven (you'll need to grab it with a fork too, to get it out). The thin edge really slides under well and it's very economical!
The use of a half pound of ground beef is awkward but a pound felt like way too much for a 12-14 inch pizza. If you make up the full pound, however, you can always serve tacos (or another taco pizza) later. In fact my daughter was eyeing up my leftover taco meat and got sad when I told her I needed more pictures so she couldn't use it for tacos.
While I used light toppings for more of the pictures, the family preferred it when I loaded the baked pizza with lots and lots of fresh toppings!
More Pizza From Art of Natural Living
More Perfect Pizza Recipes From My Friends:
We share Recipes From Our Dinner Table! Join our group and share your recipes, too! While you're at it, join our Pinterest board, too!
Taco Pizza
Made with a Mexican twist, Taco pizza uses seasoned beef, salsa and other taco toppings for a fun variation on a favorite lunch or dinner.
Ingredients
8-12

ounces

pizza dough

or a 12-14 inch pre-baked crust.

½

pound

ground beef

see note

½

package taco seasoning

see note

1

cup

refried beans

1

cup

salsa

2-3

cups

shredded cheddar

Monterey Jack or combination

¼

cup

sliced olives

Topping options: diced tomato

sliced green onion, chopped cilantro, chopped avocado
Instructions
Preheat oven to 400F

If not using a pre-baked crust, roll out dough to a 12-14 inch circle on a floured surface or floured parchment paper.. Bake directly on oven rack (or on parchment) for 5-8 minutes until starting to turn golden. Remove from oven and set aside.

While crust is baking, drain the salsa in a strainer. Discard the liquid that is drained off.

Brown beef in a skillet, until cooked through. Add the taco seasoning and about 1 Tablespoon of water (use less than package directions so meat is not too wet).

When crust and beef are done assemble the pizza. Spread the refried beans as the first layer. Top with the drained salsa, then the seasoned beef. Sprinkle the olives over this and then the cheese.

Bake until cheese is melted. Remove from oven and top with your choice of fresh toppings.

Notes
I recommend preparing the full pound of ground beef with the full package of seasoning.  Then save half of the seasoned meat for tacos or a second pizza.  Freeze if not using within a couple days.
Nutrition
Calories:
586
kcal
Carbohydrates:
40
g
Protein:
31
g
Fat:
34
g
Saturated Fat:
16
g
Polyunsaturated Fat:
2
g
Monounsaturated Fat:
10
g
Trans Fat:
1
g
Cholesterol:
97
mg
Sodium:
1731
mg
Potassium:
368
mg
Fiber:
5
g
Sugar:
8
g
Vitamin A:
973
IU
Vitamin C:
1
mg
Calcium:
452
mg
Iron:
4
mg
I am not a health professional and nutrition data is calculated programatically. Accuracy may vary with product selection, calculator accuracy, etc. Consult a professional for the best information.